Top 7 Streaming Sites to Watch NBA for Free With No Ads
Adless Season Starts Now!
People love sports. Not only to play but also to watch. Especially when it comes to big events like World Championships, Champions League, Nations League, etc. Enjoying a big sports event with your family in front of a big nice TV can't be overrated. A couple of drinks and munchies — good mood guaranteed!
Previously, you had to pay for dedicated sports channels to watch your favorite team. You also had to keep track of the schedule to make sure you don't miss that one game.
Luckily, technologies develop and the digital world evolves. Now everything is much easier — you do not need to record and wait for replays. If you miss a game, it'll be available online after the match is over. It is very convenient and hassle-free.
There are dozens of streaming sites on the web — both reliable and not quite. Some of them are paid, others are free. Free streaming platforms are (haha, classic) full of ads here and there, another paid subscription to an already massive stack is not quite what people want. Oftentimes, users simply don't know where to watch NBA games for free and without extra mambo-jumbo. So, if you're searching for "nba tv live stream online free with no ads" or something like that, we're here for you.
Below you will find a list of the most popular live streaming platforms including paid and free. And of course, we'll tell you how to watch free streaming services without ads. Sure thing, we're AdLock, that's what we do — make your online activities enjoyable.
Key Takeaways:
U.S. residents have quite a few ways to watch NBA live streams which include ESPN (and ESPN+), TNT, HULU, Peacock, etc.
NBA enthusiasts from around the world can watch their favorite teams by using a VPN to bypass geoblocking on U.S.-only streaming platforms.
A reliable adblocker will help you get rid of ads disrupting your good time.
Watch NBA Streams With Premium
If we consider all available services, the list will be very long. However, we would like to comprise a list of several popular services that are definitely worth your attention. Let's consider the official sources of NBA entertainment. By subscribing to one of the platforms from our list, you'll get prime streaming quality and access to all sports events.
Now let's see what these services offer.
ESPN/ESPN+
ESPN+ covers all daily sports events including MLB, NHL, National/International Football League clutches, and NCAA events. It's worth mentioning that ESPN+ recently struck a deal with the NHL. The deal allows ESPN+ to broadcast 75 off-market games from the 2021-2022 season all the way through the 2027-2028 season. ESPN+ live streaming can be done via any web browser and through official applications for Android and iOS. Also, the service is available on most set-top boxes and Smart TVs, and game consoles. Streaming can be used on 3 devices at the same time. ESPN+ costs $6.99 per month.
Watch online on ESPN/ESPN+ here: www.espn.com and plus.espn.com
ESPN brags about more than 126 nationally aired promo campaigns. And yeah, they have lots of ads. Here's how you stop ads on ESPN app.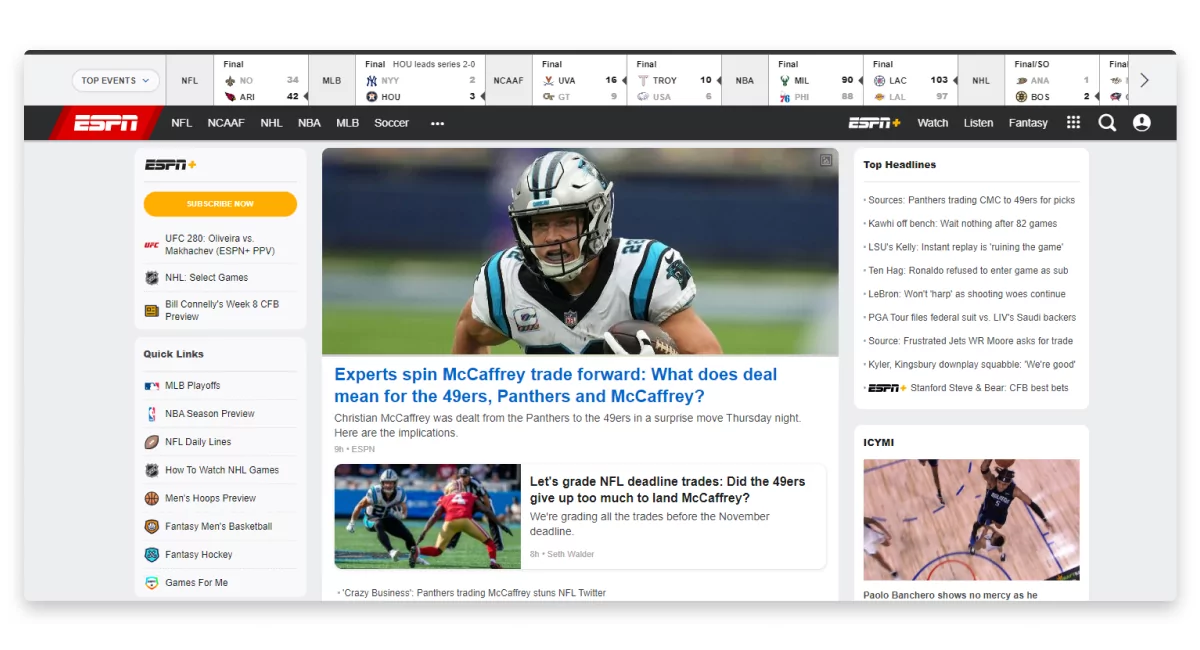 NBA TV
This service is jointly operated by the NBA and WarnerMedia's Turner Sports. Available through NBA.com and the official NBA mobile app. It's noted that mobile users get more opportunities for viewing. NBA TV offers several options of premium plans — Team Pass, League Pass, and League Pass Premium as it's said on the official website.
League Pass costs $99.99, its Premium version is $129.99, and Team Pass is $89.99. The prices are per season, of course. Pretty expensive for a streaming service, isn't it?
For this money, the user gets the possibility to watch over 100 exclusive online broadcasts of NBA basketball games, original programs, and content on demand.
Link to watch NBA online: www.nba.com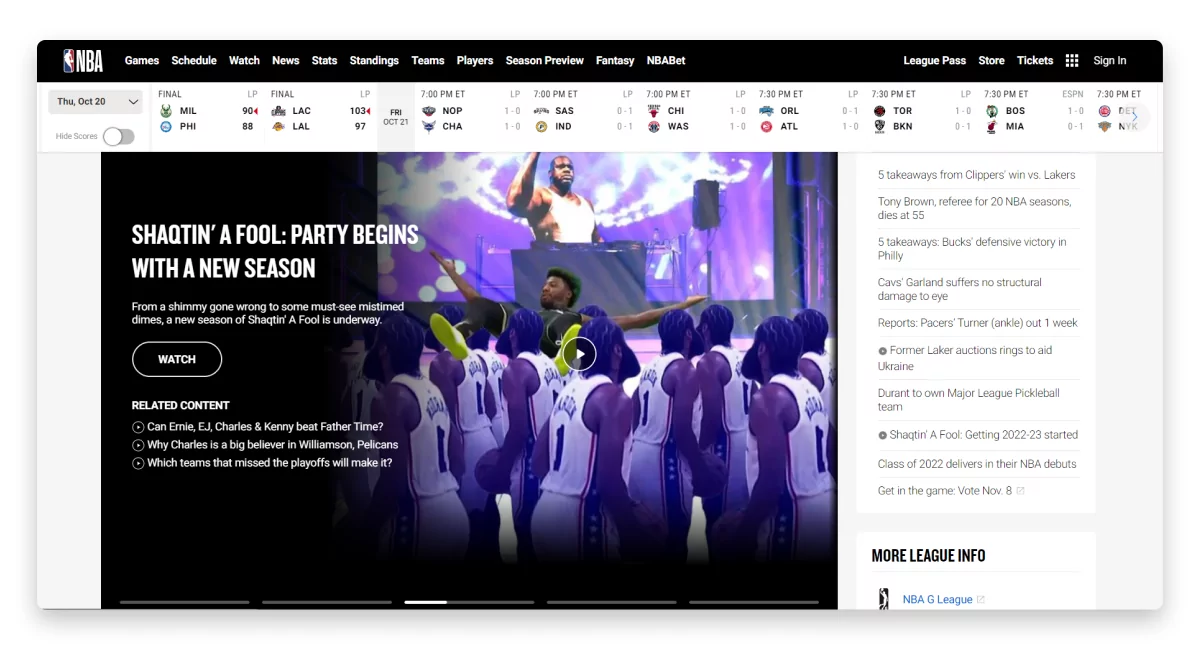 ABC
If you want to watch Monday Night Football, the NBA Finals, the Rose Bowl, and major NHL hockey games, then ABC is one of the best services out there. ABC is available for streaming on most devices, including Roku, Amazon Fire TV, Apple TV, iPhone, Samsung Smart TVs, etc. The price depends on the TV service you pair ABC with. The lowest price tag for streaming ABC is the Starter subscription, which costs $64.99/month. Duh.
TNT
Is pretty much similar to ABC. You may stream TNT paired with HULU, for instance. Prices for streaming TNT start at a $35 tag.
Many of these services, in addition to sports, offer other interesting content that your whole family will enjoy.
Honorable mentions
Amazon Prime Video
You won't find much sports content on Amazon Prime Video. The streaming service is known for Thursday night football, WNBA, and an option of adding multiple sports channels to your subscription, such as Paramount+, NBA League Pass, and PGA Tour Live. Amazon Prime Video service works through a web browser, Android or iOS devices, set-top boxes, game consoles, and smart TVs. With Prime Video, you can watch videos on up to 3 devices at the same time for $8.99 per month.
Citing the latest updates concerning the pricing on Amazon, here's what they say:
Current Amazon Prime membership pricing:
$14.99/month
$139/year
Prime Video membership is $8.99 per month.
Link: www.primevideo.com
Hulu
Hulu is a great choice for all sports lovers. It includes a lot of sports channels including BTN, CBS Sports Network, ESPN, FS1, FS2, Golf Channel, and NBC Sports Network.
The cost of this service starts at $6.99 per month (for HULU with ads!). It is available on most modern devices. However, only in the USA.
Link: www.hulu.com/nba
Read Also: How to block ads on Hulu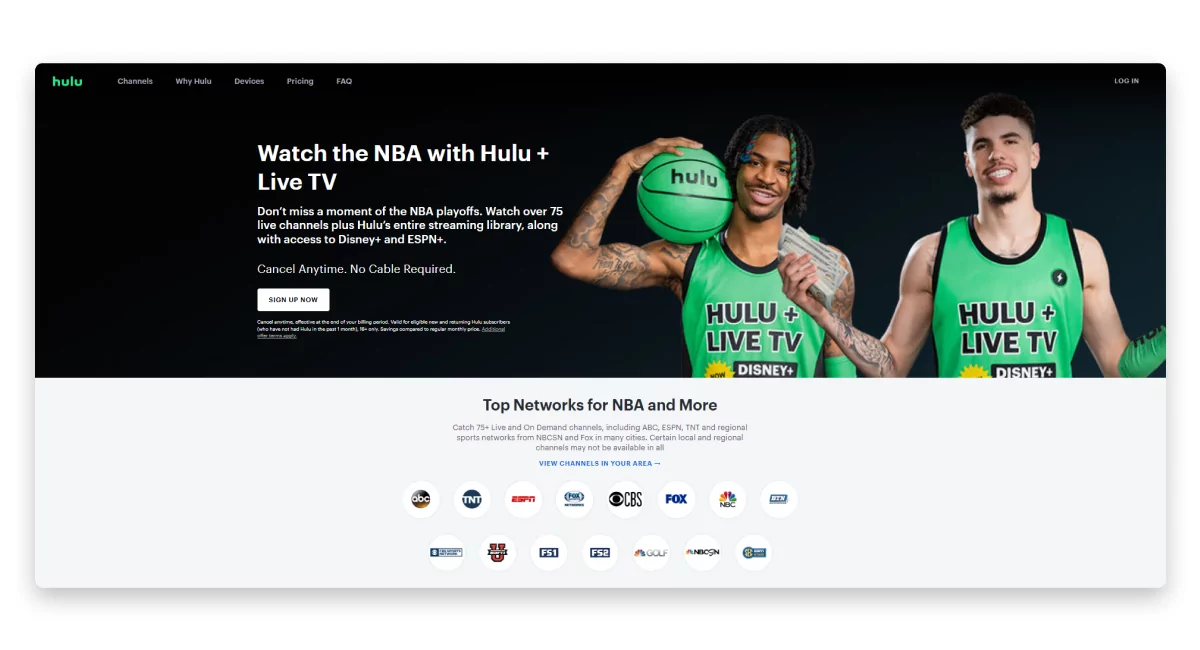 Peacock
Peacock content is accessible through a paid subscription to one of the paid tiers. Its main sports content is Sunday night football and Premier League football. The cost of the service is $4.99/month. It includes the ability to stream to three devices simultaneously and parental control features. There is also a download feature for future auto-play, but only for Premium Plus subscribers.
The Peacock app is available on Android and iOS, as well as most TV consoles and all modern game consoles.
Link: www.peacocktv.com
By the way, in our previous post, we talked about how to block ads in Peacock.
YouTube TV
A YouTube TV subscription offers you a great selection of sports channels. This includes all broadcast networks, CBS Sports Network, several ESPN channels, FS1, FS2, Golf Channel, MLB Network, NBA TV, Olympic Channel, and Tennis Channel.
Also, you can get various add-ons. For an additional cost, of course. Among those add-ons are:
Fox Soccer Plus ($15/ month);
NBA League Pass ($39.99/month);
Sports Plus ($10.99/month).
Link: tv.youtube.com
AT&T TV
AT&T TV provides access to a wide range of channels, including sports networks like ESPN, TNT, and NBA TV, which broadcast NBA games. Subscribing to AT&T TV can give you access to these channels and allow you to watch NBA games on your TV.
Additionally, AT&T is also the owner of WarnerMedia, which includes Turner Sports, the broadcaster of NBA games on TNT. This ownership connection may contribute to a strong presence of NBA coverage on AT&T TV.
What's even cooler about AT&T is that it supports all popular platforms — iOS, Android, Apple TV, Roku, Chromecast, etc. — all you need is an app to watch nba games. The Choice package will cost you $65 per month.
Link: www.directv.com/att-tv/
Are There Free NBA Streaming Websites Without Ads
The short answer is no. Websites and services have to generate income and if you're not paying for a subscription, then you watch ads. Lots of ads. Flashing banners, edgy video commercials, pop-ups, yadda yadda yadda. Luckily, the problem with advertisements pissing you off can be solved without a hassle.
We're sure the first thought that came to your head is "Adblockers!". Yes, that is true. Adblockers may help you watch NBA streams without ads. AdLock is the best at it. Why? Because it's capable of blocking all types of ads no matter what. While its rivals are good at blocking specific types of commercials, AdLock is a real beast. Like Shaq.
How Can I Watch NBA Without Ads With AdLock
Our brainchild, AdLock, is the ultimate multi-tool. Being developed with top-notch privacy protection and security, our ad blocker application not only provides an ad-free Internet experience but enhanced protection of sensitive data.
AdLock is available on all popular operating systems and types of devices — be it a handheld Android/iOS or a stationary Windows/macOS computer. Here's what you should do to get rid of ads on NBA streams:
Go to the "Products" tab on our official website;
Choose your operating system;
Download the installer and run it;
Follow the tips and hints to install the app correctly;
Launch the application and finish the onboarding procedure;
Enable ad blocking;
You're good to go!
Make sure you've done everything correctly. If you face any problems or something's unclear, look up our user guide. This is how to block ads on NBA stream on literally any platform on the Internet.
Top 7 Websites to Watch NBA Games For Free
Here we will consider the best free NBA streaming services. Every item here is handpicked based on the general requirements for the service to be a good one. Just to mention, we think good streaming services should be:
Free of charge;
A range of streaming options;
No additional plug-ins/players or else.
So, here are seven websites where you can watch NBA free with no ads.
FuboTV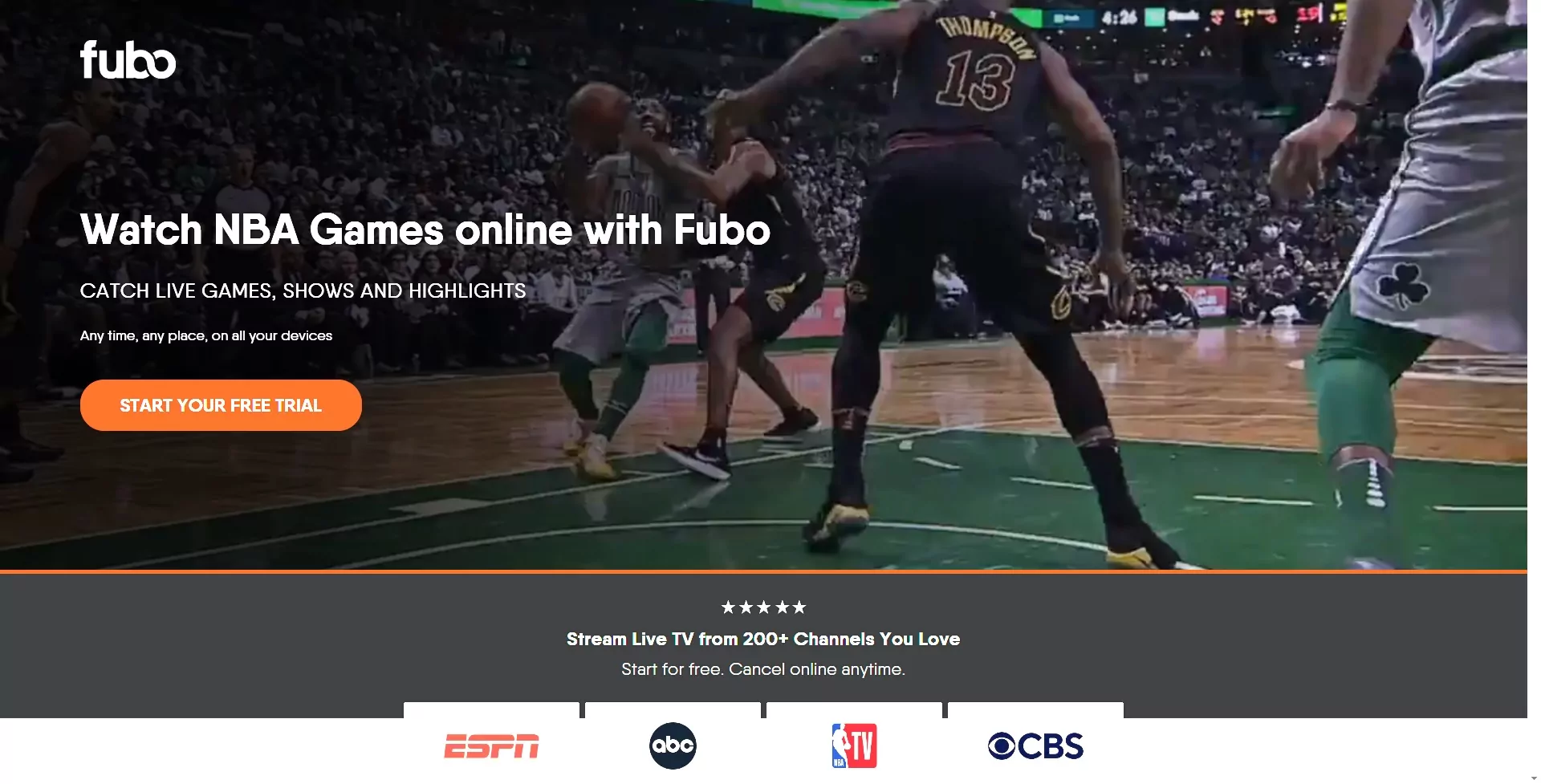 One of the best free NBA streaming sites on our list and an excellent option for sports fans. FuboTV has FOX, Golf Channel, CBS, NBA TV, NBC, NFL Network, and TBS. AT&T TV channels and separate Comcast RSN TV channels are also available via fuboTV.
It would be right of us to mention that fuboTV is great for watching international sports channels. You will find beIN Sports, Fox Deportes, GOL TV, and TUDN channels on fubo. By the way, FuboTV now includes ESPN.
The fuboTV starter package provides a bunch of useful additional features. For instance, you get 250 hours of DVR storage, and they will be kept until the end of the streaming subscription. For the additional $16.99/month you may get a Cloud DVR 1000, which literally increases your storage limit to 1,000 hours. Other cool fuboTV features are Lookback and Startover. Lookback allows you to watch your favorite sports programs 72 hours after they air. Startover allows you to restart live broadcasts.
By default, you can stream video to up to 3 devices at the same time, but for $9.99/month, the number of devices increases to 10. FuboTV prices start at the $64.99/ month tag (Pro tier). Available on most modern devices.
Fubo TV site: www.fubo.tv
Stream2Watch Live NBA Streams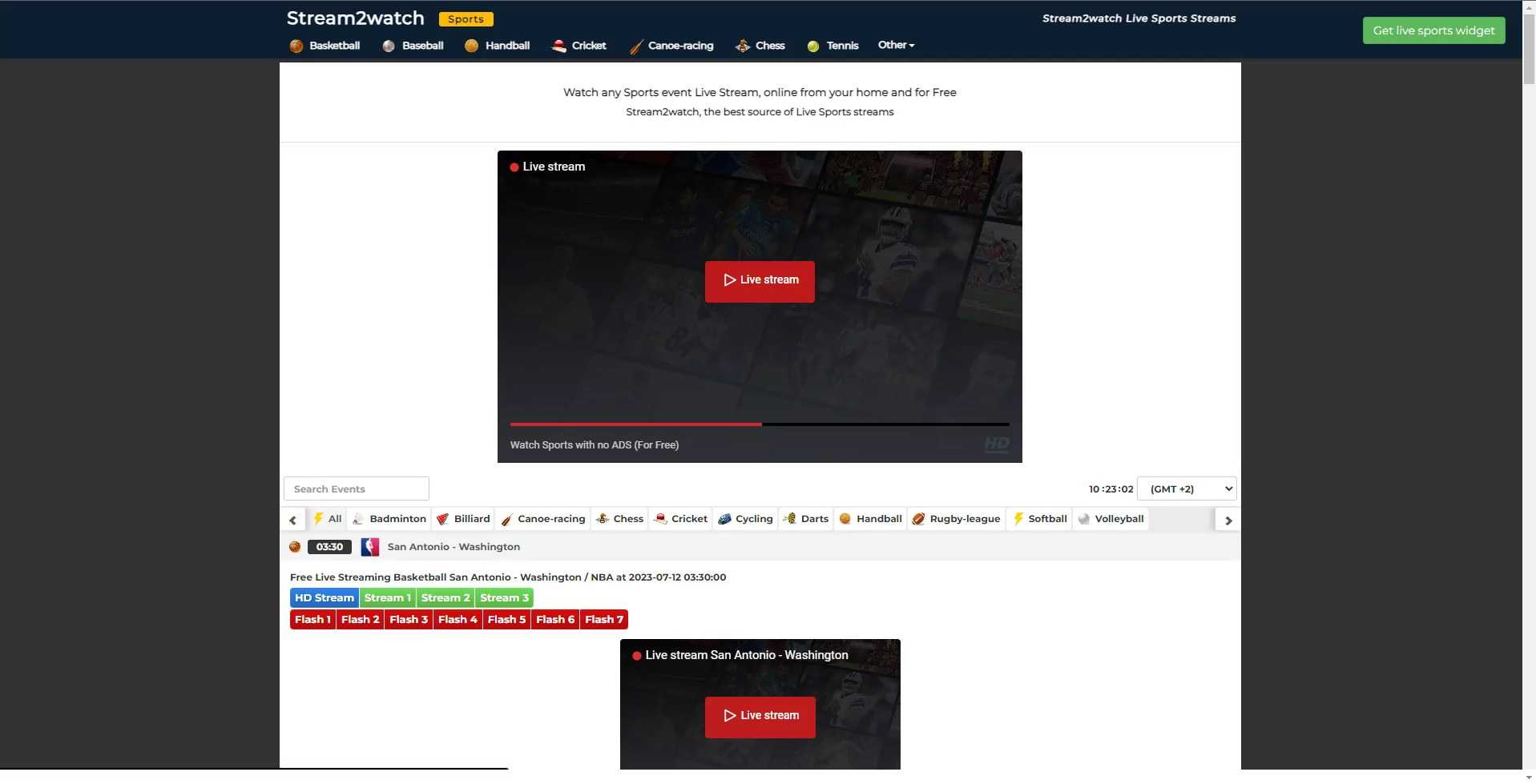 Stream2watch is a very popular platform that allows us to watch NBA games for free. Apart from NBA, the service gives access to multiple sports including hockey, baseball, soccer, tennis, etc. It works on mobile and desktop devices and what's more important, it's completely free without any hidden costs or else. It offers high-quality HD live sports streaming. As we've already mentioned, nothing comes absolutely free. You'll be bombarded by numerous commercials if you don't have AdLock.
Stream2watch has decent features like a live chat for viewers to engage with each other while watching a good quality stream of their favorite sports event.
Watch NBA online for free here: now.istream2watch.com
Crackstreams NBA Channel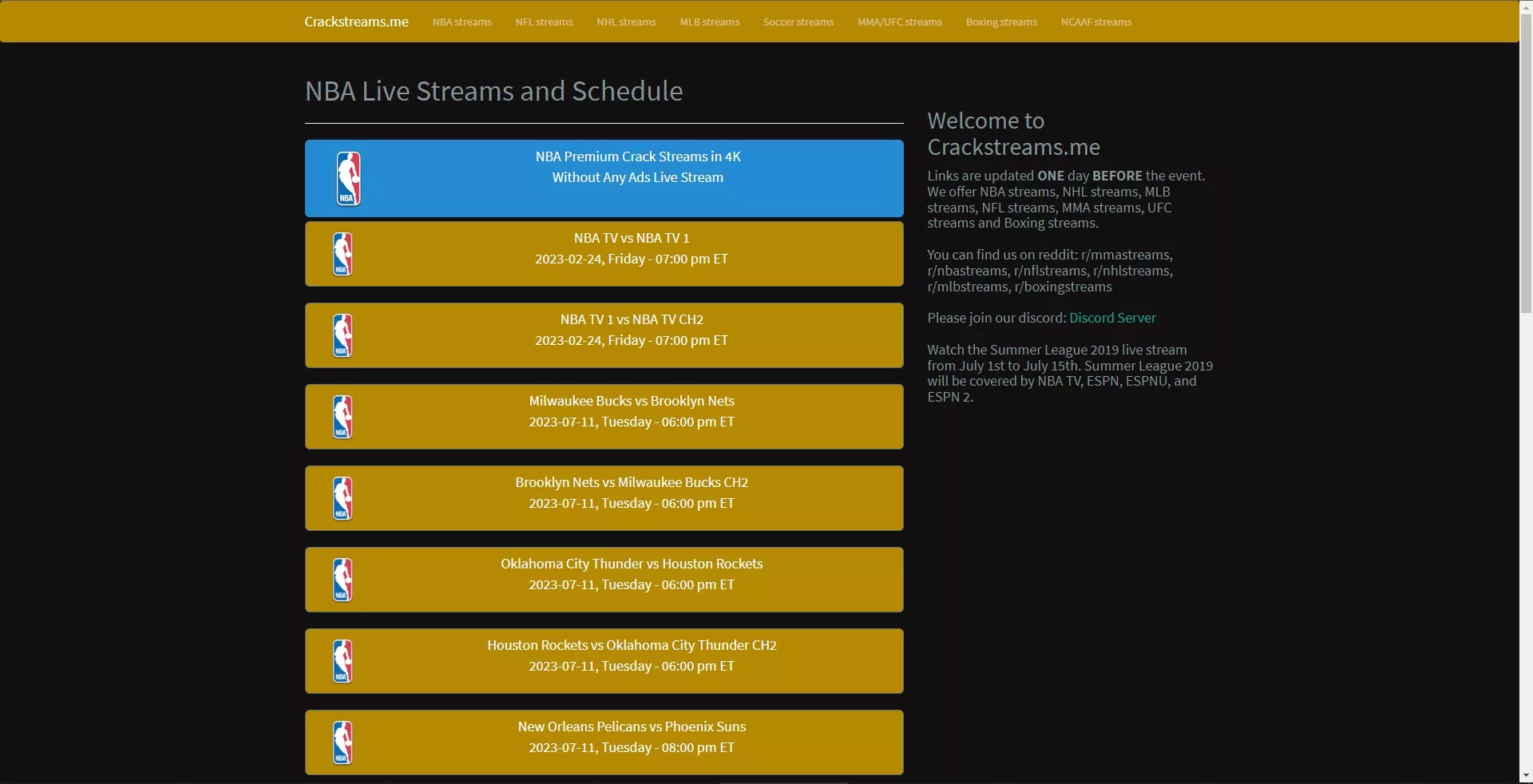 Crackstream is another website that makes it possible to watch live streams of the biggest and latest sporting events free of charge.
Here users can enjoy a range of various sports — NBA, UFC, NFL, MMA, etc. Crackstreams doesn't require any personal info or downloading extra stuff to watch free NBA streams — just click the stream link, wait for the new window to open, and press "Play". Easy as that.
Unlike the previous platform, Crackstreams can't boast of high-definition quality. It's not bad though. Don't forget ads would definitely piss you off if you don't have AdLock.
Link to the streams: watch.crackstreams.me
NBABite Live Stream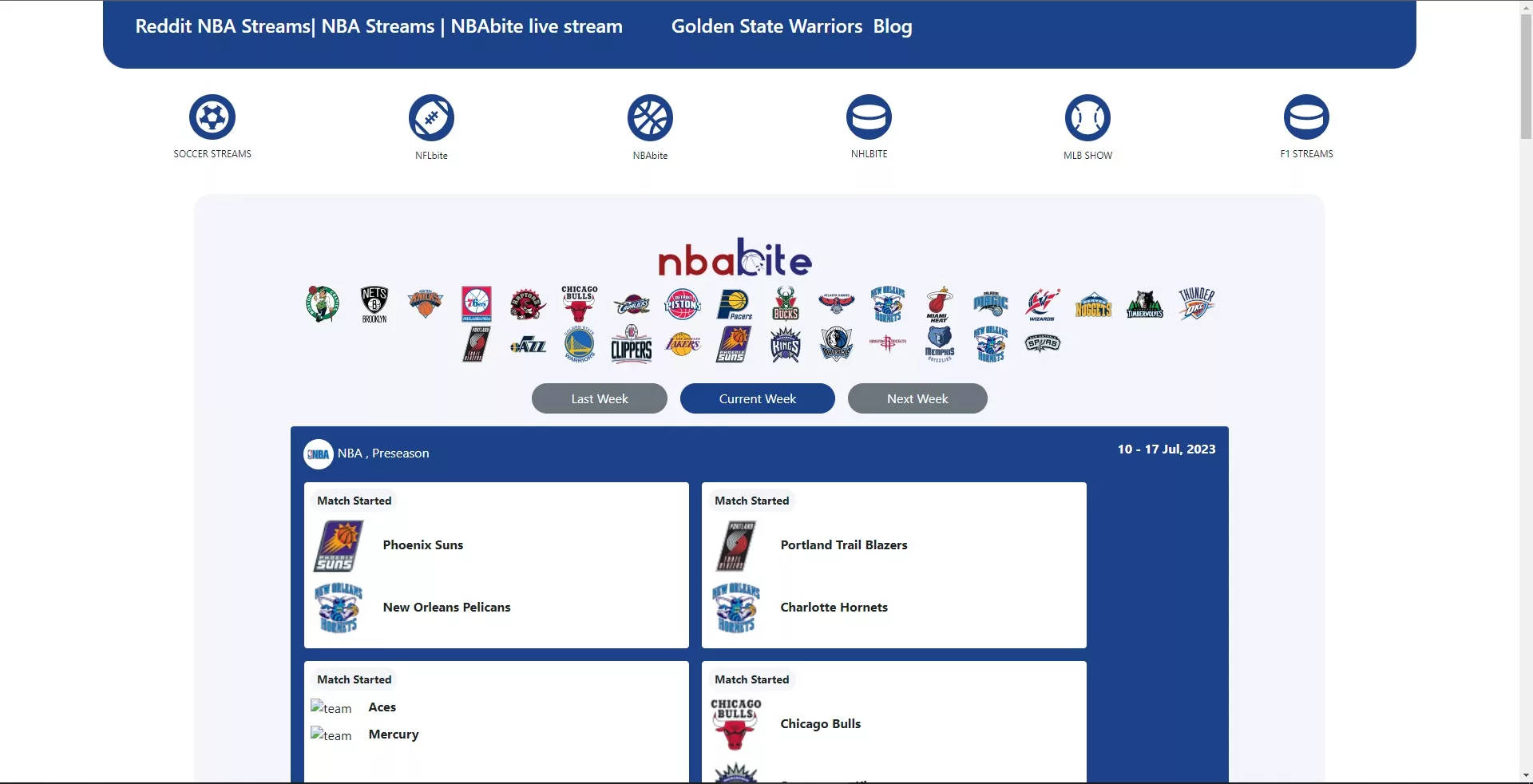 NBABite is a free NBA live streaming website that has been around since 2009. Just like Crackstreams, NBABite also has a wide range of sports including NHL, soccer, football, and whatnot.
The service offers a variety of streams and their quality varies depending on the stream you choose. The majority of live streams are HD, but you should pay attention to the number of "Thank you"s and the bitrate. Best streams quality-wise are usually on the top of the list.
Link: nbabite.to
Buffstreams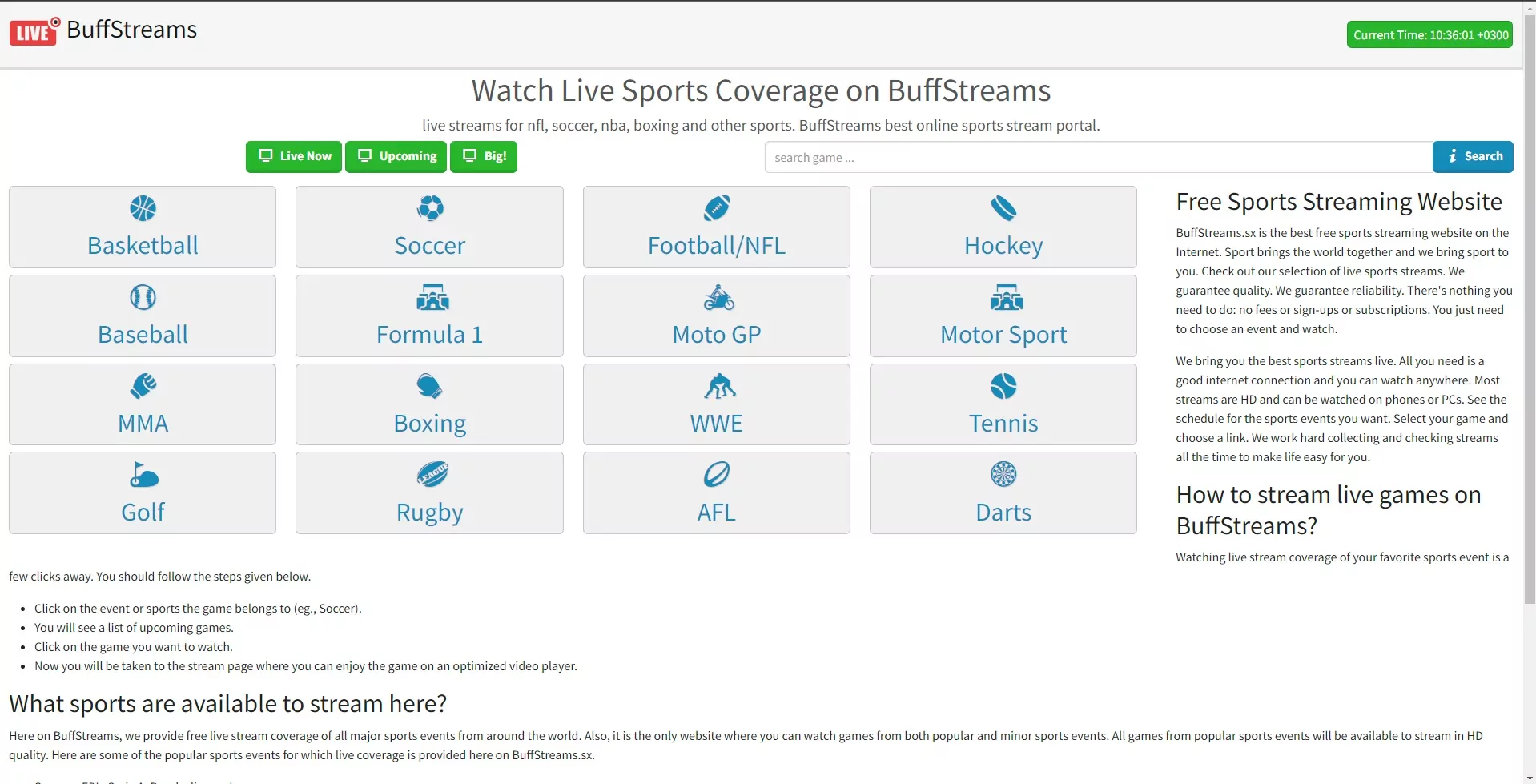 Another free NBA live streaming platform with a good bunch of options. Before you go enjoy a nice basketball clutch you have to create a free account on the website. What makes us ask questions is that while signing up you have to leave your credit card data.
Okay, when the account is created and you're ready to watch a stream, — choose one, click it, wait till the new window appears, and click "Play".
Speaking of quality, Buffstreams provides HD content but suffers those buffering issues from time to time. Just reload the player/page and you're good to go.
Site: buffstreams.sx
NBA Stream (NBAStream.net)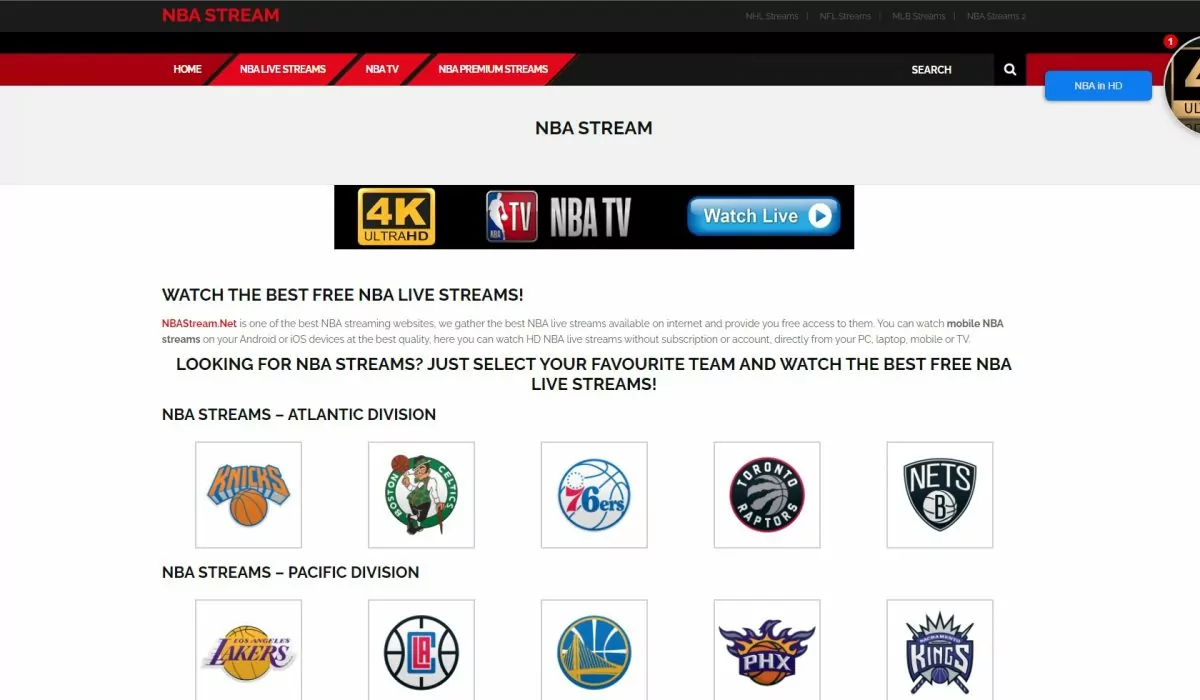 As you may guess, this website is dedicated to NBA only. It is nicely organized and looks neat. If you're a first-timer on the website, you'll have to create a free account and (again) fill in your credit card info. We would like to ask why, but there would be no clear answer.
On NBA Stream you can choose the team you want to watch play and select the stream of your liking. Press play on the new screen and enjoy the live stream. A good streaming platform overall, but never be 100% sure about a free service.
Link: nbastream.net
VipBox TV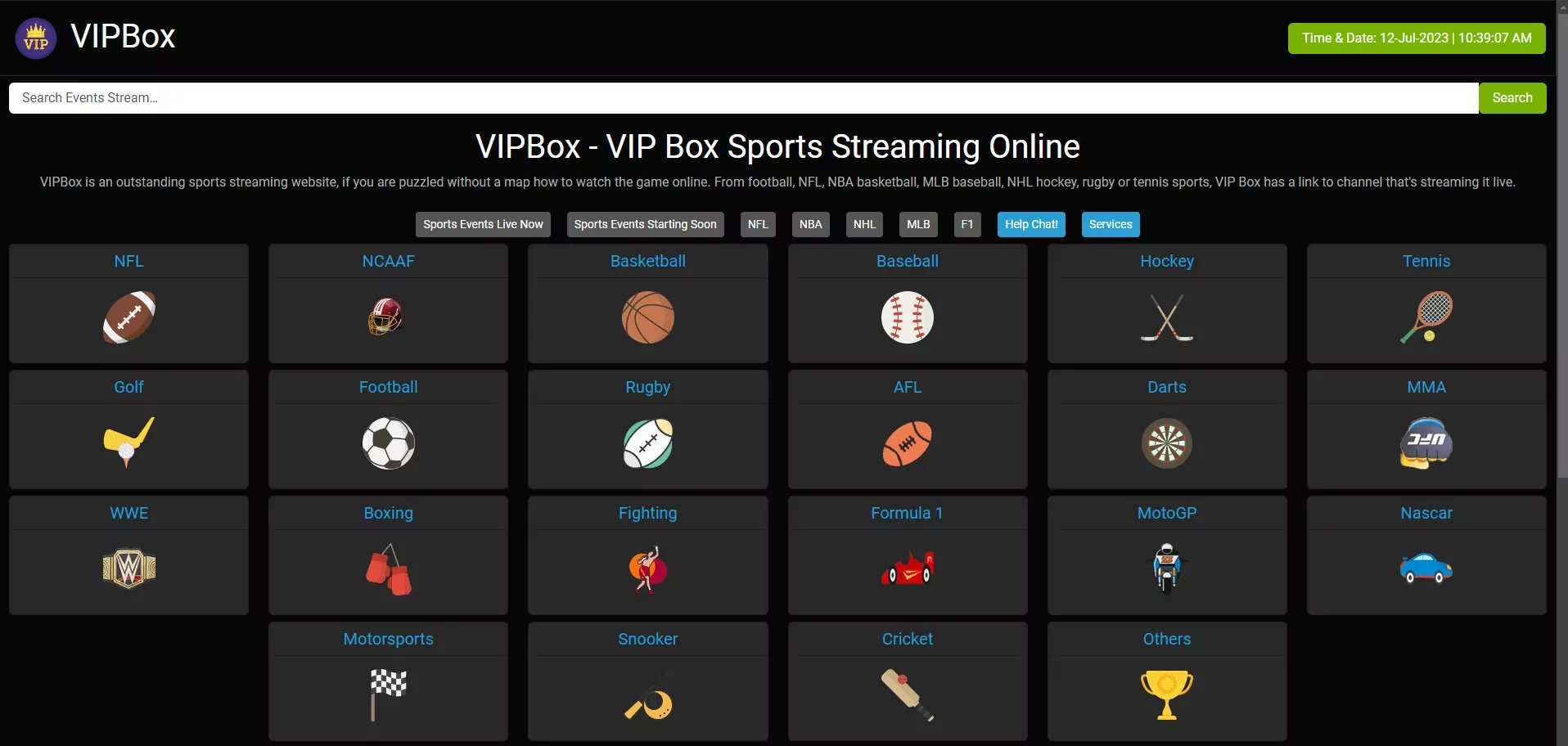 This website offers free streams of soccer, football, basketball, baseball, hockey, tennis, rugby, and whatnot games and events. It is one of the best free NBA sites broadcasting high-quality sports content. The downside of this platform is ads. Lots of ads that may make you feel uncomfortable — adult websites, chats, and so on. Make sure you have a reliable adblocker like AdLock on your device.
Site: www.vipbox.lc
How to Watch NBA Games for Free on Your Phone
Watching NBA games for free on your phone can be challenging, as most official streaming services require a subscription or purchase. However, there are a few methods you can try to watch NBA for free on your phone.
NBA TV Official App
It provides access to scores, highlights, news, and live game updates. While live game streaming within the app often requires an NBA League Pass subscription, some games may be available for free. Check the app regularly to see if any free games are being offered. So technically, it's a free NBA streaming app.
ESPN
Networks like ESPN and TNT occasionally provide free live streaming of select NBA games on their respective websites or through their mobile apps. However, authentication with a cable or streaming service subscription may be required in some cases.
Trial periods on YouTube TV, Hulu, etc.
These streaming services offer free trial periods for new users. YouTube TV, Hulu + Live TV, Sling TV, and fuboTV may provide access to NBA games during the trial period. Sign up for a trial, check the available channels, and see if they broadcast free NBA games.
Social Media Platforms
Occasionally, NBA teams or broadcasters may stream live game footage or highlights on social media platforms like Twitter, Facebook, or YouTube. Follow NBA teams, networks, or basketball-related accounts to stay updated on any live streaming opportunities they may provide.
Live streaming websites
Websites like NBABite, Stream2Watch, VipBox, Buffstreams, and others from our list usually work pretty well. They need no additional software or mandatory registration while providing decent quality live streams. So, all you need is to enter the address of the website in your browser, and you're good to go. Generally, The only downside of these websites is ads. Luckily, AdLock addresses the issue of annoying ads. We'd say this is the best way to stream NBA games for free. Especially with AdLock.
Watch NBA Online With a VPN
Streaming services often employ geoblocking as a means of controlling access to their content. Many companies are limited to operating within specific countries or regions, prompting them to implement geo filters that won't let visitors from "outer" parts of the world. Given that the majority of the streaming services where you can watch NBA games are exclusive to the U.S., people from outside the U.S. can't stream those because of geoblocking. But don't worry, there's a workaround. As you might've noticed in the "Key Takeaways", a reliable VPN is key. Luckily, there are a lot of good VPNs on the market: ExpressVPN, NordVPN, and Surfshark to name a few.
VPNs that provide decent speed and region options are usually not free, so you'll have to spend a dime. Keep in mind, that when choosing a VPN you should pay attention to the variety of regions it provides a connection to. Otherwise, you may end up having a connection to a blackout region.
If you want to save money on a VPN, you should wait for a sale or get a promo code.
Final Thoughts
Finding a trusted free NBA streaming site has always been a not-so-easy task. Not just because of hidden malware, threats, and other slimy stuff on the majority of free websites but also because free platforms are not convenient, badly-organized, and offer low-quality streams. Watching a 360-480p stream is just sad.
Luckily, there are really nice websites where one can easily find the desired broadcast, click it, and lay back.
Having read our article you now can choose from any of the listed platforms and, with the help of AdLock, watch NBA games for free and without ads.
FAQ
Are NBA streaming websites legal?
Technically, only those websites that have bought the rights to stream NBA games are legal. Platforms that stream NBA games online free of charge in the majority of cases are illegal. They are in the grey area, to be more precise. Streaming sports online is legal if it is not pirated content.
Is it safe to watch NBA games online free of charge?
Online streaming is safe. As long as you don't download anything that contains malware, scripts, bugs, etc. It would be very helpful to have a nice antivirus and AdLock on your device. The possibility of getting something undesired would be minimal. Ads free NBA streaming is completely safe if you're armed 🙂
How to watch NBA games for free without ads?
First, you should get the best ad blocker on the market — AdLock. Second, choose a reliable streaming platform from our list. That's it, no "Third". Only two steps towards good leisure in front of your favorite team slamming three-pointers. And that's how to watch NBA games for free and without ads, folks!
Is NBA streaming without sign-up possible?
Yup, it's possible. Not all streaming websites require creating an account. If you've finished reading our article then you definitely have the info on the best free streaming sites including those without a mandatory sign-up requirement. No more need to search for "NBA stream no ads no sign up", we've got you covered.
What other alternatives are there to watching NBA live streams?
Another way to watch all the regular-season NBA games is to sign up for a cable plan with a premium sports package. A cable plan is more expensive than live streaming alternatives, but it provides the widest possible variety of cable TV networks.
Adless Season Starts Now!
Do you like this post? Share it!