AdLock for Chrome
It is the long-awaited and most effective ad blocking extension for Google Chrome compatible with macOS. Experience the ad free internet exploring!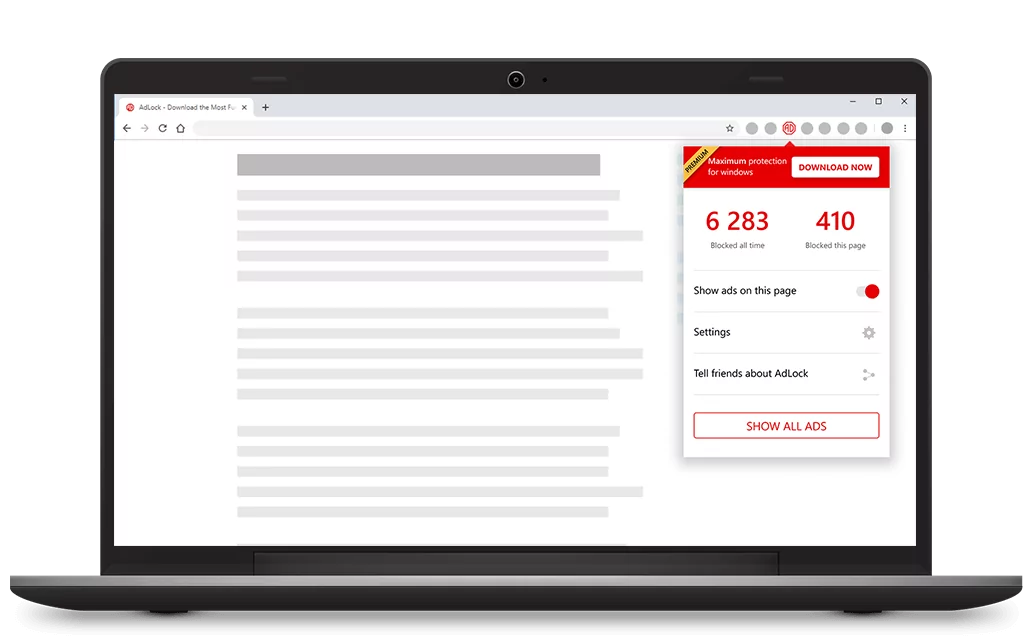 AdLock browser extension — the best solution for Google Chrome

Bypass Anti-Adblocking scripts
The AdLock extension blocks anti-adblocking scripts so you won't have problems browsing web content. If you get an anti-adblocking warning please contact us and we will deal with the problem.

Fast web surfing
Without pop-ups, banners, animated ads, and video-ads, web-pages will be load much faster.

Forever free
The AdLock extension is an unconditionally free ad blocker. You will never be asked to purchase, donate or to accept

Online security
AdLock blocks online trackers, and spyware. Advertisers won't have access to your data anymore.
What's the difference?
Blocks ads in all browsers
Works only inside the system
Blocks dangerous pages
Blocks ads in apps
Blocks all types of ads
Protects personal data
Cross-platform solution
Acceptable ads
AdLock for Windows
+
+
+
+
+
+
-
-
AdLock Browser Extention
-
+
+
-
-
+
+
-
Choose your AdLock type
1 month

billed per month before VAT
GET 1 MONTH PLAN
Most popular
1 Year

You save
billed every 1 year before VAT
GET 1 Year PLAN
2 years + 3 mo. FREE

You save
billed every 1 year before VAT
Get It Now
Windows 7 / Android 7 / macOS 10.15 / iOS 11 and above



All plans include:
5 devices
30 day money-back guarantee
24/7 Customer support
MORE THAN

2 000 000

HAPPY ADLOCK USERS HELP US IMPROVE IT EVERY DAY!*
*Follow our updates