How to Block Ads on Twitch in 2023
Put an end to Twitch adverts:
How to block Twitch ads is a question that many users of the popular live-streaming platform have asked. As Twitch continues to add more advertisements, viewers are becoming increasingly frustrated with the interruptions to their viewing experience. While Twitch does offer some ad-free options for a monthly fee, not everyone wants to encourage service further with their money.
In this article, we will explore various methods that you can use to avoid ads on Twitch, ranging from the official services offered by the platform to VPN lifehacks. We will examine the pros and cons of each method to help you decide which is the best for your needs. And at the end of the day, if you don't want to tinker, you can always install a comprehensive ad blocker like AdLock and remove all ads in one click.
7 Best Ways to Block Twitch Ads
Do these types of articles, "N ways to do something", remind you of eyelash commercials? You know, those who keep increasing the said volume their mascara provides even though the lashes should be already out of our Galaxy by that point. Well, it's not about me. I'm an honest writer and will tell only about proven methods of blocking Twitch ads. And the number of proven methods is seven. Here's how to stop ads on Twitch:
Use an ad blocker (free/paid)
Subscribe to Turbo Twitch (paid)
Use Twitch alternatives (free)
Use VPN (free/paid)
Use Brave Browser (free)
Subscribe to the Twitch channel (paid)
Use alternative clients (free).
Options
Benefits
Drawbacks

AdLock

One of the most popular ad-blocking services with 24/7 support and a large community;

Removes all types of ads, including their placeholders;

Works across the system and is not limited to Twitch only;

Provides a bunch of additional features such as personal data protection, reduced data usage, and more;

Available for Windows, macOS, Android, and iOS;

Mobile AdLock does not require root access;

Struggles to remove ads in some native applications;

Turbo Twitch

Ad-free experience on twitch.tv and in applications (except for paid promotion embedded in content);

Twitch bells and whistles like emojis, chat badges, etc.

Priority customer support.

Removes ads on Twitch for roughly 9 bucks per month.

Alternate player

Fewer stops during playback;

Instant replay;

Removes ads (except for paid promotion by streamers);

Takes up less RAM than a Twitch player;

Provides many useful (and some not so much) features and customization options.

Not optimized for touchscreen devices;

Doesn't work with VoDs (Live broadcasts only);

Users report ~5 sec. chat and stream delays;

Doesn't ensure personal data security.

VPN

Reduces the number of ads;

Provides privacy protection: hides your IP, location, encrypts your traffic altogether, etc.

Bypass censorship

Doesn't eliminate ads completely;

Depending on the region, ads can be in unfamiliar languages and look even crazier;

Can slow down the internet connection;

Risk of connection drops.

Brave browser

Free open-source ad-blocking browser;

Provides privacy protection: disables browser fingerprinting, blocks third-party cookies, ensures secure encrypted connection, etc.

Offers a reward program.

Default ad blocking may break some websites;

Uncertainty around its business model.

Subscription to the Twitch channel

Ad-free viewing;

Access to exclusive content;

Chat benefits;

Support for favorite creators.

Need to subscribe to every creator to get rid of ads on Twitch;

Twitch takes 50% of the creator's revenue.

Alternative clients

Ad-free viewing;

A range of customizable features, such as layout options, chat management tools, and more;

Additional functionality.

Lack of support;

Compatibility issues;

Security concerns.
Further in the article, we will thoroughly observe each method.
Use an Ad Blocker to Block Twitch Ads
Blocking ads on Twitch is easiest by using an ad blocker, especially if your choice is AdLock. It's easy to install and use on PCs, Mac computers, smartphones, and tablets and effectively blocks all types of ads. AdLock has a straightforward business model: our system-wide tools are subscription-based and cost between $3.49 monthly and $12 yearly. These tools support our free browser extensions for Chrome and Safari.
How to Block Twitch Ads on Windows and Mac
AdLock will stop ads on Twitch and all kinds of commercial content across all your favorite browsers and software on your PC. Our application is set up to stop all types of advertisements across the system and accessorial software by default, but you can adjust settings to meet your needs.
Choose your plan and get your license key;
Launch AdLock => click Activation => paste your 9-digit license key;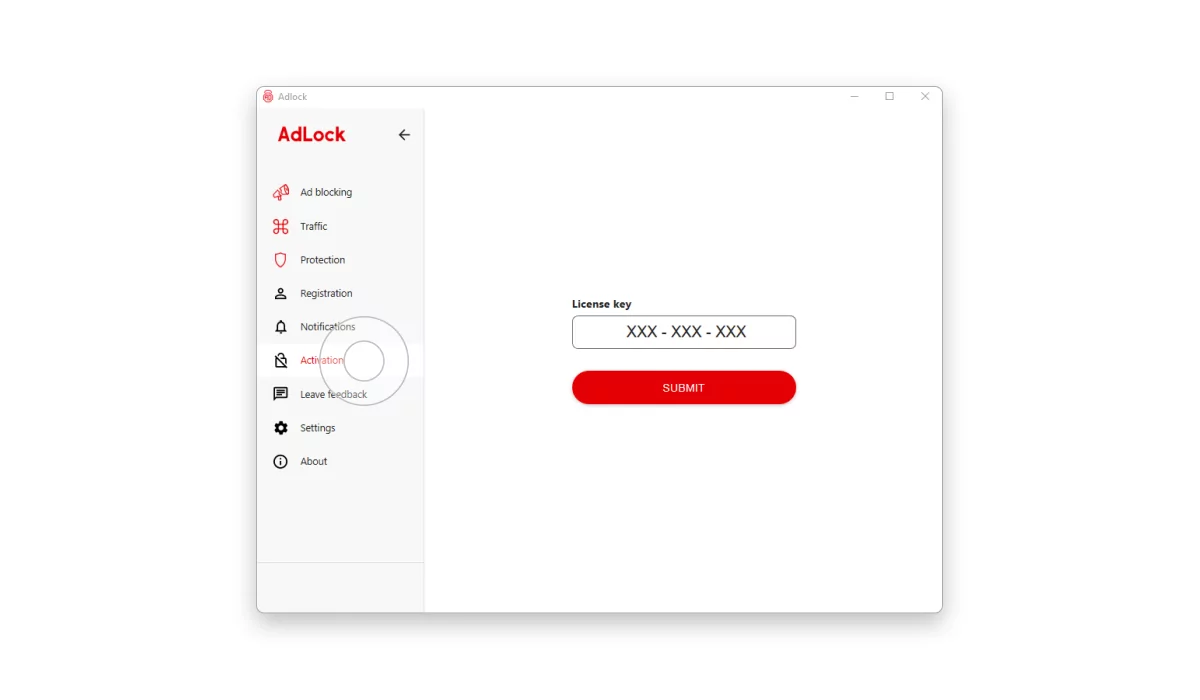 Click Ad-blocking => find a large on/off toggle and switch it to On position;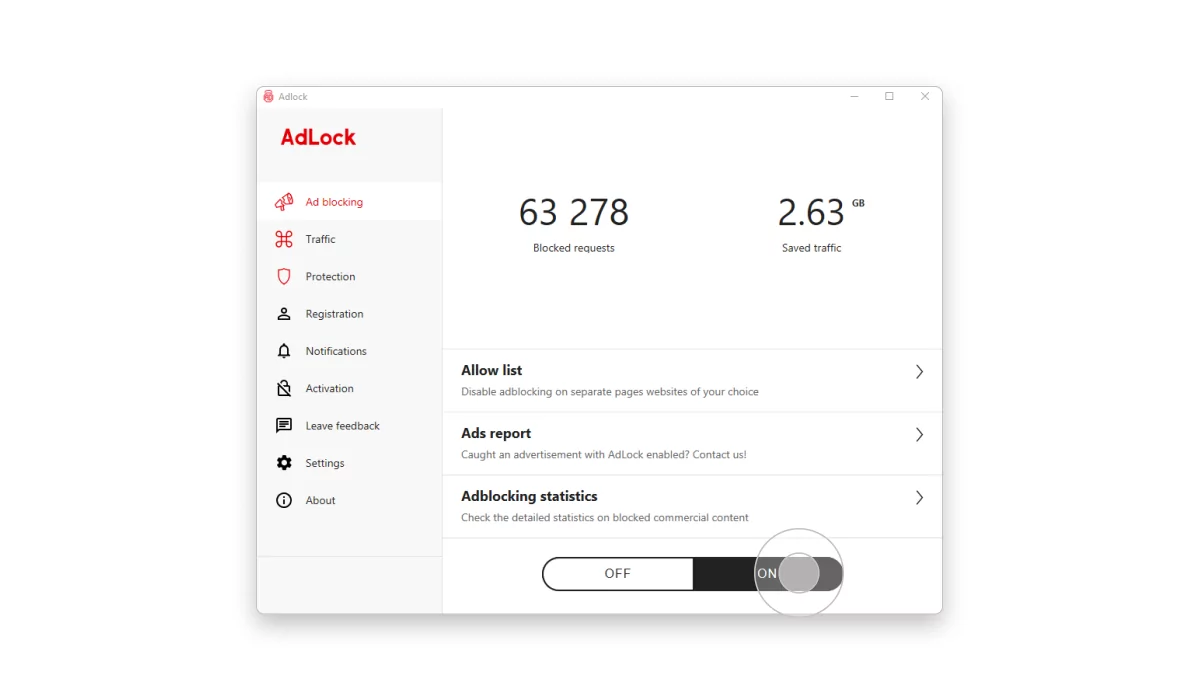 Enjoy Twitch streams with no ads.
Blocking ads on macOS PCs does not differ from blocking on Windows. You either use an ad blocker for Twitch, alternative Twitch players or buy Turbo.
How to Block Twitch Ads on Android
If you watch live streams using an Android app, you're well aware that ads can be ridiculously obnoxious. The most unsettling thing about them is that they often roll in at the most gripping moment of the stream, making viewers freak out. Also, commercials pop up every single time you switch the quality of the video you currently watch, reload the page, and when you tap another video to watch.
Who cares that you've just missed a pivotal team fight, a big 1v9 carry moment, or a wtf glitch? Twitch? Not really.
Advertiser? Nope. They just want to promote some brands.
We know your pain.
To block Twitch ads in the app, you need to download AdLock, install it, and follow the instructions in the guide below to adjust AdLock:
Launch AdLock and tap a hamburger menu and choose Settings.
Tap Check for Updates and tap UPDATE in the next window.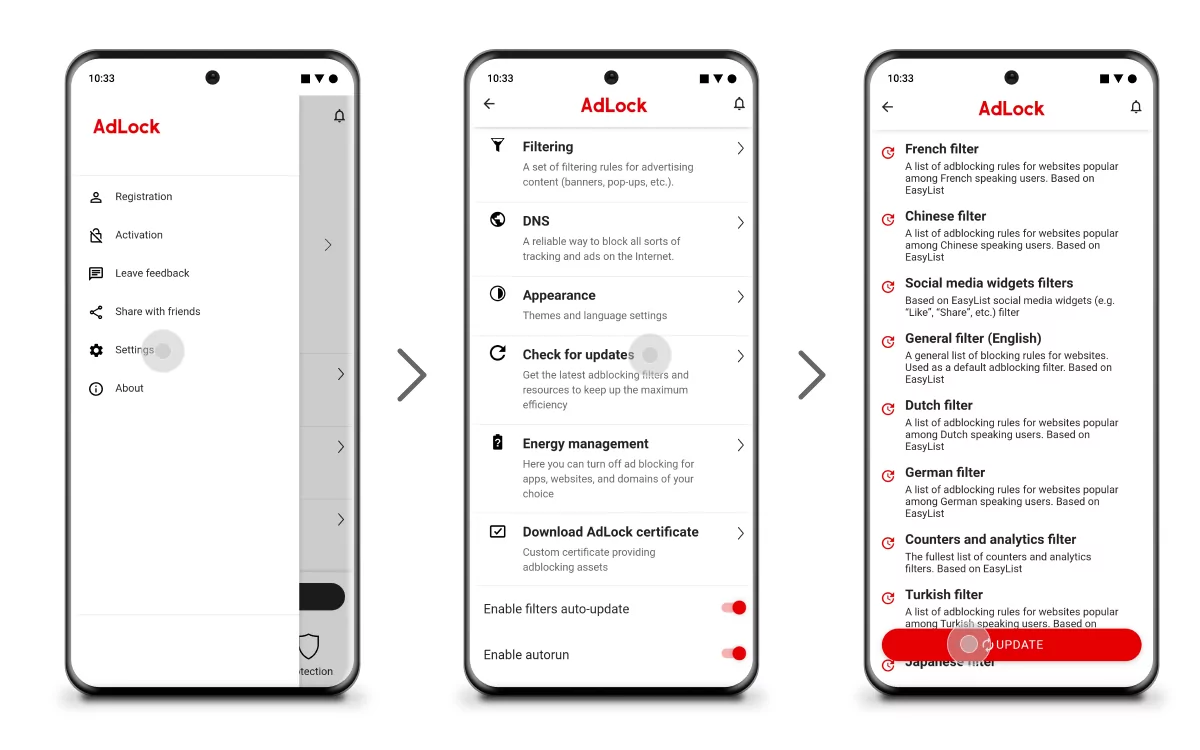 Go to the AdLock tab and tap a big red button INSTALL CERTIFICATE, to enable HTTPS filtering.
Verify your identity in the following window by scanning your fingerprint, setting a graphic key, or creating the password.
Tap a hamburger menu, choose Buy now, and select your plan.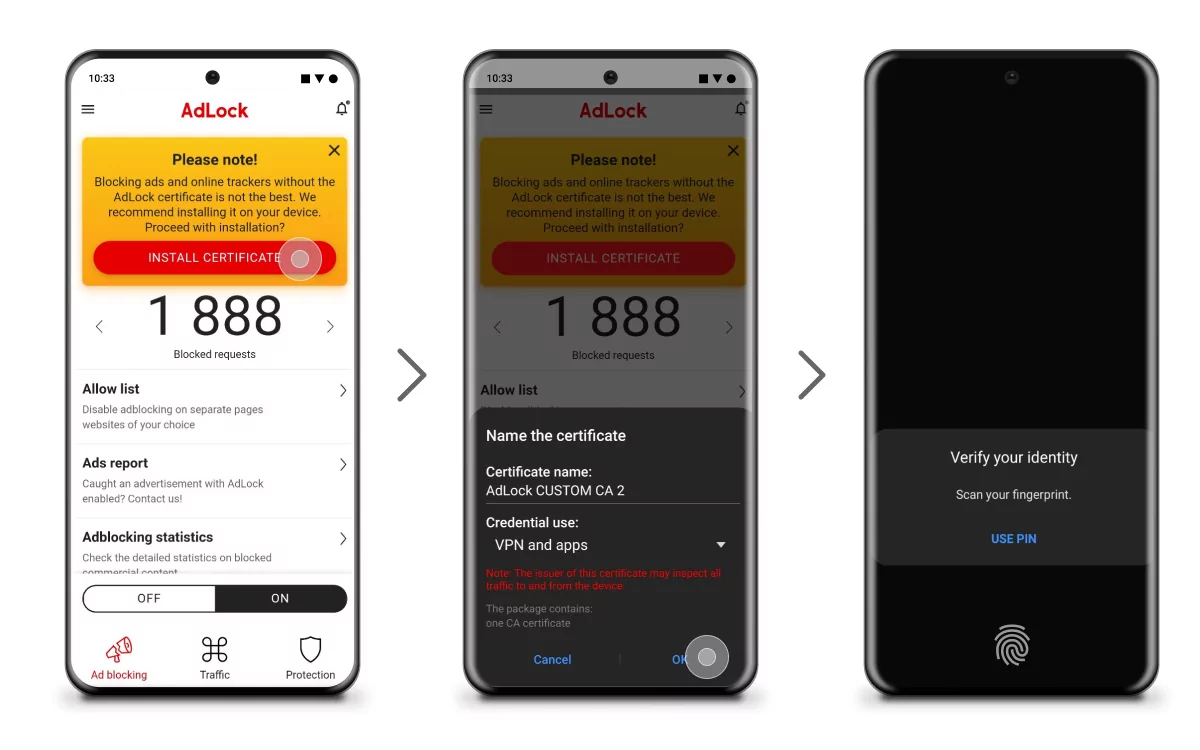 The other way to watch Twitch without ads is to use an alternative client for Android. There are few options on the market that come with extra features such as BTTV/FFZ emotes, the ability to save streams, adblocking, etc. Read the reviews and choose your hero, but treat it with caution. Unofficial players often come with security risks.
That's it! From this moment, you seamlessly skip Twitch ads on your smartphone.
How to Block Twitch Ads on iOS (iPhones and iPads)
While AdLock and other iOS ad blockers rock in Safari browser, they struggle to block ads on native applications. Apple's policy and iOS architecture make it almost impossible for ad blockers to filter native iPhone/iPad apps like Twitch and some others. Thus, if you choose AdLock for Twitch to solve your problem of obnoxious adverts, then you need to watch it through a browser. Browser Twitch is as convenient as a standalone app, and ad blockers are significantly cheaper than a stack of premium subscriptions.
To get rid of Twitch ads using AdLock, do the following:
Open Settings, find and tap Safari.
Tap Extensions and switch on all AdLock toggles.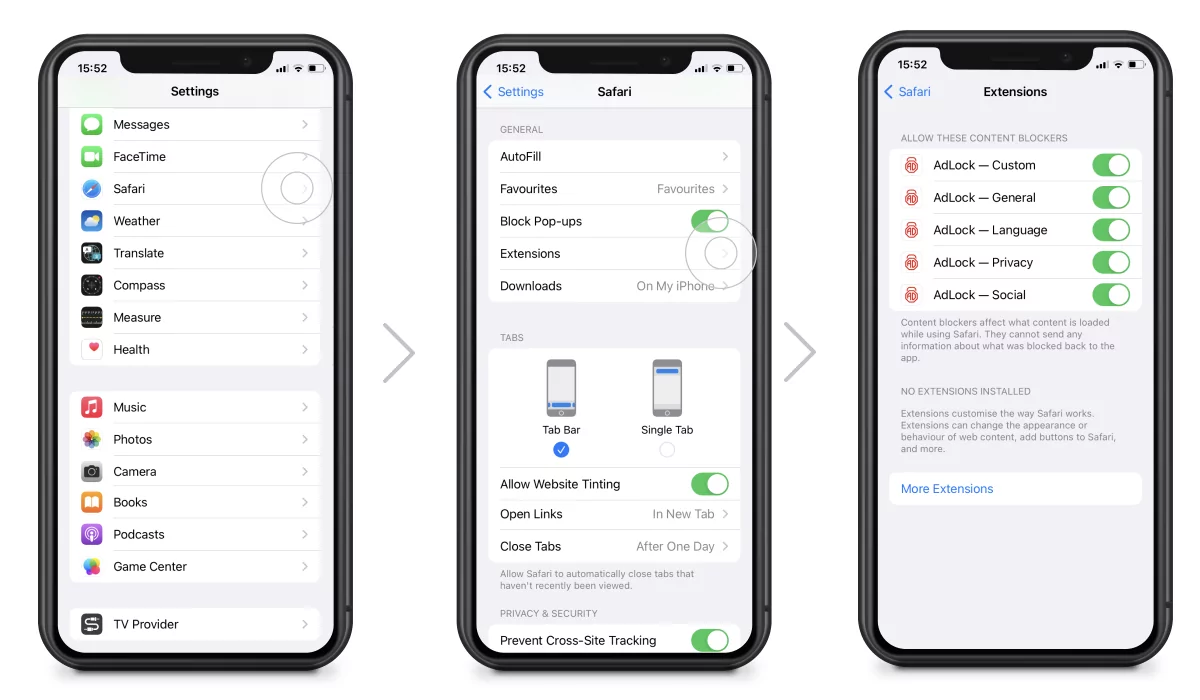 Launch AdLock, and tap the Ad-free web surfing toggle to enable ad-blocking. Wait for a couple of minutes until AdLock finishes downloading all necessary filters.
Tap the Premium toggle and choose a $12 yearly or $3,49 monthly plan. You'll get a 7-day trial, and if you don't like the work of AdLock, you'll receive your money back, no questions asked.
Now that we've already viewed using apps and extensions, we'd like to mention non-native solutions and consider them.
Use VPN to Block Ads on Twitch
While the sole usage of a VPN won't turn off ads on Twitch, it will significantly reduce the number of ads targeted at the English-speaking community because the servers won't see you as a part of it. Most ads would not roll in if you enabled, for example, a VPN connection through Poland. The only downside of this method is that you may experience lags during streams.
Be aware that not every VPN location will allow watching Twitch streams. Use one of these countries for guaranteed connection to the service: Czechia, Georgia, Lithuania, Poland, Romania, Serbia, Slovakia, Ukraine, Mexico, Costa Rica, Guatemala, and Panama.
To use VPN as a Twitch ad blocker, complete these simple steps:
Launch your VPN service
Choose the location from the countries listed above and turn on the VPN connection if it's not started automatically
Check the Settings of your VPN service, and if you find an ad-blocking feature, enable it
Enjoy the streams with the magically reduced number of pre-rolls and mid-rolls.
Other Ways to Block Twitch Ads
While AdLock and VPNs are popular options, they're not the only ways to watch Twitch without ads. Check out this list of alternatives that might just do the trick.
Twitch alternatives. These services are not substitutions to the platform and just provide an alternative way to watch Twitch streams with some benefits and without ads. The most common alternatives are:

Multistre.am – allows you to watch up to eight streams simultaneously. You need to copy a URL to a stream from Twitch and paste it into the bar in Multistre.am;

Twitchls.com – an open-source service available on GitHub. To watch a stream from Twitch, no ads, change the stream's URL from this twitch.tv/*name of the streamer* to this twitchls.com/*name of the streamer.


Non-native Twitch clients. Non-native Twitch player applications and extensions allow viewers to watch live ad-free streams. They also offer practical features such as instant replay or "Audio only" mode. However, you can't find and stick to one app as these options may not work with all devices. Additionally, if you don't mind the hassle, you can block all Twitch ads using a script from GitHub.
Turbo Twitch. An official Twitch feature provides ad-free viewing to subscribers for a monthly fee. The biggest advantage is that it's a reliable and straightforward solution, but the downside is that it costs $9 monthly, which is kinda expensive for blocking ads on only one site.
Brave Browser. The main feature of Brave Browser is ad blocking, so it certainly will remove Twitch ads. This browser is open-source, cross-platform, and secure. However, default ad blocking can break websites sometimes and slow them down. And the biggest uncertainty is its business model.



Subscription to the creator's Twitch channel. This option is optimal for users who only watch 1-3 streamers regularly. The minimum monthly subscription cost starts from $4.99 monthly and offers benefits such as ad-free viewing of streamer's content, exclusive content, chat features, and others. The Twitch channel subscription is the only way to disable Twitch ads in VoDs and turn off sponsor promotions. The cons of this option are that you can't unsubscribe mid-month, and Twitch will take 50% of the streamer's earnings. So, one way or another, you still pay Twitch.
Types of Twitch Ads You Can Block
Twitch is known for its devoted viewers who support the streamers by watching ads. However, the platform has recently increased the number of ads and introduced new ad formats, causing frustration for many viewers. We would need to write a whole separate article to cover all Twitch ad formats, but instead, we touch only the most annoying of them and ways to block them.
Types of Twitch Ads
We can classify Twitch ads into four categories based on their ability to be removed:
Easily removable ads like banners. On Chrome, you can block those using AdLock free ad-blocking extensions. There are other options for removing ads from Firefox and Opera.
The second type of ads is pay-per-click ads in live streams that AdLock can block.
The third type of ads includes sponsored promotions by streamers that cannot be blocked or skipped. You need to subscribe to the creator's channel to stop them.
The fourth type is the ads stuffed into VoDs. The subscription to the creator's channel will also remove those ads.
Another video streaming service we all love with way too much advertising is YouTube. Find out whether
YouTube ad-blocker for Android
can remove all annoying ads.
Twitch Advertising Formats 2023
Twitch promises to make pre-roll ads way less annoying in 2023. They even go as far as considering to ad a snooze button! But until the company implements all those shiny changes, we have to deal with way less subtle adverts, such as:
Unskippable ads. Twitch's non-skippable ads without length regulations have sparked an uproar among users. The platform went as far as serving unbearable 5-minute music videos in random languages disguised as ads. Viewers are left with only two options: use ad-blockers or leave for an alternative platform.
Read Also: How to Block Ads on Reddit App

Sudden extremely loud ads. We're talking about ads that are loud enough to wake the dead or an unaware viewer who fell asleep to the muttering of the streamer and woke up to a heart attack.
Conclusion
There are various methods available to stop Twitch ads. From using ad blockers to alternative players, each option has its pros and cons. While some solutions may work better for one user than another, it's essential to find the method that works best for your needs. Whether it's using a VPN or trying out new Twitch clients, the choice is yours. Ultimately, if your goal is to enjoy uninterrupted Twitch streaming without tinkering, stick to AdLock and tell your friends.
Frequently Asked Questions
Why does Twitch have so many ads?
Because capitalism. Okay, that was the low-hanging fruit, I'm sorry. But seriously, ads create revenue, and Twitch uses revenue, among other things, to support its creators. Yes, it's true that recently there have been too many ads on Twitch. Maybe it's because the number of streamers has increased rapidly. Maybe it's because of Twitch's greed (we all know its owner is not the most generous company in the world). The exact reason is yet to be discovered, if ever at all.
How much is Turbo on Twitch?
Turbo Twitch subscription costs $8.99 per month. For this price, you get new emojis, a chat badge and custom chat username colors, extended broadcast storage, and priority customer support. However, no free games or loot.
Does Twitch Prime Remove Ads?
In August 2018, Twitch came to us with good (not much) news. In its blog post, Twitch announced that, as of this autumn, Prime Twitch users would no longer be absolved from ads:
"Twitch Prime members with monthly subscriptions will continue to get ad-free viewing until October 15 [2018]. If you already have an annual subscription, or if you upgrade to an annual subscription before September 14, you will continue with ad-free viewing until your next renewal date."
Does AdLock work on Twitch?
And how! AdLock is flawless at blocking all types of Twitch ads except those promoted by streamers. Keep in mind that AdLock is not limited in its ad-blocking capabilities. Once you stick to AdLock, you get rid of commercials from any sources: browsers, applications, etc.
How do I clear my cookies on Twitch?
Put an end to Twitch adverts:
Do you like this post? Share it!