Update – October 2020: Twitch introduced new mid-roll ads a few weeks ago and since then they've been more than frustrating for both streamers and viewers.
The main issue is that these ads can't be controlled by the content creator — they roll in completely automatically. This significantly affects the viewer's experience in a negative way as they may miss a pivotal teamfight, a 1v9 carry, etc.
We've been fighting this new ad format since the beginning. It was a hard challenge as the new way of ad delivery was sneaky like a ninja.
We're ready to announce, that the new adverts on twitch are officially beaten.
AdLock is the most efficient adblocker for Twitch today!
Twitch goes above and beyond to make it harder for any ad blocker to block new Twitch ads. On the one hand, it is logical, as streamers and service itself need sponsorship but on the other, ads are nerve-wracking for viewers who also make donations to streamers. Twitch users often complain that even after switching streams they get the same adverts over and over again and it's impossible to skip them. As a result, even a good product becomes repelling to a customer. For example, the constant promotion of actually fine movie "Ready Player One" led to viewers swore they would never watch it.
Contents
Put an end to Twitch adverts:
Twitch Advertising Formats 2020
Twitch has the most loyal audience comparing to any other live-streaming platform. Most of the viewers appreciate the work of the streamers and service itself and willingly watch ads to support all of them. But Twitch began to abuse its privilege by adding many new unsettling advertising formats to its non-exhaustive list.  Let's consider some examples of ads that annoy the most.
Unskippable ads
Following YouTube Twitch also has adopted non-skippable ads politics but unlike YouTube Twitch doesn't control the length of pitches. Viewers complain about unskippable 5-minute music videos in languages they don't speak. This ad format pushes Twitch users to stick to ad-blockers or even leave the Twitch for other live-streaming services. Most of them don't provide the same experience as Twitch as most of them don't have chat rooms but if you just want to watch streams you can find a good alternative to Twitch.
Too loud ads
Jumpscare advertising is the worst especially for viewers who are used to watch Twitch on the background while working or falling asleep. To be fair a significant volume difference between a commercial and a stream is caused by the streamers themselves who have their sounds set to low. Viewers adjust their volume to comfortably listen to the stream but then an ad rolls in blasting their ears. Anyway, it's not the viewers' problem that Twitch can't autotune advertising sound to a comfortable level.
Commercial break in progress
It's more of a glitch but many Twitch viewers have faced it so we decided to include it to our list. It looks like a pre-roll but instead of commercial viewers see a blank screen with a single sentence "Commercial break in progress". That screen is unskippable and has no end. This issue is only curable by using an ad-blocker application or an ad-blocking extension.
Another video streaming service we all love with way too much advertising is YouTube. Find out whether
YouTube ad-blocker for Android
can remove all annoying ads.
Types of Twitch Ads
All commercials on Twitch can be grouped into four categories:
Ads that require no effort to disable;
Ads that are not easy but possible to disable;
Ads that are impossible to turn off;
Adverts in videos on demand (VoD).
The first type of adverts are banners, you can easily get rid of them using any free Chrome ad-blocking extension like AdLock or if using Firefox or Opera adjusting your browser's settings. The second type is the pay-per-click (PPC) advertisement that Twitch inserts into streams. Free ad-blockers can't hide such advertising, and you will need AdLock to block it. The third type of ads are promotions that streamers do themselves in their streams. Those promotions are sponsored directly by advertisers and can't be blocked. And the fourth type is ads you get when watching VoDs. Since the first and the third types are clear, we will talk about the second and the fourth types and clarify how to get rid of them.
How to Block Twitch Ads on Windows
To stop Twitch ads in a browser, you need to download AdLock for Windows and install it. Basically, that's it. AdLock will block not only ads on Twitch but all kinds of ads in all your favorite browsers and software you have on your PC. Our application is set up to stop all types of commercial content across the system and accessorial software by default, but you can adjust settings to meet your needs.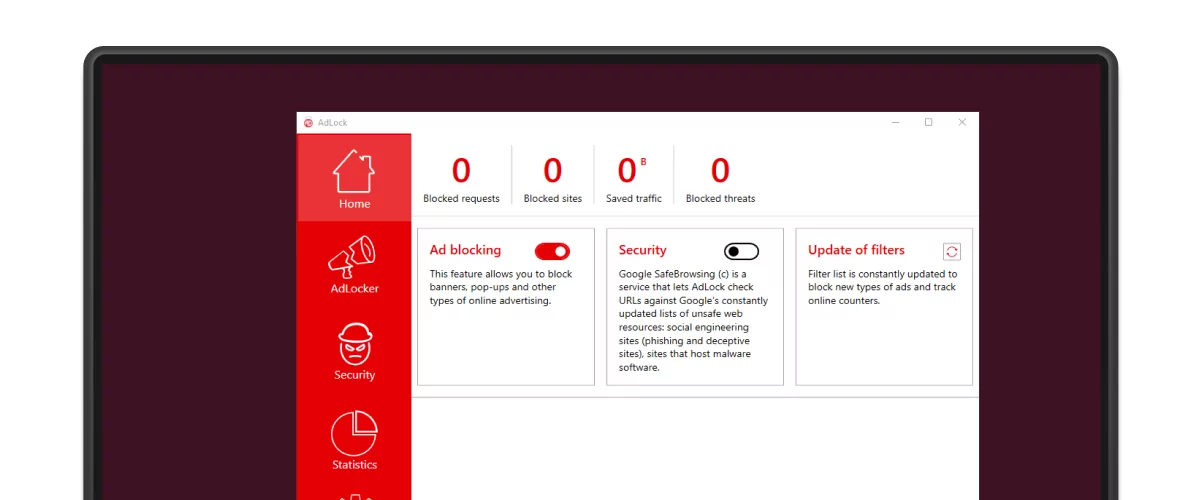 How to Block Ads in Twitch App for Windows
Desktop Twitch is an all-in-one (community, dashboard, chat, voice/video chat) application designed for gamers and Twitch broadcasters alike. Twitch Desktop is officially available for Windows and macOS. With its extended functionality and improved performance Twitch Desktop also brings adverts. Yes, the Twitch app for Windows has ads. Numerous annoying ads.
So, the question "Does AdLock help to get rid of ads in the Twitch app for Windows?" comes up. The answer is Yes.
Put an end to ads in Twitch:
How to Block Twitch Ads on Android
If you use an Android app to watch game streams, you know that ads can be ridiculously obnoxious. The most unsettling thing about them is that oftentimes they roll in exactly at the most interesting moment of the stream making viewers freak out. Also, commercials pop up every single time you switch the quality of the video you currently watch, reload the page, and when you tap another video to watch.
Who cares that you've just missed a pivotal teamfight, big 1v9 carry moment, or a wtf glitch? Twitch? Not really. 
Advertiser? Nope. They just want to promote some brands.
We know your pain.
To block Twitch ads in the app, you need to download AdLock, install it, and follow instructions of the guide below to adjust AdLock:
Launch AdLock application;
Check for updates;
Since commercials and their insertion constantly change to override ad-blocking services, it's important to have a relevant version of AdLock. To update ad removing algorithms, filtering scripts and rules, launch AdLock application, tap hamburger menu at the top right corner, and choose "Check updates". In a new menu tap "UPDATE ALL".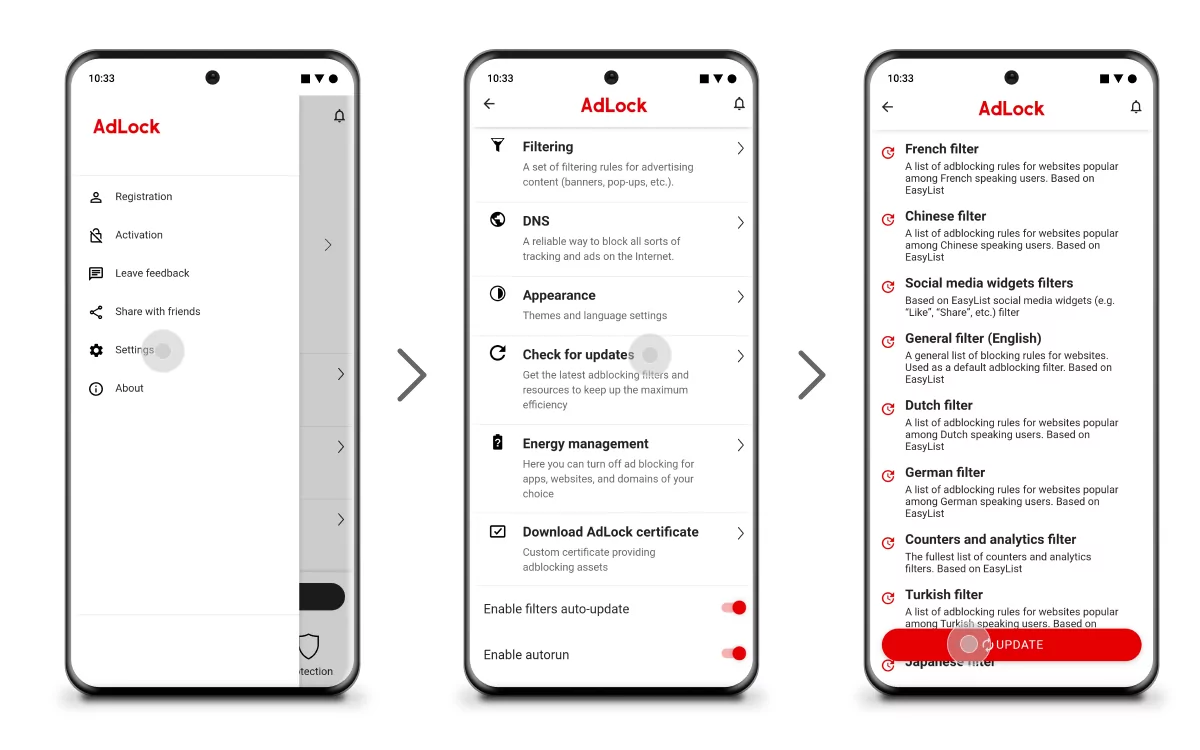 Switch to the "AdLocker" tab and enable HTTPS filtering. In a pop-up window tap "OK". Then you will be asked to set a graphic key to verify your identity for future actions. Set a pattern you surely will remember.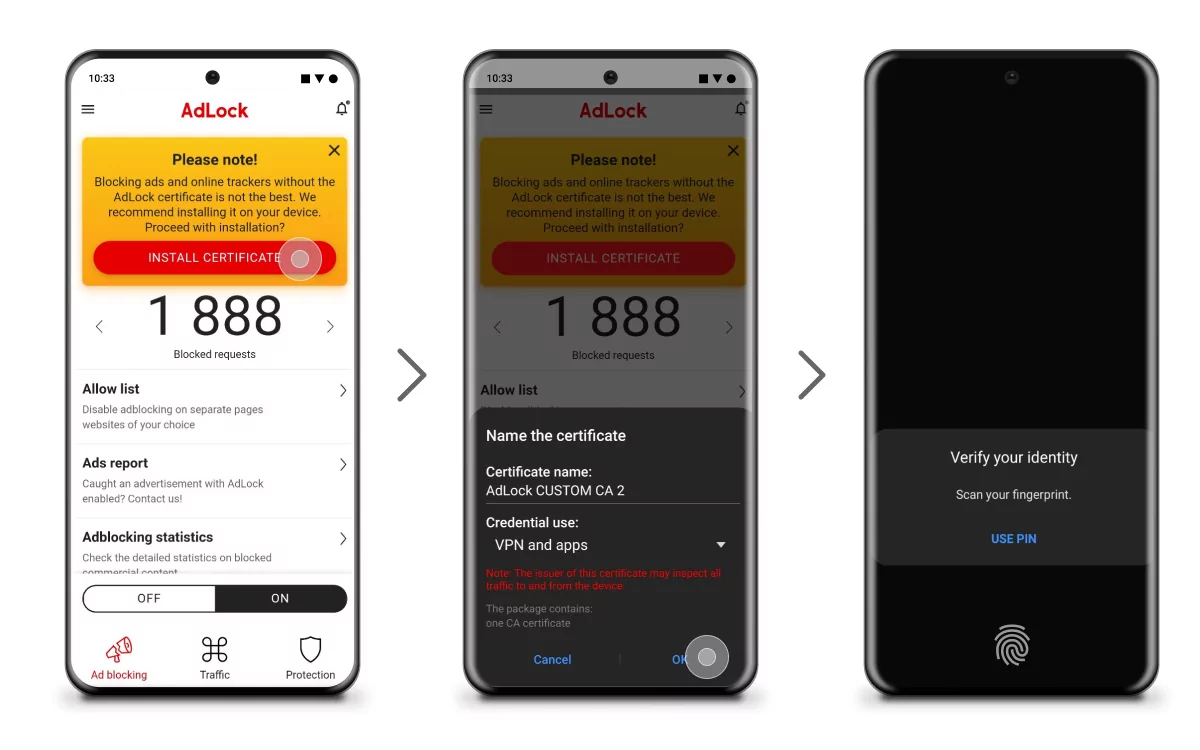 That's it! From this moment you seamlessly skip Twitch ads on your smartphone.
How to Block Twitch Ads on iOS (iPhones and iPads)
In brief, there are two ways of blocking Twitch ads on iPhone and iPad, and they're quite similar to methods we've already considered as solutions for Android.
Twitch Turbo — one-box solution for all devices and operating systems;
Adblockers — they do help to get rid of ads on Twitch, but there's a catch.

So, basically, you can pay for Turbo to clean up Twitch advertisement and get a range of additional perks like smileys, as well as stick to adblocking software. The difference is that iOS adblockers remove all ads on Safari but struggle to handle them on native applications. What we mean, is that iOS architecture and Apple's policy make it almost impossible for adblockers to filter native iPhone/iPad apps like Twitch and others. Thus, if you choose an adblocker to solve your problem of obnoxious adverts on Twitch, then you've got to watch it through a browser. All in all, browser Twitch is almost as convenient as a standalone app and adblockers are significantly cheaper than a stack of premium subscriptions.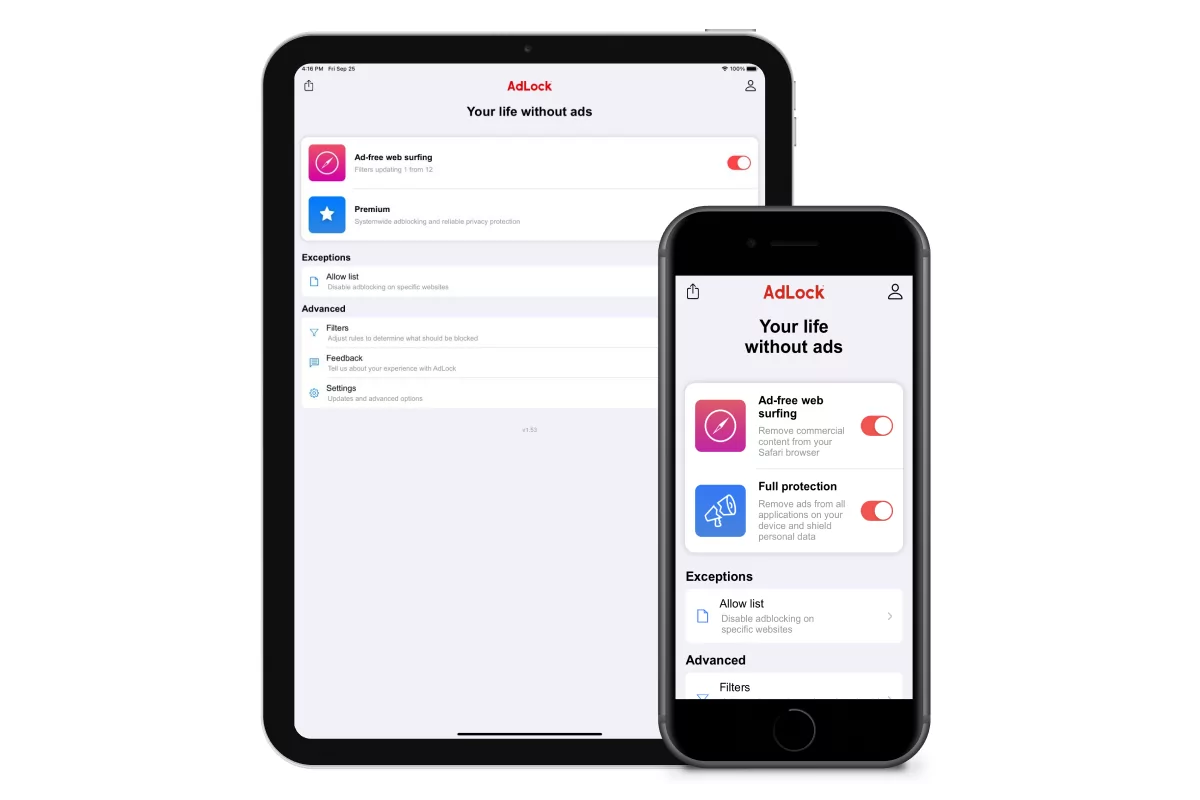 Remove ads from MacOS
Basically, blocking ads on macOS PCs does not differ from blocking on Windows. You either use an adblock extension/application, alternative Twitch players, or buy Turbo. As far as we've already considered using apps and extensions, we'd like to mention non-native solutions and consider them.
Non-native Twitch player apps and extensions
There are lots of diverse non-native Twitch player applications and extensions giving us, ordinary viewers, to watch live streams without adverts. On top of ad-free viewing, some third-party players offer a row of useful features like instant replay, or "Audio only" mode, and allow users to customize the layout to meet specific needs.
To name a few, Alternate Player for Twitch.tv would be great on PC, and  Pocket Plays for Twitch on Android devices. We'll tell you more about the benefits that non-native players bring in our sections below.
How to Block Twitch Ads on VoDs
Video on demand is a past streamed content on Twitch. If you can't catch an interesting stream live, you will probably watch it later. It's a useful option for both streamers and users because it allows streamers to grow their channels and users to watch content they may have missed. VoDs are loaded with ads even harder than actual live streams. Some streamers choose to avoid ads in their live streams and put them into their VoDs, so they don't repel their broadcast watchers and still get income from ads later. There's a commonly known fact that Twitch service stuffs VoDs with commercials to the gills.
Earlier ads on a video on demand were only at the beginning, but now they appear every 5-10 minutes of the stream. Twitch users complain that ads are louder than the actual video and they can't mute them. Sometimes ads take too much time to buffer which is infuriating. The buffering is annoying itself but when you wait for an ad to buffer… you go berserk.  
To get rid of ads on Twitch VoDs you should use the "Report" feature. If you report "This ad has played too many times" and "This ad can't be muted or is too loud" 5 or 6 times, you get to actually skip ads. The queue for the ad happens every 15 minutes, but when you report it actually plays a black screen for 2 seconds, and then you are back to your VoD. This trick works for live streams advertising, too.
Eventually, you'll get to see ads again and repeat the procedure time after time. If you want a solution here and now and on an ongoing basis, use AdLock to block all Twitch ads at a time.
Twitch Ads are not Blocked in Prime
In August 2018 Twitch came to us with good (not much) news. In its blog post, Twitch announced that, as of this autumn, Prime Twitch users would be no longer absolved from ads:
Twitch Prime members with monthly subscriptions will continue to get ad-free viewing until October 15. If you already have an annual subscription, or if you upgrade to an annual subscription before September 14, you will continue with ad-free viewing until your next renewal date.
So…How to Block Twitch Ads in 2020?
Users who are not ready to tolerate Twitch ads are left with three options to choose:
Subscribe to Turbo Twitch;
Stick to AdLock;
Let's consider these options, compare them, and review common questions.
Options
Benefits
Drawbacks
Turbo Twitch
Ad-free experience on twitch.tv and in applications (except for paid promotion embedded in content);

Twitch bells and whistles like emojis, chat badges, etc.

Priority customer support.

Removes ads on Twitch for roughly 9 bucks per month.
AdLock
One of the most popular ad-blocking service with a 24/7 support and large community;

Removes all types of ads including their placeholders;

Works across the system and is not limited to Twitch only;

Provides a bunch of additional features such as personal data protection, reduced data usage, and more;

Available for Windows, macOS, Android, and iOS;

Mobile AdLock does not require root access;

Struggles to remove ads in some native applications;
Alternate player
Fewer stops during playback;

Instant replay;

Removes ads (except for paid promotion by streamers);

Takes up less RAM than Twitch player;

Provides many useful (and not much) features and customization options.

Provides many useful (and not much) features and customization options.

Not optimized for touch screen devices;

Doesn't work with VoDs (Live broadcasts only);

Users report ~5 sec. chat and stream delays;

Doesn't ensure personal data security.
Common questions:
How much is Turbo on Twitch?
Turbo Twitch subscription costs $8.99 per month. For this price you get new emojis, chat badge and custom chat username colors, extended broadcast storage, and priority customer support. However, no free games or loot.
Is Twitch Prime free with Amazon Prime?
If you are an Amazon Prime subscriber, then you have Twitch Prime and other Amazon perks like Amazon Music Unlimited, Same Day Delivery, Prime Reading, etc.(More about Amazon Prime perks here). For ad-free viewing experience on Twitch, link your Amazon and Twitch accounts.
Does AdLock work on Twitch?
And how! AdLock is flawless at blocking all types of Twitch ads excepting those promoted by streamers. Keep in mind that AdLock is not limited in its ad-blocking capabilities. Once you stick to AdLock, you get rid of commercials from any sources: browsers, applications, etc.
How do I clear my cookies on Twitch?
Cookies are cleared in browser settings. Our guide on how to disable third-party cookies will help you to manage cookies in Chrome and Mozilla Firefox. 
To delete Twitch cookies in Microsoft Edge: Go to Settings ⇒ Clear browsing data ⇒ Choose what to clear ⇒ Select Cookies and saved website data 
To clear Twitch cookies in Opera: Go to Settings ⇒ Privacy&Security ⇒ Privacy ⇒ Clear browsing data ⇒ Select Cookies and other site data
How many people are partnered on Twitch?
There are over 2 million active broadcasters, around 27,000 are Partners.
Adblocker is not working on Twitch
This issue might appear if the HTTPS filtration on secure websites is disabled.
If you use Android smartphone: Open AdLock ⇒ Switch toggle next to Enable HTTPS filtration
If you use Windows PC: Open AdLock ⇒ AdLocker ⇒ Enable HTTPS Filtering ⇒ Enable site filtering using EV certificates
Put an end to Twitch adverts: