Twitch goes above and beyond to make it harder for ad blocker to block new Twitch ads. On the one hand, it is logical, as streamers and service itself need sponsorship but on the other, ads are nerve-wracking for viewers who also make donations to streamers. Twitch users often complain that even after switching streams they get the same adverts over and over again and it's impossible to skip them. As a result, even a good product becomes repelling to a customer. For example, the constant promotion of actually fine movie "Ready Player One" led to viewers swore they would never watch it.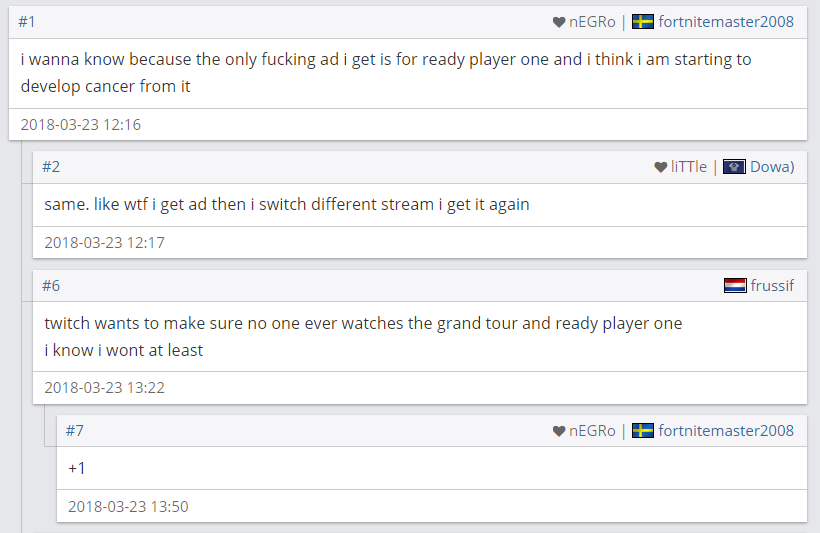 Another video streaming service we all love with way too much advertising is YouTube. Find out whether
YouTube ad-blocker for Android
can remove all annoying ads.
Types of Twitch ads
All ads on Twitch can be grouped into three categories:
ads that require no effort to disable;
ads that are not easy but possible to disable;
ads that are impossible to turn off.
The first type of ads are banners, you can easily get rid of them using any free Chrome ad-blocking extension or if using Mozilla or Opera adjusting your browser's settings. The second type is pay per click advertisement that Twitch inserts into streams. Free ad-blockers can't hide such advertising, and you will need AdLock to block it. And the third type of ads are promotions that streamers do themselves in their streams. Those promotions are sponsored directly by advertisers and can't be blocked. Since the first and the third types are clear, we will talk about the second type and clarify how to get rid of ads on Twitch using AdLock.
How to Block Twitch Ads on Android
If you use an android app to watch game streams, you know that ads can be ridiculously annoying. Sometimes, you get an ad before every single video you try to watch. To block Twitch ads on the app, you need to download AdLock from here and install it. Then follow instructions of the guide below to adjust AdLock:
Check for updates

Open an application, tap on the three dots on the top right corner and choose Check updates. In a new menu tap on UPDATE ALL


Switch to the AdLocker tab and enable HTTPS filtering. In a pop-up window tap OK. Then you will be asked to set a drawing pattern to verify your identity for future actions. Draw a pattern you surely will remember.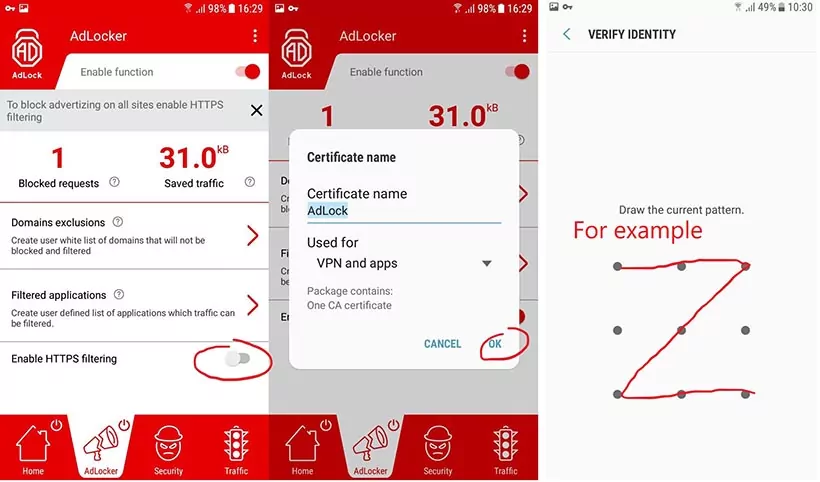 That's it! From this moment you can skip Twitch ads on your smartphone.
How to Watch Twitch Without Ads on Windows
To stop Twitch ads in a browser, you need to download AdLock for Windows and install it. Basically, that's it. AdLock will block ads on Twitch automatically when you start the application. Our app is set up by default to stop all types of commercial content on browsers and applications though you can adjust it to meet your needs. For example, if you don't want a certain website to be ad free, you can add its URL to AdLock Domains Exclusions. Open an AdLocker tab in the application, click on Add domain name and type a URL in this format: www.example.com. Since then all websites will have no ads except that one.