AdLock for Safari
AdLock for Safari
Finally you don't need to compromise because from now on you can use the best Apple browser and be free from ads.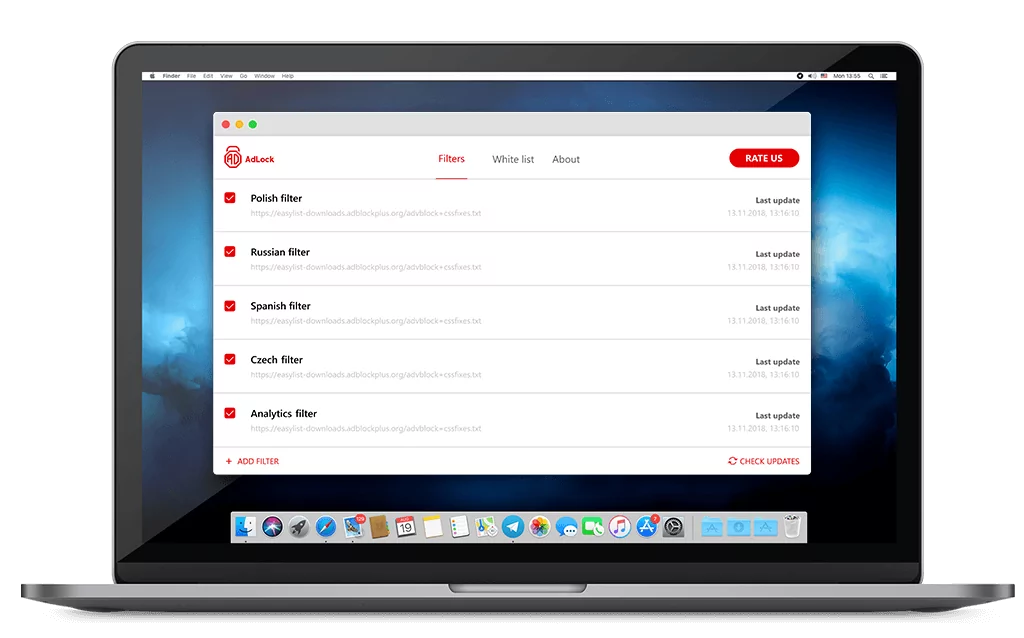 AdLock Safari Extension – bigger than adblock for Mac

Designed to serve
If you want you can fine-tune AdLock extension to meet all your needs. Turn on and off filters, add own rules, create personal whitelists whatever works for you.

Killing ads
AdLock uses filters specific for Safari browser. That's why our ad-blocking is neat and angry.

Safety first
AdLock protects your confidentiality on the web as if you were a president. It makes you invisible for online trackers, marketers, and spyware.

Forever free
All AdLock extensions are unconditionally free including AdLock for Safari.
MORE THAN
3 000 000
HAPPY ADLOCK USERS HELP
US IMPROVE IT EVERY DAY!*
*Follow our updates
FAQ
How to install and set up AdLock on my Mac?
AdLock for macOS devices is yet unavailable on the official store. You'll have to download the latest version of AdLock for Mac from our website and then proceed with the installation and setting it up. To make sure everything goes as it should, read our detailed User Guide
Why is AdLock not available to get from the official store?
We are an independent company not involved in any commercial partnerships concerning advertisement. We block all ads on the Internet by operating on the network level, with no exceptions. Official stores don't support this approach as they have a peculiar attitude to ad blocking on macOS and iOS. Apple allows using content blockers for their products, but the problem is that content blockers have a restricted ability to cope with ads. You can find AdLock content blocker on the App Store and try it out. Of course, its adblocking capabilities are limited, but it would definitely make your online activity more pleasurable without a good ton of ads.
What are the features of AdLock for macOS?
It provides the following set of features: adblocking, safe browsing, anti-tracking. For more detailed information on AdLock's functional modules follow the link to the dedicated section of our website. Download ad blocker for Mac from our official website and give it a shot!
AdLock doesn't block ads on a website/app, what should I do?
We have friendly and professional customer support managers who will be glad to assist you 24/7. If something goes wrong, feel free to contact us at support@adlock.com. But first, please, be sure you've looked through the User Guide for macOS users. In the majority of cases, AdLock users find solutions to their problems there.
Why paid-for AdLock over free extensions?
Most ad blockers for macOS are extensions for browsers. Such solutions are neutered and can't block all types of ads. AdLock is the best ad blocking software for Mac on the net as it operates globally in terms of your operating system. It blocks all known types of commercials in all browsers (not only Safari or Chrome) and applications you use: banners, pop-ups, video adverts, etc. The cherry on top — AdLock provides reliable data protection. A price of a cup of coffee for a multi-tool? Give me two!
Would AdLock remove ads from YouTube and Twitch?
Big yes. AdLock provides its users with a smooth and seamless viewing experience on all your favorite video streaming platforms. No annoying pre-rolls, mid-rolls, post-rolls, and unskippable video commercials — watch your favorite shows and channels without commercial breaks.