How to Block Annoying Ads on The Daily Mail Once and For All
Top-tier adblocking and reliable security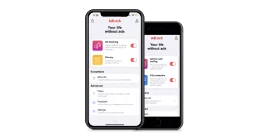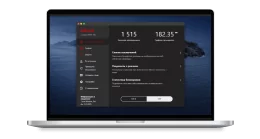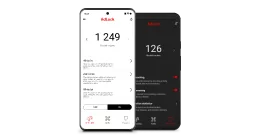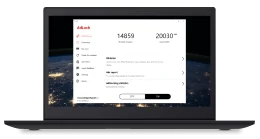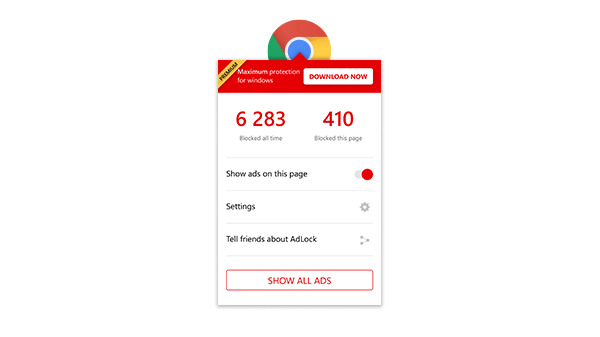 Try AdLock for free on your Windows device
Adverts and data collectors - two birds. AdLock - a stone that never misses.
Daily Mail does a good job of hiding ads, making its whole site insufferable. When the front page flashes with heterogeneouАs previews of the articles, you may not even notice ads at the bottom. That got Daily Mail a sort of recognition in a popular subreddit, r/assholedesign. And the motto of the said subreddit is: Because nothing comes before profit, especially not the consumer. Daily Mail could borrow that motto.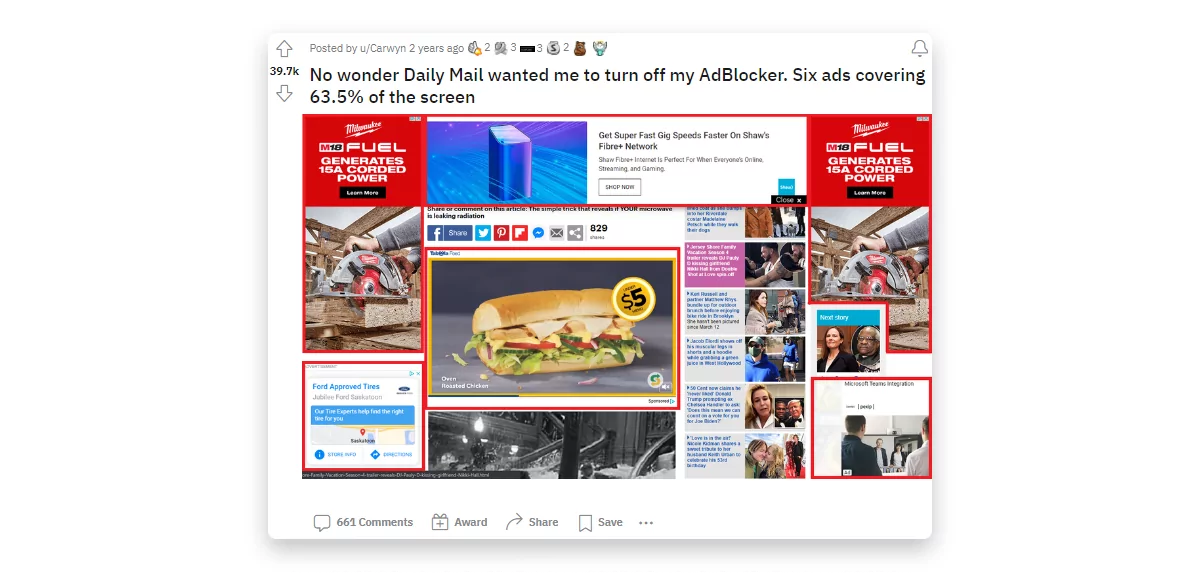 Besides obvious ads, Daily Mail serves so-called sponsored posts with click-baiting headlines. May God have mercy on you if you accidentally click one of those.
The inspiring news is that you can remove ads on Daily Mail from all your devices. The AdLock team carefully crafted every possible rule to hide every possible ad. But apart from AdLock, there are other ways to get rid of commercials, and in this article, we'll cover them all.
How to Stop Annoying Ads on Daily Mail
Daily Mail doesn't serve sponsor ads free of charge. It gets revenue from it to keep its content free. That's the way it is in 2022, that's the way it will be in 2023, that's the way it always will be. However, the platform shares reports about its audience with associated marketers who bombard you with ads on other sites. You can check Daily Mail Privacy Policy in the section How we share your information if you don't believe me. You are to decide whether it's an acceptable price for the Daily Mail news.
For those who are not OK with that, the AdLock team prepared four ways to avoid ads on Daily Mail:
Use the AdLock application on all devices to block Daily Mail ads
Use an ad-blocking extension to block ads for free on the Daily Mail website
Enable airplane mode to stop ads on the app
Adjust data permissions to reduce the number of ads on the app
How to Block Ads on Daily Mail on Website
A one-app AdLock desktop solution for Windows PC and macOS can remove ads from Daily Mail and from all browsers, apps, and games. It's a paid option. You have three plans to choose from, starting at $1.
Guide on how to block Daily Mail ads with the AdLock application:
Choose your plan and get your license key;
Launch AdLock => click Activation => paste your 9-digit license key;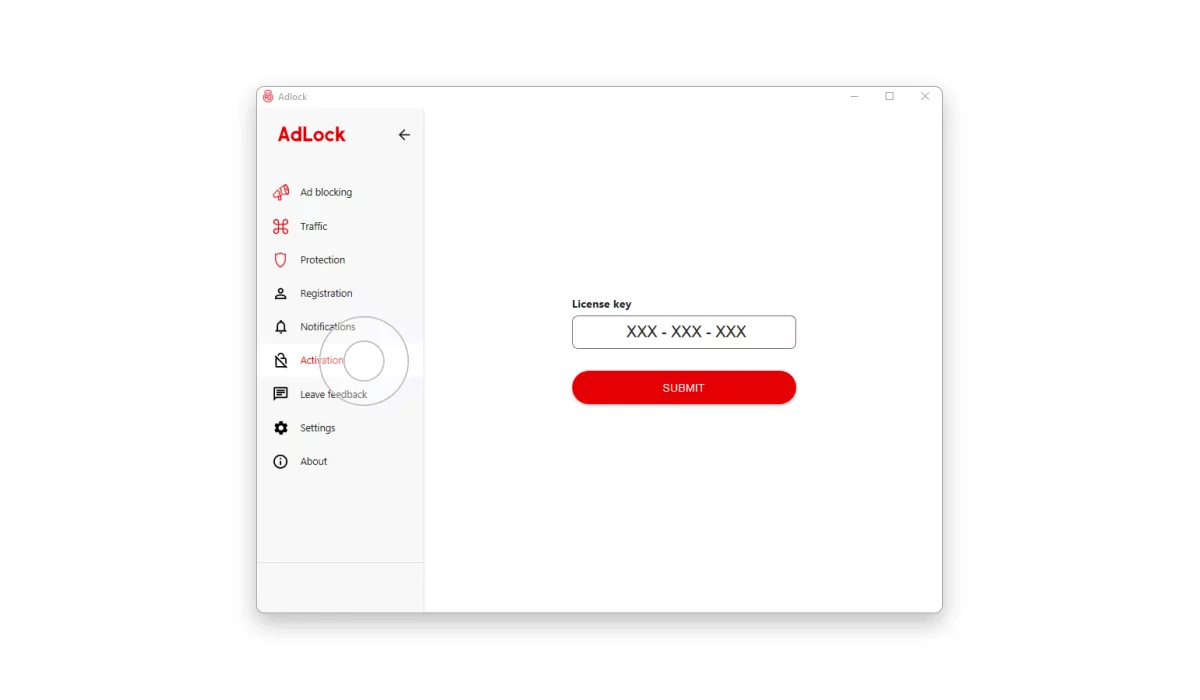 Click Ad-blocking => find a large on/off toggle and switch it to the On position.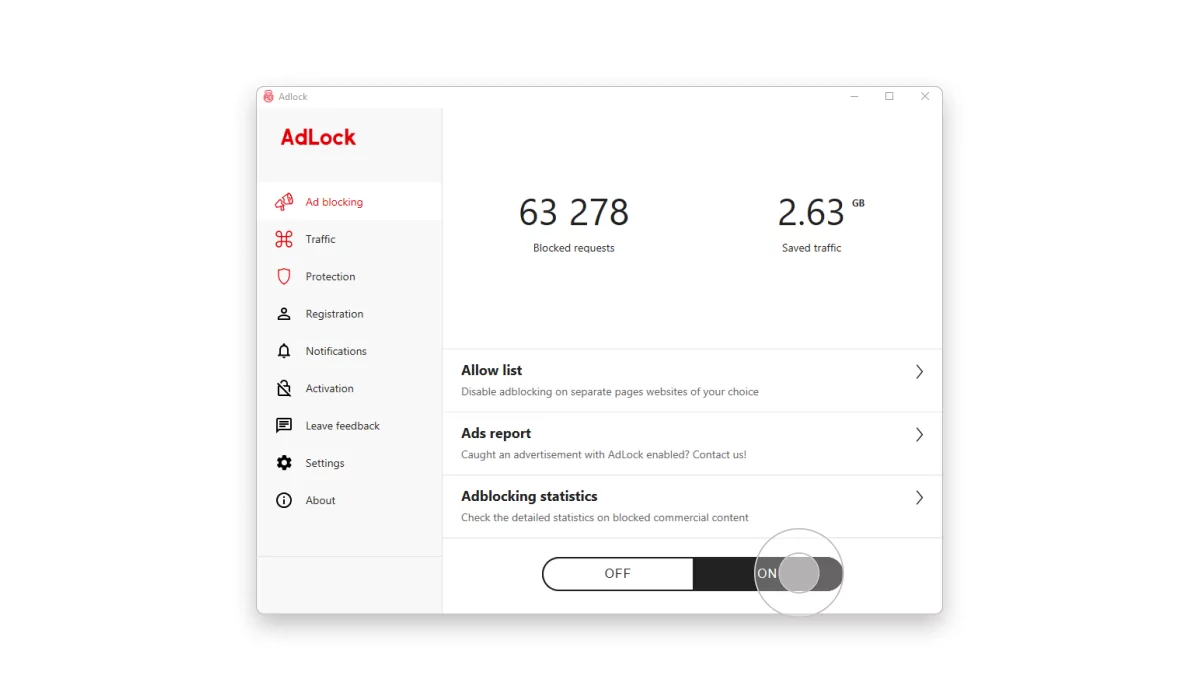 Block Daily Mail ads on Chrome for free
Download the AdLock extension from the official Chrome Web Store, install it, and stop ads on Daily Mail in Chrome. AdLock is a one-button solution, but you can adjust its settings to meet your needs. We are proud of our ad-blocking extension that collects no data; you can verify this by going to the Data Safety section. We keep it free by selling other ad-blocking applications.
Block Daily Mail ads on Safari for free
The AdLock browser extension works on Safari just as well as on Google Chrome. We offer AdLock solutions for macOS and iOS; both are free. Download the AdLock extension from Mac App Store for a laptop or desktop Safari, run it, and follow the installation instructions. After installation, AdLock will automatically block all ads on Safari.
To remove Daily Mail ads from mobile Safari:
Download AdLock from the App Store and install it.
Go to your phone settings, find and tap Safari, Extensions, and switch on all AdLock toggles.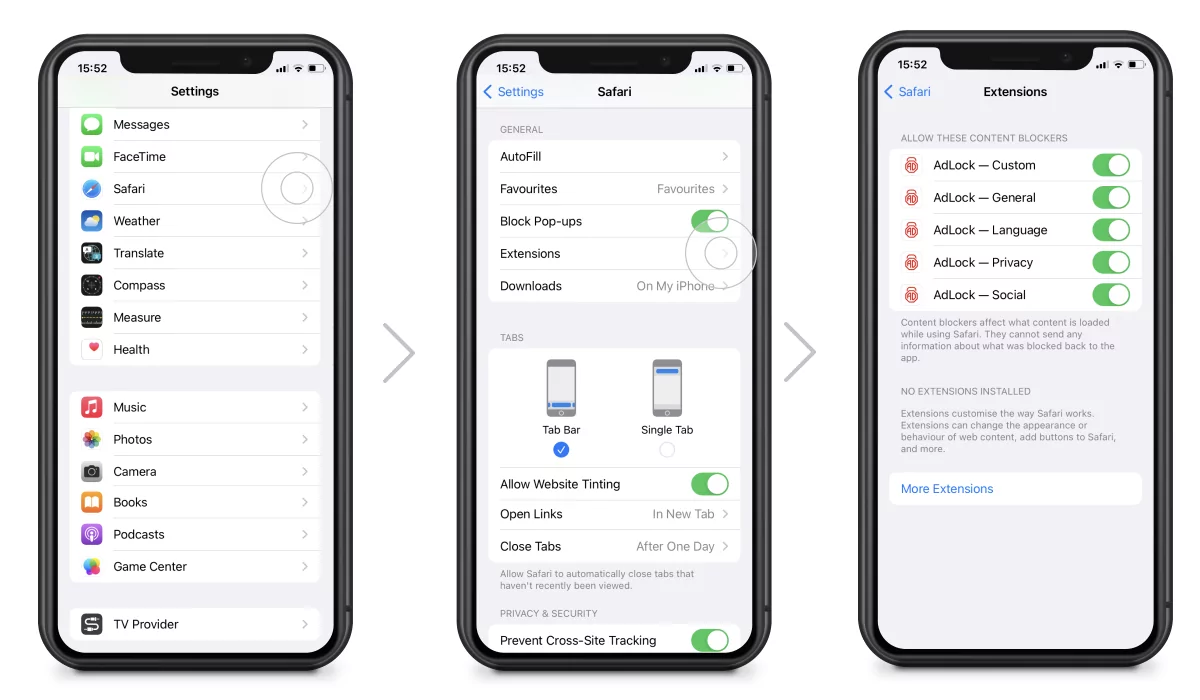 Launch AdLock and turn on the Ad-free web surfing toggle.
Block Daily Mail ads on Internet Explorer for free
First of all, you must move to Microsoft Edge. Unfortunately, in June 2022, Microsoft stopped supporting Internet Explorer in favor of Edge. You can use Microsoft Edge with an Internet Explorer mode that returns a design from that legendary browser. After you install Microsoft Edge, launch it and block pop-ups and redirects in the settings:
Go to Settings and more => Settings => Cookies and Site permissions;
Select Pop-ups and redirects;
Move the Block toggle to On.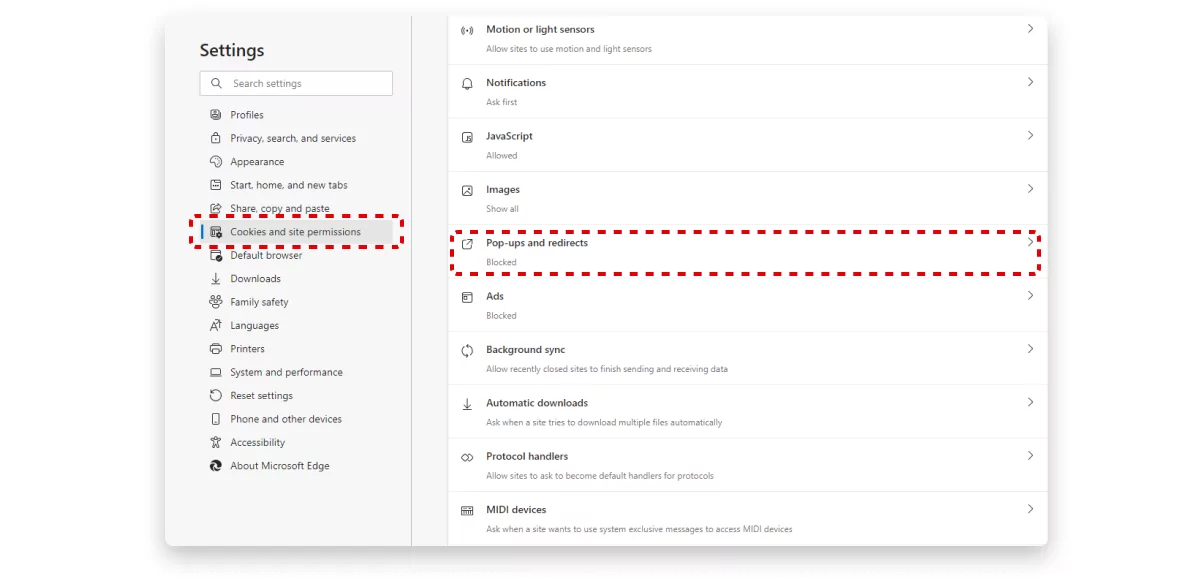 For blocking Daily Mail ads on Edge for free, go to the Edge Add-ons store and choose the most credible ad-blocking extension. Be guided by the user reviews sorting them from the most recent.
Block Daily Mail ads on Firefox for free
To remove any kind of ads from Firefox, apart from running the AdLock desktop application, you can use a free ad-blocking extension from Mozilla Addons Store. Choose them wisely, and don't neglect user reviews. I would also suggest the Firefox subreddit for searching for any add-ons. The local community consists of 157K users who are willing to help. Sophisticated users may find interesting advanced solutions in our earlier article about easy ways to block ads & pop-ups on Mozilla Firefox.
How to Block Ads on Daily Mail App
Daily Mail is that rare app that doesn't offer you a paid subscription to opt-out of ads. Currently, there is no option to block ads legally on the Daily Mail app. So, we will consider unofficial methods.
Turn on airplane mode and fly away from ads
When you launch Daily Mail Online, it buffers the latest articles in the cache but not the ads and not even sponsored posts. The pitfalls of this method are obvious, but I list them anyway:
Airplane mode will block you from receiving any calls and notifications whatsoever;
Images most likely won't buffer;
Sooner or later, you'll have to restore the connection to the network to receive updates, and with them the ads.
Anyhow, as a short-term solution or in the case of an actual flight, the airplane mode will save from the Daily Mail annoying ads.
Disable data permission manually
When installing the Daily Mail app, you consent to the long list of vendors to access your data for advertising and store information on your device. So, maybe you'd want to revise if you wish to consent to their actions.
How to disable data permissions on the Daily Mail Online on iPhone:
Launch Daily Mail Online and tap a three-dot icon on the bottom left corner.
Tap a gear icon to open Settings and scroll down to Privacy Settings => Privacy Settings.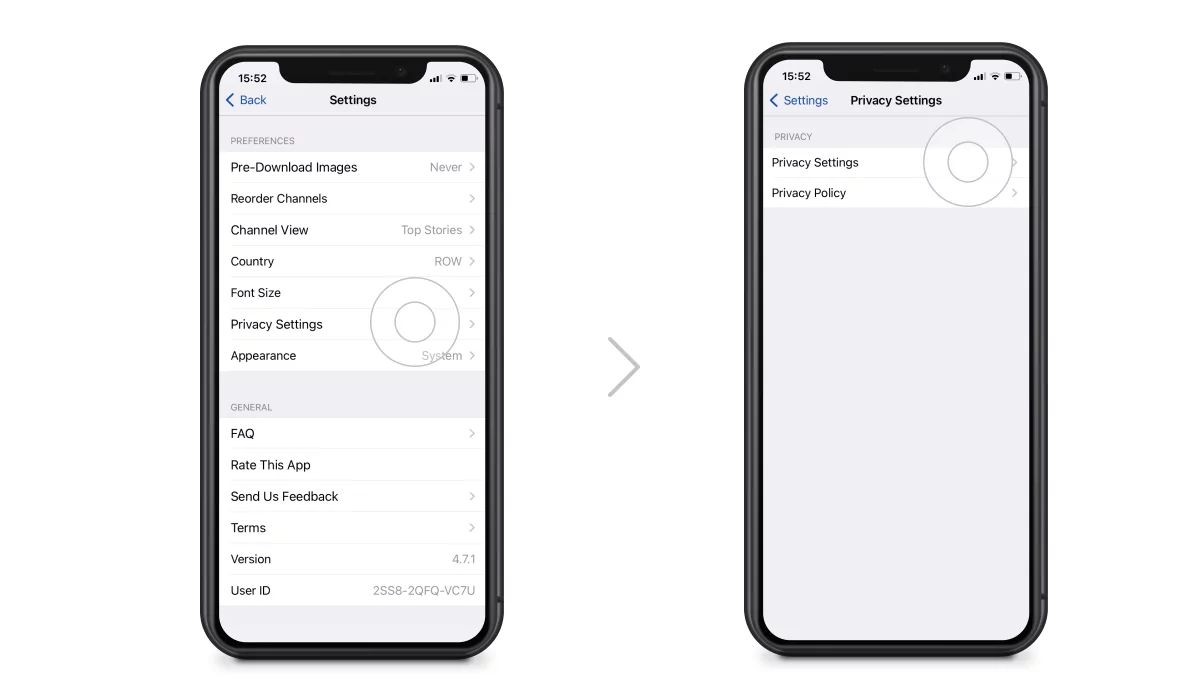 In Purposes/Features, tap all toggles to turn them off.
In Vendors, you either turn off all toggles likewise or continue to consent to advertisers of your choice to interact with your data. You can't automatically reject all of them, only manual. It took me like 10 minutes to opt-out of all.
How to disable Daily Mail data permissions on Android:
Tap Settings
Tap Apps
Scroll down to Daily Mail Online. If you can't find it, tap See all apps and search for it there.
Tap Permissions and tap Refuse for each of several hundred options. As on iPhone, there is no Reject all choice.
This way, you will significantly reduce the number of pop-ups and banner ads, though you'll still see sponsored posts.
Use AdLock to stop adverts on the Daily Mail app
Choose an ad-blocker like AdLock to block ads on Daily Mail completely. You press one button, and the ads are gone for good.
Remove ads from Daily Mail Online on iOS
To make from AdLock a perfect Daily Mail adblocker, you have to choose one of our super affordable plans. AdLock for iOS also works on iPad. Follow this easy guide on installing and fine-tuning our app:
Download AdLock from the official App Store and install it.
Launch AdLock and tap the Premium toggle.
Choose a preferred plan. We offer a 7-day trial, so if you test AdLock for a week and find it unsatisfactory, cancel your subscription, and we won't charge you a dime.
That's it. Enjoy reading Daily Mail without ads on iPhone or iPad.
How to Stop ads on the Daily Mail app on Android
First, download and install an ad blocker. Navigate to AdLock for Android link and follow the steps of installation. Purchase a preferable ad-blocking plan and get an activation code. Now follow instructions to activate and adjust AdLock:
Launch AdLock and tap a hamburger menu at the top left corner of the screen.
Tap Activation and enter your code.
Go back and tap Settings.
Tap Check for updates => tap UPDATE.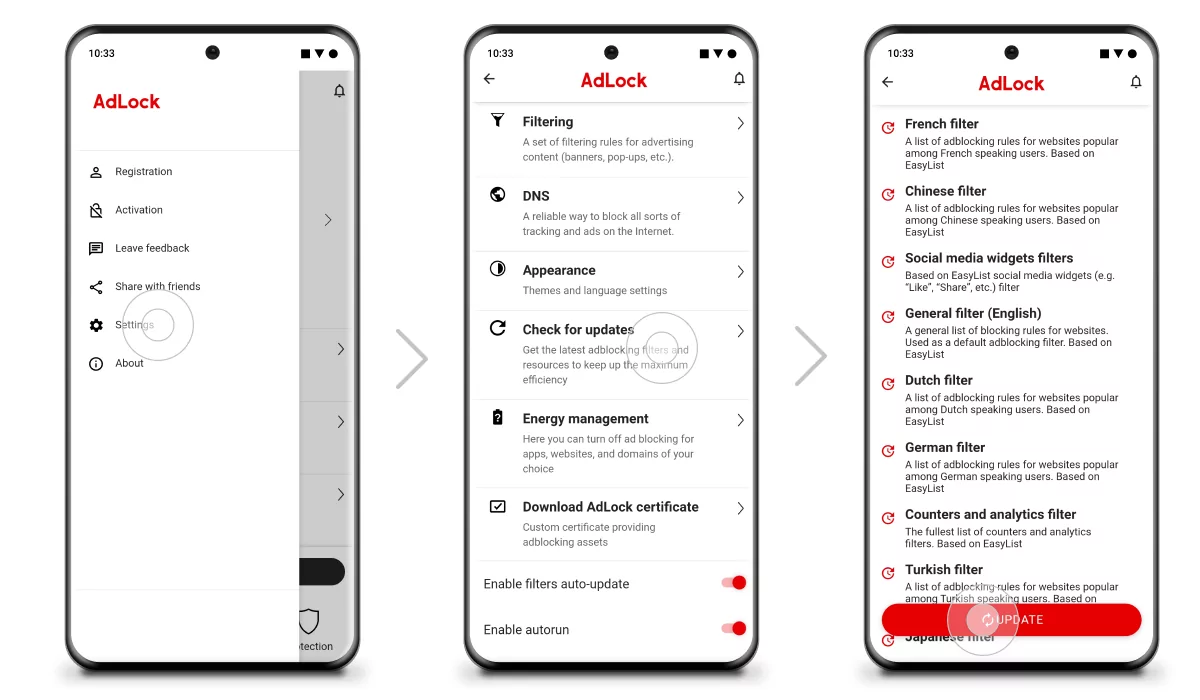 Go to the AdLock tab and install the AdLock certificate to enable HTTPS filtering.
In a pop-up window, tap OK.
The following window will ask you to verify your identity. To do so, either scan your fingerprint, set a graphic key, or create the password. Be sure to remember what you chose.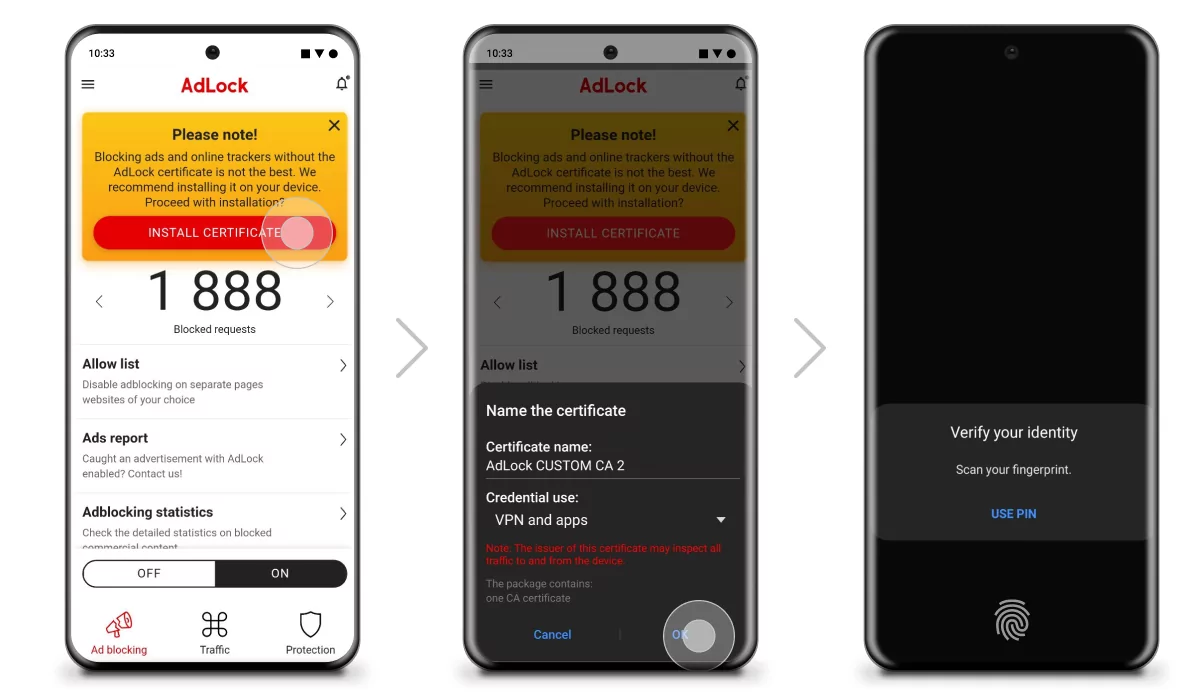 That's it! Now you can block Daily Mail ads on your Samsung, Lenovo, One Plus, or any other smartphone on Android. If you prefer Chrome or Opera to the native news app, you still won't see any ads.
How to Stop Dailymail Pop-Up Ads
All adblocking methods suggested in this article will also work if you want to eliminate pop-ups that promote Daily Mail on other websites. Scroll up and choose your solution depending on your operating system or browser. If you're unsure which option will work the best, I suggest downloading the AdLock application. The exclusive AdLock advantage is that you can run it on up to five devices for one price. You don't need to purchase dozens of subscriptions to enjoy entertainment content.
Read Also: How to Block Washington Post Pop-Ups & Ads
Use AdLock to Read Daily Mail Without Ads
If you scrolled all the way down to know how to get rid of ads on Daily Mail, then you need a simple one-app solution. I already said a lot about AdLock benefits but forgot to mention the most crucial part. Not only does AdLock remove ads, banners, and autoplay videos, but it also detects viruses and malware and blocks redirects and pop-up windows. Your devices will no longer overheat or run out of mobile data because AdLock will prevent heavy elements that are responsible for that stuff from loading.
Top-tier adblocking and reliable security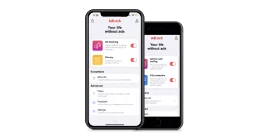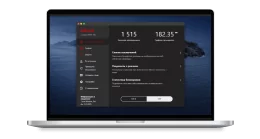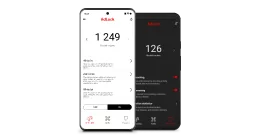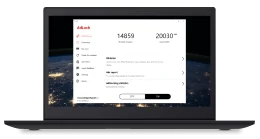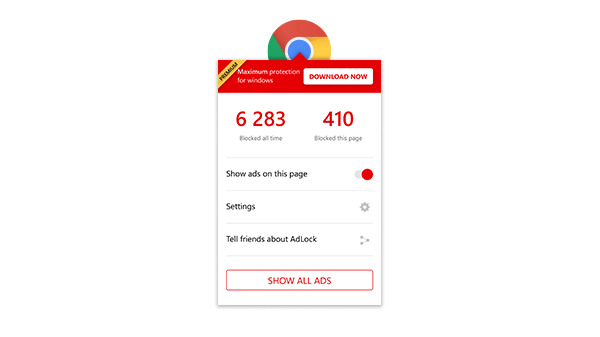 Try AdLock for free on your Windows device
Adverts and data collectors - two birds. AdLock - a stone that never misses.
Final Thoughts
What can I say? Daily Mail is greedy and unreasonable. To deal with it, you can either use tricks to stop seeing the platform's ads or download AdLock and stop torturing yourself.
Frequently Asked Questions
Can I block ads on Daily Mail for free?
Yes, you can block ads on Daily Mail for free if you read the news from the platform in the web browser. Choose the free AdLock for Safari (iOS or macOS) and Chrome, and choose any trustworthy ad-blocker for Firefox, Internet Explorer or another browser. Scroll up the article for details.
How do I view Daily Mail without ads?
To view Daily Mail without ads, you need an ad-blocker. Depending on your operating system, you can choose a free or paid AdLock plan or a credible third-party ad-blocker. In this article, we covered all options. Please scroll up to find them.
Can AdLock disable video pop-ups in Daily Mail?
AdLock's favorite job is to disable video pop-ups on Daily Mail and anywhere else. So, the answer is yes.
Why should you be careful about using unreliable extensions to block ads on Daily Mail?
You should be careful with using unreliable and especially free extensions because you don't know their source of income. Why block ads from one data-selling platform to expose your info to another potentially data-selling platform?
Do you like this post? Share it!
Do you like this post? Share it!