How to Turn Off Annoying Ads on Instagram
Top-tier adblocking and reliable security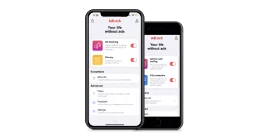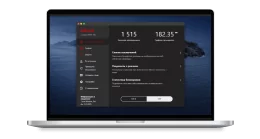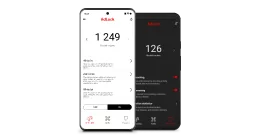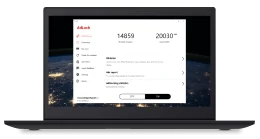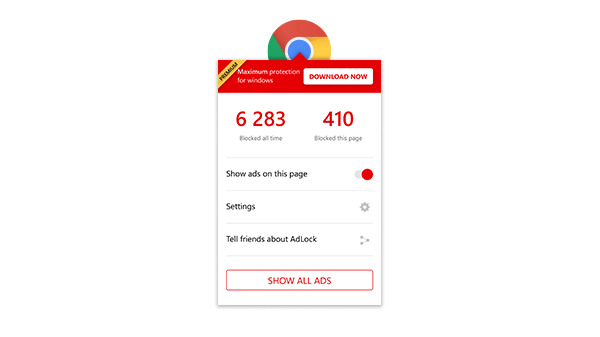 Try AdLock for free on your Windows device
Adverts and data collectors - two birds. AdLock - a stone that never misses.
You might remember Instagram when this app first appeared — it was a simple and user-friendly application that could work as your personal photo album. Nice thing to keep your rememberings in one place, right? Its usability and ready-to-post photo filters helped it grow to one of the most popular apps your phone could possibly have, not to say it became, among others, a huge social network. You could see what is happening in your friends' life by just scrolling down your feed — but now it's not only your friends.
For almost 12 years of its existence, Instagram has turned from a social network into a popular marketplace for selling and purchasing various products, goods, and services. Therefore, launching advertising on Instagram is one of the essential elements of any business promotion today. Unfortunately for you, those promotions are mostly identical and highly annoying. So, if you want Instagram without ads, you have come to the right place.
What Kind of Ads Does Instagram Have?
You, as a user, will see ads in feeds and stories — in the same place where you watch content published by the accounts you follow and which you got in recommendations, as well as content related to hashtags in which you show interest. Instagram ads can also appear in the Highlights section, where people can find accounts they haven't followed yet. When you open a photo or video from Explore page, you can see ads in related posts, just like in the Instagram feed. The platform does not show ads in the grid of the Explore page and its thematic channels. All Instagram commercials are flagged with an Advertise icon. They usually contain a call to action button under which the ad caption locates.
The type of ad depends on the format (single image, video, or carousel) and whether the ad appears in Instagram Stories or in the feed:
Images: Square, horizontal, and vertical ads with one image;
Video: Videos in square or portrait format (excluding Instagram stories);
Carpet Gallery: Ads appear in the feed and stories in a square or vertical orientation;
Instagram Stories: Full-screen vertical format.
Reels ads: Vertical videos that appear between the Reels.
Businesses usually advertise on Instagram in multiple ways. For example, subscriptions or likes to your profile and publications, targeting advertising through a Facebook account or Instagram, or direct advertising through bloggers and influencers. Speaking of the latter, you can't get rid of or block such content since almost all bloggers make money from advertising, so if you follow one, you must be ready to see ads. When you subscribe to media personalities, you might experience a massive flow of subscriptions and likes from unknown profiles who anticipate you to subscribe back. Eventually, they unsubscribe, and you are left following unwanted pages. As a rule, this type of advertising gives ordinary users the most inconvenience. Fortunately, you can efficiently deal with it, just don't follow back some strangers out of politeness.
The next relatively new type of promotion is Direct messaging. It involves the mass mailing of template texts to the users' direct messages, which usually contain appeals to purchase or poorly personalized ads. You can protect yourself from those by just blocking the sender.
The newest ad format of 2022 is Reels ads. Commercials appear either in the reel tab or the Explore page. They look just like regular Instagram reels with one difference: they have a sponsored icon underneath. The reels ads seem to be the least intrusive kind of promotion. They are entertaining, last no longer than 30 seconds, and usually don't contain a bold call for purchase.
If you're an active Instagram user, you have already come across and got annoyed by all types of ads mentioned above. This article will show you ways to turn off ads on Instagram, don't worry.
Methods to Block Instagram Ads on Android and iPhone
Unfortunately, at the moment, no software can remove all sponsored posts and ads because Instagram does not allow standard functionality to limit the display of commercial content. Bloggers you follow can do native ads that are often hard to spot. Then, unsubscribing or blocking profiles with ads can look pointless as they will continue to appear if your profile is not private. It seems that, as of the moment, unlike most sites, users of Instagram will have to put up with some ads. But you can still manually block the most annoying ones.
To remove the ad from your Instagram feed, first, you need to spot it. Then complete the following steps to block it:
In the post's upper right corner, tap the three-dots icon, vertical if on Android and horizontal if on iPhone

;
In a menu, select the item Hide ad.;

Choose why you don't want to see that ad in a slide-out menu. Instagram will use your answer to correct the advertising content it shows you, so choose wisely

.

Then an ad will disappear, and you'll get a cheerful text saying you won't see that one again.
Another way to remove ads from Instagram is by reporting them. You can leave a corresponding complaint if you find a sponsored post offensive, fraudulent, spammy, or think it contains unacceptable content. How to report an Instagram ad:
Bring up the ad menu by tapping the three-dots icon in the post's upper right corner.
Select Report ad.
Choose the most appropriate reason for reporting that ad.
The reported promotion will disappear, but it might come back if Instagram decides it doesn't violate its Policy.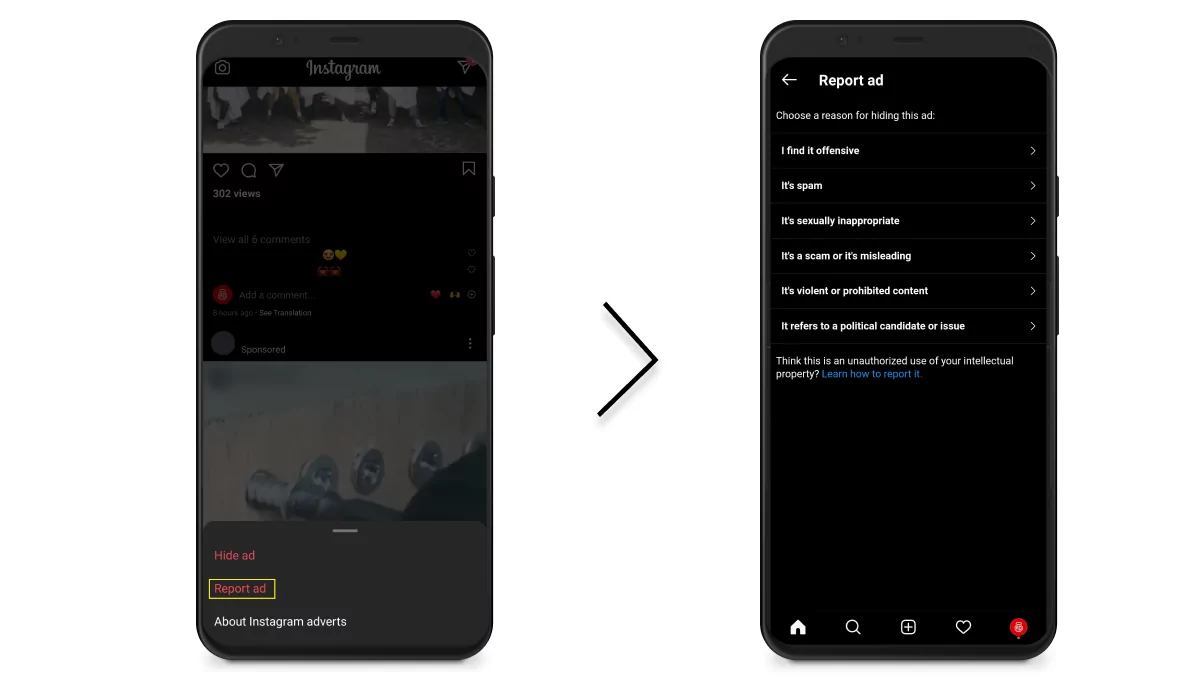 The advantages of the mentioned methods are that they are legal and work on Android and iPhone apps. The disadvantage is that you'll have to complete all the mentioned steps each time you see an ad. Those methods are for you if you want to browse the Instagram app without ads and don't mind additional work.
Blocking Brand Accounts
Another convenient way of blocking annoying sponsored posts (ads by brands) is blocking those brand accounts. Yeah, simple as that. When coming across an advert you don't like, and that causes you to wish never to see anything by that brand in your feed, you should do the following:
Tap the name of the company or the brand promoting their goods;
Then tap the overflow menu on the right ("⋮") for Android and ("…") for iPhone;
Choose the "Block" option;
You'll have two options — block the current profile and all profiles this user creates/already has, or block only this specific profile.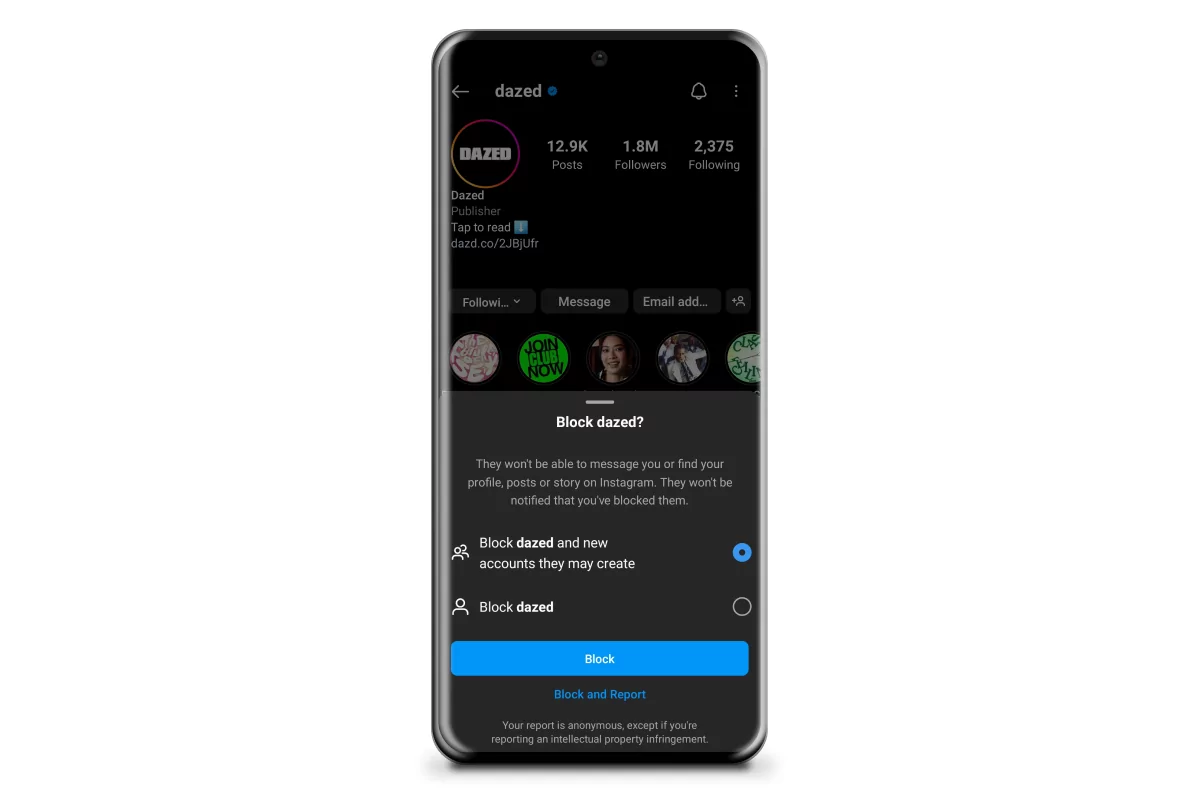 The best option, of course, is to block all profiles of this user. You can block every single annoying profile on Instagram if you wish but keep in mind that Meta has lots of advertisers so you definitely will face other similar ads from other companies and brands.
How to Turn Off Personalized Ads on Instagram
If you are unsatisfied with the ads in your feed, then advertisers poorly use the data they collect from you. Hence, why provide it at all? You can opt-out of personalized ads in the settings of your Facebook and Instagram accounts. To block specific advertisers from showing you ads, do the following:
Open your Facebook page and tap your profile picture to open Settings & privacy.
Tap Settings, find the Ads section, and tap it.
In Advertisers, you see partners that show you the most ads. You can hide ads from all of them or leave some the least irritating.
Now turn off personalized ads on your Instagram account:
Open your profile page, tap a hamburger menu in the top-right corner, and choose Settings.
Find and tap Ads.
Below Ad preferences, tap Data about your activity from partners and switch off toggles.
To feel even safer, forbid Instagram from using your location.
Go to your phone's settings where find and tap Instagram.
Check permissions to access and switch off the location toggle. This way, Instagram won't serve ads linked to the places you visit.
Opting out of personalization won't stop ads on Instagram, but they will become less relevant.
Read Also: How to Block Specific Ads on YouTube
Use Web Version on Mobile
On April 2020, Instagram finally heeded our pleas and launched Instagram Messaging for desktop web users. The desktop browser version has become almost as convenient as the app. After entering your profile page, you, like an app user, can scroll your feed, search for photos by tags without difficulty, comment on the images and videos you like, chat with friends, and adjust your profile settings. If you hesitate to use web Instagram, it's time to try it because it carries one significant advantage: the absence of ads.
You can scroll through your Instagram feed without any hints of advertising using the platform's web version. Do not forget that you can open it even from your smartphone. Now you finally will see only things you actually subscribed to and, more importantly, for free.
Go (use any browser on the phone) to the

Instagram website

;

If necessary,

log in to your account

;

The next screen will display your

refreshed feed

, where you can view publications, like, and comment

without any hints of ads

.
The web version will let you see your feed the way it used to be when Instagram just came out.
Use a Mobile Phone Browser
Talking of the web version of Instagram on your mobile phone, you can use any browser of your preference. Be it Chrome, Opera, Firefox, or Safari, they all are good for viewing Instagram. Nevertheless, using Instagram with the help of web browsers can be frustrating as the web version has downfalls, among which are the unavailability of filters and masks, fewer features, etc. And although this way helps use Instagram without ads, it doesn't allow using the platform to the full. Remember, Instagram is built and optimized for the app.
Log in to Your Instagram Account on a Computer
And again, you can browse Instagram without ads in a web browser. Any browser would fit — all you have to do is go to www.instagram.com and log in to your Instagram account. You'll have to accept cookies and log in using credentials or a Facebook account.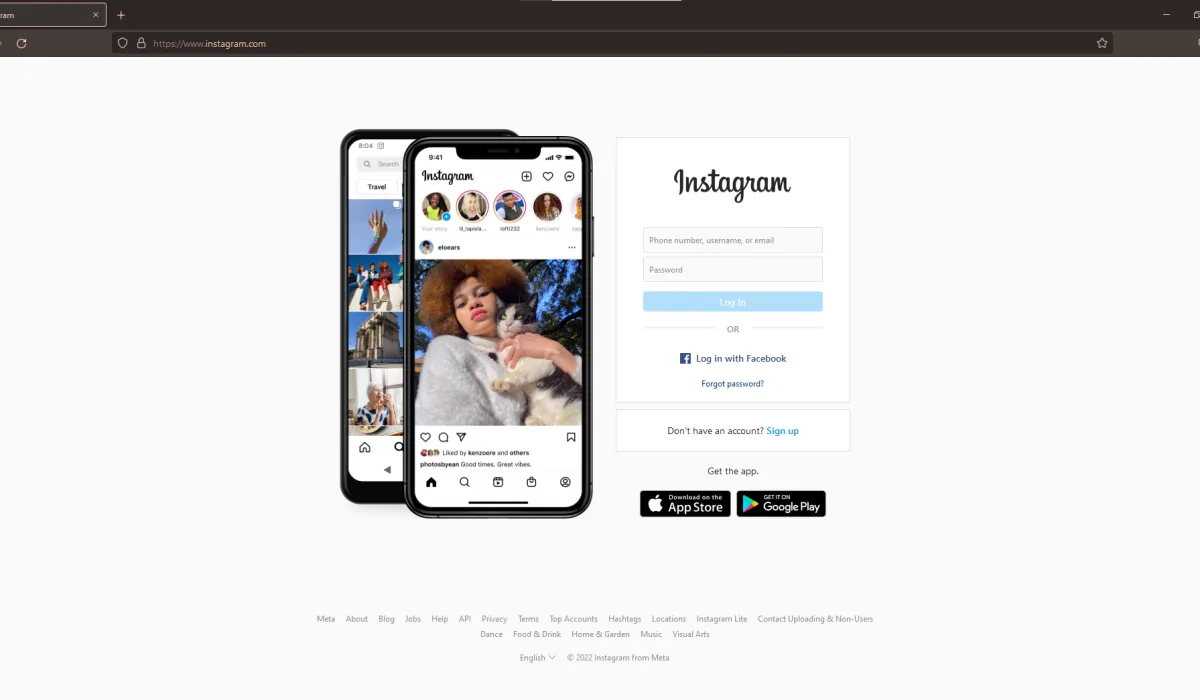 You'll have to accept cookies first and then log in using credentials, or via your Facebook account.
The website would also offer you enabling notifications so you won't miss a message or an update. But again, since Instagram is optimized for the app, you might face different problems like distorted stories, limited features and tools, etc. Anyway, it's quite useful and convenient if you run a business page and you have to answer dozens of messages every now and then. Agree, typing messages is more convenient using a keyboard, huh? To admit, you won't need any special Instagram ad blocker when using it on your browser. We've already mentioned – ads are completely absent on web Instagram.
There are loads of apps in Appstore or Google Play that promise to remove, hide or block ads in the Instagram app. But a trustworthy application that doesn't steal your data doesn't exist yet. So think twice before typing your Insta credentials anywhere else than the official application – you might get scammed! Beware of such soft.

How to Hide Reels Ads on Instagram
If you think there is a different guide on how to get rid of ads on Instagram reels, then I have to disappoint you. You can't block reels ads altogether. You can only manually hide the specific ad like any other promotions in your feed. To block reels sponsored post, tap a three-dot icon in the bottom right corner and choose Hide ad or Report Ad if you find it inappropriate.
In summary, with its functionality, Instagram can still serve as an excellent news feed or photo album. It can keep you updated about what is currently happening to your friends, people in general, or institutions you are interested in, just as imagined, even with advertisements that remain. And you, using any of the methods given in the article, can entirely or partially hide ads on Instagram and never get annoyed again.
FAQ
Why do I only see ads on Instagram?
It means you engage with sponsored content too much. Instagram tracks your activity in the app, and the more you like, comment, or interact in other ways with the ads, the more the ads platform will serve you.
Why so many ads on Instagram in 2022?
Instagram is not only a social network. It's a huge marketplace. Every online business creates an Instagram page to get more representation, and naturally, they run ads to be discovered.
The Instagram feed only shows ads. How to fix it?
You can fix this only manually by hiding or reporting sponsored posts.
Why do I see more ads than friends' posts on Instagram?
Maybe, you follow too many Instagram shops and business pages. If you purchase something in one place, it's logical that the platform offers you more places to buy things.
I'm tired of ads on Instagram. How to get rid of ads on Instagram in one click?
Unfortunately, there is no one-click solution to block Instagram ads in the app. Your only option is browsing Instagram on a web browser, desktop, or mobile.
Top-tier adblocking and reliable security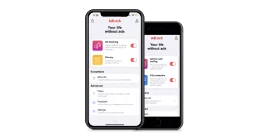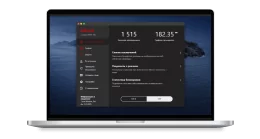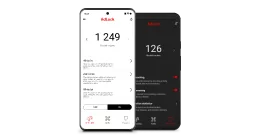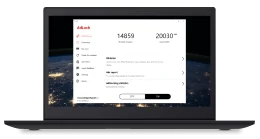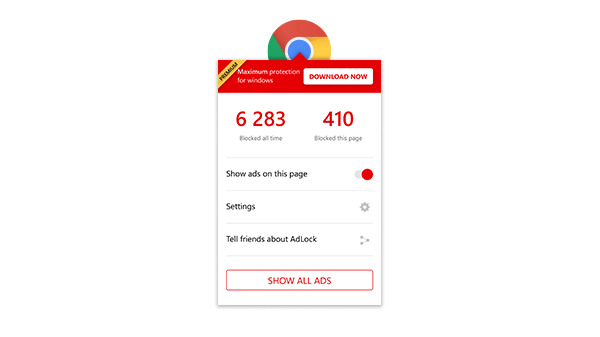 Try AdLock for free on your Windows device
Adverts and data collectors - two birds. AdLock - a stone that never misses.
Do you like this post? Share it!
Do you like this post? Share it!