You might remember Instagram when this app first appeared — it was a simple and user-friendly application that could work as your personal photo album. Nice thing to keep your rememberings in one place, right? Its usability and ready-to-post photo filters helped it grow to one of the most popular apps your phone could possibly have, not to say it became, among others, a huge social network. You could see what is happening in your friends' life by just scrolling down your feed — but now it's not only your friends.
For 6 years of its existence, Instagram has turned from a social network into a huge marketplace for the sale and purchase of various products, goods, and services. Therefore, launching advertising on Instagram is one of the most important elements of any business promotion today. Surely, when viewing a feed on Instagram, you come across ads every now and then, and most annoyingly they are often the same. And if you are tired of being a target, this article is here to help.
What Kind of Ads Instagram Has?
You, as a user, will see ads in feeds and stories — in the same place where you watch content published by the accounts you follow and which were recommended to you, as well as content related to hashtags you are interested in. Instagram ads can also appear in the Highlights section, where people can find accounts they haven't followed yet. When you open a photo or video from the Interesting section, you can see ads in related posts, just like in the Instagram feed. Ads will not be shown in the grid of the "Interesting" section and its thematic channels. All Instagram ads are flagged with an "Advertise" icon and may contain a call to action button below the image. The ad caption will be displayed below it.
The type of ad depends on the format (single image, video, or carousel) and whether the ad appears in Instagram Stories or in the feed:
Images: Square, horizontal, and vertical ads with one image;
Video: Videos in square or portrait format (excluding Instagram stories);
Carpet Gallery: Ads appear in the feed and stories in a square or vertical orientation;
Instagram Stories: Full-screen vertical format.
There are multiple ways businesses usually advertise on Instagram: subscriptions or likes to your profile and publications, targeted advertising through a Facebook account or Instagram profile, or direct advertising through bloggers and influencers. Talking about the last one, it is impossible to get rid of or block such content, since almost all bloggers make money from advertising, so if you follow one, you have to be ready to see ads. A massive flow of subscriptions and likes can be found if you subscribe to several media personalities. This is due to the fact that profiles subscribe to you in anticipation of a mutual subscription, but in any case, sooner or later they unsubscribe and you remain subscribed to unwanted pages. As a rule, it is this type of advertising that gives ordinary users the most inconvenience. Fortunately, this can be easily and effectively dealt with.
Another, relatively new type of promotion, Direct messaging involves the mass mailing of template messages to the Direct of the users of Instagram. These messages usually contain a call for order or awfully personalized ads. Usually, you can protect yourself from such messages by just blocking their senders. Surely, you as an Instagram user already came across and got annoyed by all the above-mentioned types of ads- don't worry, there are ways to hide and block it from your feed.
Methods to Block Instagram Ads in Android and iPhone
Unfortunately, at the moment there is no software that can remove all sponsored posts and ads and save you from viewing them because Instagram does not allow standard functionality to limit the display of commercial content. Bloggers you follow can do native ads that are often hard to spot, for example. Then, unsubscribing or blocking profiles with ads can look pointless as they will continue to appear if your profile is not private. It appears that as of the moment, unlike most sites, users of Instagram will have to put up with some ads. But you still can manually block the most annoying ads.
To remove the ad from your Instagram feed, you first need to find the very advertising post that annoys you and which you wish to block, and:
In the upper right corner of the post click the symbol of three vertically located dots
Then, select the item "Hide ad" from the appearing menu
After you will have a choice of four reasons why you want this ad to no longer be shown in your feed. Just choose the most suitable!
Next, a message will appear confirming the success of the actions to block the corresponding ad post
If among other things you consider any advertising to be spam, offensive, fraudulent, or containing scenes of violence or pornography, you can leave a corresponding complaint.
To do this, click the vertical ellipsis ("⋮") in the upper right corner of this publication and select the "Report ad" item, after which in the menu that appears, select the appropriate reason.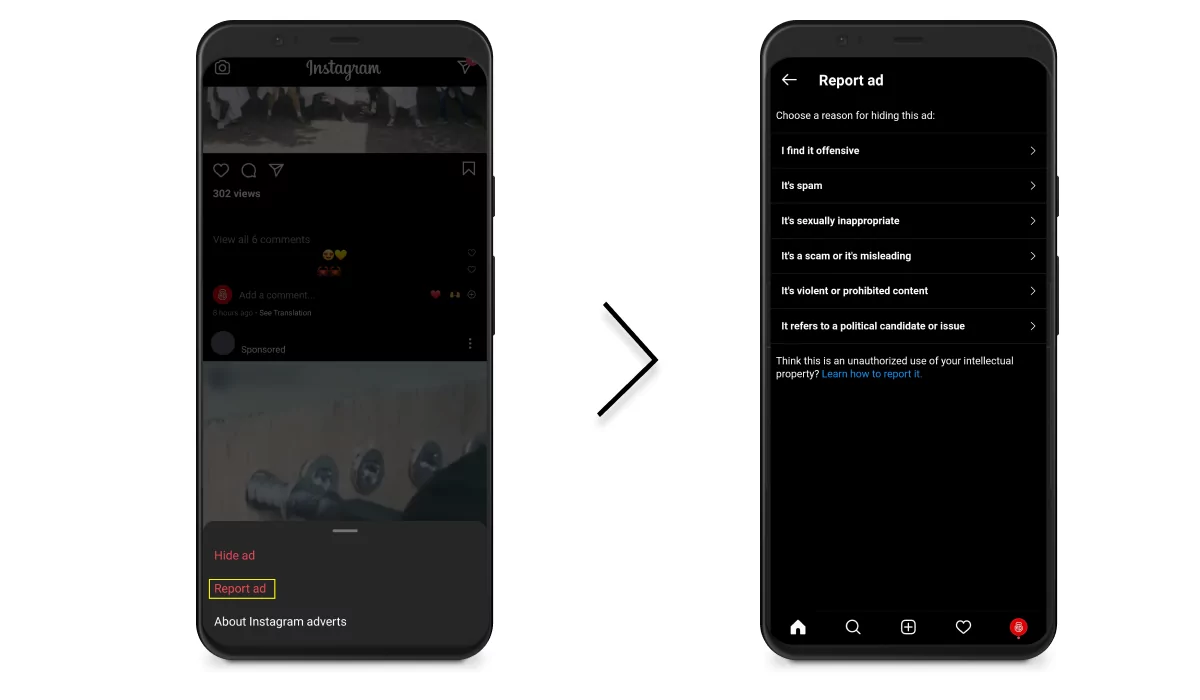 This is the best way to block ads on Instagram, and speaking of mobile operating systems, the described method is universal, so with its' help, you can not only remove ads on Instagram on Android but also remove ads on Instagram on iPhone.
Blocking Brand Accounts
Another convenient way of blocking annoying sponsored posts (ads by brands) is blocking those brand accounts. Yeah, simple as that. When coming across an advert you don't like and wish to never see anything by this brand in your feed, you should do:
Tap the name of the company or the brand promoting their goods;
Then tap the overflow menu on the right ("⋮");
Choose the "Block" option;
You'll have 2 options — block the current profile and all profiles this user creates/already has, or block only this specific profile.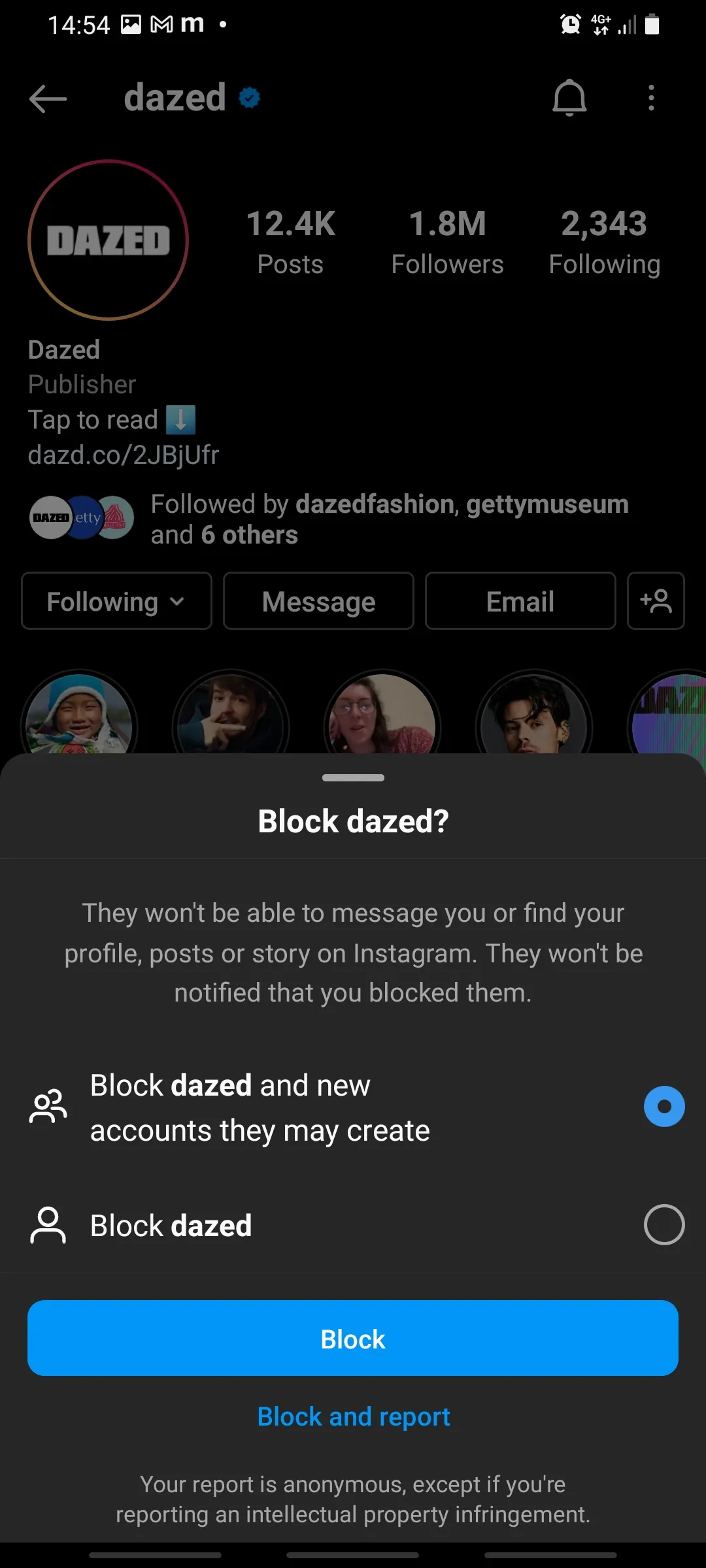 The best option, of course, is to block all profiles of this user. You can block every single annoying profile on Instagram if you wish but keep in mind that Meta has lots of advertisers so you definitely will face other similar ads from other companies and brands.
Use Web Version on PC or Mobile
It is impossible not to notice a certain Instagram plan not only to develop the application but also its web version. Ever tried using it? There are actually some differences between the web version and the application. After entering your profile page, you, just like an app user, can scroll your feed, easily search for photos by tags, comment on the photos and videos you like, and adjust the settings of your profile. But the best and most pleasant difference is the complete absence of ads!
It's true — you can flip through your Instagram feed without any hints of advertising — just use the web version of the client, in which it is still completely absent. Do not forget that you can open it even from your smartphone — do not lose the chance to see only what you wished for:
Go (use any browser, both on PC and phone) to the Instagram website;
If necessary, log in to your account;
The next screen will display your refreshed feed, where you can view publications, like, and comment without any hints of ads.
This will help you to see your feed the way it was when Instagram just appeared.

It's vital to add that you may find loads of apps in Appstore or Google Play that promise to remove, hide or block Instagram ads. But a fair app that does not steal your data doesn't exist yet, so remember to never type your Insta credentials anywhere else than the app itself — you might get scammed! Beware of such soft.

To sum it up: with its functionality, Instagram can still be a nice and useful news feed or photo album. It can keep you updated about what is going on currently with your friends, people, or institutions you are interested in, just as imagined, even with advertisements that still remain. And you, using any of the methods given in the article, can completely or partially get rid of Instagram ads and never get annoyed again.