How to Block Ads on uTorrent [2023 Update]
No more uTorrent ads with our next-generation adblocker!
Torrent trackers have a controversial reputation, but let's not judge. If you use uTorrent to download movies for a quick preview before purchasing, you'll know how annoying the ads can be. One of the reasons why we want to remove uTorrent ads so badly is because of how painfully obvious right-into-your-face they are. Thankfully, ads won't redirect you to malicious websites, but they are impossible to skip or hide. This article will show you ways to get rid of them and enjoy using uTorrent ad-free. Keep reading to find out how.
Knowing how to watch favorite shows on streaming platforms without being blasted by ads would save time and nerves. Even Crunchyroll without ads is real!
Contents
Ads in uTorrent can be quite annoying as they are so obvious they can be set as a standard of advertising in the Bureau of Weights and Measurements. A good thing about those ads is they don't redirect you to malicious or unwanted web resources, and the bad thing is there is no way you can skip or hide them. So if you want to enjoy using uTorrent, get rid of ads in uTorrent. Read on to find out how.
In the beginning of 2018 Google Chrome introduced its own ad-blocking tool which was a shocking move for the greatest advertiser in the world. Find out whether Google ad-blocker is better or worse than a special
pop-up blocker for Chrome
.
How to Block Ads in uTorrent using AdLock
The first and easiest way to remove ads on uTorrent is to install AdLock. You don't need to do anything else; you just open an ad blocker, and it starts doing its job. AdLock is set up by default to stop any adware and block third-party tracking, though if you want to, you can adjust its settings to meet your needs. Complete the following steps, and you're good to go:
Download and install AdLock for Windows;
Choose your plan and get your license key;
Launch AdLock => click Activation => paste your 9-digit license key;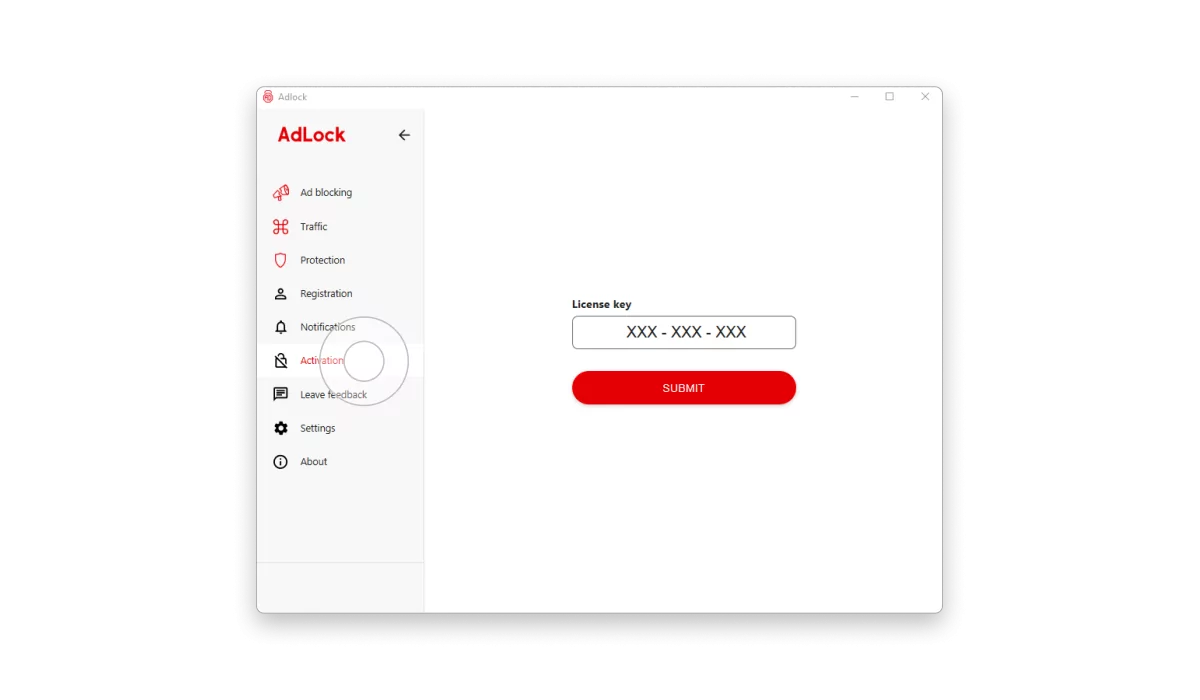 Click Ad-blocking => find a large on/off toggle and switch it to the On position;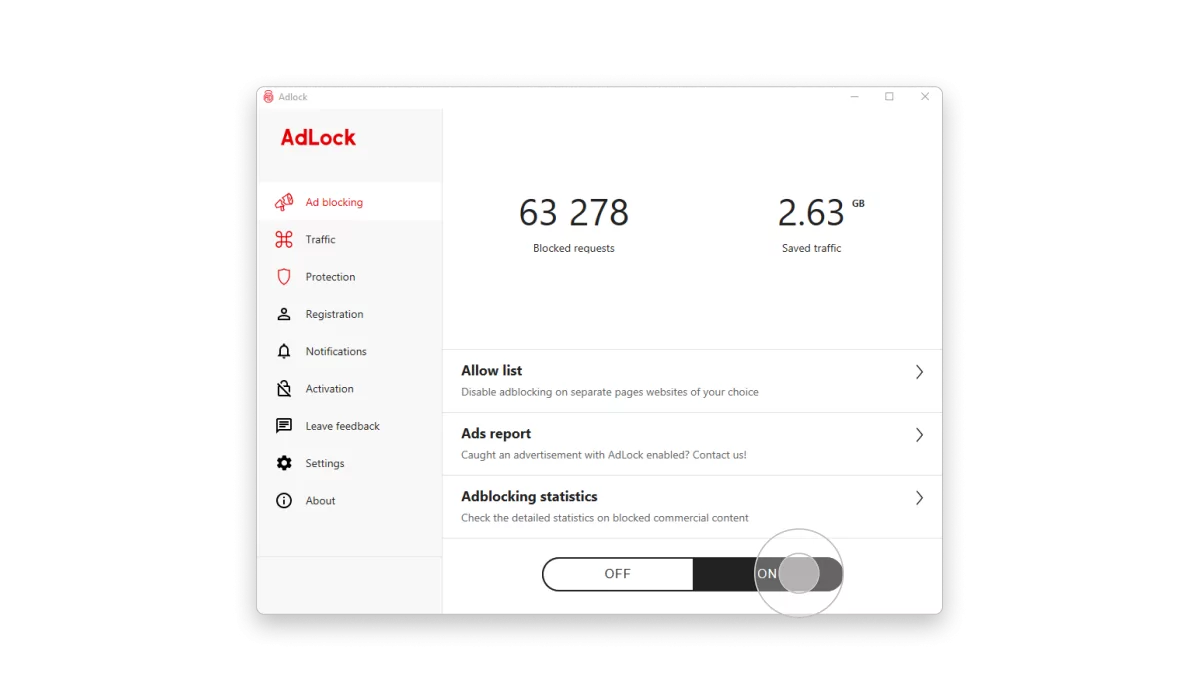 Enjoy the looks of your torrent tracker.
If you like a particular website that is supported with ads, and you don't want to deprive it of such an opportunity, you can add it to the list of exceptions. Open an "Ad Blocking" tab in the app, choose "Allow List," click on "Add Item," and type a URL in this format: www.example.com. Since then AdLock will disable ads on all websites except that one.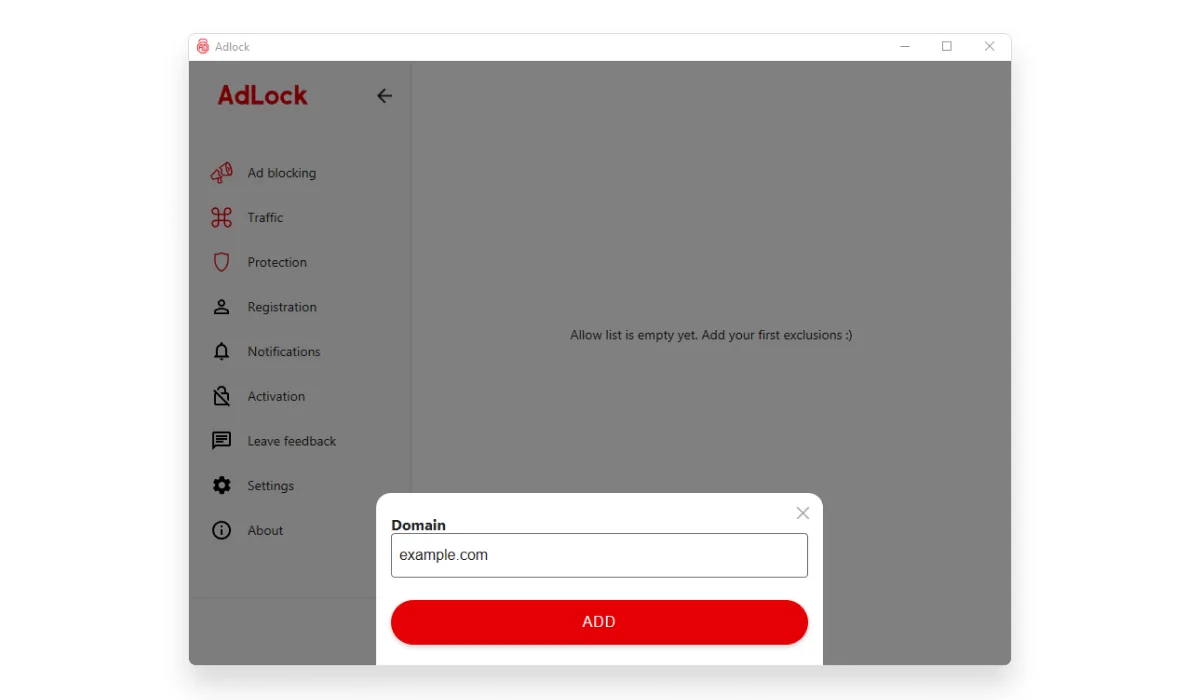 You can set up a whitelist of applications, too. Go to the Traffic tab, choose the app you would like to exclude and press Disable filtering.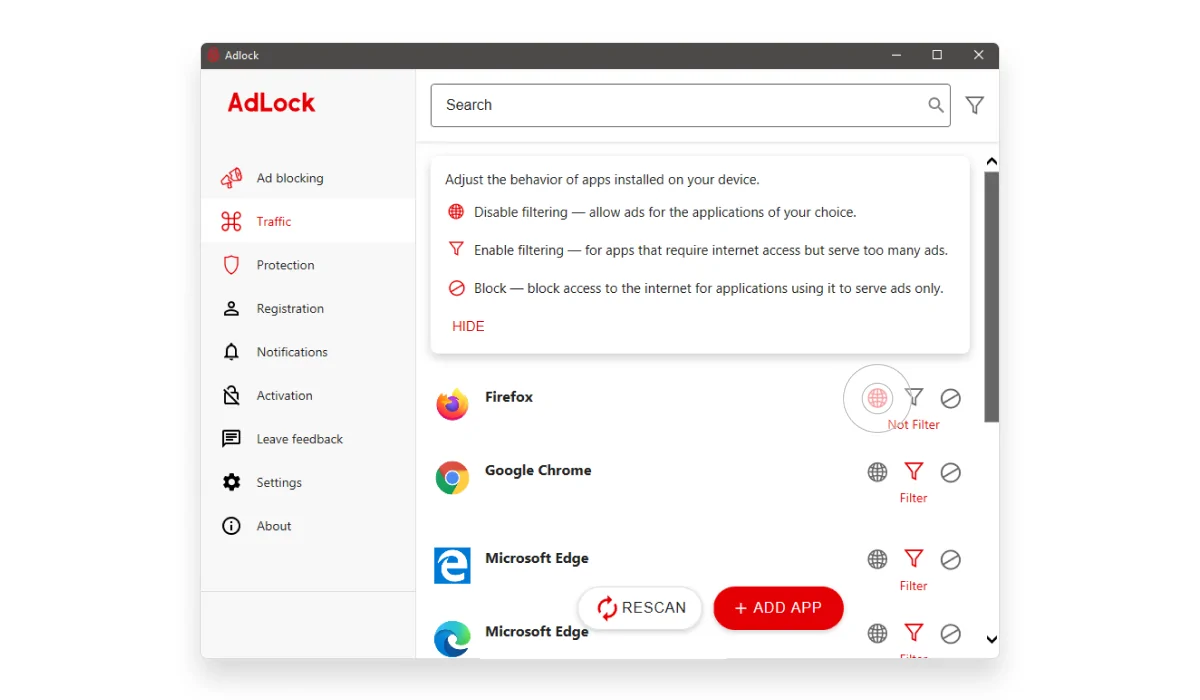 Nailed it? Enjoy using uTorrent without ads!
Disable uTorrent Ads in Preferences
AdLock ad blocker works for your entire system, sweeping commercials away from it. However, if ads bother you only in uTorrent, you can get rid of them using Advanced settings. To hide uTorrent ads, follow the instructions:
Step 1
:
Open uTorrent and click Options.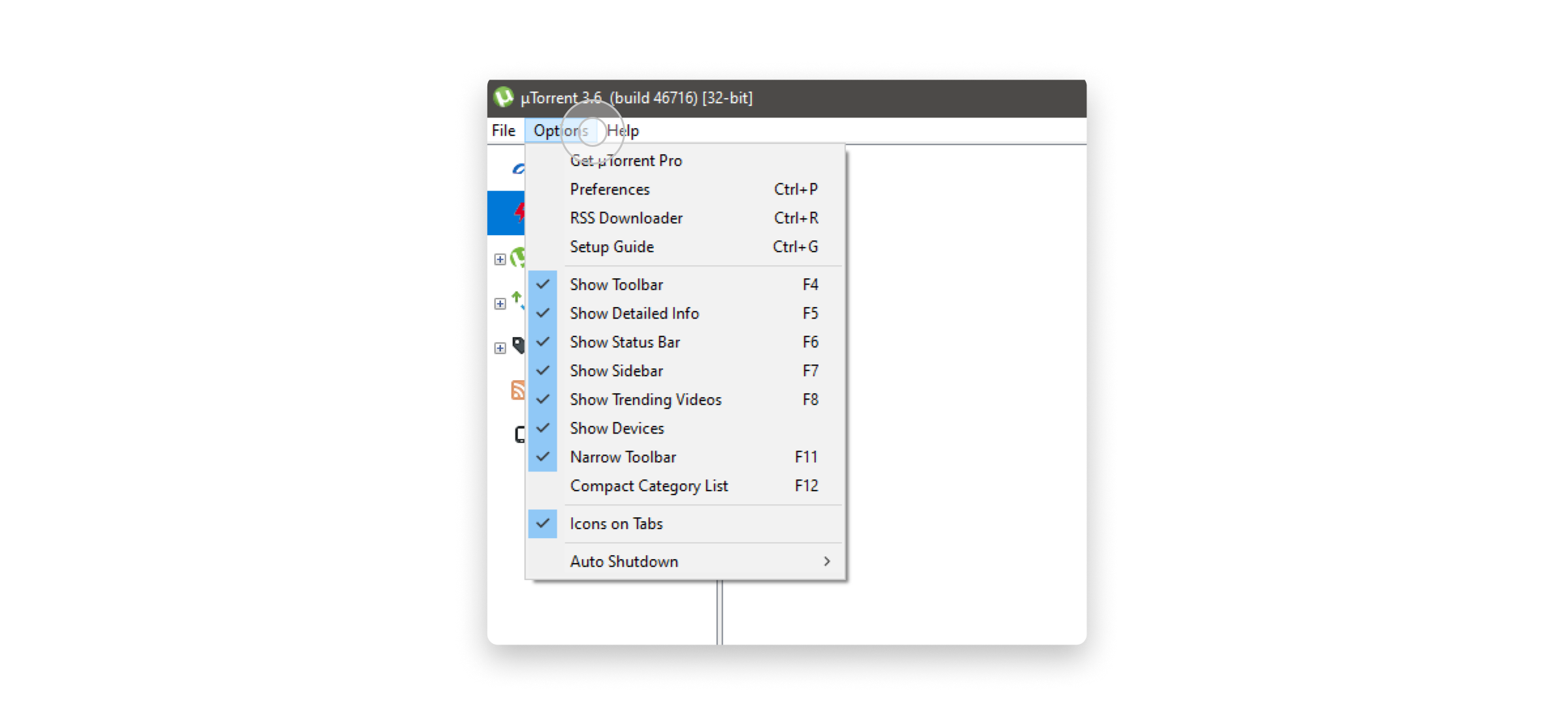 Step 2
:
Choose Preferences from the drop-down menu.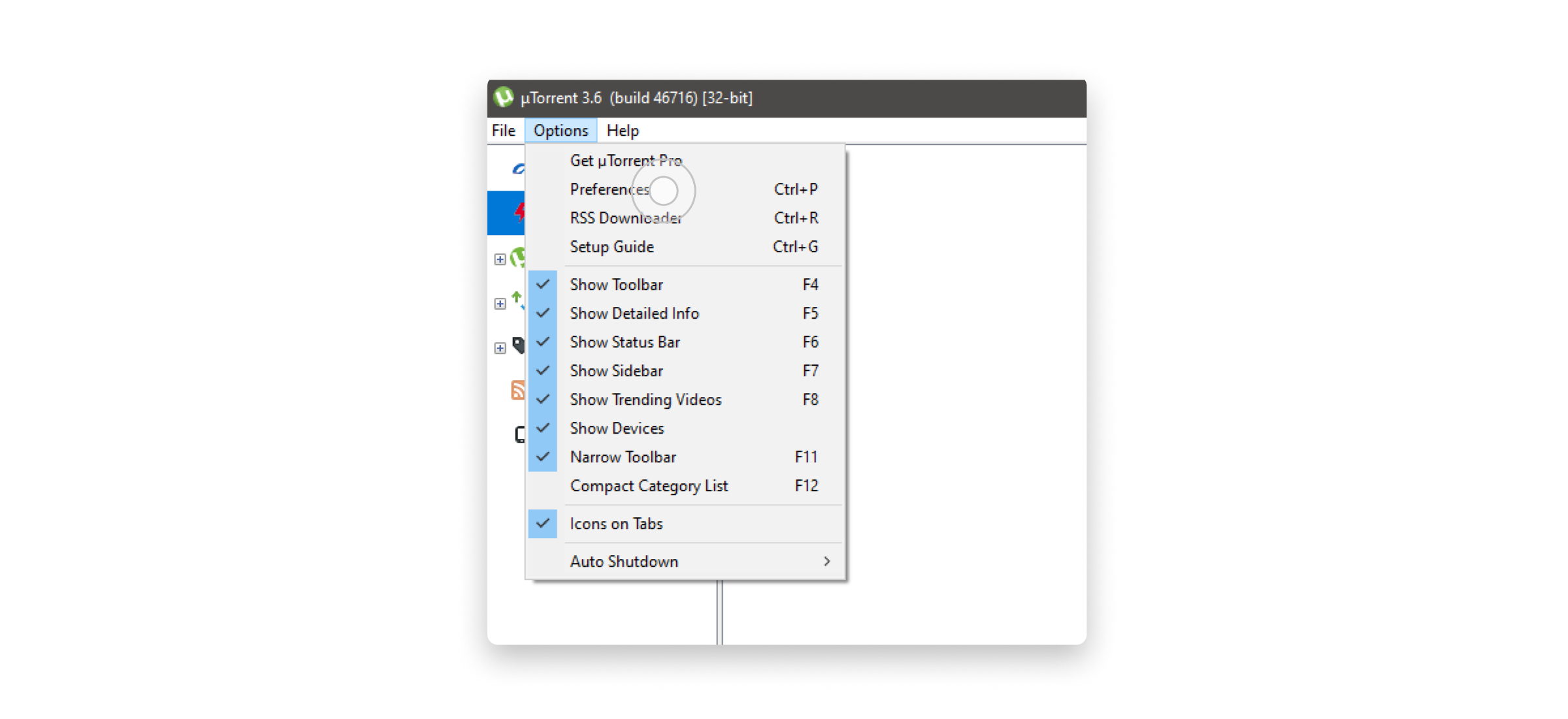 Step 3
:
Click Advanced. You'll find a list of flags and a filter box.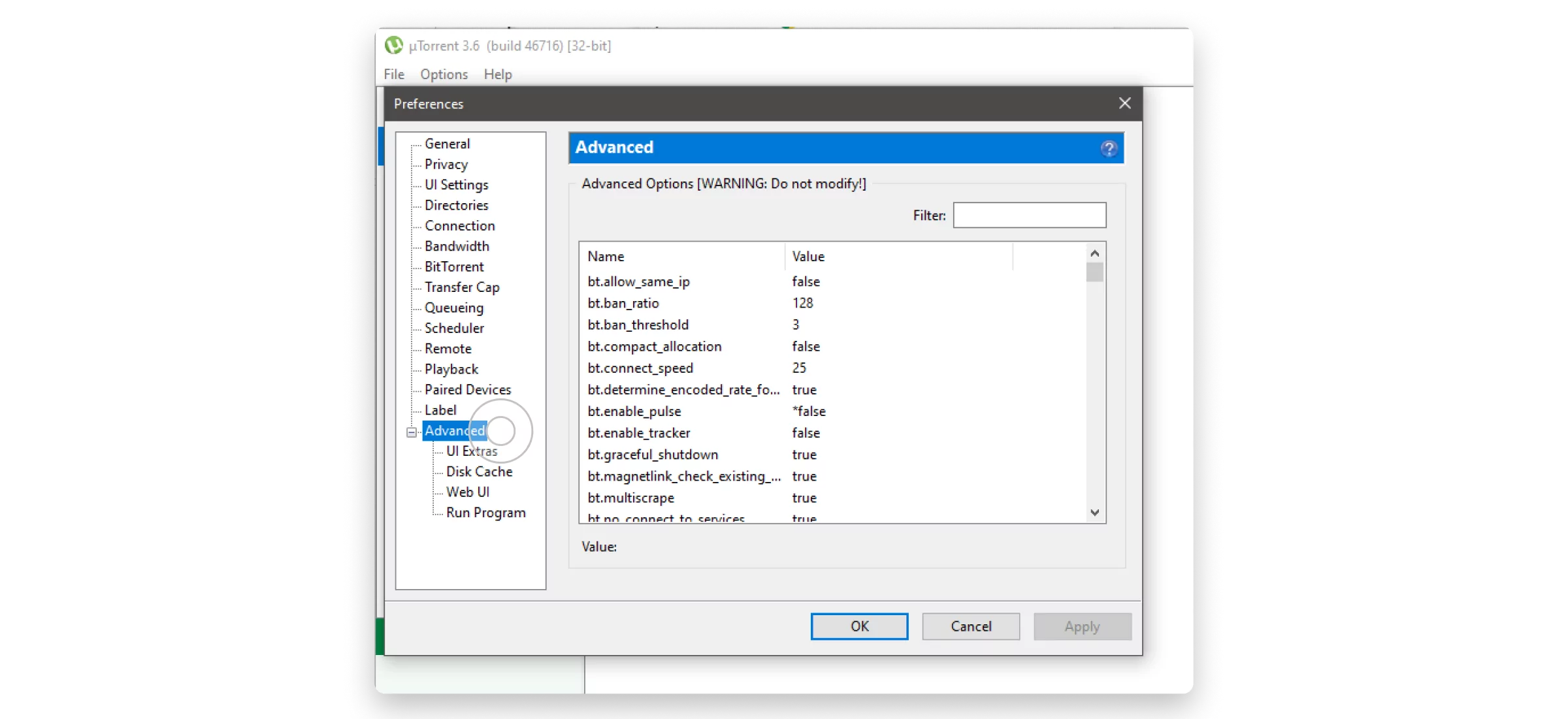 Step 4
:
Search for and mark as false the following flags:
offers.left_rail_offer_enabled/left_rail_offer
gui.show_plus_upsell
offers.sponsored_torrent_offer_enabled/sponsored_torrent_offer_enabled
bt.enable_pulse
gui.show_notorrents_node
offers.content_offer_autoexec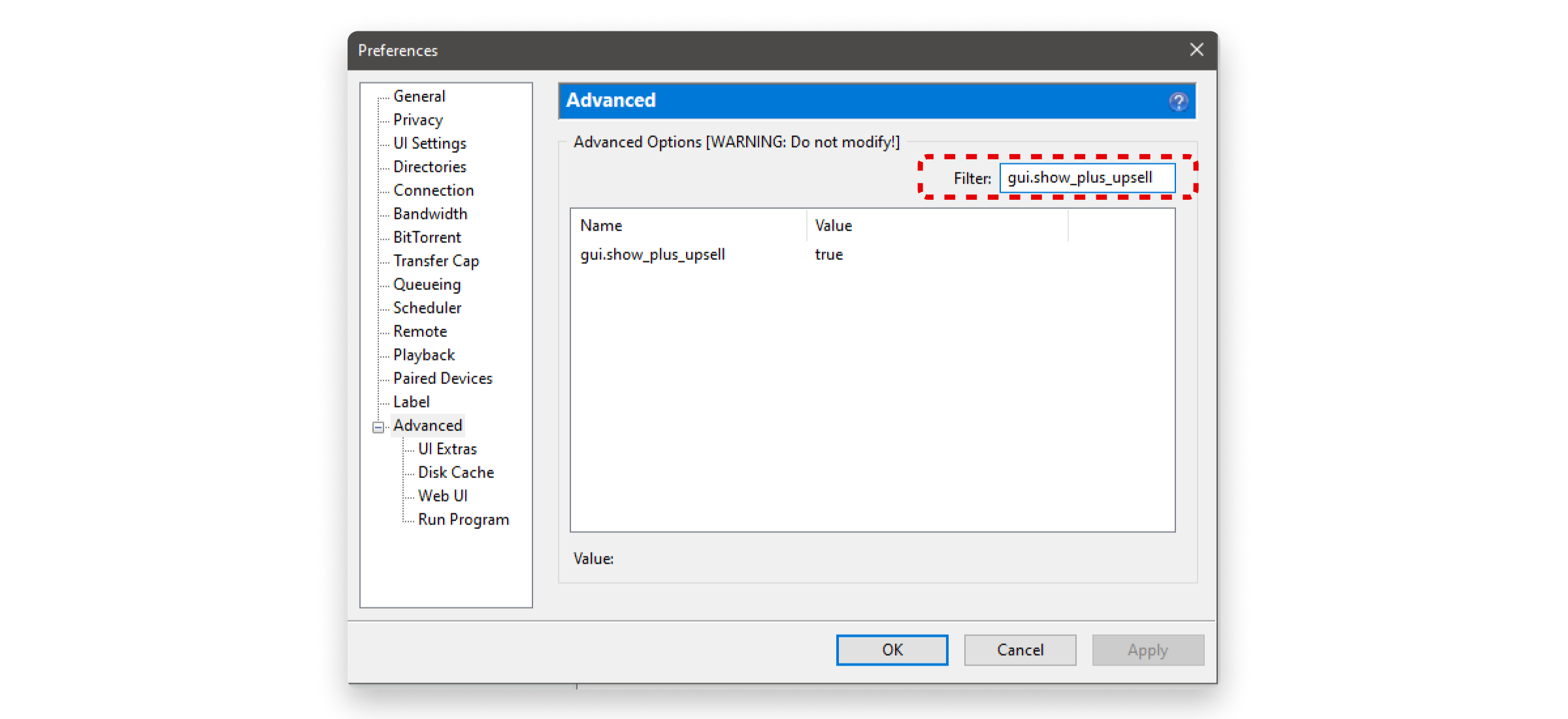 Make sure you haven't disabled the wrong flag, as it might affect the application's performance. The names of flags may differ slightly, so if you're unsure what to disable, stick to using an ad blocker for uTorrent instead of potentially breaking the application. If you do everything right, you will disable ads in uTorrent.
Pop-up blocker for Opera
is really doing a great job when it comes to blocking ads and malware. Though you can play with Opera setting to see if standard options are as neat as AdLock.
Remove uTorrent Ads by Upgrading to uTorrent PRO
Finally, you can subscribe to uTorrent PRO to hide ads. The tracker offers three plans with a yearly subscription, each of which provides an ad-free experience and some additional perks:
Ad-free for $4.95 yearly. Solely removes ads from the tracker.
PRO for $19.99 yearly. In addition to ad removal, it promises to block malware and viruses, a conversion option for mobile devices, instant playing in HD, and something called Premium support.
PRO+VPN for $69.95 yearly. All PRO features plus one year of CyberGhost VPN. The CyberGhost subscription is the biggest catch; otherwise, it would cost $83 annually. However, CyberGhost has a two-year-plus-two-month deal, costing $56,94 for the whole period, which reduces the cost of one year of usage to $27. If VPN is the one you're leaning toward, it will be more valuable to purchase uTorrent PRO and separately a two-year deal from CyberGhost
In the dry residue, we must admit that the PRO plan is the best option for regular uTorrent users as it provides some practical extras besides ad removal. If that's what you were looking for, go ahead. If you are searching for more privacy and security, we insist on using AdLock. You'll block uTorrent ads using it and protect your files and device from phishing websites, online malware, and spyware. Also, AdLock will remove ads on other popular PC applications known for displaying ads, i. e. KMP, Skype, BitTorrent, etc.
Read also: How to turn off ads on 123movies
Third-Party Scripts like Pimp My uTorrent
The Pimp My uTorrent script automates the process of disabling ads in Advanced settings. The script is open source, and you can find it on GitHub. You don't need to download a program or install anything. You just run your uTorrent client that's at least version 3.2.1 and press a giant Pimp My uTorrent button on the script's page to mute ads in your tracker. It's up to you whether you trust enough a script developer named Schizoduckie to meddle with your software. I want to remind you that developers can add more lines to their otherwise harmless scripts with malicious intent. And if you are not tech-savvy and want to keep your files and other data safe, better don't use third-party scripts.
Get a uTorrent 2.2.1 version
We're talking about the older version of the current uTorrent, the good-ol' uTorrent with no ads. We should admit that version 2.2.1 was released in 2011, and the security standards are now much higher and more complex. This means that using uTorrent 2.2.1 solely for the purpose of having ad-free uTorrent is quite risky. It can be a breach point for sneaky cybercriminals. Plus, uTorrent 2.2.1 is so outdated. Usually, I treat users devoted to one program over the years with admiration, but uTorrent 2.2.1 is my exception. Its net-bind function is broken, it doesn't allow you to select files when you open a magnet link, and it doesn't have automatic torrent management with categories and paths. I don't understand why you would revert to version 2.2.1 instead of using a newer and more stable tracker. However, to prevent you from downloading an even buggier version like uTorrent 3.4.5, I'll provide a link for you.
Secure Your Downloads with VPN
There's yet another suggestion we've got for you. If you are our regular reader, you already know that Internet Service Providers (ISPs) are quite enterprising fellas. They collect our personal data, including browsing activity, search history, etc., to sell to third-party companies, including advertisers. However, ads should be your least concern, as ISPs can frame you for piracy if you cluelessly put unauthorized content to download.
The easiest way to hide from the government's eyes and keep your data safe and secure is to use a VPN. VPN changes your actual IP address and encrypts your internet connection, so any data becomes unreadable to third-party companies. VPN also makes it possible to visit prohibited/restricted websites without being unveiled. And as a side effect, VPN may remove ads in uTorrent or reduce their number depending on your chosen location. We won't suggest any particular VPNs because it's a matter of preference. It's up to you.
Conclusion
To sum up, you can choose from several free ways to disable ads on uTorrent, including using third-party scripts, modifying the settings within uTorrent, or switching to an older version of the tracker. However, the best and safest method to protect your device from ads and potential malware is to use a trusted ad-blocking tool like AdLock. Our powerful ad-blocking software can effectively block all ads on uTorrent and other popular PC programs and games. No matter what you're doing, watching a movie in the GOM player, or reading your Yahoo mail, AdLock makes your computer pastime free from commercial interruptions. Take control of your online experience with AdLock, and if you don't like it, you'll get your money back!
Frequently Asked Questions
What is the last uTorrent version?
The latest tracker version is uTorrent 3.6. Before downloading it, be aware it's very greedy for your CPU. When running, this version can eat up to 8-10% of your CPU, and though the downloading is relatively fast, other torrent trackers use less of your processor with the same downloading speed.
What are the ad-free alternatives to uTorrent?
Torrenting is one of the most popular file-sharing methods that has been around for more than a decade. Of course, the uTorrent client is the oldest one around, but it is not the only one. Indeed, you can find suitable alternatives that would be as convenient as uTorrent, but what's more important in this case is clients that are free of ads. We would suggest you consider the following torrent clients:
BitTorrent
qBittorrent
uTorrent 2.2.1
Transmission
Deluge
uTorrent changed my default browser pages. How can I get rid of this?
If uTorrent changed your default browser pages, it most likely means that you unwittingly installed third-party software that came bundled with your torrent tracker installation file or that you missed the checkmark enabling homepage changes during the installation process. Here's how to change it back to normal in Google Chrome (the process in other browsers might differ a bit, but mostly it's the same):
Click on the three-dot menu icon in the top right corner of the browser window and select Settings from the drop-down menu.
Scroll down and click on Advanced to expand more options.
Scroll down to the Reset and clean up section and click Restore settings to their original defaults.
A pop-up window will appear, click on "Reset settings" to confirm.
To prevent such things in the future, pay lots of attention when installing any program, not just a torrent tracker.
No more uTorrent ads with our next-generation adblocker!
Do you like this post? Share it!
Do you like this post? Share it!