How to Block Ads on Yahoo! Homepage & Mail Inbox
Before we learn how to block ads in Yahoo, let's take a moment to appreciate this veteran service. Yahoo! delivers all the most influential world updates on the conveniently crafted platform: Breaking news, weather forecasts, hottest celebrity rumors, and real-time stocks. Besides that, Yahoo! Mail remains a giant in the email market, with over 200 million active users monthly. Just one click moves you from the inbox to nearly fifty different products and services, shockingly, without paying anything. How does all this work, and how does Yahoo! monetize all its efforts?
Ads are the answer. From top to bottom of its service, Yahoo! is riddled with flashy promotions, pesky pop-ups, everlasting autoplay videos, and other kinds of spam. Every user had an experience of clicking one of these — either by accident or being fooled by some worthy-looking headline — and never got any good outcome. We often receive support requests asking how to stop ads in Yahoo mail and whether AdLock can block them. Spoiler alert: AdLock is no doubt capable, even for free. We will cover that and all other solutions to advertising problems in this article.
How to Block Ads on Yahoo! Homepage
The right place to start would be to understand what types of ads Yahoo! shows its users. It developed a cross-platform design with different placeholders that load ad content from the Google servers. The ads are displayed on desktop and mobile and consistently adapt to a particular user's searching and shopping habits. That is often far from accurate. But even when it reflects one's shopping interests, nobody wants such information to pop up in a massive banner in the middle of the screen.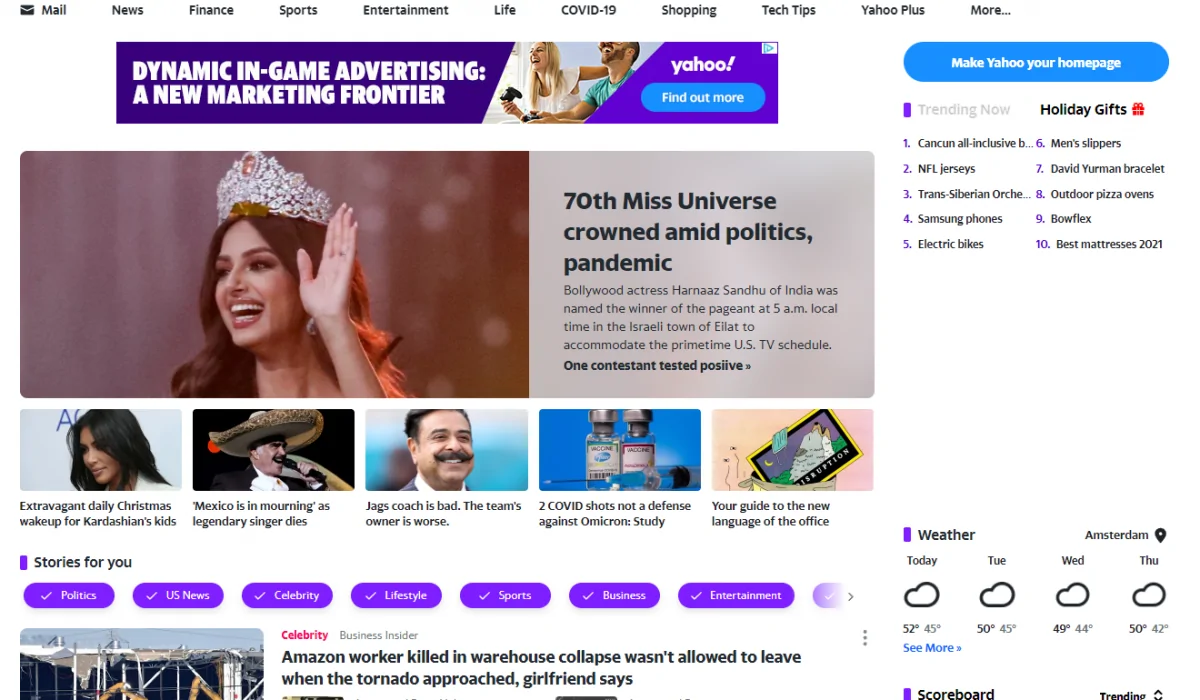 And this is precisely the way Yahoo! shows you adverts on its homepage. Enormously sized banner on top, a couple on the right, and plenty of small promotional items in the newsfeed — you don't know whether it is a real piece of news or an ad. Moreover, neither Yahoo! nor Google takes at least some responsibility for the malware and spyware infections caused by malicious private advertisers.
Yahoo! says that the only way to remove the ads from your homepage is to purchase a Yahoo! Mail Pro subscription. Let's talk about it in more detail.
How to Get Rid of Ads in Yahoo! Mail Inbox
Here is the deal: Yahoo! will show you no ads and provide faster performance and dedicated customer support in exchange for a subscription fee. You can pay that monthly and won't enter into any long-term contract. Also, the first month of your Yahoo! Mail Pro is always a free trial period – cancel it before the next billing period starts to avoid any fees. Seems like a generous offer?
Fed to the teeth with spam? Getting rid of spam emails is easy. Read our article and learn to fight junk emails!
Well, it's not for a handful of reasons. First, the user must choose whether to buy their subscription on the desktop or in the mobile app. And yes, there is a significant difference. When purchasing a plan from a desktop, one can enjoy ad-free mail and news on both a PC and a mobile app but only for one account. On the contrary, buying a subscription on Play Store or AppStore would mean no ads on all of your Yahoo! Accounts on mobile – and still the same ads on a desktop!
Even for the biggest Yahoo! fans, willing to pay a double price for both subscription plans, this is not a rescue. Yahoo! would still show them videos in the empty mail folders and apply the same mail storage limits as to free accounts. Now we are coming to the most important part — how can we block ads on Yahoo mail and get rid of annoying Yahoo pop-ups without this dubious investment?
Using a Browser Extension For Blocking Ads on Yahoo!
There are various ad-blocking extensions that you can use to block Yahoo Mail ads in your web browser. We can only take responsibility for our products, so we recommend AdLock. AdLock is a completely free ad-blocking extension available for Chrome and Safari. Our extensions don't rely on shady monetization schemes; we have other paid products to back them up. You can verify that personally by visiting AdLock's page in Chrome Web Store, where you'll find an announcement that AdLock doesn't collect any data. The extension is customizable, with adjustable settings to suit your preferences, and you can easily activate it with a single button. Once installed, AdLock is straightforward to use, without the need for complex instructions. Download AdLock for Safari and Chrome and dive into the ad-free internet. If you use other web browsers, you might be interested in our articles on how to block ads in Opera, Mozilla Firefox, and Internet Explorer.
The Method How to Hide Inline Ads in Yahoo! Mail
The most tricky type of commercial in Yahoo! Mail is Inline Ads. At first glance, they look legit, with the same size and font as the regular emails in your inbox. A little AD sign is not helping users to avoid following the link to the advertisers' sites. You can reduce annoyance from Yahoo ads in two clicks:
Find the three horizontal dots or X icon on the right of the Inline Ad;
Choose the option Dislike this ad.

That will only temporarily hide the offer from one particular company. A similar advert will replace it in no time. On top of that, such an option is only available in the desktop version of Yahoo! Mail.
The Effective Way to Hide Right-Column Ads in Yahoo! Mail
Right-Column ads are way larger and look incredibly annoying with their flashy colors and aggressive animations. That type of ad might tell all your private shopping secrets to your working colleagues when they pass by your screen at the office. If you wish to hide one of these ads, follow the next steps:
Click the cross icon in the top right corner of the ad window;
Press the blue button Block this ad;
Select any of the four reasons to block it.
Done. You will only see that ad once you refresh your Yahoo! Mail page. Similar to Inline Ads, these can only be temporarily hidden on the desktop, not mobile.
If you're a Gmail person, then you definitely should get our tips on how to turn off ads in Gmail.
Get Rid Off Ads with Yahoo Mail Pro
Previously known as Yahoo Mail Pro, a premium subscription to extra features is now called Yahoo Mail Plus and has several additional options to enable. It comes with an ad-free mail and search engine, 5,000 GB, domain blocking, disposable email addresses, etc. Yahoo Mail Plus costs $5 monthly with a free 14-day trial. Note that if you have an active Pro subscription, you should manually upgrade it to Plus. We're not sure if it charges additional costs.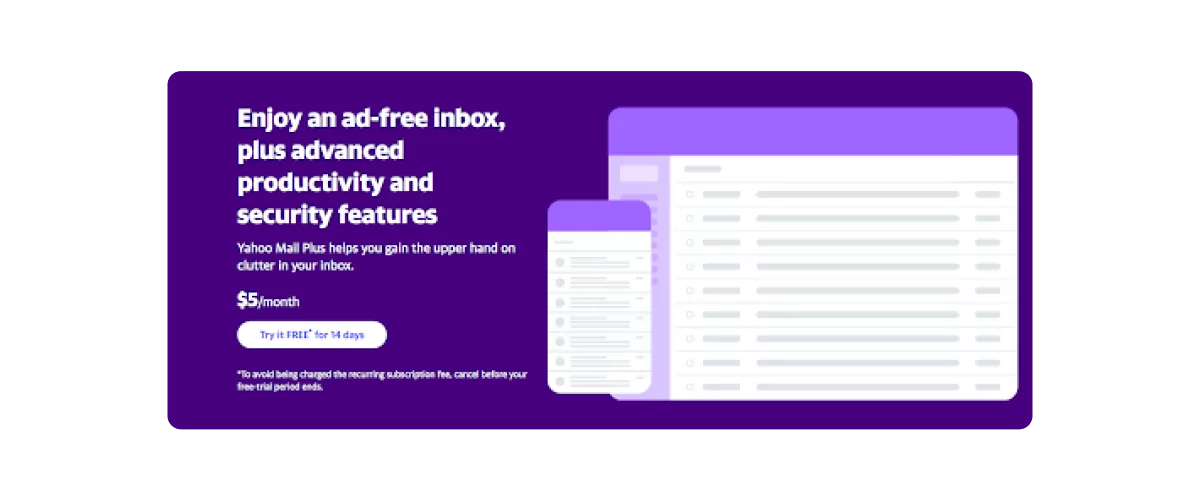 Extra option Yahoo Mail Pro for Mobile
The Yahoo Mail Plus plan is available on mobile and desktop and has nearly the same features across the platforms. To connect to your mobile Yahoo mail app, you'll need to sign in to Yahoo Mail by using the mobile app, and you are all set.
The Yahoo Plus plan costs five bucks per month, which seems affordable, but if you add another $5 to the stack of other monthly subscriptions, you won't be very excited. Maybe if they offer Plus for a discounted price, there will be a reason to think it over.
How to Remove Sponsored Ads from Yahoo! News
Yahoo! News page has all the ad types mentioned above and even more. While you already know how to hide the Right-Column advertising and can do the same to the banners on top of the page, it is sometimes hard to distinguish actual news from the commercials that mimic real headlines. You can tell this only due to the grey sign Advertisement above the headline. Once spotted, repeat what you have done with Inline Ads in Mail:
Find the three horizontal dots icon on the right of a sponsored ad;
Choose the option Dislike this ad.
You will not see the same advert again, but another one is coming in a few seconds. A temporary solution to the ad problem is not why you came here, huh? The only 100% effective way to block ads in Yahoo mail requires installing powerful adblocking software.
How to Stop Yahoo Ads on an Android Phone
AdLock can work as a perfect ad blocker for Yahoo Mail on your Android phone. First, download AdLock for Android and follow the installation and setup instructions. Have no fear, our team has come up with a ridiculously detailed guide, and even a hangover uncle will manage to figure it out.
Once you're done, open Yahoo Mail and enjoy reading your actual mail, not the sponsors' commercials.
With AdLock on your phone, you will finally have ad-free entertainment in all browsers, your favorite apps like ESPN, Daily Mail, Reddit, and games like Candy Crush and Scrabble GO, among others. You can even watch YouTube without ads on Android though you will need to take extra steps.
How to Stop Yahoo Ads on iPhone
If you're an iOS user looking for how to turn off ads in Yahoo Mail on your device, AdLock may be the solution for you. Besides from paid option from Yahoo itself, an ad blocker is the most optimal option. AdLock is a secure ad-blocking application you can download from the official App Store without jailbreaking or hacking your iPhone. The app offers two plans:
1) a free plan that enables an ad-free experience on the Safari browser;
2) a Premium plan that blocks ads in most games and applications and provides personal data protection.
Block Yahoo Mail ads on Safari with enabled AdLock
AdLock is a user-friendly ad-blocking application that can remove ads from Yahoo Mail and other sites, including YouTube. If you'd like to set up AdLock on your iPhone, follow these steps:
Tap Settings on your device.
Find and tap Safari in the list of options.
Tap Extensions and switch on all AdLock toggles.
Launch the AdLock app and switch on the Ad-free web surfing toggle.
Wait for a few minutes as AdLock downloads all necessary rules and updates.
Once AdLock has finished downloading, close the app, open Safari, and enjoy reading Yahoo ad-free mail.
Block ads on the Yahoo Mail app with the Premium AdLock plan
You should have already installed AdLock for iOS using the above instructions. Now complete some additional steps to finish the setup process:
Launch the AdLock app and tap the Premium toggle.
Choose a yearly plan for $1 per month, charged once a year, or a monthly plan for $3.49, charged every month. We offer a 7-day trial, so if you're unsatisfied with AdLock after a week, you can cancel your subscription, and we'll return your money.
That's it! From now on, you won't see any advertisements on the Yahoo Mail mobile app.
How to Stop Ads in Yahoo! with AdLock
AdLock is a killer of all Yahoo! Mail and News ads. AdLock uses a list of filters that, by default, includes the platform and associated ads. Not only will it help you to make ads on Yahoo! invisible, but it will also rearrange the space on both Mail and News so you can have a clearer view of all the essential things. Malicious links you were so afraid to click before will now be gone — and that's not only Yahoo! but the whole range of popular web services, including Google, Youtube, etc.
Guide on how to install AdLock and use it as a Yahoo ad blocker:
Download and install AdLock for Windows.
Choose and purchase a preferable plan and obtain your license key.
Launch AdLock and click on the "Activation" option. Then, paste your 9-digit license key in the provided field.
Click on the "Ad-blocking" option and look for a large on/off toggle. Switch it to the "On" position to enable ad blocking.
Enjoy Yahoo content without any promotional posts getting in your way.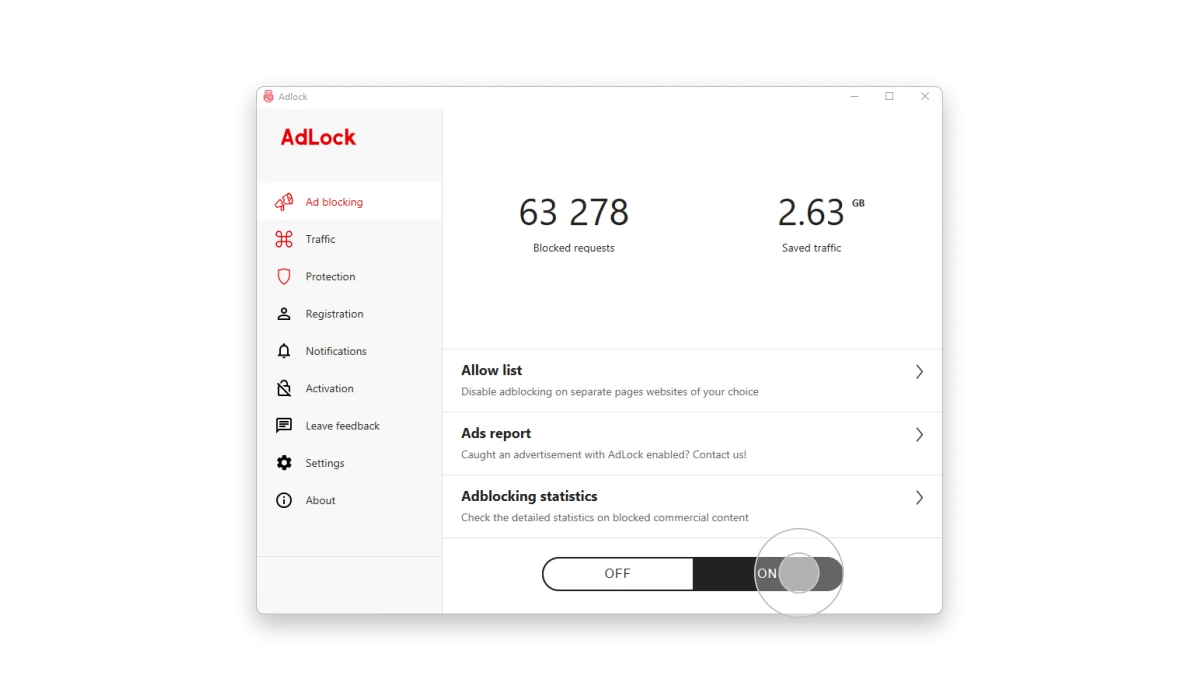 The company's top products, AdLock for Windows, Mac, iOS, or Android, offer decently priced and flexible subscription plans, which have so many more benefits than paying for Yahoo! Mail Pro. And even the AdLock Chrome extension will make a significant difference in the look of your desktop Yahoo! completely free of charge. Install AdLock now and let advertisers bother someone else — this is your turn to enjoy mail and news without ads.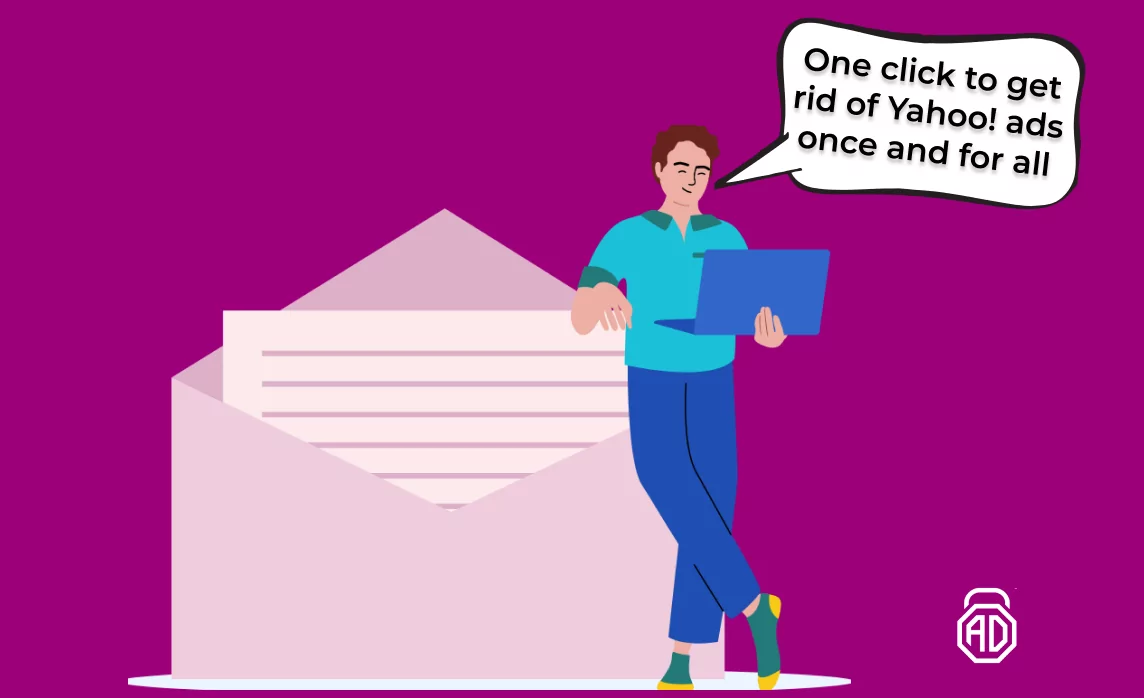 How to Avoid Yahoo Ads on Websites
Free AdLock extension for Chrome and Safari will stop any ads promoting Yahoo on other websites. If those two options are insufficient, you can download AdLock software specifically for your device. And you can install AdLock on all your devices and don't go broke, only not to see ads anymore, because you can run our software on up to five devices for one price.
Conclusion
Yahoo might not be the greediest advertiser, but God knows it's not their will. Google keeps biting off the pieces of the global audience, and Yahoo will never top that giant, probably. Yet, the lack of success on the market doesn't give Yahoo a pass to shove ads down their users' throats and trick them. If you're a loyal user and want to support the service, subscribe to Yahoo Mail Plus, but if you disagree with the platform's advertising policy, you better stick to AdLock.
FAQ
Why am I getting ads in my Yahoo email inbox?
You're getting ads in your Yahoo email box because you don't pay to use their service. Email servers need maintenance, and email support needs salaries. That's why you either watch and interact with ads as compensation for the smooth work of your favorite email service or pay a subscription.
How to stop ad emails in Yahoo?
You can remove ads from Yahoo mail either temporarily or permanently. A temporary method is free and requires reporting each ad individually. To stop advertising once and for good, you can buy a subscription to Yahoo Mail Plus, install a free ad-blocking extension or buy a trustworthy system-wide ad blocker. Read more in the article above.
How to stop Yahoo pop-ups?
It depends on what you mean by pop-ups. If you want to stop the Yahoo pop-up notifications:
Go to your Yahoo mail settings, click More Settings =>Notifications, and toggle Desktop Notifications off.
If ad pop-ups bother you:
Install the AdLock extension to stop them for free or an AdLock software that works as a Yahoo pop-up blocker and blocks ads in all your apps and games. Also, check out our articles on how to stop pop-ups on Chrome, Opera, Mozilla, and Microsoft Edge for more tips.
How to remove ads from Yahoo mail permanently?
Subscribe to Yahoo Mail Plus to remove ads permanently, though this method has pitfalls. Or get rid of ads on Yahoo mail with an AdLock ad-blocking product. Read the article above for detailed information.
How to advertise on Yahoo?
Sign in to the Yahoo Ad Manager. If you don't have an account, you can create one or log in using your Google or Facebook account.
Click Campaigns => Create a Campaign. Then follow the instructions offered by the platform.
Yahoo will disguise your ads as native content, and users hate such tricks. So, remember that, most likely, people will use their ad blockers, and your efforts will go in vain.
Want adless inbox? Adlock can help!
Do you like this post? Share it!
Do you like this post? Share it!