How to Block Ads in Gmail: Full Guide
Gmail has become a household name for the word "email" as it already happened to Xerox, Jeep, or Popsicle. And for a good reason! The world's most popular email provider is beloved by businesses and individuals likewise, which makes it a perfect target for advertisers. Google never denied the fact that all its products, including Gmail, shall remain free to use — as long as it makes money showing users the ads.
Ads in Gmail are not the most annoying type, compared to other email providers. Yet, together with tons of spam emails and commercial newsletters, ads make the important workplace way too stuffed. This can be especially irritating for those who are using the service for over a decade and see how their inbox is changing. But not only new commercials are appearing in Gmail: there are also new controls and settings. With them, you can block Gmail ads and adjust the inbox to your own needs.
But not only new commercials are appearing in Gmail, but there are also new controls and settings. With them, you can block Gmail ads and adjust the inbox to your own needs. In this article, we'll show you how to block ads on Gmail and remove them from your inbox for good.
Turn off Ads Personalization
An important point to start with: Gmail is displaying the ads based on the parameters of Google accounts. All Google services are interconnected, forming a cloud-based software ecosystem, which has many advantages. One single way to login to all the tools, multi-device sync, and comprehensive tools integration are just a few of them. The same goes for the ad settings. Therefore, to turn off ads in Gmail, you need to work with personalization settings.
Searching for more interesting and useful content on how to stop Google ads? We've got you.
Ads that you see in your inbox are supposed to reflect your online searching and shopping habits. Google collects and analyses this information to provide users with targeted ads. Not everyone is okay with this, however. Targeted ads shown in Inbox might uncover one's internet activities to the work colleagues during an important presentation, or create unnecessary pressure about buying a particular product or service.
What you can do about it is to simply turn off Ads Personalization for your entire Google account. Simply follow this link and use the toggle to switch the function off. Google won't be too happy with this, so make sure to confirm your decision in the dialog boxes. After this, you will still get ads in Google services but they won't track your online activities for delivering targeted ads anymore.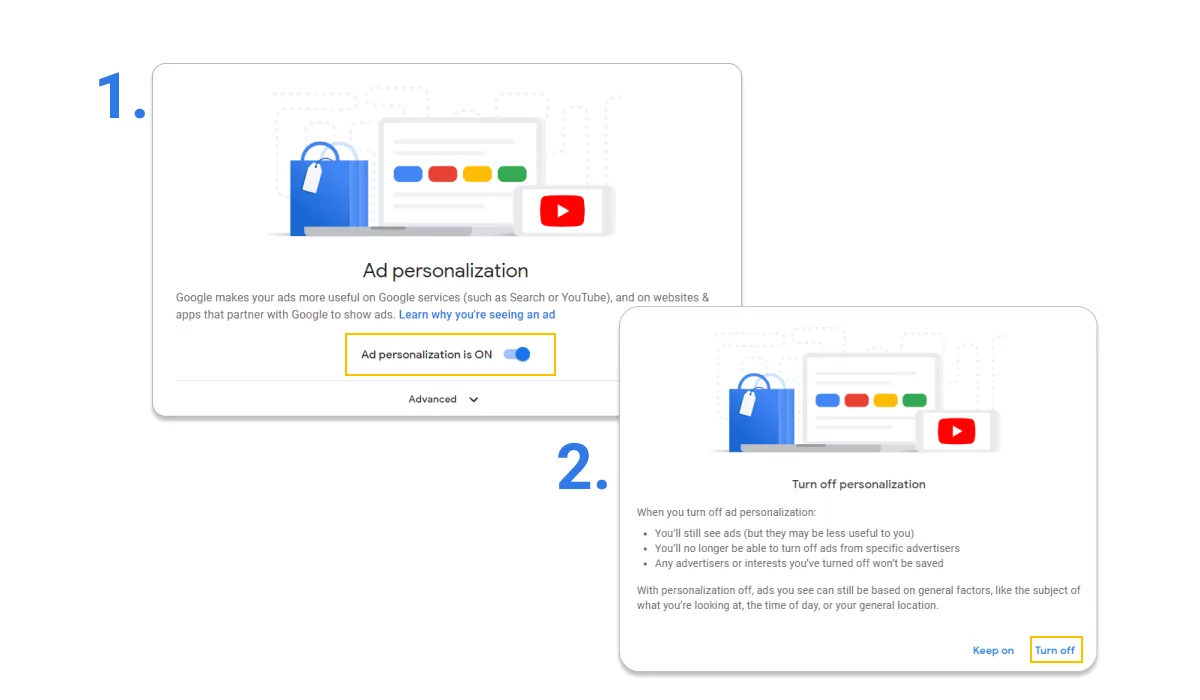 Add or Remove Category Tabs in Gmail
Look at your Inbox and try to spot the ads. Normally, they are displayed in two additional tabs: Social and Promotions. This is where the notifications from your social media accounts, as well as commercial newsletters, end up. Whether you have already turned Ads Personalization off or not, at the top of each section you will always find two inline ads. It is possible to remove them by simply clicking the trash icon on the right side. However, this would only turn off Gmail ads for your current browsing session. Once you refresh your Gmail or restart your browser, the new inline ads will appear.
If you want to remove ads from Gmail permanently, you'll need to follow the steps below, and here comes the trick. Inline ads can only be shown in Social and Promotion — so let's simply remove these two tabs from your Inbox:
Open Gmail

in your web browser;

Right next to the search bar find the

gear Settings icon (⚙)

;

Select

See all settings in the drop-down menu;

Go to the

Inbox

tab;

In the

Inbox type

section, choose

Default;

In the

Categories

section,

uncheck

the boxes for

Social

and

Promotions;

Scroll down, then click

Save Changes

.
Inline ads will go away together with the extra tabs. Such change will be reflected on all the devices you are using your Gmail with, including the mobile applications for both Android and iOS.
Yet, many users find Social and Promotion tabs useful because of the way they help to sort all the mail. In case you want to keep them in your Inbox but can't stand the ads anymore, a simple solution is to install a good ad blocker. With it, you can stop getting ads in Gmail without limiting yourself in the functionality of this service.
Tired of being bombarded with spam in your inbox? Here's how you can block spam emails forever.
Stop Ads in Gmail Inbox with AdLock
AdLock is a powerful tool that removes all the pesky adverts and pop-ups from your way. No more accidental clicking the shady in-ad links: due to AdLock ads won't be even loaded. This ad blocker provides sophisticated filters and algorithms that block ads in Gmail, moreover, it can remove the ads from all the rest of Google Tools. And every other website and email service, too.
AdLock is easy to use even for inexperienced users who won't have to do much manual setup, the program is already well-adjusted from the box. It helps to keep the device safe from malware and adware, makes pages load faster, and protects users' data — even the most secret of all the emails.
AdLock is available for free as a Google Chrome extension, which is sufficient for an ad-free desktop browsing experience. You can extend this pleasure to Gmail apps for Windows, Mac, and Android, too, by purchasing an AdLock multi-device license. Check if there is any discount!
How to Delete All Promotions in Gmail
Not only Google-driven ads can be a source of annoyance for Gmail users. The crazy amount of promotions that we all receive sometimes makes usage of Inbox impossible! This isn't necessarily spam or adware but the newsletters from the events you've ever visited or discounts from online stores you've bought a piece of clothes years ago. Scrolling through such obsolete things distracts you from important business conversations or simply getting stuff done. Therefore, there is a desire to get rid of ads in Gmail.
Deleting all the old, sometimes unread, promotional emails in one bulk is possible. It gets easier when you still have Social and Promotions tabs in your Gmail. Once you are in one of these tabs, simply check the Select box under your Gmail search bar. This will select all conversations on the page (usually 50). Next to this, you will see a blue sign Select all … conversations in …: click it and then also the Trash icon in the upper panel. Once the action is confirmed, you will see how hundreds or even thousands of forgotten promotional emails disappear.
You can do this with the specific sender, too. Just type from: sender.email@address (example) in the search bar, select all conversations and bum, delete them all.
No worries, if accidentally you deleted one or two important emails. For 30 days they will be stored in your Bin folder where you can still use them before they are permanently erased.
Block or Unsubscribe Specific Email
Ok, now your Inbox folders are clean and tidy from old junk mail. But what to do with the upcoming promotions? Recently Google added a new tiny but very useful feature to Gmail: you can easily unsubscribe from a specific newsletter in two clicks. This would only work if the Google algorithm recognizes it as a promotion. Find one email from the online store, open it, and find a little grey sign Unsubscribe next to the sender's email address on top. Confirm by hitting a blue button Unsubscribe in the dialog box and that's it — welcome to the new perfectly organized Inbox.
FAQ
Why are there ads in my Gmail?
Why does Google push ads into your inbox? Money. To admit, the incentive was launched back in 2013, and Google changed the way ads were delivered and looked inside the mailbox time and time again. Here's the rationale according to the tech giant: As always, advertising keeps Google and Gmail free to use. We work hard to make ads safe, unobtrusive, and relevant. Instead of ads always appearing at the top of your inbox, they've been relegated to a more appropriate place in your Promotions tab to create a better overall experience. Promoted "letters" can't be marked as spam, but closing them might help a particular type of ad go away until you refresh the browser. Google also said that by tuning Gmail's ads preferences, users can block specific advertisers. Experts suggest using an ad blocker for Gmail or other solutions like paid G Suite and bla-bla-bla. Why would you even think of paying another pretty penny when you can just get AdLock and get rid of all ads popping here and there?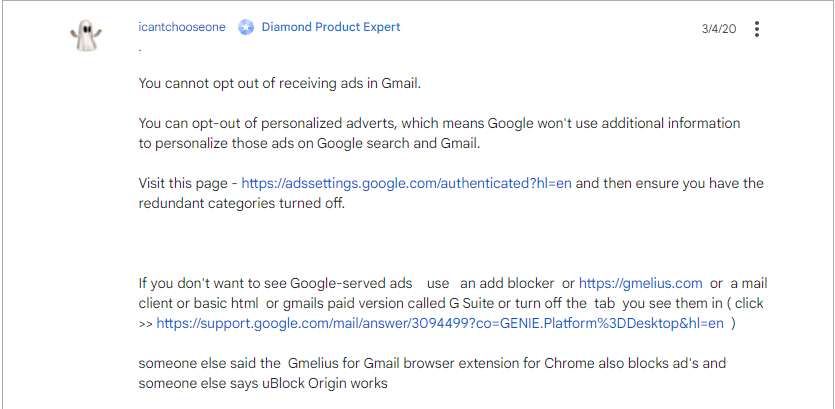 How to stop ads on gmail app
Gmail application comes with the Google apps stack on almost every device and if it doesn't, we 100% download it to have our mailbox ready at hand. With all its convenience, mobile Gmail comes with ads. Who would've thought, right?
Basically, a good standalone ad blocker would help you stop Gmail ads on your handheld device. AdLock is the one to get rid of Gmail ads in a snap while cleaning up the rest of your applications and browsers from obnoxious commercials disrupting your online routine/leisure.
Do you like this post? Share it!
Do you like this post? Share it!