How to Block YouTube Ads on Android [2023 Update]
No more Youtube ads on your device!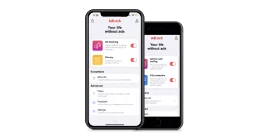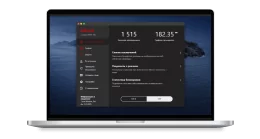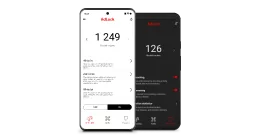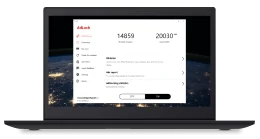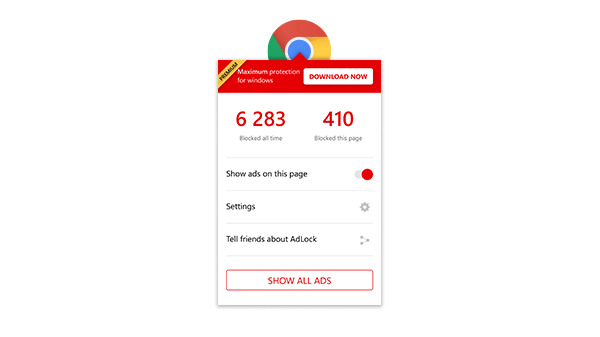 Try AdLock for free on your Android device
AdLock will block all ads and pop-ups on YouTube. No yelling pre-mid-post rolls since the first launch!
If you want to know how to block YouTube ads on Android in 2023, then you're in my no Premium club. In this article, I'll give you eight ways, both free and paid, to block YouTube ads. Don't blame yourself for coming here. The revenue from YouTube ads in the second quarter of this year is 343 million dollars higher than over the same period last year. YouTube is gradually becoming an AdTube, and there is no desire to reward such an attitude. The platform got its video ads out of hand by encouraging the top bloggers to monetize their efforts uncontrollably. This results in a great distrust bordering on pure hate, both on the advertised goods and YouTube itself. The AdLock team did a decent bit of research on ad-free ways to watch YouTube on your Android-driven device in 2023. Let's go through all the solutions to see what suits you best.
If you want to find out ways of blocking YouTube ads on iPhone, look no further. We've got the most relevant tips and tricks!
Contents
The Best Ways to Block YouTube Ads on Android
With no further delays, I present to you this, the list of best ad-blocking solutions:
AdLock. No surprise here a cross-platform solution would be the number one choice. Who would want to fine-tune any other service to make them ad-free when you can download one app and forget that hassle?
Getting a Premium subscription. The easiest way for people without imagination.
Getting a Premium Lite subscription. The easiest way for people without imagination, without love for music or comfort.
Using ad-free browsers. This might work for users who don't need all their links and favorites to be in one place and for those who don't want to be a part of Google's ecosystem.
Using VPN. This is a creative way for very private users.
Using third-party tools to watch YouTube videos. The best way for users who love testing new apps.
Using modded YouTube apps. The choice of a real rebel;
Finding a reliable youtube ad blocker for mobile app on android that would provide the best quality-to-price value;
Downloading YouTube videos (you might want to read what is the YT5s virus after that).
YouTube is experimenting with a new policy: a three-strike system targeting ad-blocker usage. A warning message appears for YouTube ad blocker users indicating that the video player will be disabled after viewing 3 videos.
Upgrade Your YouTube Account to Premium
Feeding users with more and more adverts is a strategy that YouTube took upon for another principal reason, too. Besides making easy cash by selling ad placeholders, the service pushes us to buy a Premium subscription to stop ads on YouTube mobile apps. Known before as YouTube Red, it is a paid plan that offers its holders a bunch of worthy features, such as:
Ad-free viewing experience;
Offline mode for the pre-downloaded videos;
Background and screen-off playback;
Free YouTube Music subscription;
Access to YouTube Originals shows, etc.
For just $11.99 per month, this variety of benefits seems to be a fair deal. What is unfair is the way YouTube treats those not willing or able to pay this amount every month. Remove YouTube ads for 12 bucks while watching it barely twice a week? If you still getting ads on YouTube Premium, read our guide.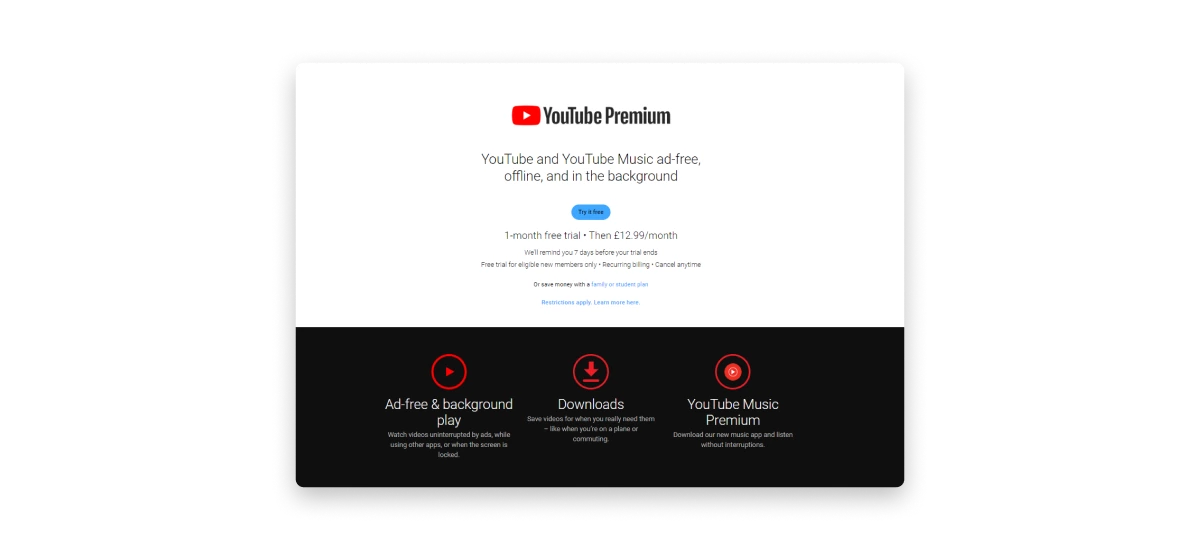 YouTube "Premium Lite" Subscription
One year ago, in August 2021, Google started piloting a new "Premium Lite" subscription in the Nordic countries and the Benelux. The new subscription was a response to complaints about the cost and doubtful practicality of regular Premium. For the price of €6.99, you got ad-free viewing across all platforms. All other features like background playing, picture-in-picture playing, offline downloads, etc were still available only for Premium users.
The year has passed, and there have been no updates on Premium Lite. The geography of the new plan has not expanded, and users from countries where the plan has been tested reported an inability to subscribe.

When Premium Lite will become a widespread option for watching YouTube without ads on Android or anywhere else is unknown. Likewise unknown are the testing results. Maybe, later we will hear the honest opinion of users who were lucky enough to test a brand-new subscription. As of today, I can't recommend it.
Choose the Best YouTube Ad Blocker for Android
We've got a comparative table for you to choose the best YouTube ad blocker for Android device of yours. Table residents are compiled objectively by considering their performance, privacy, and quality-to-price ratio.
Ad Blocker
Features
Platforms
Price
AdLock
✅ Outstanding adblocking;
✅ Top-tier privacy security;
✅ Anti-malware module.
◾ Android;
◾ macOS;
◾ iOS;
◾ Windows.
From $3.5/mo
Adblock Plus
❌ Neat adblocking (Acceptable ads);
✅ Malware protection.
◾ Most browsers;
◾ Android;
◾ iOS.
Free
Proton
✅ Good adblocking;
✅ Anti-tracking;
✅ Anti-phishing;
✅ VPN.
◾ Android;
◾ iOS;
◾ macOS;
◾ Windows
From $5/mo
Avast
✅ Adjustable ad blocking modes;
✅ Secure cloud storage;
◾ iOS;
◾ macOS;
◾ Windows;
◾ Android.
From $55/year
TotalAdblock
✅ Good adblocking;
✅ Tracking protection;
✅ Annoyances and social media filters.

◾ Android;
◾ iOS;
◾ Browsers.
Free plan;
$29/year
Please note that the majority of ad blocking solutions for Android won't be available through Google Play. Moreover, there's no way of blocking adverts on the native app (at least yet) so this is also important to keep in mind. If you wish for a good youtube ad blocker on Android, you should try out AdLock as it has a lot to offer.
Use an Ad-free Browser for Android
Do you also find that paying for another Premium is a bit too rich? We've come up with an alternative way how to watch YouTube without ads on Android without paying a fortune. Actually, this way doesn't require any investment at all. We're talking about using an ad-free web browser.
Ad-free browsers redirect the whole traffic through their servers, allowing users not to be targeted by marketers, as in conventional browser sessions. Applications of this type are available on both Google Play and third-party app markets, and there are plenty of options to select from. Among the most trusted and popular browsers, according to SimilarWeb, there are:
Brave Browser (#859 in Global Rank)
AVG Browser (#10799 in Global Rank)
Tor Browser (#17006 in Global Rank)
Ghostery Privacy Browser (#199994 in Global Rank).
What is common for all of them is a variety of features, including but not limited to a tracker blocker, ad blocker, built-in VPN, and Incognito mode. Adblocking functionality of these web browsers is usually sufficient for enjoying the YouTube content without ads and interruptions.
Generally, ad-tracker-blocking tools on these browsers are easily accessed via a few taps. For instance, let's show you how to block youtube ads on Android on Brave browser: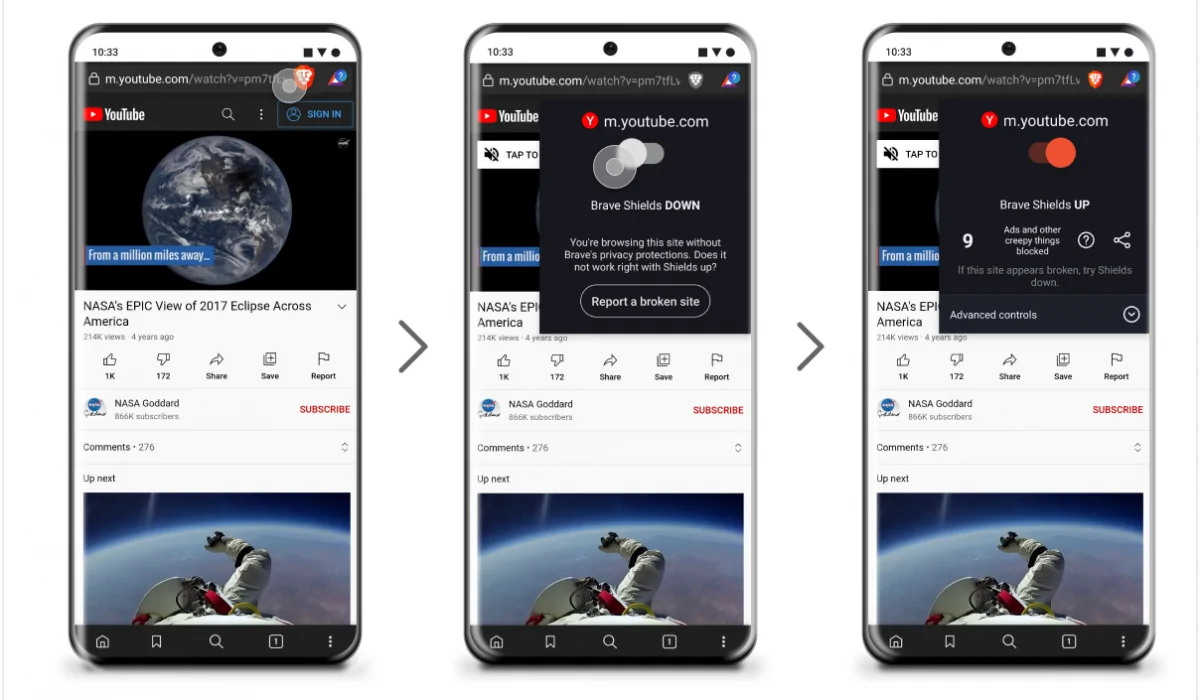 Naturally, there are also major limitations. These utilities only block ads within a web browser session so they are not able to deal with adverts in Android apps and games, including the YouTube app. Plus, most of us already have a favorite browser, full of bookmarks, saved passwords, add-ons, and other signs of personalization. With an ad-free web browser you will have to start adjusting everything all over again, and, to be fair, none of them offer such a range of customization features as conventional web browsers.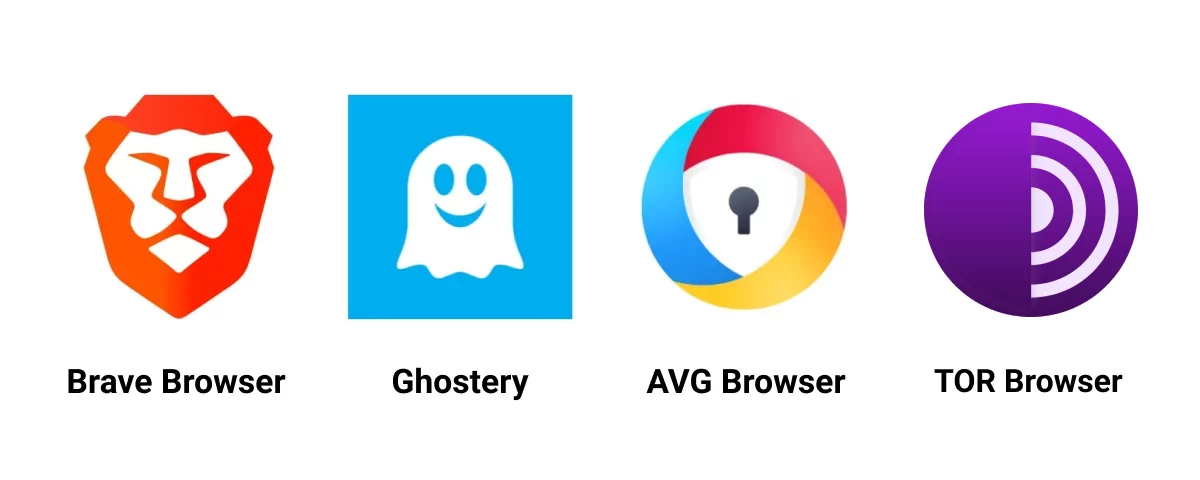 Comparative table of the most popular ad-free browsers
Browsers
Benefits
Drawbacks
Avast Secure Browser
✅ A very popular browser that's private, fast, and completely encrypted
✅ Pin-lock or fingerprint-lock feature for extra protection
✅ Free unlimited VPN, adblocking, tracking protection
❌ It was once published, that Avast was selling user data via Jumpshot. To stop rumbling around concerns, Jumpshot was shut down.
Brave Browser
✅ Browser that is praised by big players like Cnet, Wired, and The Verge
✅ Reliable anti-tracking
✅ Nice ad blocking
✅ Private surfing via Tor
✅ Crypto rewards for web surfing
❌ Lack of variety in extensions
Tor Browser
✅ The strongest user privacy in the world
✅ Blocks trackers and prevents surveillance
✅ Fully encrypted right off the bat
✅ Nice and fast VPN
❌ Takes some time to load
❌ Somewhat slow performance
❌ Users can't down/upload large files through Tor network
Ghostery
✅ Online anonymity
✅ Tracking protection, auto-switch to https
✅ Supports Firefox add-ons
✅ Fast in action
❌ Takes time to adapt to a new search
❌ Constantly pops up ads forcing their iOS products
Use a VPN to Block YouTube Ads
Besides the primary function of redirecting traffic through servers around the world, VPN apps might also block ads. This is especially true for products able to filter DNS requests when loading an online ad. But is it enough to just install a VPN on Android, sit back and relax watching ad-less YouTube videos?
The answer to that is no. However, some VPN services offer ad-blocking as a complementary feature, it is never the main purpose for using them. Besides, only a few VPN Android apps include an ad-blocking function. Normally, the app redirects the traffic through another server, so the user faces close to the same number of ads. The only difference is that ads are completely irrelevant and depersonalized.
But then another bunch of VPN-related issues might kick in to worsen user experience effectively. First, VPN inevitably makes your Internet connection slower. On top of that, if using a virtual server in another country, VPN will make your YouTube homepage, suggestions, and preferences correspond to that country and not to your taste. Finally, if you use a free VPN, you must ask yourself, how does it make its profit? Built-in malware and cryptocurrency mining scripts, as well as trading personal and browser data of users, could be the answer. Are you still here? Ok, at least use one of our suggested options:
Private Internet Access (plenty of room for customization; €51,74 if billed biannually or €10,69 per month)
CyberGhost (a one-click solution; €29,99 if billed annually or €6,99 per month)
TopGuard VPN (the fastest; plans start from €9,99 per month)
NordVPN (the most popular; $78,96 if billed biannually or $11,99 per month)
Surfshark (the most user-friendly; €59,76 if billed biannually or €12,95 per month)
How to block ads on YouTube with AdLock
Have no AdLock yet? Let's right the ship: https://adlock.com/apk/
We see you've made the right choice. Since you're here, let's get down to business! AdLock is a unique all-in-one solution that blocks ads on Android system-widely. It runs quietly in the background, sweeping away commercials in browsers, apps, games, messengers, and any other Android software. You won't notice it working; you will only enjoy the outcome of its work. Disable YouTube ads with our tailormade ad blocker for Android — check out how easy it is:
Open the native YouTube app;

Tap the "Share" button under the video;

Select AdLock in the list of options;

The ad-free video will start in AdLock player and you can select the desired quality.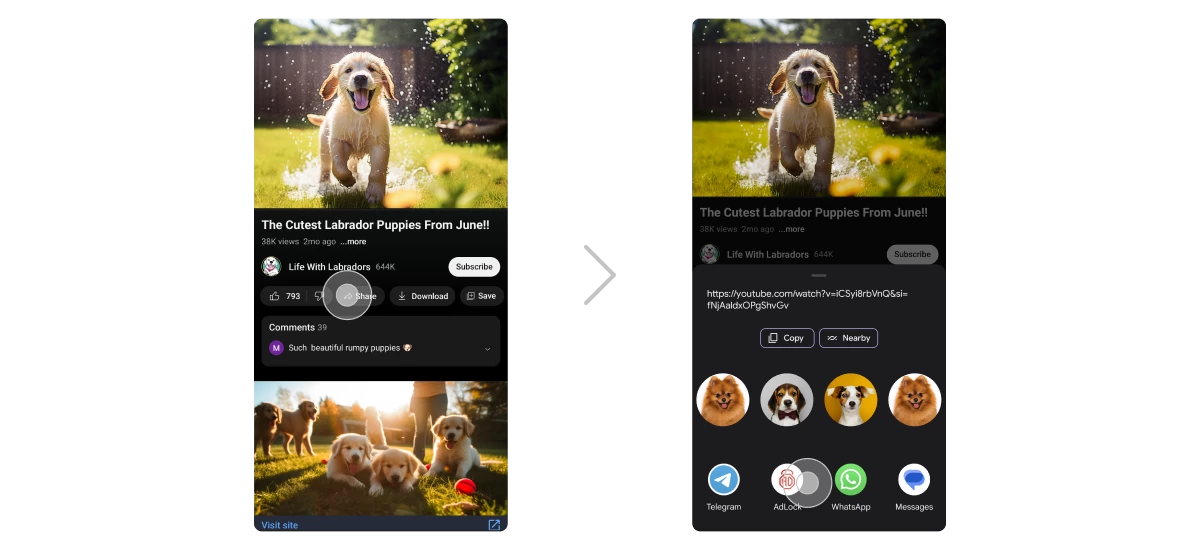 Another option is to enjoy YouTube videos without ads directly in your favorite Android web browser, like Chrome or Opera. Get AdLock up and running, and it will do all the work. Another hint: you can add an icon for the YouTube browser version to your main screen for quick access. Just open YouTube in your browser, tap Options, and go with the option Add to Home Screen.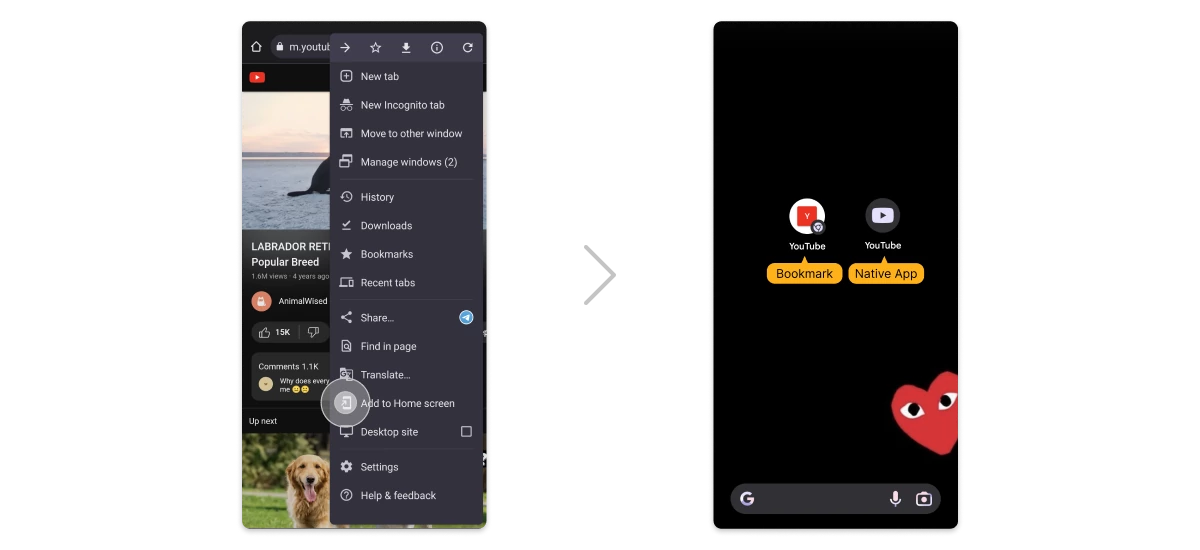 No worries — you won't confuse the two icons. Here's what they look like: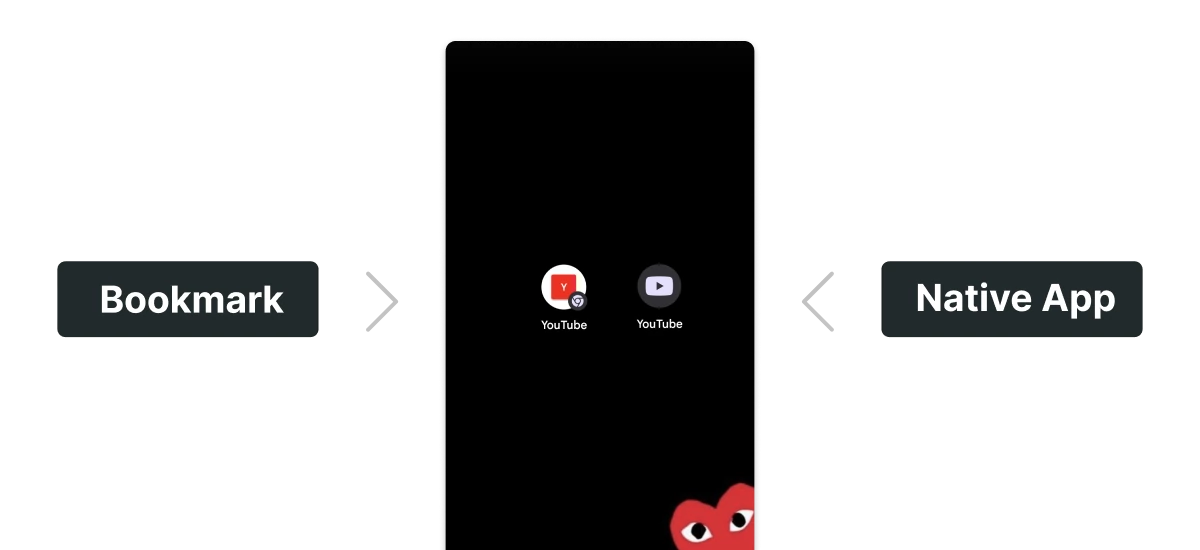 How to remove YouTube ads on Android without an ad blocker
Watching YouTube videos on an Android device without ads is also possible with these two options:
Using third-party tools;
Using modded YouTube apps.
There are quite a few third-party YouTube clients available, and they provide advantages like:
Efficient ads removal;

Compatibility with most Android devices;

Work without additional tools like ad blockers;

No need for ROOTing your device.
At the same time, potential downsides of using such apps may include:
Unstable performance;

Personal data breach;

Activity tracking;

Support issues or no support at all.
Uncontrolled access to your data seems to be the greatest of a deal: letting the no-name developers know everything about you can be indeed very dangerous. Therefore, we advise you not to risk your privacy and install any "alternative" YouTube clients on your Android. If you decide to do so, however, here is a short step-by-step instruction:
Allow apps installation from unknown sources in your device's settings;

Find a third-party YouTube client online. We doubt there's a decent one on Google Play so you might want to look elsewhere;

Tap OK when you see a warning "This file may damage your device. Do you still want to save xxx.apk?" to proceed with the download;

Install the app. Some clients require a "helper tool" to be installed too;

Launch the new client and see if it actually blocks the YouTube ads.
Keep reading to learn what tools are on the market.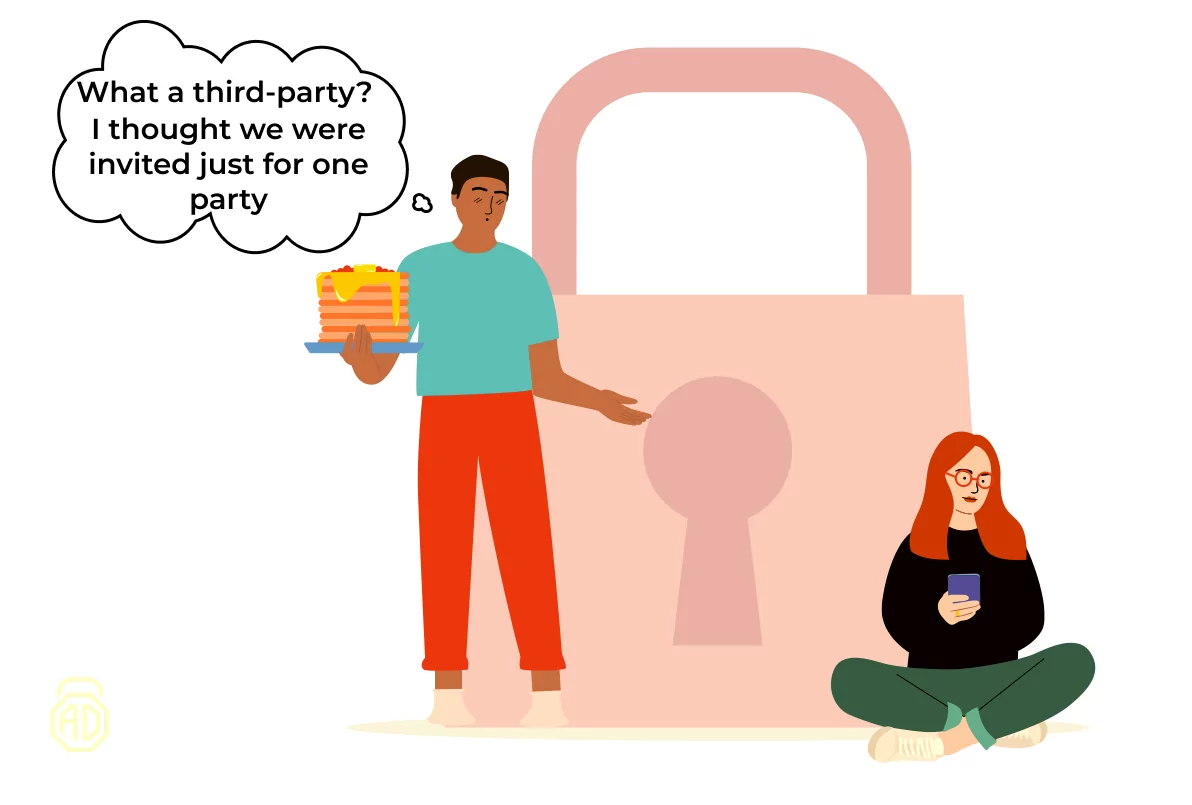 Suffering of numerous redirects stacking on your tab bar? On top of that redirects are hella annoying, they may be caused by a sneaky redirect virus. Read our article and learn how to stop redirects on Android devices.
Third-Party Tools for Watching YouTube without Ads
You can watch YouTube videos on external websites. It opens the door for plenty of third-party platforms to attract traffic by offering comfort and additional features to the viewers. Viewers, in turn, have their reasons to opt out of YouTube in favor of these platforms.
First, many people use YouTube at work and have to deal with a firewall blocking the employee's access to it. If a firewall is not a problem, NSFW content in suggested videos or comments might become one. Nobody wants to flash something inappropriate to their boss or the entire office during a presentation. And this is where Quietube steps in. It removes everything but the video from the view.
Another good reason to watch videos outside YouTube is to make them suitable for family or classroom. People often write horrible stuff in the comments that children should not see. The video suggestion algorithms can also pop something irrelevant, distracting the classroom. To avoid such inconveniences, you can choose the tools like Watchkin, View Pure, or SafeShare.tv. Not only do they make watching videos from YouTube safer, but they also block ads and offer special plans for teachers or schools.
While the third-party tools listed above are useful and great for removing ads, we do not recommend them for everyday use. The biggest concern is data privacy and cybersecurity, as using such a middleman becomes a potential target for bad actors. Unlike AdLock, those services don't specifically encrypt your connection. The other reason is legality, as streaming videos outside the official platform violates YouTube Terms and Conditions and creates copyright issues. And last, those platforms are just not as convenient as the official service.
Use Modded YouTube Apps
In March 2022, YouTube Vanced announced its shocking closure. Google sent the Vanced owners a legal threat, forcing them to discontinue the project. Current users can still use the service for the next two years, though with no updates and patches. But the new ones won't be able to download it, at least not from the official site. In case you've never heard of Vanced, let me enlighten you. Vanced was one of the first third-party YouTube apps for Android. It was beloved because it offered a true black theme and cool customizations, but mostly because it blocked all video ads.
The leaving of Vanced is a big loss. Luckily, we still have alternatives: SkyTube, LibreTube, and NewPipe, to name a few. Check them out and choose your hero.
The shutting down of Vanced will set a precedent. It's best for you to settle with a reliable and trustworthy ad-blocker since YouTube won't be able to shut it.
Download YouTube Videos without Ads
The only safe and legal way to download YouTube videos is by subscribing to Premium. Not only you will watch videos whenever you want you also will be free from pre-rolls, mid-rolls, and any other type of ads. But since you scrolled all the way down here I suppose you have an interest in more affordable options to download videos. Before I share with you knowledge on that matter please read about the YT5s virus. I know it's oriented toward Mac users but Android users can fall victims to it just as well. Now when you learn about the risks let's proceed.
There are two alternative ways to download videos from YouTube:
through the special apps
through the special websites.
Apps for downloading YouTube videos
You won't find them in the Google Play market because such services violate YouTube Terms & Conditions, so be prepared to search apk files on third-party websites. Here is the list of the least sketchy apps I could find:
Videoder
Snaptube
InsTube
VidMate
The pros: all these apps have user-friendly paste the link-choose format-download-enjoy interfaces and neat websites.
The cons: ironically, the built-in ads. First, they force you to watch ads and only then download videos. If blocking YouTube ads on Android is the reason you're considering those apps, maybe think again.
Websites for downloading YouTube videos
Have I already mentioned the YT5s virus? Good. Online downloading services are more convenient than out-of-store apps if you need one specific video and don't plan on using them regularly. The least scam-looking websites in my opinion:
y2mate. It is a one-page site with a simple search bar that analyses any YouTube link and offers to download files in various formats. You don't need even to visit it directly. Add "pp" after the word YouTube in a video URL (YouTubepp.com/name of the video) and it will automatically redirect you to a downloading page.
KeepVid. Is another one-pager that offers even more video and audio formats to choose from.
Of course, both apps and web services are not fully safe from tracking technologies. Another point of concern is trust: by using a third-party service you give them some portion of your data as well as open up your device for the scripts they are running. Finally, these solutions neither guarantee to function in the future nor promise to work perfectly with every other video. At the end of the day, why risk when you can download an ad blocker for YouTube on Android and watch videos without hassle?
YouTube Ads That Drive You Mad
YouTube pre-rolls and mid-rolls make static banners blush with shame. A rare advert can cause the same level of hatred and annoyance as ads in the middle of the video. In my opinion, hatred is counterproductive to making a sale, but what do I know? I'm not a marketer. And marketers think that ads from this list encourage your buying desires.
YouTube audio ads: a new level of annoyance
While still in beta, YouTube audio ads are real. It's just a matter of time when you're going to come across one. 15-second long "sound plus picture" commercials were designed to reach those calmly listening to music or podcasts in the background. No wonder, according to the newest information, over half of all YouTube queries are music-related.
To keep this dubious initiative going, the world's top streaming service will categorize music by genres and also compile it into playlists or collections. This way advertisers can target the audio ads they buy. YouTube marketers see this as a fantastic opportunity to compete with Spotify for the ad market share. Users see it as another reason to abandon the platform.
Read Also: How to Block Ads on Spotify
I can't skip ads in YouTube videos
"Not a bug but a feature" would shamelessly answer some YouTube marketers. Indeed, unskippable ads are a relatively novel ad format that was introduced first in 2018 and then gradually became a new normal. Not for us, though. These ads appear now at any point in the video and their length increased from modest 5 seconds to outstanding 20 seconds in just a couple of years!
While sharing the worst expectations of the unskippable ads soon becoming longer than the show itself, users also criticize the quality of such commercials. Poorly targeted, ads tell us about the health risks of smoking when we never touched a cigarette or show horrible close-ups of skin problems to completely healthy people. Such images are not pleasant to see and yes, you can't skip them anymore either.
I see two ads in a row
If YouTube employees ever decide to fix this, you would see three ads in a row instead. Of course, they came up with perfect reasoning: users will benefit from having their video interrupted less frequently, so let's play our ads back-to-back! What kindness. Now we have to watch two videos in a row first and then some more mid-roll ads, thank you, YouTube.
Oh, did we mention that one of two ads in a row is unskippable? You are welcome, dear user. Next time your ads will last forever, and this is how.
The whole music video as an ad
YouTube nowadays has become a platform where both goofy advertisers and mediocre musicians can meet each other to make something truly horrible. Such as 3 to 5 minutes-long music videos shown to the audience, which never asked for it, as a pre-roll ad. Watching one of these the user might think that good old 15 seconds-long commercials from back in the days were not too bad.
You might think, what's the point of showing me this if I listen to absolutely different music? But they know what they are doing. More views from real people give the way for these artists to the top of all charts and for their marketers — to the new levels of income. Who cares about the Audience Award, really.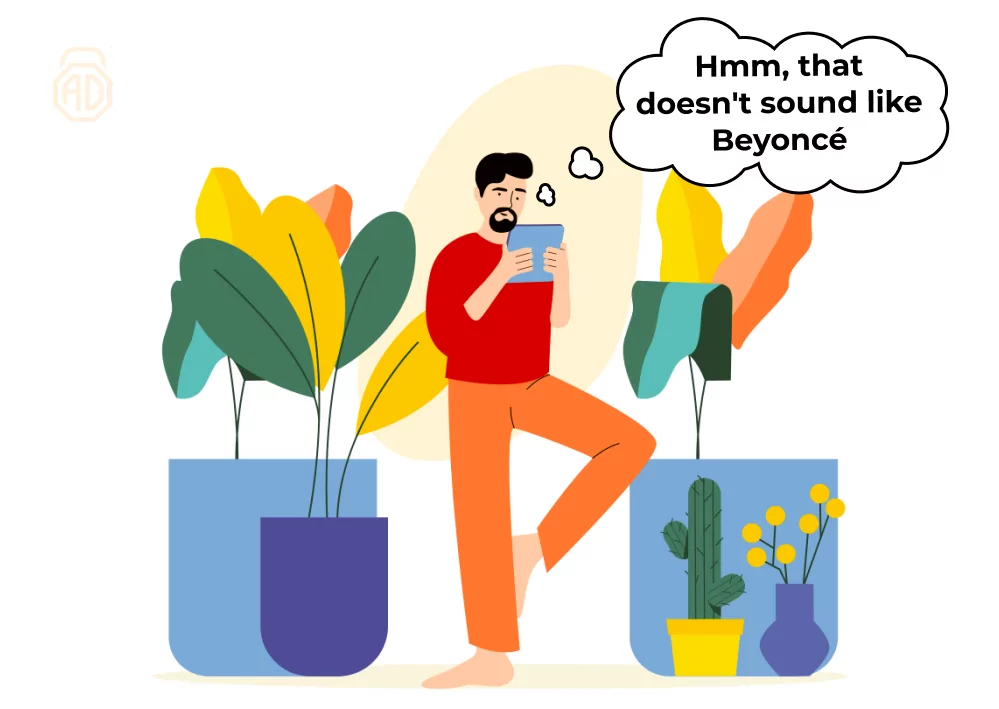 Strangers' YouTube Stories
YouTube introduced Stories not a long time ago. They aim to help YouTubers to fill the gaps in their content plans and to entertain their subscribers with short updates. Technically, YouTube Stories are not ads, but they can be just as annoying. Especially when they come uninvited from someone we don't know in a language we don't speak! Thankfully, they don't autoplay (yet). They just clutter the interface and dissipate our attention.
Ads asking for donations
Do you feel bad skipping sponsorship blocks? Try skipping ads showing a terminally ill child asking for your help. Of course, it's important to help the ones in need, but when you're ready to contribute, better choose a real non-profit charity organization. The tearjerking ads are made by marketing agencies, and they usually provide no medical information but an emotional story exploiting a sick child. The trustworthy charities tend not to use their services because such agencies take their share of proceedings.
Aside from the fact that donation ads can be scams, they are highly emotionally manipulative. They have no right to guilt-trip you while you are trying to wind down. And check out the level of cynicism you can forget about poverty and illnesses by giving your money to a corporation, AKA buying Premium, to block all types of Youtube ads. Just wow.
Conclusion
As I was writing, I began to think that the best way to block YouTube ads is to abandon the platform altogether. Since this is not an option for most of you, here is a quick rundown:
– If you want a simple one-app solution, stick to the Android ad blocker like AdLock;
– If you're not a fan of the Google ecosystem and conventional web browsers, choose an ad-free third-party web browser;
– If you don't mind occasional ads in funny languages and want to leave no traces on the Internet, use VPN;
– If you have lots of free time and space for additional apps, use third-party YouTube clients and web services;
– If you don't care about copyright laws and are ready to watch trading ads or catch a virus, download ad-free YouTube videos using third-party apps and web services;
– And if you don't mind another subscription plan, buy Premium for $12 a month.
Hand on heart, I think YouTube is the one that should make conclusions. If you don't want some users to write large pieces of articles on avoiding your ads and other users to read those articles, maybe reconsider your advertising policy.
FAQ
How to block YouTube Ads on Android TV?
AdLock team is working on developing an easy solution to block ads throughout all apps on Android TV. Sadly, until we release our product, you have two options for ad-blocking: subscribing to Premium or using a third-party client. There's no ad blocker for youtube app on android TV yet.
The most popular YouTube app without ads is Smart YouTube TV users swear by it. It's an open-source app. The video player is almost identical to the conventional one, it supports 8K viewing and has a multilingual search bar. With Smart YouTube TV, you can also login into your account.
Is it possible to hide Ads integrations on YouTube on Android?
Yes, while no YouTube ad blocker for Android can cut off a block from someone's video, it's possible to skip them. Please bear in mind that by watching and interacting with integrated content, you support only your favorite creator, not YouTube. If this is not enough for you to tolerate a commercial block, check out the Sponsor Block extension. It's an open-source crowdsourced cross-platform browser extension for skipping sponsor segments in YouTube videos. On Android, developers recommend using it with Firefox Nightly, but you can use it with any chromium browser that supports add-ons.
Sponsor Block works by users submitting time stamps to the extension that mark the beginning and end of sponsored content on YouTube videos. Then the extension skips those sections automatically. Users can also submit the time stamp of the highlight point in videos so you can skip to the relevant parts.
Is it possible to block YouTube Ads with built-in Android settings?
No. While your phone model can have settings for blocking pop-ups, it won't be sufficient to block ads in YouTube videos, neither in the web version nor the app. Google won't cut the branch on which it sits.
How do I get rid of double ads on YouTube?
Double ads are a major source of revenue for both YouTube and authors, even though they freak out the viewers who now must watch ads one by one before and during each video. Often, these are also bumper ads, meaning there is no way to skip them. However, speaking from the technical perspective, double ads aren't much different from any other types of video adverts. Thus, dealing with them, as explained in detail in our dedicated article, would require the tools to block ads on the YouTube app on your Android altogether.
Besides paying for Premium, there are some alternative ways to get rid of the double ads on YouTube that you can try yourself. Services like ViewPure or YouTube Vanced allow watching a particular YouTube video for free without any ads. You'll just need to provide a YouTube URL of the desired clip to get this done. The downsides of using similar services are instability, low video bitrate, bugs, and reduced functionality when compared to actual YouTube.
How to block ads on YouTube Music
YouTube Music is essentially an audio streaming service based on the videos uploaded onto YouTube. Along with the songs, the YouTube Music Android application loads tons of audio ads. Until now, no technology would trick the YouTube Music app protection system, forcing users into paying for their YouTube Premium subscription or using an ad blocker.
Paying for YouTube Premium is not always worth it, though. Most of the music content is available for free anyway, so it's only a matter of which Android app can play them without audio ads in between. A popular third-party app called YMusic could be a good candidate, as it is free and offers the majority of functions from the original YouTube app. However, it has its downsides, too. Downloading it from outside the Play Store will require some effort, while you will still be shown some random ad images while browsing the playlists.
No more Youtube ads on your device!
Do you like this post? Share it!
Do you like this post? Share it!