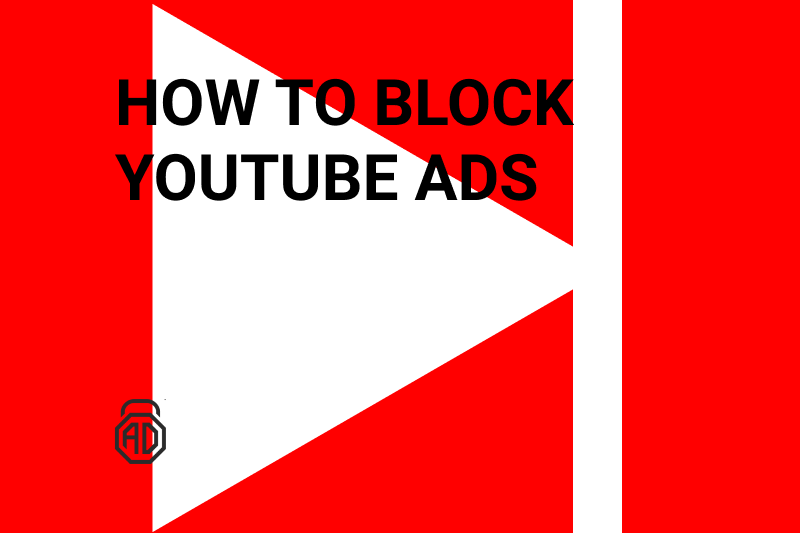 How to block ads on YouTube on Android – AdLock developers have several answers to this question. Below we will consider each method and provide the pros and cons of each of them.
Introduction
Ads on YouTube start to be unbearable. Popular youtubers shamelessly monetize their content, and for sure they have right on it, but their greed forces us to watch dozens of autoplay commercials during the one video. As a result, ads have an opposite effect we start hating an advertised product even though we never actually tried it. But we will leave this thought of reflection for advertisers, and we ourselves will think about how to get rid of YouTube ads on Android.
Is it possible to disable YouTube ads?

This is a tricky question. You can watch YouTube videos without ads using an ad blocker or using a third-party client, we will teach you how. But there is no way you can remove ads from a native YouTube app because it won't work. To remove ads from apps that use HTTPS connections AdLock has to launch a MITM attack and replace their security certificates with its own security certificate. But starting from the last Android update to Nougat all apps with API Level 24 and above, and YouTube is among those apps, don't trust third-parties' certificates authorities for secure connections. That means YouTube app just won't launch if we try to replace its security certificate with AdLock's one to remove ads.
Without MITM attack there is left only DNS filter which is pretty useless when it comes to blocking ads on YouTube app. We do work on this problem, and maybe one-day AdLock will become the first YouTube ad blocker for Android. But that day is not today.
However, there are two ways you can still enjoy watching YouTube videos without being interrupted every five minutes, they just need a little action from your side.
How to block ads on YouTube with AdLock
You can still watch YouTube videos without ads in a browser with your AdLock on. YouTube browser version is just as comfortable as native YouTube app especially if launched on Google Chrome. Despite tiny inconveniences, you may definitely skip YouTube app for the most part and choose browser over it because ads won't ruin your leisure time. For easy access, you can add a desktop icon to a YouTube browser version. Simply open YouTube tab on your Google Chrome click on options and tap on "Add to Home Screen".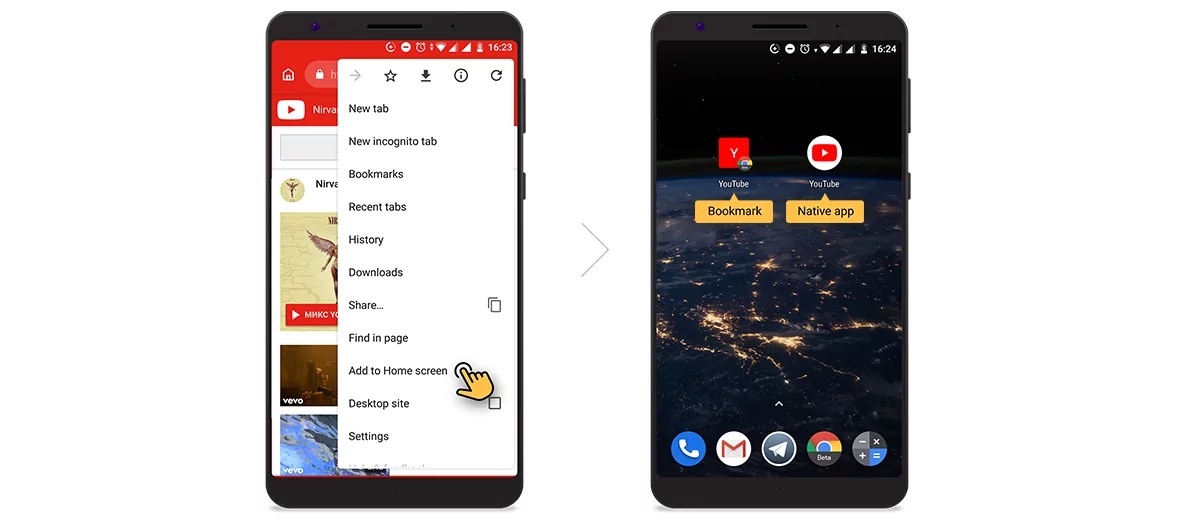 No worries, you won't mix up two icons, just look below to see the difference by your own eyes.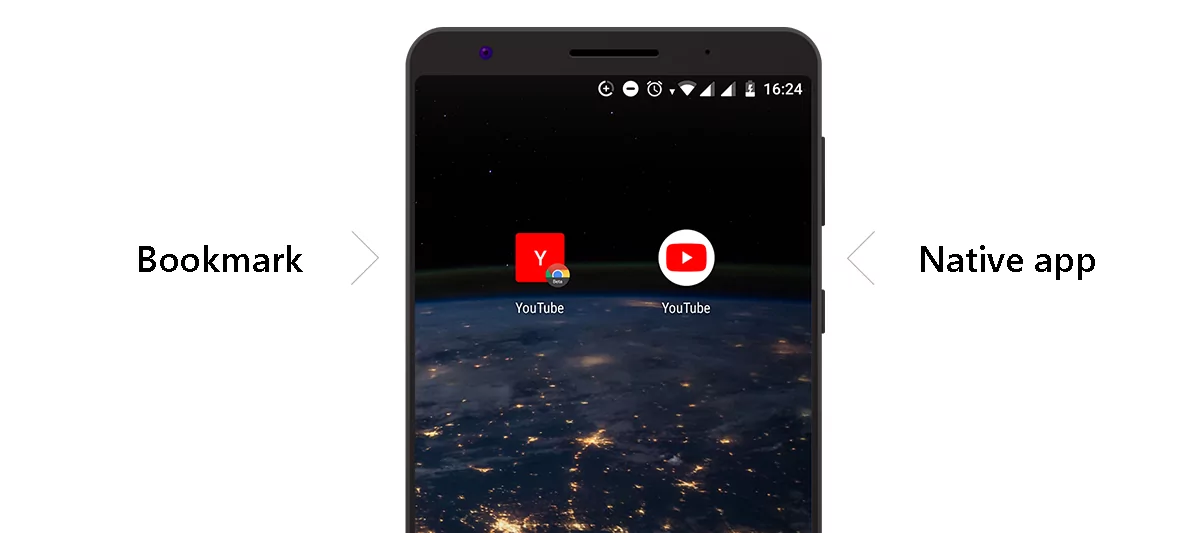 From this moment you can easily access YouTube browser version directly from your desktop and enjoy watching add-free videos thanks to AdLock. So in case, you forgot what to do download AdLock install it on your device and watch YouTube videos without ads on Android without ROOT.

Put an end to YouTube ads:
How to remove YouTube ads on Android without an ad blocker
You will need a third-party client for YouTube if you want to watch videos on your phone without ads. There are various analogs to native YouTube app with lots of enabled options some will even let you sign in your account. However, despite obvious perks, those analogs have serious disadvantages.
Pros:
most apps don't require root access;
no need for additional ad blocker:
works on most Android devices:
leaves no ads, indeed.
Cons:
asks for deleting a native YouTube app;
an unknown developer, who can get access to your personal data (for example an app OGYouTube asks access to your contacts, God knows why);
won't be updating properly;
nobody knows how long it will work.
Among all cons, an unknown developer is the most dangerous and we strongly recommend not to install apps with an uncertain origin. But if you're not that easy to scare, we will briefly instruct you how to block YouTube ads on Android using a third-party client.
Go to your "Settings", find there "Applications" and tap on "YouTube" icon.
Go to "Storage" and tap on "Clear data", then go back to "App info" and tap on "Delete app".
Then you need to allow installation from unknown sources. On most devices, you can switch on this option in security settings. Anyway, you need to go back to "Settings" and sift through it.
Search for the best third-party YouTube client online. Some clients require installing a supportive application for proper work. You will have to do so, as well.
While downloading an app, your device will pop-up a warning like "This file can harm your device. Do you want to keep xxx.apk anyway?" You tap "OK".
Install an app and if required a supportive app.
Launch your new YouTube client and follow suggested instructions.
That's it, from now your YouTube pastime will be free of ads.
We suggest that this way to remove YouTube ads Android users will gladly accept, but just for the record we are strictly against any uncertain applications, so install at your own risk.
Try AdLock on your mobile or desktop: