No more Youtube ads on your device!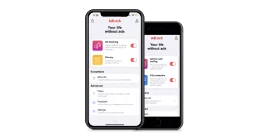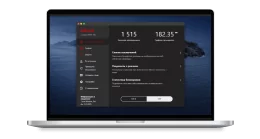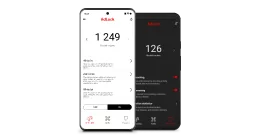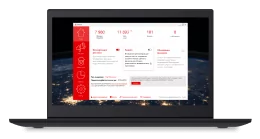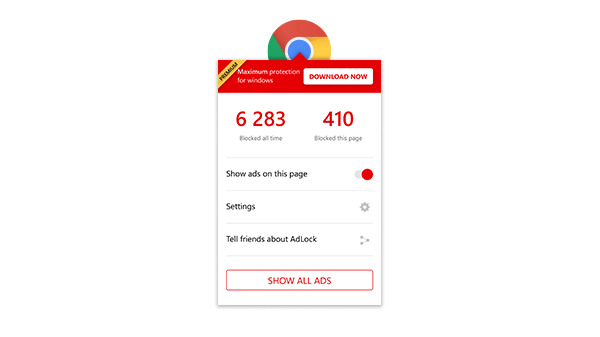 Try AdLock for free on your Android device
AdLock will block all ads and pop-ups on YouTube. No yelling pre-mid-post rolls since the first launch!
YouTube is gradually becoming an "adtube" and there is nothing funny about it. By encouraging the popular bloggers to uncontrollably monetize their efforts, the platform got its video ads out of hand. Even TV doesn't force us to watch five commercials during one news piece! This results in a great distrust bordering with pure hate: both to the advertised goods and YouTube itself. But we are not here to moralize or to teach advertisers how to do their business. What we can change is the number of ads we see while watching the favorite YouTube shows. The AdLock team did a decent bit of research to find out how to block ads on YouTube. Let's go through all the possible solutions to see what suits you best.
If you want to find out ways of blocking YouTube ads on iPhone, look no further. We've got the most relevant tips and tricks!
Contents
YouTube Ads 2021 That Drive You Mad
YouTube audio ads: a new level of annoyance
While still in beta, YouTube audio ads are real. It's just a matter of time when you're going to come across one. 15-seconds long "sound plus picture" commercials were designed to reach those calmly listening to music or podcasts in the background. No wonder, since according to the newest information, over a half of all YouTube queries are music-related. 
To keep this dubious initiative going, music on the world's top streaming service will be categorized by genres and also compiled into playlists or collections. This way advertisers can target the audio ads they buy. YouTube marketers see this as a fantastic opportunity to compete with Spotify for the ad market share. Users see it as another reason to abandon the platform.
I can't skip ads in YouTube videos
"Not a bug but a feature" would shamelessly answer some YouTube marketer. Indeed, unskippable ads is a relatively novel ad format that was introduced first in 2018 and then gradually became a new normal. Not for us, though. These ads appear now at any point in the video and their length increased from modest 5 seconds to outstanding 20 seconds in just a couple of years! 
While sharing the worst expectations of the unskippable ads soon becoming longer than a show itself, users also criticize the quality of such commercials. Poorly targeted, ads tell us about the health risks of smoking when we never touched a cigarette or show horrible close-ups of skin problems to completely healthy people. Such images are not pleasant to see and yes, you can't skip them anymore either.
I see two ads in a row
If YouTube employees ever decide to fix this, you would see three ads in a row instead. Of course, they came up with perfect reasoning: users will benefit from having their video interrupted less frequently, so let's play our ads back-to-back! What a kindness. Now we have to watch two videos in a row first and then some more mid-roll ads, thank you, YouTube.
Oh, did we mention that one of two ads in a row is unskippable? You are welcome, dear user. Next time your ads will last forever, and this is how.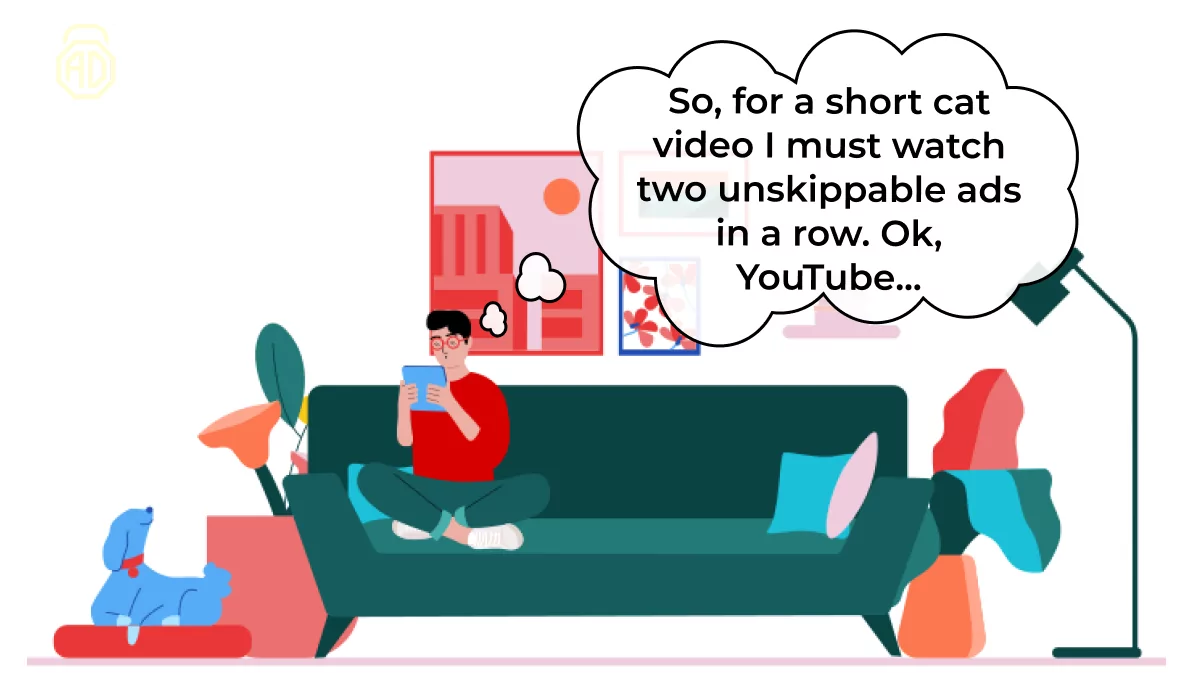 The whole music video as an ad
YouTube nowadays has become a platform where both goofy advertisers and mediocre musicians can meet each other to make something truly horrible. Such as 3 to 5 minutes-long music videos shown to the audience, which never asked for it, as a pre-roll ad. Watching one of these the user might think that good old 15 seconds-long commercials from back in the days were not too bad. 
You might think, what's the point of showing me this if I listen to absolutely different music? But they know what they are doing. More views from real people give the way for these artists to the top of all charts and for their marketers — to the new levels of income. Who cares about the Audience Award, really.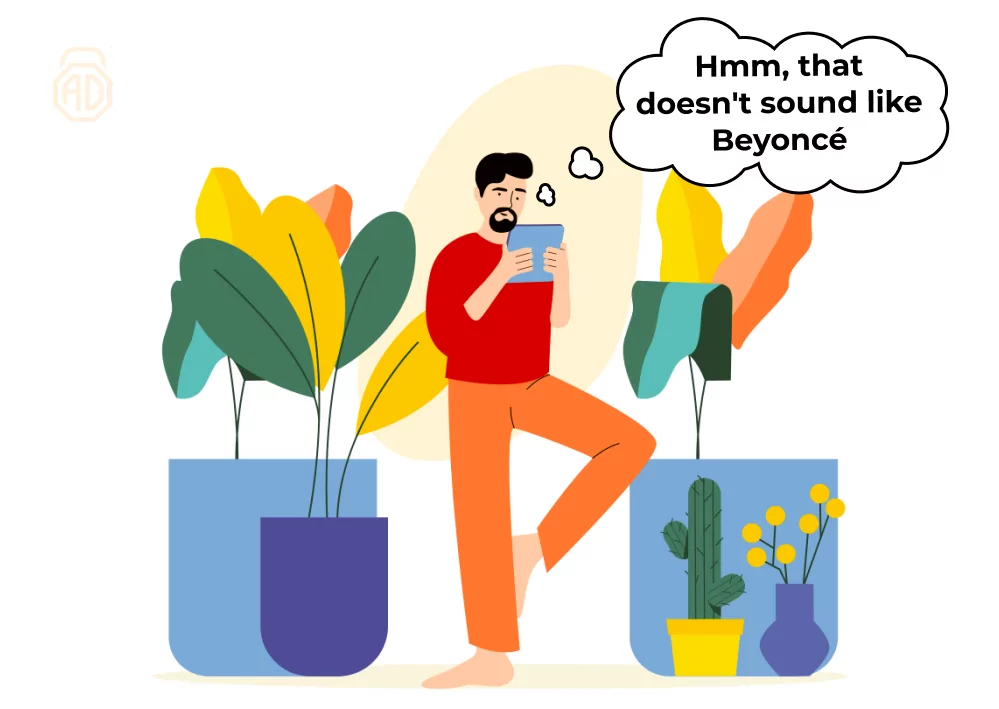 Strangers' YouTube Stories
YouTube Stories were introduced not a long time ago. They are aimed at helping YouTubers to fill the gaps in their content plan and to delight their subscribers with short updates, in a way Facebook or Instagram do. Not an actual ad from a technical viewpoint, a YouTube Story can be as annoying. Especially when it comes uninvited, heavily promoted in the best YouTube traditions, from someone we don't know, and in a language that we don't even speak! Not able to autoplay (yet), such stories clutter the user interface and bring even more distraction into using the platform.
Upgrade Your YouTube Account to Premium
Feeding users with more and more adverts is a strategy that YouTube took upon for another major reason, too. Besides making easy cash with selling ad placeholders, the service pushes us to buy a YouTube Premium subscription. Known before as YouTube Red, it is a paid plan that offers its holders a bunch of worthy features such as:
Ad-free viewing experience;
Offline mode for the pre-downloaded videos;
Background and screen-off playback;
Free YouTube Music subscription;
Access to YouTube Originals shows etc.
For just $11.99 per month, this variety of benefits seems to be a fair deal. What is unfair, is the way YouTube treats those not willing or able to pay this amount every month.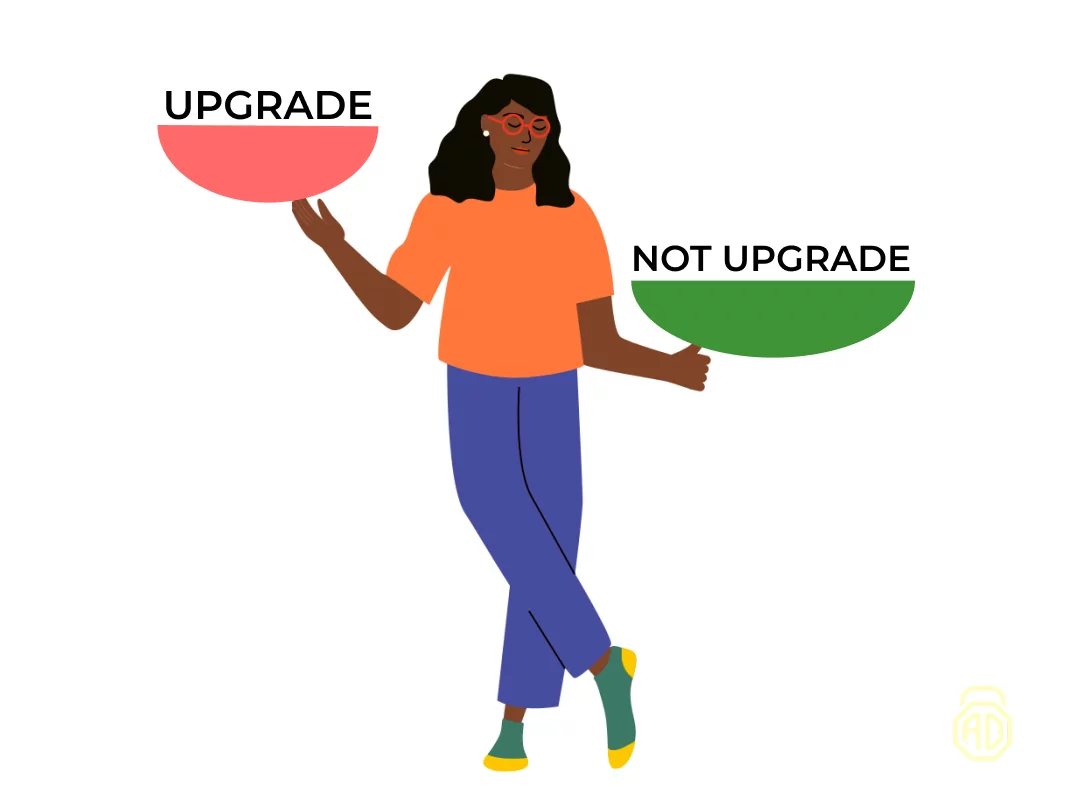 Use an Ad-free Browser for Android
Do you also find that paying for another Premium is a bit too rich? Here we come to the alternative ways to stop YouTube ads on Android. And the first one, which doesn't require any investment at all, is using an ad-free web browser. 
Ad-free browsers redirect the whole traffic through their servers allowing users not to be targeted by marketers as in the conventional browser sessions. Applications of this type are available on both Google Play and third-party app markets, and there is quite a selection of options. Among the most used and trusted ones, there are Brave Browser, Bromite, AVG Browser, Ghostery Privacy Browser, and so forth. What is common for all of them is a variety of features, including but not limited to a tracker blocker, ad blocker, built-in VPN, and Incognito mode. Adblocking functionality of these web browsers is usually sufficient for enjoying the YouTube content without ads and interruptions. 
Naturally, there are also major limitations. These utilities only block ads within a web browser session so they are not able to deal with adverts in Android apps and games, including the YouTube app. Plus, most of us already have a favorite browser, full of bookmarks, saved passwords, add-ons, and other signs of personalization. With an ad-free web browser you will have to start adjusting everything all over again, and, to be fair, none of them offer such a range of customization features as conventional web browsers.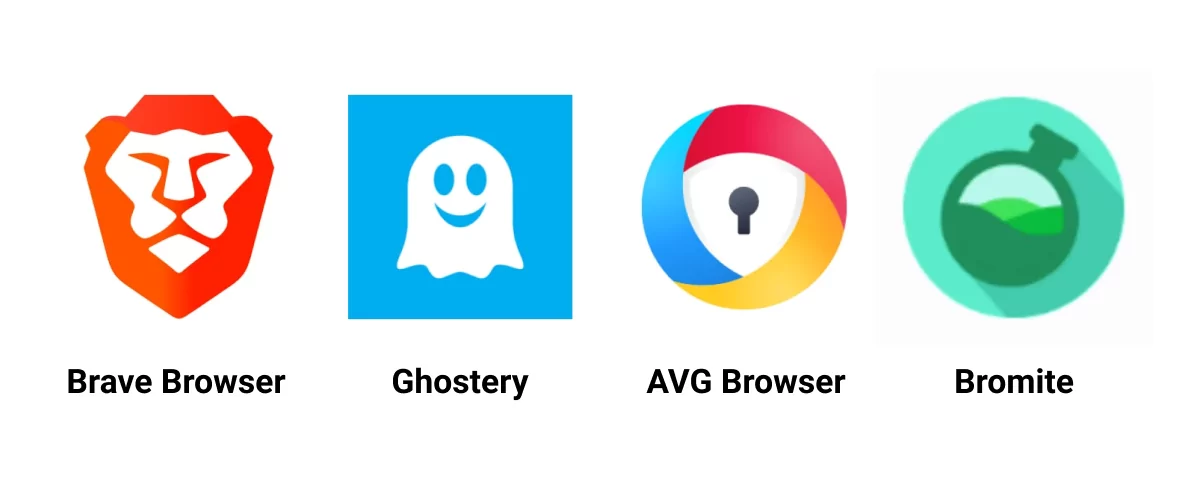 How to block ads on YouTube with AdLock
Have no AdLock yet? Let's right the ship: https://adlock.com/apk/
AdLock is a unique all-in-one solution that blocks ads on Android system-wide. Running AdLock in the background of your smartphone or tablet is seamless but the outcome makes a real difference — commercials in browsers, apps, games, messengers, and any other Android software simply disappear. Even the YouTube app — check out how easy it's done:
Open the native YouTube app;
Tap the "Share" button under the video;
Select AdLock in the list of options;
The ad-free video will start in AdLock player and you can select the desired quality.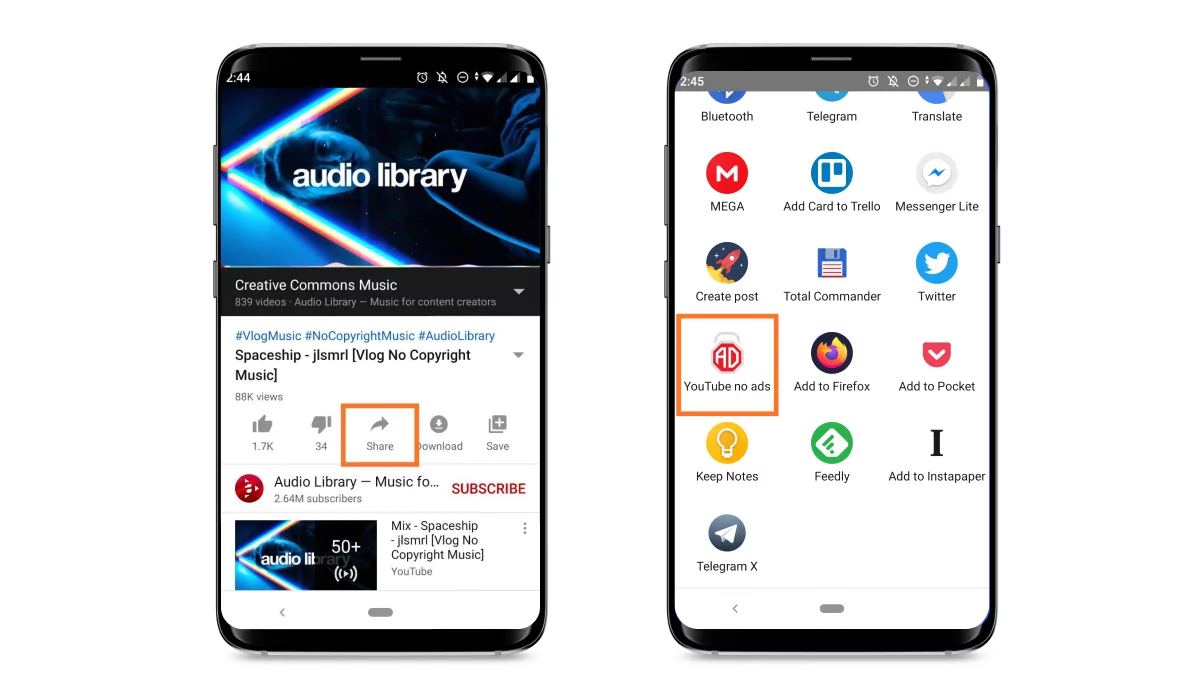 Another option is to enjoy YouTube videos without ads directly in your favorite Android web browser, like Chrome or Opera. You just need to have AdLock up and running, this app will do all the work. Another hint: you can add an icon for the YouTube browser version to your main screen for quick access. Just open YouTube in your browser, tap Options, and go with the option "Add to Home Screen".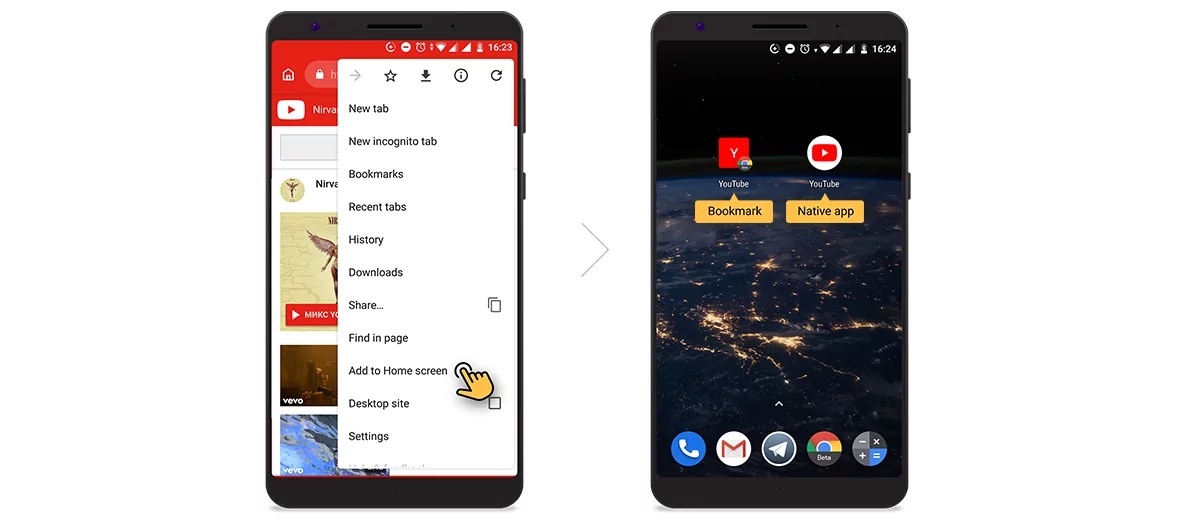 No worries — you won't confuse the two icons. Here's what they look like: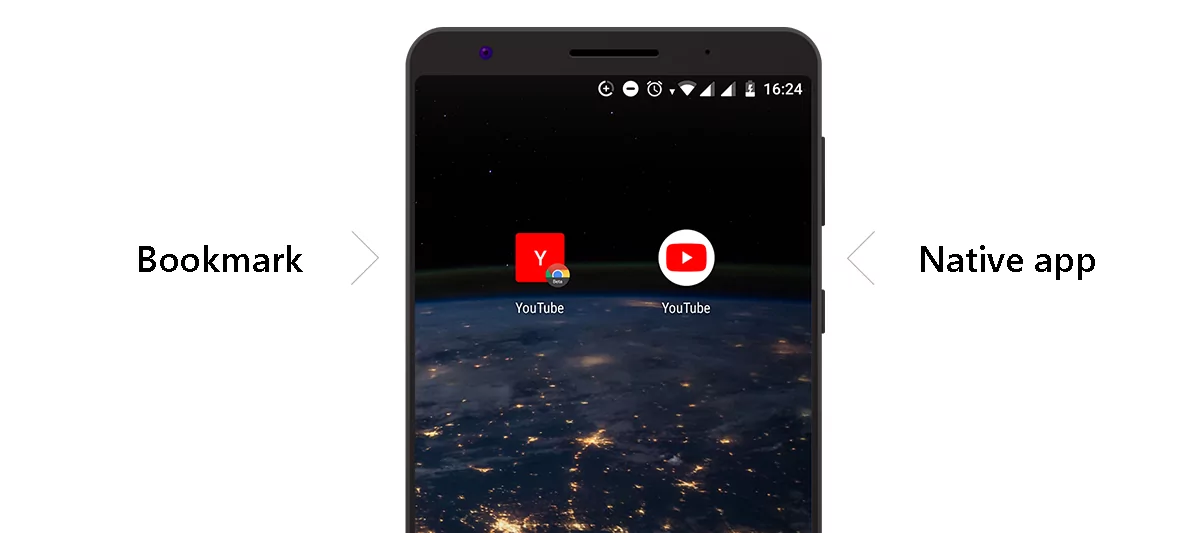 How to remove YouTube ads on Android without an ad blocker
Watching YouTube videos on an Android device without ads is also possible with other third-party tools. The first, and the most obvious idea, would be just to replace the official YouTube client with an analog one. There are quite a few third-party YouTube clients available, and they provide advantages like:
Efficient ads removal;
Compatibility with most Android devices;
Work without additional tools like ad blockers;
No need for ROOTing your device.
At the same time, potential downsides of using such apps may include:
Unstable performance;
Personal data breach;
Activity tracking;
Support issues or no support at all.
Uncontrolled access to your data seems to be the greatest of a deal: letting the no-name developers know everything about you can be indeed very dangerous. Therefore, we advise you not to risk your privacy and install any "alternative" YouTube clients on your Android. If you decide to do so, however, here is a short step-by-step instruction:
Allow apps installation from unknown sources in your device's settings;
Find a third-party YouTube client online. We doubt there's a decent one on Google Play so you might want to look elsewhere;
Tap OK when you see a warning "This file may damage your device. Do you still want to save xxx.apk?" to proceed with the download;
Install the app. Some clients require a "helper tool" to be installed too;
Launch the new client and see if it actually blocks the YouTube ads.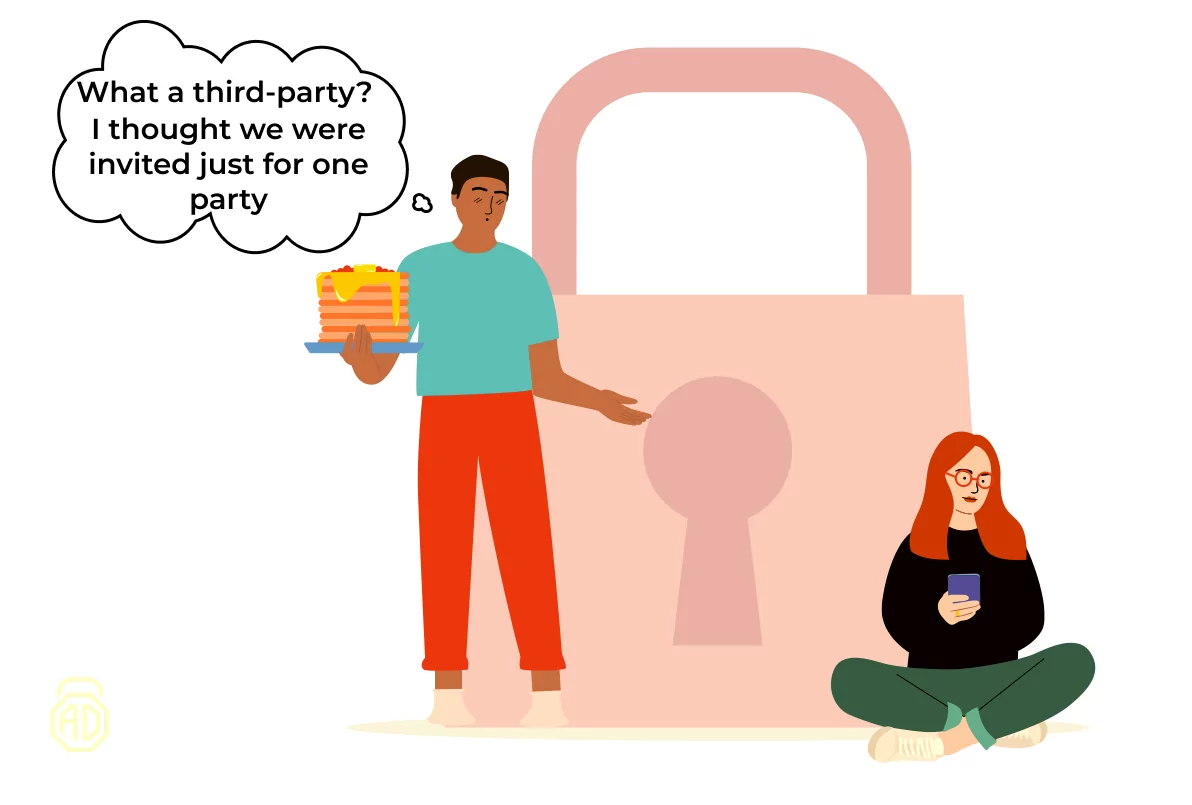 Download YouTube Videos without Ads 
What if a YouTube video was stored in your Android phone memory, without the online ads associated with it? This is the idea behind video downloaders, the services that allow you to convert any online video into an offline file. Simply paste a YouTube link, choose the right format and wait a moment for it to be saved — how clever is that? 
Indeed, this is a simple and reliable way to enjoy video content without YouTube ads. But it has one great downside: compliance. While not illegal by themselves, such solutions rely on users who are supposed to be responsible for what they download. YouTube Terms and Conditions specifically state that the use of third-party downloaders is prohibited and users should only stream the content from YouTube servers. Another legal issue with the video download is copyright. To put it simply, unless you own the video, have permission from the owner, or this video is in a public domain, saving, storing, and distributing this file is a violation of copyright law. Although, there are no known cases of people being prosecuted for breaking YouTube T&C, yet.
So if you are ready to take upon a journey in the world of YouTube video downloaders, let's start with the Android-specific services — apps that you can install on your phone. Don't look for them on Google Play, though. Obviously, Google puts lots of resources for cutting down the services that are potentially harmful to their ad-generated income and removing them from the store, once they appear. Those still appearing, either don't serve their function well or will be removed from access soon. 
But the trustworthy solutions from back in the days, when the Internet was still young and not as restrictive, can be found in a form of APK files on third-party websites. One is Videoder, which has quite a nitty official website to download the app, and makes it really easy to "paste the link — choose format — download — enjoy" due to its clear interface. Same goes for the popular apps Snaptube, InsTube, or VidMate. There are a lot of similar apps scattered across the Web, really. What, however, unites all of them is built-in ads that the user is forced to consume in order to download anything. And that eliminates the purpose of using the video downloader to avoid ads for many of us.
An alternative to the "out-of-store" Android apps is available, and often it supplies the user with fewer to no ads. Web-based online video downloading services work in any browser so they can be used on both desktop and Android mobile. For example, y2mate is a one-pager site with a simple search bar that analyses any YouTube link and offers different formats for the offline video or audio to be downloaded onto the device memory. You can even insert "pp" after the word YouTube in your URL (YouTubepp.com) to go directly to the video download page, which is cool. KeepVid is another good one, offering even more video and audio formats to choose from.
Of course, both apps and web services are not fully safe from tracking technologies that YouTube, advertisers, and copyright holders alike are using to stop this activity. Another point of concern is trust: by using a third-party service you give them some portion of your data as well as open up your device for the scripts they are running. Will it ever harm you or not, is the question. Finally, these solutions are not guaranteed to be functional in the future, nor they promise to work perfectly with every video out there. And even when they do, users have to think twice, whether the disappearance of ads on YouTube compensates for all the consequences of their usage.
Suffering of numerous redirects stacking on your tab bar? On top of that redirects are hella annoying, they may be caused by a sneaky redirect virus. Read our article and learn how to stop redirects on Android devices.
Third-Party Tools for Watching YouTube without Ads
YouTube videos can be also viewed on external websites. And this is an opportunity for plenty of third-party platforms, which offer additional comfort or features to the viewers. But why would anyone go extra mile and find an alternative site to simply watch a YouTube video? This depends on one's purpose that is different from laughing at funny cats at home. 
First, many people use YouTube at their working place and have to deal with a firewall blocking the employee's access to it. Even when there is no block, YouTube is full of NSFW content that appears in, let's say, suggested videos or comments. Usually, this is something one doesn't want to show to their boss who is casually passing by, or to the whole office during some important presentation. Tools like Quietube are designed specifically to remove everything, but the video, from the view.
Another important reason to watch videos outside YouTube is to make it more family- or classroom-friendly. Honestly, kids should not be exposed to the stuff people often write in the comments. The video suggestions algorithm doesn't help the teachers to keep their class focused, either. The tools like Watchkin, View Pure, or SafeShare.tv are designed to make YouTube safer for this particular reason and offer special plans for teachers or schools.
While such third-party tools can really help to remove the ads from YouTube videos as well, we do not recommend them for everyday use. Alike using video downloaders, streaming videos outside the official platform violates YouTube Terms and Conditions, as well as creates copyright issues. Most such services also have technical limitations and, most importantly, cannot be trusted in terms of data privacy and cybersecurity. Data exchange using such a middleman becomes a potential target for bad actors online, if not specifically encrypted, as it is done by AdLock.
Use a VPN to Block YouTube Ads 
VPN apps, besides their main function of redirecting the traffic through servers around the world, might also be able to block ads. This is especially true for products, able to filter DNS requests when loading an online ad. But is it enough to just install a VPN on Android, sit back, and relax watching the adless YouTube videos?
The answer to that is, no. Ad blocking can be offered as a secondary feature of some VPN service, however, it is never the main purpose of using one. Also, there are not so many VPN Android apps having that ad blocking function. Normally, the app would simply redirect the traffic through another server so the user would be exposed to the exact same amount of ads as usual, even if they are going to be depersonalized and untargeted. 
But then another bunch of VPN-related issues might kick in to effectively worsen the user experience. First of all, VPN inevitably makes your Internet connection slower. On top of that, if using a virtual server in another country, VPN would make your YouTube homepage, suggestions, and preferences correspond to that country, and not to your taste. Finally, you must ask yourself a question about how this VPN, particularly the one you don't pay for, is making its profits. Built-in malware and cryptocurrency mining scripts, as well as selling personal and browser data of users are not uncommon among the ephemeral VPN products out there.
Why is there no way of blocking ads on the native YouTube app?
To remove ads from applications that use secure connections (e.g., HTTPS), the ad blocker must launch a MITM attack, replacing the application's security certificates with its certificate.
But since the latest Android update for Nougat, all applications targeting API level 24 and above (YouTube is one of these applications) distrust certificates hosted in the user's trust store. This means that the videos on the YouTube app will not play if we try to replace its security certificate with our own to remove ads.
No more Youtube ads on your device!