How to Use Ad Blocker in Incognito Mode
Block Ads in Incognito Mode
Online marketing and tracking technologies are developing fast. To catch up and improve the user experience, software providers also create new tools and integrate them into their products. Web browsers are at the forefront of the battle for a safe Internet, as unlike any other type of software they have to deal with intrusive ad networks the whole time.
The developers of top web browsers quickly realized that the amount of information websites are collecting is making their users look for better, and more private options. So they offered a new way of exploring the Web — Private mode, often called "Incognito". Privacy comes with challenges because it complicates ad blocking.
In this article, we will figure out how to block ads in incognito mode. And running ahead, AdLock has several solutions for that problem, free and paid.
Contents
What Does Incognito Mode Do?
But before we find out if adblockers work in incognito and how they do it, let's take a closer look at incognito mode directly.
Incognito mode makes your browser forget an internet session like it never happened. The browser won't track the websites you visit in the history or save cookies and information you fill in online. Incognito mode is perfect for searching for a gift on a shared computer, as the giftee will never know what websites you visited.
However, the rest of the internet will still see you very well because incognito mode does not encrypt your traffic in any way. That means the websites you visit will know where you come from, your internet provider will see all your web activity, and your network administrator will track everything you do online. The best thing incognito mode has to offer is blocking the-third party cookies by default. That forbids websites to create and leave cookies in your browser to track your internet activity.
Is Incognito Safe?
Incognito mode is designed to create a safe browsing session, anonymizing the visitor and deleting the cookies on visited pages straight away. This makes online tracking, done by the intrusive and not-so-trustworthy marketing networks, much harder to perform. Users can always share their data with the advertisers intentionally or not, but the web browsers' promise stands at not saving, storing, or sharing the data automatically when Incognito or Private mode is being used.
One obvious inconvenience of Incognito is that the user has to login into their accounts for each separate session, as well as to fill out their data. But another problem, that is more familiar to the advanced users, is that Incognito mode works without the browser add-ons, due to which most people would keep their ad blocker running. So fighting for privacy on one end, the user loses it on the other, and this contradiction can only be resolved by knowing how to activate an ad blocker for Incognito mode.
Does Incognito Mode Prevent Ads?
The funny fact is that in your first Incognito session you'd probably encounter more ads than browsing the Web as usual. This is because all the add-ons, including the ones for ad blocking, are deactivated. Huge banners and pop-ups, which are usually filtered, appear again. Another annoying thing about these ads is poor personalization. Since Incognito logs you out of all your accounts and doesn't let searches be associated with you, the ad placeholders will show you anything at random, instead of the ads targeted by your interests.
This is why the users need a better solution. The solution that would combine all the best effects of the anti-tracking and anti-ad technologies, something that is easy to use and doesn't require constant manual actions in a handful of apps.
How to Enable Ad Blocker in Incognito Mode?
One of the most common questions we hear is "Does the ad blocker work in incognito mode?". Rest assured, it works no worse than in normal mode.
Most users are only familiar with ad-blocking technology in the form of a web browser extension. Incognito mode minimizes the amount of data users share with the websites, and browser add-ons are some of the best sources to obtain that data. That's why Google Chrome and other browsers disable all extensions in incognito mode by default, but if you trust an add-on, you can enable it manually. AdLock Chrome extension doesn't collect data during browser sessions, making it a perfect incognito ad blocker. You can see that on a badge on AdLock's Chrome Web Store page. Download the AdLock extension while you are there and install it. Now adjust Chrome's settings to block ads in incognito mode:
Open a new Incognito window.

Click a three-dot icon in the top right corner of the browser and choose More tools => Extensions.

Find the AdLock extension, click Details and toggle the button Allow in Incognito.

This way you will allow ad blocking in incognito mode.
That way, AdLock will block advertising even in incognito mode, but we don't know for how long as Google keeps changing rules for extensions. For example, as early as January 2023, Google will adopt a new Manifest v3 that will dramatically reduce the capacities of ad-blocking solutions. The changes won't affect the standalone applications, so if you want to stay ad-free in the new year, check out the AdLock application. The one-for-all program runs on the background of your PC, Mac, or phone and blocks advertising in every browser and most games and apps. Plus, AdLock will hide your internet behavior from trackers and online intruders.
How to Block All Ads with AdLock in Incognito Mode
Once installed as a desktop or mobile app, AdLock activates the protection for your entire device without any need for manual action. Its pre-installed list of filters already includes everything you need to stop the ads, block online trackers, keep an eye on spyware and other Internet threats. With AdLock intuitive interface you can always manage the applications and web browsers that will use those filters. The protection is adapted to each browser, including the most used ones that we are going to discuss below.
How to Block Ads in Private Mode with AdLock in Firefox
Firefox gained a reputation as the top private browser for regular use, due to its adaptability using open source as well as no affiliation to the known data collection giants. But even though the Firefox add-on store has a choice of ad-blocking extensions, the only secure way to allow ad blocker in Incognito Firefox is to let its traffic go through the system-level filtration. You can do it in a few simple steps:
Install AdLock

on your machine;

Activate your license

in the app;

Open Traffic

and look at your

Apps

;

Confirm that the toggle next to Firefox is set to

Filter

;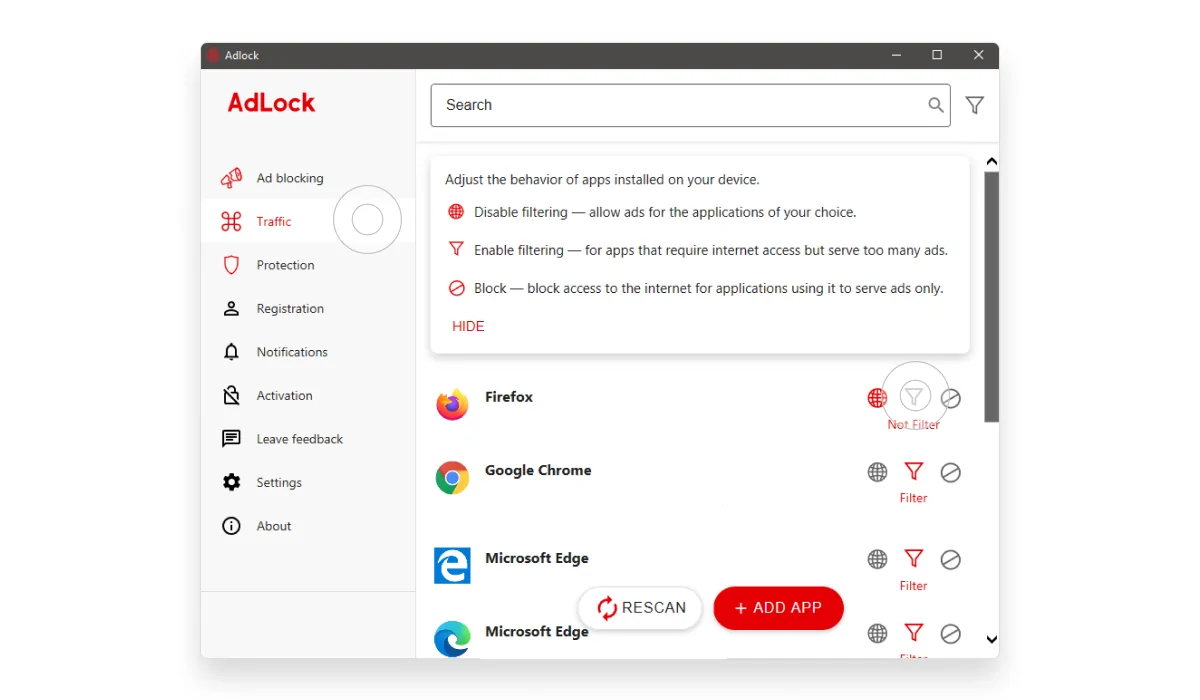 If Firefox is not in the list of apps, you can add it manually by clicking the "+ ADD APP" button and selecting it from the system folder.
How to Block Ads with AdLock in Incognito Chrome
AdLock offers a free Chrome extension for anti-ad protection on the normal browser sessions. However, only the AdLock desktop app can give you the desired result when it comes to browsing Incognito. AdLock for Windows PC or Mac does not differentiate between the regular and Incognito windows of your browser. It filters all the traffic and weeds out the trash from the whole Chrome session regardless of if you want it private or not. So just make sure you have Chrome in the apps list in your AdLock and that the toggle is set to Filter, as shown below.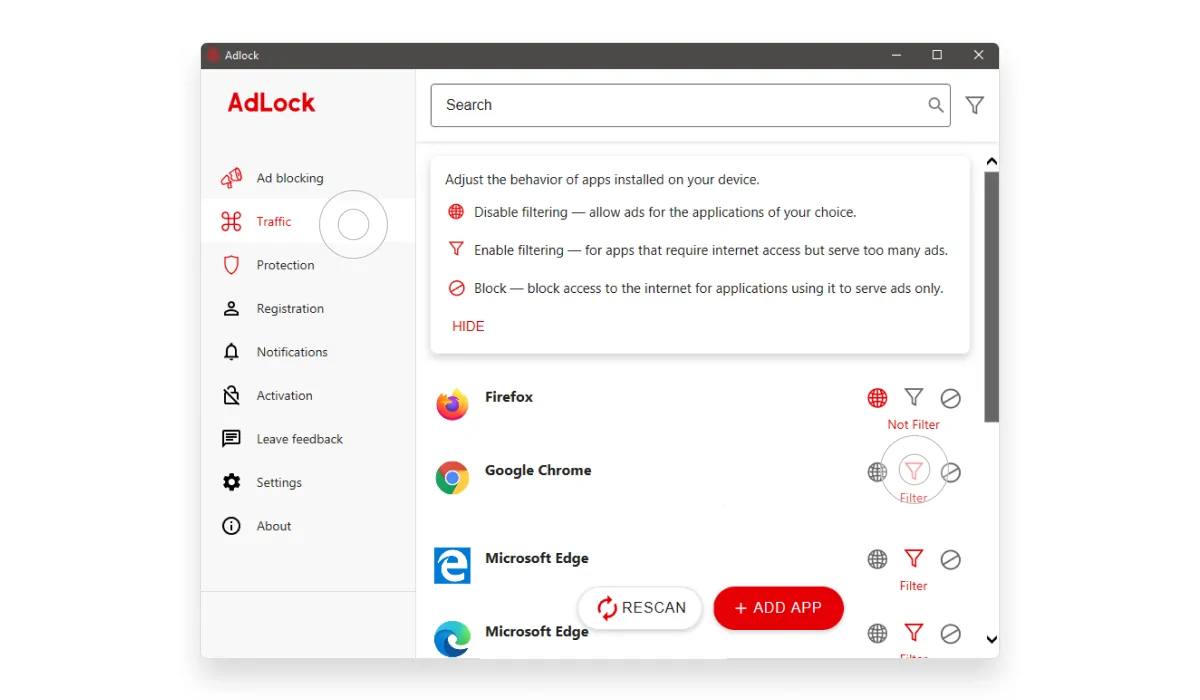 How to Get Rid of All Ads with AdLock on Microsoft Edge
Just recently Microsoft structured its Edge Add-Ons marketplace, allowing new and already known ad blockers to enter the competition. Currently, Edge Add-Ons is still in the Beta version and there are reports of the extensions crushing during work in this browser, including adblockers working in incognito mode. This is where AdLock comes especially handy! If you work with Microsoft Edge's InPrivate mode and don't want the ads to drive you nuts, try installing AdLock and see how seamlessly it removes all the pop-ups from your view. Microsoft Edge is added to the main list of apps to be filtered by default, so you won't need to do anything extra in your AdLock menu. However, at any point, you can use the toggle to block, filter, or leave it alone, depending on your browsing needs.
It might seem like overkill at first, but using the Incognito mode of your web browser and blocking the ads at the same time is a good idea. Not only this gives you the comfort of viewing the web pages but also eliminates the potential dangers of online tracking. But you might not be willing to exchange the security for convenience, choosing an ad-blocking web browser add-on for this task. A better alternative, the system-wide ad blocking defense, like the one from AdLock, makes this really simple and not a single bit less secure.
How to Block Pop-Ups in Incognito Mode?
The instructions on how to block pop-ups in incognito are not different from any other mode. Most popular web browsers have inbuilt tools to block pop-ups from appearing. We made an article on every browser in our blog; please check them. Unfortunately, the inbuilt settings only sometimes work, and the most reliable solution is to use an ad-blocking app. AdLock works excellently as a pop-up blocker. Incognito mode can't stop it from blocking pop-ups.
Conclusion
If you want real privacy and to hide your data and internet behavior from third parties, you need a VPN service, not incognito mode. Good thing that AdLock will block ads and trackers with enabled VPN just as well as it does with enabled incognito.
FAQ
Does incognito mode block cookies?
No, the incognito mode doesn't block cookies, but it erases cookies as soon as you close the incognito window. Your browsing history remains untouched, like you never opened a website; the passwords, credit card details, and other information are not saved either.
Does incognito block IP addresses?
No, the incognito mode doesn't hide your IP. The website's owners, advertisers, and your internet provider will see you visiting a web page, but they won't tell others, hopefully. The incognito mode hides your browsing history only from other users of your device.
Does incognito disable an ad blocker extension?
Yes, most browsers disable all extensions in incognito or private mode because they can't forbid them from collecting users' data.
How to block ads in incognito mode on mobile?
Try installing AdLock adblocking application for Android or iOS. It filters all incoming internet traffic, even in incognito mode. AdLock also blocks ads in most games and apps and does that for a price as little as $1 a month.
How to block ads in incognito mode?
If you use an AdLock application, you don't need to do additional steps. It will block ads in whatever mode you use. You must adjust Chrome's settings to
Block Ads in Incognito Mode
Do you like this post? Share it!
Do you like this post? Share it!