How to Stop Ad Blocker Detection on Websites
AdLock can bypass all adblocker detection scripts. Give it a shot!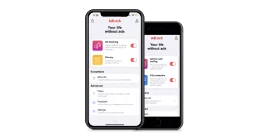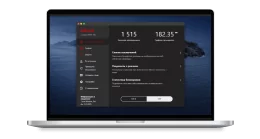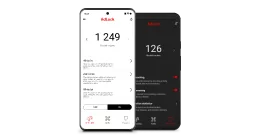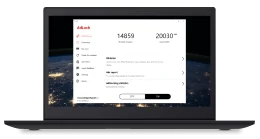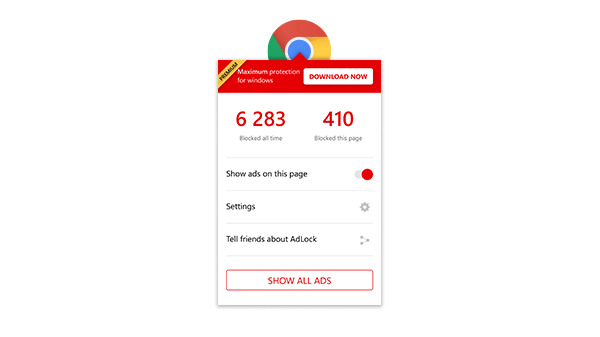 Try AdLock for free on your Windows device
If you face an anti-adblocker wall while using AdLock, inform us
In this article, we will talk about the best effective ways to bypass ad blocker detection on websites. When websites execute anti-adblocking scripts and detect an ad-blocker, they prevent you from accessing the content unless you disable the extension and allow ads. Navigating several websites without an active ad blocker can become dreadful at times. Thanks to AdLock, you do not need to remove or disable an ad blocker. AdLock blocks URLs from which such scripts are downloaded and deletes the pop-up to deliver a seamless browsing experience.
When websites detect you're using an ad-blocker, they execute anti-adblocking scripts. Those scripts freeze a page and display you a pop-up demanding to whitelist a website, ruin the way a page is displayed, and make it impossible to finish reading a post until you disable your ad-blocker. AdLock blocks URLs from which such scripts are downloaded deletes a warning anti-adblocker pop-up, and restores a web page to its original form.
But if a website uses an unknown anti-adblocking script, AdLock may fail to bypass it. In this case, you can do the following:
Send us (support@adlock.com) a link to a problematic webpage, and we will add a new rule to AdLock's settings;
Bypass restrictions on your own using the guide below.
How Does Ad Blocker Detection Work?
Adblockers perform their job via blocking communication with ad-forcing servers, and by hiding the webpage elements containing commercial content. By referring to filter lists containing the addresses of ad servers, ad blockers seek matches in website elements and define what should be blocked.
Adblocking detection in its turn is performed through "bait content". Invisible to the user, such bait is implemented the way adblockers recognize it as commercial content. As soon as the webpage finishes loading, the detection algorithm calls to the properties of the bait. If the bait is hidden, the algorithm recognizes that there's an active adblocker. Although baits are different and have different levels of complexity, it's not that hard to disable adblock detection.
Read Also: How Do Ad Blockers Work?
How to Bypass Ad-blocker Detection?
Turn off JavaScript
It's the shortest and the easiest way, but disabling JavaScript can break a website.
Google Chrome guide
To disable JavaScript on a website find and click a tiny grey lock next to a website's URL in a browser's search bar => choose Site Settings => JavaScript => Block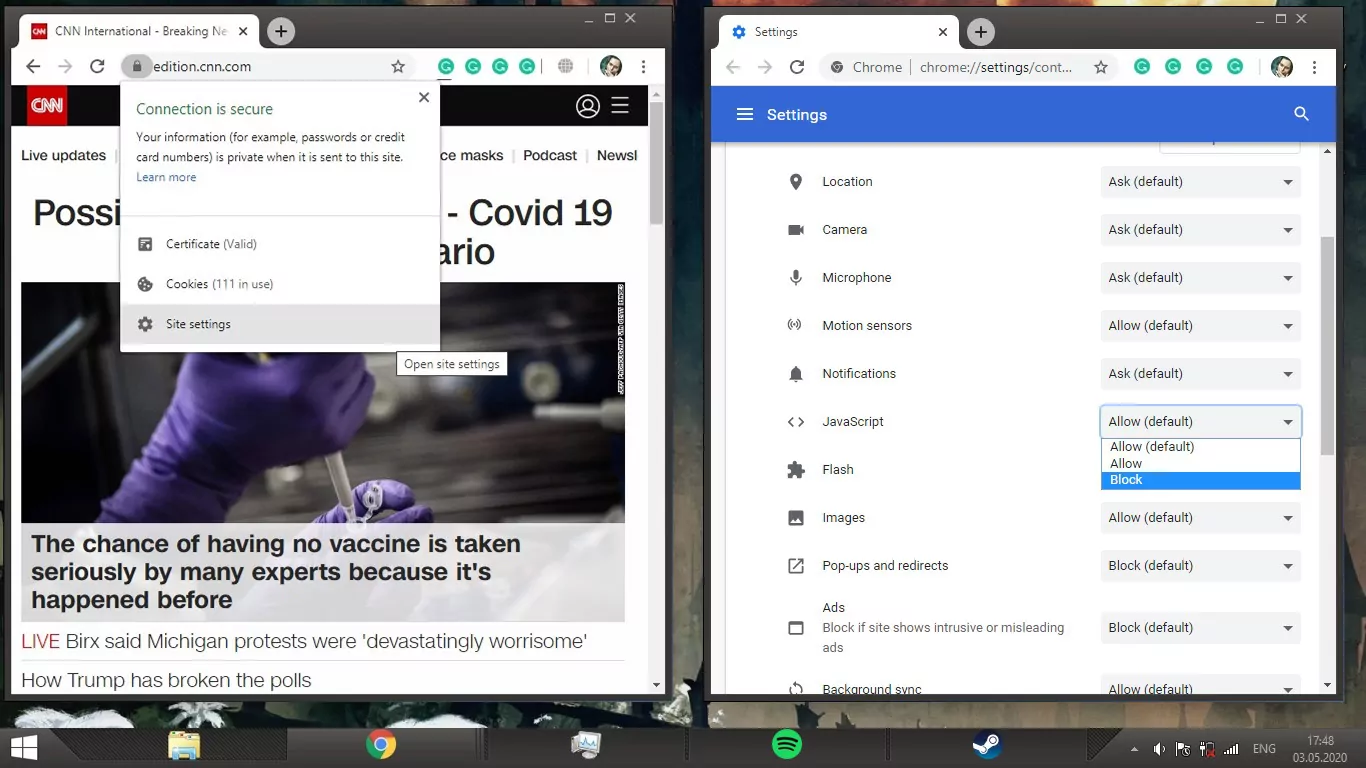 Opera browser guide
Same instructions as for Google Chrome except that lock is green.
Mozilla Firefox guide
In Mozilla you can't configure JavaScript settings for a single site, changes will be applied to all web pages. We suggest you turn on JavaScript once you finished working with a problematic website.
To block JavaScript in a browser's search bar enter about:config and click "I accept the risk!" button.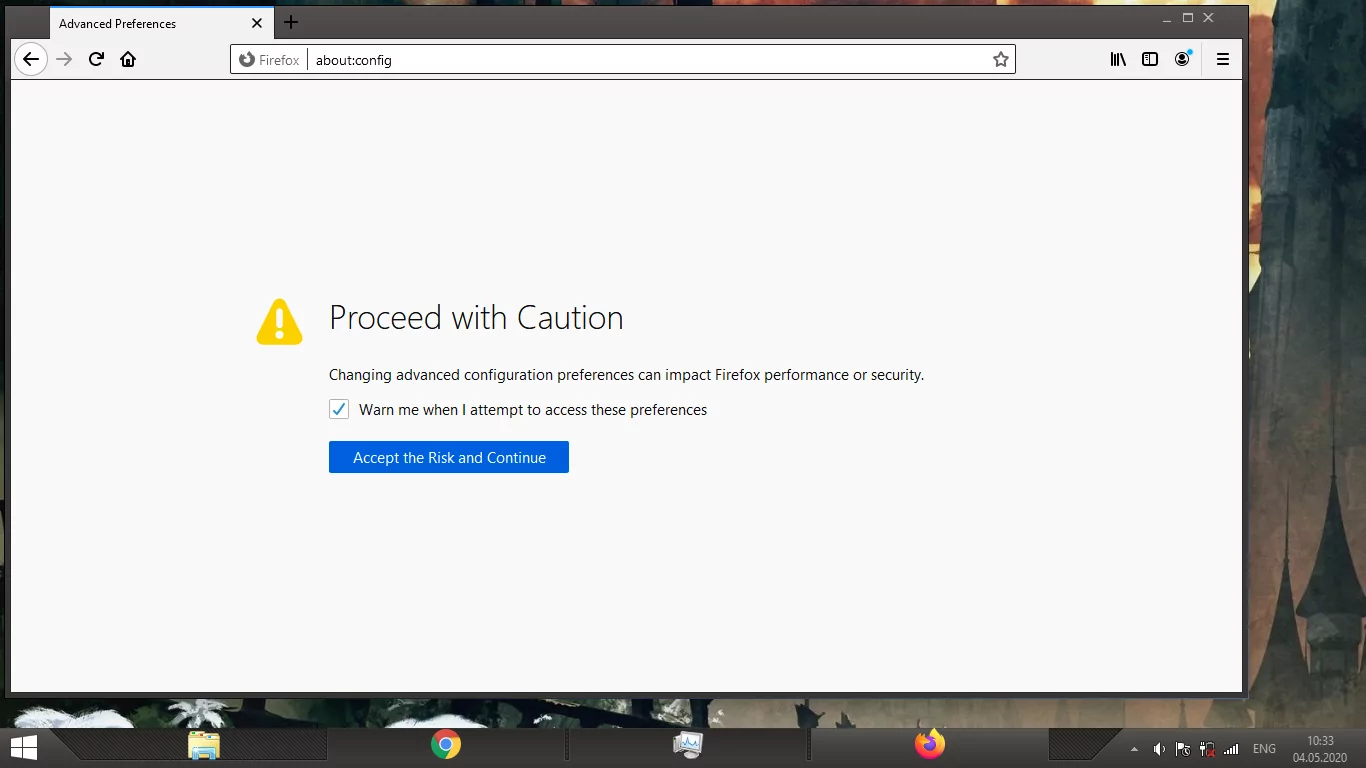 Through a searching bar find element javascript.enabled, right-click it, and choose "Toggle". If it changed status to "modified" and value to "false", you did everything right.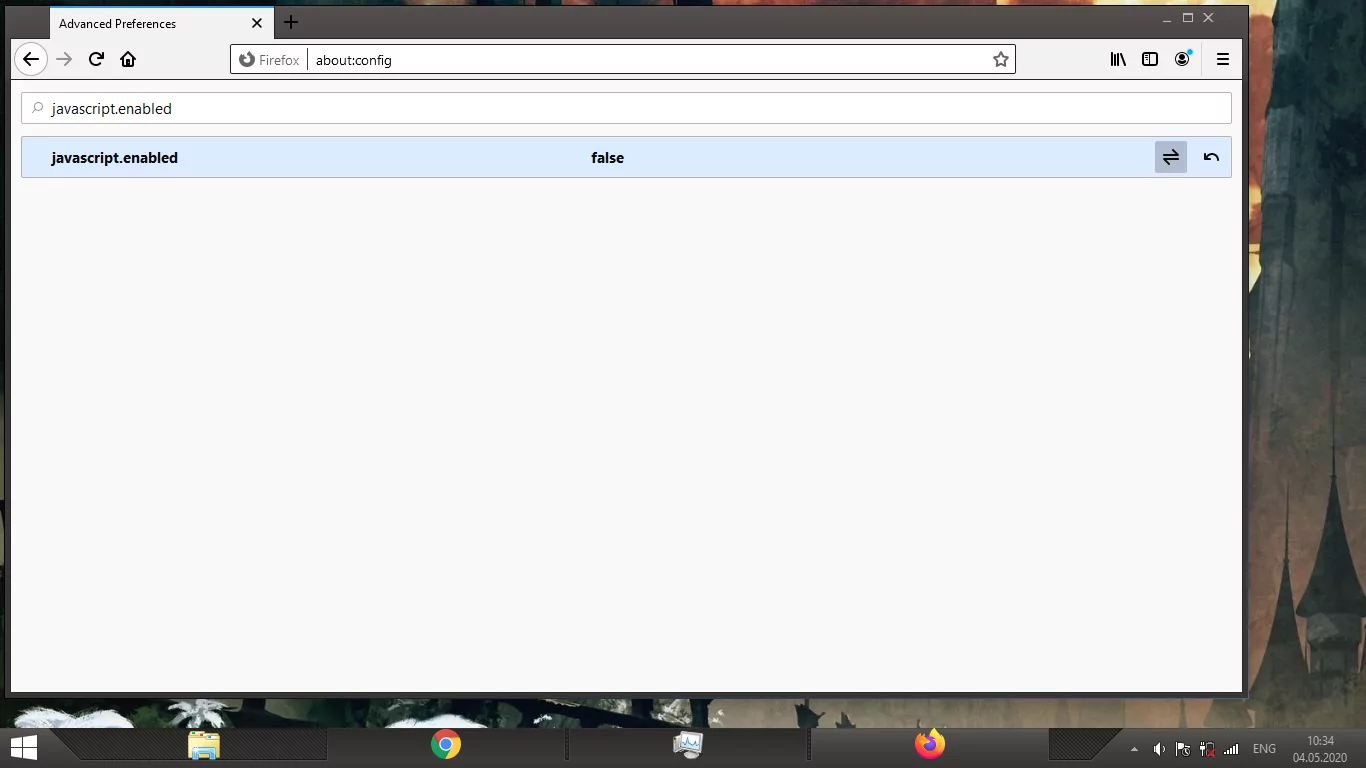 Microsoft Edge guide
This is a tricky one. You can't change JavaScript settings in the browser. You can disable JavaScript only using the Local Group Policy Editor console:
Press buttons "Win"+"R" and enter "gpedit.msc";
Expand the User Configuration folder;
Expand the Administrative Templates folder;
Expand the Windows Components folder;
Expand the Microsoft Edge folder;
Double-click Allows you to run scripts, like Javascript;
Choose Disabled, and click OK to confirm.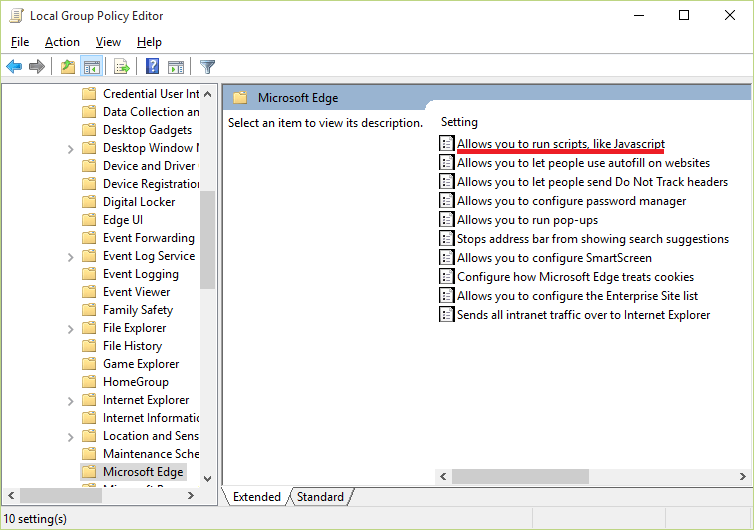 Greasemonkey
Similar to Tampermonkey, the add-on called Greasemonkey helps to customize the web pages, run scripts, and remove elements using JavaScript. The only difference is that Greasemonkey was designed specifically for Mozilla Firefox. You can download the add-on from the official Firefox browser store for free and install it in a few seconds.
Then, you would need an Anti-Adblock Killer script that can be downloaded from GitHub. Once installed, it prevents the websites from asking you to turn off your adblocker.
Finally, on the same GitHub page, you can hit Subscribe to add the list of filters to your ad blocking software automatically. In case this didn't work, try to add the filters manually using this link.
Once Greasemonkey is enabled in your Firefox, the AAK script is installed and the list of its filters is added to your ad blocker, all the anti-adblocker walls should be gone from the web pages that you visit.
Edit the Script Using DevTools
This method won't help you to freely surf the web without adblocker detection. But it is great if you only want to see one page in Chrome, and can be particularly useful when disabling JavaScript didn't help to achieve this.
Start by opening the desired page in your Google Chrome. Right-click anywhere on the page and select "Inspect".
Now as the new DevTools menu opened, scroll through the list of elements and hover your cursor over each HTML <div line. This would highlight the respective element on the page, whereas a banner, text block, image, or a message "Please, disable your ad blocker".
Once you manage to find the line corresponding to the anti-ad blocking window, right-click again and select "Hide element" or "Delete element" from the drop-down list.
Go back to the page and check how it looks without an element that you just removed. The effect lasts until you exit or refresh this page, then the procedure has to be repeated.
Bypass Adblock Detection with CSS Manipulation
Inspect page element
When a website displays you an anti-adblocker warning which you can't close, you can delete it from the page's elements. This is a short-term solution that is on hand when you need content from a particular page.
Right-click the warning box and choose "Inspect" in the context menu. In the console find div class element responsible for showing you an anti-adblocking pop-up.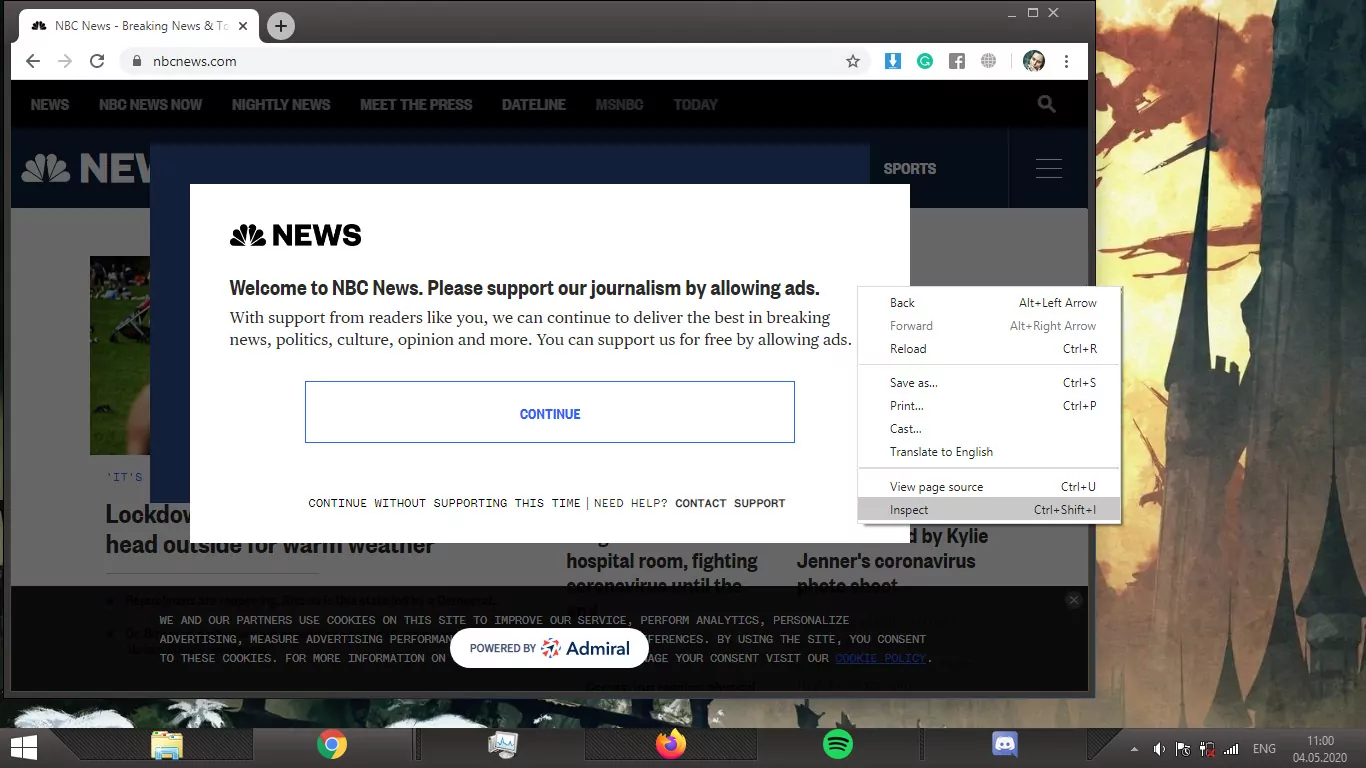 When you find a correct div class element, a pop-up box will be blue-lighted.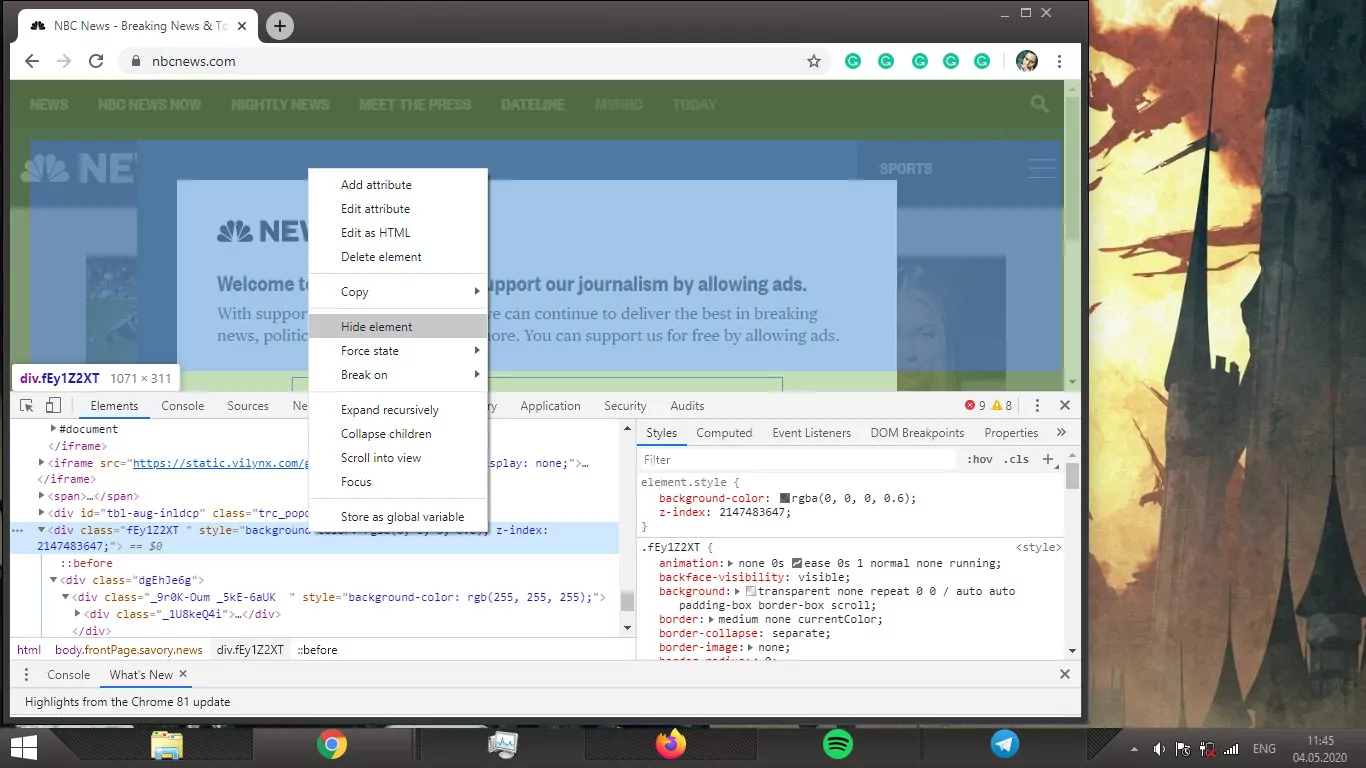 Right-click this div class and choose "Hide Element". The warning box will disappear.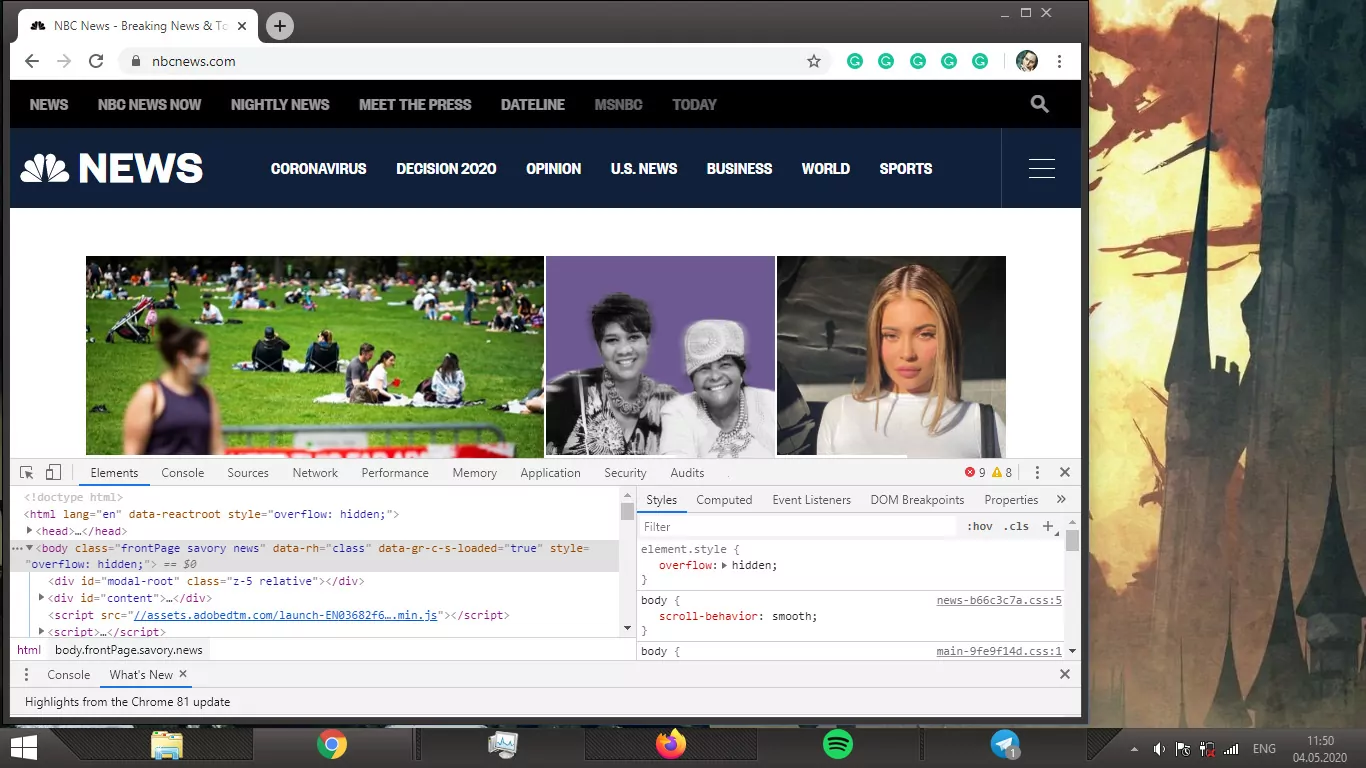 The changes won't be permanent. Once you reload the page, it goes back to its original form.
Disable Anti-Adblock Wall via Userscript
Use Tampermonkey
Tampermonkey is a web browser add-on designed to manage and edit scripts. With its help, you can run scripts to fight-off anti-adblocking detection. Search for the add-on in your browser's web store or download it from the original website then install it.
The next step would be downloading and installing the script itself. You can find it on OpenUserJS under "Anti-Adblock Killer script". Once you click "Install" you will be redirected to Tampermonkey's page. Simply click "Install" to give your consent to install the script.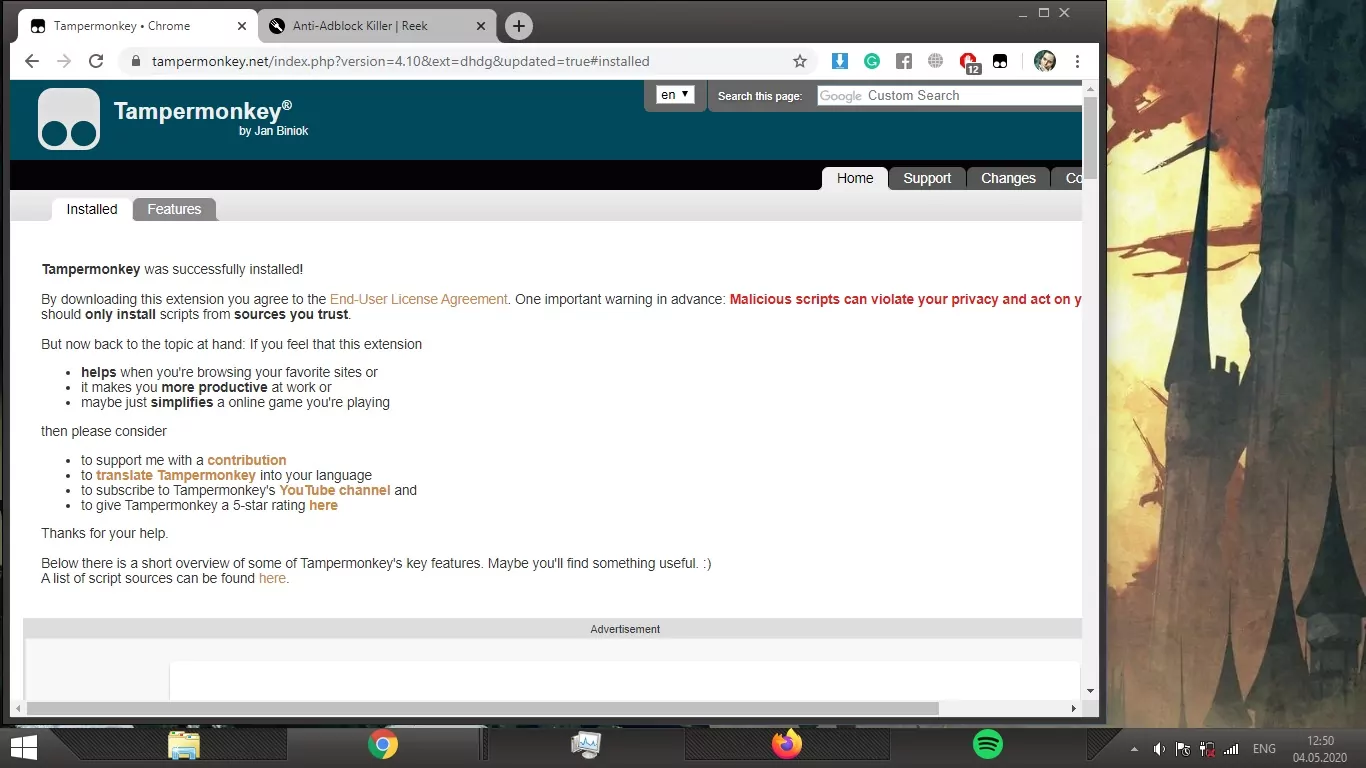 The extension bar in your browser will indicate when the installation is over. Open the Tampermonkey menu, then select the "Dashboard" option.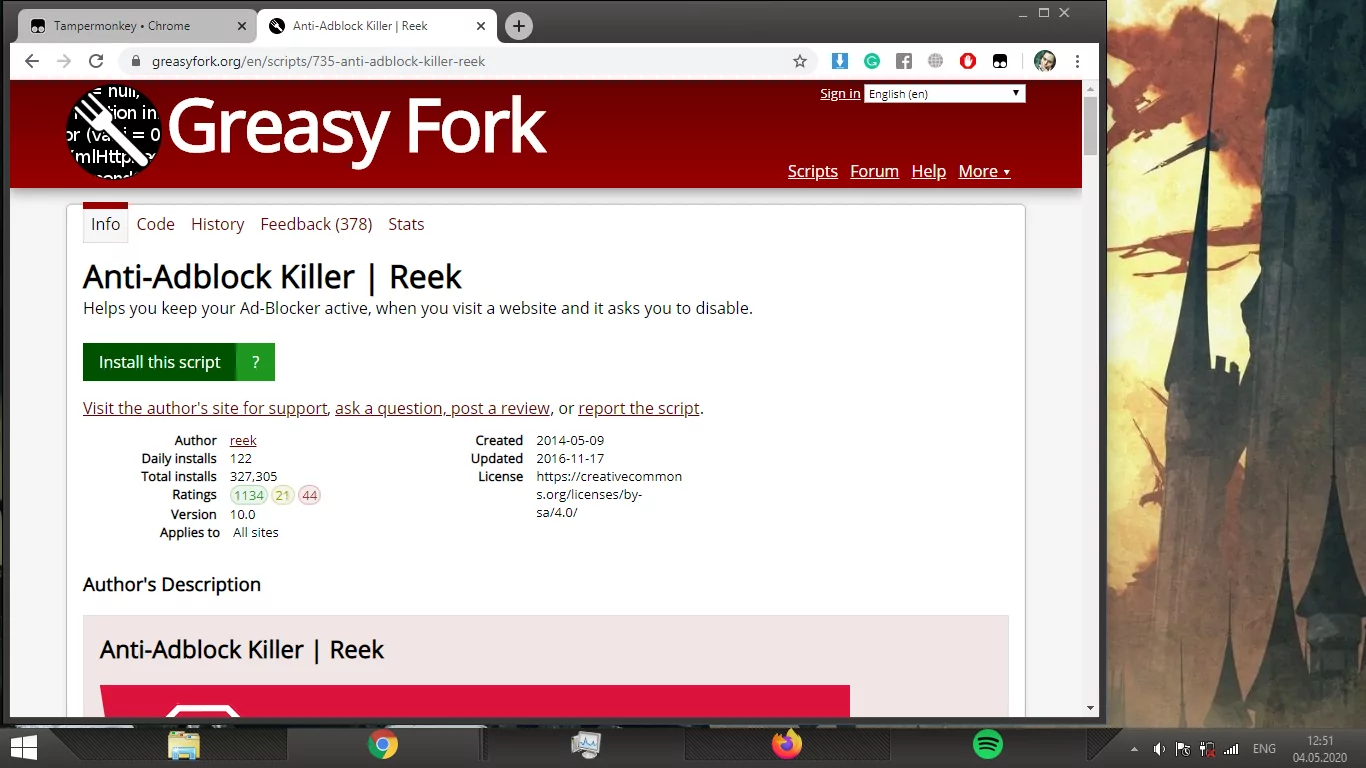 Now, we want to import the filters list from Reeks's GitHub project section. Scroll through the page and find the "Subscribe" button, then click it to add the filters automatically.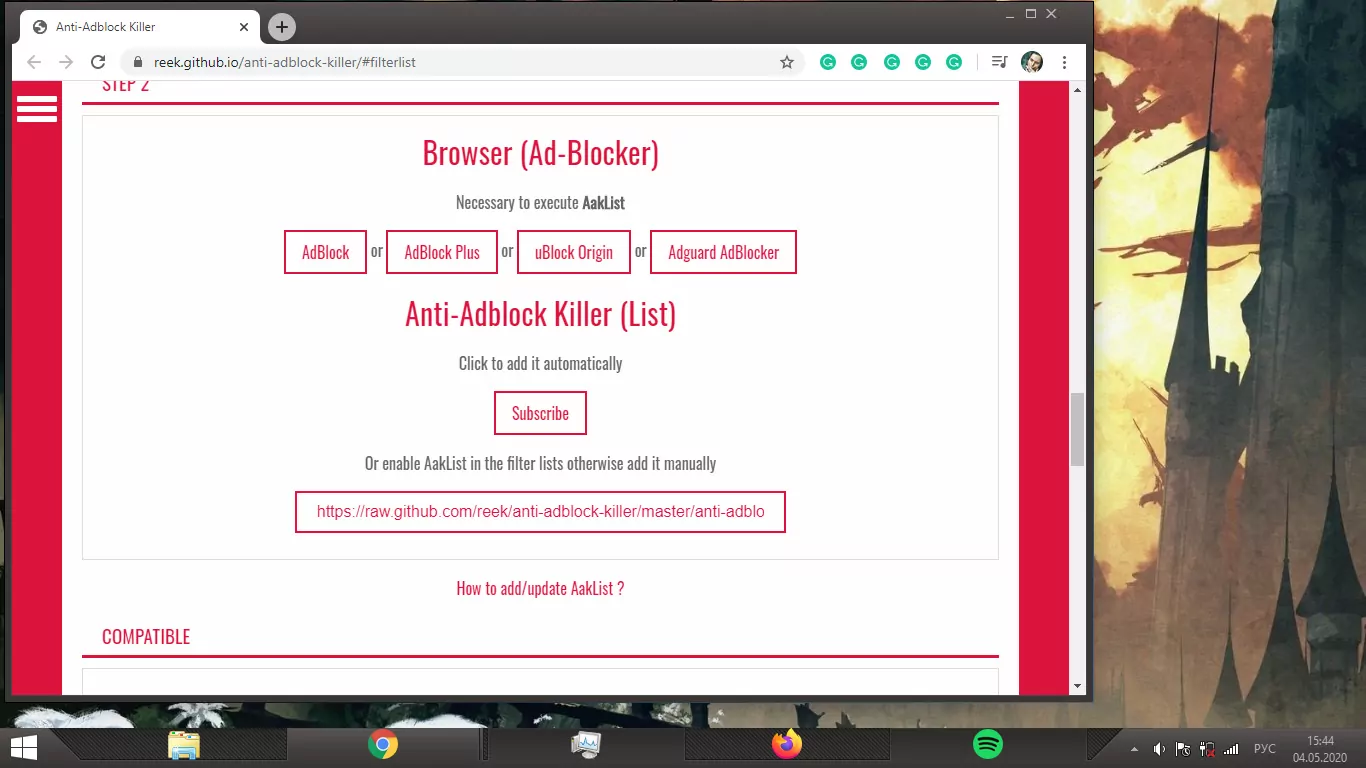 When prompted to confirm adding the filters to your default adblocker, click OK. In case the automatic import didn't work, on the same Reeks's page, you can find a link to add manually.
Whitelist a problematic website
If you are a regular user of the particular website, you trust it, and it's never disrespected you with redirects, full-page or auto-playing ads we suggest you whitelist it. It can feel like a defeat, but in the end, everybody wins. You continue browsing interesting content, and a website continues feeding its developers.
To whitelist a website, open the Ad Blocking tab in the application, choose the Allow List, click Add Item and type a URL in this format: www.example.com.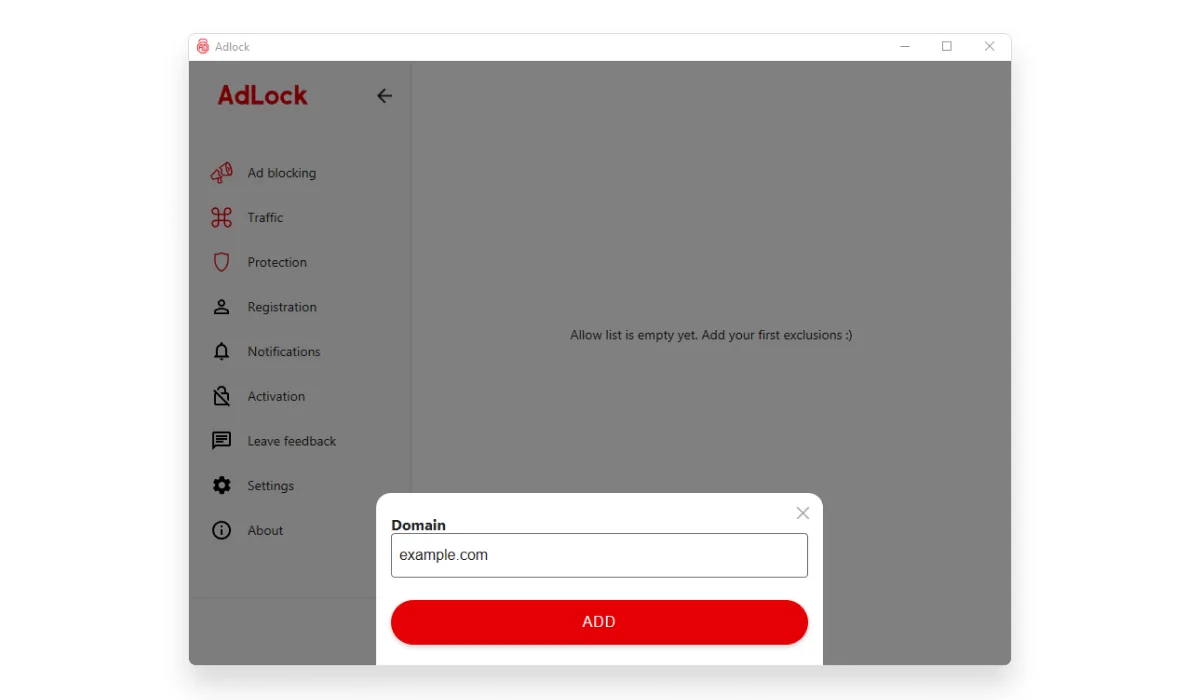 There are a couple more ways of disabling anti-adblocker scripts and we'd like to mention them as well.
Bypass Adblock Detection Using Incognito Mode
Incognito or private mode can be quite helpful when surfing the web. Luckily, most, if not all modern web browsers support this feature. Browsing incognito leaves no trace online whatsoever simply because after your visit no cookies are collected and no history is stored. Even with an adblocker turned on, private browsing prevents anti-adblocker walls from appearing on most websites. You just have to change the setting in your adblocking software letting it operate in Incognito mode as well:
Click the menu button in Chrome ("⋮" in the top right);
Navigate to More Tools > Extensions;
In the new tab find the extension you want to enable while incognito;
Click the "Allow in Incognito" button.

Read the Cached Version of the Page
Note that incognito/private mode with an adblocker may fail on some websites. There's one more workaround for accessing the webpage's cached version. To view the cached page, search for it on Google, find the needed result in the list, and click the down arrow. Click "Cached" in the dropdown.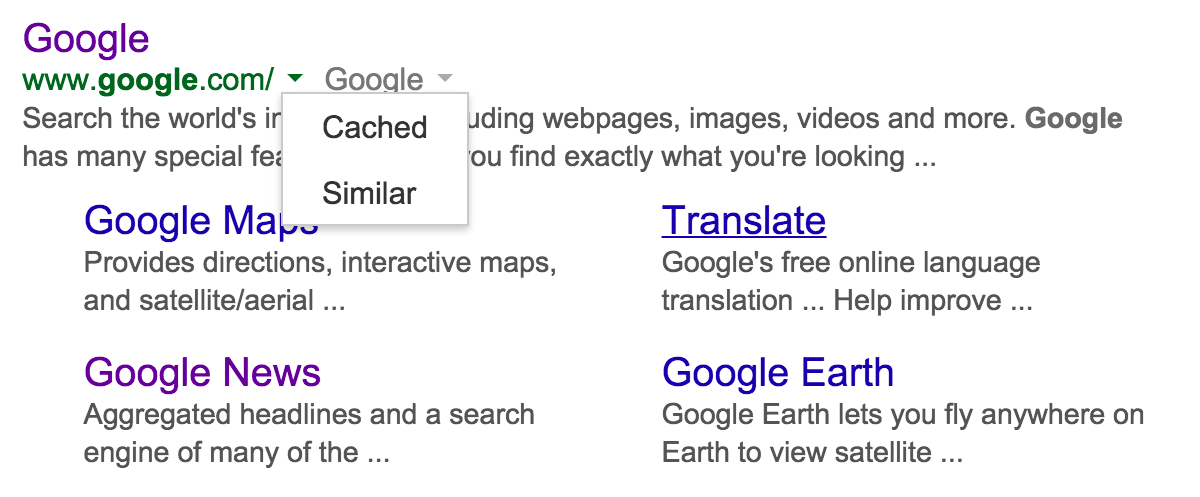 By doing so, you'll get a screenshot of the page that isn't dynamic but stays in the version from some given time. As you may have guessed, this method gives you the possibility to view the requested web page without scripts, trackers, and ads. The only downfall of this approach is that the cached version of the page may be irrelevant and the content outdated.
You also have another method to view the cached version of a website. You can simply type 'cache:website address' (for example, cache:adlock.com/adlock-for-macOS/) and check a snapshot of the cached page. You can also glance over the time and date of a cached webpage and a warning suggesting that the current page could have changed in the meantime. The trick doesn't work with every website, though. But still, it's a neat workaround to browse the website and avoid disabling ad blocker.
Brush off Scripts via Reading Mode
Reading mode is a convenient feature allowing you to get rid of JavaScript tools on the web pages focusing on content. This feature was first presented in Apple's Safari, so if you're a macOS/iOS/iPadOS user, you've got it on board. But if you're a Google Chrome user, then you should get a Just Read extension. For Opera users, there's a similar solution Reader View extension. Go ahead and check them out.
Try Distill Page Feature on Chrome
Distill page mode is basically Chrome's reader mode. As it was mentioned above, reader mode cuts off all the JS bells and whistles and provides pure content to view. We mean, you won't stop adblock detection by this neither you will see the page with all its formatting and styles, but you definitely will see the content you want.
To distill the page, open the desired webpage and select the "Distill page" option from the ellipsis menu (top right). This would make the page display only text, with no unwanted elements. To reverse the distill page mode, press "Back".
The "Distill page" feaure works best for pages with lots of text content. If you apply it to a website with images/videos then it's likely you not get what you wanted.
How to Bypass Adblock Detection on Firefox
Firefox earned its reputation as the most flexible web browser for everyday use. Of course, this implies that there are multiple ways to block ads, as well as to bypass adblock detection. Some of these methods we have already listed in the sections above, including the Firefox-specific tool called Greasemonkey in combination with the Anti-Adblock Killer script. Disabling JavaScript manually, described in this section, also works perfectly fine in this browser.
Here we would like to note Firefox's ability to trick the most notorious websites-extortionists with its built-in Reader Mode. Other browsers can provide this functionality, too, but few of them can compete with Firefox in usability, simplicity, and, most importantly, the output of page content simplification. You can try it with any website you've encountered the problem with or just go to forbes.com for a test. What you need to look for is the little page icon in the address bar — hover your cursor over it and see the sign Toggle reader view or just press F9. It's worth mentioning, though, that the Reader Mode icon might not be displayed on the homepage of your website. So just open any article or find it through Google search to see how clear and tidy the desired page looks.
Finally, Greasemonkey is not a single extension that can help you to bypass adblock detection on Firefox. Anti-Adblock Blocker seems to be an even more elegant solution (although, not all users confirm its effectiveness) and it is available on Firefox Add-On Store. Alternatively, you can try Bypass Paywalls — an extension designed to remove any content blocking — installation instructions for all the browsers, as well as the download link can be found on Github.
Bypass Adblock Detection in Safari
It was Safari that first of all web browsers introduced Reading Mode. Using this feature it becomes easy to extract text and pictures from any page where on a normal session "We've noticed you are using an adblocker" is displayed. Just press Shift + ⌘ + R or look for the page icon to activate Reading Mode in your Safari and get this started.

Alternatively, you can disable JavaScript in your Safari, too. Even though this move would break some websites, for others it serves as the easiest way to access the hidden content. Just go to your Safari's Preferences (⌘ + ,), move on to the Security tab, and untick the box saying Enable JavaScript. Reload the page for the changes to come in force.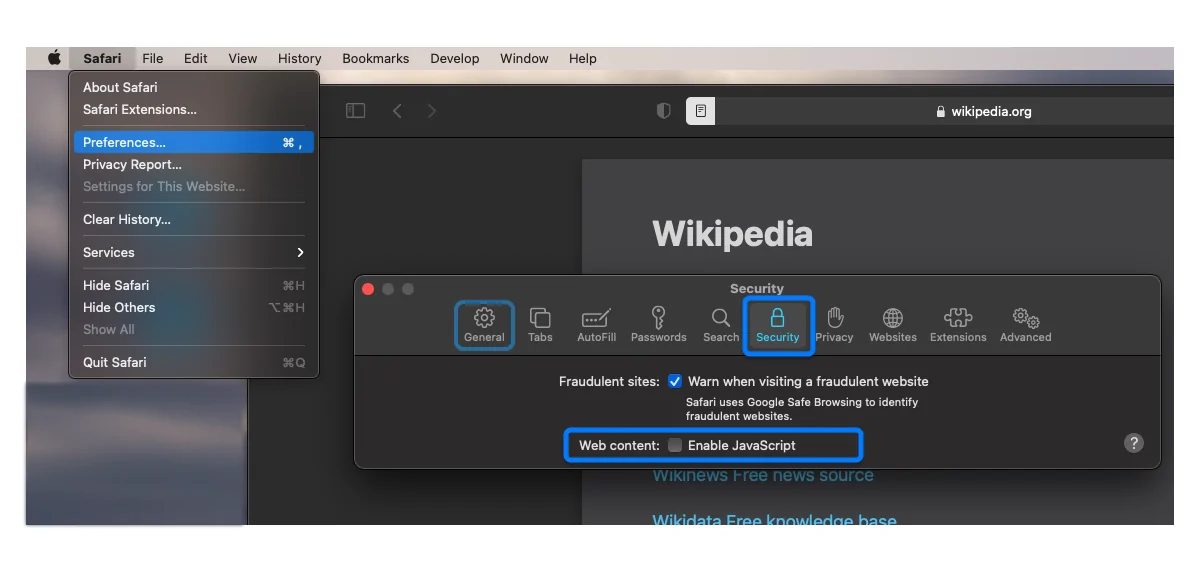 Another method that only requires the tool that is already built into Safari browser is to manually delete the script tags specific to the anti-adblock wall on the website you want to access:
Press

Option + ⌘ + U

to open the page's source code;

Copy the whole code and paste it into any text editor app;

Use search to find the keyword "

adblock

";

Remove a pair of tags around each "

adblock

" you see;

Save the formatted text file in a

.html

format;

Open that .html with your Safari and enjoy the content without restrictions.
Last but not least, anti adblock detection extensions can be installed in Safari just like in any other browser. You just need to choose whether you go with Tampermonkey and Anti-Adblock Killer, like we proposed here, or with any other app of this kind available on AppStore.
How to Turn Off Ad Blocker Detection on Mac
Except for Local Group Policy Editor trick for Microsoft Edge, all the tips above should work on Mac to turn off ad blocker detection. Since major browsers such as Google Chrome and Firefox use the same UI (user interface) on the Mac, you can follow the same steps to visit websites without disabling ad blockers.
If a specific website is still showing an ad blocker detection banner, you can make an exception for it and disable ad blocker on Mac.
Apart from whitelisting a website, browsing the same webpage in private mode is another effective way to get an ad-free result.
How to Remove Ad Blocker If Bypass Doesn't Help
If a website is still detecting an ad blocker and the tricks above sound too complicated, you need to remove the ad blocker from your browser. Let's take Google Chrome as an example.
Open Google Chrome and click the kebab menu (three-dot) in the top right corner.
Head to More tools > Extensions.
Select Remove under your extension and confirm your decision.

You can also go with AdLock, which works seamlessly without any detection.
Conclusion
Well, you'll never know until you try. All these methods except whitelisting may falter. If something didn't work for you, let us know. Our developers will write a new anti-adblocking script to any page you send us. Enjoy free Internet!
Now is the right time to board the AdLock train, as we are offering up to 70% off our usual pricing. What are you waiting for? Grab the deal and enjoy free internet.
FAQ
How Do Sites Know I'm Using AdBlock?
Online ads generate revenue for most websites out there, so it's no surprise that they aren't overly excited about your ad blocker. Adblocking technologies didn't appear yesterday: for over a decade users were developing tools to block the ad traffic, as well as updating their filter lists. Detecting these filters and technologies became an everyday task for any website particularly dependent on their ad profits, as well as for online advertisers themselves. But how exactly can they find out?
The blocking pages, saying something like "We've noticed you are using an adblocker", appear as a result of an automated check performed on a background. How the check is done depends on the technology or method being used. While it is hard to figure this out from the first look, few most common strategies are known and widespread:
For example, the sites might analyze which of their ad-server resources are not going through and being rejected by your browser with an ad blocker on.
Others try to download some bits of JavaScript code — a basic trigger for any ad blocker — and prevent you from seeing the content if your browser didn't receive that code.
Tracking protection filters enabled by an ad blocker can also be traced and found by specialized counter-technology.
This might be too hard to visualize, so here's a simplified example of how detection can be done: a website can be programmed in a way to create a "false" ad and run it as soon as you start loading the page. Then, they check if this "fake" ad was successfully loaded or, on the contrary, is blocked by your browser. Eventually, they would either supply a real ad to be loaded and shown to you along with the content or notify you about blocking your bypassing attempt.
Is disabling ad blockers safe?
Disabling ad blockers is safe as long as you don't interact with spammy and malicious ads on the website. However, be ready to have a below-average browsing experience due to the plethora of ads on several websites.
How to disable AdBlock and turn on AdLock?
You can open the extensions menu in your preferred web browser and disable or delete the ad blocker. Now, open AdLock and select ON from the Ad blocking menu. It's an effective undetectable ad blocker for your desktop and Mac.
Why do websites say I have AdBlock when I don't?
Some extensions, like Ghostery, Kaspersky Anti-Banner, and NoScript, may prevent ads, trackers, and cookies, and that's why you continue to get an ad-blocked banner in the browser. You need to identify and disable all such extensions.
AdLock can bypass all adblocker detection scripts. Give it a shot!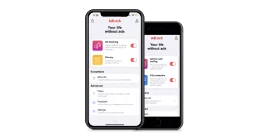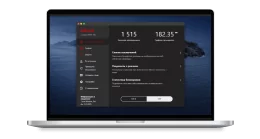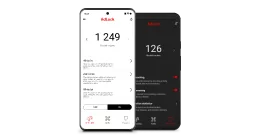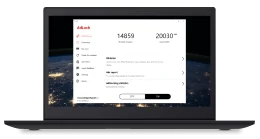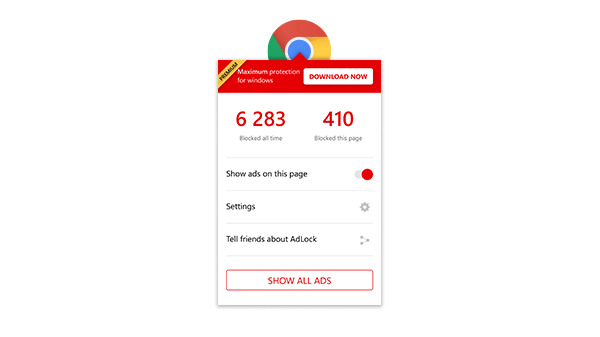 Try AdLock for free on your Windows device
If you face an anti-adblocker wall while using AdLock, inform us
Do you like this post? Share it!
Do you like this post? Share it!