AdLock

for android

Make your Android work faster and longer without ads. With help of AdLock you will get maximum from your device.

Free download Purchase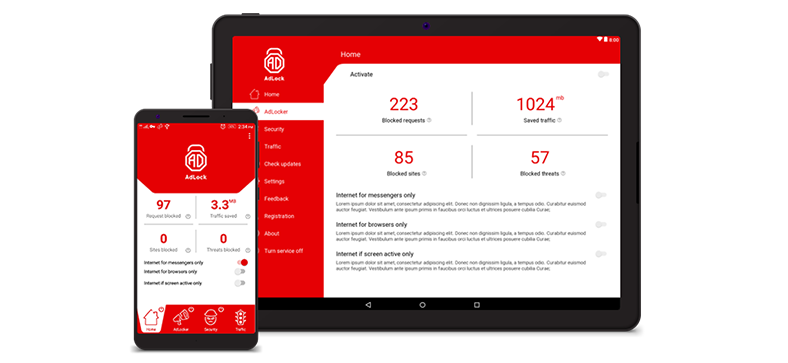 Increase Your Device Capability With
AdLock

. Here is How:

Cut off pop-ups, banners, and autoplay
You can easy run apps and web surf without being interrupted by annoying flashing ads.

Secure your personal data
AdLock prevents phishing attempts as it blocks all suspicious unwanted requests.

Blockade malware-infected ads
When AdLock is enabled on your phone it will be always protected from bugs and spyware.

Save mobile data
Never go over the data limits again. You can restrict internet access to definite apps or stay connected only when screen is on.

Extend battery life
You can prolong battery power with simple control of your internet usage.

Working without ROOT
You can simply install AdLock and take advantage of all its features without root-access.
What people think about
AdLock
Usually I don't trust apps claiming they will wipe out all annoying ads as they never truly work and some of them require root access. I even got used to pop-ups until my colleague convinced me to download trial AdLock version.  I still have eight more free days to test it but I love it already. Really no more ads neither in browser nor in apps.

Barney Adams

No more fuss with root access. You just download AdLock install it and enjoy web surfing without stupid ads and banners.

Nathan Elliot

You really need to customize app settings if you want it to work perfectly like I did. I blocked internet access to apps I didn't need to be connected all the time and now my battery lasts like on 20% longer. And yeah no ads

DanWild

I'm not into hi-tech really but even I coped with adlock. It was simple to customize it and now I enjoy my internet without ads!

Lindsay

I was suspicious of this app on the stage of installing apps from unknown sources. But I took a shot and didn't regret my decision. Adlock works very well I finally can watch youtube without being interrupted every 5 minutes.  

Jason
Free license
for Android
Try AdLock right now!
*Free 14-day trial
One-year license for Android
Forget about ads for
the whole year
* Before the license expires, we will remind you to renew it
-20% when purchasing two and more licenses

?
Buy now
Lifetime license for Android
You don't have to worry about renewal and payment anymore.
* This type of license allows you to use AdLock on 1 device on an ongoing basis.
-20% when purchasing two and more licenses

?
Buy now
MORE THAN 100 000 HAPPY

ADLOCK

USERS HELP US TO IMPROVE IT EVERY DAY!*
*Follow our updates
AdLock for Android
AdLock is an ad blocker for Android phone that needs no root access. Our ad remover is able to stop online advertisement from spreading everywhere in your applications, games, instant messages and browser. Furthermore, AdLock blocks all types of annoying commercial content, as pop up banner, flash banners, auto-start video, audio ads, text ads, malware infected ads and spyware.
Meet the best ad blocker for Android
With our ad stopper, you will get rid of ads no matter what you are using Skype, Viber or Google Chrome.
With the help of our ad remover for Android, you will save your mobile data and bandwidths as its firewall features can block unwanted internet access to different applications.
Every time, you try to reach a suspicious website, AdLock will first check its URL to find out whether it contains malicious software, and if so, you'll get a warning pop up.
AdLock filters HTTPS connections.
Our ad blocker for Android apps and browsers provides regular reports with the number of deleted threats and amount of saved traffic.
AdLock is an effective tool in a war for the internet free of ads. Adlock is the best pop up blocker for Android as it doesn't just remove online commercials but expands your battery life. If you have doubts, deactivate it for one day and see the difference. So, if you want to remove ads from entertaining websites like Reddit or YouTube, ad blocker for Android, AdLock, is your choice. Check out our free trial and download it from here or subscribe on our newsletters and get 30 days for free.