AdLock for Android – Download the Best Ad Blocker for Android Phone to Remove Ads & Pop-ups
AdLock for Android
A distinctive standalone ad blocker for Android devices. AdLock removes ads from browsers, games, and other apps while providing first-class privacy security. No hackery ROOT operations — download, install, have fun using ad-free Internet while saving on data traffic!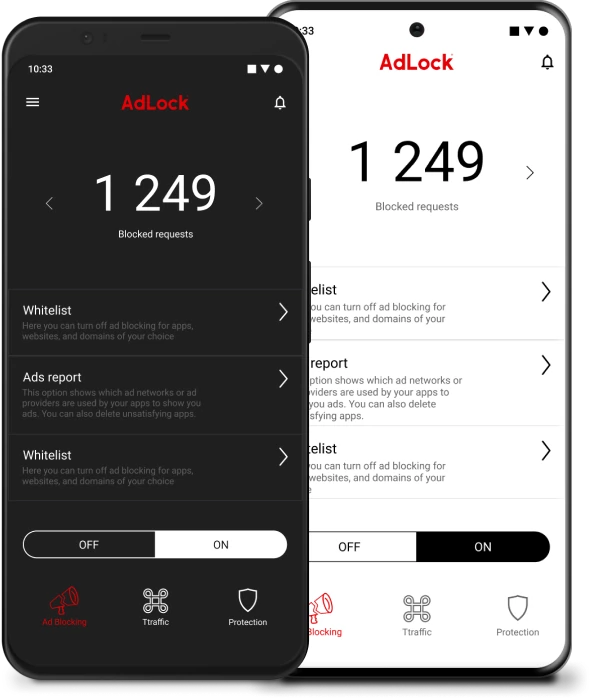 AdLock — the most functional ad blocker for Android phones

Cut off pop-ups, banners, and autoplay
Get the smoothest experience using favorite apps, games, and browsers without being interrupted by annoying flashing ads. Our systemwide adblocker for Android will show you how clean and neat the net can be without commercial content scattered here and there.

Secure your personal data
Protecting sensitive data is our company's primary concern. AdLock blocks all types of online tracking and surveillance scripts, phishing attempts, and all suspicious external requests. Please note that we don't collect, store, or sell any customers' data.

Disable malware-infected ads
We value safety and security. AdLock for Android offers a top-notch anti-malware defending module that unveils and disables sneaky threats lurking on the Web. As soon as you set up our application, your device is safe and protected from bugs, spyware, malware, etc.

Save mobile data
You'll never exceed data limits again. Take control of data consumption by apps, block ads in a snap. Download the APK file, install our app, enjoy pure content, and track the saved GBs of the Internet traffic on the home screen of the best ad blocker for Android — AdLock.

Extend battery life
Cutting off tons of ads, our adblocker reduces background data usage taking a toll on phone batteries. Simply put, AdLock disables the loading of autoplay videos, banners, tiles, and other bells and whistles which means apps and browsers consume less battery power.

Works without ROOT
No hassling with complex and time-consuming rooting operations, no hackery or third-party crutches laying your device open to various threats. AdLock is a full-fledged standalone adblocker application working perfectly fine without the need for root access.
Stylish adblocking beast
The absolute ad slaying unit and privacy protector will not only knock socks off you with its performance but will also be a visual treat. Get AdLock for your Android and experience its power!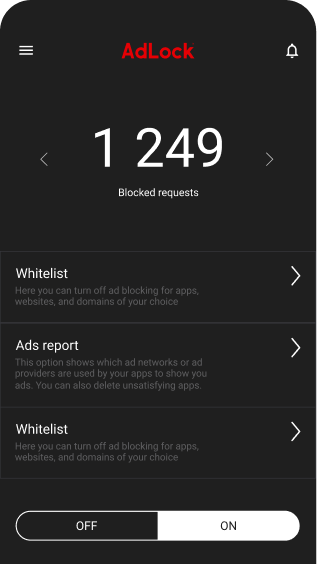 Users reviews
⭐️⭐️⭐️⭐️⭐️
Finally, I've found the best adblocker for android apps!
⭐️⭐️⭐️⭐️⭐️
Had some problems setting up the app, contacted the customer support service. Manager Oleksii handled my help request in a matter of minutes, I really appreciate the quick response. Completely satisfied with Adlock.
⭐️⭐️⭐️⭐️⭐️
I wish I could find something as good as your app to block ads on android tv
⭐️⭐️⭐️⭐️⭐️
It's been a year since I bought the AdLock license for my whole family. It does a great job removing ads on every platform we use. I highly recommend it!
FAQ
How to install and set up AdLock on my Android phone?
AdLock for Android devices is not available on the Play Store. Download ad blocker APK for Android from our website and then proceed with the installation. The whole installation and setting up procedure is accompanied by tips and hints, so you shouldn't make anything wrong. Make sure you've looked through our detailed User Guide as it contains additional info and answers to commonly asked questions.
Does AdLock block ads on native YouTube?
As of today, there is no single app adblocker for Android capable of blocking commercials inside the native YT application. Why? That's because the application has shut down code countering any type of intrusion. But hang on, AdLock ad remover offers a convenient way of watching YouTube without annoying adverts:
You may watch favorite videos via browser, where we clean up every single ad;
Use our custom media player designed and optimized to bring maximum comfort watching YT.
To use our player, you should press the "Share" button under the video you'd like to watch (on the native YouTube app) and choose AdLock from the list. Voila!
AdLock doesn't block ads on a website/app, what should I do?
We have friendly and professional customer support managers who will be glad to assist you 24/7. If something goes wrong, feel free to contact us at support@adlock.com. But first, please, be sure you've looked through the User Guide for Android users. In the majority of cases, AdLock users find solutions to their problems there.
Why paid-for AdLock over free extensions?
Most ad blockers for Android devices are regular extensions for browsers. Such solutions are neutered and can't block all types of ads. AdLock is the best ad blocking software for Android on the net as it operates systemwide. It blocks all known types of commercials — banners, pop-ups, video adverts, etc. in all browsers and applications you use. The cherry on top — AdLock provides reliable data protection. A price of a cup of coffee for a multi-tool? Give me two!
Why is AdLock not available to get from Google Play?
We are an independent company not involved in any commercial partnerships concerning advertisement. We block all ads on the Internet by operating on the network level, with no exceptions. Official stores don't support this approach as they have a peculiar attitude to ad blocking.
How to check the version of AdLock for Android
You can check the version of AdLock for Android by following the steps below:
Launch AdLock;
Tap the menu icon (three-line icon) at the top right (or top left) of the screen;
Tap "About AdLock".