How to Block Annoying Royal Match Ads Once and For All
Sick of obnoxious ads in Royal Match?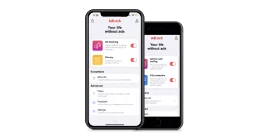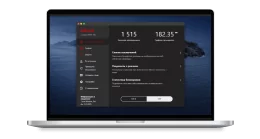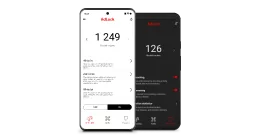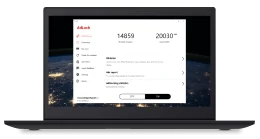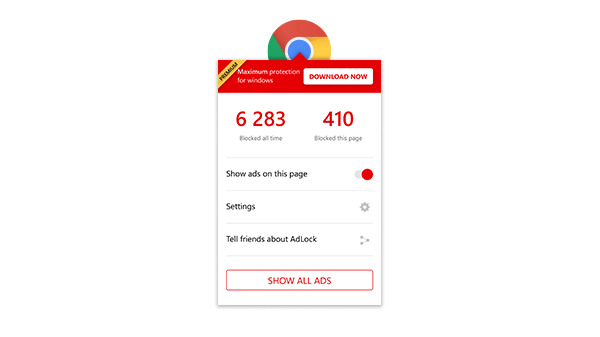 Try AdLock for free on your Windows device
Try AdLock free of charge on your Windows laptop or computer.
Royal Match is a three-in-a-row puzzle game that's taking the gaming world by storm. The game's colorful design is like eye candy, instantly drawing players in. It's a perfect blend of puzzle-solving and visual delight, making it appealing to both casual gamers and those seeking a bit more challenge.
But the real kicker is the monetization model of Royal Match. No ads are allowed. Rather than bombarding players with commercials, the game offers in-game purchases that enhance the experience without being intrusive.
However, not everything in Royal Match's popularity story is all rainbows and unicorns. Many players have noted the ongoing ads from Royal Match popping up in other apps and games. While Royal Match's in-game approach to monetization is commendable, the aggressive promotion through advertisements in other places is causing frustration.
Does Royal Match Have Ads?
As mentioned above, there are no ads within the Royal Match game. Either that is a bitter irony or a compensation for its inappropriate behavior in other apps, but it is what it is.
Why does Royal Match don't have ads?
The ads, especially the unfortunate placements of ads, can affect user retention in a game. Users may accidentally click on a banner located right under their thumbs, download an advertised game by coincidence, or get tired of repetitive, unskippable video ads. All that leads to hate-deleting of the game. Plus, advertising requires establishing a strict age rating to avoid inappropriate third-party content, which can limit the overall audience. Considering the Royal Match's promotion model, they want no less than a whole world, so losing any bits of the audience is unacceptable.
How does Royal Match make money without ads?
Royal Match is a free-to-play game that offers in-app purchases for real money to buy virtual items and coins to proceed faster.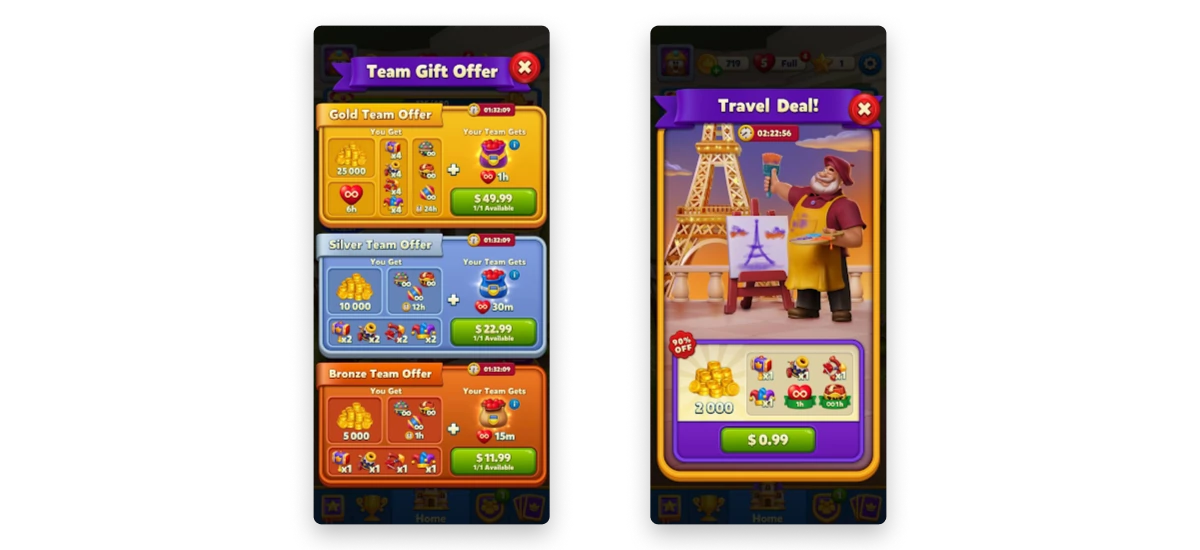 Plus, the game's Google Play page smells fishy as it says Royal Match may share info about your device with other companies for advertising purposes.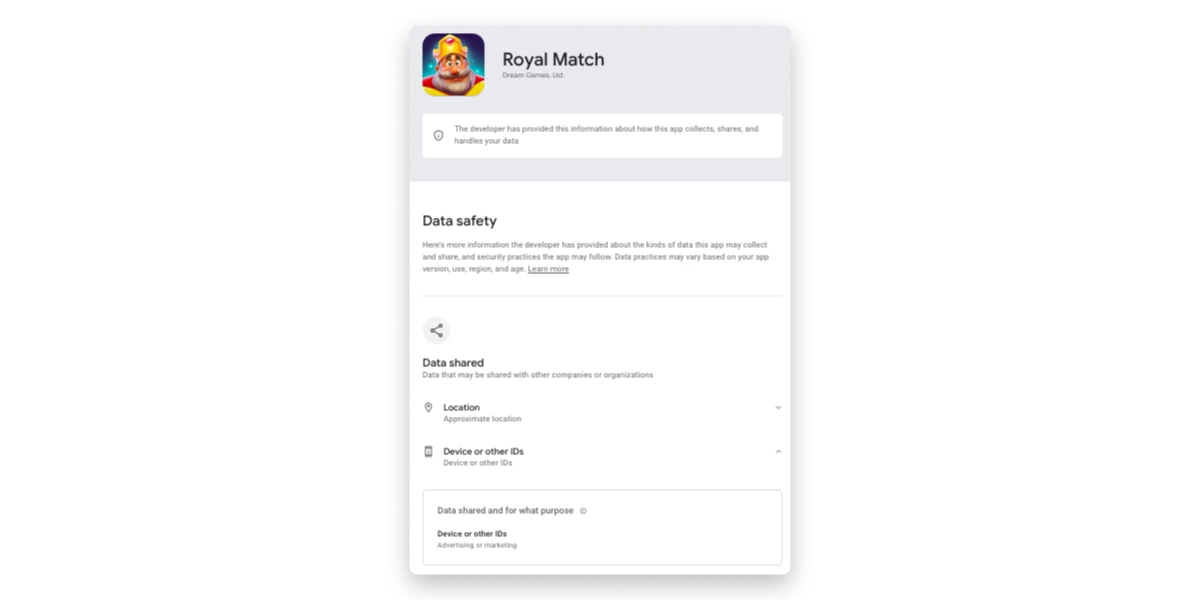 How to Block Royal Match Ads in Other Apps?
Finally, some good news! You can eliminate annoying Royal Match ads in any game and application that displays them. There are three ways to do it successfully:
Enable flight/airplane mode. This method turns off internet connection and ads in all your apps altogether. This free method is excellent, but only for a short period, as you'll have to retrieve an internet connection sooner or later to dive into a fascinating world of work emails. Plus, this method will be useless in some games and apps that require a web connection to work.
Purchase an ad-free option within the app. Many ad-supported games/apps offer an ad-free option by subscription or for a one-time payment. While taking a risk with a single purchase is justifiable, stacking another monthly fee for a single app on top of other subscriptions is questionable.
Get a system-wide ad blocker. One app will block Royal Match ads and other types of promotions in most applications and save you a headache. Now, let's take a closer look at this method.
With a light heart, we can recommend you AdLock. That's a system-wide solution to combat bothersome ads not just on websites, but also in apps and games. Our aim was simplicity. Installation on your Android or iOS device, activation, and a few-step setup are all it takes.
How to get rid of Royal Match ads on iPhone or iPad:
Download and install AdLock for iOS.
Go to Settings, find and tap Safari.
Tap Extensions and toggle on all AdLock toggles.
Launch AdLock, and activate the Ad-free web surfing toggle for ad-block. Wait for filters to download.
Opt for a $12 yearly or $3.49 monthly Premium plan after tapping the toggle. Yeah-yeah-yeah, I remember my words about stacking subscriptions, but in this case, one subscription works for dozens of apps. And you can enjoy a 7-day trial and money-back if dissatisfied.
How to stop Royal Match ads on Android:
Download and install AdLock for Android.
Launch AdLock, tap the hamburger menu, and select Settings.
Check for Updates, tap UPDATE.
Head to the AdLock tab, and hit the red INSTALL CERTIFICATE button for HTTPS filtering.
Confirm your identity through fingerprint, graphic key, or password.
Open the hamburger menu, choose Buy now, and select a plan.
AdLock effectively blocks ads in games from most developers, but if it falters, we assure a refund. To determine if AdLock suits a specific app's ad-blocking needs, contact us via support@adlock.com.
Do the Royal Match Ads Match the Gameplay?
Mostly, no. Royal Match is a classic match-3 game. And those funny-looking Royal Match game ads with a king in distress represent occasional mini-games. Once in a while, you get an invitation to play 'King's Nightmare,' offering to complete the challenge for a certain number of moves or a certain amount of time to save the king in his sleep. If successful, you get a 50-coin bonus. You don't get stars for the completion of a mini-game.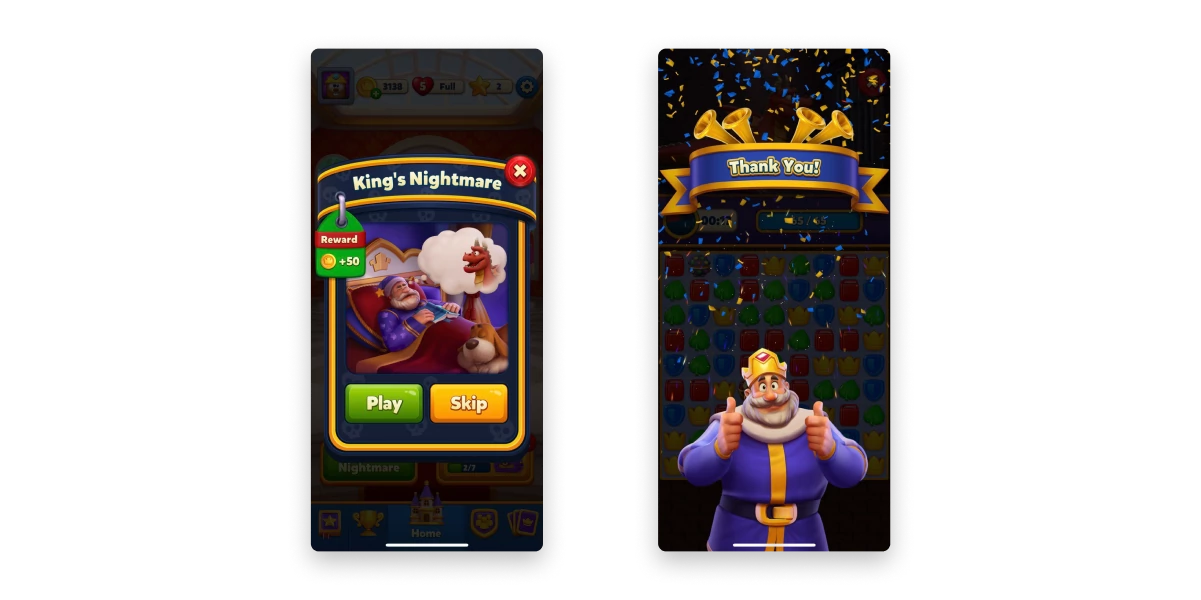 However, these mini-games still differ from ads as the connection between tile-matching and danger is less direct. An animation of the king in trouble is displayed on top, while a distinct timed board is positioned underneath. This contrasts with ads where tiles might interact with a lever or similar mechanism. So, maybe the main reason we all want to know how to block Royal Match ads is frustration due to false advertising.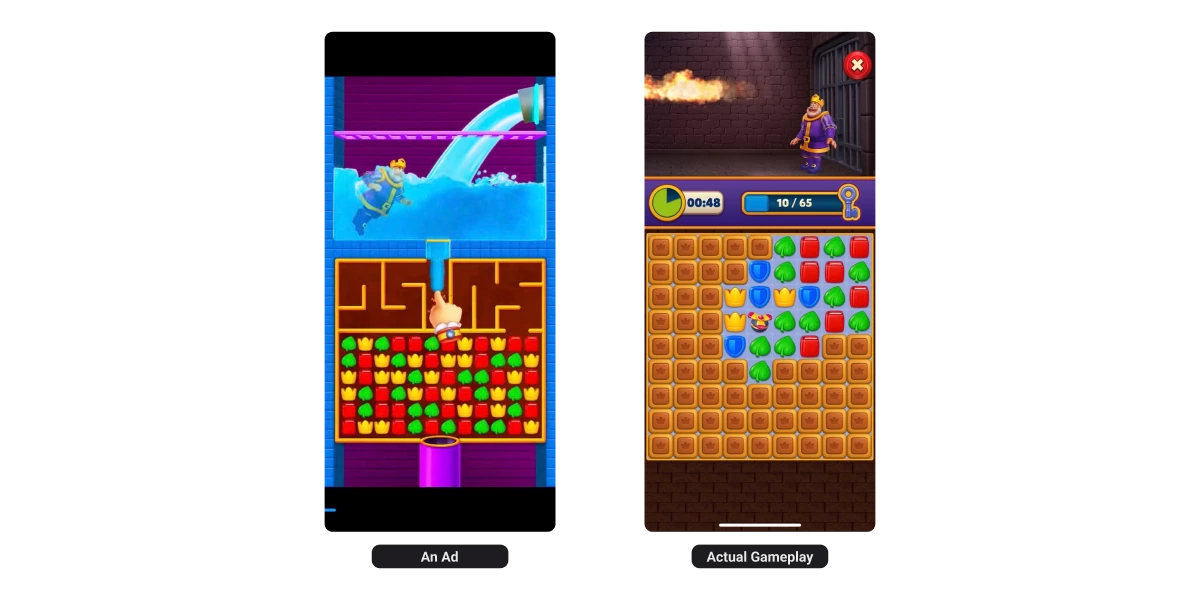 Is the Royal Match Safe for Children?
Royal Match seems all good for kids with its colorful puzzles, flashy graphics, and manageable levels. But here's the thing – as you move up to the trickier stages, there's a twist in the tale. Now, don't get me wrong, the game is thoroughly kid-friendly in terms of content. However, when you hit those more challenging levels, you might find yourself stuck, and that's when the game offers you some sweet in-game goodies for a few bucks.
And guess what? This is where the real deal kicks in. You're on the edge, wanting to beat the level, and those game bonuses are just a tap away from your credit card. And who's sweating bullets? Parents. They're giving that side-eye to the game because they know their kids could accidentally spend real money without even realizing it.
Royal Match is fun, no doubt. But those sneaky purchases could throw a curveball. Parents might need to closely watch those game settings to ensure their kiddos aren't accidentally draining their allowance on game bonuses.
Bonus Tip: If your child somehow managed to spend actual money on virtual stuff, you can cancel their purchase via the game's support:
Launch Royal Match, tap the cog icon at the top-right corner of the game's screen, tap Support, and tap Contact Us at the right-top corner to address your issue.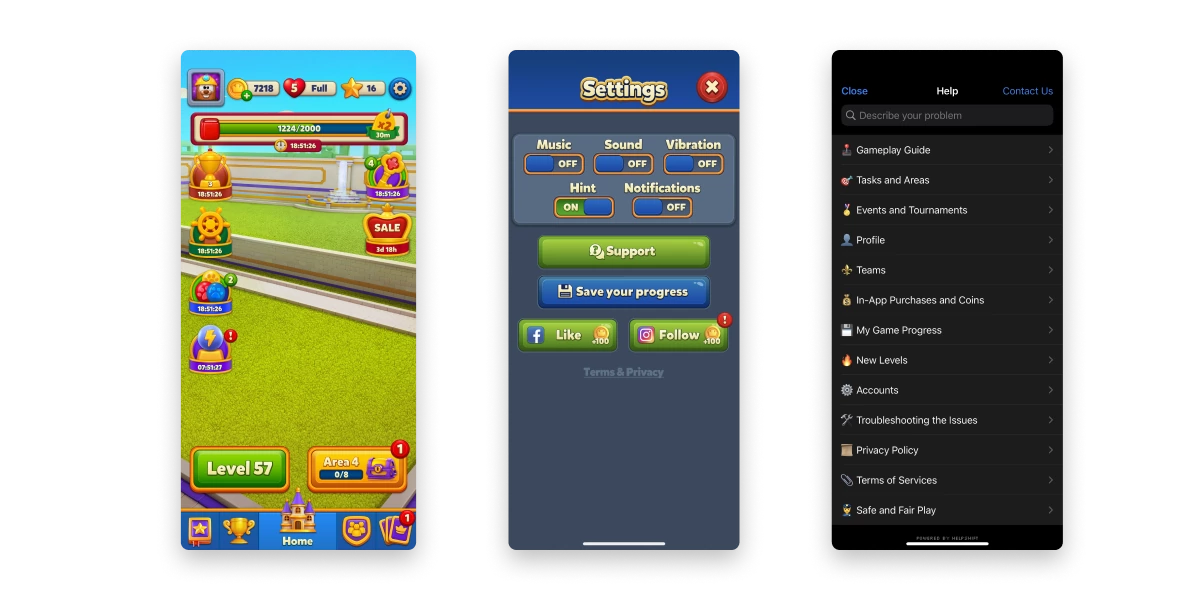 Conclusion
Royal Match ads are so annoying they can turn off even from your favorite game. Who has the time to sit through the excruciating 30 seconds of a video ad and then be forced to check the gameplay? All that without a foreseeable possibility to skip the unwanted experience. But once you open the game itself, it seems so user-friendly, like it never made you suffer in other applications.
And while we can do nothing with Royal Match's advertising choices, we can decide whether to tolerate them.
Sick of obnoxious ads in Royal Match?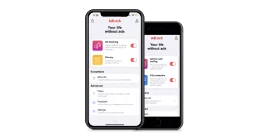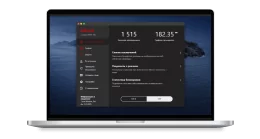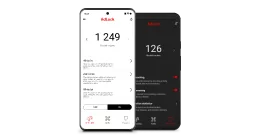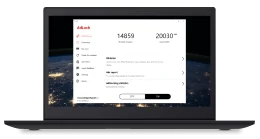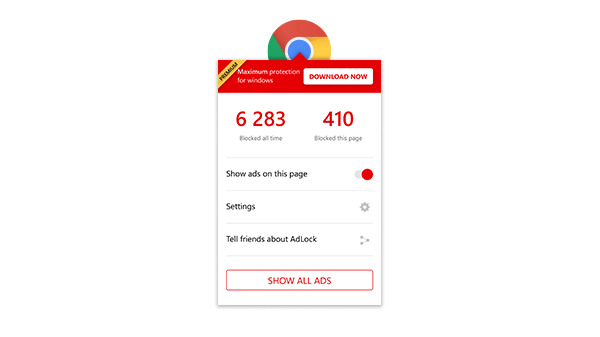 Try AdLock for free on your Windows device
Try AdLock free of charge on your Windows laptop or computer.
Do you like this post? Share it!