How to Block YouTube Ads on iPhone, iOS & iPad
Have you ever thought that blocking ads on YouTube is next to impossible? There are reasons for that. YouTube ads have become the primary 'content' of the website, and the problem with commercials is no joke. Let me guess: you are an iPhone user searching for the best ad blocker for the YouTube app on iPhone, if any, correct?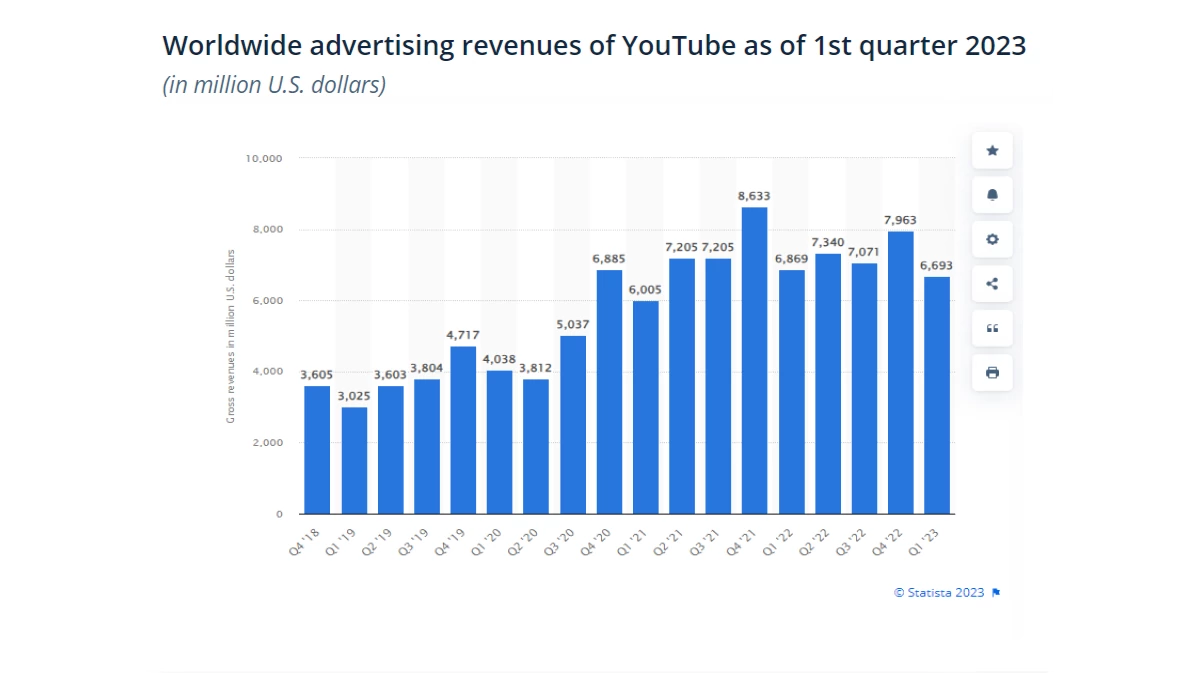 When was the last time you turned on a regular TV station? Don't worry if it takes a while to think about it – you're not alone. Along with you, almost two billion people across the planet are watching YouTube daily instead. Online streaming is so much better than traditional broadcasting: you get to choose what and when to watch, and you don't have to pay for it.
Wait, of course, we are paying by watching numerous ads all the time! Nowadays, this isn't any different from traditional TV. Moreover, ads are served with each YouTube video. Since those are short, it is not always clear whether we watch more actual content or just the ads. Often ads are unskippable, and if you plan on watching a long video, you need to block YouTube ads on your iPhone, or ads will come in the middle of the show. Buying the newest and most expensive Apple model doesn't help either.
Perhaps that's why you stumbled upon this article. Fortunately, we know a few ways to block YouTube ads on both your iPad and iPhone. We've compiled a comprehensive list of workarounds and even considered using a YouTube ad blocker on your iPhone. But which method is the most effective? Let's delve into the topic and find out!
YouTube is not the only source of irritating commercials – they come from browsers, system apps, games, etc. If you want to know if there's a way to block all ads on iPhone once and for all, we've got you.
Pick the Best Youtube Ad Blocker for iPhone
The easiest way to block ads is to get a YouTube ad blocker on the iPhone app. With just a few clicks, you can install and configure it to effectively block all unwanted iPhone ads. There are lots of modern and slick ad blockers on the market. We chose the best five ones in our opinion and put them in the comparison table for you to pick which one suits you best.
Ad Blocker
Features
Platforms
Price
AdLock
✅ Works across all apps and browsers on your device;
✅ Comprehensive ad-blocking protection across multiple apps and platforms;
✅ Customizable filter for fine-tuning ad-blocking preferences;
✅ Malware protection
◾ iOS
◾ Android
◾ Windows
◾ macOS
◾ Chrome
◾ Safari
◾ Firefox
◾ Edge
◾ Opera
Free for web browser adblocking
or
From $3.5/mo for app adblocking
Adblock Plus
✅ Easy to install and use;
✅ Customization options like whitelisting certain websites;
❌ Member of the Acceptable Ads program
◾ iOS
◾ Android
◾ Chrome
◾ Safari
◾ Firefox
◾ Edge
◾ Opera
Free
Wipr
✅ Fast and lightweight ad blocker;
✅ Blocks ads and trackers in Safari
◾ iOS
◾ macOS
From $1.99/mo
BlockBear
✅ Privacy-focused features for added
privacy and security;
✅ Blocks ads and trackers in Safari
◾ iOS
Free
NextDNS
✅ Offers a wide range of customization options;
✅ Blocks ads, trackers, malicious websites, and other unwanted content;
✅ Offers encrypted DNS for added privacy and security;
❌Stores logs
◾ Android
◾ iOS
◾ Windows
◾ macOS
◾ Linux
◾ChromeOS
◾ Browsers
◾ Routers
Free plan;
$1.99/mo

I bet you want to know which software you can use as an ad blocker for the YouTube app on iPhone. You will learn this very soon. Keep reading.
5
Types of YouTube Ads on iPhone in 2023
Before we eliminate them, let's at least learn their faces. YouTube has various types of ads that have been developing and evolving over the years. From banner advertisements to transitional videos and pre/mid/post-rolls. And while banners are still being used, video ads are the most popular type of YouTube commercial. If you dislike specific kinds of ads, we have an interesting article that can help. Follow the link to get info on how to block specific ads on YouTube.
Now let us consider the types of ads that bane our favorite video streaming platform right now:
Skippable video ads


You see them in every single video. Usually, such a video ad lasts up to half a minute, but you can skip it after watching for 5 seconds. It can occur before, during, and after the video.



source: support.google.com

Non-skippable video ads


This kind of ad lasts over 15 seconds without an option to skip it. In particular, it affects users who don't log into their Google Accounts.



source: support.google.com

Midroll ads


You usually encounter such ads with long YouTube videos. They come within the show (typically after 10 minutes) and cannot be skipped.

Bumper ads
These are the shortest video commercials deployed by YouTube. Although you cannot skip them either, bumper ads would only last for 6 seconds before the show continues.
Content-embedded ads


Ads of this type are served not by YouTube but by YouTubers. They come integrated into the video, so you can't do much more than manually scroll through the timeline
There is no way to get rid of the content-embedded ads (besides abandoning your favorite channels, maybe), but all other commercials can be blocked. How? The answer lies in the amount of investment you are ready to make and your tech skills. And now, we will consider all the methods.
Advertisement issue is quite common for all platforms and there are different ways of addressing it. If you also want to find out ways to block YouTube ads on Android, then you definitely should read our article and get insight!
Get Rid of Ads with a Premium YouTube Account

The easiest solution, as always, is the most expensive: $11,99 a month will buy you a YouTube Premium subscription. This paid monthly plan lets you enjoy all YouTube content completely ad-free. It has other benefits, too:
Offline mode for watching pre-downloaded video clips (e.g., on the plane);
Background mode for listening to music when the screen is off;
Unlimited access to Google Music content and the app;
Exclusive shows and series from YouTube Originals;
It works within one account for iOS, Mac, PC, and even TV.
Sounds good to you? Then check if you are eligible for a free one-month trial and the discounted subscription plans (Family or Student). YouTube Premium is an option worth considering if you are using the service often, not just for watching videos but also for enjoying music through your fancy AirPods. What to do if you have Youtube Premium but still have ads? We have an ultimate guide on how to fix this.
How to Block Ads in YouTube App on iPhone
A premium subscription is an obvious way of getting rid of ads. Paying the monthly fees for using Premium is a personal choice for everyone. But what about adblockers? Can they clean up the native YouTube app?
Although all tools in the comparison table are sufficient, there is no ad blocker for the YouTube app on iOS. YouTube developers did everything they could to make ad blocking within the app impossible. None of the well-known ad blockers on the market can yet clean up the YouTube app. Nevertheless, some of them provide alternative tools for adless YouTube leisure. Therefore, if you don't want to search for alternative solutions and watch the native YouTube app instead, a premium subscription is the only reliable way to remove the ads from the YouTube iOS app.
We've got several tips for those interested in alternative ways of watching favorite content creators on YouTube without ads on iOS. Let's see what you can do.
Use a Secure Browser like Avast
Luckily, other ways exist to remove YouTube ads without paying that much. Using a secure independent browser won't surprise some, while others would raise eyebrows. Today, there are a good dozen diverse choices out there, but we should consider only trusted and reliable units on the market. As noted in one of our articles, the big five secure browsers provide excellent privacy protection, a built-in VPN, ad blocking, etc.
Here is just a numbered list for convenience, not "from best to worst" or vice versa.
Brave Browser;
Avast Browser;
Tor;
DuckDuckGo;
Onion.
To admit, every single choice from the list provides its unique features. For instance, Brave has an integrated crypto rewards system (you earn tokens for web surfing), DuckDuckGo unblocks websites restricted in separate regions/countries, etc. On top of data protection, these browsers block spammy ads that annoy users daily.
Below are the features of Avast, as it's stated: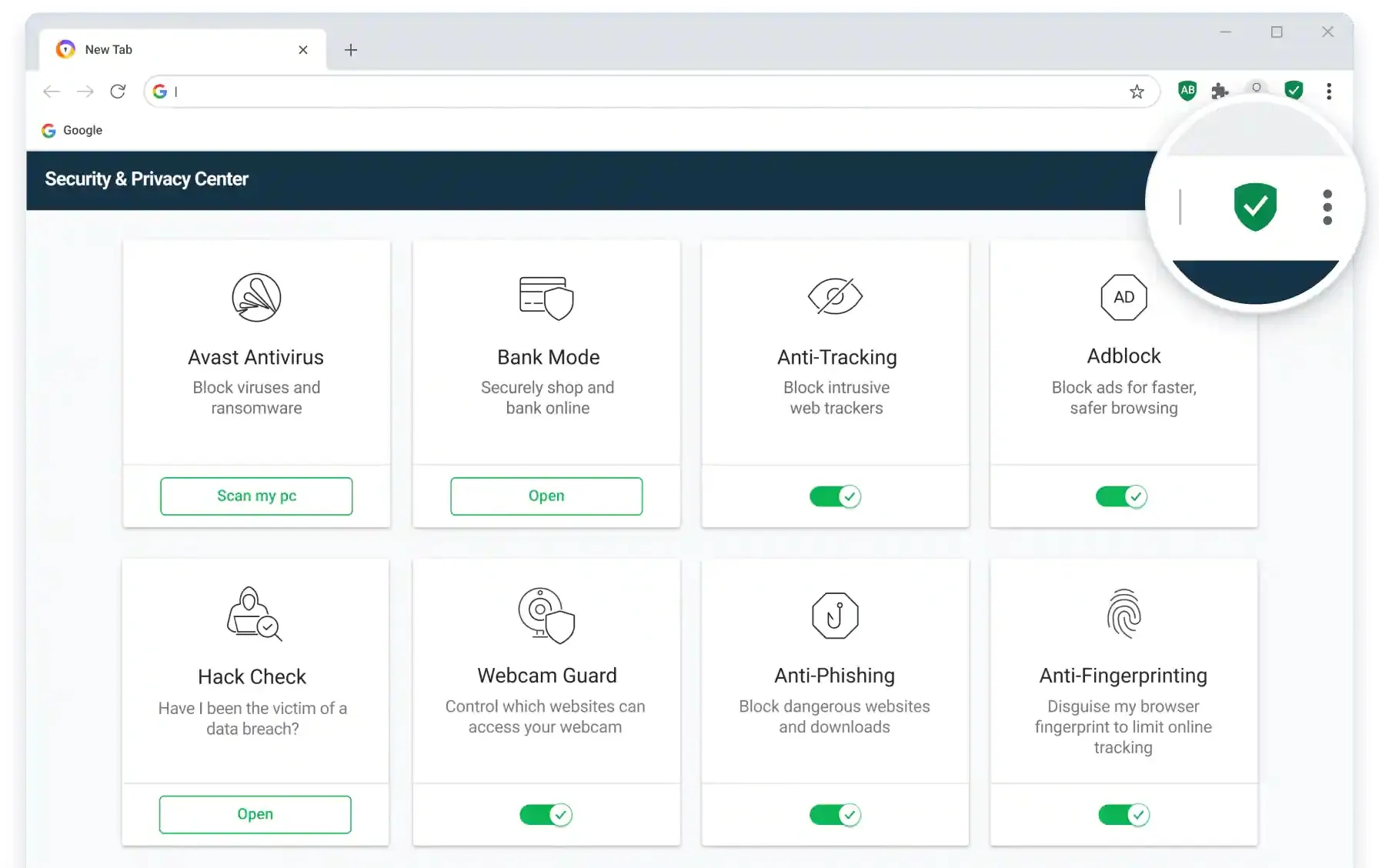 So, at the end of the day, why shouldn't you pick an alternative to your browser if it provides features like that?
How to Block YouTube Ads on iPhone in Safari
The newest iPhone and iPad models come out of the box fully equipped with the software. This includes the web browser, Safari, which also got a Block Pop-ups feature. Block Pop-ups functionality is limited to preventing malicious and untrustworthy ad scripts from downloading when surfing the Web. It can be helpful in some specific scenarios but, unfortunately, not for watching YouTube. Video commercials on the platform are legitimate, which makes them a part of the Block Pop-ups whitelist.
Luckily, a handful of third-party ad-blocking apps on AppStore can help you with this. Such ad blockers are designed to remove any commercials from the web page, as instructed by a user, regardless of the ad type and origin. Once installed on an iOS device, an ad blocker has to be added to the list of Safari Content Blockers to be activated. To block YouTube ads on iPad and iPhone Safari, follow these simple steps:
Open your device

Settings

and select

Safari

;

Scroll down and switch

Block Pop-ups

on;

Tap

Extensions

and find the app you've just installed;

Use the toggle to switch this blocker on;

Restart your device and launch Safari again.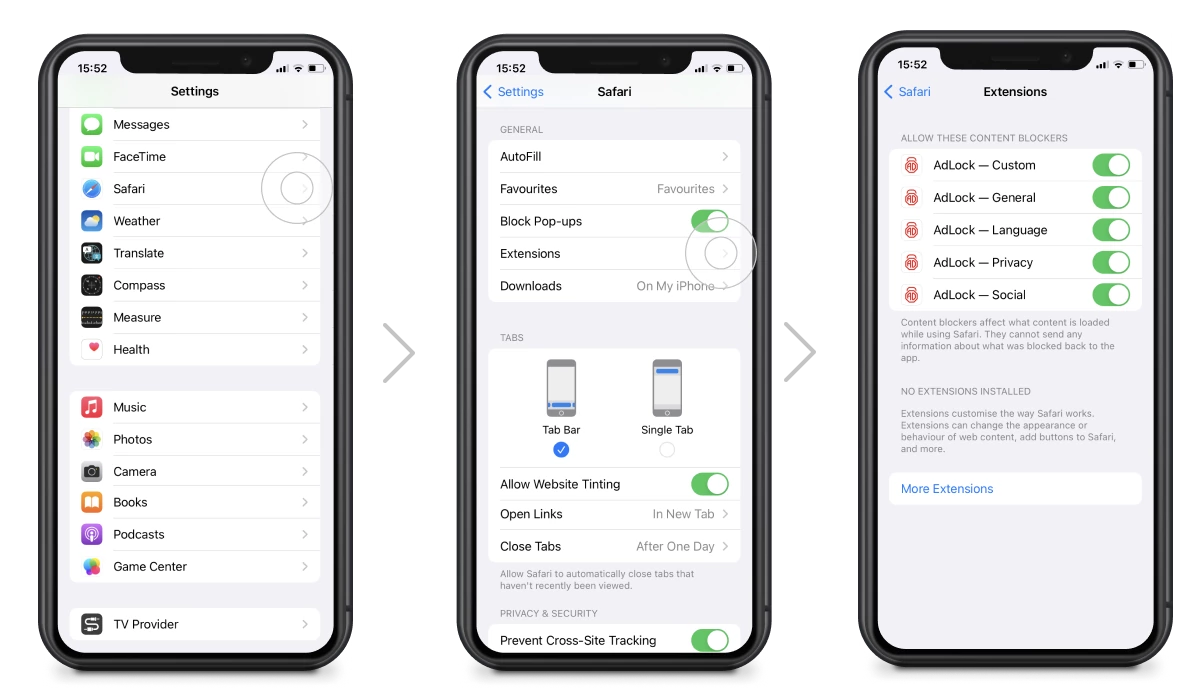 The variety of ad-blocking software on AppStore can be confusing, as these apps look way too similar. Not all of them are equally efficient, though. If you are looking for an app that combines reliability, simplicity, and $0 price, AdLock is a perfect choice.
How to Stop YouTube Ads on iPhone with AdLock
AdLock is simply the best YouTube ad blocker for iPhone and iPad because of the very nature of its technology. Unlike Safari Block Pop-ups or other third-party content blockers, it comes without any pre-filled whitelist of "good" ads. AdLock blocks all types of YouTube commercials right after activating in the Safari settings. Instead of certain ads, you might see a pure white screen with a Skip button. However, the video normally goes without interruptions when using AdLock. It's as easy as that!
Not just YouTube ads, but all online ads and pop-ups can be blocked with AdLock filters. Imagine how great mobile web browsing can be without the nagging banners and annoying commercials, and add to this other AdLock advantages, such as:
Protection of your confidentiality online;
Security system against malware and spyware;
Huge list of Safari-specific filters;
No need for "jailbreaking" your device;
Complete freedom of adjustment.
And, by the way, a promotion allows you to purchase a single AdLock license for 5 devices with a massive discount. With this, you can count on reliable ad blocking not only on your mobile but also on Mac, PC, and Android. From the iPhones and iPads to any Android-driven smartphone or tablet — no YouTube ads in sight!
Here's the kicker!
We've just released a significant update to our AdLock for iOS, so users now get the possibility of watching adless YouTube videos in 2 novel ways — by engaging a special script developed and adjusted by our development team, or via the AdLock player. Now, how do you do that?
1. Beat all YouTube commercials via AdLock script:
Launch Safari;
Go to youtube.com;
Tap the "Share" button;
Choose "AdLock".
2. Use our custom YouTube player — a unique solution that combines simplicity, convenience, and a bunch of features:
Launch the native YouTube app;
Choose the video to watch;
Tap "Share" under the video;
Then tap "AdLock".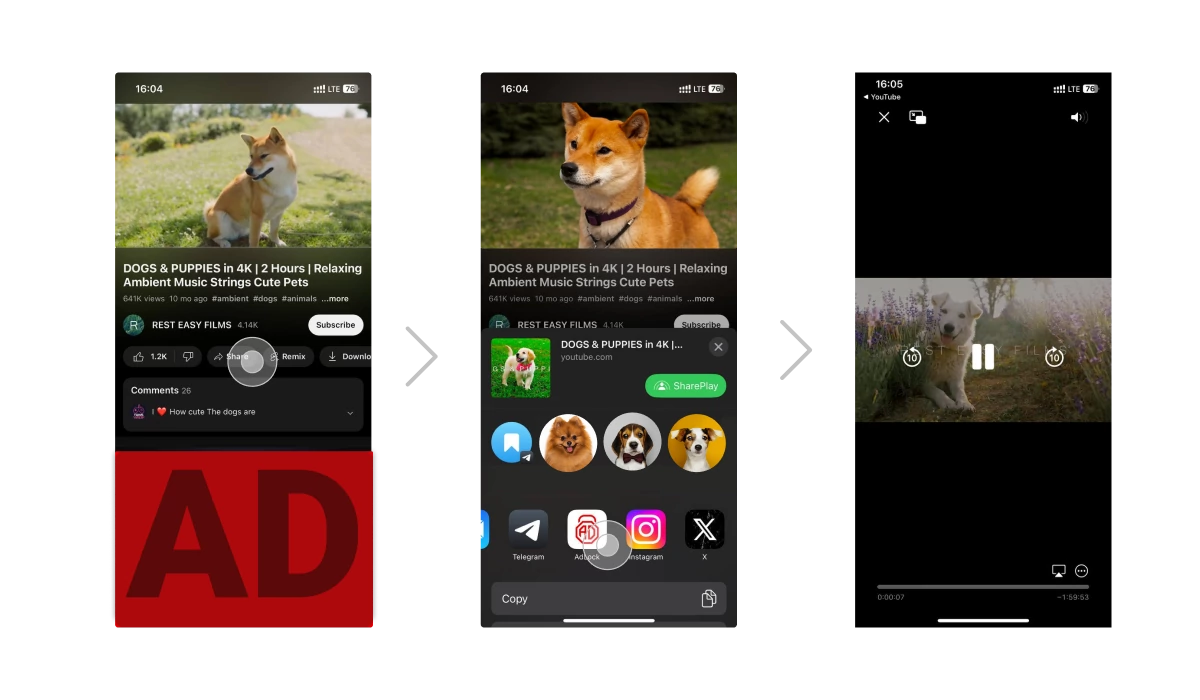 Additional Methods for Blocking YouTube Ads on iPhone
Taking to account that intrusive advertisement is a big issue, it is not surprising that users search for the most diverse tools and workarounds. Some of them are easy, others are more complex. Pursuing the desired adless YouTube, tech people have developed software solutions. Among those are Pi-hole, skipper extensions, alternative players, and whatnot. Here, in this section of the article, we are considering the most popular additional methods for blocking youtube ads on iOS.
Skip Ads Automatically on YouTube with App
Yet another way of reducing the ad content you see on YouTube is an application that automatically triggers the "Skip" button. Several software development companies offer their ad skippers, so that you might have seen names like "Cygery AdSkip", "Ad Skipper on YouTube", etc.
Any ad skipper presented on the market is a macro script that, when tracing the advert, launches the sequence of actions that virtually click the button "Skip ad" w/o any manual actions by the user.
We must admit, there's no need to hassle around and crack your device's OS since a simple macro script doesn't need access to the code. The downside of such applications is that you will still have breaks in YouTube videos as there's a gap between the commercial launch and the "Skip" button appearing.
Download Youtube Videos on iPhone
The simplest way to watch YouTube videos without commercials is to download them to your storage. Why? It's because you download the initial video file without the dynamically embedded commercial content.
Downloading videos come in handy when traveling to locations with no or poor Internet. Personally, I think that there's no good reason to use a phone as a source of entertainment when traveling, but all bread is not baked in one oven. In any case, you have the possibility to download dozens of videos from YouTube before you set off on a journey.
So, how do you download YouTube videos on iPhone/iPad?
Download the Documents by Readdle application;
Tap the compass icon to launch the browser;
Go to www.videosolo.com/online-video-downloader/;
Copy the link of the YouTube video you need and paste it into the text box;
Press "Download";
Choose the output format and quality of the video to download, and press "Download" next to it;
Name the file and choose the destination folder;
Go to the "Documents" app home screen and open the "Downloads" folder;
Select the video file you want to save to your hard drive and tap the "⋮" on it;
Tap "Share" and then "Save Video".
That's it. If you want to know how to download YouTube videos on Macs or Android devices, go ahead and check out this article.
Extra Solutions That Block YouTube Ads on iPhone
Among other options, you may jailbreak your smartphone (we strongly don't recommend that) and install other third-party apps that allow you to watch youtube without ads on your iPhone. Often by jailbreaking your device, you also expose sensitive spots. That, in turn, gives cybercrooks the possibility of stealing sensitive data and accessing files and folders on your brand-new iPhone. So if you actively google for "youtube adblock ios 15″," you should get a trusted and reliable ad blocker like AdLock and forget about ads and trackers forever.
Conclusion
It's time to total all the pluses (and minuses, ofc) of all tools and methods in our article. You now know how to watch YouTube without ads on iPhone using different approaches and tools. If you don't care about adding another premium to the stack, buy YouTube premium. Skippers and secure browsers are the best free solutions, with their downsides. And while you're still hesitating, people worldwide have already chosen AdLock as it is unrivaled. Just imagine one application that works on a dozen apps and extensions. Get our product today, and you'll fall in love!
FAQ
Is it possible to completely get rid of YouTube ads on iPhone?
You can get rid of YouTube ads on iOS by using a reliable adblocker and any browser of your choice. Content blockers provided by AdLock, for instance, utilize over 300,000 rules which remove all annoying ads on YouTube.
Does YouTube ad blocking fail after iOS update on iPhone?
iOS may disable content blockers on Safari after updating. First of all, try enabling it again in the settings. If that doesn't work, try checking for updates on your adblocker app. Since firmware updates may conflict with some of the older algorithms, adblocker developers try their best to keep services and apps relevant.
Is it possible to block YouTube ads with built-in iOS settings?
There's no magic checkbox in iOS settings that would disable YouTube ads. At max, you may disable pop-ups on your browser, but not on native YouTube app. You may report ads to see less of them for a short period of time but they will return. They always return.
Is there a free adblocker for YouTube app on iPhone?
There are free ad blockers for youtube on ios, of course. Free adblockers generate revenue by showing "acceptable" ads to the users. If it doesn't, you should ask yourself how can developers survive. If the free adblocker is not involved in the "acceptable ads program" then most likely it gathers and sells data. Additionally, free adblockers are limited in functionality and not super effective.
Is it possible to make auto skip YouTube ads on iPhone?
As we already mentioned, there are ligtweight solutions for YouTube – ad skippers. AdLock has one, and it's completely free. Basically, it's a simple script that presses the "Skip ad" button when it appears instead of you. This means it's not an ad blocker for YouTube on iPhone but just your personal "Skip ad" tapper 🙂
Is it possible to get a YouTube ad blocker for iPhone 14?
Of course, it's possible to get a YouTube ad blocker for iPhone 14, including 14 Pro & Pro Max. All ad blockers we covered in this article work with the latest iPhone model. And AdLock specifically works on iPhones starting from the 6S model.
Do you like this post? Share it!
Do you like this post? Share it!