Ads wouldn't be such a problem if marketers didn't knock themselves out to make their promotions noticeable. As result internet users like you and me are highly irritated with obnoxious flash banners, full-page ads, yelling autoplaying videos and all sorts of pop-ups. Luckily we are not obligated to watch those mediocre advertisements we can block them in literally few steps. From this article, you will learn how to block ads on Firefox adjusting its setting and using AdLock.
How to Block Ads in Firefox on Desktop Using AdLock
You can get rid of all ads in your desktop Firefox in three simple steps:
Download AdLock
Follow this link to download AdLock for Windows.
Install AdLock
AdLock will take over the operation and suggest you the perfect folder for installation.
Open and adjust AdLock
The very moment you open AdLock it will start to block advertising. Though, you can adjust it to meet your needs. For example, if you're willing to see ads on a particular website, you can add its URL to AdLock Domains exclusions. Open an AdLocker tab in the application, click on Add domain name and type a URL in this format: www.example.com. Since then AdLock will disable ads on every site except that one.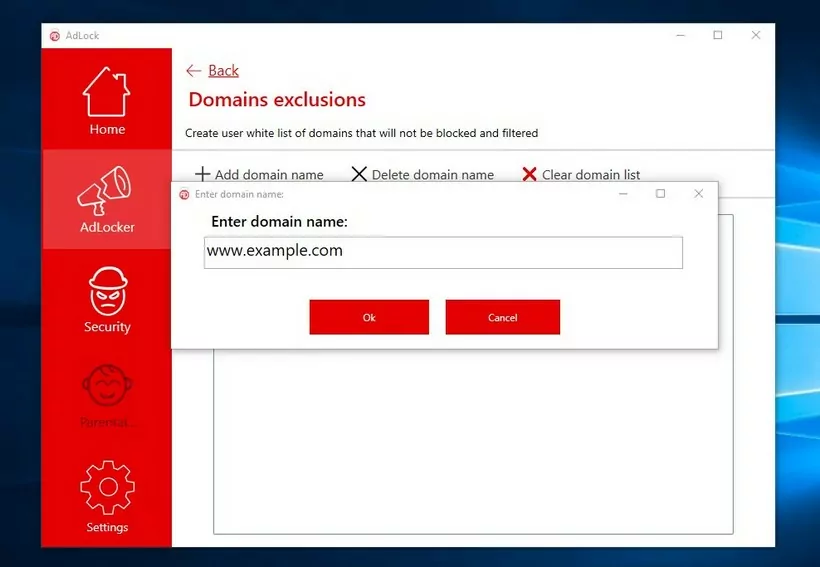 How to Disable Ads in Firefox on Android With AdLock
We hope you have already installed AdLock but if not, go to this link and follow three simple steps of installation. Now it's time to adjust AdLock's settings for Firefox Browser.
If you watch YouTube videos on your phone then you know the struggle of constant skipping ads. Especially if your hands are wet or greasy. Now it's finally possible to
remove YouTube ads on Android
. We can offer you at least two working solutions.
Check for updates
Open an application, tap on the three dots on the top right corner and choose Check updates. In a new menu tap on UPDATE ALL.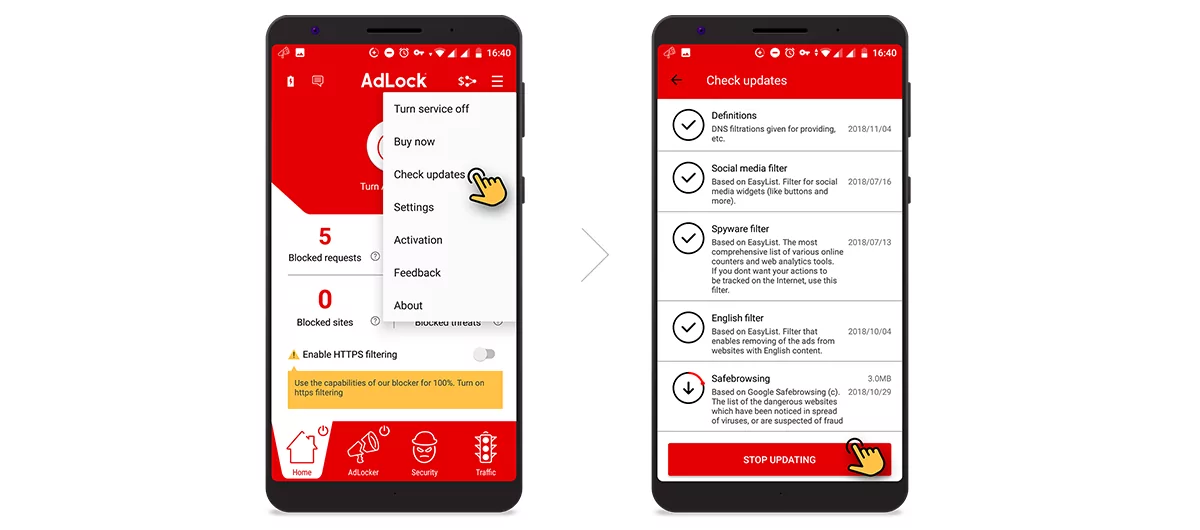 Enable HTTPS filtering
Switch to the AdLocker tab and enable HTTPS filtering. In a pop-up window tap OK. Then you will be asked to set a drawing pattern to verify your identity for future actions. Draw a pattern you surely will remember.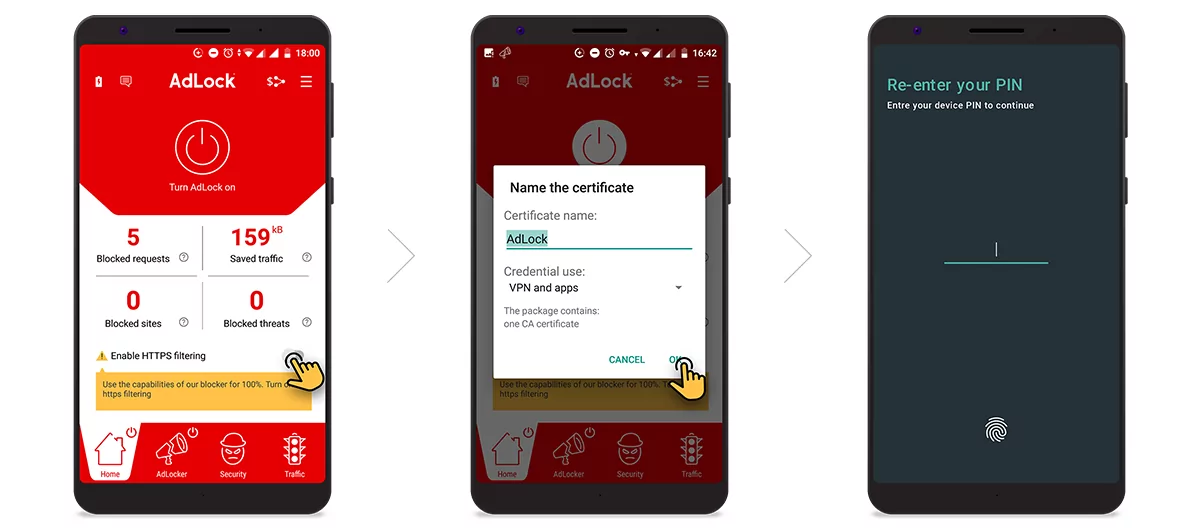 Go to Filtering
Then go back to the main screen, tap on three dots and choose Settings. In a new menu tap on Filtering.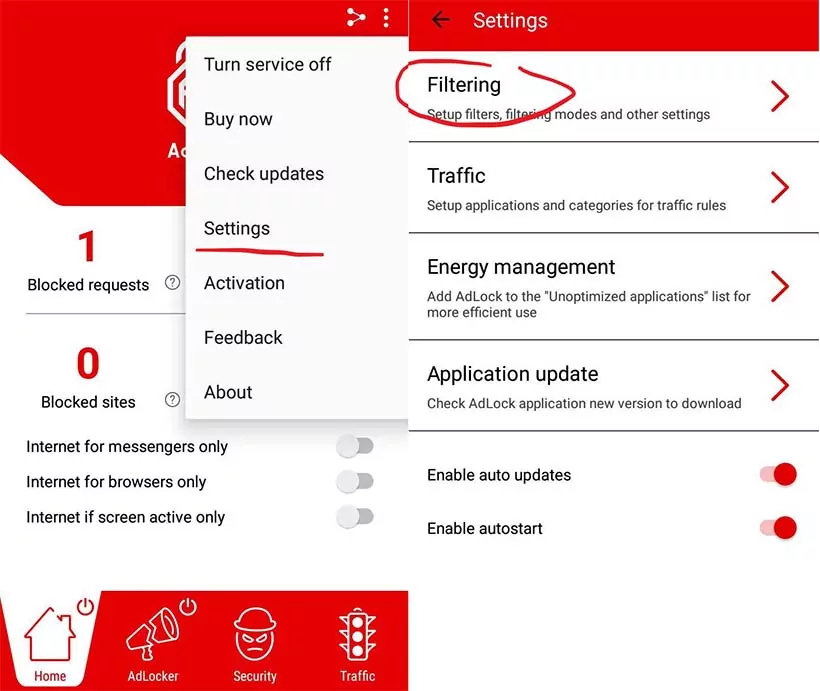 Install Firefox certificate
Firefox checks its local certificate storage, and we need to install there AdLock's certificate in order to filter ads on HTTPS websites. In a new menu tap on Firefox certificate. You will be automatically redirected to a webpage to download an AdLock certificate. In a dialogue box Download file? choose Save. You will be asked to verify your identity, draw a pattern you set in a step 2.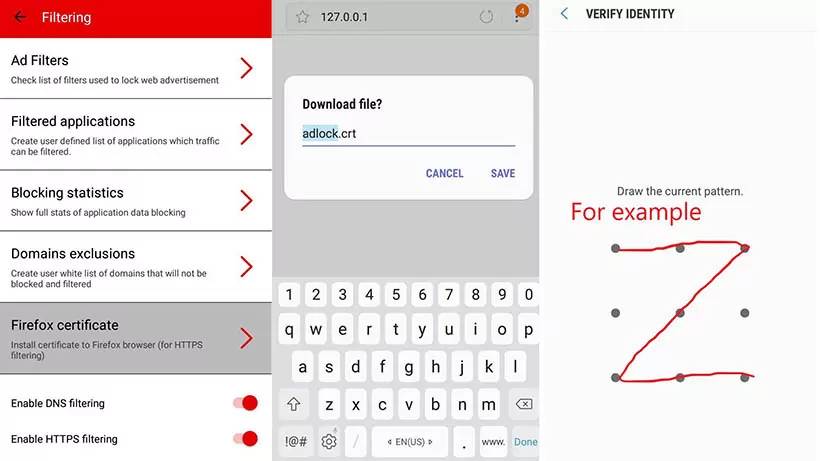 That's it. From this moment AdLock will block adverts on Firefox for Android.

How to Block Pop-Ups on Firefox by Adjusting Your Browser Settings
Mozilla Firefox has its own inbuilt Tracking Protection. Tracking is the collection of data regarding a particular user's activity across multiple websites or applications that aren't owned by the data collector, and the retention, use or sharing of that data. Which means Firefox's Tracking Protection blocks page elements that track your activity and save that information to a database. As a side effect it can stop pop ups on Firefox.
Opera browser also has a built-in ad-blocking tool. You can enable it in the settings of your browser and learn
how to block ads on Opera
using it.
How to enable Firefox Tracking Protection
Click on the three stripes button Open menu and choose Options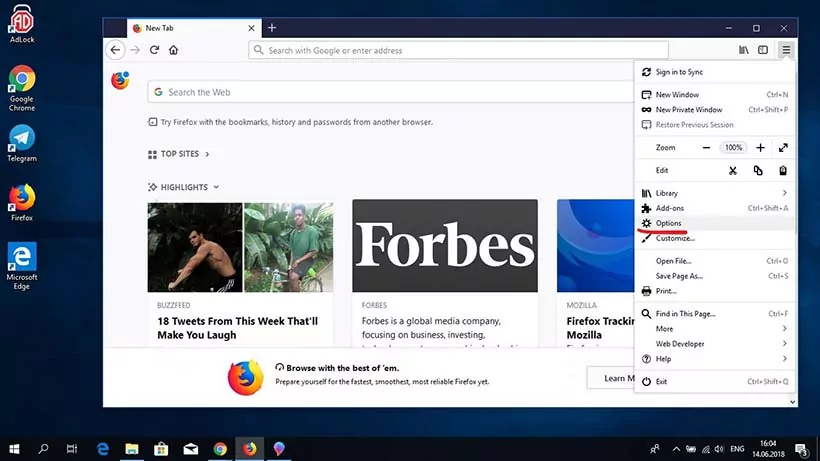 In a new window click on Privacy And Security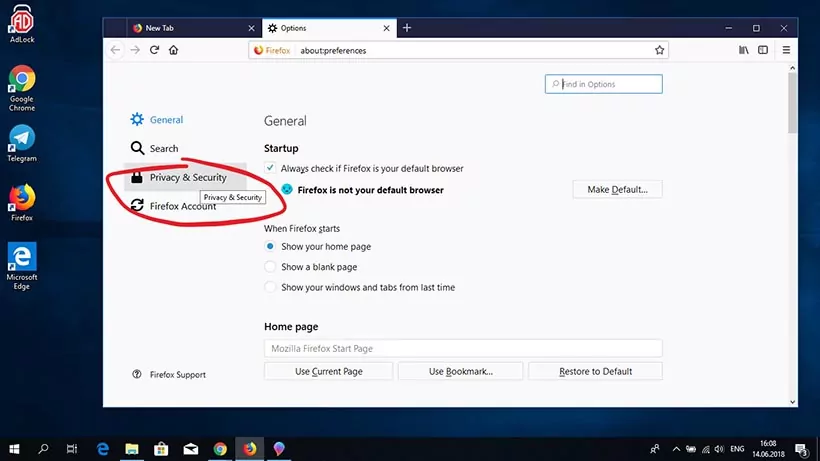 Scroll down until you find Tracking Protection option. Click on Always to enable Tracking Protection on every website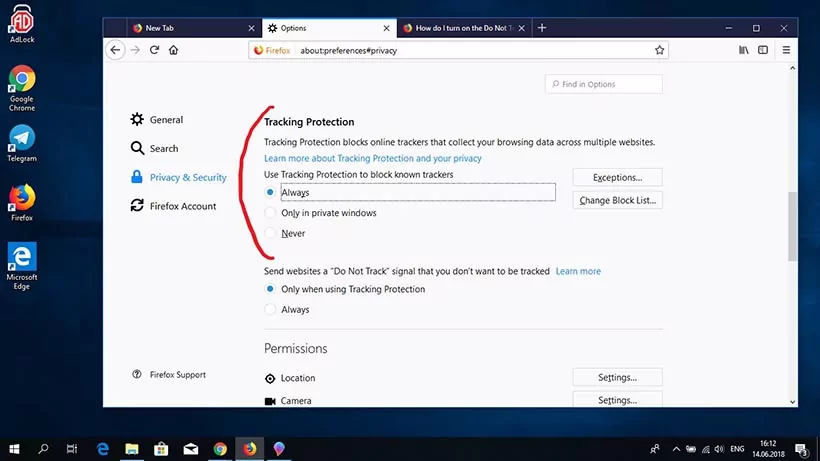 You can set a whitelist of websites on which you allow tracking. Tracking Protection significantly reduces websites' profit from advertising so if you're loyal to a particular website you can add it to the list of exceptions (see step 4).
Go to a website on which you want to allow tracking. Click on a tiny shield next to the website's URL. In a drop-down window click on Disable protection for this site.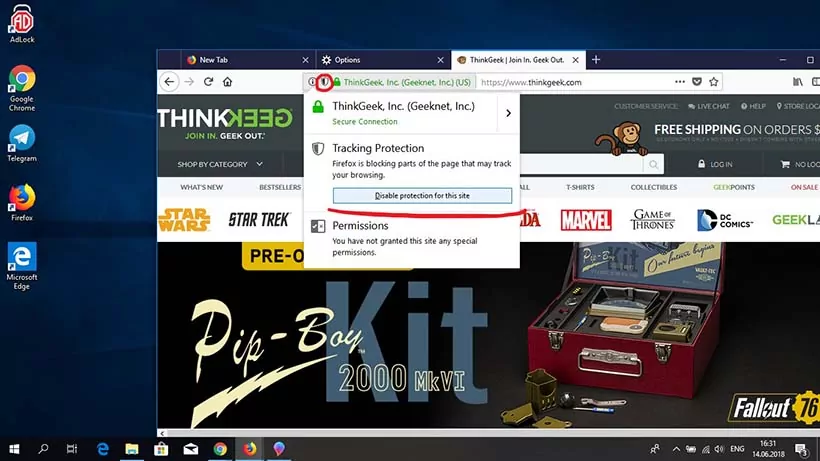 You'll see that a shield is now struck through with a red line, and the website's URL will appear in the Exceptions.
Do Not Track – you can send a signal to websites telling you don't want to be tracked.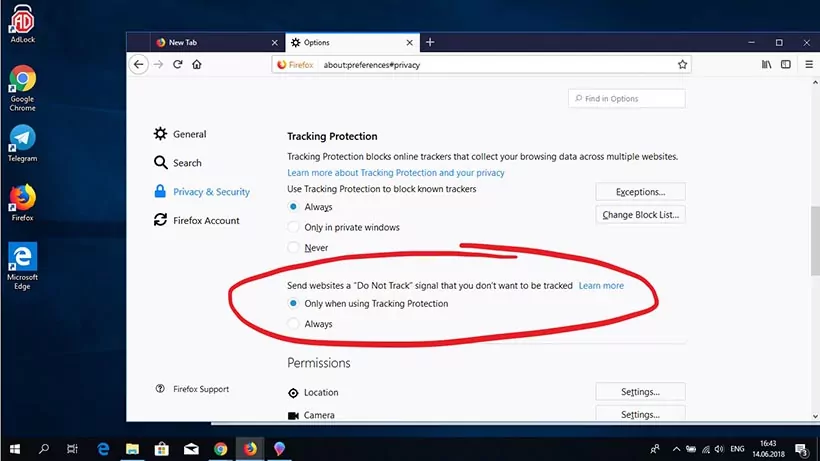 Though this option does not oblige websites to stop tracking. Honoring this setting is solely voluntary.
So from now, I won't see ads on Firefox Browser?
Though Firefox Tracking Protection works better than a Google Chrome's inbuilt ad blocker, it still doesn't block all ads. For example, it blocks autoplaying videos on online players but leaves pop-up windows. On some websites, Protection ruins the way they are displayed. For example, if Tracking Protection is enabled on Buzzfeed, it leaves holes where banners were supposed to be and also hides a comments section.
Well, a Tracking Protection is supposed to stop tracking not to stop adverts on Firefox. If you want an ad blocker, use something designed for that purpose, like AdLock.