How to Block Ads & Pop-Ups on Opera Browser & Opera GX
There's an opt-out button removing adverts on Opera
Before answering how to block ads in Opera, we must answer what Opera is. When it comes to web browsers, Opera is quite the chameleon, offering various versions to suit different tastes. One of its standout features is the built-in ad blocker, which is all about keeping those annoying ads and pop-ups at bay. In this article, we'll take a closer look at how ad blocking works in different Opera versions and what issues it might experience. And if it fails you, AdLock can always substitute as an ad blocker for Opera just fine.
Contents
Built-in Opera Ad Blocker & Third Party Ad Blockers
Since we've mentioned it, let's talk about Opera's built-in ad blocker. As the name suggests, this feature is built right into the browser. Opera comes with a default ad blocker that doesn't require installation or special tuning. The ad blocker is simple to turn on/off, but if you struggle to find it, please scroll this article down to the paragraph How to Block Pop-Ups on Opera Through Browser Settings.
I bet you're interested in whether the built-in feature is better than a third-party adblock for Opera. Let's consider this point.
Is Opera's built-in adblocker better than ad-blocking apps?
Well, to be fair, Opera's ad blocker is good enough. It blocks a significant number of annoying ads, including pop-ups, auto-playing commercials, scroll-over, full-page ads, etc. It uses fewer resources since it's already in the browser and has Cryptocurrency Mining Protection. However, there are three issues with Opera's native ad blocker: two major issues and one minor yet suspicious.
A minor issue is that the pop-up blocker for Opera has a default whitelist. You can find websites where Opera's ad blocker won't block ads by default on Manage exceptions. By default, there are four websites in my list of exceptions: google.com (of course), facebook.com, baidu.com, and duckduckgo.com. Of course, you can manage this list yourself, but there is a sneaking suspicion that Opera's ad blocker will dismiss Google's ads in the future.
The first central issue is that a built-in ad blocker sometimes breaks the scripts of websites. It occasionally disables essential functionalities of websites like Outlook.com, Digitally Imported (DI.FM), Turkish Airlines, and even Google Maps.
The second issue is that the built-in ad blocker blocks adverts only in Opera, sticking you to one particular browser. So, if you want to turn off all adverts on your device, use AdLock.
How to Block Pop-Ups And Ads in Opera GX
Opera GX is a gaming browser, whatever that means. It has a futuristic design with a sidebar adapted for gamers and can display any website in a dark mode. But most importantly, there is a built-in ad blocker for Opera GX, like for any other Opera browser.
This is how to block pop-ups on Opera GX on PC:
Click the cogwheel icon at the bottom of the sidebar to open Settings;
Click Basic, toggle on Block ads, and surf the web up to three times faster. Toggle on Block trackers while you are here.
Steps to block pop-ups Opera GX on Android and iOS:
Launch the Opera GX browser, tap the Opera icon at the bottom right corner, and go to Settings;
Toggle on Ad blocking, Cryptocurrency mining protection, and Block pop-ups.
Now, a pop-up blocker for Opera GX will save your browsing experience from anything malicious.
How to Block Pop-Ups on Opera Through Browser Settings
Opera is the first major browser with a fully operational inbuilt adblocker. You can switch it on in two simple steps:
Click the Menu button and choose Settings.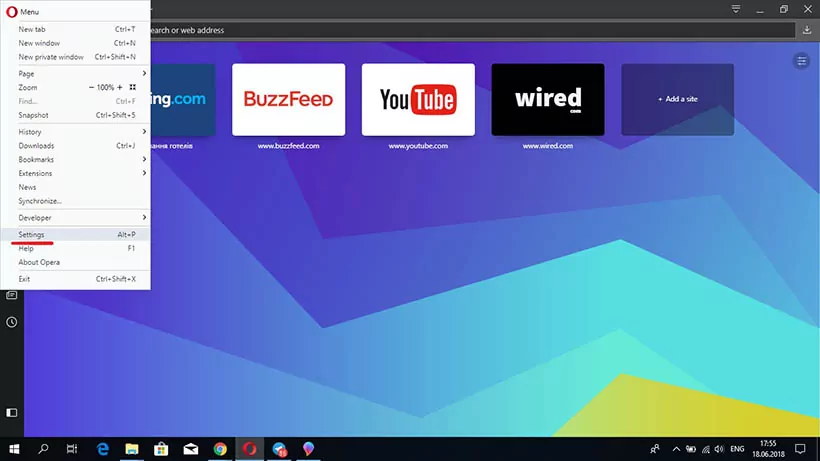 Under the Search Settings bar find Block Ads option and check Block ads and surf the web up to three times faster.
Unbearable autoplaying ads on YouTube leave no fun in using of that video-resource.
Remove YouTube ads on Android
with simple instructions from AdLock experts.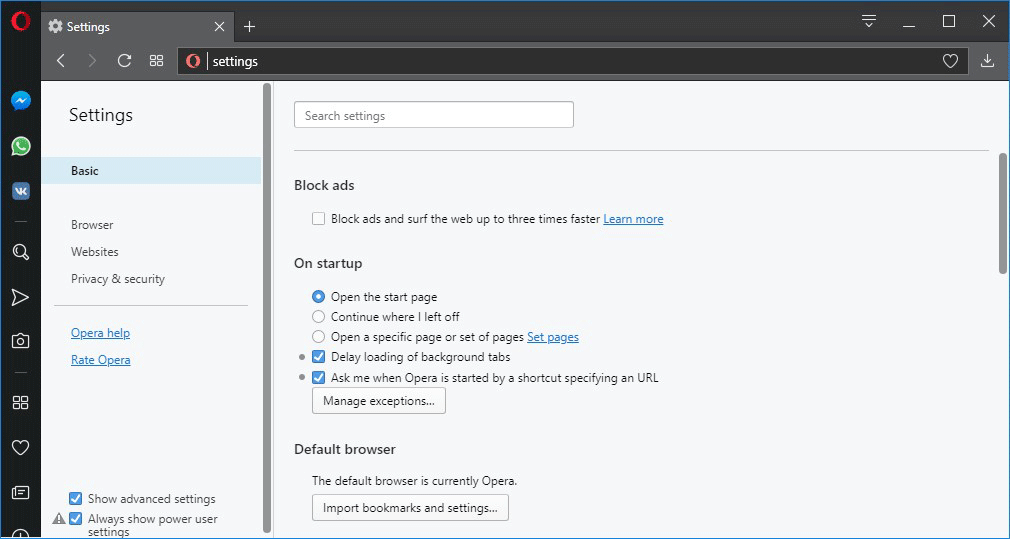 That's it! Since now pop-up blocker on Opera will remove unwanted advertising. Bet you're interested whether the built-in feature is better than a third-party adblock for Opera. Let's consider this point.
Read Also: How to Remove Ads from Outlook Inbox
How to Block Trackers in Opera

Advertisers and websites track your activity on the internet, collect data and, through processing it, deliver personalized commercial content. That's incredibly annoying to be barraged by dozens of adverts offering you "the best prices for dog whistles with Bluetooth and GPS" after one time you searched for a dog whistle to buy for your pup. Luckily, the built-in tools in Opera block ads and disable all trackers simultaneously. Opera uses the EasyPrivacy list to stop online trackers, web bugs, and data collectors. Let's reveal how to enable a tracker blocker on the Opera browser.
Make sure you have the latest Opera version with its recent patches;
Launch Opera;
Click the hamburger menu in the top right corner;
Scroll down and click the "Privacy & Security" section;
Switch the "Block trackers" toggle to "ON".
That's it.
How to Stop Cryptocurrency Mining on PC Opera
Cryptojacking it's a type of parasite attack that uses the capacity of your device to mine crypto coins that go to the intruder's wallet. In most cases, you won't know something sucks your computer's energy while you stay on a particular website. Hackers can hide a mining command in the website's HTML code or sneak a few lines of JavaScript code that will later run a mining malware in the background. The only way to determine whether your computer works for someone else's prosperity is to check the device's performance regularly. Check the following bells:
High CPU usage;

Overheating for no reason;

Battery drains quicker though its lifespan is still long;

The device works slower and noisier, with no way to fix that.
If you notice at least one indicator above, hackers might earn money at your computer's expense. The mining scripts don't steal personal data, but they shorten the life of your device.
If you want to prevent cryptocurrency mining on your PC, you should enable Opera's built-in adblocker. Back in 2018, Opera's development team made a huge update to its ad-blocking tool to prevent the expanding cryptocurrency mining scripts intrusion.
Talking of Opera for macOS, there's a similar function available. It's called "NoCoin" and can be found in "Preferences" > "Basic" > "Block ads". Just switch it on, and be safe from miners doing their dirty work.

How to Block Ads in Opera Mini
Opera Mini introduced ad-blocking features soon after the PC Opera browser applied them. This built-in tool works quite well and blocks numerous commercials across the web. Also, the ad blocker for Opera Mini is fitted with a live counter, allowing users to see how many ads it sweeps away from the current web page. Let's see how to enable Opera Mini adblocker.
Enabling Opera Mini adblocker on Android
Before you search for menu sections from the instructions below, make sure you have the latest Opera Mini version.
Tap

the "Opera" icon

on the bottom right corner of the app;

Tap the "Ad blocking" to turn it on.
* Please note that Opera Mini allows you to enable the adblocking feature during the first app launch, but if you somehow skipped it or just updated it, follow the two steps above.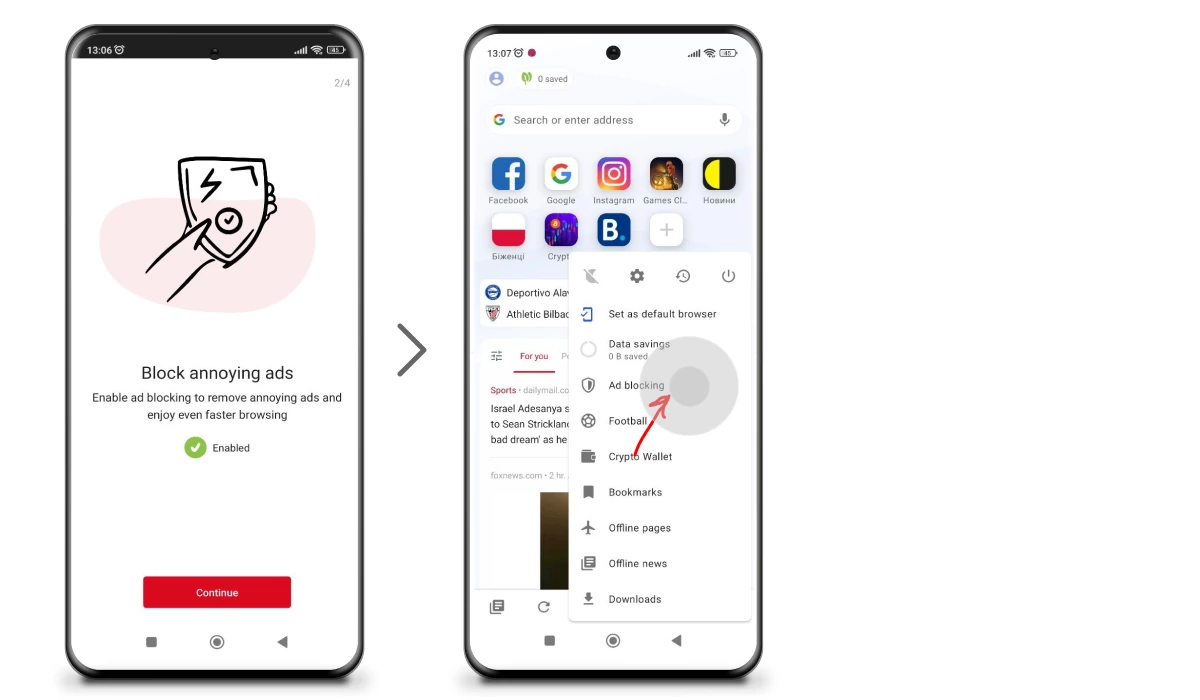 Find out why Metrozone keeps popping up and what to do with it.
Enabling Opera Mini adblocker on iPhone and iPad
Since Opera Mini for iOS-driven devices is quite the same as for Android devices, enabling its built-in adblocker is also performed through:
Tap the cogwheel icon in the main menu, proceed to

Data Savings

, and toggle on

Ad blocking

.
Read Also: How to stop pop-up ads on iPad or you may like the article Why does YouTube have double ads.
How to Block Ads in Opera on Desktop Using AdLock
You don't need an extra ad blocker extension for Opera to stop ads in Opera. All you need is to install one ad-blocking software on your computer. Of course, we're talking about AdLock. Follow these steps to start your ad-free web experience:
Google ads are the most annoying as Google patronizing various advertising platform. That's why users like you and me have to constantly search for ways on
how to stop pop-ups on Chrome
.
Download AdLock
Go to this link to download AdLock for Windows.
Install AdLock
AdLock will take over the operation and suggest the perfect folder for installation
Open and adjust AdLock
Launch AdLock to start blocking advertising. No additional steps are needed to stop ads. However, you can adjust it to meet your other requirements. For example, if you want to see ads on a particular website, you can add its URL to the AdLock Allow List. Open an Ad Blocking tab in the application, choose Allow List, click on Add Item name, and type a URL in this format: www.example.com. Since then, AdLock will disable ads on every site except that one.
Read also: How to stop pop-ups on Windows 10 bottom right corner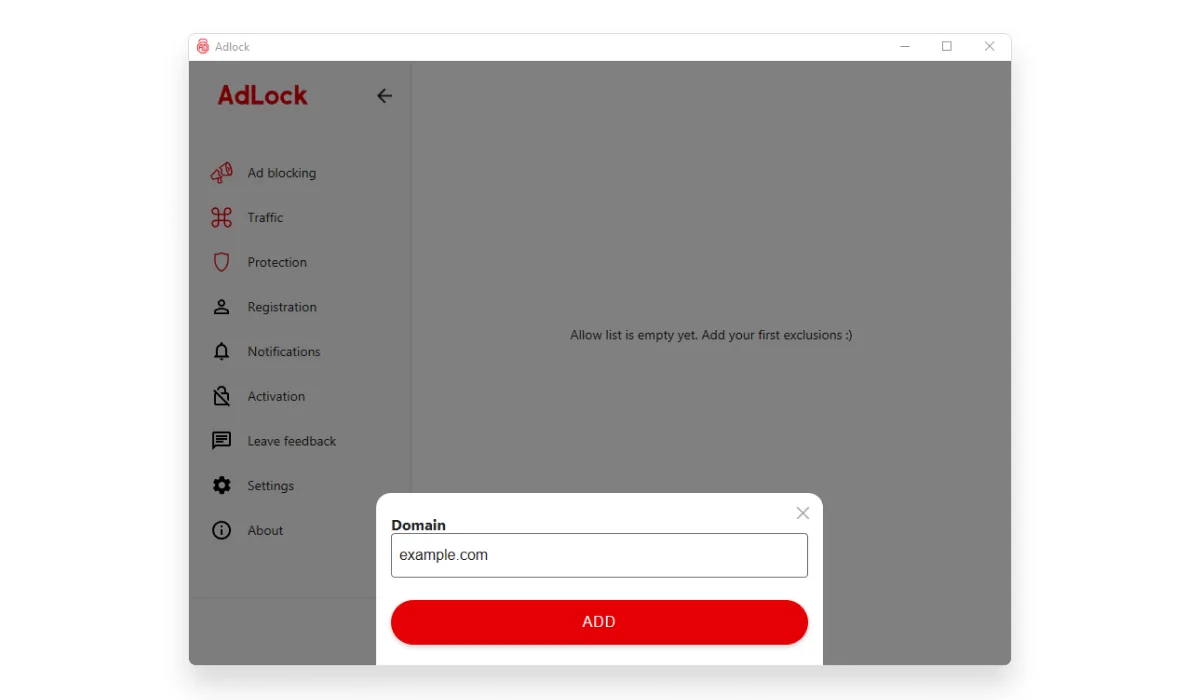 How to Disable Ads in Opera on Android With AdLock
We hope you have already installed AdLock but if not, go to this link and follow three simple steps of installation. Now it's time to learn how to block ads on Opera using AdLock.
Firefox users are lucky as they can use Firefox Tracking Protection to stop online tracking as the name implies and to stop ads in at the same time. Read a guide on
how to stop pop-ups on Firefox
to enable that option in your browser.
Check for updates
Open an application, tap the three dots in the top right corner, and choose Check updates. In a new menu tap on UPDATE ALL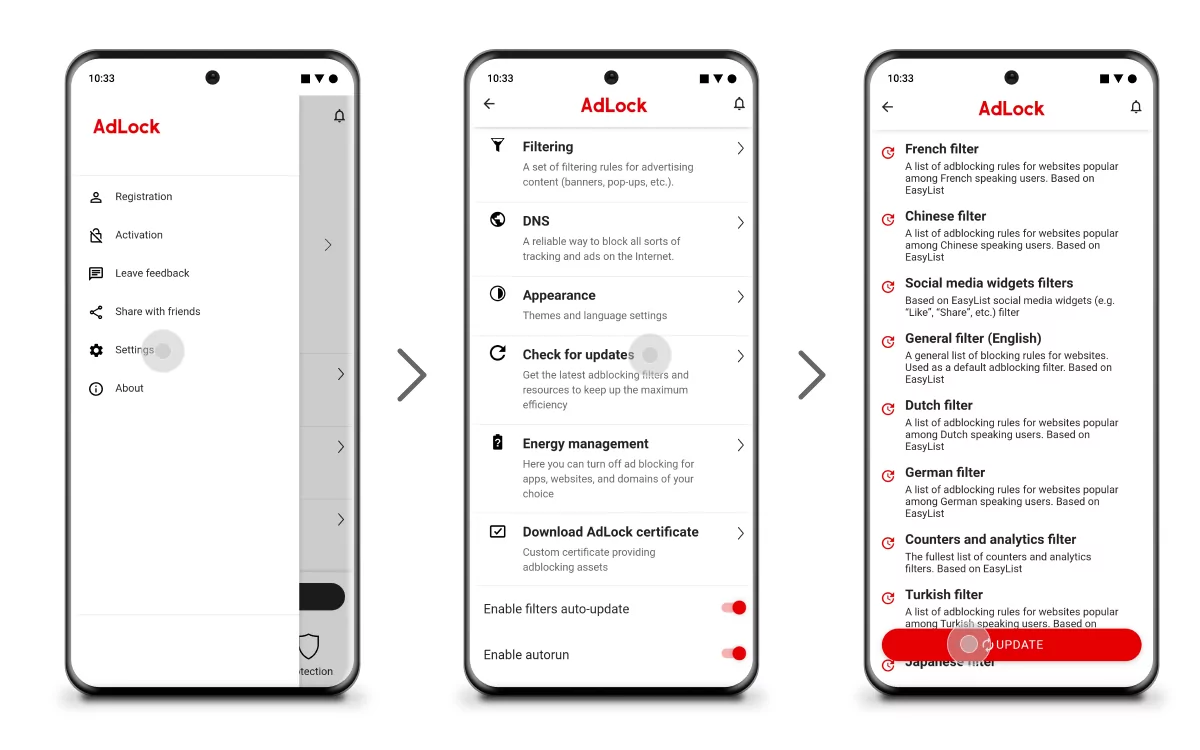 Enable HTTPS filtering
Switch to the AdLocker tab and enable HTTPS filtering. In a pop-up window tap OK. Then you will be asked to set a drawing pattern to verify your identity for future actions. Draw a pattern you surely will remember.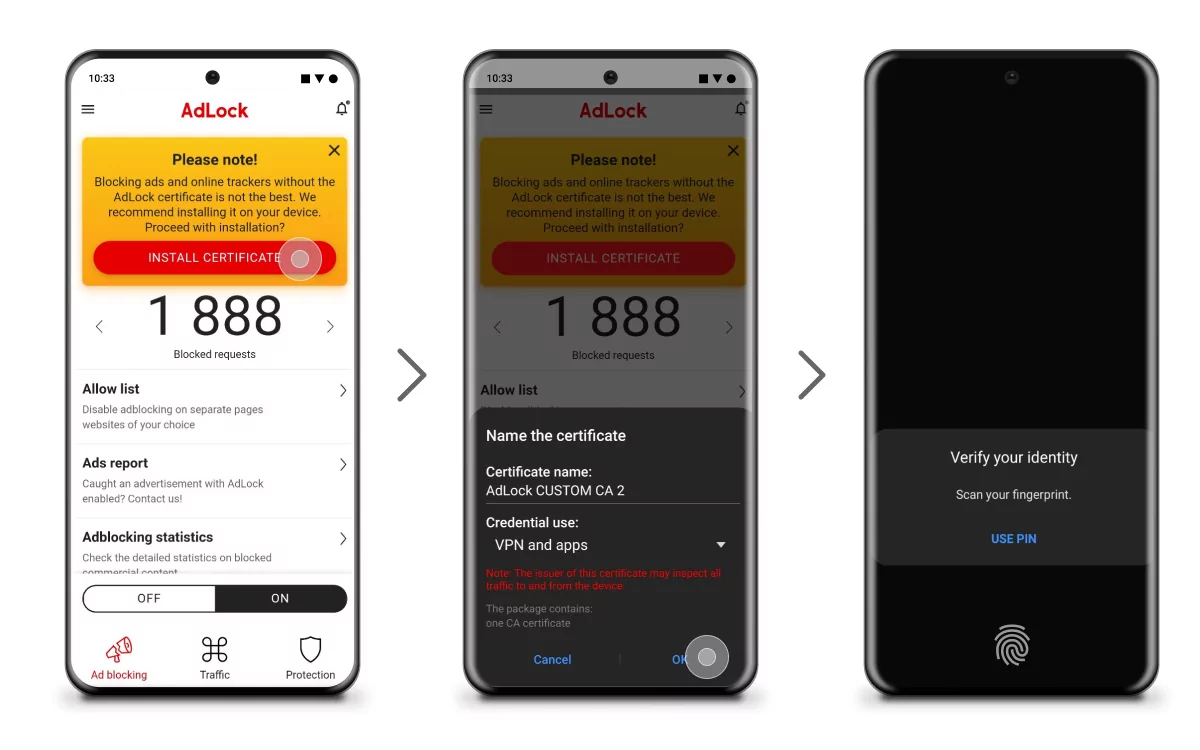 Since now, AdLock will block ads in the Opera browser.
Possible Troubleshooting
Sometimes, an ad blocker in Opera browser fails to do its job—the most frustrating and most reported issue it has with the YouTube website. Various off-suit banners and video ads can kill the mood for any video. But troubles with the built-in ad blocker on websites other than YouTube still have the exact reasons behind them. Those are:
Outdated Opera version
Browsers, like no other apps, require timely updates. If Opera's ad blocker suddenly stops working, the first thing you must do is update your browser. Otherwise, other essential features will crumble one by one.
Cluttered browser
Apart from regular updates, Opera and other browsers require periodical cleaning. Clearing the browser's cache and cookies often resolves all app issues, including a non-functioning ad blocker. This is how to do it:
Press Ctrl+H to open your history page.
Click Clear browsing data in the top-right corner.
Select cookies and cache of all time.
Click Clear data.
Glitch within the browse's functionality
If the above two steps didn't bring Opera's ad blocker back to life, then the browser is the one that's having issues. You can address them to Opera's support team or patiently wait until they resolve on their own. To report problems, click O Menu > Help > Report an issue. Make sure to describe your distress in detail and accentuate the urgency.
FAQ
How to stop the pop-up ads on the Opera browser?
Simple. Opera offers you in-built tools to stop pop-ups and other kinds of ads. Please, scroll up to the table of contents, where you will find a needed paragraph.
Does Adblock block YouTube ads in Opera?
The built-in Opera ad blocker from time to time misses YouTube ads. We have a dedicated article on how to block YouTube ads, where you will find answers to all your questions.
Does Opera block Spotify ads?
It blocks them but doesn't erase them completely. Instead of displaying an ad, Opera will notify you there was supposed to be an ad. If you're ok with such an interface, stick to the Opera in-built ad blocker. If you want a slicker Spotify experience, check how to block Spotify ads.
Can I block Twitch ads in Opera?
Of course, you can. Although the built-in Opera ad blocker started to skip ads in a streaming platform this year, there are still plenty of ways to block Twitch ads.
What to do if the Opera pop-up blocker is not working?
You have two options: wait until Opera developers fix the issue or stick to the third-party ad-blocking solution. Unlike a web browser, which has many things to be updated about, an ad blocker has only one job and always keeps its ad-blocking filters up to date. Well, we guarantee at least AdLock does that.
There's an opt-out button removing adverts on Opera
Do you like this post? Share it!