How to Stop Pop-Up Ads on Your iPad
If you are an iPad user, you may have encountered annoying pop-up ads while browsing the internet. Fortunately, there are ways to block these pop-ups and improve your browsing experience on the device.
In this article, we will explore different methods and tools for enabling pop-up blockers on your iPad, so you can enjoy a smoother and more efficient browsing experience. Whether you prefer built-in browser features or third-party apps, there are several options to choose from that can help you block pop-ups on your iPad.
What makes pop-ups on iPad different from the ones on the iPhone? Their size! 10 inches of a flashy garish ad in your hands is not something to be presented at the work meeting or in the classroom. Like most of the other mobile devices, iPads don't have classical Escape, Options, or Command keys, and closing pop-up windows becomes even more challenging using gesture controls. Intrusive ads developed their sneaky ways to remain on the screen regardless of all the tapping, swiping, and sliding from a desperate user. They contain dangerous, malicious scripts that take over the device just after one unsuccessful finger move.
Different strategies, like opening a new tab, changing the URL, and going back and forth trying to find that little cross-closing annoying banner, can work but they don't solve the original problem. Luckily, nowadays the Apple community knows better how to stop pop-ups on iPad once and forever, and some of these tips we would like to share with you.
You may also want to know how to stop ads on eBay. Get insights from our article!
How to Block Pop-ups on iPad with AdLock
All the hassle of closing ad windows manually disappears when using a powerful ad blocker, such as AdLock. This tool can efficiently block all types of online pop-ups on any device, including in-app ads on smartphones and adware on PC. Yet, on iPads AdLock is working a little bit differently.
In 2017 Apple changed its policy regarding ad-blocking apps on AppStore. It allows the developers to implement ad-blocking features solely for the Safari browser, and only as long as they don't interfere with the performance of other apps. What does it mean for a user? All the iPad apps will keep showing you built-in advertisements and there is no way around it. But your web browser Safari, where you see most of the online ads, can now be ad-free. There are many ad blockers out there on AppStore, so what makes AdLock so special?
It is truly the best ad blocker iPad has seen. Lightweight and easy to use, AdLock comes with a comprehensive list of filters including most of the known types of pop-ups. Using these filters will help you to block Safari ads without any manual adjustment, which of course you can do at any time if needed. Widgets and online chats, banners, and autoplay videos that clutter up your web pages disappear too, providing you a clear view of your important online content. The benefits don't end just there and also include:
Confidentiality of your private data;

Faster webpage loading;

Reducing mobile data consumption;

Longer life for your iPad's battery;

24/7 reliable customer support.
AdLock for iOS is available now on AppStore by this link. It also has a money-back guarantee which makes it really worth downloading and trying all the features out.
Want to know what works for Android devices? Stop pop ups on Android without a hassle!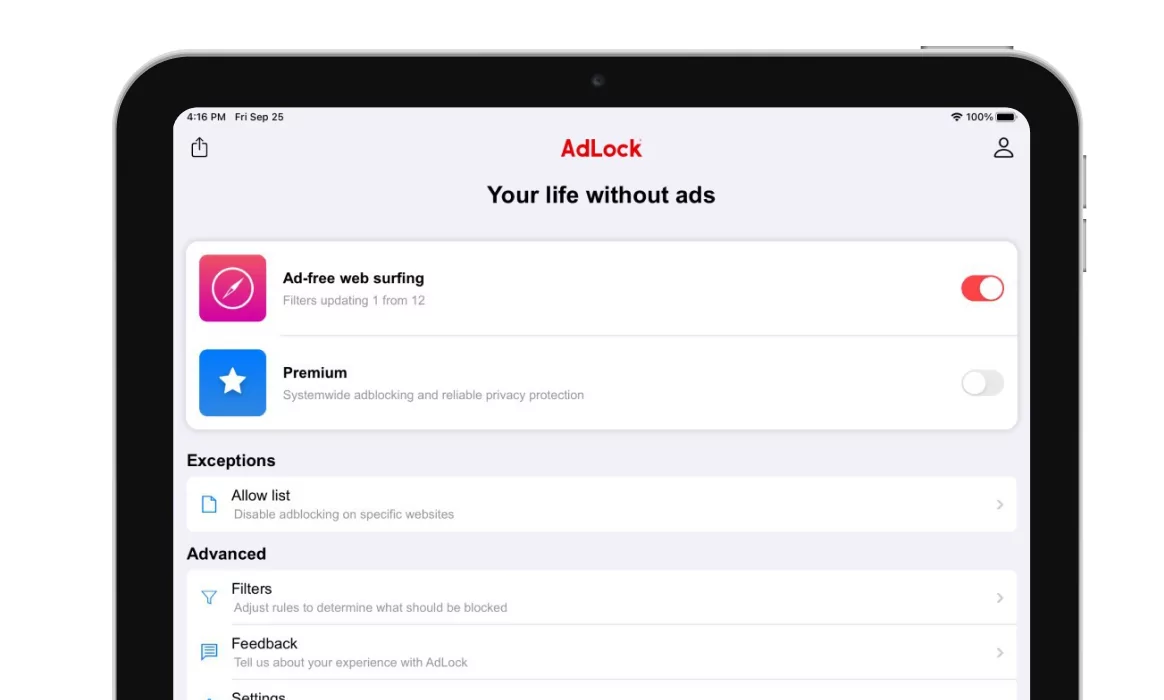 How to Stop Pop-ups on iPad in Safari and Chrome
It is also good to know that Apple provided a tool to block pop-ups on iPad from the box. Also working only in Safari, this ad blocker is rather basic but able to eliminate some commercials online. Unlike AdLock, it does not have flexibility around what elements on the web page to block or which anti-ad filters to apply, and all you can do is to simply switch it on:
Start the

Settings

app on your iPad;

In the left-side pane, tap "

Safari

";

In the

General

section, turn on "

Block Pop-ups

" by swiping the toggle to the right.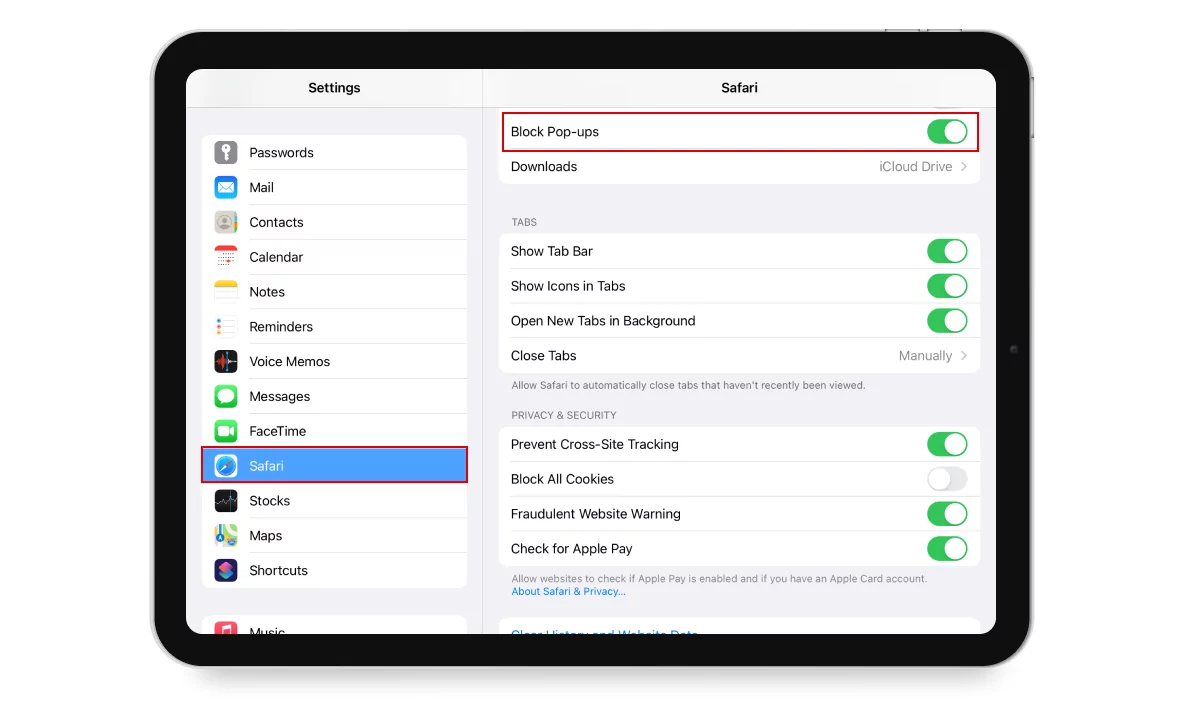 When we say "Apple only lets you block ads in web browsers", of course, we don't only think of Safari. Many users prefer a tool that became a standard for all the known modern platforms, Google Chrome. While Chrome works perfectly fine on iPads, it does show all the online ads if not instructed otherwise. You can turn on the built-in pop-up and ad blocker here too:
On your iPad, open the

Chrome

app;

Tap

More

and then

Settings

;

Tap

Site Settings

and

Pop-ups and redirects

;

Use the toggle to turn Block Pop-ups

off

;

Go one step back and tap

Ads

;

Use the toggle to turn Ads

off

.
Get Rid of Pop-ups by Clearing Cache
When you try one of these ad-blocking options and still can see ads online, don't rush to blame us for bad advice. First, try to figure out whether pop-ups that you see are new or they come from the time of not having an ad blocker. In some cases, pop-ups might be already downloaded to your iPad's memory and stored there.
This is easy to check by going into your iPad settings and clearing the browser cache. If you want to stop pop-up ads on your iPad, there are several steps you can take. We assume that you are using Safari, so here's how:
Go into your

Settings

app;

In the left-side pane, tap "

Safari

";

Tap "

Clear History and Website Data

";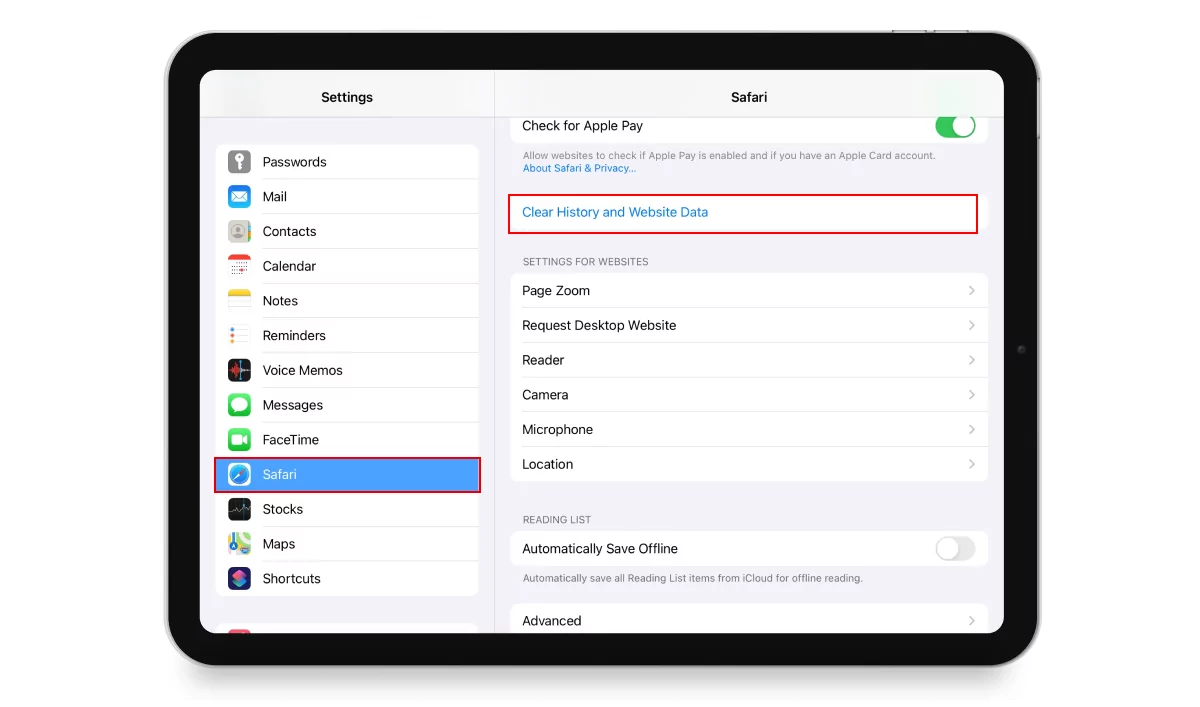 4. Confirm by tapping "Clear" in the new window.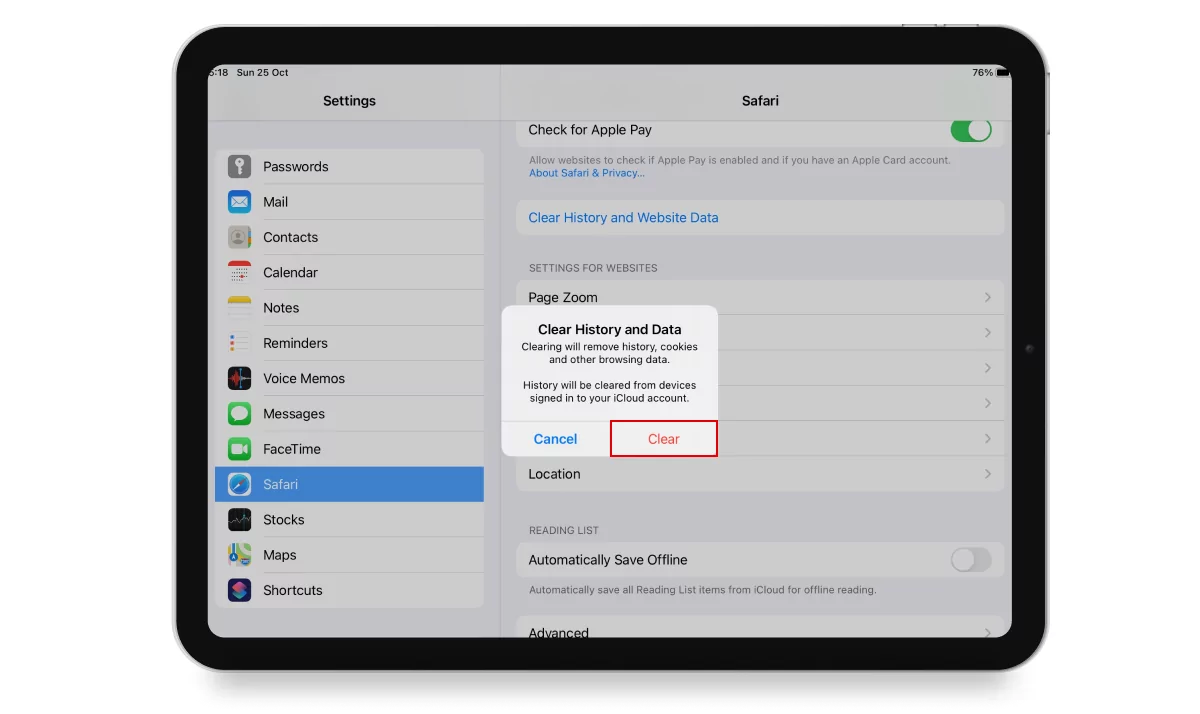 Please note, that after clearing the cache you might lose some of the data of your web browser. It is better to keep your passwords, autofill information, and bookmarks synchronized with your Apple account so you can easily restore them when necessary.
Update your software
Apple developers don't finish their work with the release of a new device. Much on contrary, they have to keep up with all the newest technologies and potential threats for providing their product owners with regular updates. The old cache can cause drastic distortions in the functionality of your iPad, so does old software.
Software updates from Apple go hand in hand with the technological advancement of those in charge of online pop-ups and malware creation. Every system update contains multiple security patches that fix known issues and plug security holes. You have to regularly update your iPad's operating system if you want to avoid vulnerabilities that can be used by bad actors. Security patches in Safari updates also refresh the list of ad-blocking filters, this way your browser knows better which elements of the page have to be removed from your view.
Most users would agree that software updates help them to deal with malware and block online ads more efficiently. However, of course, the theory saying that Apple reduces the speed and performance of iPads and iPhones with every new OS or device launched on the market has the right to life. For those not willing to opt-in for the newer versions of iOS or Safari, there is always an option to install AdLock — and protect their right to ad-free web browsing.
FAQ
Does Apple make an ad blocker for iPad?
Apple doesn't have an ad blocker for the iPad. However, the Safari browser on iPad does have a built-in feature that allows you to block pop-up windows and disable cross-site tracking.
Why do I still get pop-ups on my iPad when I have them blocked in Safari?
If you're still getting pop-ups on your iPad even though you have them blocked in Safari, it's possible that the pop-ups are being generated by a different app or website. You may want to check your settings to make sure that pop-ups are blocked for all websites and not just the current ones you're visiting.
Does AdLock block pop-up ads on the latest iPad Pro?
Sure! You can download AdLock from the App Store on the latest iPad Pro 11 or 12.9. AdLock blocks not only pop-up ads but also banner ads, video ads, and other types of ads on your iPad.
Do you like this post? Share it!