Sick of obtrusive pop-up adverts?
The only ad that doesn't get on your nerves is Wikipedia creator Jimmy Wales begging for donation. You just can't be mad looking at his doggy-eyes. All other ads give you serious anxiety. Who even needs them?! Website owners, that's who. The majority of your favorite websites are non-commercial organizations, and they receive money only from advertisers. Everybody who is too compassionate can close the article and continue supporting websites with resources of your devices, everybody else, follow my lead, and I'll tell how to block ads on Android.
If you want to know workarounds for iPad, then our similar article would come in handy. Find out ways how to block pop ups on iPad provided by AdLock experts!
How to Get Rid of Ads on Android by Using Adblocking Software
There is really no need to reinvent the wheel, just grab AdLock and you're good to go. You can stop ads everywhere with this app. Here is everything it can do:
Block pop-ups and all sorts of ads in your browser and applications;
Work as a firewall, regulate the bandwidth consumption, and save phone/tablet energy;
Spot potentially harmful links, and avoid leaking of your sensitive data;
Filter HTTPS connections;
Show traffic and blocking reports.
What's so cool about it?
It works without ROOT;
It's energy-saving;
It won't eat into your device productivity, oppositely, it'll speed up your internet experience;
It doesn't collaborate with any advertisers and doesn't support acceptable advertisement policy;
It's the fastest ad-blocking software among present analogs.
How to block pop up ads on my phone with AdLock
Open the previously installed app, tap the three dots at the top right corner and choose "Check updates". In a new menu tap UPDATE ALL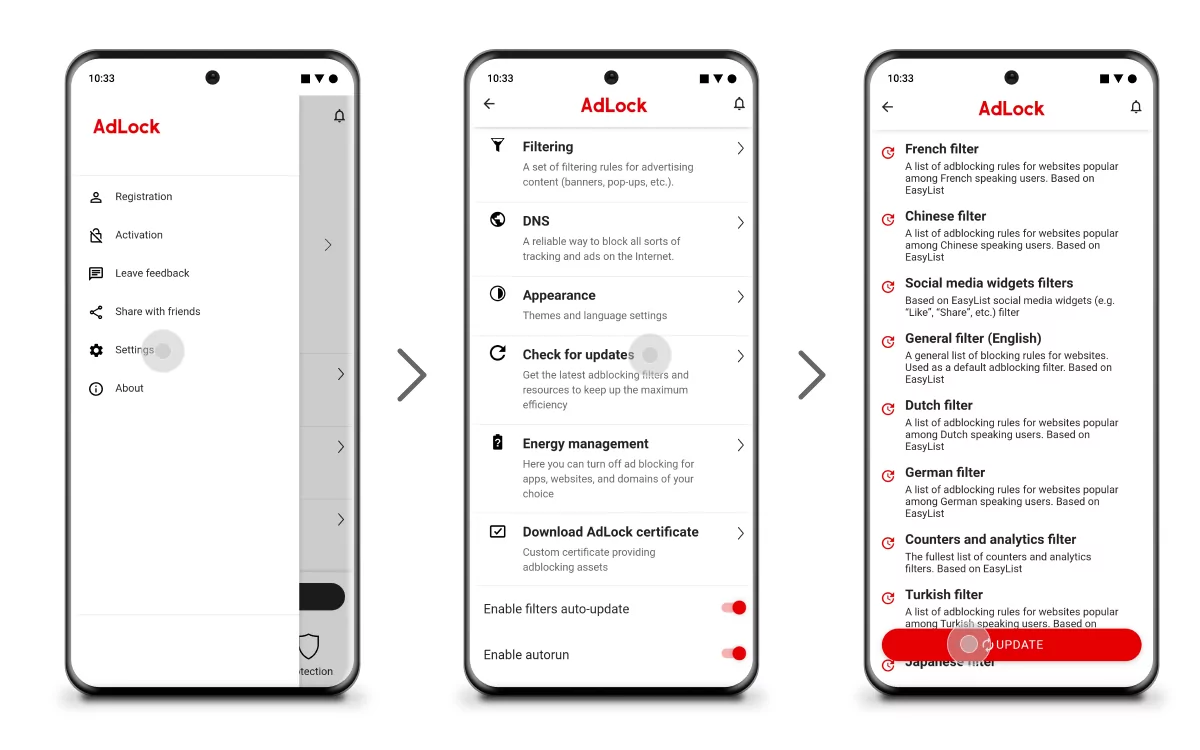 Switch to the "AdLocker" tab and enable HTTPS filtering;
You will most likely receive a warning dialogue window. Just tap OK. Then you will be asked to set a drawing pattern to verify your identity for future actions. Draw a pattern you surely will remember. It's just a formality remember AdLock doesn't send data outside your device. You need to turn on HTTPS filtering to block ads on the websites with secure internet connection otherwise ad-blocking will be either average at best or impossible at worst.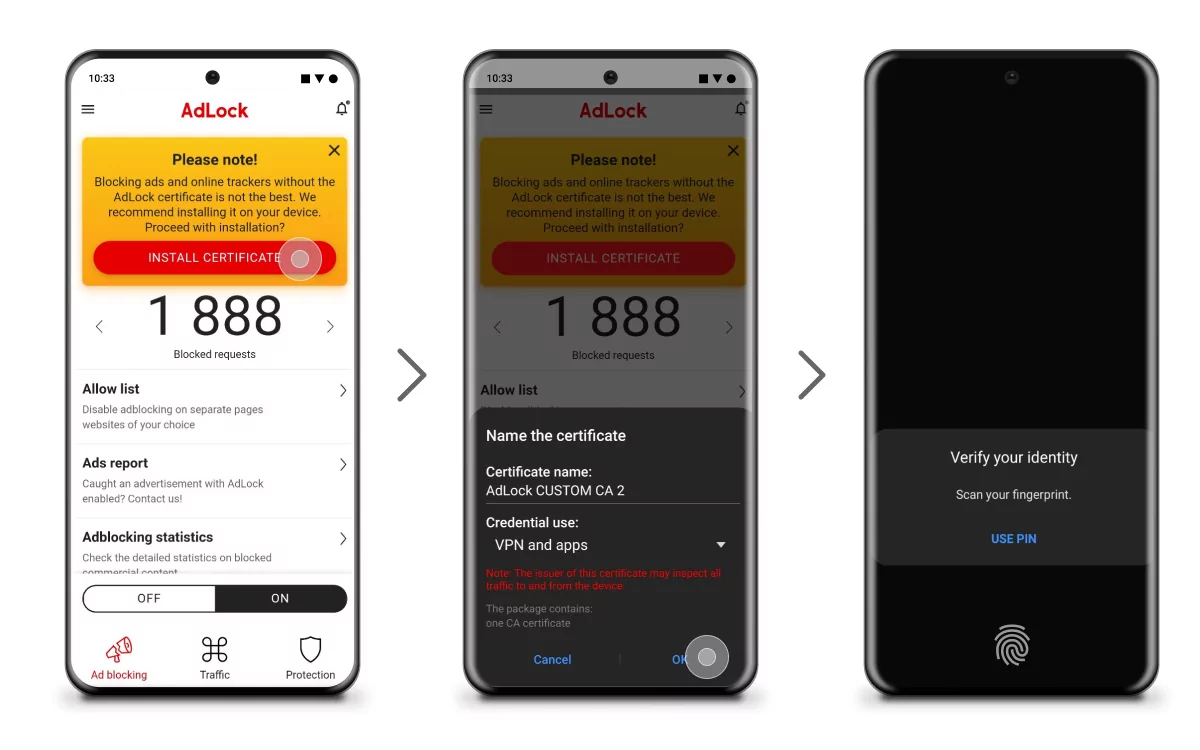 You can download AdLock from our official website and try it for free for 14 days without any hidden conditions or additional payments.
Did you know that there's a workaround allowing users to use Mobdro without ads? Bet you didn't. We are ready to share info on this topic, so go ahead and check out our article 🙂
How to Stop Pop-up Ads on Android Home Screen
Usually, smartphone manufacturers do not put advertisements on the home or lock screen of the device. Annoying pop-up ads on the android home screen are caused by shady applications. To admit, Google Play accepts applications that show commercial content in compliance with their policy and within the apps only. So, if you notice ads popping out of the blue on your home/lock screen, it must be an app you either recently downloaded or an old application that has recently received updates. If you smell a rat and you know which app forces adverts in violation of the Goggle Play policy, go ahead and report it in the Play store.
In case it's vague which application causes inconveniences with unwanted ads, then you should research and determine the source.
In the majority of cases, home screen ads are served by optimization apps. This means if you have recently installed a flashlight or a battery optimization application, search no further. Uninstall or disable those applications — that's how to stop pop-up ads on the Android home screen.
If you're wondering if it's possible to watch YouTube without ads on Android, then you definitely should read our related article.
How to Disable Pop-ups in Chrome
If pop-ups in your Chrome browser are the only thing that bothers you, you can disable them in your browser's settings.
How do I block ads on my phone's Chrome browser?
Open Chrome browser;
Tap More at the top-right of your screen and choose Settings;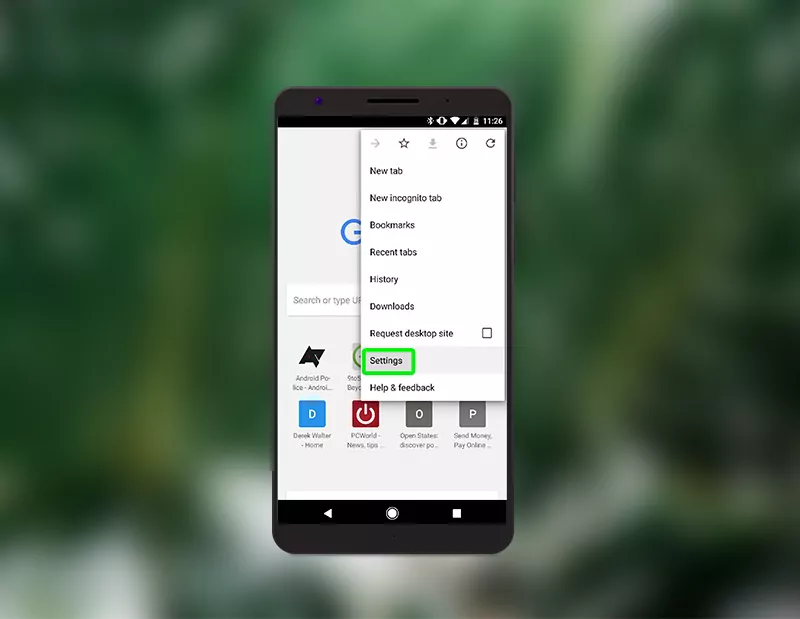 Scroll down to Site settings;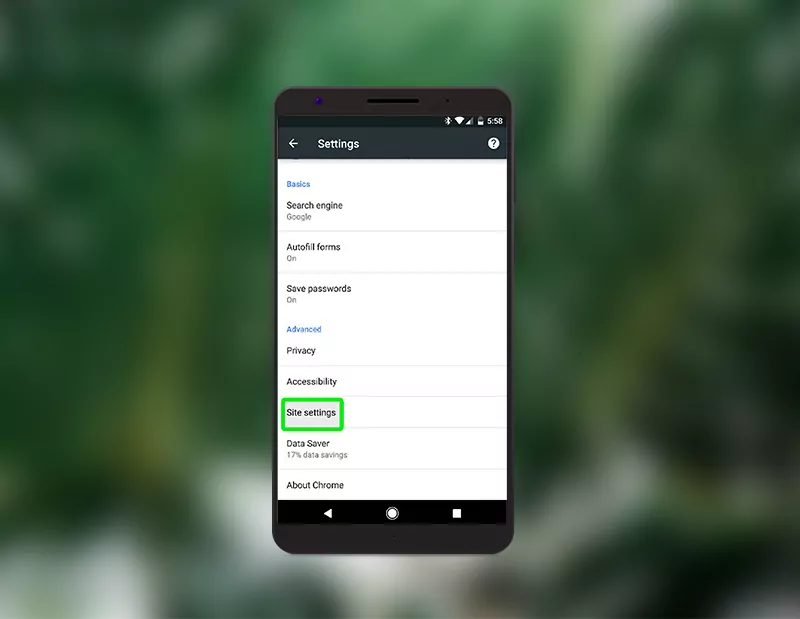 Find there Pop-ups then tap on it and touch the toggle to switch them off;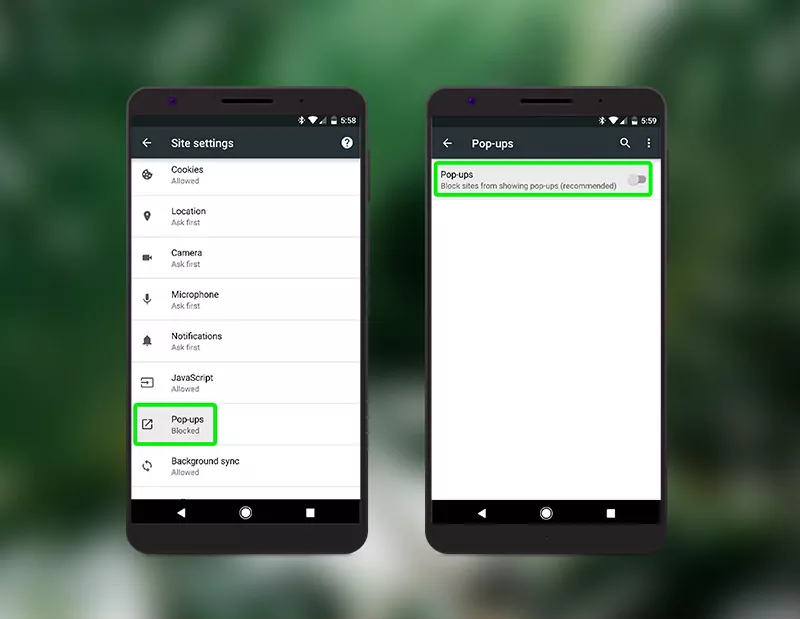 Disable Pop-ups and Notifications via Website Settings
If one of your favorite web resources ticks you off but you don't want to give up using it, then you should try this method. All you need is to play around with website settings and permissions. You can disable a row of permissions including notifications, pop-ups, camera/microphone access, etc.
Managing Permissions for a Certain Website in Chrome
Through managing settings for certain websites, you can allow/block permissions. This means the website will use settings you adjust instead of default settings. To adjust permissions for a particular site, follow these steps:
Launch the Chrome application;
Go to a website;
To the right of the address bar, tap "More" and proceed to "Info";
Tap "Site settings";
Adjust settings by tapping them under "Permissions".
Surf Using Lite Mode in Chrome
Lite Mode, previously known as Data Saver, is a feature of the Google Chrome browser intended to compress webpage elements unnecessary for mobile devices. It provides a smoother browsing experience by pulling only the essential content and cutting off adverts, pop-ups, autoplay videos, animations, and other stuff that eats away data. To turn on Lite Mode, press the overflow menu ("⋮" in the top right), proceed to Settings, and enable Lite Mode.
How to Remove Ads from Android Apps Without Rooting
You can still get rid of ads even if your device isn't rooted. All you need is a small simple app called DNS66.
How do I block ads on my Android phone using DNS66?

DNS66 for today is the simplest way to remove ads without rooting;
It blocks specific domain names from a list when you first visit a website or launch an app;
It filters traffic only when the connection is established which saves your battery life;
DNS66 uses inner Android's VPN instead of a third-party proxy so you don't need to worry about catching viruses or leaking your personal information;
It doesn't remove the banner's placeholder, just an ad it contains.
Advanced users ROOT their androids to unlock the hidden abilities of their devices. But the fact that you deprive yourself free guarantee support undermines all ROOT perks. Luckily there is an
ad blocker for Android
which still can improve the capacity of your phone and block ads without ROOT.
Block Pop-ups With Other Android Browsers
Here's another method you can use to block pop-up ads on your Android device. There are many ad-free browsers available to download from Google Play. We'd like to mention some of the best adless browsers for today:
This browser provides decent features that make your browsing experience private, fast, tracker-free, and adless. Ghostery Privacy Browser is equipped with an infinite list of filters and trackers which allows enhancing user privacy and protection from intrusive advertisements.
This representative of ad-free Android Browsers is fitted with an ad-blocking feature that cleans up your web experience from numerous annoying commercials including video and audio ads, flash banners, and pop-ups. It also copes with the scripts run by advertisers and prevents tracking your online behavior.
Note that we are not endorsed by any of the developers or advertisers. All we want is to give you a word of advice. There are dozens of alternative browsers and the choice is up to you.
You may also be interested in our guide on how to block ads on Xiaomi smartphones.
How to Get Rid of Pop-Ups in Opera
If you prefer using Opera on your Android device, then here's how you can stop pop-ups:
Launch the Opera browser;
Tap the Opera logo at the bottom;
Tap "Settings";
Switch the "Block Pop-up Windows" toggle to "ON".
That's it. A piece of cake. But still, this only blocks pop-ups, not all the annoying stuff.
How to Block Pop-Up Ads Using Mozilla Firefox
For those using Firefox, below are the steps to be taken to stop pop-ups on Android devices.
Launch the Firefox browser;
Tap the address bar and type "about: config";
Find the "dom.disable_open_during_load";
Change its state from "false" to "true";
Relaunch Firefox.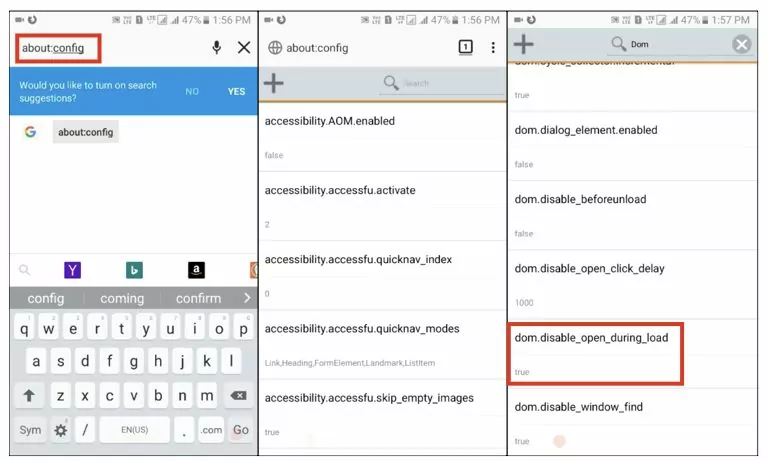 How to Remove Pop-up Ads on Android Using Samsung Internet Browser
If you're a Samsung smartphone user, then you can address the issue of pop-up adverts by using the native application — Samsung Internet Browser. Here's how you do it:
Launch the Samsung Internet browser;
Open "More settings" in the hamburger menu dropdown;
Tap "Settings" and then "Sites and downloads";
Switch the "Block pop-ups" toggle to "ON".
Also, you can add an ad-blocking extension to your Samsung Internet Browser if you think that the "Block pop-ups" feature is not enough. Let's be frank: nobody likes pre-installed browsers, very few of us use them.
Well, let's move on and get down to several more ways of blocking ads on Android.
How to block ads on Samsung S8 and Samsung S8+ using DNS66
In one of our previous articles, we already told you about how to stop ads on Samsung. All you need is:
First of all, make sure you're running Android 5.0 or newer;
Go to your Settings and enable installation from unknown sources;
Download DNS66 from F-Droid, install it on your phone/tablet, and open it;
At the top of your screen find the "Hosts" tab and tap it;
Choose "Adaway" hosts file and tap the refresh button to download the hosts file;
Head back to the "Start" tab, find there the "Start" button, and tap it;
Tap "Ok" on a pop-up connection request;
Enjoy the whole new world without annoying advertisements.
NB: DNS66 doesn't protect you from unsecured internet connections or malware, so you'd better avoid potentially dangerous websites.
How to Stop Pop-ups & Ads for Rooted Devices
If you have Root access you don't even need to install any additional applications to block ads. You can stop pop-ups and ads in all your device's browsers and apps using the "hosts" file.
What is a "hosts" file?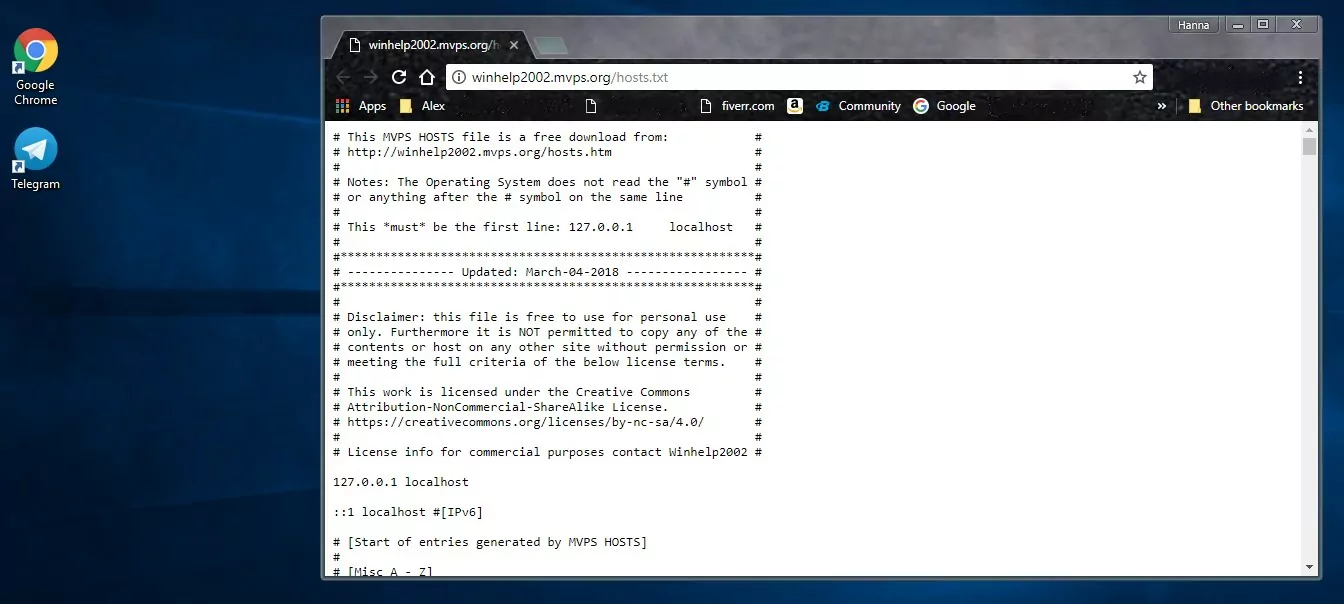 It's a plain text file that maps hosts-names to IP addresses. Whenever you open your Google Chrome or launch app your operating system calls for the 'hosts' file first to find the corresponding IP address.
File "hosts" doesn't let your browser download ads elements from blocked domains. However, not all ads are hosted on separate domains thereby you'll still see commercials embedded in website code. If those ads bother you likewise you need an advanced
ad remover
to get rid of them.
How can I block ads on my phone using hosts file?
You need your computer to download the "hosts" file on your phone. Go to MVPS and save the opened page. It will be automatically named as "hosts" with "txt" file extensions so no changes here;
Connect your device to your computer in any convenient way and copy the "hosts" file to it;
Open the file manager on your device, find "hosts" file and copy it to /etc or /system/etc. It may need superuser permission to access those locations;
Find there an original "hosts" file and if presented rename it to .txt or .bak extension. Paste the saves "hosts" file and reboot your Android;
Now your browser and apps are absolutely ads-free.
NB: Just as DNS66 this method can't provide absolute security to your personal files, so if you worry about them being leaked pay attention to the third ad blocking method.
Sick of obtrusive pop-up adverts?