How to Stop Random Pop-Up Ads on Android
Sick of obtrusive pop-up adverts?
Welcome to the AdLock blog! Let's talk about pop-up ads. Intrusive pop-ups are common for most devices regardless of the operating system. This article in particular will help you cope with this issue and stop pop-up ads on Android devices.
Pop-up advertisement can be extremely annoying — it pops out of the blue when you expect them the least, it often takes up too much space (unskippable fullscreen ads are the worst), and it even appears when you're using system tools.
In this guide, we'll talk about ads and the ways they get onto your screen, and provide instructions on how to rid your Androids of them. Additionally, we'll answer some of the most common questions related to the topic. Okay, let's get rid of pop-up ads on Android, buckle up!
If you want to know workarounds for iPad, then our similar article would come in handy. Find out ways how to block pop ups on iPad provided by AdLock experts!
How to Stop Pop-up Ads on Android (Chrome)
While Android browsers don't inherently have pop-up ads and provide built-in tools for blocking them, they still take the first place in the number of ads. And since Google Chrome is the most popular and widely used browser on Android, we assume you're one of its users. Luckily, there are workarounds for the issue and it's quite easy to reduce the number of popups and even completely block them. So, let's start with adjusting your Google Chrome's inbuilt popup blocker:
Open Chrome browser;
Tap "More" at the top-right of your screen and choose "Settings";
Scroll down to "Site settings";
Find the "Pop-ups" item, tap on it, and switch the toggle off.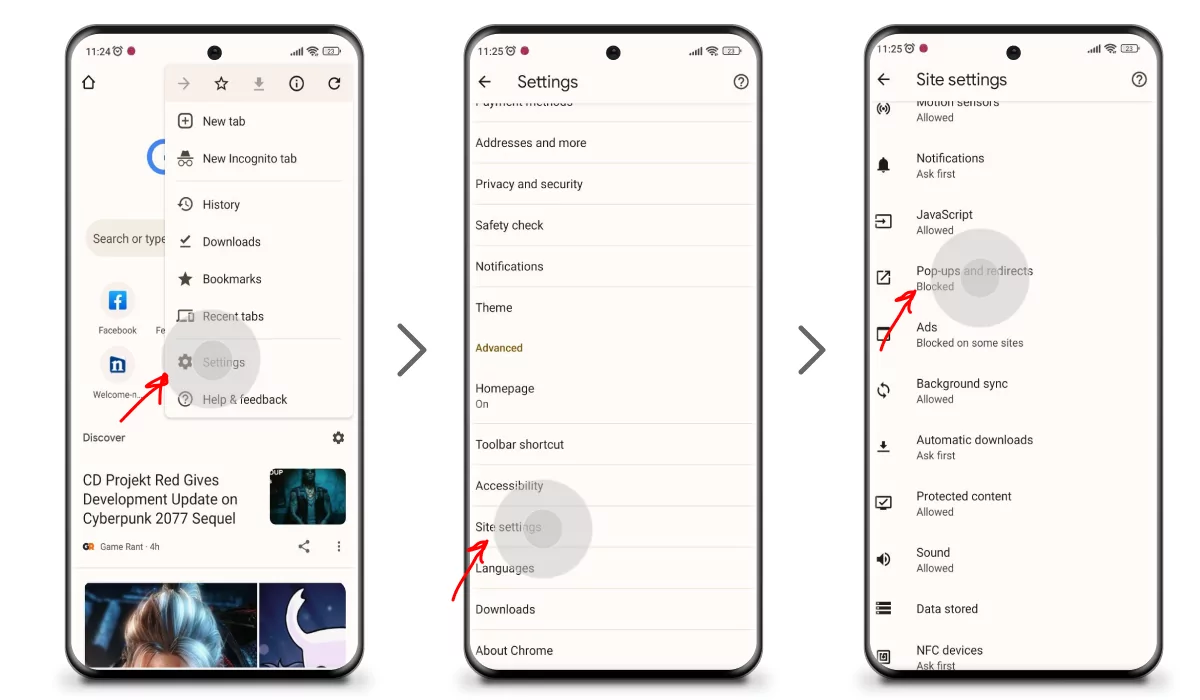 By the way, if you're searching for how to remove ads from Google Chrome on your PC, we've got a guide for that too.
If you're wondering if it's possible to watch YouTube without ads on Android, then you definitely should read our related article.
Disable Pop-ups and Notifications via Website Settings
If by any chance you didn't know that you can manage popups and notifications display on separate websites, then this one is for you. All you need is to play around with website settings and permissions. By tweaking permissions on certain websites, you can block a lot of annoying elements including notifications, pop-ups, access to camera/microphone access, etc. To stop ads on android by adjusting permissions for a particular site, follow these steps:
Launch the Chrome application;
Go to a website of your liking;
To the right of the address bar, tap "More" and proceed to "Info";
Tap "Site settings";
Adjust settings by tapping them under "Permissions".
How Do I Find Which App on Android is Showing Pop-up Ads
If you are experiencing pop-up ads on Android and want to identify the app responsible for displaying them, you can follow the steps below.
Observe
Pay close attention to when and under what circumstances the pop-up ads appear. Note the time, activities you were performing on your device, or specific apps you were using before the pop-ups occurred. This can help you narrow down the list of apps serving those random pop-ups on Android phone.
Check recent apps
Start by checking your recent apps list. On most Android devices, you can access the list of recently used apps by tapping the square or the multitasking button at the bottom of the screen. Scroll through the list and look for any suspicious apps that you don't recognize or suspect of displaying ads. Alternatively, you may also go to "Settings" => "Apps" => "Manage Apps" and then sort them by time.
If it comes to notifications, then figuring out which apps are serving them would be a piece of cake. Just long tap the notification on the panel and find out the bad boy.
Check app permissions
Open the Settings app on your Android device and navigate to the "Apps" or "Applications" section. Here, you will find a list of all installed apps. Go through the list and examine the permissions requested by each app. If you come across an app that has unnecessary or suspicious permissions (such as displaying overlays or showing ads), it could be the culprit.
Uninstall suspicious apps
If you have identified an app that you suspect is causing the pop-up ads, try uninstalling it. To do this, go to the app's page in the "Settings" app, tap on it, and choose the "Uninstall" option. After uninstalling the app, monitor your device to see if the pop-up ads persist. Uninstalling shady apps helps to disable pop-up ads on android devices in the majority of cases, unless the device is malware infected.
Try safe mode
If you cannot determine the specific application responsible for the pop-up ads, you can boot your Android device into "Safe Mode." This mode temporarily disables all third-party apps and services, allowing you to use your device with only the pre-installed system apps. If the pop-up ads do not appear in Safe Mode, it indicates that the issue is caused by a third-party app. You can then start uninstalling apps one by one, beginning with the most recently installed ones, until you find the culprit.
Another reason for Android phone playing ads randomly can be a virus/malware infection, but this is a separate clause. Let's look closer.
Why Do I Keep Getting Pop-Up Ads on My Android
Usually, pop-up ads are used by marketers to promote goods and services. Mostly, they're safe and harmless, you can close them by pressing the "X" button. But if you're noticing a sudden influx of suspicious and unwanted pop-up ads on android phone, chances are you got an adware/malware infection. So, what makes advertisement keep popping up on Android?
Adware
This type of scam usually infiltrates your device when you visit shady unsecured websites or download untrusted third-party applications. It even happens that adware comes bundled with apps from official app stores.
Spyware/Scam
There's quite a bunch of ways spyware can sneak onto your phone. Its main purpose is to collect your sensitive data and online activity to then sneakily manipulate it.
We bet you've faced (or heard of) fake virus warnings or jackpot notifications — these are scams. They urge users to take actions like providing personal info and financial details, or downloading a "real antivirus software that would save your device".
Malware
Same as others, malicious software can get to your device from unsecured sites, bundled with other software applications, and through unsafe downloads. There are different types of malware with different purposes and none of those is harmless. Malware can mess up your device really hard — from taking over your browser to hijacking your OS. One of the oldest malware types is ransomware.
Ransomware
It's one of the most dangerous security threats on the Internet. By encrypting files or even locking your device, ransomware demands you to pay money in exchange for decryption/unlocking. Usually, cybercrooks demand you to pay the ransom in cryptocurrency so they would not get unveiled and as you may guess, there's no guarantee they'd unlock/decrypt your device or files.
Viruses
Yes, you're completely right, all of the above are viruses. Virus subtypes, to be precise. Obviously, there are more of them, and each of them brings different trouble. There are even specific Android viruses tailored by hackers to steal from you.
The best solution to this problem is to install a reputable antivirus or anti-malware app from the Google Play Store. These apps can scan your device for malicious apps or adware that may be causing the pop-up ads. They can help identify and remove pop-up adverts on android and any potential threats and prevent possible intrusions/infections.
How to Recognize Scam Pop-Ups on Android?
There are symptoms indicating that you're getting scammy adverts. On the majority of occasions, they are dumb as heck so you would probably recognize an attempt to fool you. Among them are:
Sudden luck — "Congrats, you won $1,000,000", "You're the over 9000 visitor, get your prize!".
Fake antivirus alerts;
Fake government organization messages — like those popping up when visiting adult sites;
Fullscreen ads with fake "Close" buttons — they would definitely redirect you to a fishy website or start a download of something harmful;
Ads with spelling/grammar mistakes and weird links — "Only today, -95% for Abibas sneakers! Visit: https:/\abibas132ttdkh70-android.
Hence, if you've recognized one of these symptoms, you should install and run an antivirus.
Block Pop-ups With Other Android Browsers
Given that there are quite a few browsers besides Google Chrome and popups there are no less annoying, you might consider using one of the many ad-free browsers available to download from Google Play. For instance, Mozilla Firefox has popup blocking as a default function. Of course, it doesn't mean by using Firefox you won't get ads at all but at least you won't get popups. If it's your browser of choice and you want to know how to get rid of ads on android phone and block popups on Firefox, we've got a guide for you.
In case you decide to stick with the Opera browser, then you should at least make sure that the inbuilt popup blocker is enabled. In short, you should:
Launch the Opera browser;
Tap the Opera logo at the bottom;
Tap "Settings";
Check if the "Block Pop-up Windows" toggle is switched "ON".
If you want to find more ways of cleaning your browsing experience, here's how to block pop-ups on Opera.
Talking of other browser options, e.g. ad-free browsers, we'd like to mention a few.
A decent browser with decent features that make your browsing experience private, fast, tracker-free, and adless. Ghostery Privacy Browser is equipped with an infinite list of filters and trackers which allows enhancing user privacy and protection from intrusive advertisements.
This representative of ad-free Android Browsers is fitted with an ad-blocking feature that cleans up your web experience from numerous annoying pop-up ads on android, video, and audio ads, flash banners, etc. It also copes with the scripts run by advertisers and prevents tracking your online behavior.
Note that we are not endorsed by any of the developers or advertisers. All we want is to give you a word of advice. There are dozens of alternative browsers and the choice is up to you.
You may also be interested in our guide on how to block ads on Xiaomi smartphones.
Remove Pop-up Adverts with AdLock
It's not a secret and has never been that reliable adblocking software can kill two birds with one stone — remove ads from your device and protect it from possible malicious requests/intrusions. Having a standalone ad blocker app that works systemwide will make your online activities clean and fun. AdLock is created by real masters of their craft — cybersecurity experts with a vast experience under their belt. Here's what AdLock's capabilities:
Blocks pop-ups and all sorts of ads in your browsers, applications, and games;
Works as a firewall, regulates bandwidth consumption, and saves phone/tablet energy;
Spots potentially harmful links, and avoids leaking of your sensitive data;
Filters HTTPS connections;
Shows traffic stats and blocking reports.
What's so cool about AdLock?
Works without ROOT;
Energy-saving;
Doesn't consume the device's performance;
Doesn't support acceptable advertisement policy;
It's the fastest ad-blocking software among present analogs.
To get rid of ads on your phone with AdLock, you should:
Download the APK from our official website;
Install the application following the instructions and onboarding carefully;
Check for updates;
Open the previously installed app, tap the three dots at the top right corner, and choose "Check updates". In a new menu, tap "UPDATE ALL";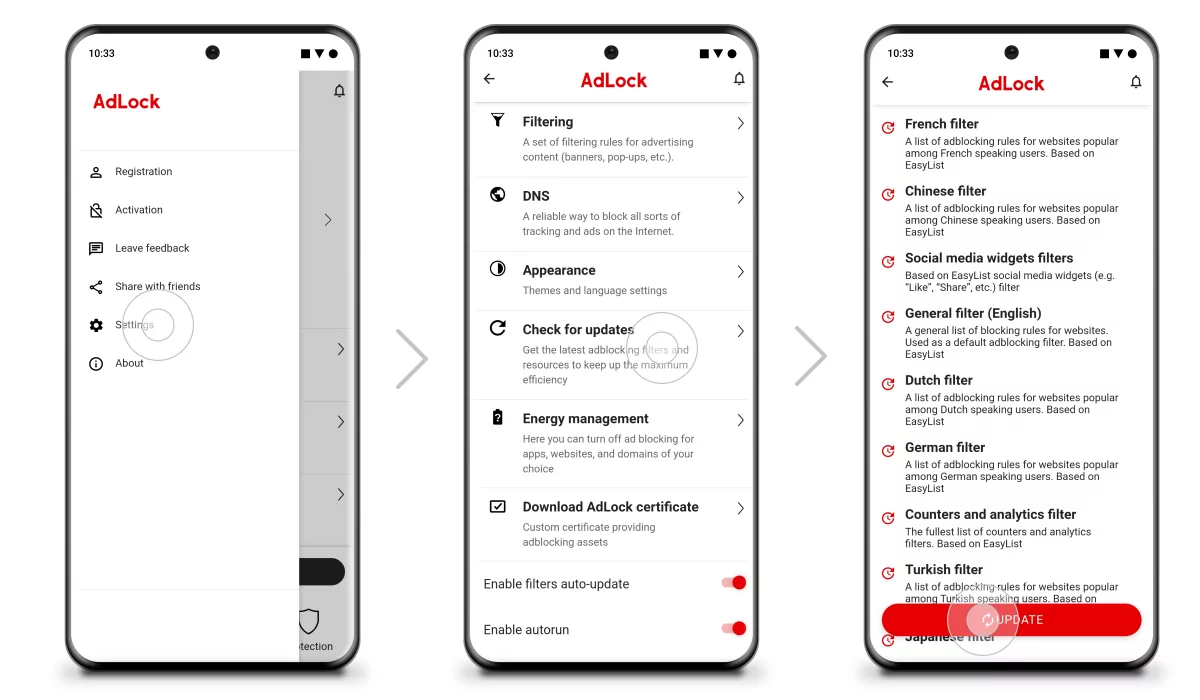 Switch to the "AdLocker" tab and enable HTTPS filtering;
You will most likely receive a warning dialogue window. Just tap OK. Then you will be asked to set a drawing pattern to verify your identity for future actions. Draw a pattern you surely will remember. It's just a formality. Remember AdLock doesn't send data outside your device. You need to turn on HTTPS filtering to block ads on websites with secure internet connection otherwise ad-blocking will be either average at best or impossible at worst.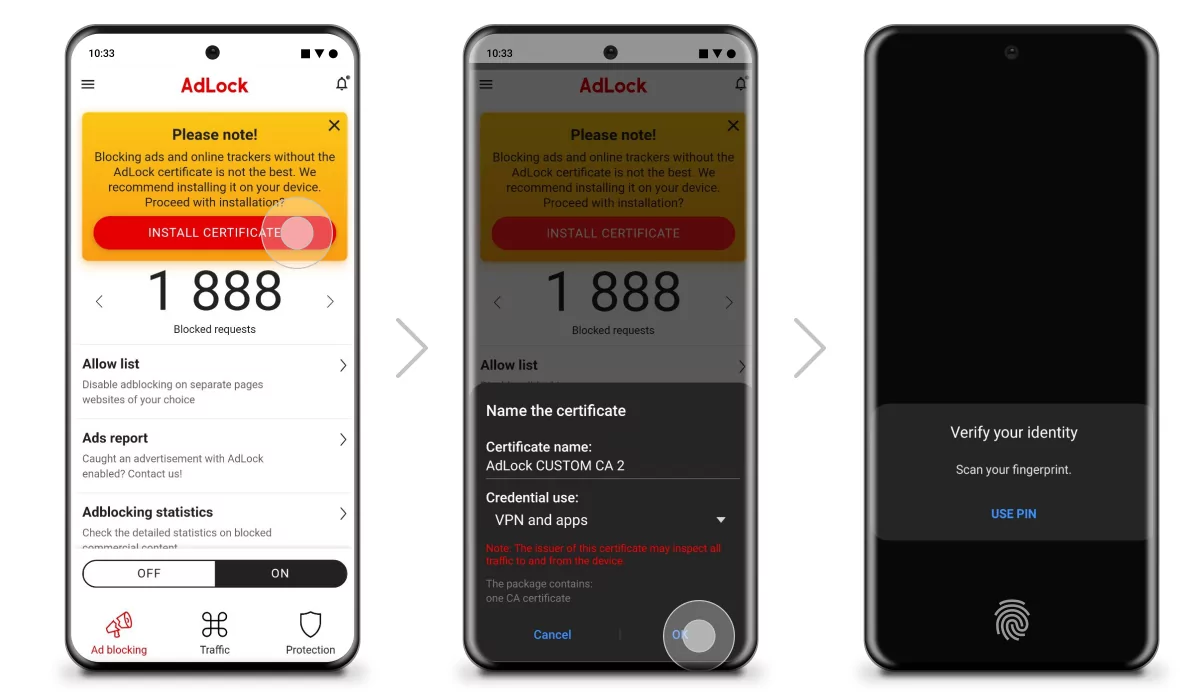 You can download AdLock from our official website and try it for free for 14 days without any hidden conditions or additional payments.
Did you know that there's a workaround allowing users to use Mobdro without ads? Bet you didn't. We are ready to share info on this topic, so go ahead and check out our article
Tips on How to Avoid Pop-Up Ads on Android
As a rule of thumb, you should be careful what website you're about to visit, the link you're about to click, or the software you're going to download. To keep your Android safe and clean, you should:
Have a malware protection app installed;
Always look up the application you're going to download — its permissions, privacy policy, etc. Also, make sure to see through user reviews and download count.
Never open suspicious email attachments or click fishy links from strangers;
Avoid jailbreaking or rooting your Android.
Follow these and all will be g. Forewarned= forearmed.
Conclusion
While the initial purpose of pop-ups was harmless, this type of ad has turned into an abomination. Fortunately, there are ways of solving the problem and you now know them. Surely, hackers would search for new ways of delivering their scams but we at AdLock are ready to tackle any of those.
FAQ
Why do I keep getting ads on my phone home screen?
If you're wondering "Why are ads popping up on my phone home screen?" then chances are you've caught adware/malware, shady third-party apps, or even an adware-infected Android theme. If you have installed a third-party launcher or theme app that is infected with adware, it can cause ads to appear on your home screen. These apps may modify your device's interface and inject ads into various elements, including the home screen. To address the issue of ads appearing on your phone's home screen, consider following the steps described in the "How Do I Find Which App on Android is Showing Pop-up Ads" block of our article.
How to stop pop-up ads for Android rooted devices?
Keep in mind that rooting your Android is not the best option as it brings additional risks. We don't suggest you root your android. Otherwise, if ads randomly pop-up on phone that is rooted already, you should consider these:
Modify the Hosts file (navigate to the system directory (/system/etc) and add entries for ad domains like "ad.doubleclick.net" or "ads.example.com" and point them to a local IP address (such as 127.0.0.1) to block the ads associated with those domains.)
Install an adblocker for rooted devices;
Modify DNS settings to get rid of pop-up ads on phone;
Use firewall apps that allow you to control network access for individual apps.
How can I block pop-up ads on my phone using a hosts file?
It involves modifying the hosts file to redirect requests to known ad-serving domains to a local IP address. Here's a general guide on how to block pop-up ads on your phone using a hosts file:
Ensure root access (we suggest you don't root your device);
Install a file explorer app;
Backup the hosts file;
Edit the hosts file by adding entries for ad domains like "ad.doubleclick.net" or "ads.example.com" and point them to a local IP address (such as 127.0.0.1) to block the ads associated with those domains;
Save and apply changes.
These are crucial, make sure you follow the advice.
How to block pop-up ads on Samsung?
To block pop-up ads on a Samsung device, you can follow these steps:
Enable Pop-up Blocker in Samsung Internet Browser:
Open the Samsung Internet browser on your device
Tap the Menu icon (three vertical dots) at the top right corner of the browser
Go to "Settings" and scroll down to find "Sites and downloads"
Toggle on the "Block Pop-ups" option
Install a reliable ad-blocking app like AdLock;
Disable Push Notifications;
Use Samsung Internet Browser with Content Blockers.
For more info, check out our article on how to
stop ads on Samsung!
Sick of obtrusive pop-up adverts?
Do you like this post? Share it!