Sick of obtrusive pop-up adverts?
Xiaomi made a wonderful journey from a no-name Chinese brand to a global smartphone leader in just a few years. People love the devices made by Xiaomi for their simplicity, design, and great price-quality ratio. How does the company manage to offer its products at such a low price? The answer is in Xiaomi's business model, which relies on the revenue generated by numerous ads supplied to the users. While some people are already quite used to seeing these adverts all over their smartphone's interface, many of us wonder if there's any way to block Xiaomi ads without a loss in usability.
Contents
Block Ads in Xiaomi Phone
Running MIUI, a custom skin based on standard Android, Xiaomi smartphones offer additional functionality, as well as alternative apps for many basic functions. All these apps are connected to the ad servers that the company is getting its profits from. So, when figuring out the way to get rid of Xiaomi adverts, you have to prevent your apps from accessing these ad sources. The respective controls are scattered all around your Xiaomi system, making it harder to complete, but you will get there using the steps as follows:
Turn Off Personal Ad Recommendations
Recommendations from Xiaomi are just some typical targeted ads, like anywhere else online, under a slightly nicer name. The feature that is responsible for tailoring personal-driven ads and supplying them as you use your phone is called Ad Services. You can easily switch it off this way:
Open your Settings and proceed to Passwords & Security;
Select Privacy and locate Ad Services in the list;
Turn off Personalized ad recommendations.
Turn Off the MSA Process
Another service providing Xiaomi ads is called MIUI System Ads, or MSA for short. The difference between Ad Services and MSA is that these ads are not targeted and are shown to all Xiaomi users whenever they open a certain built-in application. The way to remove these ads is not as straightforward and requires revoking authorization using the next steps:
Launch your Settings app and proceed to Passwords & Security;
Locate the Authorization and Revocation menu item;
Now look for MSA in the list and switch it off;
You will be prompted with a Revoking authorization alert and 10 seconds waiting time;
Now, the Revoke option must appear. Tap it for confirmation and MSA will be disabled, significantly reducing the number of ads you will see in your system apps.
Block Ads with AdLock Ad Blocker
Before we continue digging into the system files and folders, it would be worth mentioning that a specific Xiaomi ad blocker, which removes all ads with a wave of a magic wand, simply doesn't exist. In this regard, you might want to look for a universal ad-blocking tool that works on Xiaomi as well.
Did you know? Samsung smartphones can be also liberated from the extraorbitant amount of bloatware and spam that is packed in their standard build. Read here about all the best tricks to get rid of ads on your mobile and to find a perfect Samsung ad blocker.
AdLock is the all-in-one solution for blocking ads on any Android smartphone. Thanks to an extensive filter list (including the brand-specific anti-ad scripts), high adjustability, and easy-to-use design, AdLock earned the reputation of a true ad killer for both mobile browsers and apps. With AdLock you won't have to worry about the ever-changing ad technologies and system updates, as it's being actualized fast and gives no reasons to doubt its performance. Simply download the app on your Xiaomi and enjoy an ad-free interface without having to ROOT your mobile or any other hassle.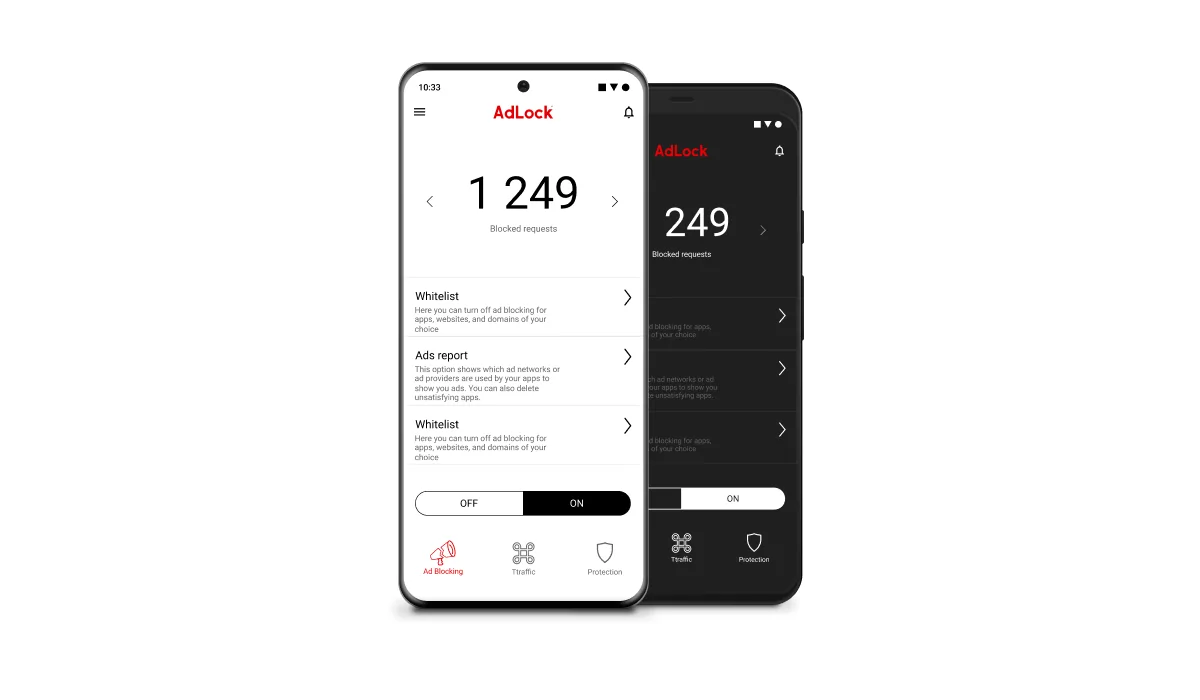 Remove Xiaomi Ads in the System App
Until then, it would still make sense to remove ads Xiaomi hides in each of its system apps manually. You might not be using all of them, so simply pick the steps that are important for your personal use of the smartphone, as listed below.
Switch Off Ads from the Downloads App
Launch the Downloads app on your phone;
Tap the three-dots icon on the top right and open Settings;
Switch off the toggle next to Show recommended content;
Tap OK to confirm your choice.
Turn Off Ads from the File Manager App
Open MI File Manager on your device;
Tap the top-left hamburger icon and select Settings;
Navigate to the About section;
Deactivate the Recommendations.
Remove Ads in Mi Video
Launch the MI Video app on your phone;
Tap on your Profile and select Settings;
Switch the Recommendations off.
Cut Off Ads from the Music App (Mi Music App)
Launch the Mi Music app;
Use the Menu icon on the top left;
Open Settings and proceed to the Advanced Settings section;
Deactivate all options related to Recommendations.
Disable Ads in Mi Web Browser
Launch the Mi Browser app on your phone;
Tap the three-line icon on the bottom-right side;
Select Settings and go to the Advanced section;
Find the option called Top sites order and deactivate Recommendations.
Disabling Ads from the Security App
Launch the Security App and navigate to Settings;
Locate Receive recommendations and switch it off;
On the current page, find Cleaner;
In the Cleaner menu, disable the Receive recommendations option.
Disabling Ads from the Themes App
Launch the Themes app and tap on your Profile;
Navigate to Settings;
Deactivate the Show ads option;
Switch Personalized recommendations off too.
Disable Ads in Folders
When you take the new Xiaomi out of the box, some of the app icons are already grouped into folders. Along with these, advertisements are also packaged and displayed as Promoted Apps, which can also be turned off.
Switch Off Promoted Apps
One of the default folders that are notorious for constantly displaying ads is called Tools and More Apps. Along with the real content, there are the Promoted apps suggestions, in other words, adverts for applications that Xiaomi wants you to install. You can disable them too:
Open the Tools and More Apps folder;
Long-press the folder's name (as if you wished to rename it);
You will see the toggle for Promoted apps — switch it off to complete the process.
FAQ
How to Disable Ads in MIUI 12?
When launching the MIUI 12, Xiaomi promised a feature that allows it to disable all system-wide ads at once. While this may very well be working in the domestic market, such a one-tap function is missing in the global build of MIUI 12. Regardless of whether you use Xiaomi in Japan or USA, the global version of the newest software version from this brand has the same ad controls as all the MIUIs before. In a nutshell, this means that whenever you want to remove ads Xiaomi built into its system apps, you will have to do it in the settings of each app.
How to Delete Ads on the Redmi Note 10 Pro?
Redmi Note 10 Pro is a flagship model in the Xiaomi product range. But even that doesn't mean that the smartphone is free from bloatware, adverts, and app suggestions. To remove these ads on both MIUI 11 and 12 you will have to search through the settings of each individual app, as there is no way to do it in bulk. It is possible to identify the options by keywords Receive Recommendations, Receive Referrals, or Show Ads. Also, don't forget to disable the MSA and Ad Services, as these features are in charge of supplying ads to your mobile.
Sick of obtrusive pop-up adverts?