How to Block Ads on Mobdro
Your favorite streams without ads!
Mobdro is one of the hottest mobile applications in 2020. Thousands of people all around the world are using it daily and not missing their old-fashioned TVs at all. Most importantly, it is free and, according to the developers, will remain as such forever.
One thing people don't like about the service is that on top of the regular commercials between and during TV programs, they are also exposed to the numerous ads provided by Mobdro itself. Sometimes the ads just go one after the other making the app barely usable. But you arrived at the right place because in this short guide we are going to review all the ways to enjoy Mobdro without adverts.
What is Mobdro used for?
Designed specifically for Android, Mobdro is the service that collects all the available online streams and makes them available to users in a single intuitive interface. From TV shows to documentaries and sports, Mobdro lists hundreds of channels that you can play in one click. Not just that but also other cool features are packed in the app's menu:
You can capture the streamed content for a given time and download it for watching offline.

The best programs you have found can be easily shared with friends who have the app installed.

There is a timer feature that allows you to fall asleep peacefully while watching the shows before going to bed.

The app is compatible with Chromecast which makes it ideal for enjoying the live streams on the big screen.
Sounds fantastic, especially since it is all free of charge! But you gotta be careful here. Much of the content Mobdro rebroadcasts is copyrighted and subject to DMCA regulation. The app is not liable for any legal claims against the users who violate the copyright. Therefore, we cannot give a legal assessment of this issue and can just urge you to use your best reasoning when it comes to watching shows through the Mobdro interface.
Of course, the developers have to keep the project going and get some revenue. Therefore, they show you the ads. A little banner on the bottom of the screen is not that bad. But the animated ads that take your whole screen every time you switch a stream or select another function might seem intrusive. The solution: install a trusted and reliable ad blocker.
Block Mobdro Ads with AdLock
Every other app on your Android can easily become ad-free with AdLock. This ad blocking utility is created to trace and block commercial content elements in the incoming traffic using a wide range of filters. Once installed onto mobile, AdLock manages the content that will be shown to you when using web browsers and applications, leaving you with no banners, autoplay video adverts, or any other pop-ups.
AdLock protects your private data online and doesn't let any malware or adware hijack your Android. With the advertisement cut down, your device consumes much less mobile data and battery power as well. While pages and streams discarding the advertising ballast load times faster.
AdLock currently offers a multi-device subscription with an attractive discount. Check out the deal.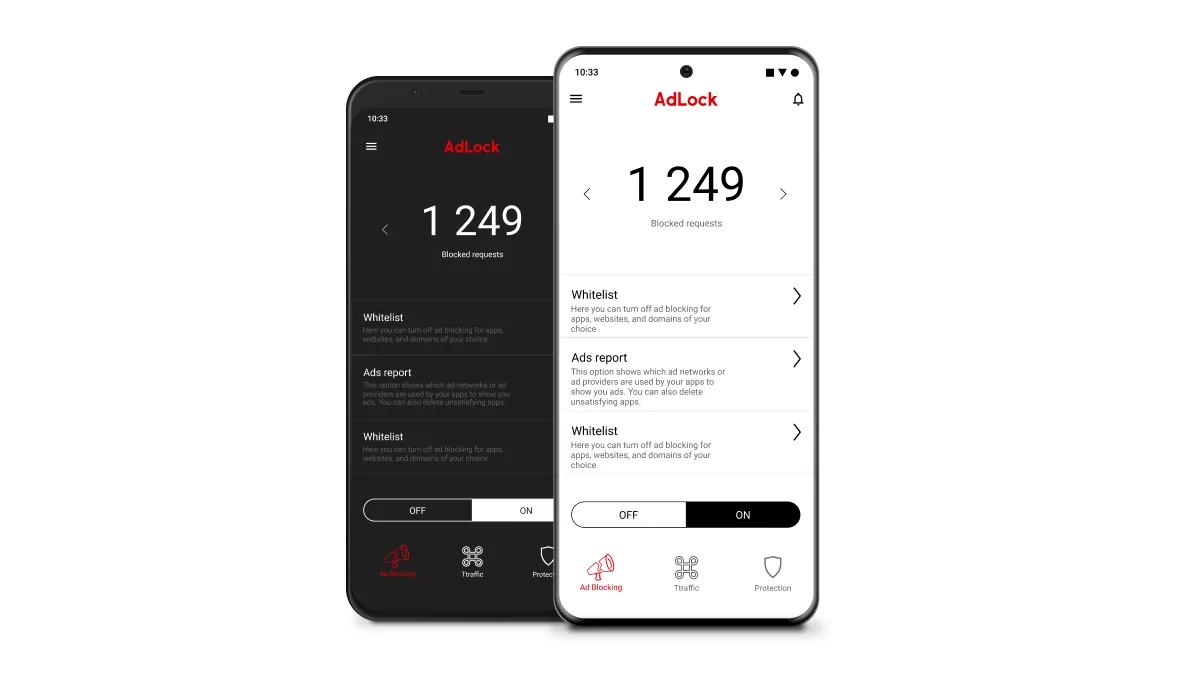 How to Block Ads from Mobdro on Android Phone
Mobdro offers a somewhat extraordinary way to remove ads from the application. Instead of paying a monthly fee, as you do with other services, you can connect your device to the proxy-network called Luminati. This will make your Android a peer in a virtual network. This network can be then used by other organizations, and what they need is your device's computing power and IP-address, to solve some of their major tasks.
Mobdro promises that the connection through this proxy-network is fully safe, and it will only be activated when all of these criteria are met:
Your device has at least a 60% battery charge;

It is connected to some WiFi network or Ethernet;

You are not using your device at this moment.
So, basically, you share some computing power of your phone or tablet when you don't need it in exchange for a completely ad-free video streaming app at any time you want. It does sound like a fair deal but one question remains: what is this network will be doing with your device?
According to Mobdro, the Luminati network has nothing to do with cryptocurrency mining or collecting users' data. It does not intervene in the file storage or settings on an Android mobile, and the permission to connect to that network can be recalled at any time.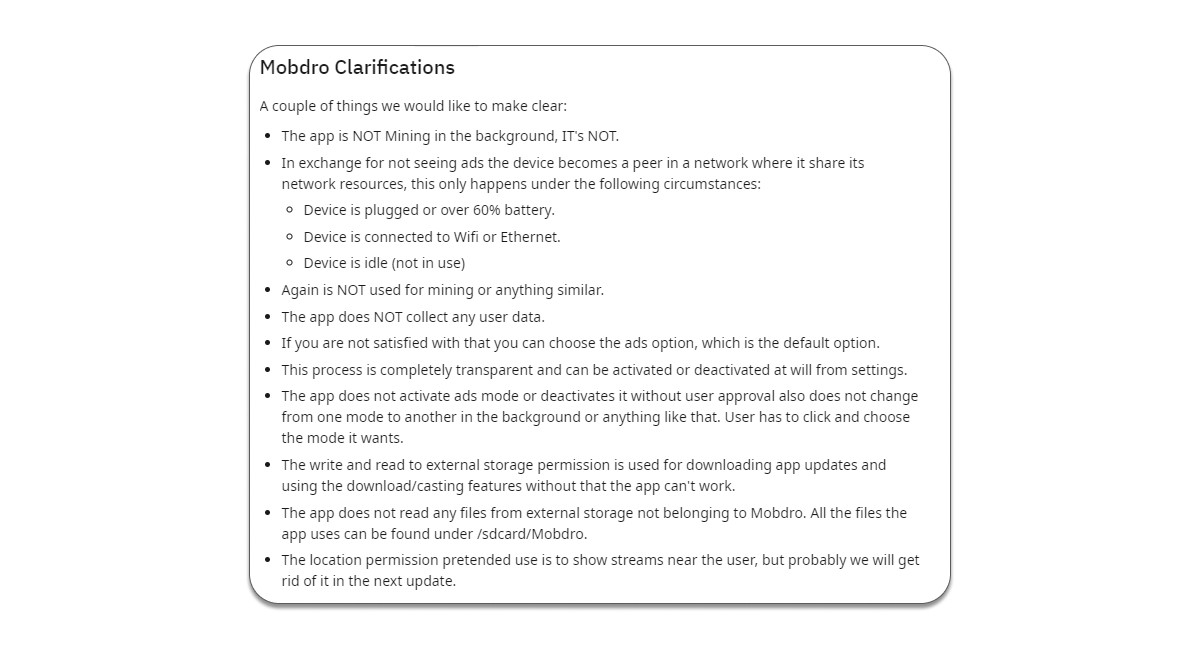 Yet, many users are reportedly concerned about the functions of this proxy service. Some claim that Luminati is a botnet that can be potentially used for illegal internet activities by the one using all that computing power on the other end. This may include DDoS-attacks, prohibited content in the Dark Web, spreading viruses and spyware, etc. While there is no proof of such allegations available, it is up to you to decide whether such a way of blocking the in-app ads is worthful.
Stop Pop-ups on Mobdro on iOS and Mac
As it was mentioned earlier, Mobdro is designed specifically for the Android system. You won't find it on Play Store, however, the only way to run it is to install the APK — and that file type is specific to Android devices only.
Therefore, at the moment, Mobdro is not available for devices running iOS. Jailbreaking your iPhone or iPad is not recommended but even that would not help you to get Mobdro installed. If you are looking for a free video streaming service for your iOS device, take a look at the alternatives, such as MovieBox PRO, Popcorn Time, Air Playit, or Hotstar.
Mac and desktop computers in general don't have native support for Mobdro either. However, there is a workaround and that involves installing an Android emulator. Programs, such as BlueStacks or Nox App Player, can create a proper Android environment inside your usual OS, allowing you to run mobile applications on the big screen. This is completely legal and won't affect your Mac or files stored on your hard drive. When you do get yourself an Android emulator, simply download and install the Mobdro APK file to be able to launch it. From now on you can enjoy free video streams on your desktop too, and to make it ad-free follow the steps we described for Android, including the option to install a quality adblocker. Happy watching and be careful using it!
Your favorite streams without ads!
Do you like this post? Share it!
Do you like this post? Share it!