3 Easy Ways to Block Ads & Pop-Ups on Microsoft Edge [2023 Update]
The most convenient ad remover is here
Microsoft Edge has come a long way since its initial release and has improved significantly over the years. It can now be considered on par with other major browsers, and in many aspects, it offers some unique advantages. Once made fun of, Internet Explorer (as a default Microsoft web browser) has been redeveloped using the Chromium engine. So, nowadays Edge can boast top-notch performance, security, compatibility, privacy features, and support for a wide range of handy extensions.
And although Edge has several inbuilt ad blocking tools, ads still make it to users' displays.
So, if you're browsing how to block ads in microsoft edge and find this article, you can breathe a sigh of relief. Look no further, we've got you.
Microsoft Edge Based on Chromium Source Code
Before we dive deeper into the topic of "how to stop ads in edge browser", let's recall how it all started and moved on. Back in January 2015, Microsoft announced "Project Spartan" as their new web browser during a Windows 10 media event. Later that year, in July, Microsoft released Win10 which included Project Spartan as the default browser instead of goodol Internet Explorer. "Project Spartan" as a name ceased to exist the same year as during the Microsoft Build developer conference, the official name "Microsoft Edge" was announced.
Over several years, Edge has received a bunch of updates and reworks aiming at the improvement of its performance and became available for Android and iOS devices. Microsoft Corporation started its work on updating the Edge back in December 2018, when it was decided to stop any development of its own engine for the good of the Chromium codebase. In 2020, Microsoft announced the launch of its newest version of the Edge browser based on the Chromium open-source project. It was said that Windows 10 users will be receiving the new Edge as an update in the next few months.
The updated Microsoft Edge synchronizes settings, preferences, favorites, and passwords across devices and has a comprehensive set of tools. Despite the obvious improvements, the problem of obtrusive advertisement is still there, and it can't be solved by switching the codebases and engines. So, the question of how to block pop-ups in the new Microsoft Edge is on the front burner. Let's make things clear.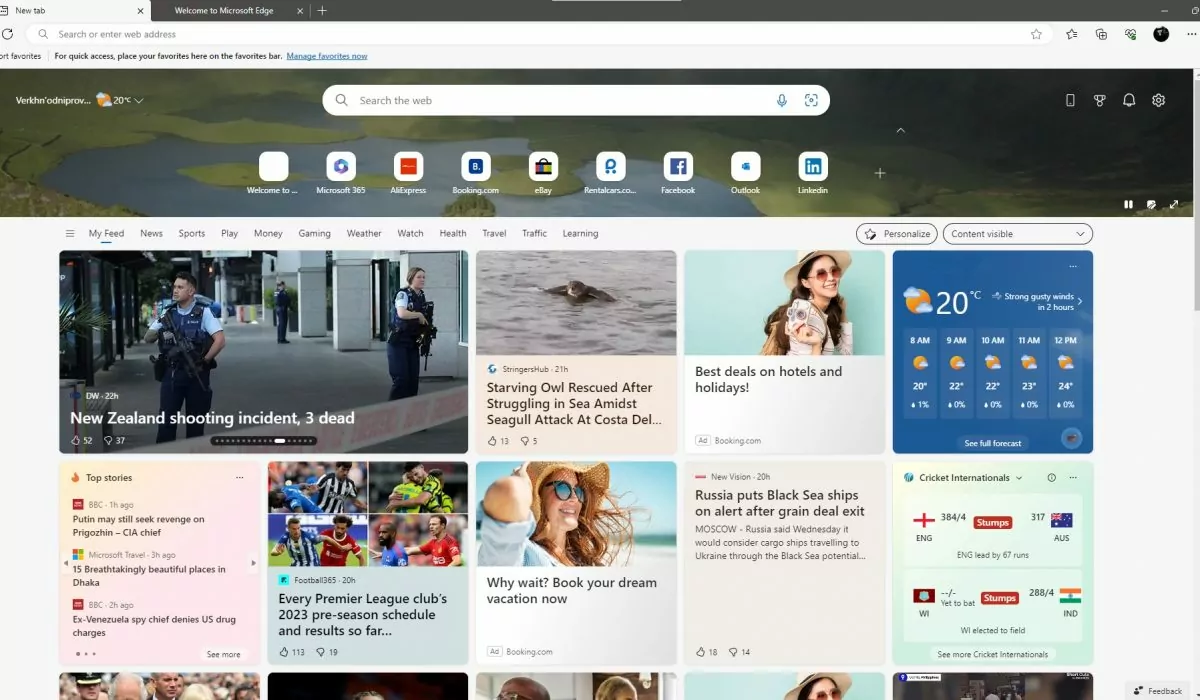 Read also: How to get rid of ads in the bottom right corner of Windows 10
How to Block Pop-ups in New Microsoft Edge
Please note, that this section and instructions are for the new Edge only. You will find our guide for the legacy version in further blocks of the article.
To enable inbuilt edge ad blocking for pop-ups:
Go to (⋯)Settings => Cookies and site permissions;
Select Pop-ups and redirects;
Move the Block toggle to On.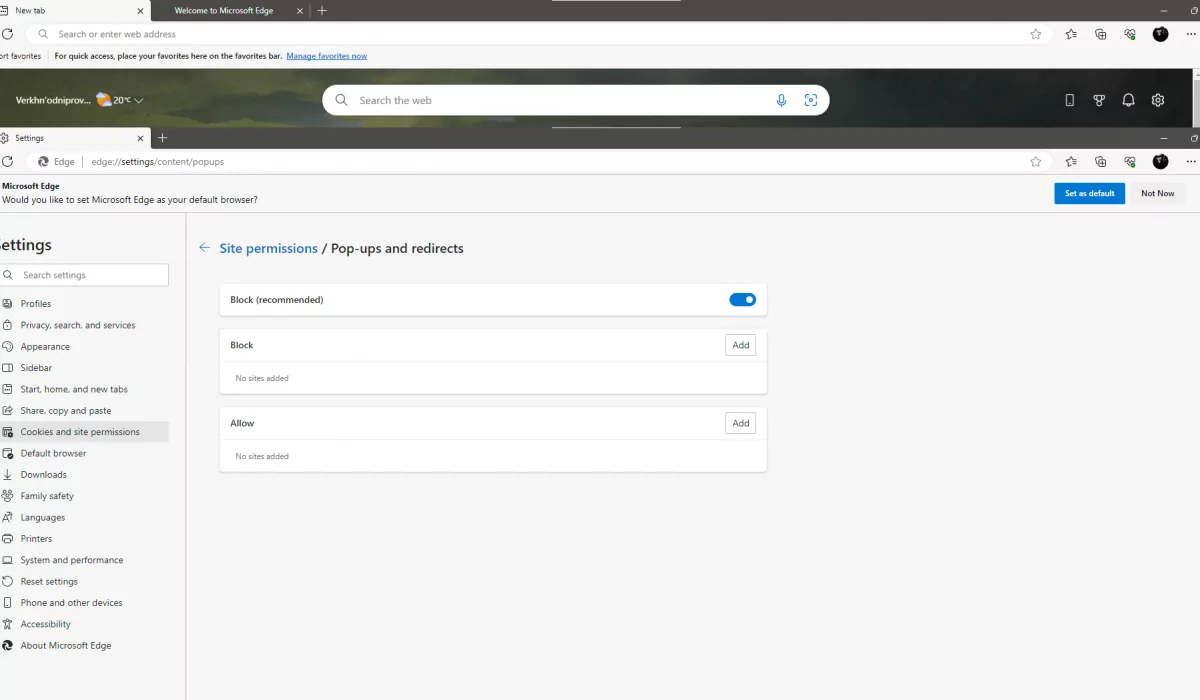 How to Block Ads on Microsoft Edge in Windows 10 Using AdLock
We say it over and over again: the most efficient way to get rid of any type of advertisement is to get a specialized adblocker. Of course, we promote our product. Take into account, that we are Internet users just like you — we love watching series and streams, listening to our favorite music, and all that good stuff. Just like you, we hate ads. That's why we, fed up with commercials, decided to develop a quite new adblocker that would remove all adverts with no exceptions.
By working hard on our brainchild, we introduced a row of products that help PC and smartphone users to have the most pleasurable internet experience without ads, trackers, unwanted redirects, and malicious attacks/requests.
So, to remove ads from the Edge browser (and not only) you need to download and install our application. You can use unlimited AdLock for a 14-day trial free of charge and with no strings attached. AdLock will disable ads in your Windows 10 apps just as well, we are sure you'll enjoy it. After the installation is over, you'll have to tune the app for it to show its full power.
Open and adjust AdLock
From the moment AdLock is launched it will automatically start to block advertisements. So if that's what you were looking for you can skip this step. Close the AdLock window and go enjoy web surfing with no more ads. But if you're curious, you can adjust our ad blocker to meet your special requirements. AdLock settings are set up by default to hide all types of commercial content on browsers and applications yet you can set a list of exclusions. For example, if you want to shut off an ad blocking on a certain website, but you don't want to deactivate AdLock completely, then you add the URL of such a website to your list of exclusions. The list can contain both websites and applications.
To do so:
Go to the "Ad Blocking" tab in the application;
Press the "Allow List" option;
Click the "Add Item" option;
Type/paste in a URL in this format: www.example.com;
Press "Add" to save changes.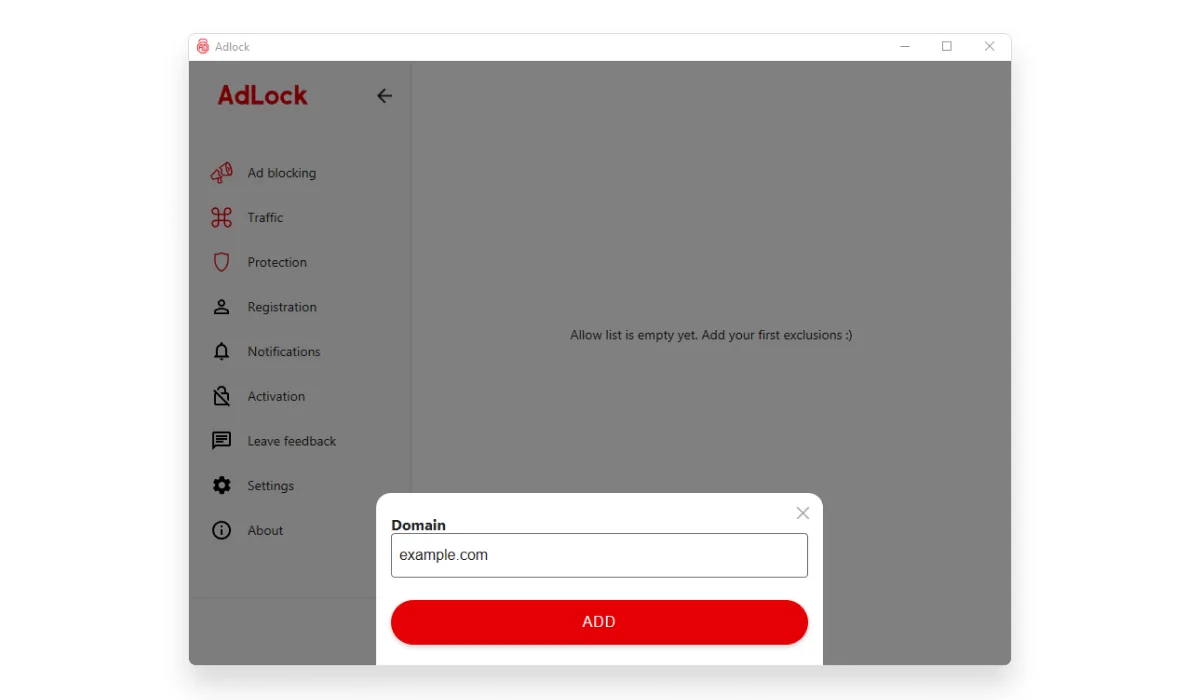 As soon as you do that, all websites except the one you've added will be ad-free.
Other Ad Blockers for Microsoft Edge
There are several ad blockers available for Microsoft Edge. However, not all of them may be as effective or feature-rich as some of the top-rated ad blockers. If you ask what's better — an adblocking extension or a standalone application, we'd suggest you stick with a standalone ad blocker for microsoft edge. And while some of the extensions on the market offer somewhat decent adblocking, they won't be as effective as applications. Ever. The reason for that is the limitations they have to operate within.
Let's consider a few ad blockers available for Microsoft Edge:
AdBlock for Microsoft Edge (Beta)
While the name suggests it's an official version of AdBlock, it is not directly affiliated with the well-known AdBlock extension available for other browsers. Users reported that it lacked some features and performance optimization, leading to a less effective ad-blocking experience.
AdBlocker Ultimate
AdBlocker Ultimate is another ad-blocking extension available for Microsoft Edge. While it works reasonably well for blocking ads, some users have noted that it doesn't offer the same level of customization and fine-tuning options compared to other popular ad blockers.
Nano Adblocker and Nano Defender
These are two separate but related extensions, with Nano Adblocker providing ad-blocking capabilities and Nano Defender designed to counter anti-ad-blocking scripts on websites. While they can be effective, users have reported that they may require more advanced configuration compared to other ad blockers.
Total Adblock
This is a decent ad blocker for edge that comes bundled with an antivirus. Aside from conventional adblocking it offers users several convenient tools like whitelist and tracker blocker. Despite its positives, Total Adblock has downsides including unavailability for Windows devices — it's only available for iOS and Android, a hefty price tag.
It's important to note that the effectiveness of ad blockers can vary based on factors such as the blocking rules they use, the frequency of updates, and the level of user customization available. For a more robust and reliable ad-blocking experience on Microsoft Edge, consider using popular and well-established ad blockers such as AdLock, Adblock Plus (which should not be confused with AdBlock mentioned above), or uBlock. These products have a good reputation for effectively blocking ads and providing a range of customization options for users. Always check user reviews, ratings, and recent updates to ensure you choose an ad blocker that suits your needs and preferences.
How to Disable Ads on Edge via HOSTS File
This method to stop adverts on Edge is the most simple, yet effective. You don't let your browser get the information from the server where the ads are located. To make it work, you will need to download the hosts file from here the downloading will start automatically, and then edit your hosts file. Follow the next instructions to know how to block ads on Microsoft Edge using the hosts file.
Unzip the hosts.zip and open file HOSTS with a notepad. Copy everything below line # [Misc A – Z].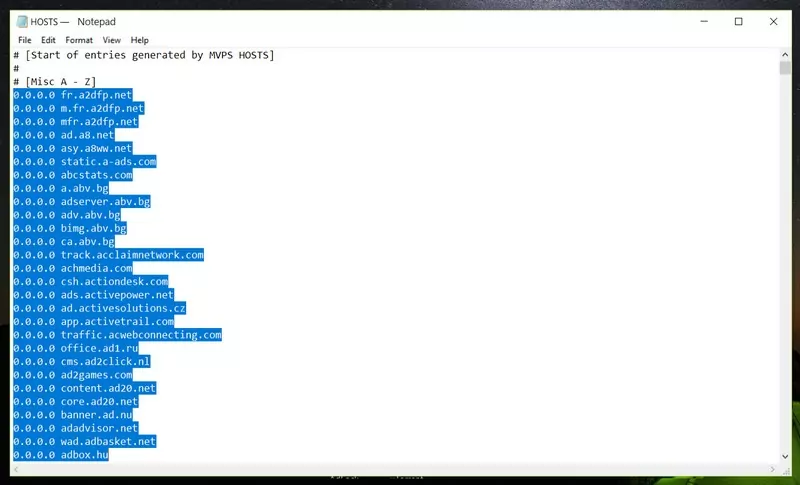 In a notepad window press CTRL key and press O to open Open File dialog, type the following path C:\Windows\System32\drivers\etc in the breadcrumb trail, and choose All Files in the File Type drop-down menu in the right bottom corner of the window, choose the Hosts file and click Open.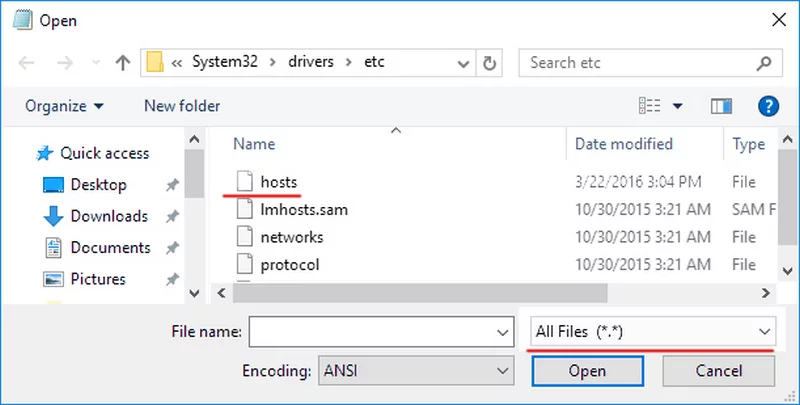 Paste after line # ::1 localhost text you copied in the first step. Save changes and exit the notepad.
Restart your computer for changes to take effect.
You never know what ad will finally infect your computer with malware. But you can take care of the future of your device and
stop ads on Mozilla Firefox
finally.
How to Stop Ads on Edge by Adjusting Your Browser Settings
Microsoft offers you an option to block pop-up ads on Edge browser, and even though this option is yet to be working well, it won't harm to use it anyway.
Launch Edge, click the three-dots more actions button in the upper right corner, and choose Settings.
Scroll down and click View advanced settings. Find there Block pop-ups toggle and switch it on.
This method doesn't provide you Microsoft Edge with no ads though it cuts down a good number of unwanted pop-ups.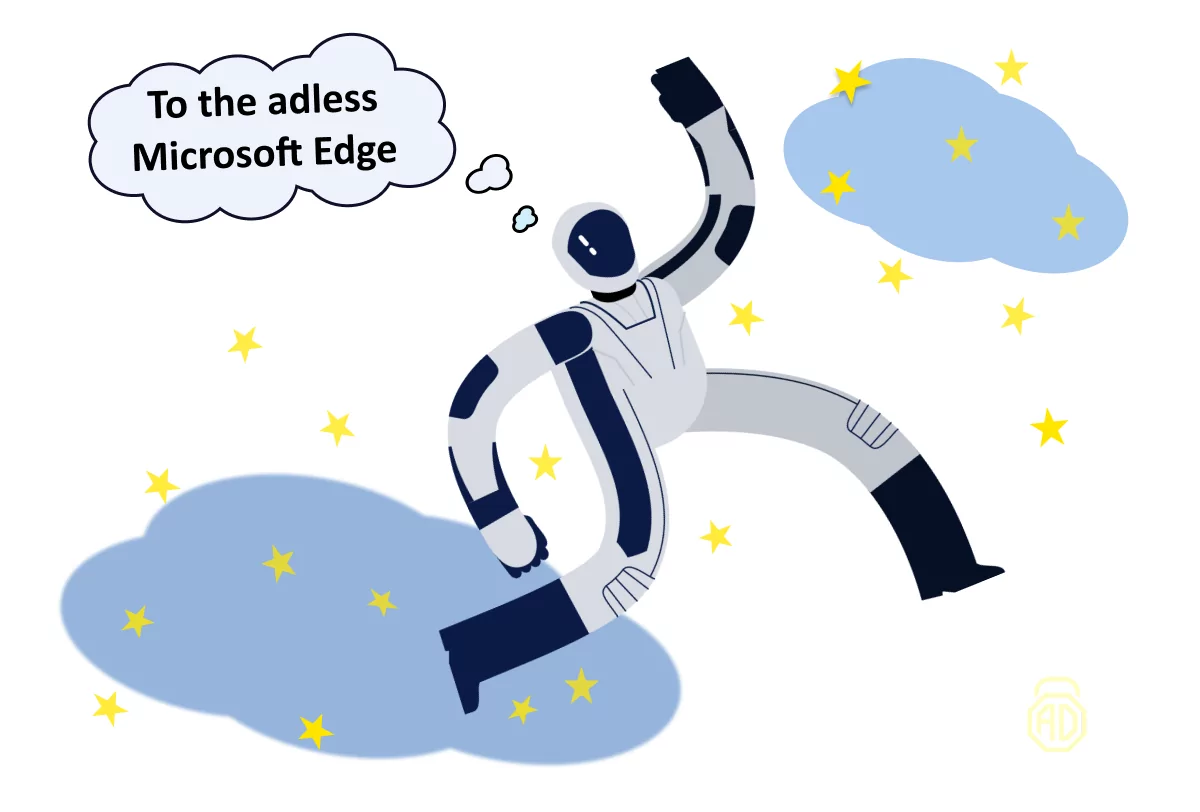 Extra Advice if the Pop-Up Blocker is not Working
It may happen that the recently enabled pop-up blocker doesn't work or shows mixed results. Reasons for the malfunctions may vary so here you'll get instructions for making your popup blocker work.
Make sure Microsoft Edge is up to date
Yep, the first thing you should do is to check for updates. Oftentimes, older versions do not support newer scripts or algorithms hence interfering with the intended operation.
To check for updates, you should:
Proceed to Settings and more;
Select Settings and then About Microsoft Edge;
If there's an update for your browser, you may apply it and restart Microsoft Edge.
Scan your PC for malware
Malicious software may cause a bunch of problems including the malfunction of browsers. Untimely defender/antivirus updates result in security breaches, so some sneaky-sneaky virus may lurk somewhere and steer up trouble. If you have a standalone antivirus program, then you should check for antivirus base updates and then scan your system using the "Deep scanning" or whatever it is called in your software option. Upon completion, delete viruses if any, and restart your PC.
In case you don't use any third-party antiviruses, then you should make sure that in-built Windows Defender is enabled and up to date. To adjust and customize how your PC is protected with Windows Security features:
Press Start;
Proceed to Settings;
Then select Update & Security and go to Windows Security;
There you will find a bunch of options to tune, so go ahead.
Clear your browser cache
Clearing your browsing data may also help. Basically, the pop-up blocker may be enabled and working, but the reason you see those pesky popups is that they're cached.
So, here's what you should do:
Go to Settings and more, select Settings, and then Privacy, search, and services;
Under Clear browsing data, select Choose what to clear;
Choose a time range from the Time range drop-down menu;
Select Clear cached files;
Press Clear now.
Try switching on/off your extensions
It also may happen that some of your extensions are getting in the way. You may try switching them all off and then switch them on one by one while checking if pop-ups still appear.
To do so:
Go to Settings and more;
Select Extensions and press Manage extension;
Switch to the right of each extension to disable them.
If pop-ups are being blocked after this, re-enable them one at a time to determine which one is getting in the way.
If nothing of the above helped you, you may also try resetting your Microsoft Edge to defaults. And then re-enable the pop-up blocker to check if it works.
Final Thoughts
Blocking ads on Microsoft Edge browser is easy when you know what to do. To block ads in Edge effectively, you should choose a reliable adblocker like AdLock. Not only it provides top-notch adblocking (systemwide!), but top-tier privacy and security also. Our product does not collect any data from you and does not allow third-party trackers and scripts to do that.
On top of that, AdLock would also block any and all suspicious/unwanted requests, redirects, and malicious attacks including phishing. Get yourself AdLock and remove ads from edge browser, opera, firefox, chrome — you name it in a snap.
FAQ
How to disable ad blocker on Edge?
To disable the ad blocker on Microsoft Edge, follow these steps:
Open the Microsoft Edge browser on your computer;
Access the Extensions: Click on the three horizontal dots (ellipsis) in the upper-right corner of the browser window;
Navigate to Extensions;
Manage Extensions;
Disable the Ad Blocker Extension. Locate the ad blocker extension you want to disable in the list of installed extensions.
Toggle Off;
You may receive a confirmation prompt asking if you want to disable the extension. Click on "Turn off" or "Disable" to confirm the action.
After following these steps, the ad blocker extension will be disabled, and ads will no longer be blocked while browsing websites. If you ever wish to re-enable the ad blocker, you can go back to the Extensions page, locate the extension, and toggle it back on.
How to remove ads from Microsoft Edge on the home page?
While some of the content shown on the New Tab page may include sponsored content or ads, there is no direct option to completely remove all ads from this page. However, you can customize the New Tab page to minimize the visibility of ads and sponsored content. Here's how to do it:
Open Microsoft Edge;
Access the New Tab Page;
Customize the Page to remove unwanted content, customize content settings and choose what to show;
Save changes.
While you can customize the New Tab page to reduce the visibility of ads and unwanted content, certain elements like frequently visited sites or Microsoft's suggested content may still appear. Additionally, Microsoft may periodically update or change the New Tab page layout, so some options and features might vary with updates to the browser.
I'm still using Explorer instead of Edge, how do I block ads there?
First of all, wow. Second of all, WOW. It is generally recommended to use a more modern and secure browser like Microsoft Edge, Google Chrome, Mozilla Firefox, or others for the best browsing experience and security. Since IE is old and does not receive vital security updates, if you use it your device and data are at risk of being stolen/jacked. But anyway, if you do use IE, you should search for an edge ad blocker extension that fits. Or, you may think of a standalone app (like AdLock) that would protect you. For more info on the topic, follow this link
Ad-free surfing is not a myth
Do you like this post? Share it!
Do you like this post? Share it!