Ad-free Crunchyroll? Easy!
Ohayou, friends! We know: whole life isn't enough to enjoy all the anime that's out there on Crunchyroll. But who wants to spend the best years of it watching dumb ads?
Much of these adverts are promoting Crunchyroll itself, as well as their selection of the shows. However, it's also true that there's almost no other streaming website that would interrupt the videos to show ads that insanely often!
If you like wathcing YouTube using your handheld device, then you should catch up on our article describing best possible ways how to stop YouTube ads on Android. We've got several tips and suggestions which would definitely help you releive stress of being bombarded with the most diverse commercials.
To be precise, there are four placeholders for the ads within any video on Crunchyroll:
One pre-roll (15 seconds);
Four ads at the beginning of the episode (30-seconds each);
Four mid-rolls (30-seconds each);
Four post-rolls (15, 30, 30 and 20 seconds).
Oh yeah, there's no way to skip Crunchyroll ads — you gotta watch 'em all.
Totaling at 6 minutes per 24-minutes long videos, these ads are taking a decent half an hour of your time per four episodes. Or, to put it simply, every fifth episode of your favorite show is actually just pure adverts, just broken down in short but annoying interruptions.
So how do you use Crunchyroll without any ads at all?
No time to read? Just download AdLock for Windows and watch Crunchyroll without ads.
Contents
Crunchyroll in 2021
Ads on Crunchyroll are all related to anime. Which would maybe sound not too bad to anyone, but the real anime fans. Those hunting for the best pieces of Japanese animation don't appreciate such ads for a simple reason — they are full of spoilers. Video ads are designed to raise interest, and they do — the most interesting plot twists, some key points of the whole journey lasting a few seasons, can be shown directly at the beginning of the show.
By not using any content blocking solutions you also get yourself exposed to the false ad targeting that Crunchyroll is infamous for. So be prepared for the commercials for erectile dysfunction pills or menopause medication. Sure, we can already see typical anime fans queuing for that stuff (not).
Ahem…Menopause medication and erectile dysfunction ads for anime viewers… Niceu targeting, Crunchyroll.
Crunchyroll Without Ads with Premium Memberships
The most promoted product that you'd see a lot in Crunchyroll ads is the Premium subscription for the service. Right now there are two options available:
Fan for $6.99 a month;
Mega Fan for $9.99 a month.
With the Fan plan, you can get unlimited access to the entire anime library and enjoy it without any ads. Mega Fan plan extends your benefits to streaming on 4 devices at the time, as well as offline viewing. You can also become a Mega Fan for the whole year and save some money — $99.99 a year.
Using a Guest Pass to Watch Anime Episodes for Free
But don't rush to shout "shut up and take my money" just yet, as you can try the ad-free version without paying first using a Guest Pass. Although not heavily advertised by Crunchyroll, this Premium users benefit allows them to receive a monthly code which then works as an invitation ticket for their friends. With Guest Pass, one can test all the perks of the premium plan for 48 hours free of charge and obligations.
Of course, Game Passes have their restrictions. Don't hope for creating a free account and using 48-hours tickets one after another, as there is a limit of 10 Passes per six months. Crunchyroll system is trying to prevent users from creating multiple accounts and abusing the Game Pass incentive, too.
How to get a Guest Pass?
Reddit Weekly Guest Megathread
Crunchyroll users hang together at all times, so their subreddit is a place to watch. Every Thursday premium users share their Guest Passes there, but you gotta be quick to grab one before anyone else does.
Crunchyroll Forum
The same is happening in the official Guest Pass thread on the Crunchyroll forum, and the admins seem to be okay with the users sharing their codes. A little bit of patience and you will find a working passcode in the regularly updated thread.
Facebook
As we said, Crunchyroll users tend to stick together, also on Facebook. There are dozens of larger and smaller anime fan groups on Facebook, so just try to reach out to their members. Anime fans don't leave each other in trouble and often post their passcodes right in the public discussion as well.
While it might seem like a generosity parade from the platform developers, Crunchyroll treats their Guest Pass program rather as a courtesy, and not an obligation. Fans and Mega Fans often criticize the incentive for being unreliable, as sometimes they don't receive any passcodes for a few months. Crunchyroll sees no issue here:
"Guest Passes are a complimentary service, not a guaranteed part of the Premium offering, and are not currently supported. We are evaluating whether or not to continue providing them as a service. We apologize, but we do not provide backlogged passes. If you would occasionally like to share Crunchyroll Premium Membership with a friend for two days, please contact us using the link below with the username or login email of the friend, and we can set them up." (Source)
How to Watch Crunchyroll Without Ads with Browser Extensions
Many ad blocking browser extensions promise users to block Crunchyroll ads at no cost. However, often such promises need to be taken with a fair amount of skepticism. In a constant fight for their advertising budgets, the platform keeps on coming up with new technologies able to bypass the ad blockers. You may see multiple threads online discussing how the most common ad blockers lose their power against the disobedient anime ads or gain it back again.
Having said that, it would be fair to agree that most of the ad blockers from the top-10 are quite unreliable when it comes to watching Crunchyroll without ads regularly. On the other hand, there are plenty of no-name extensions scattered across Chrome Store that are supposedly designed purely to block ads on Crunchyroll. Usually, those have extremely low ratings and very few reviews indicating that the quality of their anti-ad filters is dubious. It is not prohibited to try them out, of course, but as Crunchyroll admins shrewdly notice on the forum, you never know who is in charge of their servers, and how they are going to act when having the access to your account, personal data, and payment methods.
But there is an outstandingly good exception to this rule. AdLock extension for Google Chrome knows how to block Crunchyroll ads with no problem, as its Crunchyroll-specific filters are being constantly updated and taken care of. Just launch the AdLock browser extension in your Chrome, make sure that the toggle "Show ads on this page" is off and play an episode to see how all the bunch of repetitive ads you've been struggling with has completely disappeared! AdLock never sells the data to third parties so you can make sure that no one is going to intervene in your personal stuff, and using the extension is so easy that it's almost seamless. AdLock confidently takes the top spot in the nomination for the best Crunchyroll ad blocker out there.
Change Hosts File to Bypass In-Stream Ads
Wanna hassle with adjustments? Okay. Crunchyroll forces ads through static.vrv.co, so, by modifying the hosts file users can outplay and outsmart the platform ad scripts. How? Here's the instruction:
Close the browser;
Click the ⊞ Win button and find the Notepad;
Run Notepad as an administrator;
In Notepad, click File and then Open;
In the dialogue box change the format of sought files from Text Docs to All Files;
Proceed to the "hosts files" directory on your PC (which is usually at C:\windows\system32\drivers\etc);
Open the "hosts" file;
Now be careful, and at the end of # strings, add a new line (without a # sign) and paste this:
127.0.0.1 static.vrv.co
Save the file and launch your browser to check if Crunchyroll is still showing adverts.
Try to Use Another Browser
It's always a nice way to stop ads by sticking to another browser and another adblocker/adblocking extension. You can always find a good alternative to what you've been using. To admit, Brave and Tor did well with all ads on the Web. On top of adblocking, these two provide decent privacy protection when you go online, so if you haven't checked them yet – go ahead!
How to Get Rid of Ads on Crunchyroll Using AdLock
It's very simple: there's no other single tool that can block Crunchyroll ads as neatly as AdLock does. You just have to choose the right version of the best ad blocker for the device you're using your Crunchyroll with, and here is how.
Remove Ads Using AdLock from the Crunchyroll Website
Get AdLock for Windows and install the app on your PC. You can choose whether you want to benefit from a 14-day free trial (without even filling in your credit card and personal data) or proceed directly to the full-scale 1-year subscription. Once the installation is done, open AdLock, update the filters, sit back and relax with your favorite anime. AdLock ensures your all-around protection because it works systemwide, meaning all the browsers and Internet-powered apps are already included. Just make sure to update your web browser to the latest version and enjoy seeing how all Crunchyroll ads on Windows disappear.
How to Remove Ads from the Crunchyroll App
With the AdLock free trial or 1-year multi-device paid plan, you can disable the ads on your Android too. Just download the AdLock Android app and follow the intuitive installation process. Now you are just two simple steps away from getting rid of ads on the Crunchyroll app:
Update your filters
In the app, tap on the three dots on the top right corner and choose Check updates. On the next screen tap on UPDATE ALL.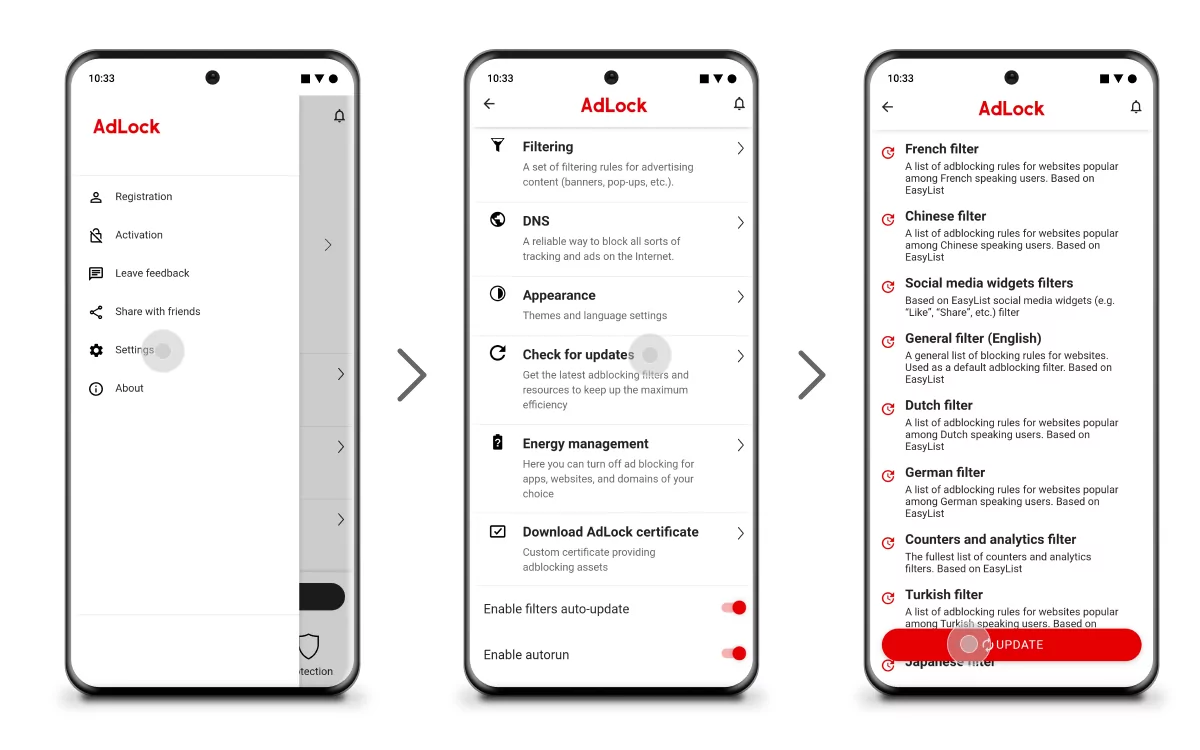 Enable HTTPS filtering
Switch to the AdLocker tab and enable this filtering feature. In a pop-up window tap OK. You will be then prompted to set a graphic key to verify your ownership for all future actions.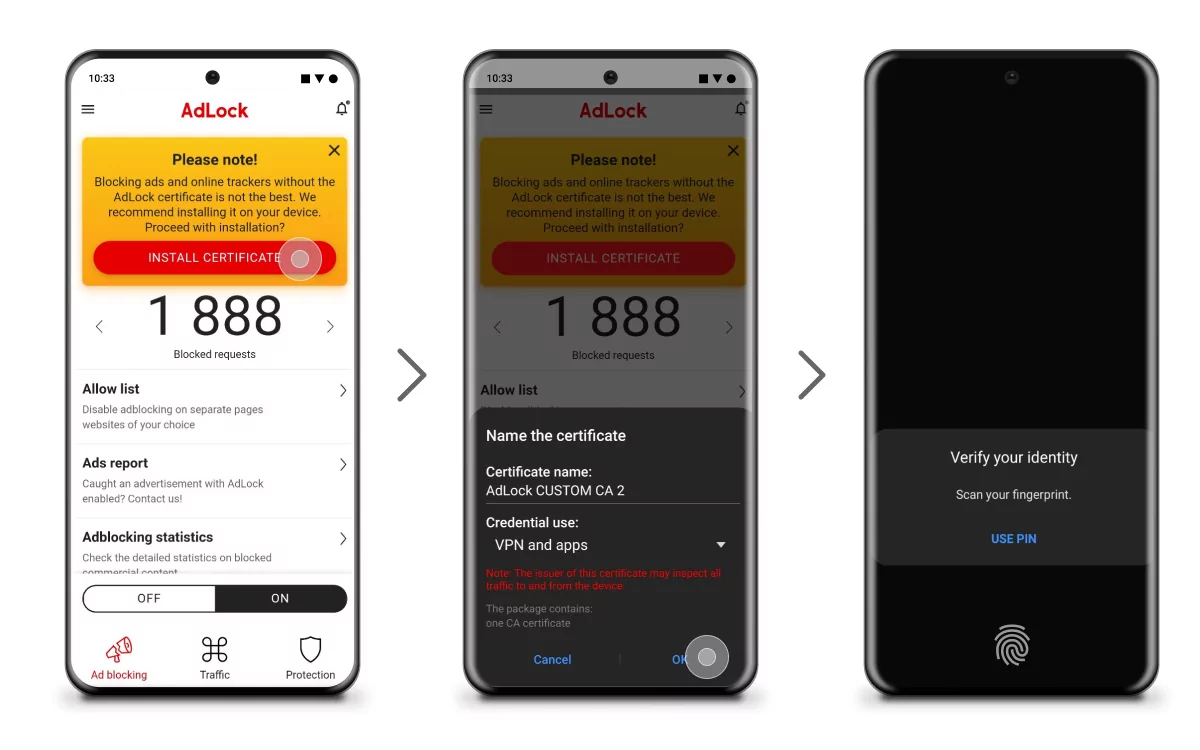 Done! From now on you can watch your favorite shows on both the Crunchyroll website and the mobile app with no ad interruptions.
Fans of the most popular word-game in the world Words With Friends are mad because Zynga removed the option of purchasing an ad-free version from their store. Users are searching ways to play
Words With Friends without ads
.
Update from February 2020!
For the last couple of months, users all over the web have been complaining about AdBlock not working on Crunchyroll. Other ad-blocking extensions including uBlock Origin were faced with the same problem. Looks like Crunchyroll occasionally applies new anti-adblocker algorithms as according to the Reddit user u/Silverlight64 there were no obstacles viewing content on other websites such as Twitch and YouTube.


What are the conclusions? Choose an ad-blocking service that tries to anticipate the upcoming anti-ad-blocking updates — AdLock. Enjoy Crunchyroll without ads.
FAQ
Why Are There So Many Ads On Crunchyroll?
Due to the fact that Crunchyroll is a completely legal website serving high-quality anime shows all over the globe, there's no wonder that it must pay huge bills. Not only the server maintenance and salaries to employees are here to take into account but something even more costly — licenses for the shows themselves. Unlike the illegal streaming platforms, Crunchyroll is actually purchasing the broadcasting rights from creators and distributors. Given that most of the views come from the users who don't pay the premium subscription, ads are the only way for Crunchyroll to monetize their activity and to be able to keep on going. So, in this case, the number of ads that you see is directly proportional to the investment it requires for the platform to offer the shows to you.
If you use uTorrent, then you most likely know that it has embedded ads. You remove ads from uTorrent quite easily – just read our article!
Why Am I Getting Ads On Crunchyroll Premium?
Watching anime without ads is the main advantage of a premium Crunchyroll account so it would be strange if the adverts were still there after you paid. You can find similar reports in some of the Crunchyroll forum threads but the customer service replies to them pretty quickly providing the actual reason. Most of the time, this is happening when people have multiple Crunchyroll accounts and they log in into the wrong, not associated with the premium benefits one. In other cases, ads might appear when you're watching Crunchyroll videos through a third-party service, like Roku TV, that shows their own ads. It can also happen that a Crunchyroll without ads plan was purchased in the store that belongs to another service (iTunes, for example) and the data synchronization between the two has failed. But even in such cases, this would be easy to fix by addressing the issue to the customer service of either of the platforms.
Why Are Crunchyroll Ads So Long?
Let's go one step back to analyze the monetization scheme that Crunchyroll is using. More ads mean higher income but not only the number of commercials is important. The advertisers are paying exactly as much as the effect their ads are having. So to increase the price for the ads to be shown, the platform has chosen to make ads longer and unskippable. This creates a greater value for the advertisers who are willingly paying. Also, the ads on Crunchyroll are often promoting the anime shows available on the platform — due to the special agreements with these shows' copyright holders, the streaming site can get the licenses cheaper and offer them to more users for a longer time.
Can You Get Viruses From Crunchyroll?
Perhaps, the answer to this question constitutes one of the main reasons to choose Crunchyroll over other anime streaming platforms. No, there are no viruses, spyware, or redirects affiliated to it. A legal platform that undergoes regular maintenance provides the highest level of security possible for video streaming. Their embedded ads can be irritating and repetitive but, on the other hand, this guarantees that no shady advertiser inserted a malicious link in them. While it is possible to find old forum discussions about Crunchyroll infecting people's computers with viruses, they all end with other users pointing at external reasons why these people have problems with the software, and this has nothing to do with Crunchyroll itself.
Is It Illegal to Use Adblock on Crunchyroll?
The income and the very existence of Crunchyroll are highly dependent on the ad-generated income. Therefore, ad-blocking technologies that let users avoid consuming the ads make the platform more vulnerable to economic challenges. Having said that, it is worth noting that using ad blockers is not listed in Crunchyroll Terms and Conditions as a violation. The website is always trying to come up with new ways to detect ad blocker usage and prevent it. But there is no way that the user will be punished by the platform for doing so, and no account can be blocked for the reason of ad-blocking attempts. It goes without saying that using an adblocker is completely legal in the case of Crunchyroll, as it is for all other websites. And if you feel like you don't want to sell your favorite website down the river, AdLock always lets you add it in your whitelist to allow it to display ads — just in a couple of clicks.
Ad-free Crunchyroll? Easy!