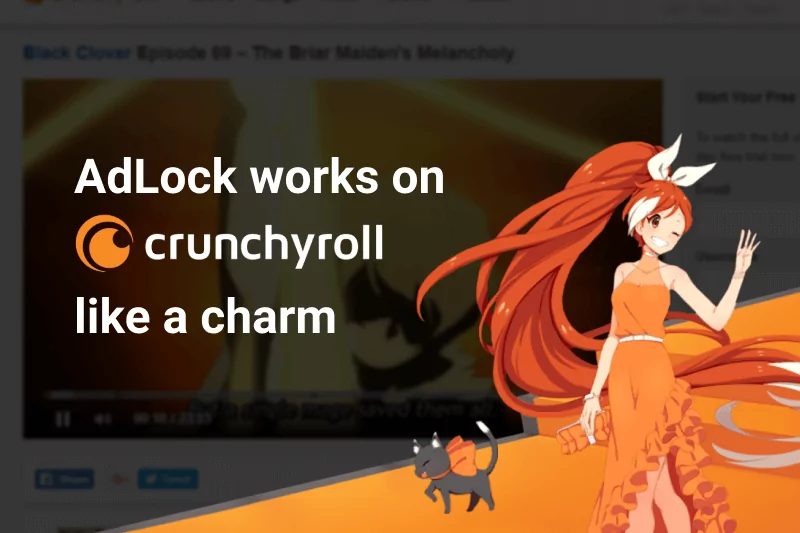 Contents
The good thing about Crunchyroll adverts is they promote only themselves and their anime. The bad thing is the amount of ads is unbearable.
No time to read? Just download AdLock for Windows and watch Crunchyroll without ads.
One 24-minute video contains four advertising blocks: one 15-second ad before a video; four 30-seconds ads at the beginning of a video; four 30-seconds ads in the middle of a video; and four ads with duration of 15, 30, 30 and 20 seconds at the end of a video. You can't skip Crunchyroll ads you have to finish watching all of them. The total duration of ads per 24 minutes video is six minutes which means that by the time you watch four episodes of anime you'll spend time equal to one episode watching only commercials. And you are not getting back that time. In adverts, Crunchyroll often pushes its ad free Premium subscription which starts from $6.95 per month and $79.99 per year.
Crunchyroll in 2019
Crunchyroll, as in the past, still mostly advertises anime series which sometimes can be harmful. Anime advertising is dark and full of spoilers forgive me this popular reference. Crunchyroll viewers complain about seeing turning points and plot twists of their favorite shows in the ads that ruin the whole series for them. Another annoying thing is the lack of proper targeting which results in menopause medication ads and erectile dysfunction ads.
Crunchyroll has raised prices on its monthly subscription first time since 2006. Now you're paying $7.99 a month instead of $6.95 to watch unlimited anime on the condition of the monthly payment. If you prefer to pay for a whole year, it will still cost you the same $79.99 per year or $6.66 per month as usual. The subscription gives you access to the whole anime library and allows you watching shows without ads with the exception for direct sponsorships. It doesn't seem that expensive but what if we offer you Crunchyroll without ads much cheaper?
How to get rid of ads on Crunchyroll using AdLock
Of course, we were talking about AdLock there is no other app in the world which can block ads as neat as AdLock does.
How to block ads on Crunchyroll (Windows)
Download AdLock for Windows and install an app on your computer. Don't worry AdLock is free to use for 14-day trial we don't ask your credit card and other financial and personal information. There are also no strings attached you are free to object using AdLock at any stage.
After the installation is completed, open AdLock and basically this is it. AdLock is a systemwide ad-blocker so you can use any web browser of your choice without seeing ads.
This is how to remove all Crunchyroll ads on Windows.
Put an end to ads in Crunchyroll on Windows: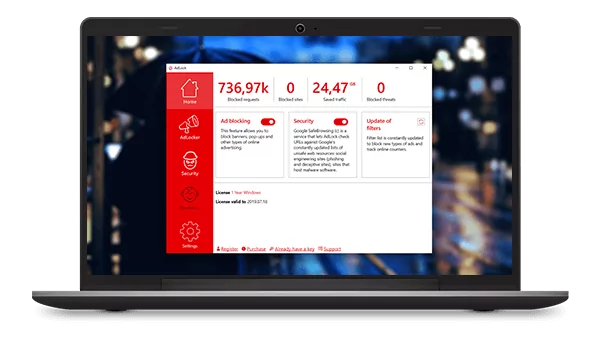 Try AdLock free of charge on your Windows. Make your Crunchyroll absolutely ad-free today.
Get it free
How to block ads on Crunchyroll (Android)
To disable ads on your Android download AdLock from there and follow three simple steps of installation. Then follow instructions of the guide below to adjust ad blocker to get rid of ads on Crunchyroll app:
Check for updates
Open an application, tap on the three dots on the top right corner and choose Check updates. In a new menu tap on UPDATE ALL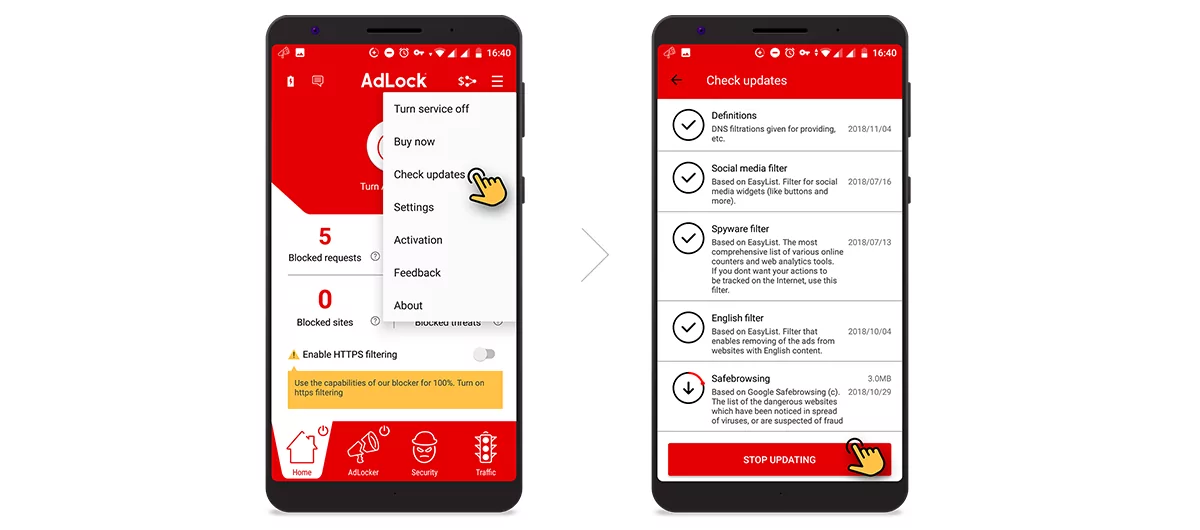 Switch to the AdLocker tab and enable HTTPS filtering. In a pop-up window tap OK. Then you will be asked to set a drawing pattern to verify your identity for future actions. Draw a pattern you surely will remember.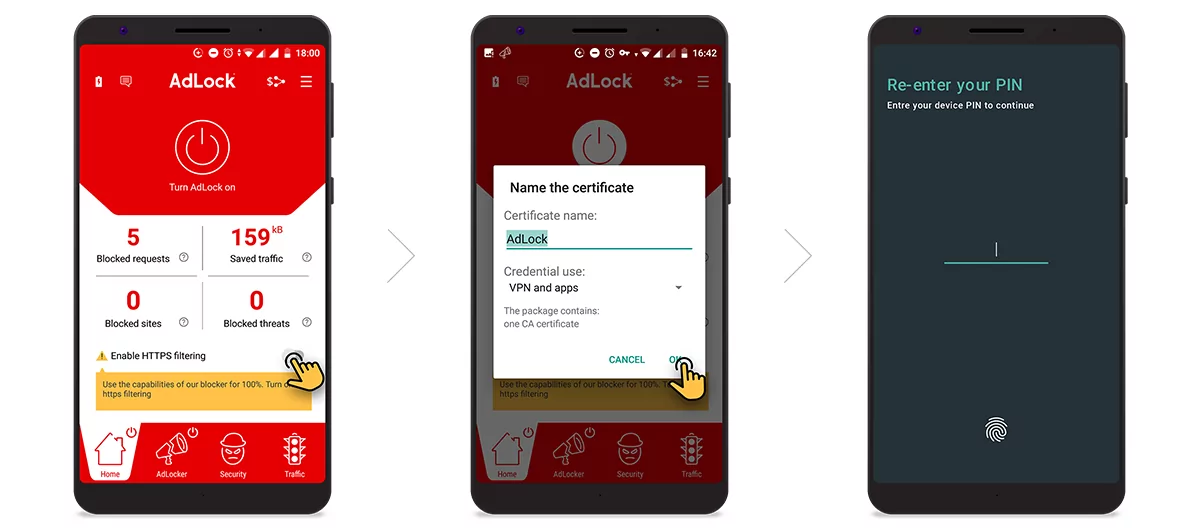 That's it! From this moment you can watch anime on Crunchyroll website or in the application with no ad pauses!

Put an end to ads in Crunchyroll on Android: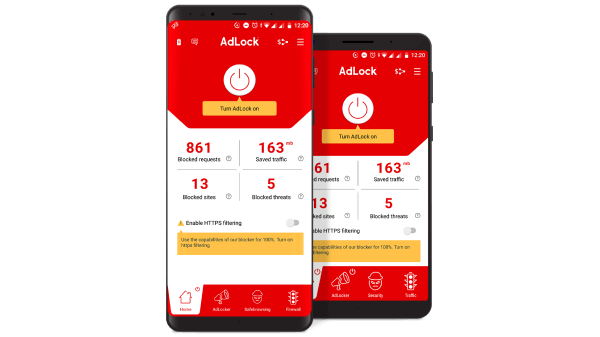 Try AdLock free of charge on your Android. Make your Crunchyroll absolutely ad-free today.
Get it free
Fans of the most popular word-game in the world Words With Friends are mad because Zynga removed the option of purchasing an ad-free version from their store. Users are searching ways to play
Words With Friends without ads
.
Update from 16.02.2019!
For the last few days, users all over the web have been complaining about adblock not working on Crunchyroll. Other ad-blocking extensions including uBlock Origin were faced with the same problem. Looks like Crunchyroll applied new anti-adblocker algorithms as according to the Reddit user u/Silverlight64 there were no obstacles viewing content on other websites such as Twitch and YouTube.


What are the conclusions? Continue to use AdLock and enjoy Crunchyroll without ads.