How to Get Rid of Ads on KissAsian [2023 Update]
Stop suffering from ads on KissAsian
While KissAsian serves us the best movies and TV series, it also serves a tremendous number of ads we can't turn off or disable. Those cussed adverts are scattered all over the website: at the top, at the bottom, on both sides. What makes it worse is when you launch a video in the player, you've got to sit through dozens of flashing pop-up videos appearing here and there. What's more frustrating is that each time you try to close those yelling ads, they redirect you to suspicious websites that oftentimes settle malicious scripts in your browser and even operating system. KissAsian users started numerous threads on Reddit and Quora complaining about malware, adware, unwanted scripts, porn ads, etc. What's interesting, is that KissAsian is not in charge of the content on the websites it redirects. For the sake of your safety, it is better to stop ads on KissAsian.
Contents
Upgrade Your KissAsian Account to Premium

The first logical choice is to purchase Premium on KissAsian. A premium account on KissAsian, just like on its sister services (KissAnime, KissCartoon, and several others anime websites without ads) provides ad-free access to abundant storage of doramas, shows, etc. As of today, Premium membership can be obtained through earning KPoints – KissAsian's currency. Earlier, you could buy KPoints and then activate Premium, but nowadays the only way to get KPoints is to share a referral link with friends. Every referral will charge up your balance with 3 KPoints. To admit, 1 month of Premium subscription costs 200 KPoints, 3 months — 600 KPoints, 6 months — 1200 KPoints, and 1-year subscription costs 2400 KPoints.
Just imagine, how many referrals you need to get a 1-year premium! And this is the only way to get KissAsian Premium today.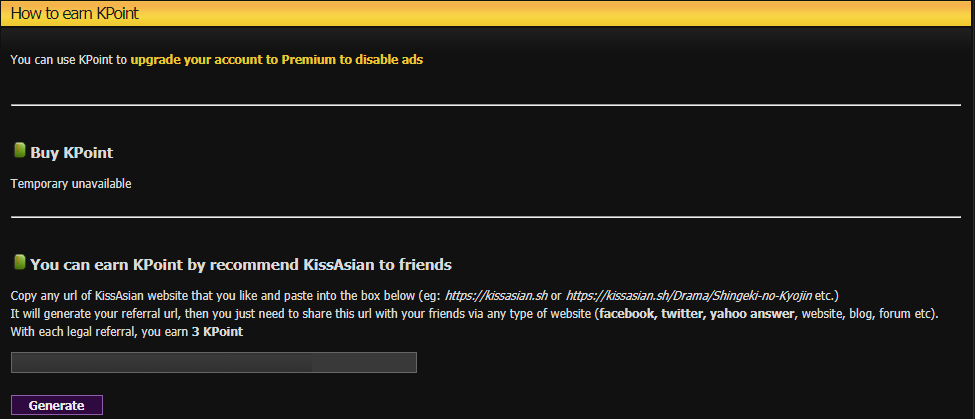 How to Block KissAsian Ads on PC
Don't worry, friends, we've got you. You CAN watch favorite series on KissAsian without adverts and what's more important, without Premium subscription. We've got some tips and tricks to share with you.
Starting with, let's consider removing KissAsian ads on Windows.
Tips for Windows users
If you have a Windows-driven PC, then removing Kissasian ads can be done through the following:
Using Stylish Theme Editor and running KissAsian – Clean userscript;
Using an ad-blocking browser extension;
Using a full-featured adblocker application for Windows.
The first one works pretty well and has analog scripts that work on KissAnime, KissCartoon, and other sister services. The only downfall is that quite often these scripts, developed by enthusiasts, stop receiving updates and become obsolete.
Now, ad-blocking extensions. Modern plug-ins/extensions market is overcrowded with offers both free and paid, cheap and expensive, good and not quite, etc. The majority of ad-blocking extensions perform well and block a fair share of commercial content, but there's a catch. Website owners, trying to protect their value generator, use adblocker detection scripts. We're sure you have seen something like "We see that you're using an adblocker…" at least once. These so-called anti-adblocker walls restrict access to content if you have an ad-blocking browser extension. We'll tell you how to disable an adblocker detection a bit later.
A full-featured ad-blocking application for Windows is a silver bullet solution when it comes to disabling all types of commercial content including pop-ups, banners, autoplay video ads, and others.
Tips for macOS users
MacOS users have quite a narrow range of choices. In fact, there's one choice. If you want to watch adless KissAsian, 9anime, KissCartoon, and others, you should use our extension for Safari. It provides the best internet leisure by removing all commercials across the web. Once you add it to your Safari, you notice how much free space website pages have originally.
Our development team works hard on creating a full-fledged application that would work systemwide on macOS, but due to some complexities, this task is pretty hard. Nevertheless, we're planning to launch our macOS app in the very near future. Stay tuned.
How to Get Rid of KissAsian Ads on Android
Android users have two options:
KissAsian Premium subscription;
AdLock application for Android.
As far as you know from the previous section of our article, KissAsian Premium is not the best option since you can't purchase it for the money nowadays. You have to mess with its referral program and KPoints. Since Android browsers have no ad-blocking plug-ins and extensions, the best option is to get a reliable adblocker app like AdLock. To admit, AdLock application is not a primitive software. It's a sophisticated product that works systemwide and provides a bunch of additional features that extend your device's battery life, save bandwidth, etc. With AdLock for Android, you'll save on numerous premium memberships and forget how adverts look like since the first launch.
How to Disable the Adblocker Detector on KissAsian
There are different ways of disabling the anti-adblocker walls. You can:
Turn off JavaScript;
Hide the element via the "Inspect page element" console;
Use Tampermonkey browser extension and run this userscript;
Use AdLock.
If you want to mess with the first three methods, then here you'll find a complete guide on each of them. Turning off JavaScript, hiding anti-adblocker walls via a console or Tampermonkey do work, but why would you strain when there's AdLock? There's no wall capable of detecting our invisible warrior. It blocks ads on KissAsian while staying undetected. No need for premium, additional extensions, userscripts, CSS theme editors — isn't it a godsend?
How to Remove Ads from KissAsian Using AdLock
The first thing you have to do to remove ads from KissAsian is to download and install our application. You can test drive AdLock for a 14-day trial with no strings attached. We hope you'll enjoy it.
Open and adjust AdLock
AdLock will automatically block ads on at the moment you launch an app. So if that's what you were looking for you can skip this step close AdLock window and go enjoy your favorite dramas with no more ads. But if you're curious, you can adjust our ad blocker for your special needs. AdLock settings are set up by default to hide all types of commercial content on browsers and applications though you can set a list of exclusions. For example, you want to shut off an ad blocking on a certain website, but you don't want to deactivate AdLock completely then you add the URL of such website to your list of exclusions. The list can contain both websites and applications. To do so open an Ad Blocking tab in the application, choose Allow List and click on Add Item name and type a URL in this format: www.example.com. Since then all websites will have no ads except that one.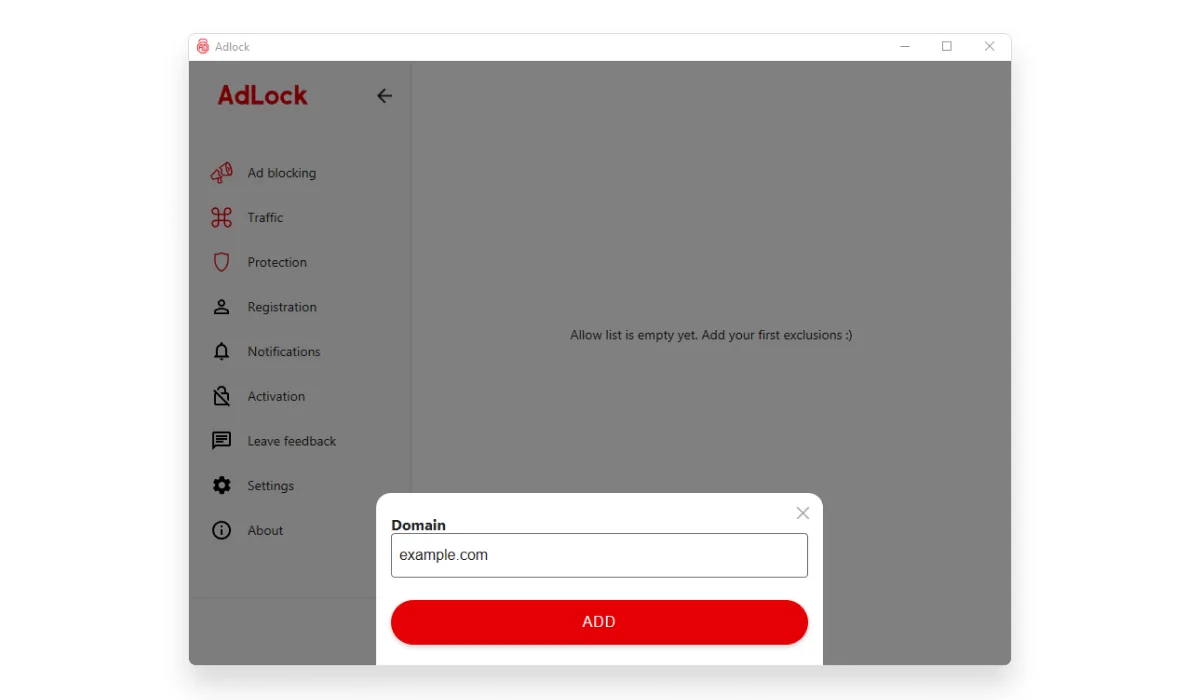 Stop suffering from ads on KissAsian
Do you like this post? Share it!
Do you like this post? Share it!