How to Block Redirects in Chrome, Firefox, Edge, Safari Browsers
Secure your PC from malware
Browser redirects are the second irritator after numerous commercials popping out here and there in our Web surfing experience. Generally, the emergence of redirect pages is a result of visiting malicious websites and downloading files from insecure hostings.
While browsing the internet and surfing different sites, you may be forwarded to third-party websites that are completely irrelevant to the topic you are viewing and, oftentimes, fraudulent.
Don't get us wrong, not all the redirects are malicious — some of them are totally harmless but still goddamn annoying.
Related article: How to stop redirects on Android. Read the most relevant info from AdLock experts!
Contents
What's the Idea Behind Browser Redirects?
The idea behind readdressing is quite simple — to make the internet surfer visit pay-per-click (PPC) websites that drive traffic to third-party domains. By visiting PPC websites you generate tremendous income for the ones redirecting you. These website redirects in the majority of cases are harmless.
But there are those redirects that lead you to malicious websites that may infect your computer with worms, ransomware, trojans, spyware, and diverse exotic types of malware. Usually, you aren't even aware of the fact that your PC gets infected, but shortly after a real headache starts. You might notice one of the below signs of digital infection:
Your default searching system is changed without your approval
Browser's Homepage has magically changed
Weird-looking desktop icons, new browser toolbars, and extensions of uncertain origins appeared out of the blue
In this article, we'll explain how to prevent redirects from appearing and remove them from your PC and popular browsers like Safari, Chrome, Firefox, etc. We'll consider built-in browser tools and third-party solutions as well. Ready to solve browser redirect issues? Buckle up!
Psst, do you want to know how to block YouTube ads on Android? We've got some useful info here. In fact, blocking YouTube ads on Android is quite easy — read our exhaustive article and forget about annoying commercials on your favorite video platform!
How to Stop Redirects in Chrome
Google Chrome is one of the fastest and most secure web browsers in the world. It occupies first place in worldwide usage accounting for 64% of the global internet browser market share.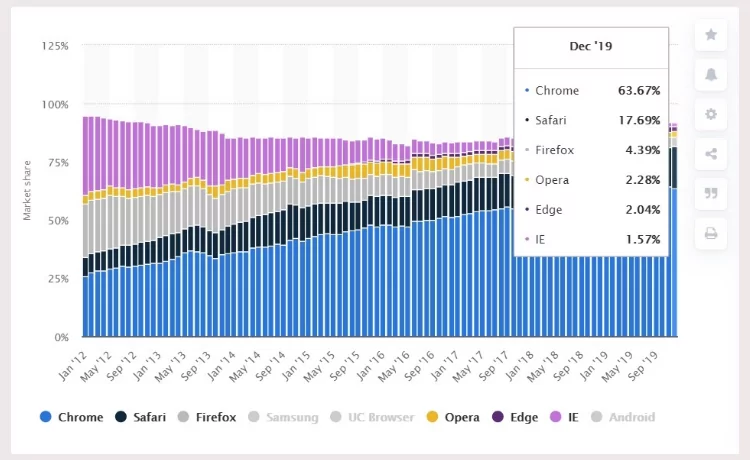 Global market share held by leading internet browsers from January 2012 to December 2019, statista.com
Although Chrome developers made their browser to automatically detect and stop URL forwarding attempts, it still has flaws and breaches. Once you start receiving tons of pesky ads in Google Chrome, consider checking your PC for malware intrusion. If you're among Google Chrome users who fell victim to a redirect virus and wish to fully eliminate it, then the following guide is for you.
Chrome has a built-in tool that restores its settings to default. Via this tool, you'll undo the modifications caused by malware.
To recover Chrome, follow these simple steps:
Fire up Google Chrome;
Click the overflow menu (⋮) and then click "Settings";
Proceed to "Advanced";
Click "Restore settings to their defaults" under the section "Reset and clean up";
Click the "RESET SETTINGS" button in the pop-up.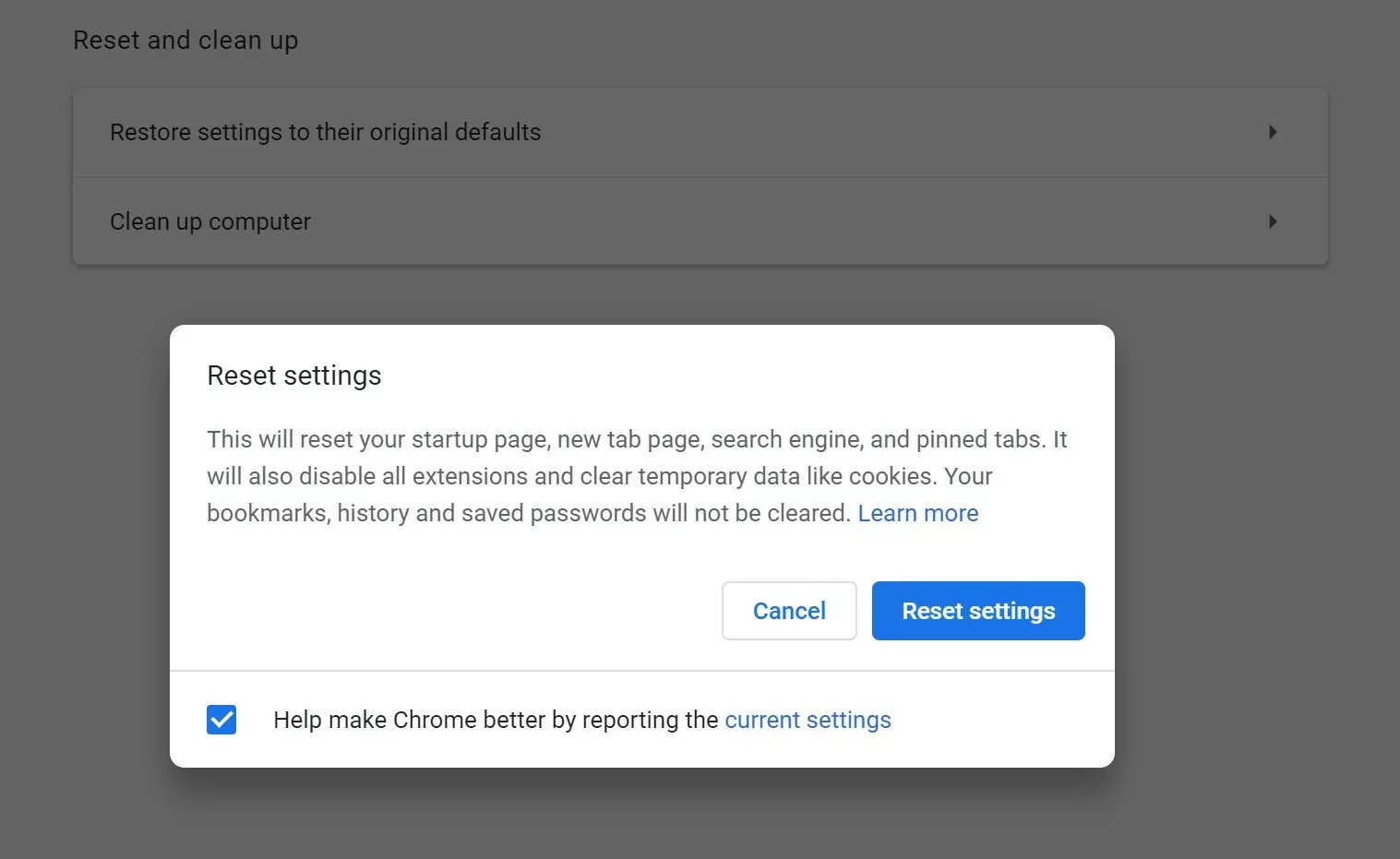 That's it. You've reset Chrome to default settings and removed the inappropriate changes in it.
What would also help you get rid of redirects on Chrome is keeping your browser updated and make sure you don't download any suspicious software.
As we've already mentioned, Chrome developers take care of users by introducing defensive features. Although scammers and viruses are always one step ahead, Google Chrome's in-built measures are quite effective. Make sure you have the latest browser version with the most recent updates.
Do not install suspicious software
There are hundreds and thousands of the most diverse sly-arsed methods of breaching the browser and the OS of your computer and in the majority of the occasions, malware comes paired with the software of questionable usefulness. If you're not sure that the software you're going to download is safe and trustworthy, then do not install it on your device. And, if you have no anti-virus yet, get it. It'll help you trace and erase all viruses lurking somewhere on your PC. Also, in our other article, we talk about how to stop Chrome from opening new tabs, because this problem also occurs with Chrome users.
How to Block Redirects in Firefox
There are several configurations of Firefox that help users in blocking unwanted redirects and stop websites from redirecting. Instead of immediately forwarding you to the unknown and oftentimes unsafe websites, Firefox will give you an option of canceling the redirect. To adjust your Firefox browser, you need to:
Go to about:config;
Set network.http.redirection-limit to 1.

After this, each redirection attempt will be stopped by the browser and you'll see a warning message. You can accept the warning by clicking the "I accept the risk!" button.
Earlier versions of Firefox had a dedicated menu option checkbox that enabled the redirect protection, but starting with Firefox 56+ you won't find the checkbox in the menu.
How to Prevent Redirects in Firefox
If you face the same readdressing issue when using a Firefox browser, then the solution is quite similar to the method we've considered for Chrome — you should reset Firefox settings to default. This method of blocking redirects will help to fix many issues while saving your bookmarks, auto-fills, and passwords. To do so, follow the guide:
Launch the Firefox browser;
Click hamburger menu (☰) and proceed to the "Help" section;
Click the "Troubleshooting Information" section;
Click the "Refresh Firefox" button on the appeared page;
Confirm your action and then click "Finish".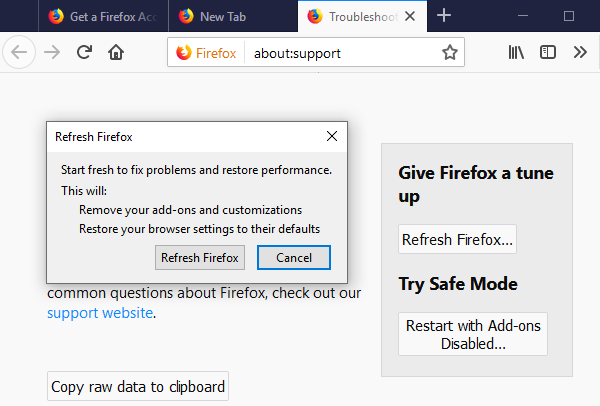 That's how you restore Firefox and undo the undesired changeover made by malware.
Disabling Redirects in Microsoft Edge
If you are one of those 2,04% Microsoft Edge users and you notice the uncontrolled URL forwarding, then it's likely you are a victim of digital hijackers. Whether intentionally, or not, you've installed a malicious program that now infests your Edge. To relieve your stress and roll back the changes in Edge, you should repair/reset it.
To repair Edge, follow these steps:
Right-Click the "Start" button and then click "Apps and Features";
Find Microsoft Edge and click "Advanced options";
Click the "Reset" button.
Read Also: How to Block Ads on Edge Browser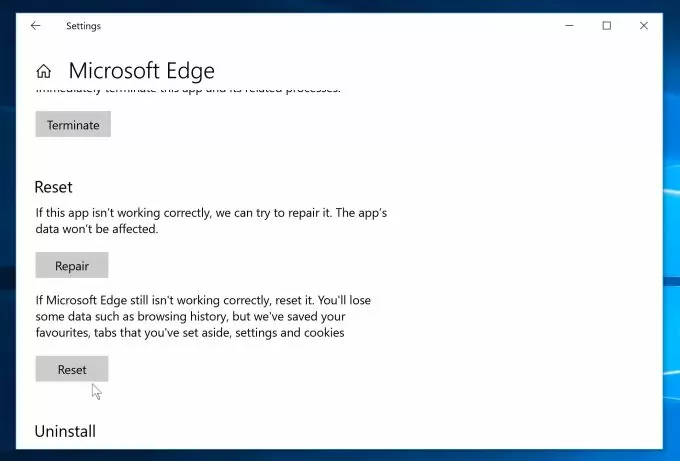 How to Stop Redirects in Internet Explorer
Resetting your IE browser will help to stop redirects and reverse the undesired changes as well. The procedure for recovering Internet Explorer looks as follows:
Run IE and click the gear (⚙) menu;
Click "Internet options" and proceed to the "Advanced" tab;
Click the "Reset" button and confirm your action by clicking "Reset" on the "Are you sure" pop-up;
Click "Close".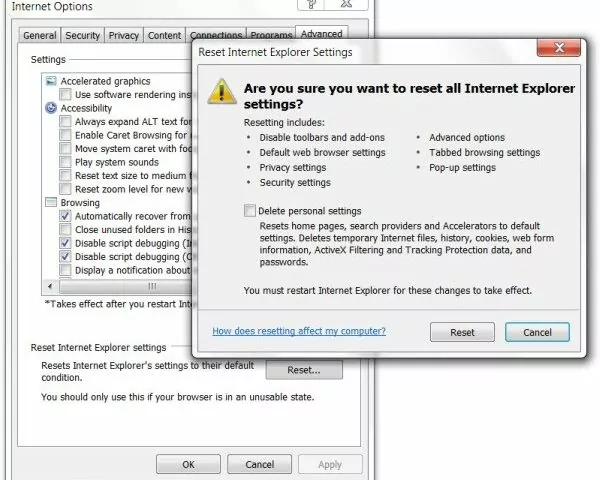 Stop Redirect from
Internet Explorer to Microsoft Edge
Today, many websites come designed using technologies that are not supported by Internet Explorer. This means, whenever an IE user visits one of such websites, they get a message telling them to switch to another browser as IE is incompatible with the website.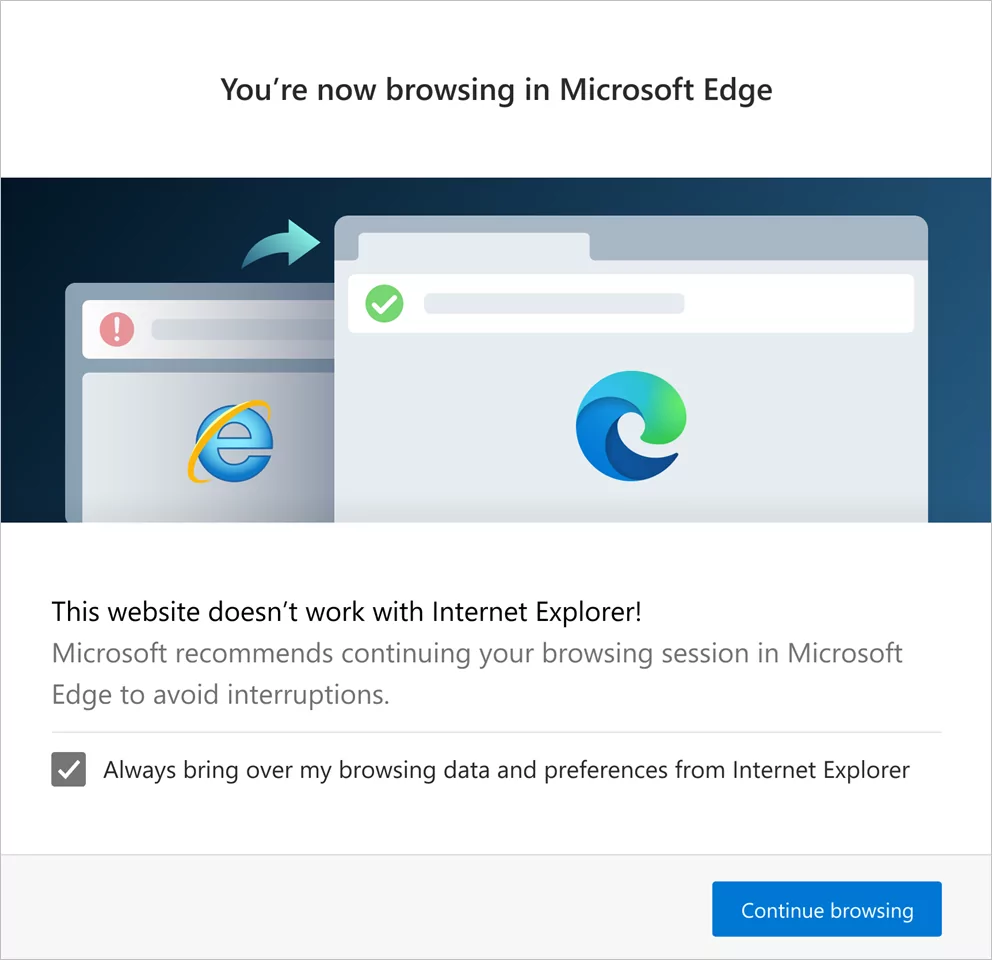 If you want to avoid redirection, then you should play some games with adjustments. There are so-called "Policies" that have to be modified. More on this topic and policies on the official microsoft kb.
So, if you want to disable redirects BEFORE updating to Microsoft Edge Stable version 87:
Set the RedirectSitesFromInternetExplorerPreventBHOInstall policy to Enabled.
And if you want to disable redirects AFTER updating to Microsoft Edge Stable version 87:
Set the RedirectSitesFromInternetExplorerRedirectMode policy to Enabled AND then in the dropdown under Options: Redirect incompatible sites from Internet Explorer to Microsoft Edge, select Disable.
Set the RedirectSitesFromInternetExplorerPreventBHOInstall policy to Enabled. This will uninstall the BHO after the next Microsoft Edge update.
How to Block Redirects in Safari
Safari users suffer from redirects just as much as Chrome or Firefox users. Browser hijackers modify settings, change search engine, new tab URL, track and record browsing-related data. So, if you use Safari and notice any unsolicited activity in it, then you could have caught a so-called "Safari redirect virus". To block redirects on Safari and disable pop-ups, follow these steps:
Run Safari;
Click "Safari" on the tab bar (between "Apple" logo and "File" tab);
Click "Preferences";
Proceed to the "Security" tab;
Check the "Warn when visiting a fraudulent website" box;
Check the "Block pop-up windows" box.

Okay, now your Safari is stopping redirects and blocking pop-ups. But there's more to it. Malware could've installed questionable extensions to your browser. To get rid of them, you should:
Run Safari;
Click "Safari" on the tab bar (between "Apple" logo and "File" tab);
Click "Preferences";
Proceed to the "Extensions" tab;
Look for recently installed extensions if any;
Uninstall suspicious extensions.
Now, that's it — your Safari is safe and secure. Well, until you unintentionally download another malware.
How to Get Rid of Webpage Redirects with AdLock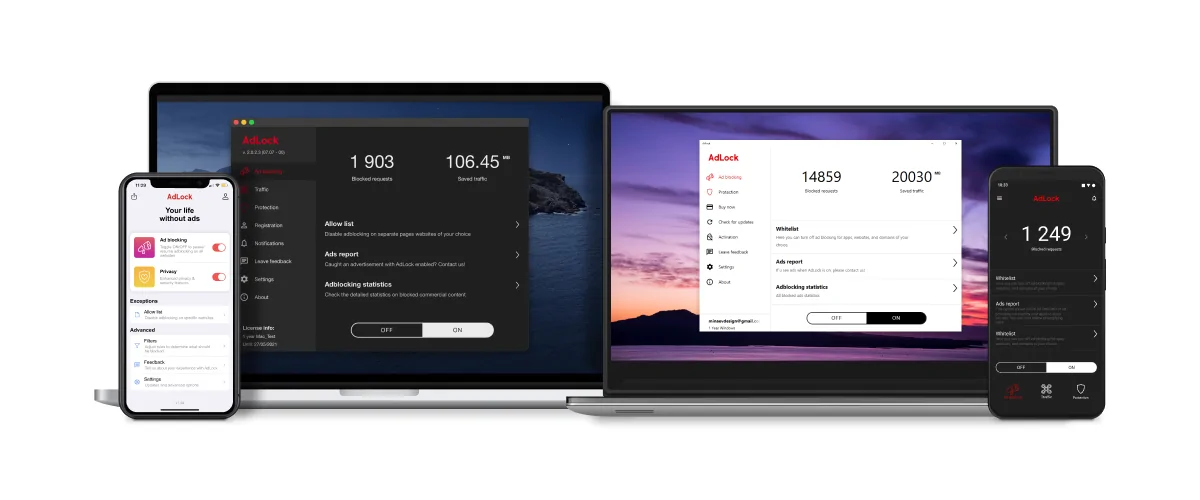 Redirects are annoying, like, for real. Even if we are used to tolerating seldom PPC redirects, groaning each time we see a new tab, we don't like the undesired changes and modifications in our browsers. Whatsoever, we shouldn't tolerate a single redirect on the browser — neither harmless nor harmful. To prevent ourselves from bad experience, we should think about safety and security beforehand.
If you are searching for the best ways of how to prevent redirects and ads, then you've come to the right place.
Let's get down to business and consider the best redirect blocker on the market — AdLock!
AdLock is a real helping hand when it comes to blocking ads and stopping redirects on your browser. Right before you ask "Why?", here are its benefits:
AdLock is Free to try for Windows, Android, iOS, and macOS

— all popular platforms covered

!
AdLock blocks all known types of adverts including pop-ups, banners, video commercials in your browser and applications;
AdLock checks all URLs and warns you about malware and viruses;
AdLock protects personal data from spyware and online tracking scripts;
AdLock works perfectly good on YouTube, blocks ads on Twitch, SoundCloud, etc.;
AdLock has 24/7 customer support;
AdLock is very easy to use.
Not impressed? Try AdLock today and learn firsthand how good it is.
FAQ
Can I still access websites that rely on redirects if I block them?
Yes, most methods for blocking redirects allow you to whitelist certain websites so that they can still use redirects. This can be useful for websites that you trust and that rely on redirects for legitimate reasons.
How often should I update my browser's settings for blocking redirects?
It's a good idea to check your browser settings periodically to ensure that your redirects are still blocked. Additionally, you should update your browser and any relevant extensions regularly to ensure that they are up-to-date and functioning correctly.
Are there any downsides to blocking redirects?
While blocking redirects can enhance your online security and privacy, it can also affect the functionality of some websites. Some websites may rely on redirects for legitimate reasons, such as when they have multiple domain names. Blocking redirects can also interfere with certain browser features, such as password managers.
Secure your PC from malware
Now you know how to stop redirects on the browser and how to prevent yourselves from being digitally hijacked. Get control of your web surfing, secure personal data, get rid of data-tracking scripts, leave cybercrooks and malware distributors no chance.
Do you like this post? Share it!