How To Watch Anime Without Ads [23 Best Anime Websites]
Anime streaming services free of commercials!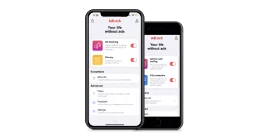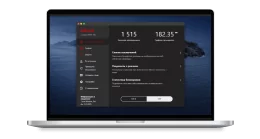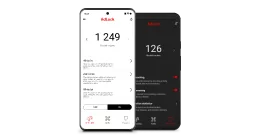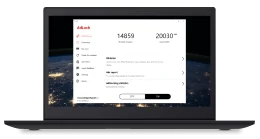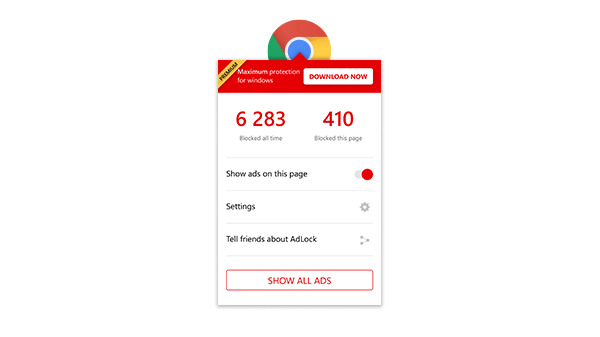 Try AdLock for free on your Windows device
No annoying adverts on your favorite anime websites!
Anime, or animated series of Japanese origin, has grown quite significantly in popularity in the West over the last 20 years. So, it should come as no surprise that there is now a huge demand for anime websites without ads, as many popular streaming services have been a bit slow in getting most anime series. Usually, they carried only the most popular titles while leaving out hundreds of other high-quality series. Despite this fact, there are still plenty of options for watching anime online, even for free.
Contents
Where Can You Watch Anime for Free?
Due to the significant demand for anime, there has been a large number of online streaming services that now carry anime, including many that specialize exclusively in anime. Many online sources for anime streaming are costly and often deliver tons of ads during the streaming process. That makes anime-seekers wonder how to watch their favorite series for free.
The internet is full of free anime without ads. We recommend a simple tool that will allow you to enjoy whatever anime you can think of completely free of ads. We'll tell you about online anime services that don't demand payment. Scroll down, and you'll find a list of websites where you'll find information on how to watch anime without ads. Another service that we will not cover in this article is Kissasian. We talked about how to watch Kissasian without ads in the other post.
Website
Regions
Info
VPN Friendly
Funimation
US, Canada, UK,
Ireland, Australia,
NZ
Licensed anime,
English dubs,
original content
Yes
9Anime
USA, Philippines,
India, UK, Canada, Australia, etc.
HD streaming,
multiple servers,
no registration
Yes
Gogoanime.ai
USA, Philippines,
India, UK, Canada, Singapore, etc.
Wide selection of anime,
manga, and Asian dramas
Yes
Chia-anime.su
USA, Philipines, Japan, India, Nigeria, etc.
Fast updates,
multiple servers, mobile-friendly
Yes
Animedao.to
USA, EU, UK, Canada, Philipines
User-friendly interface, diverse anime collection,
no pop-ups
Yes
Animefreak.tv
USA, EU, UK, Canada, Philipines
Popular anime, multiple servers,
no subscription needed
Yes
Animeheaven.pro
USA, Australia, India, EU
Dubbed anime,
clean interface, multiple servers
Yes
CrunchyRoll
USA, Philippines, India, UK, Canada, Australia, etc.
Legal streaming, simulcasts,
popular anime,
and manga
Yes
KissAnime
USA, Philippines, India, UK, Canada, Australia, etc.
Large library,
free streaming,
user-friendly interface
Yes
AnimeKisa
gone
gone
gone
Animeflix.io (now Animeflix.live)
USA, India, Philippines, EU, Mexico, etc.
Easy-to-use
interface, ad-free,
new releases
Yes
4anime.to
USA, UK, Canada, Philippines, etc.
HD streaming,
fast updates,
user-friendly interface
Yes
Aniwatch.me
doesn't operate at the moment
doesn't operate
at the moment
doesn't operate at the moment
Anime8.ru
USA, Philippines, EU, Canada, etc.
Diverse anime
and manga,
user-friendly interface
Yes
Anime-planet
USA, UK, Canada, Philippines, India, etc.
Personalized anime recommendations, manga database
Yes
Amazon Anime
USA, Canada, Australia, EU, India, Japan, and many others.
Amazon Prime streaming, anime and manga
selection
No
Contv.com
USA
Comic-Con exclusive content, sci-fi and anime
Yes
Masterani.one
Worldwide
User-friendly interface, high-quality streaming, popular anime
Yes
My Anime List
USA, Canada, India, Canada, Indonesia, etc.
Comprehensive anime and manga database, user reviews
Yes
Animefrenzy.org
USA, Philippines, Switzerland, Canada, etc.
Large collection of anime, new releases, daily updates
Yes
Tubi.tv
United States, Mexico, Puerto Rico, Latin America, Australia
Free streaming, anime selection, no subscription needed
Yes
Funimation
Anyone in the US who watches anime is probably already familiar with Funimation. Over the past few years, it has become the biggest and most significant importer of anime series from East Asia, specifically Japan. Funimation beats its competitors in the number of subscribers (about 2.84 million) and views (over 1 billion video views) through its service. Almost all of the most popular anime series that reach the West nowadays come through Funimation.
"Does Funimation have ads" – would not be the right question. The right question would be: "Why does Funimation have so many ads that I want to pluck out all my eyelashes when I have to sit through them?". And the answer is that Funimation entered the internet. The portal used to show its hit series on cable television, but recently it has started its online streaming service, which is available for free and by subscription. A monthly subscription includes all hit series from the Funimation library, and a free option offers a limited selection of titles and an unlimited selection of advertisements. The Funimation ads are annoying. The website makes viewers sit through tons of mid-rolls during each episode which is especially unfair when you can't watch whatever you want, unlike paid users. But I know no services achieved such goals by punishing their users with an unbearable number of commercials. That's why even the most loyal fans began looking for ways to watch Funimation without ads.
You can watch Funimation on mobile, but if you don't purchase a subscription which, BTW, starts from $7.99 monthly, you will likewise struggle with ads. Lucky for you, a capable ad-blocker removes ads from all Funimation mobile apps. Try AdLock, which starts from $1 per month and blocks ads in all applications and games.
9Anime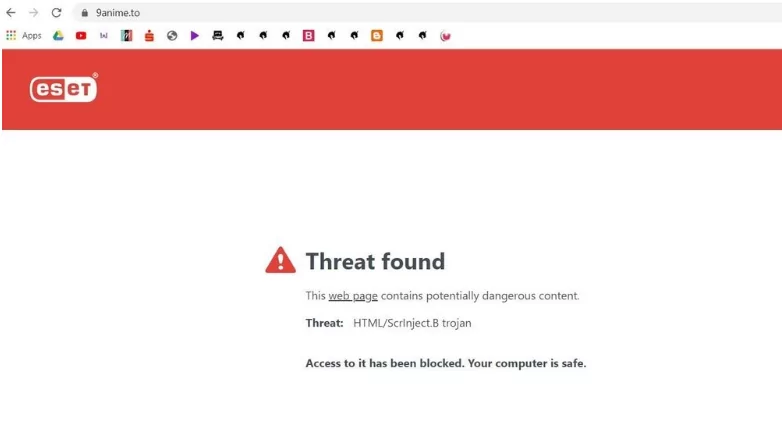 Not all streaming services operate officially through anime studios. Most online anime sources store unlicensed content, and 9Anime is a prime example of such a website. It offers a large selection of titles that otherwise won't get to the West. Furthermore, most of the series available on this site are either dubbed (with English voice-overs) or subbed (with English subtitles).
You can also add anime to your watch list, but only if you're a logged-in user. There are two ways to do it:
On the homepage, hover over the preferred anime, and in a slide-out window with the series info, click the cross icon at the bottom right corner.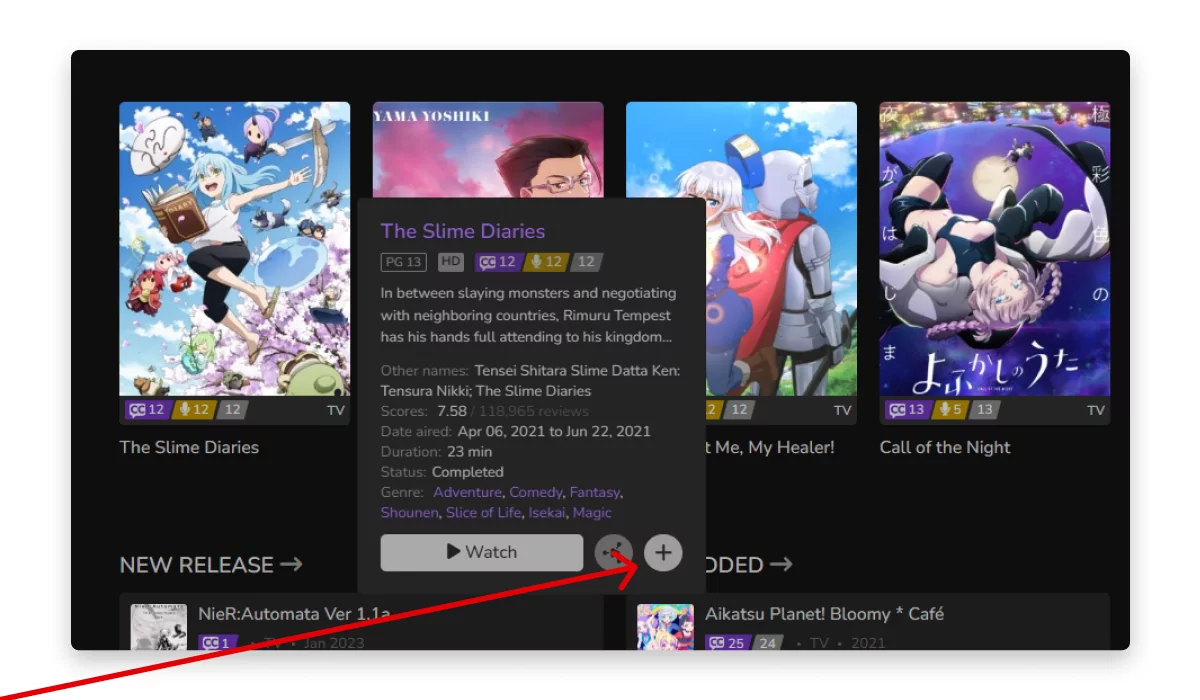 On the homepage, click the preferred title, and on the next page, under the player at the bottom right corner, find the icon Add to list and click it.
And just like any other free online streaming service, 9Anime uses ads from various origins to support the streaming costs. While weird ads are not the issue themselves, the servers from where they come might be malicious, which has already raised concerns in the 9Anime community. Even though users appreciate the anime portal, they still value their security and look for a trustworthy adblocker for 9Anime.
9anime.to
The original domain of the service reported containing threats now is available without threat notifications.
9anime.ru
The backup domain for the original 9anime. Behaves quite fishily.
Gogoanime.ai
GoGoAnime is another widely popular free anime online streaming service. It gained popularity by offering Japan's latest series long before its competitors. GoGoAnime is a safe haven for anime lovers who don't like to read during watch, as most of the series there are dubbed. However, the portal doesn't have a license and shows anime bypassing official distributors. That's why copyright owners keep threatening to take GoGoAnime down.
Does GoGoAnime have ads? The answer is 'yes.' While GoGoAnime users don't pay to watch anime with money, they compensate for the website's support with their time. Before watching anything you want, you'll have to sit through some advertisements. And all would be nothing, but in the past, the ads from this site became backdoors for trojans. If you don't want to infect your device with malware, check on the settings in the Chrome browser. Type "chrome://settings" into your browser's address bar, and then find the checkbox for "Protect you and your device from dangerous sites" and ensure it is checked. That will prevent you from navigating to any sites that Google has marked as containing malicious content, including ads that deliver malware.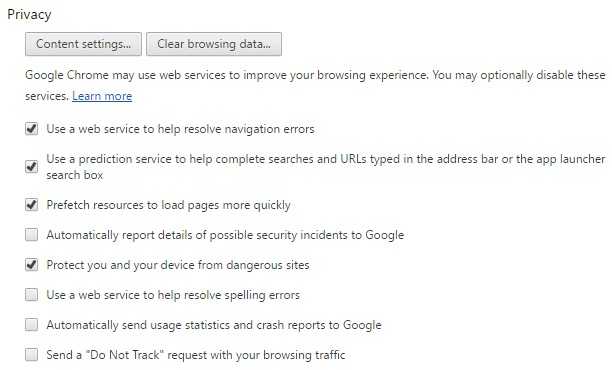 Chia-anime.su
This site has recently gained popularity in several countries, including the United States, Philippines, and Japan, and averages over 17,000 users daily. Unlike most other websites on this list, Chia-Anime doesn't host an actual streaming service. Instead, this site operates more like a database of various anime series and films hosted on other streaming platforms. Thus, the quality and number of ads that will appear in the series streamed from here may vary, depending on the service hosting the series.
Animedao.to
AnimeDao is another streaming site where you can find various anime series, especially ones not distributed in the West by major partners. The quality of the series hosted on this site can vary, with some titles only offering SD resolution. Like any other free online streaming service, AnimeDao is ad-supported. AnimeDao prevents users from accessing its website if it detects an adblocker, which distinguishes it from other portals for the worse.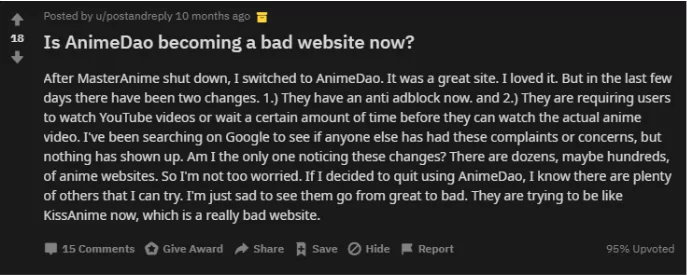 UPD: AnimeDao has recently launched its brand-new streaming platform, which, as they say, is revamped and re-elaborated to bring a completely new viewing experience. Hosted on animedao.biz, the updated AnimeDao offers high-quality English subbed and dubbed anime series free of charge. The information on the new website's home page states that advertisements support and sponsor the portal's work. As it adds, those adverts cause no harm and do not contain any malicious code. And even though AnimeDao is not among ad-free anime websites, its creators don't mind viewers using ad-blockers if they feel more secure.
Animefreak.tv
Like many of the others listed here, this site offers a variety of anime titles, most of which are subbed titles not distributed in the West. This site relies heavily on users uploading series when those become available, so the quality of the streams will vary depending on the source. Ads will frequently appear throughout all series when viewed on this website.
Animeheaven.pro
Animeheaven.pro is another website that doesn't actually host anime series but instead serves as a database where viewers can find various series for streaming. Although the number of in-streams ads is relatively small, they appear to be just as plentiful as in most other online streaming services.
CrunchyRoll
Those looking for a legally viable option for watching free anime online often turn to CrunchyRoll, an online streaming service specializing in anime. Although they offer a limited number of ad-supported titles for free, their primary asset is a monthly Premium subscription. We have already covered CrunchyRoll in this article.
KissAnime
This site has become one of the most popular free online services for anime, thanks mainly to the many popular titles available on it. Unlike most other services, though, this site encourages downloading the full episodes rather than simply streaming them on the site. Here's how to watch anime without ads on KissAnime.
AnimeKisa
AnimeKisa offers free, fast anime streaming in HD quality. Kiss websites (Kisscartoon, Kissmanga, Kissanime, and other sister services) got permanently banned due to copyright infringement, but within days hosted on new domains and under new names. You got to admit, AnimeKisa is somewhat consonant with KissAnime. Well, AnimeKisa is the same soup but reheated. But does AnimeKisa have ads? Sadly, yeah. The abundance of anime series is stuffed with various adverts, turning the immersive watching experience into a nightmare. It sucks that there's no Shinigami's black notebook.
Unfortunately, on May 2022, AnimeKisa stopped its existence. The service recommended using 9anime, animension.to, and gogoanime (AKA AnimeFrenzy).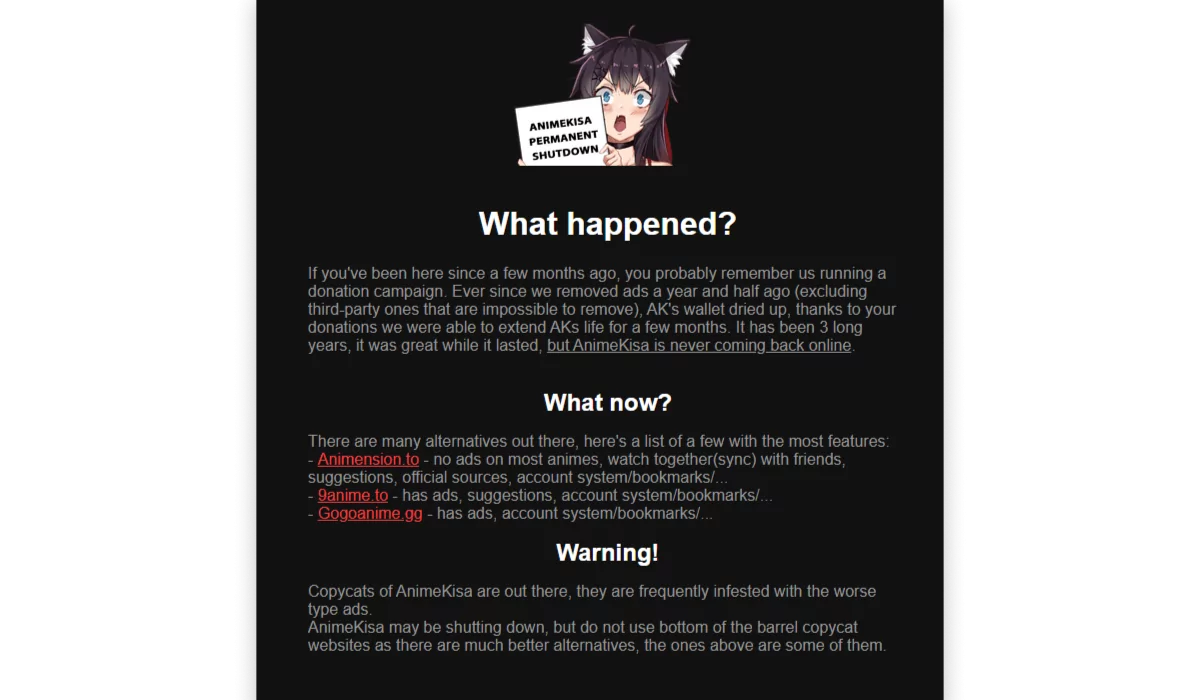 Animeflix.io | now Animeflix.live
Animeflix is a beta project launched by guys from AnimeUltima. It provides tons of anime content and a bunch of new features, like online chat and the convenience of logging in via the AnimeUltima account. It would be fair to admit that this service is still raw and unpolished, as it's a relatively young website requiring lots of work.
4anime.to
4anime is a fascinating specimen on our list. Being a convenient service with a sleek interface, it provides weebs with an inexhaustible supply of animes for every taste. Okay, it's all great, but does 4anime have ads? As opposed to the majority of websites from our list, 4anime gets monetization through donations from grateful viewers. This service is one of the websites without ads (as of now, it has no intrusive commercials), but we'll keep an eye on it.

Aniwatch.me
The website is a self-proclaimed best source of high-definition anime, seasonal series, adult stuff, etc., free of charge and from ads. You must sign up and log in to watch your favorite videos. Being developed in a modern environment, Aniwatch is a convenient streaming service granting an unforgettable watching experience. It unites a great audience of fellow weebs from around the world and provides them with a consistent sandbox service for chatting, discussions, voting for the best series, and having a great time together.
The original site
aniwatch.me
reports that its service is currently down. You can try
aniwatch.pro
which seems to have the same layout and content as the old website, although the
aniwatch.me
doesn't confirm this page's authenticity.
Unfortunately, as of now, Aniwatch is unavailable. Whether the service will be back to working is uncertain. According to the website's last announcement: Aniwatch's closure is not a definite decision. Our staff needs some time to figure things out. However, while we figure things out, we can no longer be there for you.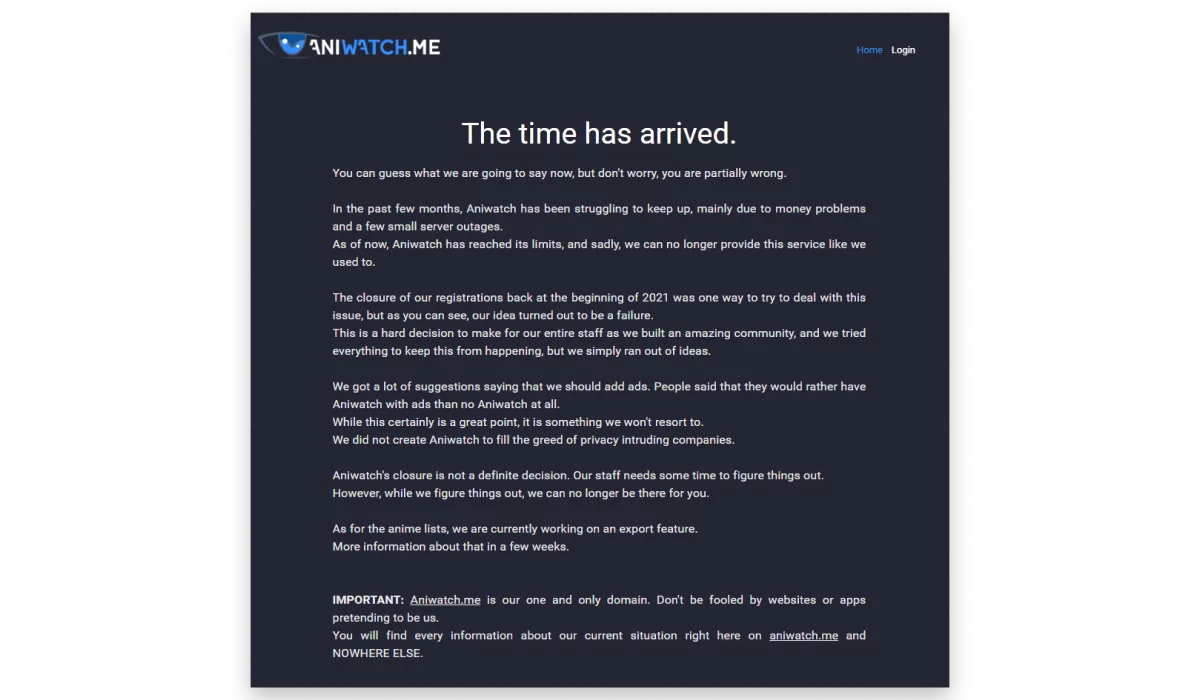 Anime8.ru
Anime8 is another free anime streaming service well-loved by people worldwide for its overabundance of series for every age and taste. It doesn't require users to sign up and log in, offering anime access right off the bat. The bad thing is that it is stuffed with ads like the X-mas turkey with stuffing. So if you use Anime8, then an adblocker is your best friend.
Anime-planet
Anime-planet claims its 45,000 anime episodes are absolutely legal and industry-supported to stream. Series are available for watching without registration and logging in, but as the welcome banner says, "Sign up for a better experience." A better viewing experience involves user perks like creating personal anime lists, bookmarks, etc. On top of animated movies, anime-planet offers tons of manga. Overall, it's an excellent service for fans of the Japanese anime industry. But does Anime-planet have ads? Yes, it does, but those are so humble that we would genuinely ask you to whitelist them.
Amazon Anime
Amazon Prime is becoming a top streaming service due to the enormous media library they've managed to collect. Amazon paid plan, combined with the enhanced e-commerce opportunities, allows users to enjoy plenty of some world's best anime titles on any device, anywhere. From the eternal classics, such as Pokemon and Avatar, to the newest hits, like Re: Creators, the variety of shows available on Amazon will never disappoint you hopelessly binge-watching.
You can stream anime immediately and even rent or buy full copies of your favorite films on Amazon, but no worries if you don't know what to watch right now. Anime TV and many theme-related smaller channels will become a source of endless fun for you as soon as you purchase and activate your Prime subscription.
Contv.com
While not specially designed for Anime, CONtv is a great platform that can delight a true fan of Japanese animation. It takes just to type "anime" in CONtv's search bar to access the library of over 40 great titles in high-quality definition, with interactive previews, descriptions, and subtitles available.
On CONtv, you can create your user profile as well to be able to see your progress with the series, add episodes to your watch list, or just become a part of the CONtv community. Spending more time on the platform, expect your watching horizons to expand because CONtv is full of amazing shows from all possible styles and genres of the world's animation.
Masterani.one
A couple of years ago, the Internet exploded: there were threads created by anime lovers around the globe asking what happened to Masterani and what they should do now. The beloved site was shut down, leaving the anime fans without an obvious alternative that'd be good enough to replace it.Good news: Masterani is up and running again, but under a different domain — masteranime.es. It's pretty much the same as the old version, meaning a huge choice of some best anime titles is available at a click. It is wrapped in a stunning user interface, with handy filters and alternative servers for streaming each show. Make sure you use a full-scale web browser and not one of the "mini" browsers for mobile because the site requires Javascript and other resource-picky technologies to display all that anime beauty. You can also look for a free Chrome add-on to watch Masterani HD videos right from your web browser panel bar.
My Anime List
Although My Anime Lis looks very much like it arrived straight from the year 2000, this website is worth being bookmarked by a true anime lover. Outdated design is not a big deal when considering all the great geeky content, including all possible information about the most influential anime and manga shows. Here is where you will find the news and updates, top upcoming anime and recommendations, and a massive user community.
You can watch the shows on My Anime List too. However, beware that many titles can fall under copyright protection and only be available in selected locations. Often, the site would redirect you to some external streaming platforms, like Crunchyroll, where you'll be able to enjoy the new episode. The most-wanted anime and manga titles are only available for purchase from Amazon. The no-ads version of My Anime List costs $29.99 yearly, but this is something die-hard fans are often ready to cope with to call themselves proud members of the website community.
Animefrenzy.org
AnimeFrenzy is the best anime streaming service for those seeking simplicity. The new website layout hides everything except a search bar and a video from the users' view under a little icon. Simply search for your favorite show and enjoy watching all the episodes with no restrictions at all — how cool is that? The AnimeFrenzy video player is reliable, supports high-definition files, provides a choice of alternative servers, and has an autoplay function for your comfort.
But when you do press that little icon, more options become available. You would see the different anime categories, know what shows are airing right now, and see a little hidden uncensored section (18+). Clicking that link redirects the user to a separate domain, which stores an extensive library of specific titles for an adult audience.
Tubi.tv
With 33 million monthly active users, Tubi confidently took pride in place among the best streaming platforms in the world. Thanks to its owner's almost unlimited licensing capabilities, Fox Corporation, Tubi can offer shows that will satisfy any audience. The same goes for anime on the platform, which covers the whole range from the world's bestsellers, Yu-gi-oh or Cowboy Bebop, to the niche series acknowledged by genre experts.
Tubi provides all the technical features expected from the top-class streaming service, including multi-device syncing and Chromecast support. It also offers a Kids-friendly mode. Tubi.tv only asks you to watch some ads to access their media library completely free of charge. The only restriction is the range of supported regions. Currently, Tubi pleases anime lovers in the US, Australia, Mexico, and the UK.
Twist.moe
This website doesn't even look like a place to find videos initially, but the more you search, the more reasons you discover to stick to Twist.moe. Search is the only function available on this one-pager. All unnecessary stuff has been removed in favor of a gigantic database of the best anime films and series available for free viewing. You can also choose a title from the long list of all anime shows on Twist.moe. Be prepared, though, as that list is unbelievably long: scrolling down takes a good few minutes that you can otherwise spend watching your favorite show.
Twist.moe is among the websites that shut down. No further info on its destiny is available.
Animixplay.to
AniMixPlay combines all the best features of anime streaming websites featured on our list and provides a little extra on top. The variety of shows you can watch and the sleek user-friendly interface make Animixplay one of the most visited anime streaming platforms. The advanced player lets you download videos, change the streaming source, or control the playback speed. And the extended range of genre filters helps you find the right anime show you like.
Don't forget to create your AniMixPlay user profile to be able to follow your favorite shows and exchange your thoughts with fellow anime lovers in the comments!
AniMixPlay used to head every list of recommendations for anime sources. You could hear an adoring crowd cheering: "AniMixPlay free! Anime no ads on AniMixPlay! AniMixPlay is the top-notch alternative!" etc. Everything changed at the end of 2021. The website needing support opens the gates to the worst type of ads that pop up whenever and wherever you click. The rumors claim that such pop-ups are gone when you log in, but it's not certain.
The mobile app for AniMixPlay struggles with ads just as much. Both Android and iOS AniMixPlay have so many advertisements that they prevent the app from performing correctly.
Are you interested in other genres of cinema? In one of our previous posts, we told you how to watch Peacock without ads.
And the last sad update on the last anime streaming service in our list is that Animixplay is also gone for good. It left the last message suggesting these websites as alternatives: 9anime, AnimepaheStream, YugenSimilar, AllanimeReliable, Crunchyroll, and a Reddit list.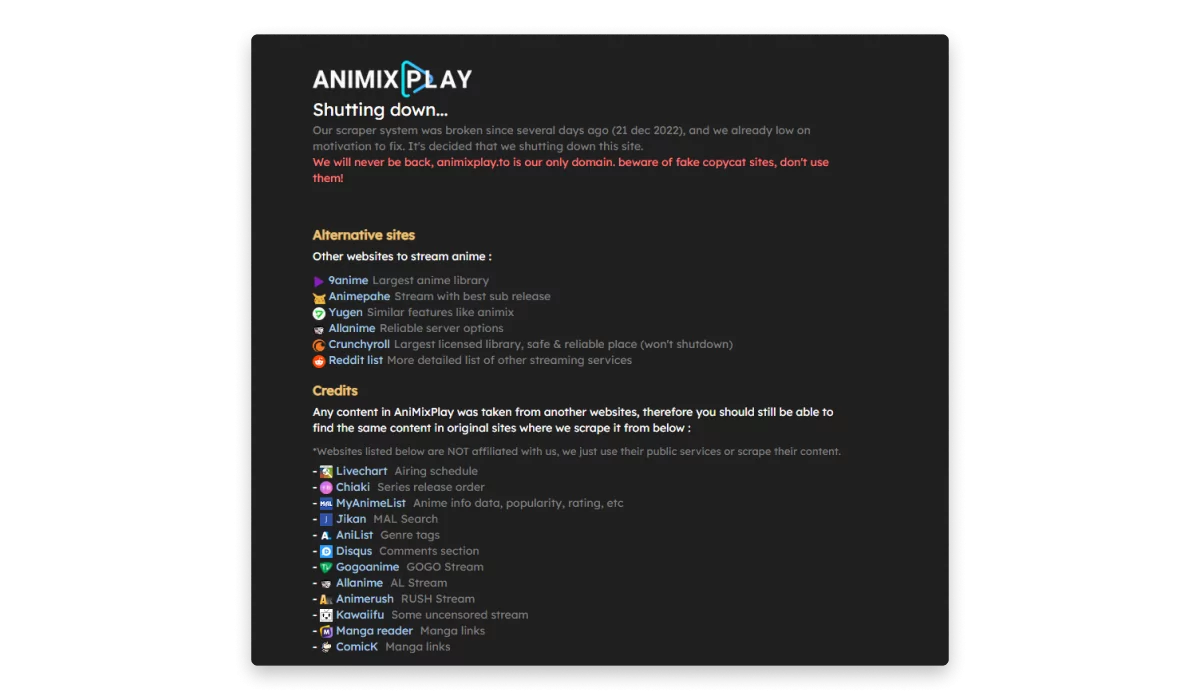 How to Block Ads on Anime Website with AdLock
Now that you know where to find the anime series that you want to watch, it is time to talk about the most important topic here: how to block all of those annoying ads. Well, you'll need an ad blocker for anime, and that's where you'll find AdLock handy. We proudly recommend it due to its reliable performance and user-friendly features. Observe what it has to offer:
AdLock is a free ad-blocking extension for Chrome and Safari that does not rely on shady monetization schemes, as we have other paid products to support the extension. You can verify the credibility of AdLock yourself by visiting their page in the Chrome Web Store, where you'll find an announcement stating that AdLock does not collect any data.
AdLock is customizable and comes with adjustable settings to suit your preferences.
All you have to do is to download AdLock for Chrome or Safari, install it, and click a button to activate it. AdLock will start adblocking right away without the need for complex instructions.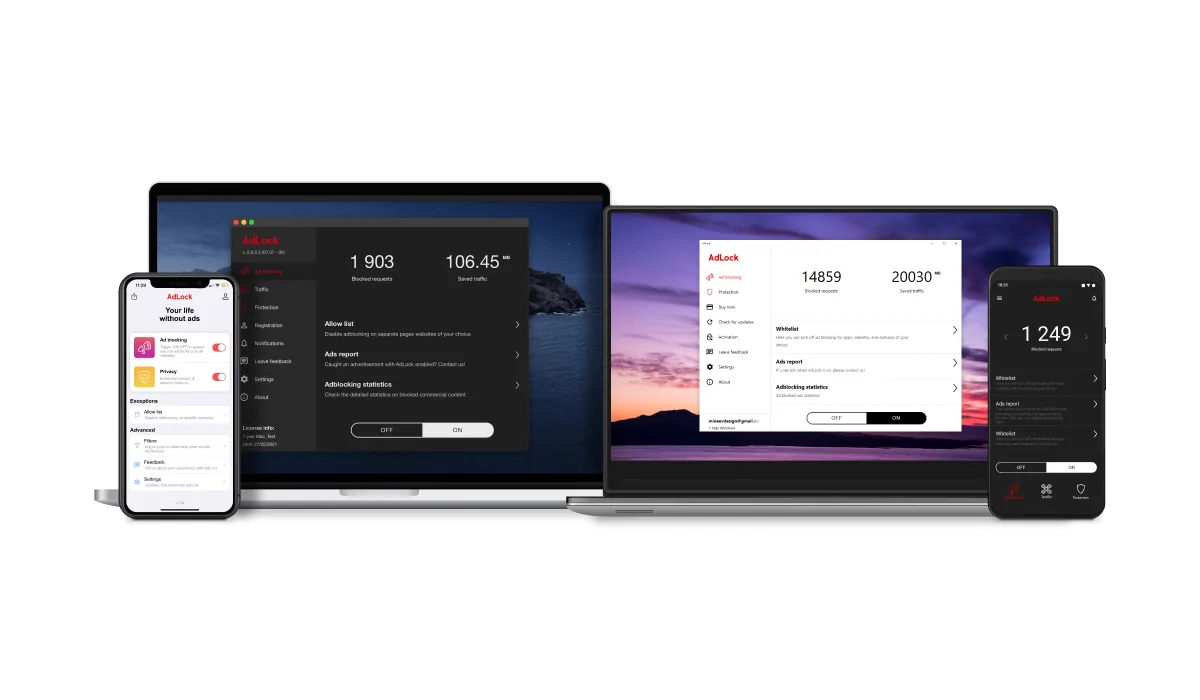 Download Anime Video for Watching with No Ads
That is another easy-peasy option to watch anime for free without ads. The anime streaming platforms serve their function well and don't ask you to pay to watch the shows. But to keep going, they all require financial support from the advertisers, so on the viewers' side of things, most videos will also come with annoying ads. An excellent way to get rid of them will be to download an episode on your device. Offline mode disconnects the actual content from all the commercials attached to it.
Some of the abovementioned sites, for example, AnimeFrenzy, already have a built-in option to download the required video. To complete this, you have to look for a Download sign or an icon next to the video player. You might need a third-party video downloader to save the files from other streaming sites. Apps like Videoder or Wonderfox can convert online media into a downloadable file, which applies to anime websites, YouTube, and Facebook!
Beware that by using third-party software, you are responsible for any undesired consequences, such as a breach of the terms and conditions of the platforms you use, copyright issues, or unlawful use of your data by the software owners. Therefore, we advise you not to download your favorite anime pieces this way and get yourself a quality ad blocker instead. While entirely legal and safe, ad blockers help you enjoy online content without commercials effortlessly and on the go.
Wrap-up
Sadly, quite a few services from our list didn't survive. Some were gone because they refused to serve ads and hoped they could rely on donations solely, and some couldn't withstand the influx of visitors from those that closed earlier. Big streaming corporations, however, are alive more than ever.
So, maybe, you'll consider tolerating at least some ads if you really want to support your favorite pirate anime streaming service. If not, pit AdLock against them. It will leave any anime website without ads.
FAQ
How Can I Watch Uncensored Anime Legally
Generally, you may watch uncensored anime series at Animekisa, Crunchyroll, and Funimation. Those three offer quite a wide range of anime with juicy details. If your tastes are more than videos with juicy details, or you've already watched all of the available content and wish for something other than your favorite "Legend of the Overfiend" or "La Blue Girl", then the best option for you is to search for new content on jlist.com and buy it.
Is 4anime Legal?
The answer is no. It's not a properly legal streaming platform as the shows they offer aren't licensed.
Is GoGoAnime Legal Website with Anime?
Nope, most of the content presented on the website is not licensed. GoGoAnime provide no compensation to legal copyright holders while generating revenue for themselves.
Do I Need to Use VPN for Watching Anime?
Well, it's up to you, but a VPN service won't do much for you besides providing "privacy" while browsing and making the connection with the website less stable.
Where can you watch dubbed anime for free without ads?
Reading subtitles while trying to concentrate on action is hard, only old anime lovers have mastered this art. And while Senseis are still practicing their technique, newer people prefer watching dubbed series. Where can one find dubbed anime? Here's the top 10 platforms: Netflix, Funimation, Crunchyroll, AnimeLab, Amazon Prime, 9Anime, GoGoanime, Animefever, AniMixPlay, AnimeFrenzy. Enjoy! Of course, there's no guarantee that you wont have ads as the majority of free anime services earn money through advertisement, but you can stick to a good adblocker 🙂
What's the difference between Anime and Manga?
Basically, anime is a Japanese animated movie based on manga. Almost every movie ever created is based on a book/story. What's different is that manga consists of images arranged in a book. Just like comics.
What are common devices used for watching series on top anime websites?
Any device nowadays can be used for watching anime series. Many people use their tablets and smartphones to watch anime episodes on the go, while others prefer watching favorite series chilling in front of a PC/laptop or a TV.
Where can I watch Naruto for free without ads?
It depends on your intentions. If you care about legality, then your choice is Tubi.tv. The website offers tons of official content and has little to no ads. But if your ad tolerance goes to zero, pick any free streaming service listed above and use it with your ad blocker enabled. That way, you can watch Naruto for free; no ads will interfere with your pleasant pastime.
Is there an anime website that doesn't have ads?
Oh, boy, the answers to this question usually age like milk. For now, I can recommend 4anime. I've been testing it for a week and was pleased with its interface and absence of commercials. I can't guarantee it will take its pedestal forever, so if the first thing you see on the website will be an ad, please, don't come after me. You better come for AdLock.
Anime streaming services free of commercials!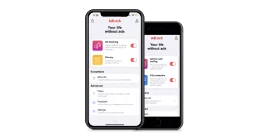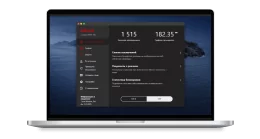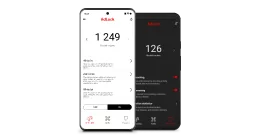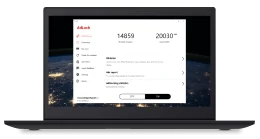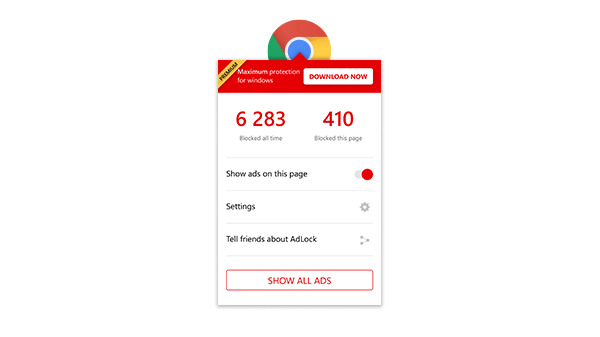 Try AdLock for free on your Windows device
No annoying adverts on your favorite anime websites!
Do you like this post? Share it!
Do you like this post? Share it!