Netflix Launches Ads: What You Need to Know in 2023
Ad-free Season Starts Now!
Over the years, Netflix has grown from a DVD-by-mail service into one of the most profound and popular video streaming services worldwide.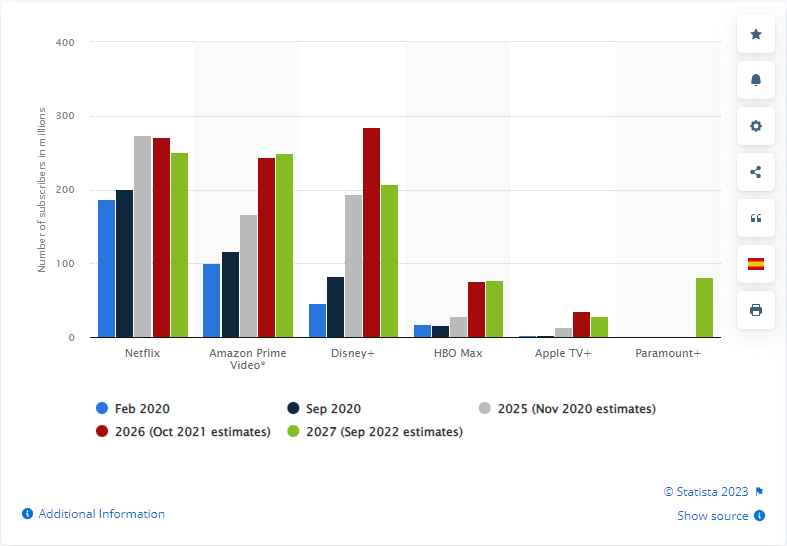 Being among the first to see the real potential of video streaming, Netflix started its transition journey 16 years ago — in 2007. The company's revenue, as well as the number of active users/subscribers, has grown tremendously through the years despite minor losses (see the next graph).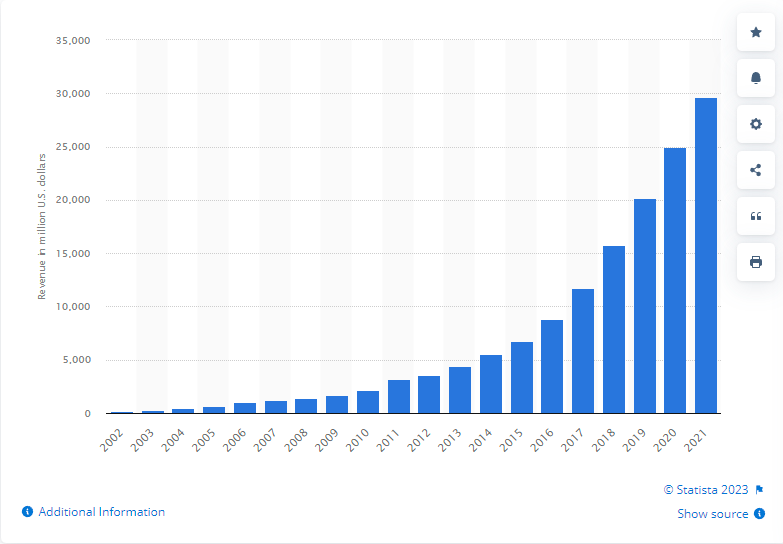 From roughly 1.4 billion dollars to 26? Well, that's spectacular! Given that Netflix was making a pretty penny only through the content, without any advertisement from third parties, it really is astounding. However, in 2022 Netflix lost its subscriber count by 1 million active users as a result of high competition and saturation in the market. To retain its subscribers, Netflix announced a cheaper ad-supported subscription tier in November 2022.
The biggest advantage of Netflix over its competitors is its humongous wealth of original content, which is expanding through the years. The booming popularity of "Stranger Things", "House of Cards", "Black Mirror", and even the "Squid Game" (yuck) have made a great basis for the company's success as more than half of Netflix subscribers (according to a February 2021 survey) stated that the announcement of new original series is the main reason for them to subscribe. Moreover, over 50% of surveyed subscribers said that the overall quality of the original Netflix content is getting better and better.
Now, back to the introduction of ads. Netflix's co-CEO Ted Sarantos confirmed their plan on testing and implementing an ad-supported subscription tier. To enter the world of advertisement easier and more smoothly, they've contacted multiple potential partners with expert knowledge and experience in the field. Among those potential partners are Google, Comcast, and NBCUniversal. Netflix lost over 200,000 subscribers as of the first quarter of 2022 and forecasted greater losses to come. Would the cheaper ad-supporting tier help Netflix get its subscribers back?
Not by Netflix Alone Can We Enjoy Leisure
With the abundance of streaming services available on the market today, Netflix is not the only destination for fun leisure. They offer myriad movies, series, shows, and cartoons that suit any taste. We bet you do have subscriptions for HULU, HBO, etc. depending on which original shows and movies you want.
The thing is that all of Netflix's competitors have been practicing advertising for years. Netflix (till the moment they reviewed the approach) was the last of its kind — an ad-free streaming service relying on subscription payments only. We've prepared a comparative table of prices for the top 8 streaming services, here it is:
Streaming Service
Plans and Pricing
Original Content
Simultaneous Streams
Netflix
$9.99/month for
Basic$15.49/month for
Standard$19.99/month for
Premium
Yes
4
Disney+
$7.99/month for
Disney+ Only$13.99/month for
Disney Bundle
(Ad-Supported)$19.99/month for
Disney Bundle
(Ad-Free Hulu)
Yes
4
Apple TV+
$4.99/month
Yes
6
Amazon PrimeVideo
$8.99/month for
Prime Video only$14.99/month for
Amazon Prime$6.99/month for
Amazon Prime for
EBT and Medicaid
Recipients$7.49/month for
Amazon Prime
Student Membership
Yes
3
Hulu
$6.99/month for
Hulu with ads$12.99/month for
Hulu with no ads$69.99/month for
Hulu with Live TV,
Disney+ and ESPN
Plus$75.99/month for
Hulu with no ads,
Live TV Disney+ and
ESPN Plus
Yes
2
Sling TV
$35.00/month for
Sling Orange or
Sling Blue$50.00/month for
Sling Orange and
Sling Blue
No
1-3
YouTube TV
$64.99/month
Yes
3
HBO Max
$9.99/month with
ads$14.99/month with
no ads
Yes
3
As you can see, there are ad-supporting plans from competitors that come cheaper than the basic plan from Netflix and this turned out to become big of a problem.
On top of that, some of the streaming services also provide access to sporting events with no extra charges.
Most of the ads in the plans provided are not that annoying especially when it comes to the question of price. People can tolerate ads. By the way, did you know that you can remove ads from HULU? And if you're an active Peacock user fed up to the teeth with ads, searching for ways of making your "Peacock no ads" wish to come true, we're here for you!
Would the Upcoming Ad Introduction Bring Any Troubles?
Talking of possible issues coming bundled with ads, the first place takes the annoyance. Although some people are already accustomed and resistant to bullshit pouring from commercial pitches or just dumb advertisements, there would always be people who can't take it. Getting irritated by adverts is the last thing one would want when trying to chill'n'netflix in the evening after a loaded workday. What takes the second place then, you'd ask. Here's the answer.
Any sort of advertisement regardless of the platform it gets served on brings security risks. Given that literally anything can be sneakily embedded in ad code — bugs, data collectors, malicious software, your data gets exposed to cybercrooks. We suggest you always be prepared to face any of this. Getting yourself a reliable adblocker will help to solve the issue with advertisements. For instance, our brainchild (AdLock) is not an average adblocker. It's a sophisticated software application created to provide users with top-tier privacy security, data protection, and adblocking to top it off.
This means if you're a security-conscious person valuing personal data security, be sure to consider taking security measures in case you haven't done it earlier.
What Does Netflix Ad Implementation Mean for Viewers?
According to the idea behind the ad-supporting subscription tier, advertisers will run short (15-30 seconds) video ads before and during programs, capped by 4-5 ads per 1 hour. It sounds not that bad, doesn't it?
This "Netflix Basic with Ads" would cost $7 per month, which is slightly more than Peacock with ads, and less than Hulu ($8 per month). To admit, "Basic with ads" by Netflix is gradually worse than even regular "Basic" as it doesn't have the full catalog and offers a max 720p video quality. And yeah, you won't be able to download titles.
Initially, the new plan from Netflix is offered in 12 countries: Australia, Brazil, Canada, France, Germany, Italy, Japan, Korea, Mexico, Spain, the United Kingdom, and the United States.
Aiming at getting 500,000 new subscribers by the end of the year, Netflix is expecting to earn a handsome dollar as well. The company is asking for the top ad prices, trying to catch $60-$65 CPMs. This would make the platform one of the most expensive destinations for advertisers.
Marketers are sure that Netflix expectations would drop soon after the launch of the subscription tier since such a situation has already happened with Peacock.
Generally, streaming platforms serve ads at a slower pace and less frequently than traditional television, which is better for viewers. Taking to account the aforementioned length of video ads and their quantity, it's obvious that Netflix will not be an ad dumpster. At least not from the very start of their ad-supporting journey.
It's also important to say that Netflix is going to be pretty picky about adverts and their frequency. Jeremy Gorman, president of worldwide advertising at Netflix, said their frequency caps will be "tight" referring to repeating ads. One ad would not get served more than three times per day. Also, he said that Netflix will only allow high-quality and creative ads starting the implementation of ads by big brands only. What's even cooler about their strategy is that no political ads would be permitted.
Okay, Netflix imposed some real requirements on advertisers but what about them?
Advertisers want data and measurement. They want a bunch of parameters to collect including age, gender, time of day, content rating, genre, and a lot of other stuff. Of course, marketers won't disclose all their requirements concerning data collection. What does it mean? Your data is going to be collected. It doesn't mean you shouldn't use this subscription as it's quite affordable, but what it implies is that you should think of protecting your data.
So, let's draw the line. Here are the pros and cons of the new plan from Netflix.
Pros:
A great affordable plan for low-income families
Low frequency of ads
Not bad quality videos
Original content
Cons:
Lots of locked content
No live TV or sports
No 1080p
Data collection by advertisers
If you're desperate for peculiar shows or series that are locked in the "Basic with ads" plan, you should consider getting that "Basic" which is more expensive. Or, maybe, some of the currently locked content become available over time. If you're not, and you are seeking a cheaper Netflix option, then this tier is for you. But don't forget to protect your data.
What Will Netflix Get Out of the New Subscription Plan?
Implementing an ad-supporting plan for Netflix is a shiny new opportunity to get new subscribers and earn money. Suffering losses is not cool. If losses happen, then something's out of order and you should review your approach. Well, Netflix did. And now they are willing to capture more audience than they've lost.
Without a doubt, it's a good move by Netflix. Middle or low-income households would not even consider getting a pricey (15 bucks per month) subscription on top of an already long list of spending, but now they would reconsider this. According to research by Accenture, ~63% of consumers say that it's too expensive to pay for all they want — $15 here, $10 there, and it turns into a hefty stack together. Just to compare, 1 year of "Basic" costs $186 per year, while "Basic with ads" costs only $84 per year — more than 2 times cheaper!
Of course, Netflix is risking because existing "Basic" subscribers may downgrade their subscriptions just to pay less, but ad revenue would help not even cover the loss but get a plus in revenue. And while we may try to predict the outcome of the whole campaign, Netflix is a different beast on the plains of the streaming business. We'll see.
Is it Possible to Block Ads on Netflix's "Basic with Ads" Plan?
There's no shadow of a doubt that adblocker developers started their preparations before the plan was even implemented. Sharpen your JS rules, adblocking knights!
The problem is that only now it becomes more or less understandable how ads are being served via Netflix's algorithms and code solutions. Would it become possible to block all ads or at least the majority of them or not? Time will show.
Now, let's consider another point here. If it's possible to block all ads on Netflix "Basic with ads" but only by a paid adblocker, is it even beneficial in any way to buy an adblocker and an ad-supporting subscription? Maybe you should then just buy a more expensive tier?
A full-fledged standalone adblocking application is a lot more useful than just blocking ads on Netflix. For instance, AdLock (yea, yea, our product) is designed to work systemwide, which means it copes with ads across all your apps and browsers on the device. Tried and tested, it removes all commercial content on Hulu, Peacock, Netflix, and a bunch of other services in a snap. On top of that, AdLock provides the best data security on the market — it disables all data collectors, malicious requests/code in any sort of ads, bugs, and a lot of other unwanted stuff out there.
Moreover, AdLock is really affordable as a multi-device adblocker/privacy protector, which makes it a top-tier software solution one can have on their device. Available for all popular OS, AdLock is a must-have for privacy-conscious Internet users.
Final Thoughts
Overall, Netflix is doing a great job at shifting its model to another level to retain customers and even get new subscribers through a more affordable plan implementation. Given that Netflix has lots of high-rated (worldwide) content, its intention on attracting even more users via changes to price policy and smoothly introducing an ad-supporting plan would definitely help them earn a pretty penny.
Fighting ads has always been a separate topic for every service. Depending on the way Netflix will go on serving ads, there might rise new questions concerning ads there, but atm, it's not that big of a deal to cope with. You just get a trusted and reliable adblocker like AdLock and you're good to go.
Surely, $7 per month for Netflix is a bang for a buck taking to account "Wednesday", "Orange is the new black", "Ozark", or whatever you fancy. We'll see how it goes. Thanks for reading our article till the end, we'll see you guys in the next one!
Frequently Asked Questions
Why did I just see an ad on Netflix?
Are you a "Basic with ads" subscriber? If yes, then you'll see up to 5 Netflix commercials per hour 🙂 If you're not, then it's either a bug or Netflix is testing ads on more expensive subscription tiers. Yikes!
Will there be ads on Netflix in 2023?
Sure thing! Netflix ads are now the new normal. But don't you worry, (at least for now) Netflix has not announced ads to come to new subscription tiers. Of course, if you're a "Basic with ads" user you'll see adverts (unless you have a great adblocker like AdLock).
How much is Netflix with no ads?
Netflix "Basic" (Netflix without adverts) costs $10 per month and it's the lowest you can pay for ad-free Netflix streaming. Next up, $15 per month for "Standard" and $20 for "Premium".
Can you turn off ads on Netflix?
You can either by upgrading your plan to at least "Basic" or by getting an adblocker. Please note that free adblockers might be not very efficient as they either participate in an "Acceptable ads program" or are just restricted by browsers. All you need is a great standalone app. Try AdLock and you'll fall in love!
Ad-free Season Starts Now!
Do you like this post? Share it!