How to Block Ads on Hulu
Entertainment now is very different from even 20 years ago. Indeed, it is one of the most progress-demanding sectors of technology, simply because we, humans, will never stop looking for new ways to pass the time. Before television — what we are so familiar with from our childhood, together with its commercial breaks and catching jingles(some of which we might remember till the end of our lives) — played a major role in providing leisure for families at home. Today we have advanced streaming services and online platforms that quickly joined the race for people's time and money. Those replacements, such as a relative newcomer Hulu, are becoming more and more attractive alternatives to cable TV across the modern world, however, the advertisements are not going anywhere. With more options available than ever before, can Hulu and other streaming platforms replace television entirely? Is it even possible to block ads on Hulu and enjoy binge-watching freely? Let's take a closer look.
What is Hulu?

Hulu is an online video streaming service, founded in 2007. It provides subscribers access to serials (and series), TV programs, sports, news, award shows, dramas and soaps, even weather forecasts. It is now owned by The Walt Disney Company together with Fox Entertainment Group and NBC Universal, which allows Hulu to have an impressive collection of popular programs. Currently, the site features titles from Fox, Cartoon Network, Discovery, E!, Disney, Bravo, HBO, PBS, Comedy Central, Showtime e.t.c and a number of original content, production of which Hulu started in 2011. As a user, you have more than hundreds of movies and TV shows available anytime online, plus, it works across multiple devices so you can stream wherever you go.
More than that, Hulu's library continues to grow, and one of the main reasons for that is the fact that Hulu never uses illegal ways of video streaming, it licenses content properly from copyright owners. All Hulu content is 100 percent free and legal to stream. For instance, a number of classic and old-school shows have started to air on Hulu, including sixties-seventies comedies and soaps, which was only possible by licensing agreements, which allowed Hulu to receive complete seasons of shows and distribute them in high quality. This added to the increasing popularity of the service not only among today's viewers, who are finding enough current broadcasts and novel content but also among adults or retro TV fans.
You might wonder: how is that even profitable? Well, Hulu's stability is based on ads, that are placed both on the sidebars of the site and in short clips either at the first minutes of a video or periodically appearing while watching. We will try to look into ways to block ads on Hulu in this article. To start with, several paid plans are available depending on one's tolerance to ads and what is being streamed.
Update Hulu to Premium

Currently, Hulu is only reachable within the United States(including overseas territories) and, unfortunately, doesn't work with anonymous proxies, VPN, or anonymizers. Streaming from Hulu is not free, so you need to purchase a plan first. Some content is not included in the plan by default but can be added at an additional cost. With a basic (ad-supported) plan users have access to all live and on-demand TV and movies offered, however, every title will be shown together with a certain amount of ads, both at the beginning of the stream as well as periodically appearing till the very end. Considering the affordable price of the subscription (only $5.99/month and funny $1.99/month for students) this doesn't at all sound like a rip-off, right? Well, only if you can stand an extensive amount of advertisements.
How to Skip Ads on Hulu Using Enounce My Speed
Enounce MySpeed is one of the ways if not to block ads completely, but to limit the lengths of advertisements. It allows to speed up or slow down the playback rate of videos on Adobe Flash without any noticeable changes to the quality. This being stated, MySpeed can help to increase the speed of the stream while ads are playing, therefore reducing the amount of time user wastes on them. The latest 5th version of MySpeed includes Ad Skipper, which supports, for example, Youtube video player and, luckily, Hulu too. However, it's important to mention that it is a paid feature, but if you want to try it, a 7-days free trial is available on the official site.
Read also: How to get rid of ads on Peacock.
Reload the Page with Video Streaming
Some people hate to pay any extra for browser plugins or other extensions aimed to block ads on top of a paid subscription. If you are one of them, you might find this method practical. Next time the ad is on, just reload the page and the platform will make it shorter. Ads are not being stopped, and you will not skip them, but the duration will be radically decreased. Since ads airing on Hulu are of different lengths, sometimes up to annoying 5 minutes, this might come in great handy when you are inside a very thrilling plot.
How to Get Rid of Ads on Mac and iOS with AdLock?
There is another ad blocking solution that might help Mac and iOS users. Since web-browsers like Chrome or Firefox can be installed and used instead of Safari, the Hulu ads problem can be solved by installing an extension for your browser. AdLock is highly recommended for this purpose and is aimed to make your life much easier. Simply download the extension for free from our site, follow installation steps and get ready to experience the best protection from unwanted ads.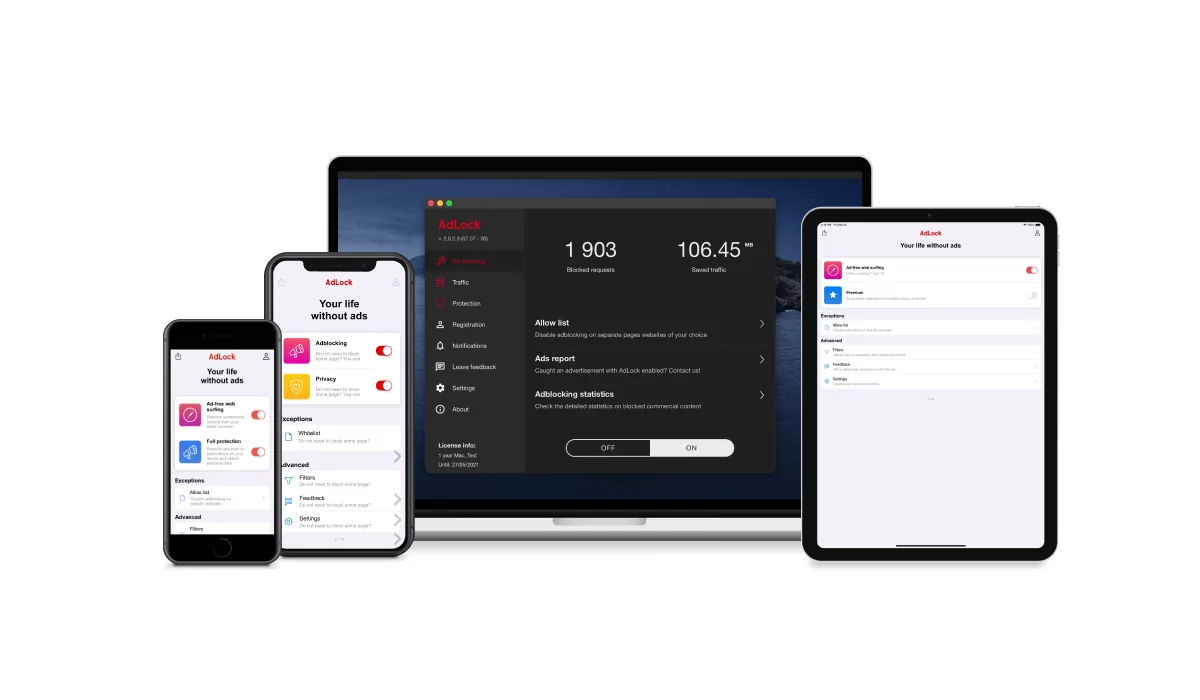 How to Block Hulu Ads on Android
If you are one of the users who is irritated with the ads while streaming from Hulu on an Android device, we have advice for you too. It's not an ultimate eye-opener: you can block ads by using the Ad-blocker applications. In Google Play Store one can find many apps that promise to help you block Hulu Ads, with newcomers in the store almost every week, but be ready to test some before finding a perfect one, because unfortunately very few of them actually work. The secret recipe here is in using adblocking browsers instead of streaming from the official Hulu app. For instance, try Brave browser, which is working on PCs as well.
How to Remove Hulu Ads on Windows
Windows users have some more possibilities to avoid watching Hulu's unwanted advertising at their disposal. The first one looks weird a little, but is absolutely free and works every time:
Open two tabs of Hulu;
Mute one of the tabs;
On the muted tab fast-forward the stream to the ad marker(usually differs in color on the bar);
Start watching the title on the first tab;
When the ad starts, mute the tab;
Go to the second tab and continue streaming;
Continue switching between tabs the same way when ads appear.
This simple trick really works wonders if you hate being interrupted in the middle of the show! Second, the more advanced solution is reached through the web-filtering option of your WiFi router:
Connect to your WiFi;
Open the browser and type in your default router IP address;
Now look for the web filtering option (can be as well named as URL block in Advanced options);
Type in ads-e-darwin.Hulustream.com domain;
Apply changes and restart the router.
These simple actions will allow you to enjoy your favorite show without being interrupted for an ad right in the middle of an intense conversation of the heroes.
To sum it up, let's all agree that it seems absolutely realistic: streaming platforms and video services might one day entirely replace old school TV that we grew up with. There is, however, one concept that always remains — if something is almost free online, it will bring ads with it. This is only a question of your own patience level: will you ignore an ad and prepare coffee when it's on or will you look for ways to get rid of it?
If you choose option two, then we are here to lead you along the way.
Do you like this post? Share it!