Somebody should tell developers of Words With Friends that friends don't make friends watch enormous amounts of ads! It starts to be ridiculous. Users have to wait until 30 seconds promo finishes after every single move. If you're a fan of Words With Friends, then you know the app may start bombarding you with unskippable ads right in the middle of the turn. As a result of its advertising policy, the game draws customers away which is sad. But if you don't want to give up this game, the following guide will help you to remove ads in Words With Friends.
Frequent Pinterest visitor? You should know then that its ads are quite pesky. Lear how to block ads on Pinterest in a matter of minutes from our article!
Put an end to ads in Words With Friends:
How to Remove Ads From Words With Friends
There are two effective ways to remove irritating adverts from the game we all love — Words With Friends.
Web
Paid ad-free version;
Ad-blocking browser extensions and applications.
Mobile
Premium WWF bundle;
Third-party ad-blocking applications.
Let us consider these methods and figure out which one is the most beneficial.
The first method implies purchasing an ad-free version of WWF. Since the developer made the application behave like a Vegas slot machine, it's almost impossible to play. Ads torture free version users until they give up and buy an ad-free WWF.
According to the latest pricing, an ad-free version costs roughly 10 bucks per 30 days for mobile users and 30 bucks for web users.
The second way to get rid of ads in Words With Friends is to use an advertisement blocker. The market of ad-blocking software is abundant with solutions that suit every taste and budget. We'd like to introduce our product, AdLock, and show its benefits for users.
Now let's get back to the meat and consider removing ads using both of these methods for handheld devices and computers.
Words With Friends Without Ads on Android
1. Premium Bundle
Yeah, another premium on top of your paid subscriptions for Netflix, Spotify, etc. Well, if you aren't a cost-conscious person, here's a quick guide on purchasing the ad-free premium version of WWF for Android users.
Launch Words With Friends;
Tap the "Store" (Cart icon);
Tap "Ad-Free Bundle";
Tap "Buy".
That's it. In addition to the ad-free gaming experience, you are likely to get some bonuses if there's a special offer available.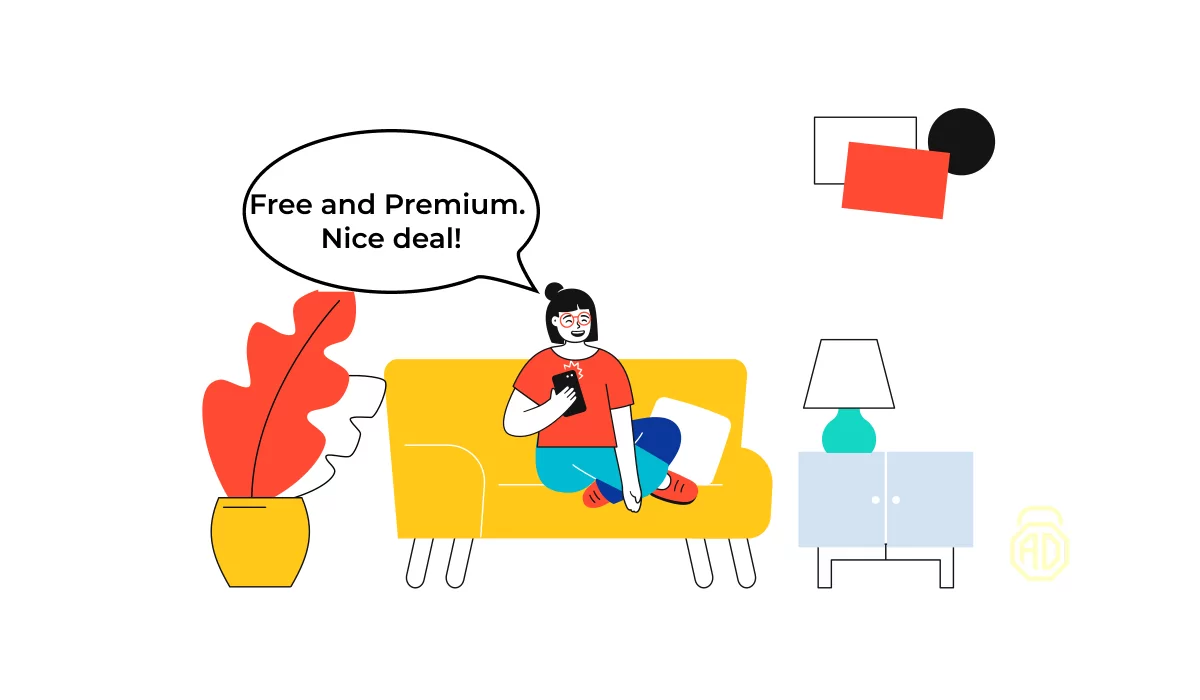 2. AdLock
The second method to stop ads on Words With Friends is to install an ad blocker AdLock on your Android device. Open the link on your phone or tablet, download the Android package and follow the instructions for adjustment described below.
Follow instructions of the guide below to adjust AdLock:
Check for updates
Open an application, tap the overflow menu ("⋮" at the top right corner) and choose "Check updates". In a new menu tap "UPDATE ALL"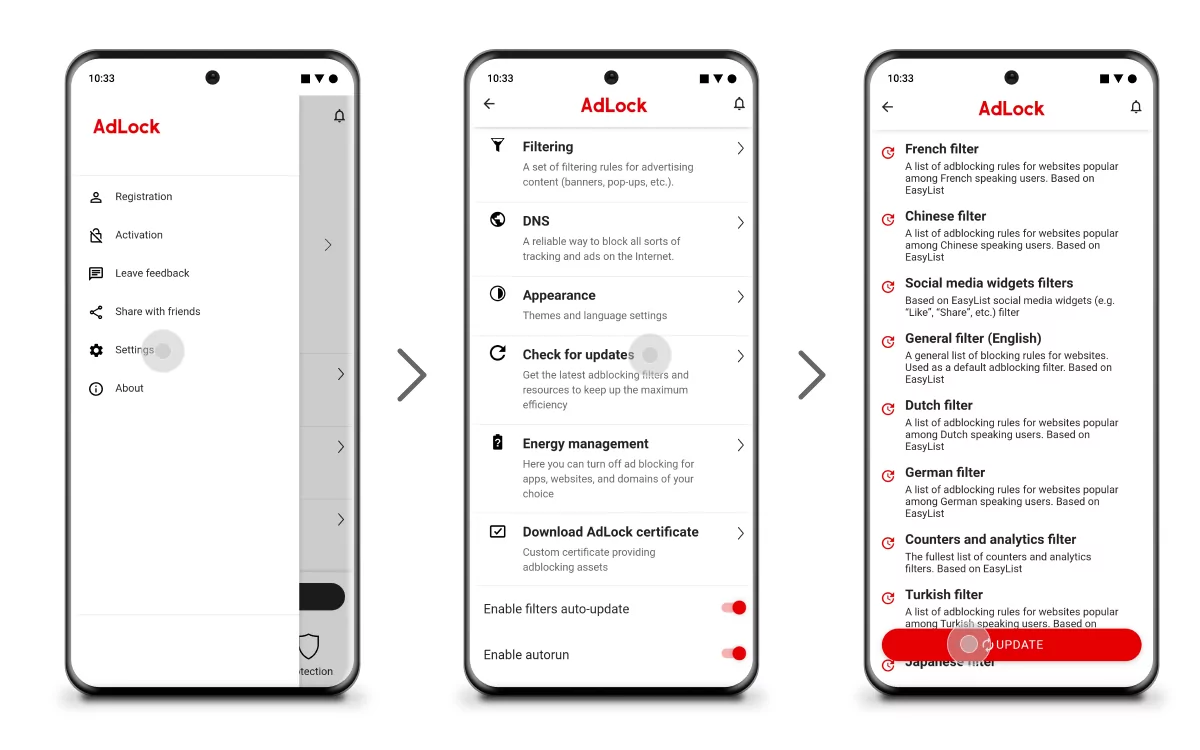 Enable HTTPS filtering
Switch to the "AdLocker" tab and enable HTTPS filtering. In a pop-up window tap "OK". Then you will be asked to set a graphic key to verify your identity for future actions. Set a pattern you surely will remember.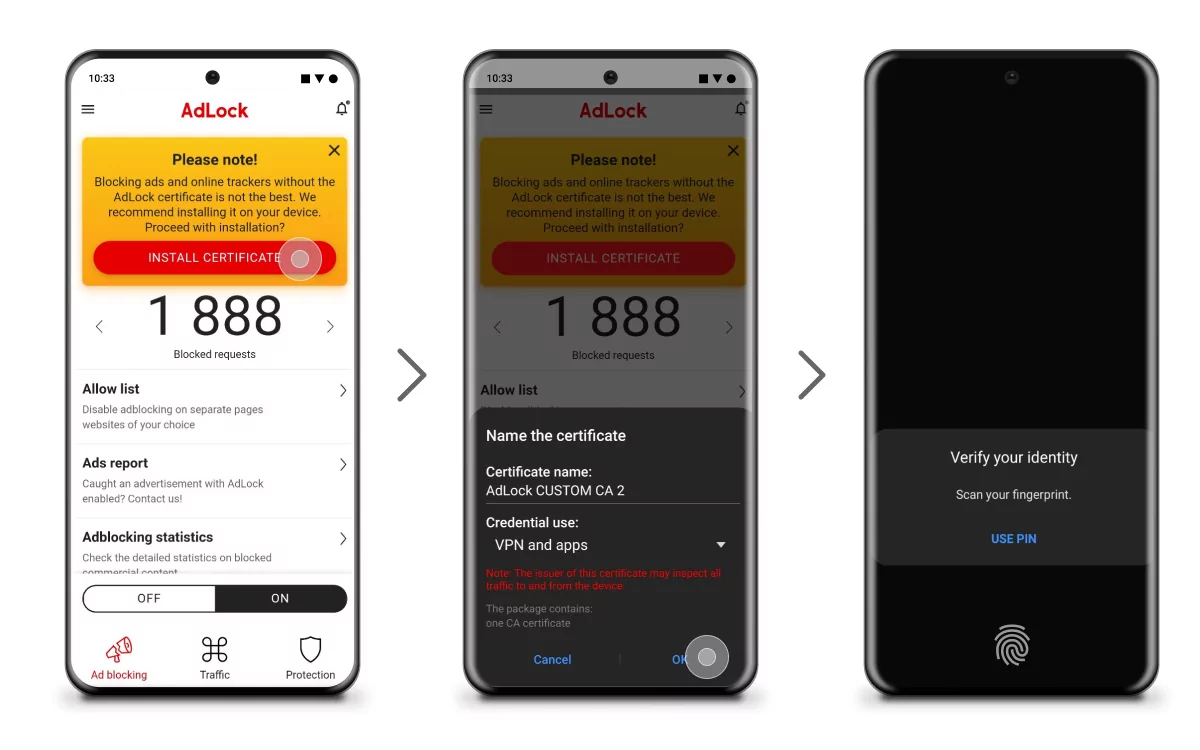 That's it! From this moment you can play Words With Friends, Words With Friends 2, and any other classic games from Zynga or other game-developers with no ads!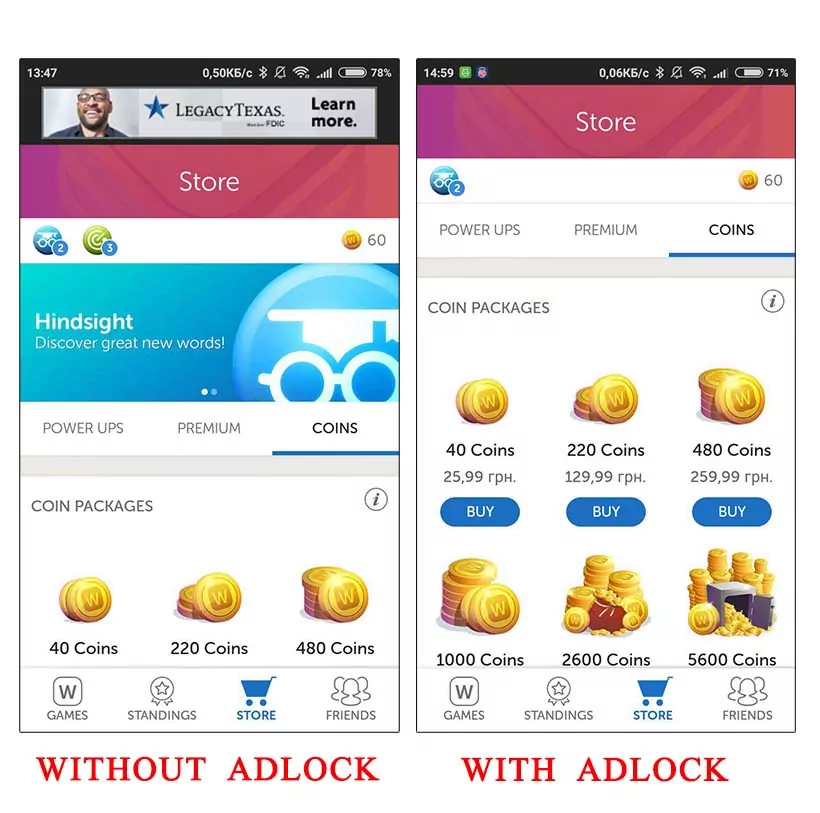 Android users less constrained in installing new apps and
games
as they always can increase device memory with memory cards. But the larger amount of apps means the larger amount of ads which led to constant searching on
how to stop pop-up ads on Android
. There you'll find a simple guide on dealing with adverts.
How to Block Ads in Words With Friends 2 on iPhone and iPad
Speaking of iOS-driven (and iPadOS, of course) devices, getting rid of commercials and gewgaws in WWF2 is quite the same: you either buy Premium or stick to a good adblocker capable of blocking in-app ads on iOS/iPadOS.
Welp, we do know yet another way:

Thanks for sharing, BenderDeLorean :KEKW: :KEKW: :KEKW:
Jokes aside. If you're not going to pay 10 bucks every 30 days of ad-free WWF, then you should give a shot to our piping-hot adblocker for iOS devices! Just a little while ago, we've released AdLock for iOS capable of blocking all known types of adverts not only on browsers but in applications as well.
How to Make the Web version of Words With Friends Ad-free
As we've already mentioned, you've got two options to get rid of commercials on Web WWF. The easiest and the most cost-effective option is to get an ad-blocker — as a browser extension or a full-fledged application. The majority of extensions are free of charge and effective across your browser activity.
Talking of full-fledged ad-blocking applications for computers, it's worth noting that they provide a set of aidful features on top of routine ad blocking provided by extensions. For instance, AdLock mercilessly removes all advertisements, blocks online trackers and malware attacks, secures personal data from tricky scammers, and even more.
In case you support paying for numerous Premiums (We're sure you don't), then you'd love to pay $30 for adless WWF.
To purchase Premium Words With Friends:
Open WWF;
Click the "Help" icon, then select "Remove Web Ads";
Click "Buy".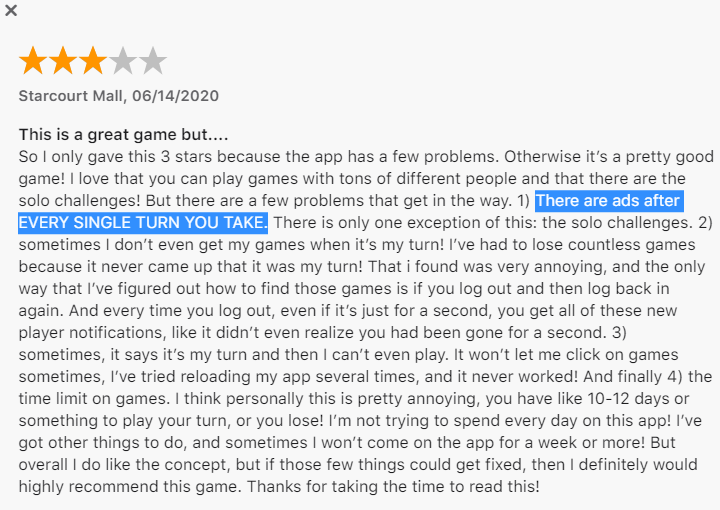 How to Play Words With Friends 2 Without Ads
WWF's succeeding version, Words With Friends 2 was launched in 2017 and offered extended features and 50,000 more words to their users. With its new features, WWF2 brought new unskippable ads driving free users even more insane than before. The only way out was to take sedatives because the nerves couldn't stand the tension anymore.
If you want to remove ads from Words With Friends 2, then you either buy an ad-free version or grab an ad-blocker.
An ad-free WWF2 costs $10 while AdLock costs only $3.5 and provides a bunch of additional features. For the price of $3.5 per month, you forget about any sort of irritating ads on YouTube, SoundCloud, Crunchyroll, Twitch, and many more on 5 devices. On top of that, you get a personal firewall.
Free Words With Friends Content with Amazon Prime
Social game development company Zynga announced their collaboration with Amazon. WWF users who have Amazon Prime can now log in with their Amazon accounts and get a whole bunch of perks and free content: mystery boxes, exclusive tiles, and other rewards. Despite numerous benefits (if we say so), not a single word was said about ads.
Conclusion
In conclusion, we'd like to suggest you choose the best solution that would meet all your demands.
If you have questions unanswered, feel free to contact us and get additional information.

Put an end to ads in Words With Friends:
Be aware that there are adverts forced by the app developers themselves. Oftentimes, these ads come embedded in the application interface and there's no way of blocking them. As an example, we can consider Zynga's apps — Words With Friends, Scramble, Poker, 1010, etc. Doubtlessly, if you've ever played WWF, you might've seen ads promoting Harry Potter Puzzles & Spells. And that's what we're trying to explain: software developers embed the promotion of their products in the application source code. There's no way to break into the code and cut off the advert. So, you should keep in mind, that it's not the malfunction of the adblocker.
FAQ
How do I get rid of ads completely?
If you're looking for a reliable way of blocking ads not only on browsers but also on diverse applications you use on your iPhone, iPad, or whatever device you own, then you should try out our adblocker. The reason is AdLock is a unique application providing not only efficient ad blocking but also tracking protection and malware avoidance modules which makes you armed and ready for online adventures. Please, keep in mind that there are "unblockable" ads like those on the top of WWF (embedded by developers) forcing other Zynga apps.
Is "Words with Friends Premium" worth it?
Oh boy is Zynga itching for money… The latest updates to the game made it clear that reward chests are going to be rare for non-premium users. Honestly, this approach will definitely help Zynga. To ruin the game.
The majority of fed to the teeth WWF players agree on the fact that it is NOT worth it to pay 10 bucks for Premium. We would also want to support the point, as it's more beneficial to spend 10 bucks on something that's worth it.

What is the main difference between Words With Friends and Words with Friends 2 regarding ads?
If WWF classic is cluttered with ads, then it's impossible to think of words that would define advertisement on WWF2. Because of ads overload hence the inability to enjoy the word game as they did before, people are abandoning it. Sad, but it's true. Hopefully, Zynga would take some action, otherwise, they're going to lose the audience.