How to Block Ads on ESPN App on iPhone & Android
Adless Season Starts Now!
I have yet to see so beloved and yet so despised applications as the ESPN app. While users appreciate the functionality and the freedom of movement as they can watch a live stream even if they are away for work, they are tired of the quantity and quality of unavoidable pop-up ads. The ESPN app uses all imaginable tracking on you and says they need it to keep functioning. For example, you can't opt out of locational ads by disabling usage of your location because you won't be able to watch any live streams. Even after you purchase ESPN+ for the UFC title matches and other exclusive stuff, you still see ads everywhere. Such frustration cause even devoted users to delete the otherwise great app.
So, if you ever questioned yourself: how can I get rid of ads on the ESPN app? – you came to the right place. This article will give you not-so-obvious hints to get the ESPN app without ads and offer one guaranteed solution.
What is Offered on ESPN App
The ESPN app is a self-proclaimed #1 sports application. One app gives you access to all ESPN network channels and services for no additional price. It has jurisdiction over broadcast events of all-American favorites football, basketball, and baseball. Access to each network is based on your subscription with an affiliate video provider. However, a subscription doesn't turn off ads on the ESPN app.
The ESPN app lets you watch thousands of live events and shows from the ESPN networks, plus it gets you scores, on-demand news, highlights, and expert analysis. It's the best place to watch free NBA live streaming wherever you are. And suppose you're a supporter of college sports or can't imagine your life without NHL events and love exclusive ESPN originals, premium articles, fantasy tools, and more. In that case, you can subscribe to ESPN Plus within the original ESPN app. No ads will trigger you if you read the following article carefully.
Does ESPN App Have Ads?
Yes, it does, otherwise, why would you end up here? ESPN has six major ad formats. I put together a list of them for your convenience.
Ad banners. Those can be static images or videos occurring in stats and between the articles and video clips. This one could be the least enraging ad type if not for its content. There are lots of half-naked images of girls advertising video-chatting apps in which you are not interested. Those ads look especially odd, given that the ESPN app has an age limit of +4.
Collaboration ads. Those are sponsored content from the brands that try hard to merge into your feed. ESPN has higher demands for this type of ad, and the most you can accuse them of is dullness.
Stories ads. You see those as images and videos playing up to 30 seconds between actual stories. Those ads cause a lot of frustration for being repetitive and irrelevant.
Shoppable static and video ads. Full-screen vertical images or videos with tappable hotspots for the advertised product. Because where would you buy your new sneakers if not in a sports-streaming app?
Pre-rolls. The all-time favorite type of ad that occurs between the highlights. Excellent marketing strategy to show over and over the same 30-second ad between actual video content that lasts 30ish seconds.
Video ads plus image carousel. If you don't want to open and watch a full-page video ad, you can scroll the carousel of pictures under it to familiarize yourself with the product from an advertisement. What can I say except you're welcome?
Now that you know your enemy, it's time to figure out how to stop ads on the ESPN app.
How Do I Get Rid of Ads on ESPN App?
There is no legal way to remove ads. The ESPN app doesn't provide any ad-free paid options. Even if you subscribe to ESPN+, you will still encounter all kinds of advertisements, including pre-rolls and mid-rolls. You can only make the ads less relevant, AKA forbidding tracking your activity on other platforms.
For iPhones:
Go to Settings
Scroll to Privacy
Tap Tracking
Tap toggle Allow Apps to Request to Track to turn off tracking by default.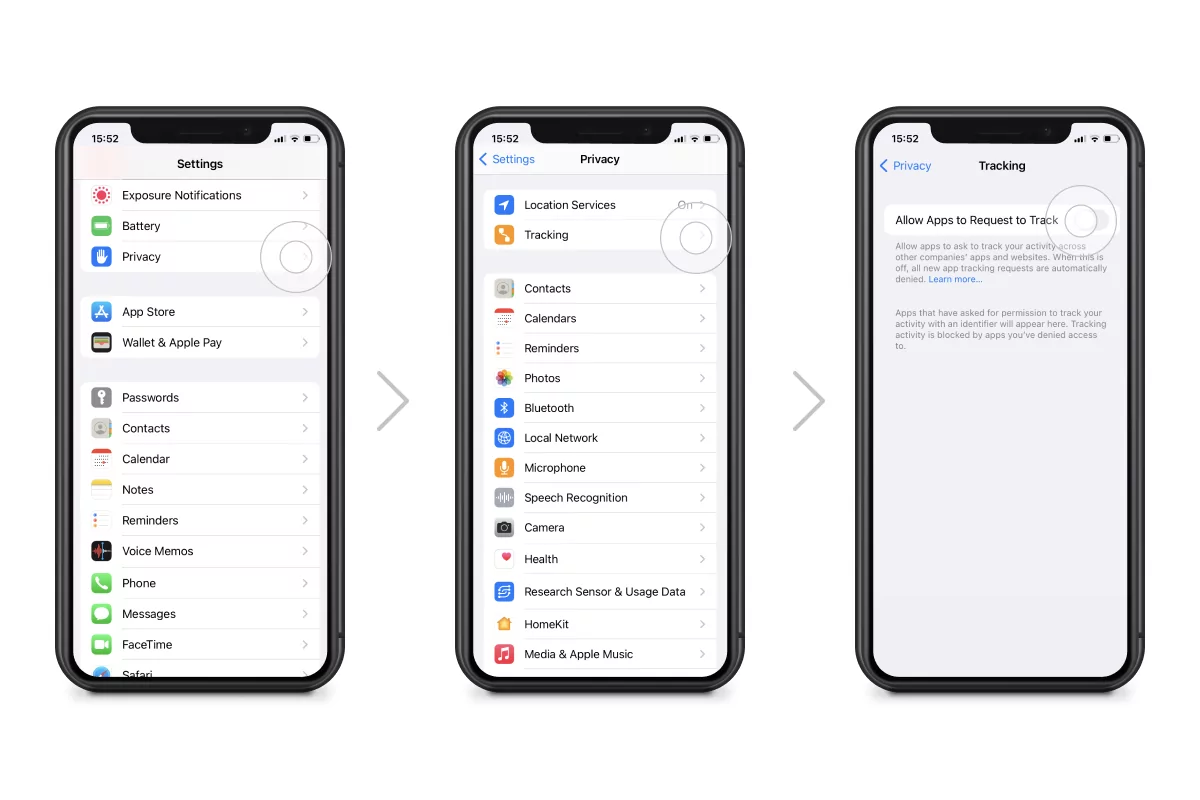 For Android smartphones:
Go to Settings
Scroll to Privacy
Tap Ads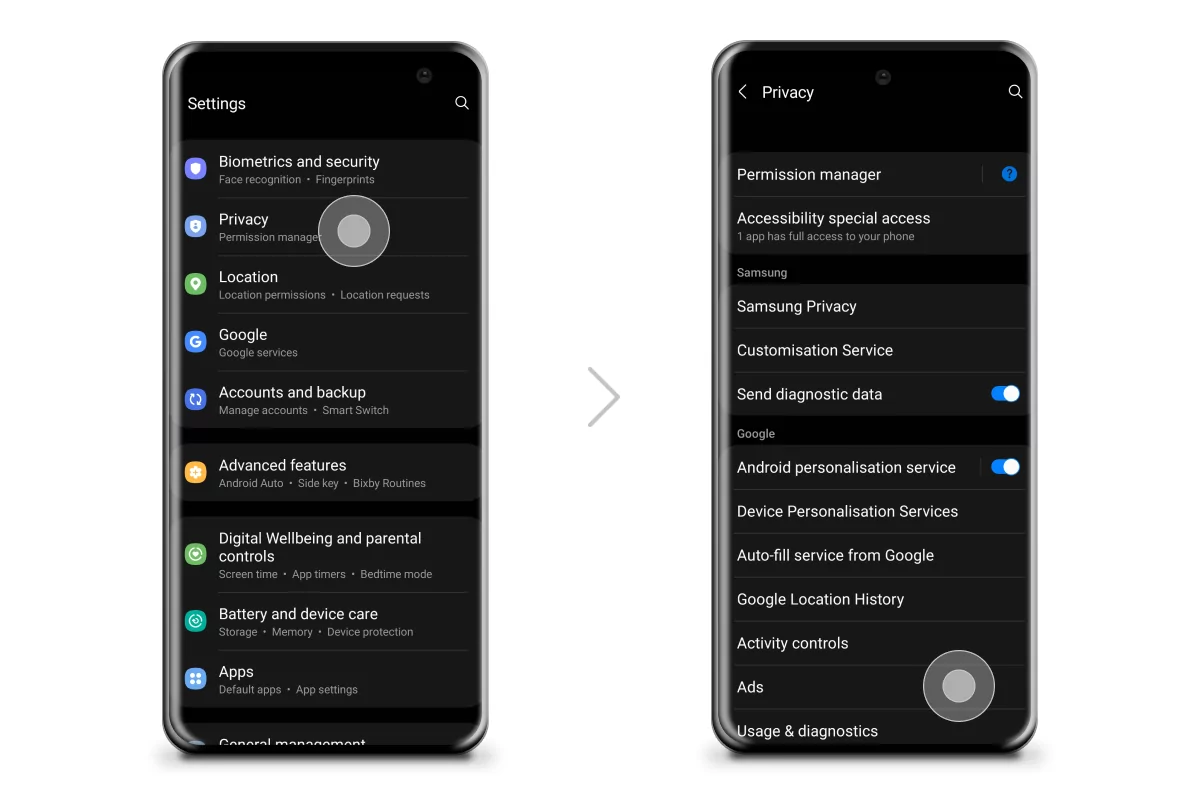 Tap toggle Opt out of Ads Personalization to disable personalized ads
In a pop-up message, if there is any, tap OK to confirm your actions.
The only benefits of that method are to spite marketers and own a little privacy. Scroll further to find guides on how to block ads on the ESPN app for Android and iOS.
How to Block ESPN App Ads on iPhone & iPad
For this purpose, you require reliable ad-blocking software, for example, AdLock. AdLock will block ads on the ESPN app iPhone edition and protect you from ads throughout your device. You can find AdLock in the official App Store and verify its trustworthiness and capacities. Then download and install an ad-blocker on your iPhone if you liked what you read.
It's time to set up AdLock in a few clicks:
Go to your phone's Settings, find and tap Safari.
Tap Extensions and switch on all AdLock toggles.
Launch AdLock and tap the Ad-free web surfing toggle to enable ad-blocking. Wait for a couple of minutes until AdLock finishes downloading all necessary filters.
Tap the Premium toggle and choose your $12 yearly plan or $3,49 monthly plan. You'll get a 7-day trial, and if you don't like the work of AdLock, you'll receive money back, no questions asked.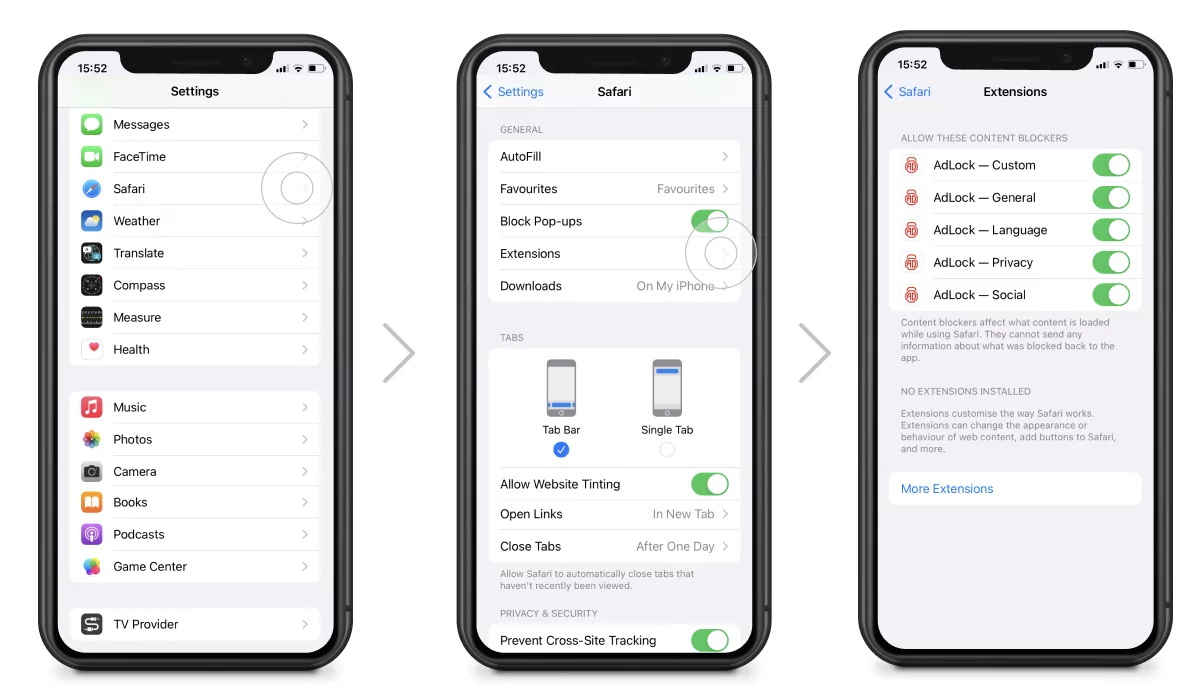 Now it's time to enjoy ESPN without ads!
How to Block ESPN App Ads on Android
To block ads on the ESPN app Android edition, you need one app, which is AdLock. First, download and install AdLock for Android. Now follow this four-step easy guide to set up AdLock for successful ads elimination:
Launch AdLock and tap a hamburger menu at the top left corner of the screen and choose Settings.
Tap Check for Updates and tap UPDATE in the next window.
Go to the AdLock tab and tap a big red button INSTALL CERTIFICATE to enable HTTPS filtering.
Verify your identity in the following window by scanning your fingerprint, setting a graphic key, or creating the password.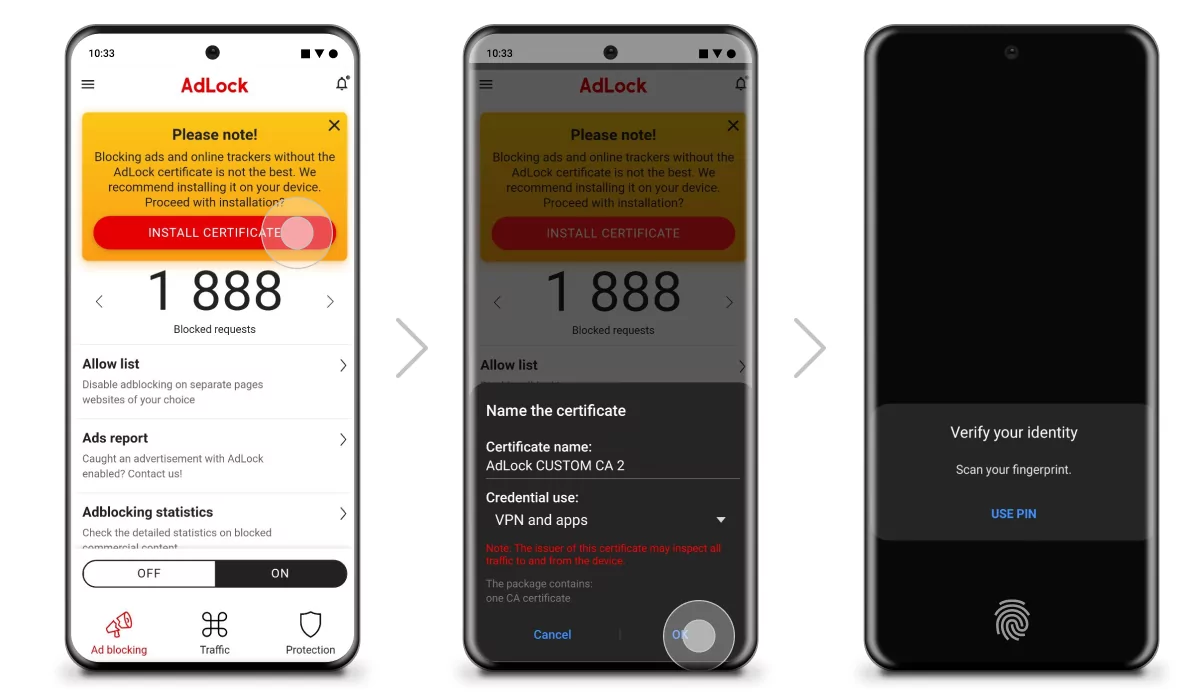 Now you can block video ads in the ESPN app on Android and all other kinds of ads in all types of apps. This method sadly doesn't work for Android TV, but our team works day and night on an effective ad blocker for smart TVs.
You may also like our post on how to turn off Metrozone ads.
How to Disable Autoplaying Videos in ESPN App
When you open the ESPN app, autoplay videos immediately plunge you into an entertaining world of sport. However, they might overwhelm some users, cause overloading on a phone's system and consume too much data. Autoplay videos can cause the same discomfort ads on the ESPN app can, but at least we have settings to switch them off.
To disable autoplay videos, open the ESPN app and tap a gear icon to open Settings. Select the Video Settings option, and in the following menu, tap Never autoplay videos or Autoplay using Wi-Fi only if you only care about mobile data shortage.
What Else Can AdLock Do?
I'm glad you asked. Not only does AdLock block ESPN app ads on iPad, iPhones, and any Android device, but it can also remove adverts from all games and applications (almost). Only Instagram and YouTube native apps are beyond the capacities of AdLock or any current ad-blocker. Nevertheless, AdLock offers convenient solutions to consume content from the mentioned platforms with zero ads. Check out our articles on How to Block YouTube Ads on Android and iOS and How to Turn Off Annoying Ads on Instagram for witty tips. All other favorite apps, like Reddit, Scrabble, Twitch, etc., are entirely ad-free with AdLock.
Another fantastic feature is a voluminous layer of protection. AdLock won't let you visit phishing web pages or allow trackers to follow you everywhere.
Read also: How to block ads in Scrabble app
Final Thoughts
Well, the sports network app kinda pushes you towards ad-blocking tools, leaving you no other alternative to block ESPN ads. The price of ESPN+ has doubled since its launch in 2018 and is now $10 monthly while still broadcasting ads. I doubt Disney will reconsider its advertising policy anytime soon, as they secured a whooping nine billion dollars in ad revenue with the help of live sports in 2022. For the record, AdLock costs only $3,49 monthly and strikes all the ads.
Frequently Asked Questions
Why does the ESPN app have ads?
Disney owns it. Do I need to say more? But seriously, the ESPN app is a complicated software that allows tens of thousands of people to watch different streams simultaneously. Of course, it needs funds to maintain its work. The way of implementing said ads is the other point.
Does ESPN Plus remove ads?
ESPN Plus removes ads only from on-demand stuff. Streams of live games have commercials.
Does the ESPN app have commercials?
Yes, the ESPN app has commercials. It positions itself as the all-in-one broadcast TV alternative and includes ad spots like every TV channel.
Is ESPN and ESPN Plus the same?
ESPN+ is not a standalone application. It is a subscription service that complements the ESPN app and costs $9.99 monthly. ESPN+ offers exclusive content, various original series, pay-for-view matches, and more.
Adless Season Starts Now!
Do you like this post? Share it!