How to Get Rid of Ads on Mobile Games
Ad-free mobile gaming is real!
Intro
First, I would like you to look at my timetable because I also want time for mobile games. And it wasn't a passive-aggressive remark. It was an honest request. That will be fair play, as I will give you hints on how to get rid of ads on mobile games, which eventually will save you time, too.
Jokes aside, in-game adverts kill the gaming process. You can't just open a game for 15 minutes to complete several challenges and go back to work with a sense of satisfaction. You must watch ads to get game bonuses, without which you can't play. And then you watch a few more ads to keep game developers afloat. That's what they say.
Luckily, the process of advertising removal is similar from platform to platform. The tips from this article will work for any Android smartphone or iPhone. AdLock also shows excellent results in blocking ads in mobile games on both platforms. Keep reading to find solutions that will serve you best.
How to Block Ads in Android Games
There are many ways to avoid ads in mobile games on an Android phone. In my collection, you will find the five most popular ones.
Turn on airplane mode. The ads are not inbuilt into the app. Your game downloads them from external servers. The airplane mode shuts down any internet connection and prevents the game from downloading advertising. As a nice side effect, your battery life will last longer because your phone won't spend it on network services. simple as it is. This method only works for some games, as most require a constant web connection.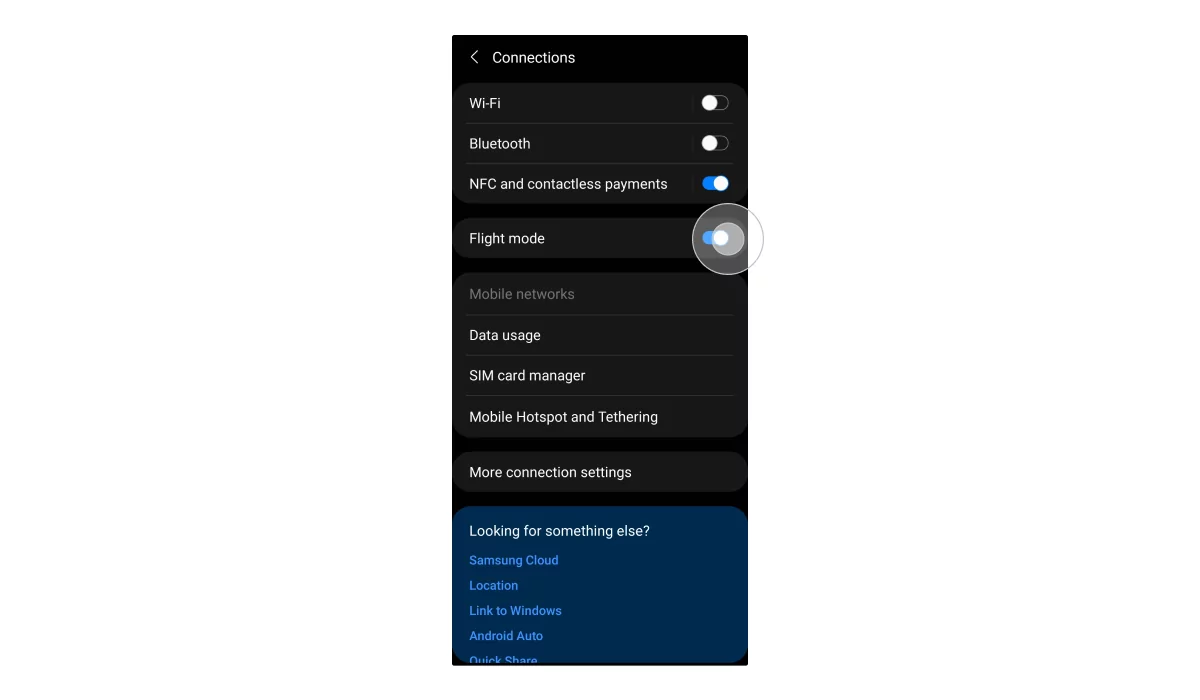 Use a VPN service. VPN reroutes your traffic and makes a server believe you are in another country. Choose a country that is less likely to be targeted by advertisers. The best would be to check what languages your game supports and choose a country that speaks neither of them from the list in the VPN service. That way, you may stop seeing ads.
Use a private DNS. First, find a reliable ad-blocking DNS server you trust to intercept your traffic and filter ads. Then open Settings and select Network & Internet or Wireless & Networks. Scroll down and tap Private DNS, and in the field Configure Private DNS, type down the DNS of your choice.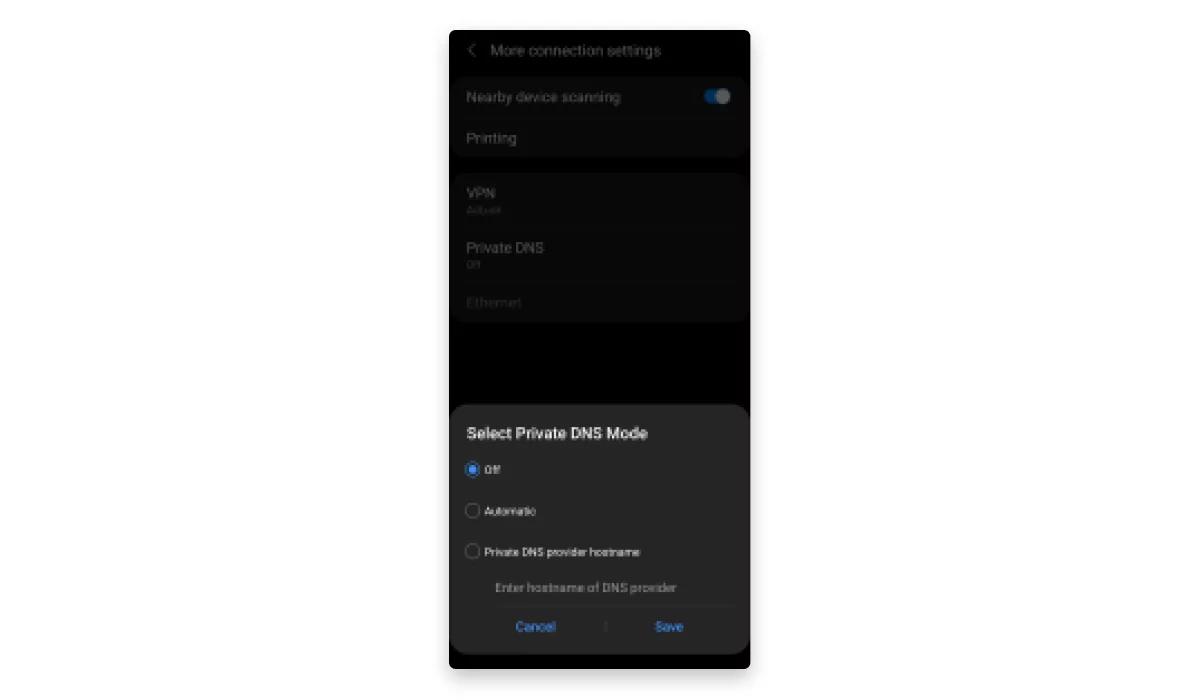 Use a modded apk. As simple as it is. Find a mod that promises to block in-game ads, download, and install it. Probably the most illegal trick.
Pay for a game or an ad-free subscription if offered. The easiest and most legal way that most games neglect. Apparently, even monthly payments to disable ads in mobile games don't cover the revenue from showing said ads.
By the way, in one of our posts, we told how to block ads on Xiaomi smartphones.
How to Disable Ads on Your iPhone or iPad
The guide on how to block ads on mobile games on iPhone or iPad is significantly shorter, as iOS doesn't provide its users the same level of freedom as Android does. But there are still three ways apart of AdLock you can try.
Turn off Wi-Fi and Mobile Data. It works by the same principle as on Android, meaning no internet – no ads on your screen. First, open your favorite game and let it collect all updates. Once it's over, go to your Control Center and tap Wi-Fi and Mobile Data icons to turn them off. Now turn off the game, wait for a few seconds and relaunch it.
Disable internet access to a particular game. This method allows you to stay online using mobile data while restricting the game from connecting to the web. First, turn off Wi-Fi. Now, open Settings =>Mobile Data => Scroll down and find a game or an app and switch off the toggle next to it. This method works only with mobile data, so disabling Wi-Fi is mandatory.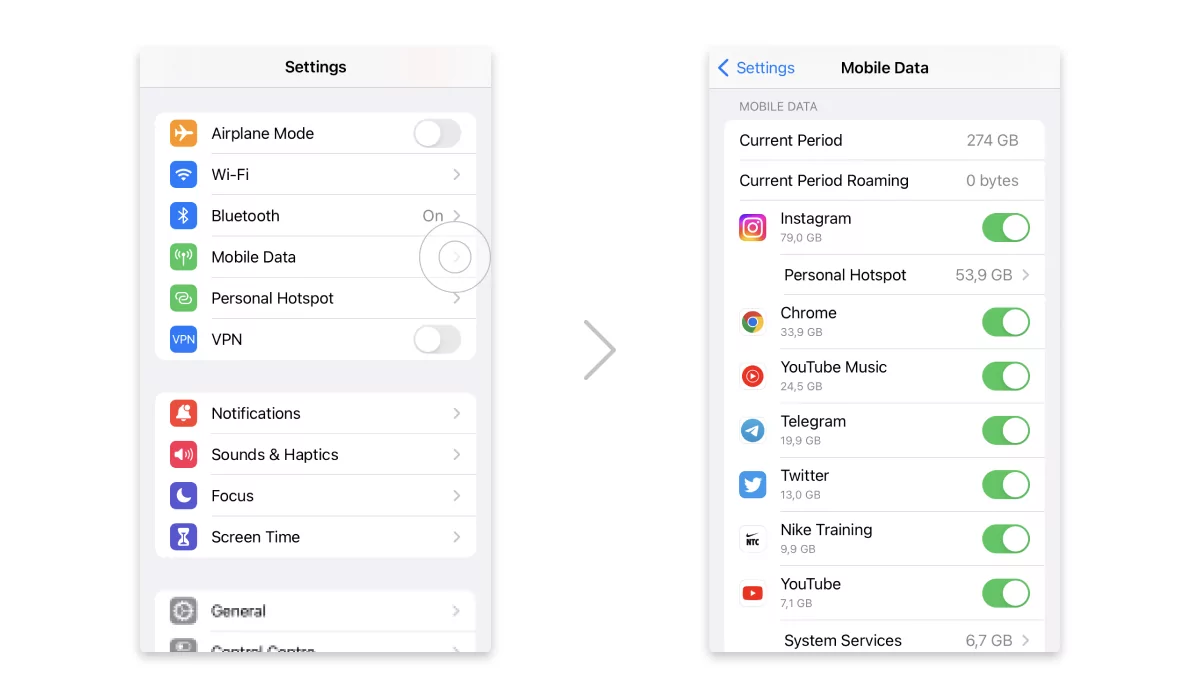 Use third-party ad blockers. If you have doubts about AdLock, you can find a suitable solution to block mobile game ads online. One suggestion: stick to paid options because free ones might profit from your personal data.
Pay for a game or an ad-free subscription. If offered, that would be the slickest solution.
Disadvantages of Such Methods of Blocking Ads In Mobile Games
You must know about pitfalls if you want to block ads in mobile games using any of the tips above. Every solution except for official subscriptions requires sacrifices from you. If you choose to turn off your internet connection, you might miss important calls and messages. Also, game challenges and updates will be unavailable.
If you choose VPN services, you might still face ads, but they will be in a foreign language. If god forbid, you opt for a free VPN service, you will expose your internet activity to intruders. The same goes for a private DNS. Unless you create your own DNS, you risk exposing sensitive data. And the same goes for modded apks, too! Unless you modded it, you can't be sure it doesn't contain malicious codes.
Read Also: The best free solitaire apps without ads
Free Game Without Ads to Look Out For
You want someone to design a game for your entertainment and get no revenue from it. We got you, Scrooge McDuck. Most free games with neither in-app purchases nor ads are aimed at children for safety reasons. First, some ads, especially video commercials, might contain age-inappropriate content. And second, kids might make purchases that their parents will dispute later. A wonderful example of free children's game is PBS KIDS Games, Android/iOS.
As for completely free games for adults, I can think only of Lichess – an open-source chess app, Android/iOS. All other free games force you to make an in-app purchase to progress. Check out our list of mobile games with no ads with the best examples to date.
Use AdLock to Block Ads in Mobile Games & Apps
As you might gather from the name of this site, AdLock is our ad blocker. It's a system-wide solution that can stop annoying ads not only on web pages but also in apps and games. We tried to make it as simple as possible. All that is required from you is to install AdLock on your Android or iOS device, switch it on, and complete a two-step adjustment. After that, AdLock will remove ads in mobile games and applications.
AdLock adjusting for iPhone or iPad:
Open Settings, find and tap Safari.
Tap Extensions and switch on all AdLock toggles.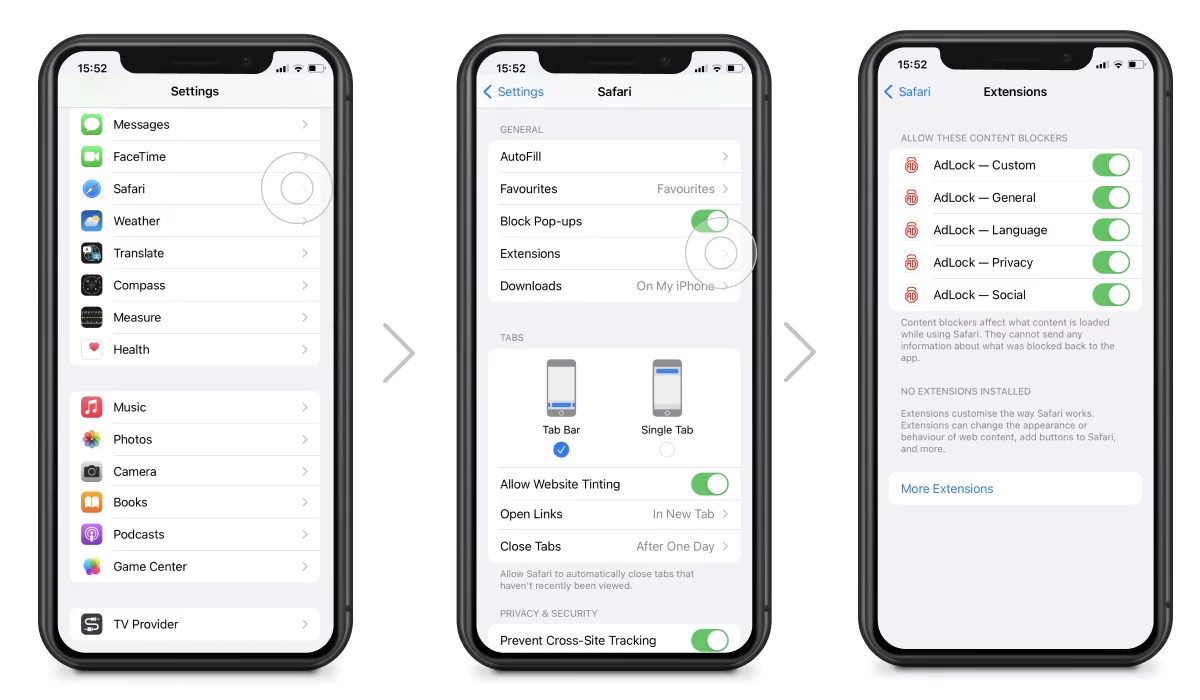 Launch AdLock, and tap the Ad-free web surfing toggle to enable ad-blocking. Wait for a couple of minutes until AdLock finishes downloading all necessary filters.
Tap the Premium toggle and choose a $12 yearly or $3,49 monthly plan. You'll get a 7-day trial, and if you don't like the work of AdLock, you'll receive your money back, no questions asked.
AdLock adjusting for an Android phone:
Launch AdLock and tap a hamburger menu and choose Settings.
Tap Check for Updates and tap UPDATE in the next window.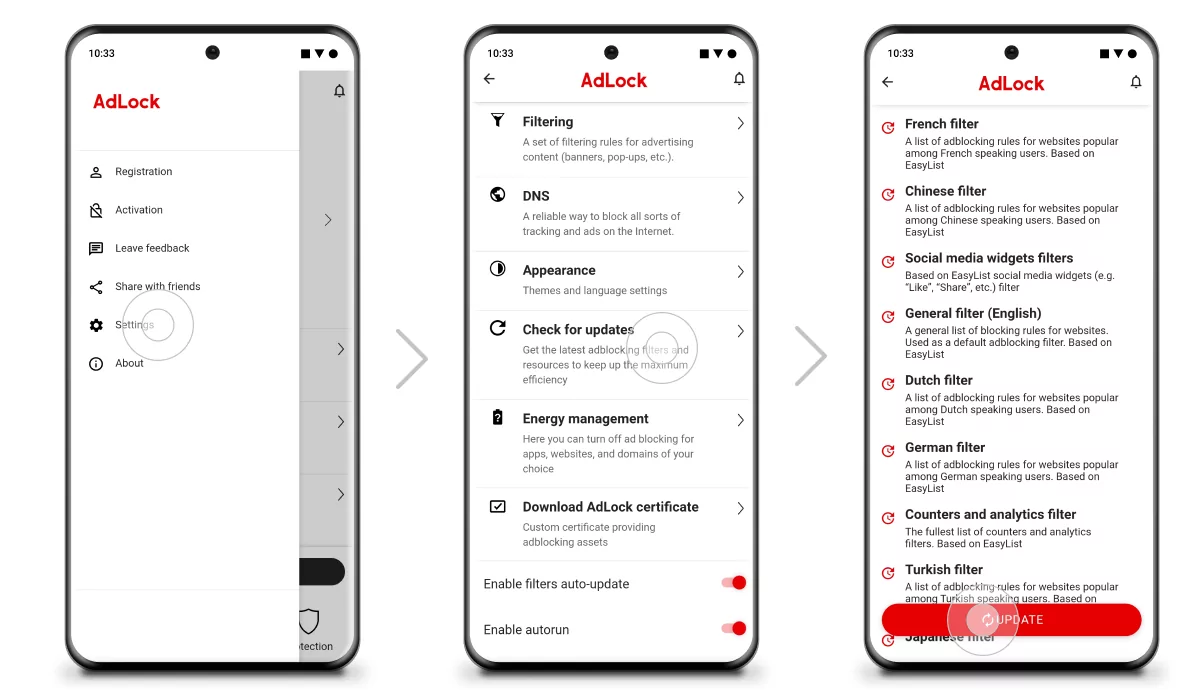 Tap a hamburger menu and choose Buy now and select your plan.
AdLock can block ads on games from most developers. Though, if it fails, we guarantee you your money back. If you want to know beforehand whether AdLock will hide ads in a particular app, please don't hesitate to ask us using a Contact Us form from our site.
Final Thoughts
This article made me nostalgic about those good old days when we used to own something. We paid an agreed price for a game or an app and enjoyed it without commercial breaks. And don't make me start on subscription-based services. Modern mobile games increasingly resemble slot machines because each round is getting pricier to continue. While it's understandable that game-dev is incredibly complicated and game designers go out of their way to make the games unique and beautiful, the advertising must be moderated. There will be more articles on how to get rid of ads in mobile games until game developers establish a dialogue with their users. On the bright side, AdLock will grow stronger and more intelligent.
Frequently Asked Questions
What is the best way to block ads in games?
It's best not to block ads. Game developers did a great job implementing ads in gameplay, rewarding users with bonuses for watching. And it's often impossible to progress without those bonuses unless you want to be stuck on a single challenge for days. The second best way is to obey to pay for an ad-free option if offered. And the third is to use AdLock. In some cases, like with Crossy Road ads, AdLock lets you collect bonuses from playing commercials while removing them.
Why do mobile games have so many ads?
​​One of the reasons is that advertising keeps games free for you. The other one is about money from in-app purchases. When you want to gain something, you usually have two options: watch an ad or spend real money to achieve that right away. You could only watch ads and gain all you wanted for free, but game developers left time gaps between ads. So if you want to keep playing, you must spend real money. Sometimes, ad banners cover the bonuses, and you'll have to tap the ad to collect them.
Which games have more ads on Android or iOS?
Well, Google is the biggest online advertiser in the world and owns Android, so it sounds logical that Android serves more ads. However, according to Business of Apps, iOS made 65% of all games and apps revenue in 2021. The report doesn't divide that on income from ads and in-app purchases, though. This question requires a lot of research, but it's safe to say that both platforms have too many ads in games.
Ad-free mobile gaming is real!
Do you like this post? Share it!
Do you like this post? Share it!