How to Block Annoying Ads on Washington Post
Ad-free Season Starts Now!
Washington Post is a trustworthy source of global news for many people. According to the WashPost PR blog, in August 2022, the website had almost 68 million unique visits. SimilarWeb puts the Washington Post in 269th place among all other websites on the internet. Just imagine how influential it is. Naturally, such a big audience creates massive ad revenue, and Washington Post doesn't want to lose a fraction of that revenue to ad blockers.
Since 2015, the Washington Post website forbids users with ad blockers to read their website. It is also famous for its "feud" with Mozilla Firefox Tracking Protection. That being said, Washington Post is only partially free. Without a paid subscription, you can read a limited number of articles. And with such a policy, the war on ad blockers looks questionable. In this article, we will consider ways to stop Washington Post pop-ups and restore privacy and how AdLock can help us with both.
Ways to Block Annoying Ads on Washington Post
Washington Post impresses with its crystal-clear honesty regarding advertising. It frankly admits tracking using cookies and all other available technologies by vendors to serve you ads. But such honesty doesn't make users feel any better. Ads are still annoying, and tracking is still repelling. Users should be able to protect their privacy, and we collected eight ways to do it:
Use a GDPR hack
Use an ad-blocking application
Block ads for free in Chrome
Block ads for free in Safari
Block ads for free in Internet Explorer (Microsoft Edge)
Block ads for free in Mozilla Firefox
Stop ads in Washington Post app on iPhone
Remove ads from Washington Post app on Android
How to Get Rid of Adverts on the Washington Post Website
Washington Post is one of the few websites that provides exclusive content with subscriptions and doesn't allow blocking ads. But there is a hidden option for EU-based users that also disables advertising.
How to turn off ads on Washington Post using GDPR consent
The GDPR obliges websites to provide opportunities to EU citizens to opt out from tracking hence advertising. And Washington Post provides such an option, though for twice the price. If you live in the EU or EEA, follow the subscription link and select Premium EU Ad-Free subscription. For new users, it costs 2 euros every four weeks for one year. After a year, the price will be 8 euros. If you live in any other country, you need a VPN service to connect through the server of one of the EU or EEA countries and then subscribe.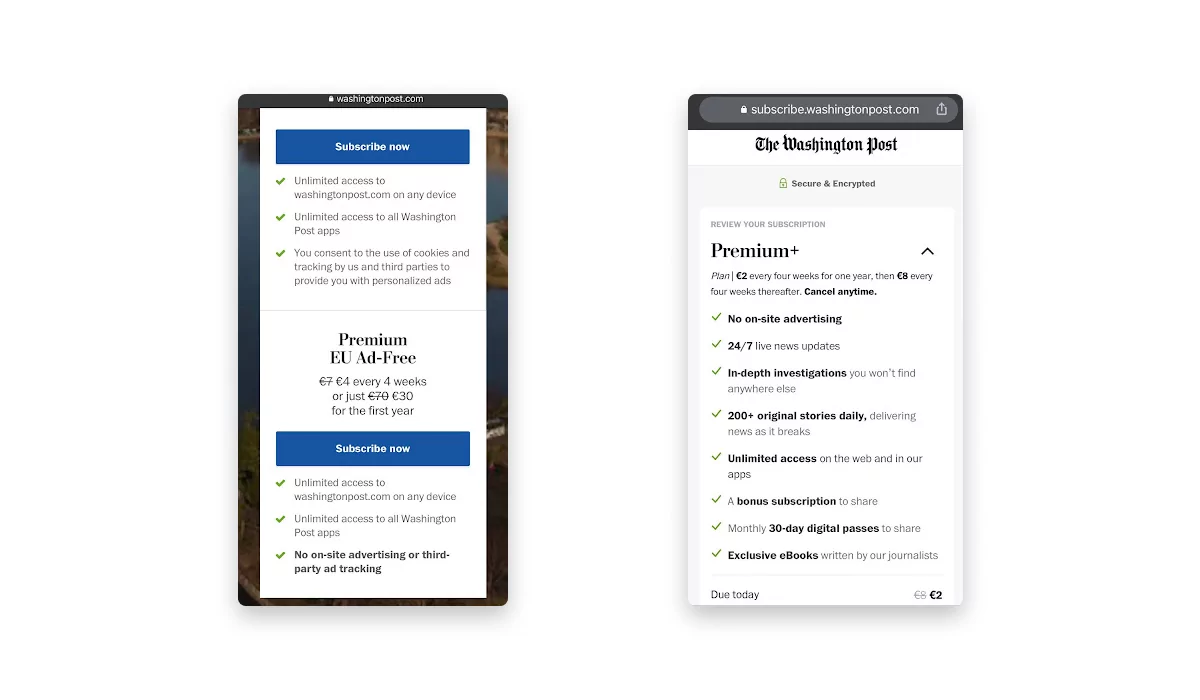 How to block Washington Post ads with the AdLock application
This paid option will block ads and tracking in every desktop browser and most games and applications. AdLock is a one-giant-button solution that requires no additional configuration. However, it has opportunities for tech-savvy users. You have three plans to choose from, starting at $1 a month if charged yearly or $3,49 with monthly billing. Follow these five easy steps to an ad-free web:
Choose your plan and get your license key;
Launch AdLock => click Activation => paste your 9-digit license key;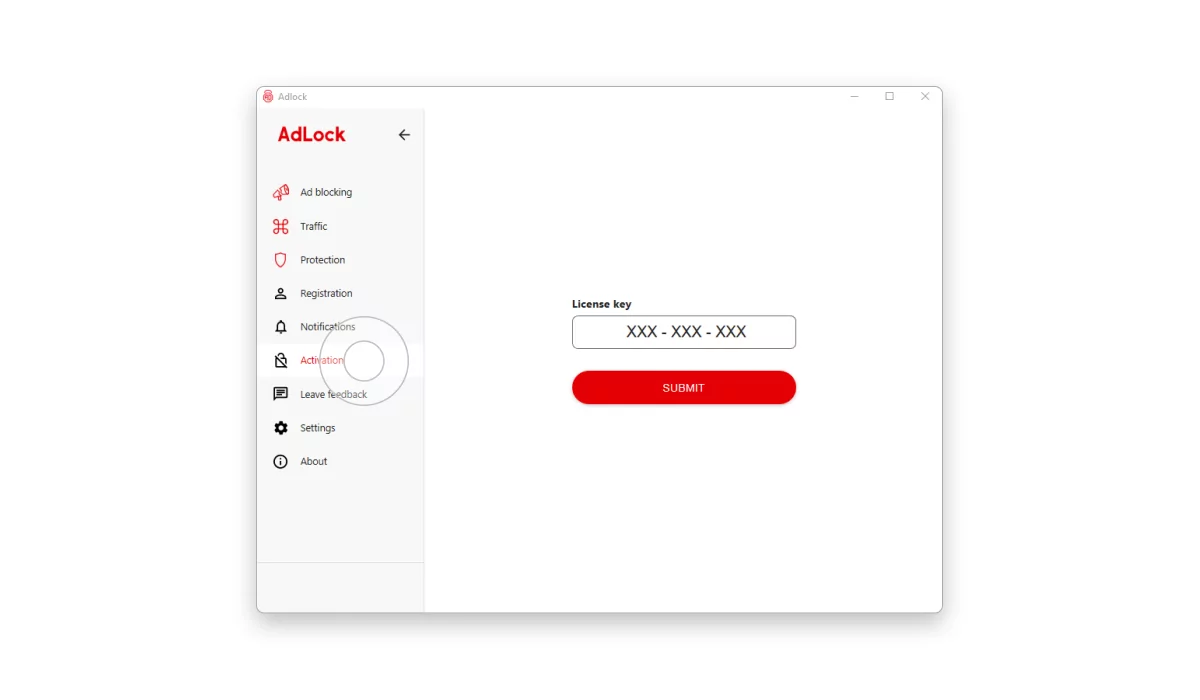 Click Ad-blocking => find an on/off toggle and switch it to the On position;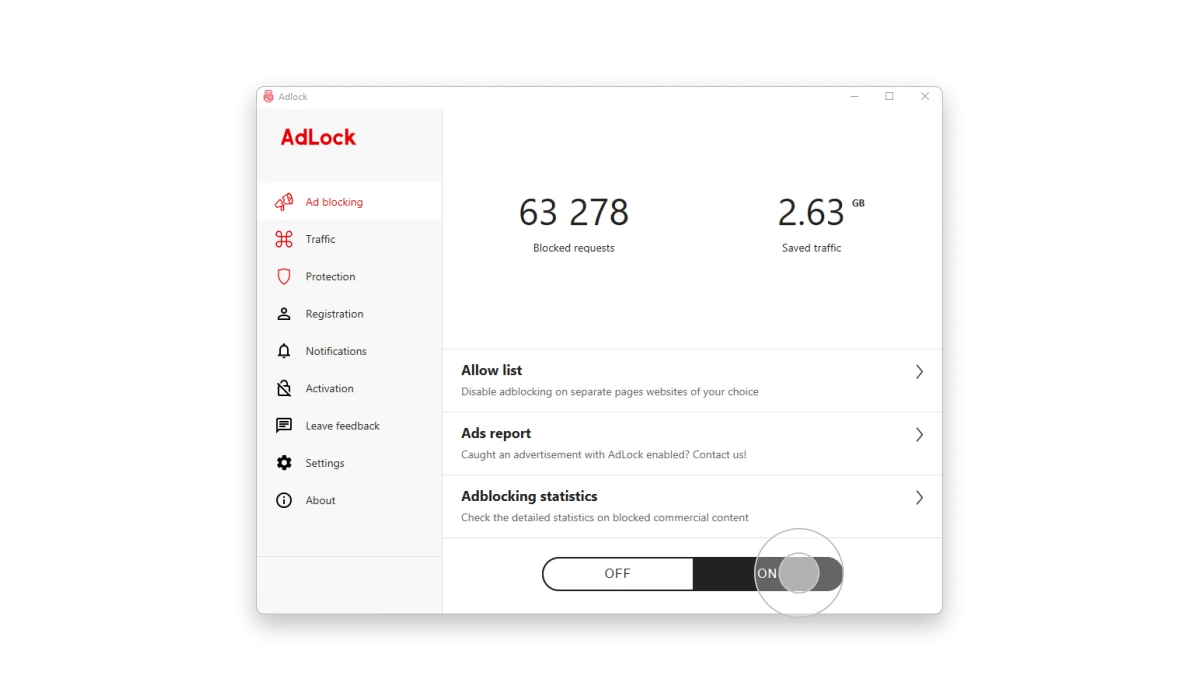 Enjoy uncluttered news and stories with the AdLock ad blocker for Washington Post.
How to block ads on Washington Post for free in Chrome
Free browser ad-blocking extensions usually do a great job blocking online pop-ups, banners, and other commercials. But the Washington Post website has a super-advanced anti-ad-blocker detector that makes it impossible to use it with an enabled ad blocker. In AdLock, we make sure our solution bypasses the strictest detection. Our free application works unnoticed, even on Washington Post. See for yourself, download the AdLock extension from the official Chrome Web Store, install it, and forget about ads in Google Chrome. If you have an Opera browser, click the Add to Opera button to delete ads.
AdLock is a one-button solution, but you can adjust it. You can see on our Chrome web store page that AdLock collects no data. No tricks there, as we keep our extension free and up to-date by selling other ad-blocking solutions.
Block Washington post ads for free on Safari
The AdLock browser extension works undetectably on Safari just as well as on Google Chrome. We have AdLock solutions for macOS and iOS; both are free. Download the AdLock extension from Mac App Store for a laptop or desktop Safari, run it, and follow the installation instructions. After installation, AdLock will automatically stop adverts on Safari.
Block Washington Post ads on Internet Explorer for free
First, it's time to move to Microsoft Edge because Microsoft stopped supporting Internet Explorer in June 2022. But your nostalgic self can enable an Internet Explorer mode in Edge to bring back the usual design. Now, go to the Edge Add-ons store and carefully choose the most reliable ad-blocking extension. Don't hesitate to spend some time reading users' reviews. If a selected extension got noticed by Washington Post, check out our article 3 Easy Ways to Block Ads & Pop-Ups on Microsoft Edge to solve the issue.
Read Washington Post without ads for free on Firefox
Washington Post detects even inbuilt Firefox Tracking Protection. So there is no guarantee that any free extension from Mozilla Addon Store will do the charm. But you should try them anyway, and you can also find easy ways to block ads & pop-ups on Mozilla Firefox in our earlier article.
How to Block Ads on Washington Post App
There is no legal way to view the Washington Post app without ads. Like the Washington Post site, it doesn't offer an ad-free option. In the case of the app, even GDPR hack won't help you. The native static ads at the bottom of the screen are OK and toleratable. Unskippable video ads cause the most frustration and negativity in reviews. I would love to add my favorite airplane mode method to stop ads, but it won't work with the Washington Post app. Only subscribers can cache the stories they would like to read later, which defeats the sole purpose of using airplane mode for free ad blocking. So, we will try other ways to stop that madness.
How to Stop Ads on Washington Post App on iPhone
It might sound unorthodox, but how about you read Washington Post in Safari? That way, you can block ads for free using the AdLock application for iOS.
Download AdLock from the official App Store and install it
Open Settings and select Safari
Tap Extensions and tap all AdLock toggles to allow it to block ads
Launch AdLock and turn on Ad-free web surfing
Open the Washington Post website in Safari and enjoy reading with no ads.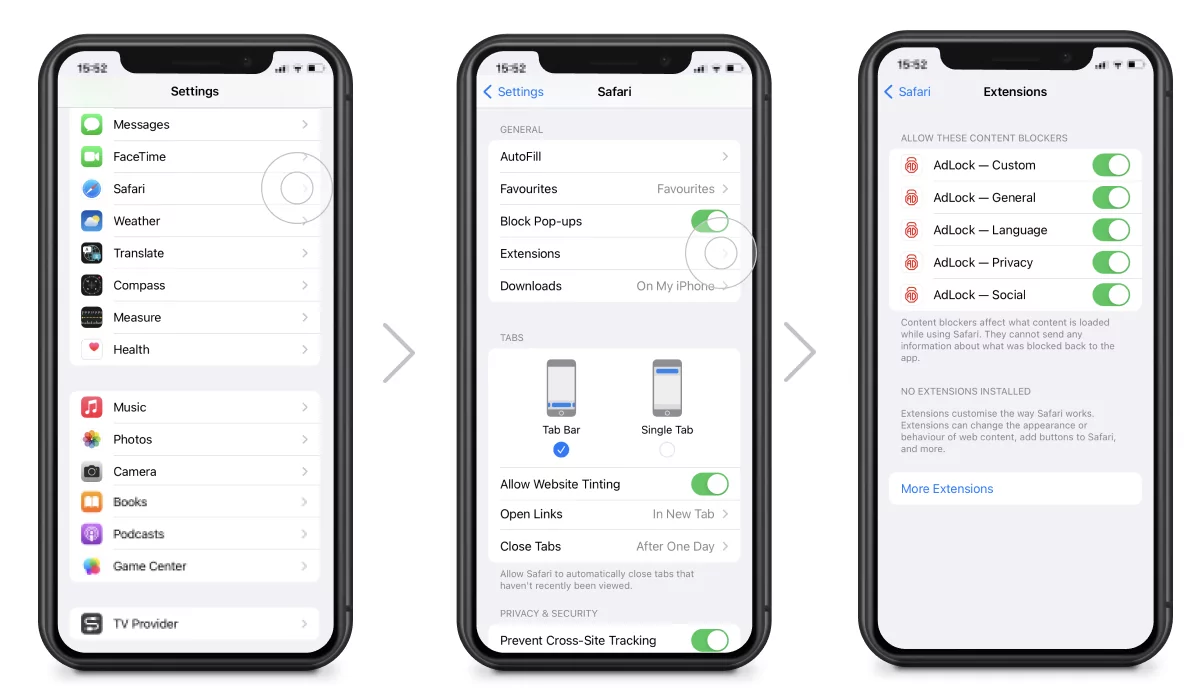 To use AdLock to block ads in the Washington Post app specifically, you need to buy Premium.
Open AdLock and tap the Premium toggle.
Choose a preferred plan: a yearly plan for $12 per year ($1 a month) or a monthly plan for $3.49. We offer a 7-day trial, so if you test AdLock for a week and don't like it, cancel your subscription, and we won't charge you a dime.
Now open the Washington Post app and see how neatly it looks without advertising.
How to Stop ads on the Washington Post app on Android
First, download and install AdLock. Then purchase a suitable ad-blocking plan and get the activation code. Now follow the steps below to activate and set up AdLock:
Launch AdLock and tap a hamburger menu
Tap Activation and enter your code
Go back and tap Settings.
Tap Check for updates => tap UPDATE.
Go to the AdLock tab and install the AdLock certificate to enable HTTPS filtering.
In a pop-up window, tap OK.
Verify your identity by either scanning your fingerprint, setting a graphic key, or creating the password.
That's it! No more ads on Washington Post app or other apps and games.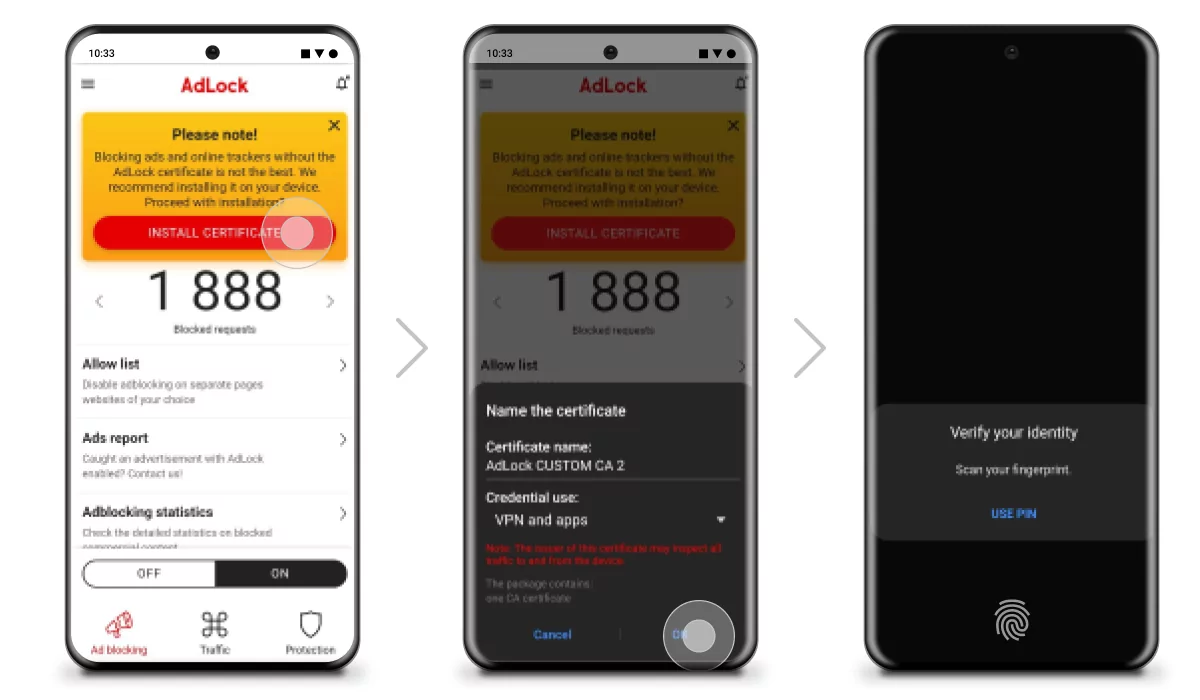 How to Stop Pop-Ups on Washington Post
Pop-ups, especially video pop-ups, can often bypass adblocking scripts. AdLock doesn't have such a problem. Whether you use a free Chrome or Safari extension or an app for a mobile phone or a desktop, AdLock will remove all advertising pop-ups, no exception.
Why Choose AdLock as a Washington Post Ad Blocker
If you scrolled so far down here, you need more reasons why AdLock is the best Washington Post ad blocker. Well, now I'll hammer the last nail into the remains of your doubts. Aside from banner ads, pop-ups, and autoplay, AdLock detects viruses and malware and blocks redirects and pop-up windows. Your device will stop overheating and draining the battery so fast because AdLock will prevent heavy elements responsible for that stuff from loading. And all that will be available for up to five devices for one price. With AdLock, you don't need to buy tons of subscriptions to enjoy entertaining without ads. It can even block annoying ads on Daily Mail and make it look almost decently.
Final Thoughts
Real journalism can't be free, and Washington Post has all rights to fund itself through subscriptions and advertising. But every person has a right to online privacy, and it's very wrong to deny this right, especially for such a progressive news source. We hope that in the future Washington Post will do better. Until then, AdLock will protect your rights. Give it a try today and download AdLock on your device.
Frequently Asked Questions
Can I block ads on Washington Post for free?
It depends on which platform you read Washington Post. If you use a browser version, choose the free AdLock extension to block all ads. You will need a paid ad-blocking app to stop Washington Post's annoying ads on the application. Choose AdLock for iOS or Android.
How do I view Washington Post without ads?
This article offers various ways to make Washington Post ads stop bothering you. You can remove ads for free in the browser, pay a little to remove them from the news application or use a secret yet legal paid method provided by Washington Post to stop advertising. Please, scroll up and read through this article to choose what serves you best.
How to remove Washington Post notifications?
To remove Washington Post notifications on Android, do one of the following:
Tap and hold the icon of the Washington Post app =>Tap App Info or Information (i) => Notifications => Tap the toggle next to Show notifications to disable them.
Swipe down from the top to expand the Notification Shade => Tap and hold Washington Post notification => Tap Turn off notifications.
Open Settings => Apps & Notifications => Notifications => See all from last 7 days => Tap the down arrow next to Most Recent and select the All Apps option => Find Washington App and tap the toggle next to it to disable notifications.
To remove Washington Post notifications on Android, do the following:
Open Settings => Notifications => Find the Washington Post app and tap on it => Tab the toggle next to Allow Notifications to block them.
Can AdLock disable subscribe pop-up on Washington Post?
Subscription pop-ups though annoying, are not ads. Unlike adverts, those pop-ups are not created without your consent and are not downloaded from a third-party server. They exist within the already-opened window. To stop subscription boxes from popping up, you can disable JavaScript for a particular website, but this will ruin the way the website is displaced or use a dedicated application.
WashingtonPost.com ad blocker detected. What should I do?
Stick to AdLock. The last time we checked, AdLock managed to bypass ad blocker-detecting scripts. If you have troubles with our application, please, click Contact us on the main page, and we will get back to you with a solution ASAP.
Ad-free Season Starts Now!
Do you like this post? Share it!
Do you like this post? Share it!