11 Best Cloud Music Apps for iPhone and iOS Without Ads
Listen to music with no ads!
Hello, dear readers, and welcome to our blog! Today we are going to talk about music. To be more precise, we would like to talk about cloud music apps for iPhones.
Music is one of the best companions whether you're on the go, traveling long distances, pumping iron, or working. I don't know about you, but I can't work without music. Of course, it depends on the mood, but generally, I can't focus without some lo-fi beats, and sometimes I even blast metal to get that drive.
Given that today everyone has a handheld device and Internet connection, it's pretty easy to plug in earbuds and enjoy either a favorite playlist or a random compilation by genre. With the abundance of cloud services and players on the market, everyone can find the best-suiting option. What I mean by that is we all know Apple Music, Spotify, and Deezer, don't we? Yep, these are the most used players offering tons of music and useful features. But what if I tell you that there are more players that are no worse than these cyclops of the market?
I'll present you 11 cloud players you can give a shot on your iPhone trying to overview their pros and cons. There will be free players containing ads (which may be really annoying but ridable) and paid players. By "ridable" I mean players that can be cleaned up from adverts by using a reliable adblocker like our own AdLock.
Have I got your interest? Super! Let's consider the best music cloud apps for iPhone available on the market.
11 Best iPhone Music Player Apps You Should Try
Whether you're looking for enhanced features, a sleek user interface, or a personalized music experience, I've compiled a list of the 13 best iPhone music player apps that you should definitely try. These apps offer a range of exciting features, including customizable playlists, advanced audio settings, intuitive navigation, and seamless integration with popular music streaming services. Get ready to elevate your music listening experience with these best cloud music player for iphone.
The order of the items on the list is somewhat random so you should weigh the pros and cons. But remember that the pros and cons listed here are based on general user feedback and experiences. It's advisable to try the app yourself to determine if it meets your specific requirements and preferences.
CloudBeats: Cloud Music Player
Paid, In-app purchases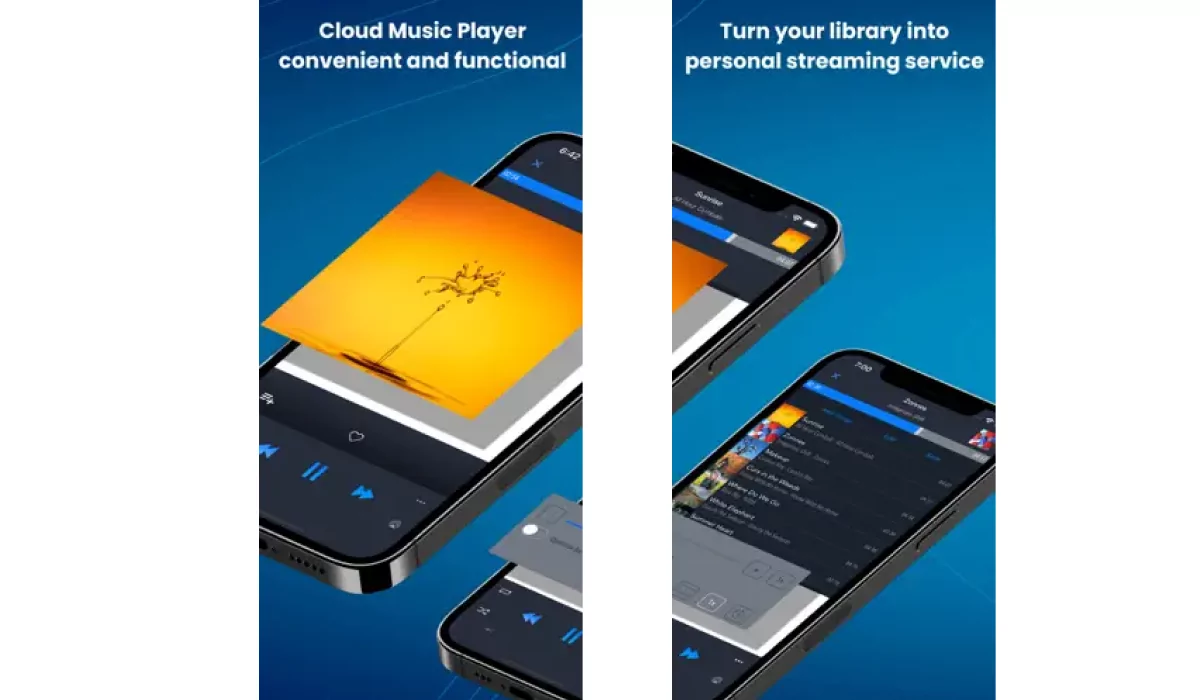 CloudBeats is a paid music player app without ads. It allows you to stream music directly from popular cloud storage services like Dropbox, Google Drive, OneDrive, and Box. This means you can access your entire music library without taking up precious storage space on your iPhone.
The app supports a variety of audio file formats, including MP3, FLAC, WAV, AAC, and more. This versatility ensures that you can play your music files regardless of their format.
CloudBeats offers offline playback functionality, allowing you to download your favorite songs and playlists for offline listening. This feature is especially useful when you're in areas with limited or no internet connectivity.
The app allows you to play music in the background while using other apps or when your iPhone is locked. You can continue enjoying your favorite tracks without interruption.
CloudBeats provides an equalizer with various pre-set sound profiles as well as the option to create your own custom equalizer settings. This allows you to fine-tune the audio output to match your preferences and the genre of music you're listening to.
Now about the drawbacks. Some users have reported that the app's user interface could be more intuitive and visually appealing. Navigating through the app and accessing certain features may require a bit of a learning curve.
While CloudBeats supports cloud storage services, it doesn't offer direct integration with popular music streaming platforms like Spotify or Apple Music. You can only play the songs you have stored in your cloud storage accounts.
Some users have mentioned that organizing and managing large music libraries within CloudBeats can be a bit challenging. The app could benefit from additional features for sorting, filtering, and creating playlists.
CloudBeats Offline Music
Free
This player has pretty much the same pros and cons. If you are not willing to pay another 10 bucks per month and are ready to tolerate adverts, then consider this free music cloud app for ios. I'd rather not copy the same explanations here, so let's make things easy.
The good:
Cloud Storage Integration
Wide Range of File Format Support
Offline Playback
Customizable Equalizer
Audiobooks support
The bad:
User Interface
Ads and In-App Purchases
The free version of this music player for iphone and ipad includes advertisements, which can be disruptive while using the app. Additionally, certain features or advanced functionalities may be locked behind in-app purchases, requiring you to upgrade to a premium version.
Limited Streaming Service Integration
Music Organization
Music Cloud Offline
Free, In-app purchases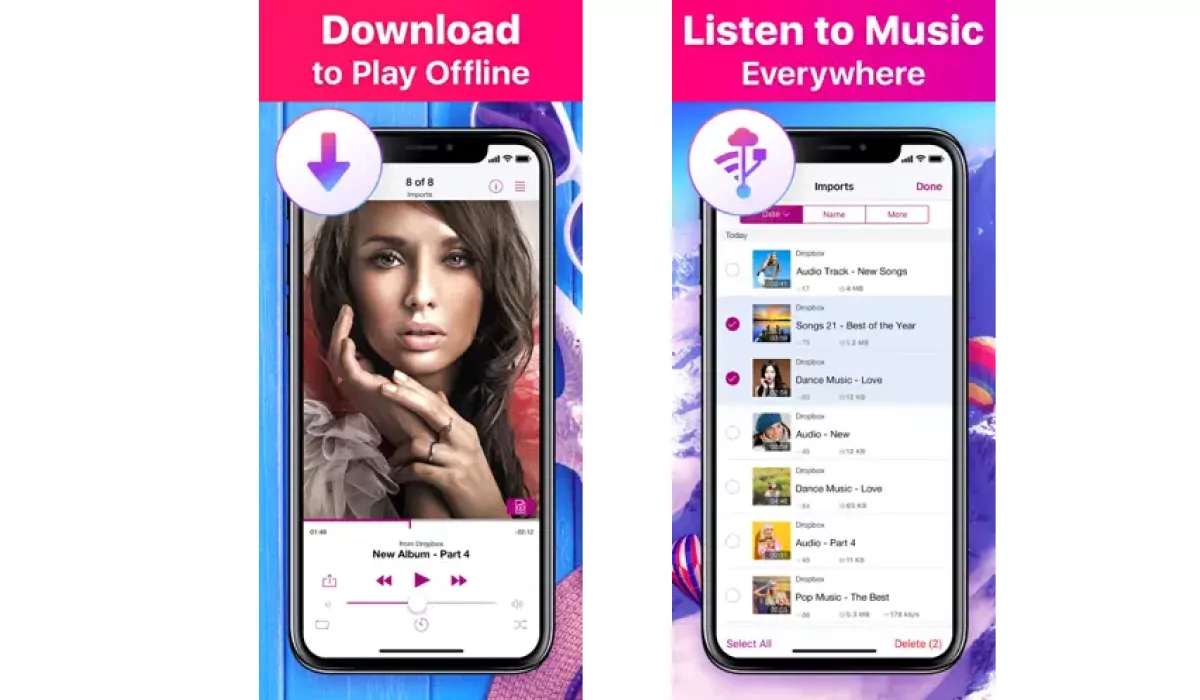 Next on the list is the Music Cloud Offline player. It's a decent music player with a bunch of handy features like a lock screen control, background music playback, and unlimited music storage. Being really convenient, it allows users to listen to their music from any cloud storage — Dropbox, Google Drive, iCloud Drive.
Being free to use, this player's functionality is limited so to unlock its full power you'll have to get a Premium subscription, which is $2 per week.
On top of the limitations, you'll get ads. Yeah, yeah, they have to make money to support development, sure. But we also know how annoying ads can be. On the other hand, if you have a reliable adblocker on your iPhone, it will help you avoid getting struck with adverts. For instance, AdLock makes the free Music Cloud Offline player completely free of ads. With our ad blocker, your "free cloud music app no ads on ios" wish is real.
GoPlayer: cloud music player
Free, In-app purchases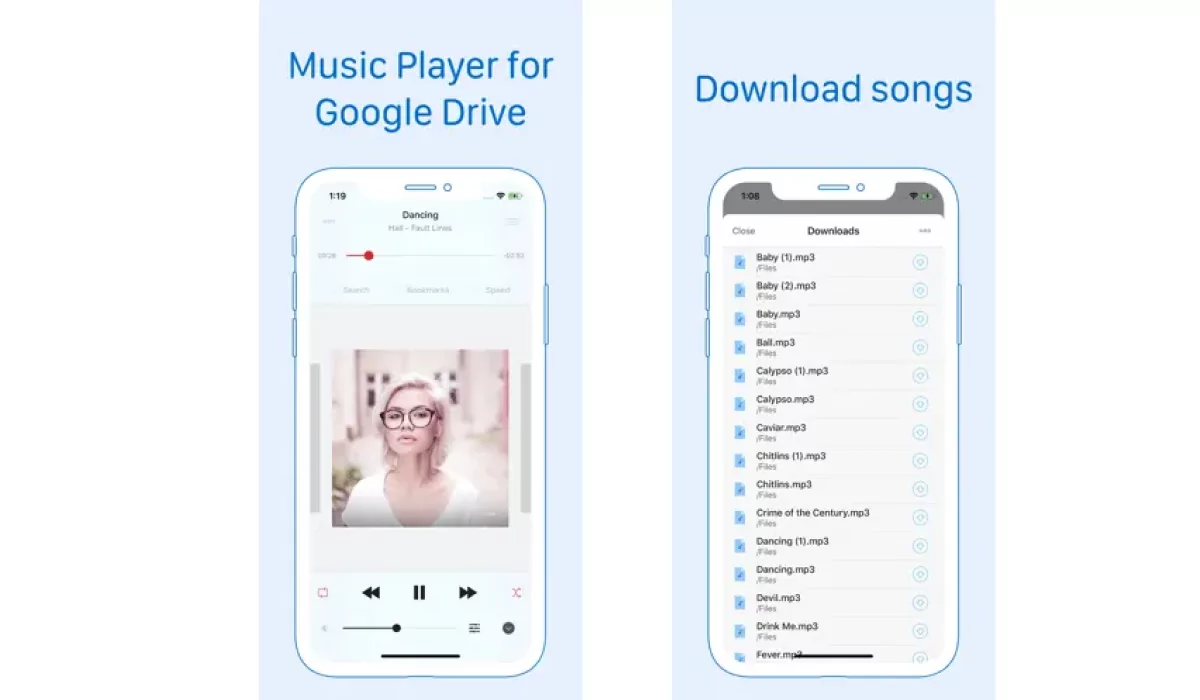 GoPlayer allows you to store and access your music library in the cloud, freeing up storage space on your device. You can stream your music directly from the cloud, giving you access to a vast collection of songs without needing to download them. GoPlayer offers a range of convenient features like an equalizer, sleep timer, background playback, etc. This player will definitely get a liking from people enjoying a simple and minimalistic interface without vivid colors or transitions.
Now about the drawbacks of the player. Users report that the application has a crashing habit. Some say it crashes when they try to skip a song, others say it happens randomly. Of course, ads are here. They pop out of the blue and are oftentimes louder than your music was. Luckily, ads on this app can be easily blocked.
Multi Music Player – listen
Free, In-app purchases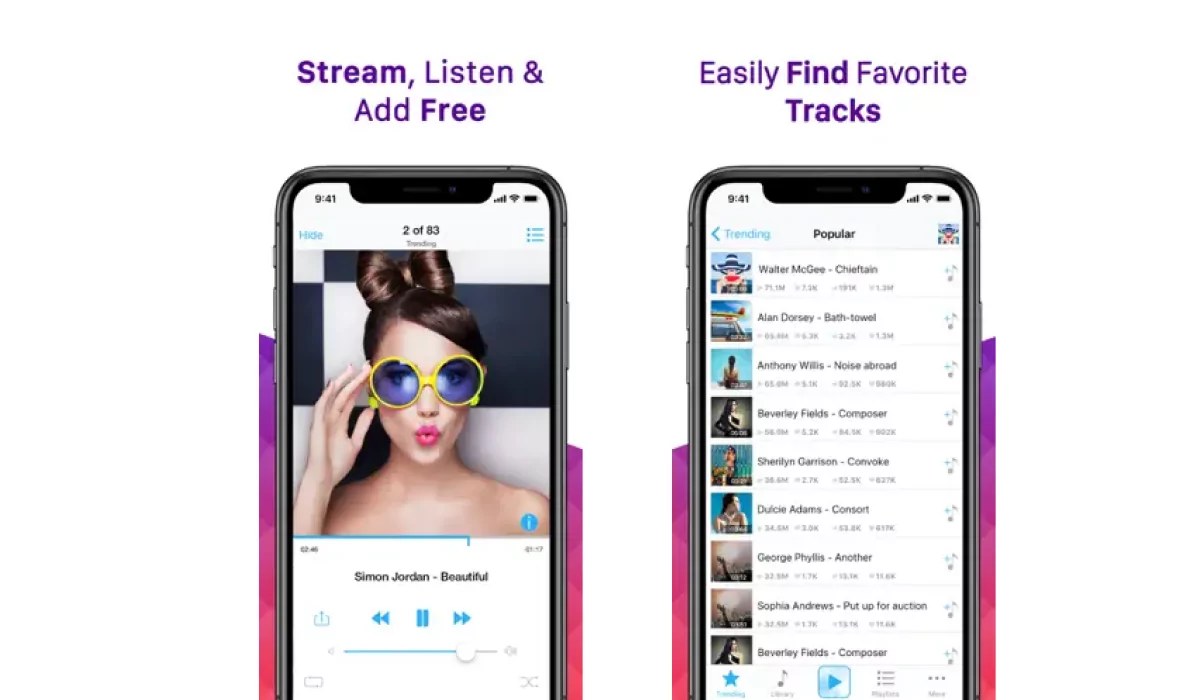 This application has quite a big fan base and that's for a reason. Multi Music Player grants instant access to millions of songs — from oldies to the latest bangers. It gives users the possibility to browse special collections by genres and trends and add tracks from their library.
As a free-to-use application, Multi Music Player has certain limitations that can be unlocked by purchasing the Premium subscription. Otherwise, you can enjoy the free version. And yes, it has ads that reportedly even crash the app. To avoid that, you should get AdLock.
Music Player ‣
Free, In-app purchases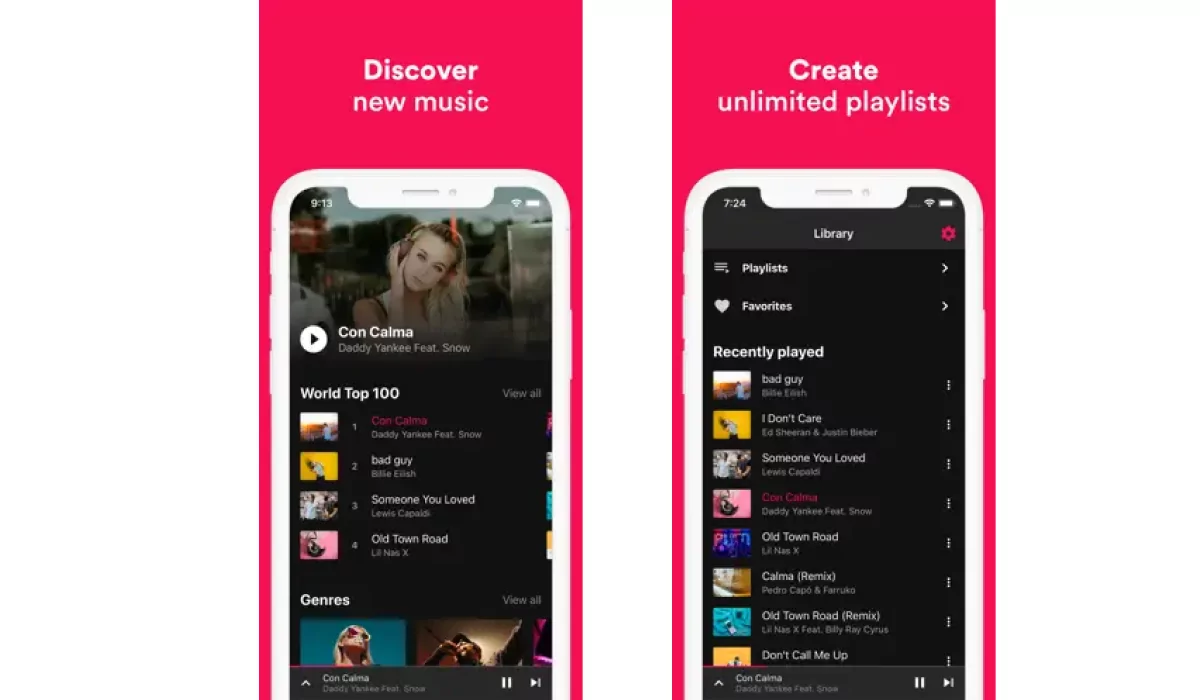 Another decent free cloud player right here. You'd be right if you said it looks suspiciously similar to Spotify. Not only it looks like Spotify but also provides a similar experience. You can enjoy the premade playlists like those "Adrenaline workout" or "Chill lo-fi beats" on Spotify or create your own playlists. With a bunch of convenient features like shuffle, playback speed, and airplay, this player deserves attention.
On the other side, it has a common free software problem which is commercials. Yea, yea, free Spotify has them too, right? Music Player ‣ still is inferior to Spotify in terms of user experience, but it's a good app needing improvements. Check this one out and share your thoughts. By the way, AdLock cleans up adverts in this app in a snap.
Evermusic: offline player
Free, In-app purchases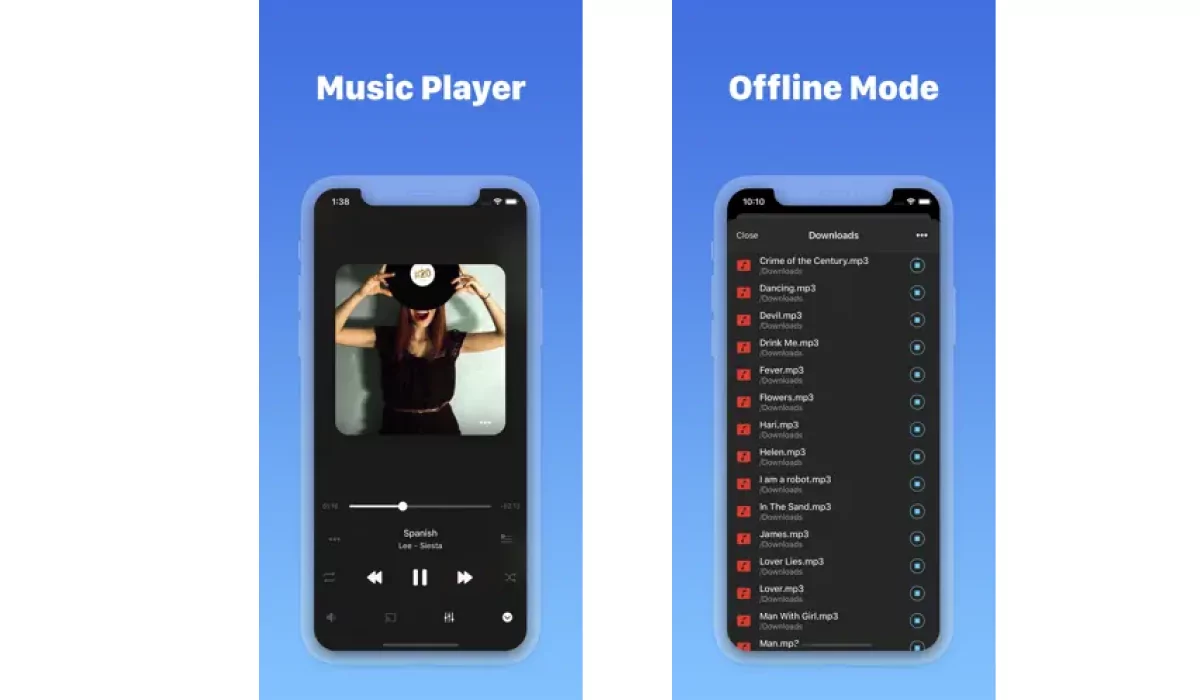 Evermusic: Offline Player is a popular music player app that focuses on offline playback and cloud storage integration. Evermusic allows you to download songs from your cloud storage or local device storage for offline listening, even without an internet connection. It offers integration with popular cloud storage services like Dropbox, Google Drive, and OneDrive, allowing you to stream or download music from your cloud accounts. The app supports a wide range of audio formats, ensuring compatibility with different types of music files. It provides features for organizing and managing your music library, such as creating playlists, sorting music by artist, album, or genre, and searching for specific songs. Additionally, Evermusic offers an audio equalizer with presets and manual adjustment options, allowing you to customize the sound output according to your preferences.
Cons of Evermusic include limitations in the free version, such as restrictions on the number of songs you can store and the number of cloud storage accounts you can connect. Some features or additional cloud storage space require in-app purchases, which incur additional costs. Some users may find the app's interface and features slightly complex or challenging to navigate initially. Occasional performance issues, such as slow syncing, random crashes, or playback interruptions, are also reported.
Stream Music Player
Paid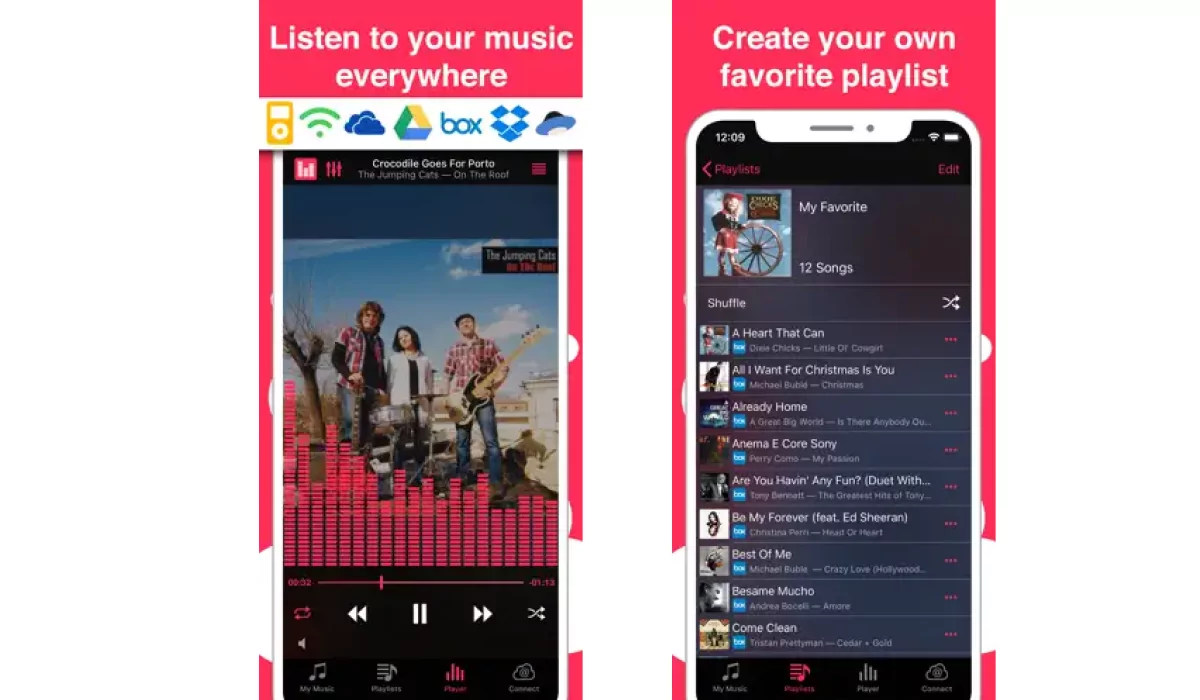 This player has a lot of cool features like a sleep timer, lock screen playback, customizable equalizer with a dozen presets, and fine scrubbing. Oh, yes, Stream Music Player has a visualizer! Have you ever used the goodol' Windows Media Player? Nostalgy. I'm not saying this one has the same visualizer, no, it's modern and stylish.
Stream Music Player allows users to upload all music to the cloud storage of their liking, create custom playlists, import music from their library, etc.
Now about the problems this player has. Some people wrote sometimes the app crashes while importing music. Also, the shuffle function has a few issues. It repeats a certain song too much and it shuffles randomly. On top, albums with the same names (e.g. Old Classics or Greatest Hits) cause problems. And since it's paid software, it's one of the music apps without ads for iphone you were searching for.
Flacbox: Hi-Res Music Player
Free, In-app purchases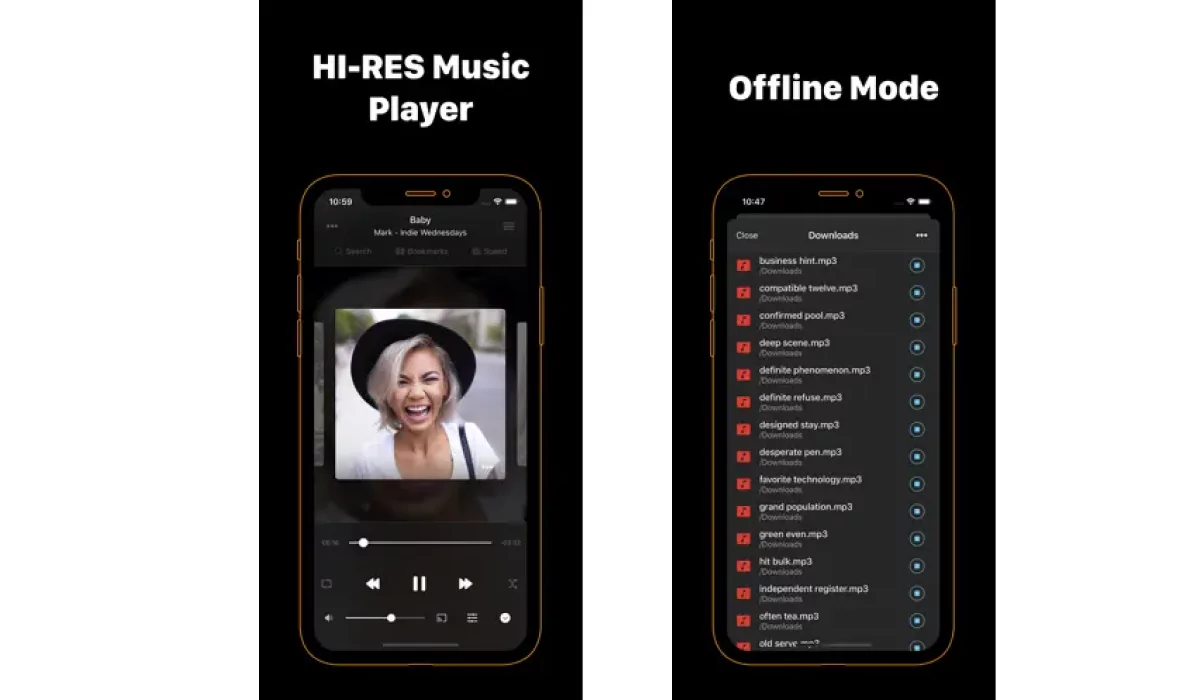 Flacbox is designed to provide a high-quality music listening experience, particularly for users who have a collection of high-resolution FLAC audio files. Some key features and potential pros of the Flacbox app include:
The app supports FLAC audio files, which are known for their lossless compression and high-quality sound reproduction.
Flacbox is designed to handle high-resolution audio, allowing users to enjoy their music in its full fidelity and detail.
Organization and Management
The app offers features for organizing and managing your music library, such as creating playlists, sorting by artist or album, and searching for specific songs.
Cloud Storage Integration
Flacbox integrates with various cloud storage services, such as Dropbox, Google Drive, and OneDrive, enabling users to access their music files from the cloud.
The app supports offline playback, allowing users to download and store their music files locally on their devices for listening without an internet connection.
What's not good about the application is that users report performance issues and strange bugs like if they were inactive on the app for a couple of days, the library gets erased. Reuploading the whole library every time is not cool. Talking of the UX, it's fair to say that Flacbox is not the most intuitive and convenient. And although the application is frequently updated, updates are a mixed bag — some things get fixed or improved, while others stay or get worse. Overall, a neat cloud player with a bunch of cool features. Speaking of commercials. There are ads in this app but they can be blocked by using AdLock. Either with Premium or with AdLock, this cloud player might be the best music app for iphone without ads.
Evermusic Pro: offline player
Paid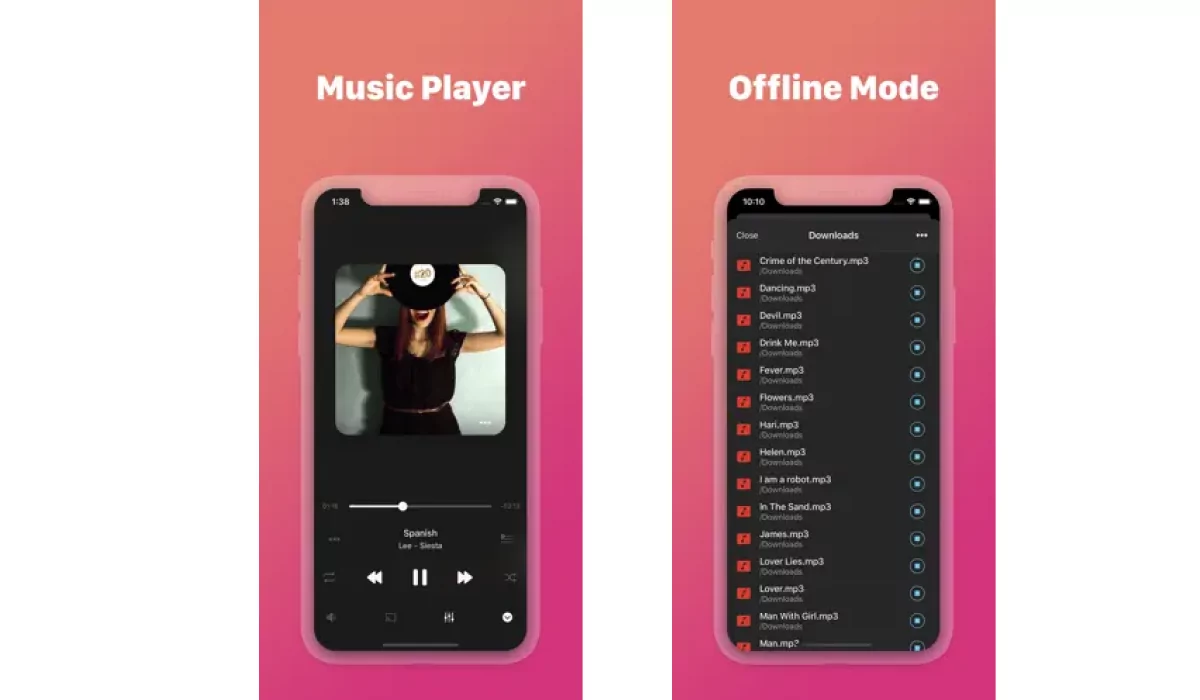 It's an enhanced version of the Evermusic app, offering additional features and functionality for offline music playback. Here's an overview of the app:
Evermusic Pro is designed to provide a comprehensive offline music listening experience on iOS devices. It builds upon the features of the standard Evermusic app and offers additional capabilities. Evermusic Pro allows you to download and store your music library directly on your device, enabling offline playback without an internet connection. The app integrates with popular cloud storage services like Dropbox, Google Drive, and OneDrive, enabling you to stream or download music from your cloud accounts. Evermusic Pro supports a wide range of audio formats, ensuring compatibility with various music file types, including high-resolution and lossless formats. With its advanced features for organizing and managing a music library (such as creating playlists, sorting by genre or artist, and searching for specific songs or albums) it's a real godsend. Evermusic Pro includes an audio equalizer with customizable presets and manual adjustment options, allowing you to fine-tune the sound output to your preferences. It's compatible with multiple platforms, enabling you to access your music library across different devices and operating systems.
Among the drawback of this player are frequent crashes and the lack of FLAC support. Maybe these will be fixed soon, but as for now — unfortunate. Otherwise, if you're searching for "music player for iphone no ads", this one is one of the most popular players out there.
MusiC ‣ Play Unlimited Musi.C
Free, In-app purchases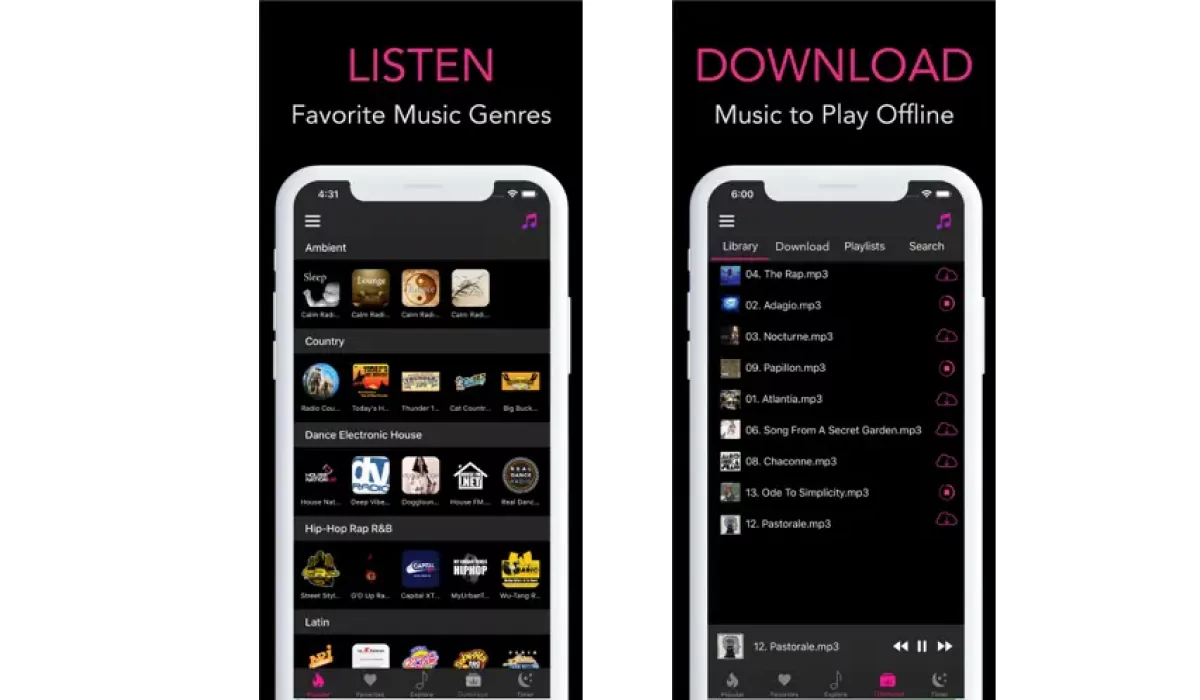 Ranked #134 in Music, this application has its pros and cons. Developers say that users can listen to radio stations from all over the world as well as download fav music from dropbox to then listen to it without wifi. The catalog of radio stations is quite large and can be sorted by Country or genre of your liking. Having a few convenient features, this application is not the best in terms of usability. Reportedly, it has a ton of ads popping out of nowhere at the most random time. To get rid of them you should either purchase Premium for $5 a week or get yourself a good adblocker. Otherwise, the experience of using this free cloud player will be frustrating. Personally, I'm not a fan of radio and I'd rather listen to podcasts whenever I want to. In any case, if you like this app and don't want to spend extra money for another premium to your stack — get AdLock.
Feel the Power of AdLock on Your iPhone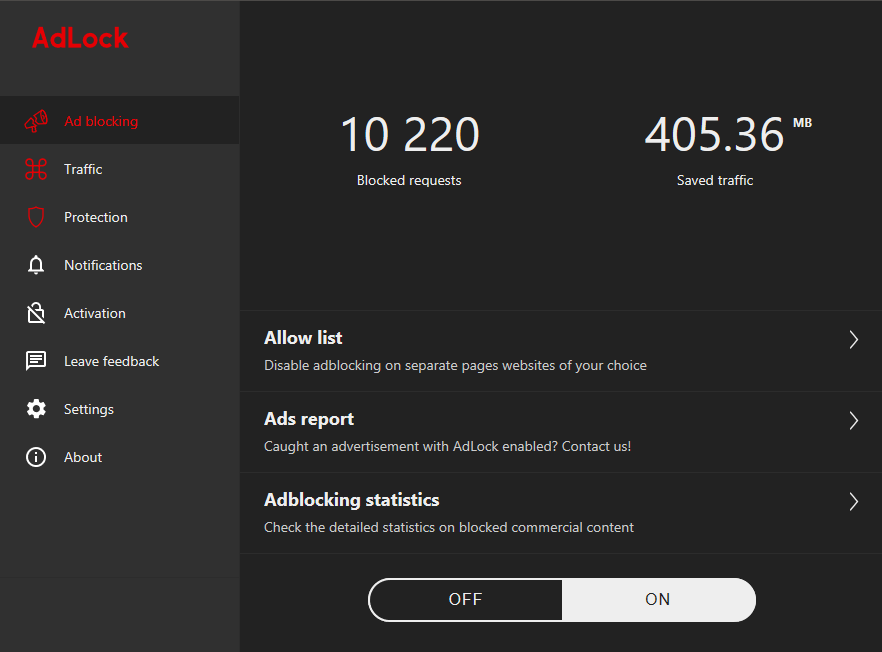 As you've noticed, all of the apps on my list that have ads can be rid of them. But what if I told you that AdLock does even more for you?
AdLock is designed to block unwanted ads across various apps, games, and browsers on your iPhone. It offers features that aim to enhance your browsing experience by reducing intrusive advertisements and protecting you and your data from being spied on. What are the key features of our adblocker? Here they are:
AdLock helps to block all types of annoying and unwanted ads, which improves your browsing experience by reducing distractions and speeding up webpage loading times.
By blocking ads, AdLock can help protect your privacy by preventing tracking scripts and potentially malicious ads from collecting your data.
AdLock extends its ad-blocking functionality to supported apps, allowing you to have a more streamlined and ad-free experience while using your favorite apps or playing your favorite games.
AdLock provides options to customize the ad-blocking filters according to your preferences, allowing you to block specific types of ads or whitelist certain websites.
A well-designed and intuitive user interface makes it easier to navigate the app's settings and manage the ad-blocking features. Also, you can track data on blocked ads, requests, and trackers that were trying to sneak on you.
Final Thoughts
So, these are the 13 best cloud music players you can try out. The reviewed apps include popular choices such as Evermusic, Cloud Music Player, and some of the less popular apps. Each app offers its set of features, including offline playback, cloud storage integration, customization options, and cross-platform compatibility. With these apps, you can easily access and stream your favorite music from the cloud, create playlists (or listen to premade ones), and organize your library efficiently. Some of them are paid, others are free and the choice is up to you. But keep in mind that it's possible to enjoy free cloud players and other applications/games without annoying commercials. All you need is AdLock. Also, remember, any free music app for iphone without ads from a suspicious and untrusted source is 100% scam. It either collects personal data or infests your device with scripts/viruses.
FAQ
What is the best music cloud for iPhone?
The choice of the best music cloud for iPhone depends on individual preferences and requirements. However, there are several popular options known for their cloud music capabilities. Here are a few notable ones: Apple Music, Spotify, Google Play Music/YouTube Music, Amazon Music, Evermusic, and a bunch of others. Of course, there are other cloud music services available for iPhone users. The choice ultimately depends on factors such as the size of your personal music collection, preferred user interface, integration with other devices or services, and the features and benefits offered by each platform.
How to block ads in the cloud music player app for iPhone?
Some cloud music player apps may offer premium or ad-free versions for a fee. These versions typically remove ads and provide additional features and benefits. Check if the app has a premium offering and consider upgrading to remove ads. Another option is to use a system-wide ad-blocking app or content blocker on your iPhone. These apps work across different apps and websites, including cloud music player apps. Here's how to enable a content blocker: AdLock, 1Blocker, etc.
How much does it cost to use a cloud music player app for iOS?
The cost of using a cloud music player app for iOS can vary depending on the specific app and the subscription options available. The actual cost of using a cloud music player app will depend on the specific app you choose and the subscription plan you opt for, if applicable. It's advisable to visit the app's official website or check the pricing details on the Apple App Store to get accurate and up-to-date information on the cost of the app and any associated subscriptions.
Listen to music with no ads!
Do you like this post? Share it!
Do you like this post? Share it!