3 Best Ways to Remove Ads in BitLife
BitLife is scarily accurate when it comes to overcoming obstacles to prosper in life. But unlike real life, where you fall ten times and get up ten times, in BitLife, you have to watch ads instead. And it's not guaranteed that you'll get what you want after watching ads. No matter how many commercial breaks I've sat through, I still never managed to enter that stupid Drama Club.
The very purpose of ads is understandable, as the game has millions of users and needs to support its servers and developers. However, repeatedly rolling the same 30-second ad for cough Royal Match cough one after another is outrageously insensitive to users. The ad banner at the bottom of the game screen would be less annoying if it weren't for a sketchy dating app.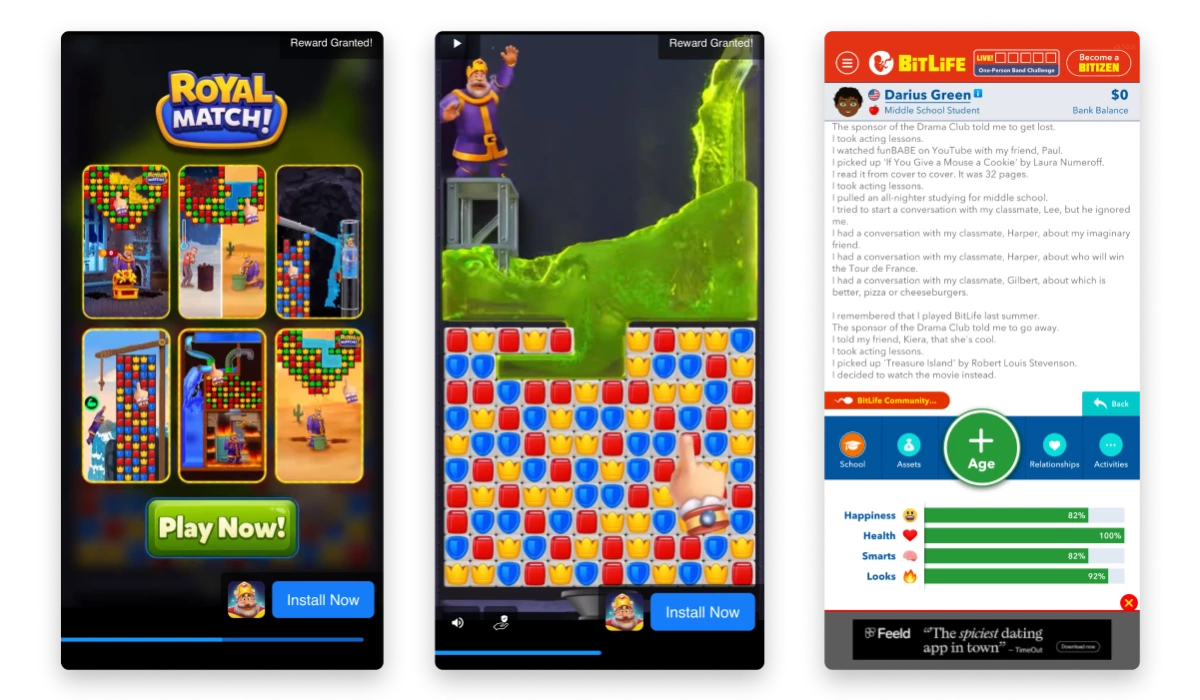 This article will tell you how to get rid of ads in BitLife and enjoy faster leveling, at least in the video game.
Option 1: Purchase Bitizenship
If you find the barrage of ads in BitLife hindering your gameplay experience, there's a convenient solution that can alleviate this annoyance – Bitizenship. Bitizenship is a premium one-time payment upgrade that not only removes ads but also unlocks a plethora of additional features to enhance your gameplay.
Beyond the ability to play BitLife without ads, Bitizenship offers a host of exclusive bonuses. You can access pets, exotic pets, and the ability to customize their names. Additionally, you'll be able to interact with teachers and bosses and visit the salon and spa, making your in-game relationships more dynamic and engaging. The premium subscription also lets you get the most out of the customization features, allowing you to change your appearance with hairstyles and outfits.
The cost of Bitizenship varies from country to country. In the USA, for example, you have to pay $7.99 to disable ads on BitLife. Some users report that despite purchasing a Bitizenship upgrade, they still encounter an ad-watching request to complete certain actions. Developers don't address those issues, so whether such issues are glitches or a part of the company's policy is unclear.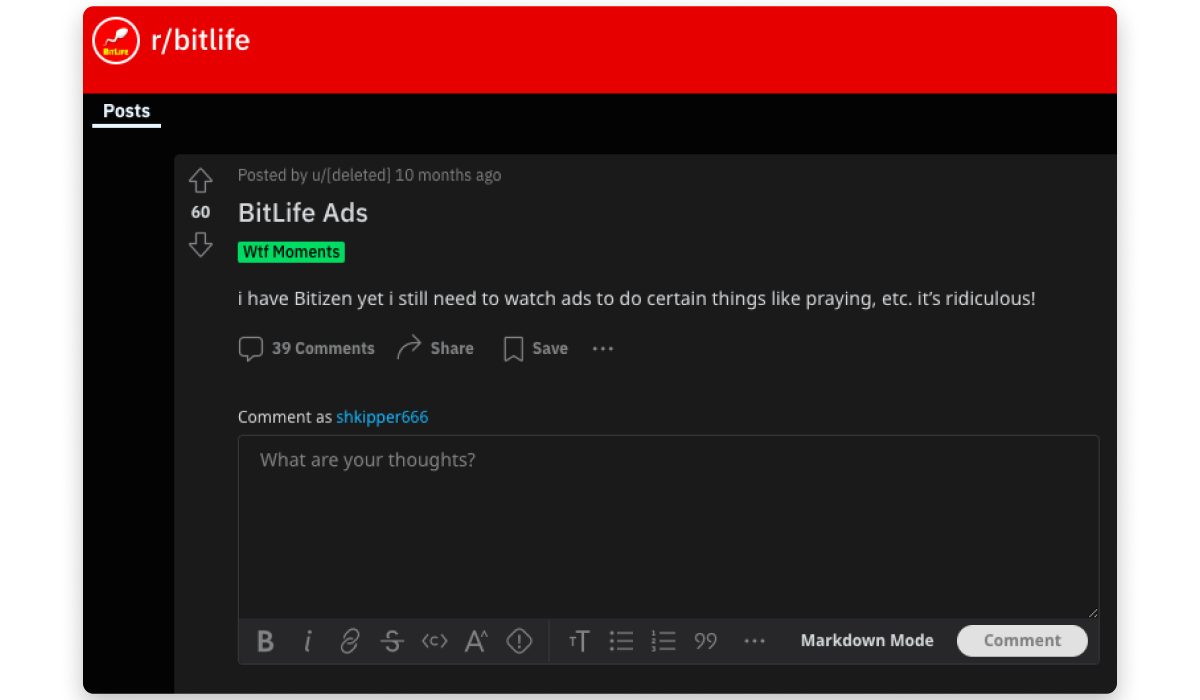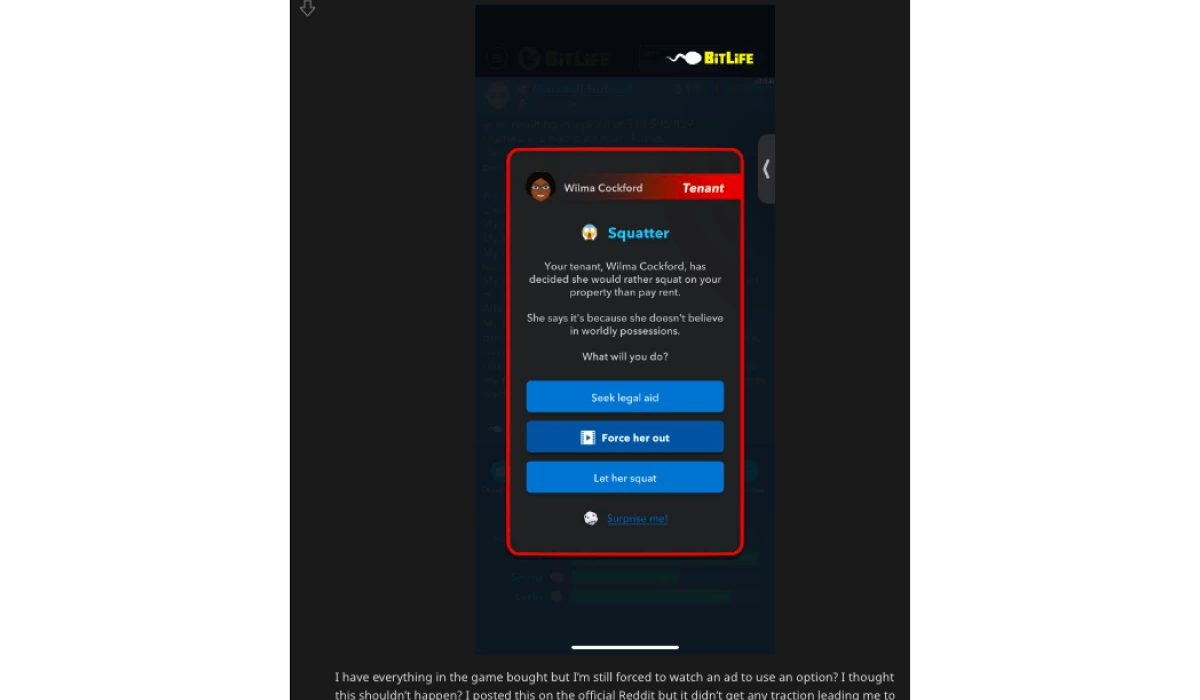 Option 2: Use an Ad Blocker
Most ad blockers can filter the web version of BitLife that you play in your browser. To play BitLife online without ads, you need to find a capable ad-blocking extension. Extensions are generally free, which is simultaneously the most significant advantage and a pitfall. Some ad blockers are associated with advertising companies and let their commercials slide in, and some collect and trade your personal information. To avoid the leakage of your data, choose your ad blocker wisely. Give preference to open-source extensions with grand audience appreciation. Or choose free extensions from the companies that have paid products that can back up the expenses of their freebies. The latter is precisely AdLock's extension case.
AdLock ensures no user data is collected, as clearly stated on its Chrome Web Store page. This extension offers high customization, allowing you to tailor ad-blocking settings to your preference. With its user-friendly activation button, AdLock is easy to install and use. Get AdLock for Safari and Chrome to relish an uninterrupted ad-free online experience.
If you want to know how to stop BitLife ads in the app, you'll be interested in a system-wide ad-blocker. Introducing AdLock, the ultimate ad blocker. It's not just for web pages; it also kicks out ads from apps and games. Installation's a breeze: get it on Android or iOS, launch it, and follow a quick two-step setup.
For iPhone/iPad:
In Settings, tap Safari.
Tap Extensions and switch on all AdLock toggles.
Launch AdLock, and toggle Ad-free web surfing. Wait for filter downloads.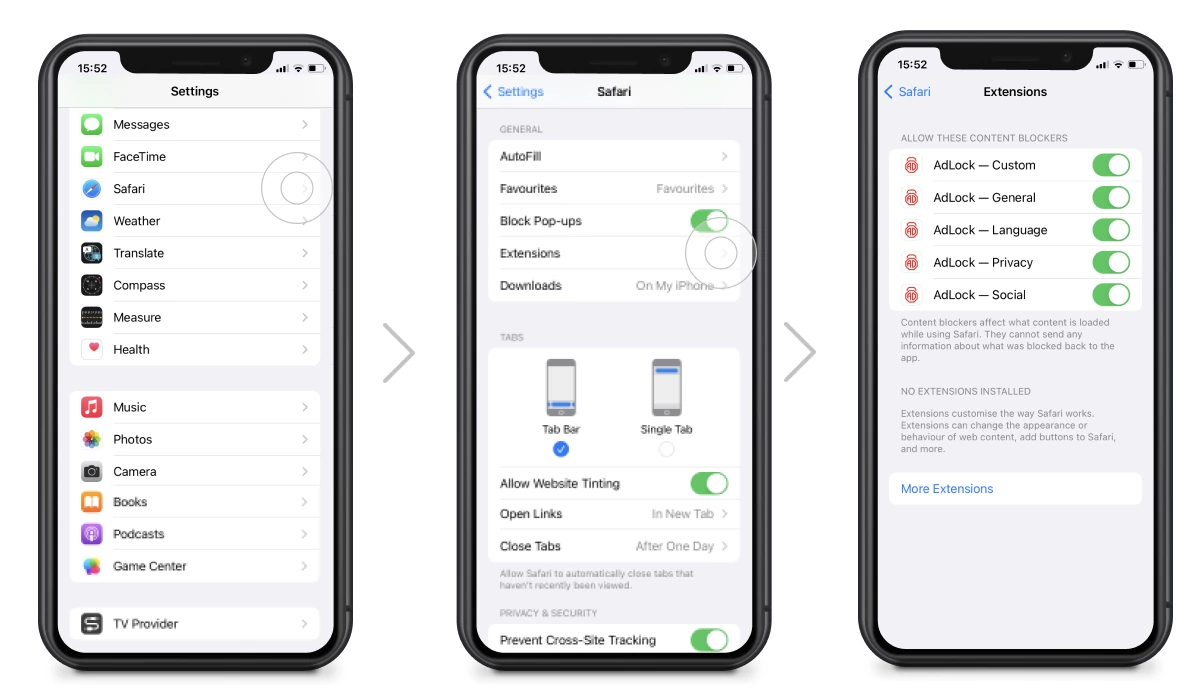 Now you can start using AdLock for free in the Safari browser. If you prefer the web version of BitLife, you can play it without ads in Safari, too. But if you want to stop getting ads on the BitLife app, you need to purchase a Premium AdLock subscription:
Hit Premium, choose yearly or monthly. Get a 7-day trial and an effortless refund if unsatisfied.
Android:
Open AdLock, tap the menu, then Settings.
Check and update.
Hit the big red INSTALL CERTIFICATE button for HTTPS filtering.
Verify identity.
Menu > Buy now, choose your plan.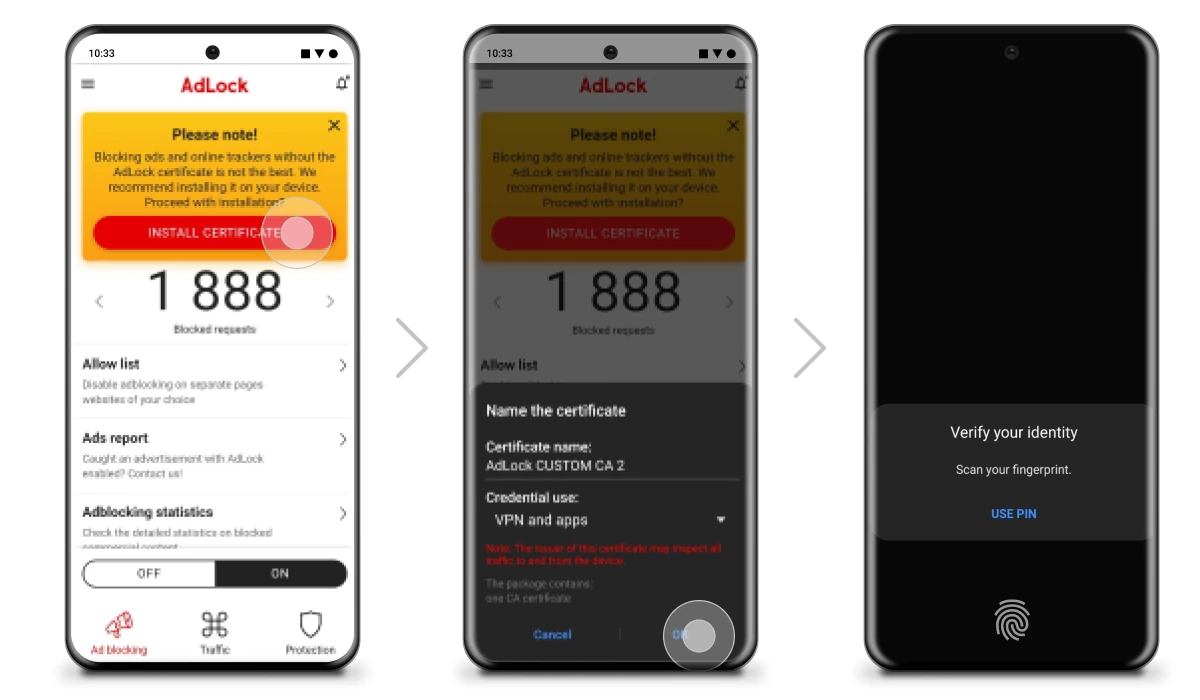 AdLock nails ads from most game developers. We even promise a refund if it fails. Unsure if it'll dodge ads in your app? Contact us via our site's form. Enjoy playing BitLife, no ads, and ad-free browsing!
Option 3: Use a Mod APK Version
You can try snagging a modded APK online to play BitLife without ads. These versions ditch ads and often toss in cool bonuses, extra interactions, and unlocked careers.
Before diving in, scope out the APK's developer. Going for unofficial mods breaks the rules and might mess with your privacy. Plus, who knows if the APK you pick is safe? If folks can mess with the game's code to give you free stuff, they could also sneak in code to swipe your data. Keep your guard up! Plus, this option is available only for Android devices, so proud iPhone users should stick to official alternatives as always.
Using Adlock for blocking ads in Bitlife and Not Only
AdLock is not limited to just one app like Bitizenship; it can stop ads on BitLife and across various apps, games, and websites, providing a more extensive solution. Its sophisticated filtering technology adapts to changing ad formats, ensuring it can effectively block new types of ads that Bitizenship might not cover intentionally or not. Plus, AdLock prioritizes user privacy by preventing tracking and data collection through ads, offering a safer browsing experience beyond just ad-blocking.
The monetization format goes in BitLife's favor as Bitizenship is a one-time purchase, and AdLock is subscription based. However, Bitizenship is not the game-changer in BitLife. If you want an immersive experience, you'll have to buy a few more expansion packs, additionally to $7.99 Bitizanship, which can result in a tidy sum. AdLock costs $3.49, which is refundable if it fails to remove BitLife ads, so you risk nothing. Give it a try!
Final Thoughts
​​In the world of BitLife, navigating the path to success is already challenging enough without the constant barrage of ads. While it's understood that ads are the lifeblood of many free apps, they can disrupt the immersive experience that BitLife aims to provide. The methods discussed in this article offer a way to regain control over your gameplay.
From using ad-blocking tools to exploring the benefits of Bitizenship, you can tailor your experience to your preferences. AdLock, for instance, presents a comprehensive solution to block BitLife ads, enhancing your time in the game.
BitLife, in its pursuit of realism, mirrors the challenges of the real world – including the persistence of ads. Players can make the most of their virtual lives by understanding the options available and making informed choices. Whether you choose to embrace the ads or explore methods to minimize their impact, the key lies in finding the equilibrium that suits your personal style of play. After all, just like in BitLife, the journey matters as much as the destination.
Frequently Asked Questions
What is BitLife?
BitLife is a life simulation game where you can experience the thrills of existence without the bothersome inconvenience of real-world consequences – virtual chaos at your fingertips!
Why does BitLife have so many ads?
BitLife includes numerous ads as it follows a freemium model, offering the game for free while generating revenue through ads and in-app purchases. These ads help support the developers and keep the game free to play. Since BitLife offers various interactions, careers, and choices, ads can pop up during these moments, making them seem frequent. However, you can often opt to watch an ad to gain in-game benefits, enhancing your virtual life. If the ads become too aggravating, consider removing them to get an ad-free BitLife using one of the methods in this article.
How to block ads in BitLife on iPhone?
There are two ways to block BitLikfe ads on iPhone:
App-based Ad Blockers: Install specialized ad-blocking apps from the App Store that target ads within apps like BitLife. May we interest you in AdLock?
Bitizenship Purchase: This option removes ads and offers extra useful in-game features.
Check out this article for detailed info on how to turn off ads on BitLife.
Is it possible to block ads in BitLife online?
Yes, it's possible. You need an exceptional ad-blocking extension for your browser of choice. If you prefer Chrome or Safari, you might enjoy using the AdLock extension that you can download from the Chrome web store and App Store. Our extension is forever free and can block all kinds of online ads.
Do you like this post? Share it!