The Best Free Weather Apps Without Ads For 2023
Ad-free Season Starts Now!
Users of native weather apps are either daring adventures or homebodies who care little about what is happening outside. Those apps usually lack accuracy and just give a vague understanding of the current season. The third-party weather apps are more detailed. They often come with additional features like severe weather alerts, UV levels, radar maps, and customizable widgets. Unfortunately for users, weather apps commonly come with ads. Though understandable, purchasing a premium subscription to weather to avoid watching a 30-second ad before a forecast feels a bit dystopian. That's why we set the task to find twelve weather apps without ads that you can use for free or with some help from AdLock.
12 Free Weather Apps With No Ads Worth Trying
The challenge of finding twelve free weather apps with no ads turned out to be impossible. That's why we put together a list according to the following principle: free with no ads – paid with no ads – one-time payment for no ads – little ads – a boatload of ads, with the first place being the best and the twelfth being the worst. So, let's go.
Windy is our top-notch choice. It is the best weather app without ads that only keep premium features behind a paywall. However, some reviewers would rather prefer having ads in a standard version than paying for the premium features. Damn if you do, damn if you don't.
Windy offers a range of unique features that set it apart from other weather apps. It is a one-of-a-kind choice for water sports enthusiasts as it provides real-time data on wind speed and direction. One of Windy's standout features is its incredibly detailed and interactive weather map, which, apart from wind info, contains precipitation, temperature, and more. The app also offers a feature that allows users to track hurricanes and other severe weather conditions.
The IQAir AirVisual is a free weather app (no ads) for people concerned about air pollution and its impact on their health. It provides real-time data on air quality in your area, including information on pollutants such as PM2.5, PM10, ozone, and nitrogen dioxide. The app also features a 7-day air quality forecast and a map view that allows you to see the air quality of different regions. Another great feature of IQAir is that it provides personalized health recommendations based on the air quality in your area. The app covers 10000 cities in 80 countries. IQAir is worth checking out if you're looking for a weather app that prioritizes your health and well-being.
3. Weather on The Way (iOS)
This app is only available for iOS users, but it's so handy and ethical that we couldn't help but include it. Weather on The Way is a weather app without ads or tracking for travelers. It offers accurate and up-to-date weather information and provides hourly and daily forecasts for your current location or any location you plan to visit. It also provides a detailed 7-day forecast, air quality index, and alerts for severe weather conditions. Weather on The Way is free to download, and now it comes with five free PRO trips. Once your free trial ends, you can continue using the free standard version of the app or subscribe to unlock PRO features.
4. My Moon Phase Pro (Android/iOS)
My Moon Phase Pro is not quite a weather app; it's more of a lunar calendar. One of its most notable features is its ability to track the lunar cycle and provide information about the moon's current phase, rise and set times, and visibility. The app also includes a live wallpaper that displays the current moon phase and is customizable with different themes and colors. In addition, My Moon Phase Pro provides detailed information about sunrise and sunset times, as well as the golden hour and blue hour, which are optimal times for photography. Though the app is paid, its modest $2.99 one-time payment with no ads puts it in fourth place on our list.
WeatherBug is a highly rated and popular weather app in both Play Market and App Store. WeatherBug offers hourly, daily, and 10-day forecasts, real-time radar, and severe weather alerts. One of the unique features of WeatherBug is the "Spark" lightning detection feature, which alerts users when lightning is nearby. The app also includes an Air Quality Index feature, providing users with information on the quality of air in their area. Sadly, WeatherBug is not among the free weather apps without ads. It contains unintrusive advertising, which you can get rid of for $0.99 monthly. AdLock also works with WeatherBug, and you can clear the weather app and other apps from ads for as little as $3.5 a month.
RadarScope is a weather app (no ads) well-known for its powerful radar capabilities. Its unique features include real-time weather radar data, customizable radar maps, and advanced storm-tracking tools. Users can view radar images from over 200 radar sites across the US, Canada, and Australia, as well as lightning data and storm reports. The app also lets users view storm attributes such as hail size and rotation. Its customizable settings allow users to tailor the app to their specific needs, such as setting up alerts for severe weather or specific weather conditions. RadarScope is not free and costs a $9.99 one-time payment. Suss users have two subscription options for more detailed and specific data.
7. CARROT Weather (Android/iOS)
CARROT Weather app has one important feature that no other app contains: insults. The way it greets me every morning, calling me a meatbag, never fails to make me giggle. This is the only app in our list with an age rating of +17, which is bold for a weather application. CARROT Weather contains ads in the form of hilarious fake banners that lead you to a joke 404 page and a Premium Club offer. CARROT would be an absolutely fantastic application if not for the lack of features in a free version. Most tools that other apps provide for free are included only in Premium plans. Even its famous Time Machine is only available after payment.
1Weather is a top-rated weather app for both Android and iOS users. With over 12 million downloads, it is one of the most popular weather apps available. This app provides current weather conditions, hourly and daily forecasts, and severe weather alerts. Additionally, 1Weather offers detailed radar maps, UV index information, and a several-day forecast, allowing users to plan ahead. You can even read weather-related news within the app in the Shorts. 1Weather contains modest unintrusive static banners. You can turn off ads in the weather app by subscribing to Premium for $1.99 monthly. A once-purchased plan removes ads forever, even if you don't renew it every month. Apart from an ad-free experience, Premium provides additional weather info, including a minutely forecast.
9. Clime: NOAA Weather Radar Live (Android/iOS)
Clime: NOAA Weather Radar Live is an inclusive weather tracker that helps users stay informed and safe with its real-time radar images, accurate forecasts, and severe weather alerts. The app offers an interactive map overlay that displays high-resolution, vivid-colored areas of rain, snow, and mixed precipitation, as well as precipitation and satellite maps that illustrate cloud cover. The app also provides detailed weather information such as 24-hour and 7-day forecasts, temperature, pressure, humidity, wind speed, visibility, and a chance of precipitation, among others. Clime contains modest slim banners, which can be eliminated by subscribing to the Pro plan for $35.99 annually. The price bites, and if you're not a weather nerd and don't need extra Pro features, consider installing AdLock instead. AdLock costs $3.5 monthly and removes ads from all your apps (almost).
10. Yahoo Weather (Android/iOS)
The top three worst begins with the Yahoo Weather app. Yahoo Weather app gives accurate weather forecasts for the next hour, five days, or ten days and offers beautiful Flickr photos matching your location. The app features include wind, pressure, precipitation information, interactive maps, and accessibility options. You can track up to 20 cities and use swipe to move between locations. The Yahoo app is among the completely free weather apps. No ads feature is not included, sadly. Yahoo Weather serves embarrassing full-page advertisements that take ages to load. The only way to stop ads is by using an ad blocker. Can we interest you in AdLock? We have Android and iOS solutions for as little as $3.5 monthly.
AccuWeather is a free weather app that provides hourly, daily, and 10-day forecasts. It includes a winter weather forecast feature, radar views for rainfall, wind, temperature changes, and storm surges. The app also offers RealFeel temperature technology and severe weather alerts. And all that comes with the price of the worst types of ads. Full-page commercials and loud, impossible-to-exit video game advertising will follow you every other tap. Too bad for an app that has a loyal audience with a ten-year-long usage history. We hope developers will reconsider their ad policy. But before that happens, we can offer you to use AdLock if you don't want to encourage developers with your Premium money.
12. The Weather Channel (Android/iOS)
And the top spot for the worst free weather app goes to The Weather Channel. The Weather Channel offers a range of features to help you stay informed about the weather, including a new 15-minute forecast for rain intensity, up to two-week advance forecasts, and information on severe storms and hurricane season. Other features include Dark Mode, sunset times, allergy and flu forecasts, weather news, and live breaking news alerts for extreme weather events. All that would be perfect if the app was better with advertising. The Weather Channel serves unbelievably slow and heavy banners and full-page ads that take ages to load. And those ads promote really bad-taste snake oil kinda things. You have two options to remove ads from The Weather Channel app: an ad-free subscription for $1.99 monthly or a system-wide ad blocker like AdLock.
How to Get Rid of Ads on Weather Apps?
To stop wondering how to stop ads on a weather app, consider investing in a tool such as AdLock. Our ad blocker can enhance your online experience, providing additional security and privacy. AdLock operates at the system level, blocking ads, malware, and other internet threats for almost all apps on your device. It also prevents third-party tracking and harmful website redirects. AdLock costs $2.28 per year, $3.50 per month, or $1.05 monthly for a five-year plan and can support up to five devices with different operating systems.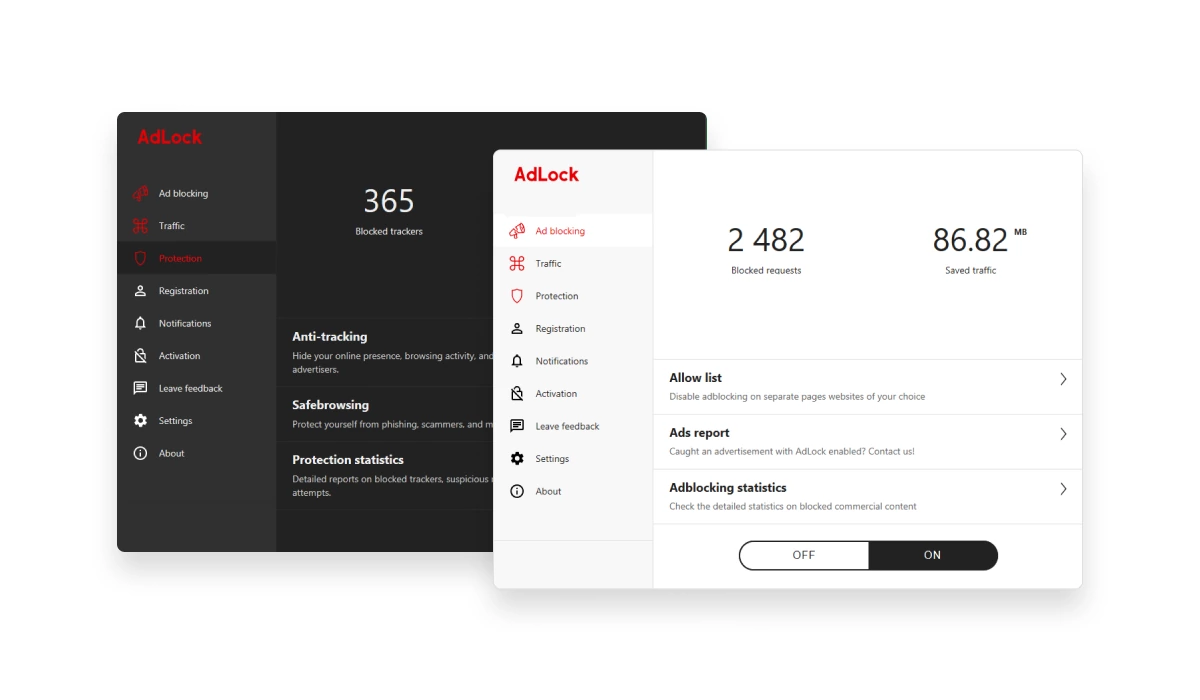 Final Thoughts
In conclusion, there are great ethical weather apps that either contain zero or a minuscule number of ads and don't want all money in the world to remove them. For all the others, you have AdLock.
Frequently Asked Questions
Are there free weather apps without ads for Windows 10, and 11?
There are most definitely free Windows 10/11 apps without ads, but this question requires more thorough research. Every app has its pitfalls, and we will only recommend something when we have more info. Maybe we will cover this question later in a new article.
Where do I find the best weather app without ads?
Scroll up this article to find a list of 12 weather apps worth your attention. The list contains detailed information on each app with pros and cons.
Which free weather app do you think is the best?
We believe Windy is the best free weather app on the market right now. Though developers reduce the number of free features they provide in a standard app version, they stand strong against the ads. The free app is still very usable, and if you want more, don't hesitate to update for a Premium plan.
Ad-free Season Starts Now!
Do you like this post? Share it!
Do you like this post? Share it!