How to Remove Adware from Chrome
A decent part of all time we spend online goes purely to watching ads. Taking different shapes, involving videos and sounds, ad pop-ups seek our attention. This is how the World Wide Web works nowadays: free online content is being created and not paid by viewers, but advertisers. Most of them are legitimate and follow the guidelines set by marketplaces, websites, and, finally, the audience's expectations. But there is a type of online threat ignoring all those rules and undermining our trust – we are going to talk about adware.
Read our topic-related article and find out how to remove adware from mac PCs in a snap.
What is Adware?
Adware combines two things everyone is trying to avoid: online ads and malware. Essentially, it disguises itself as a regular ad but its main goal is different and that is to infect PC or any other device with malware. And it can hide pretty well. Besides the regular flashy ad banners, adware might take the form of an additional search or toolbar in your Chrome browser, or a notification that appears in the control panel of your PC.
The result? Seemingly harmless ad lures users into clicking the link, redirecting them not to a desired 90%-off sale but, rather, to downloading dangerous data. And this is where the pain for any Internet user begins.
How Harmful Adware is for Your PC?
Adware is designed to make users download a script without them knowing and, often, can remain undetected on their machines for years. Years of a constant stream of useless, pesky, and nagging ads appearing from all corners of the screen, for example. But it doesn't end there. Adware becomes an opportunity for other types of malware, or Internet threats, that are especially dangerous:
Viruses

Trojans

Spyware

Worms

All possible types of scam
Even the basic adware simply delivering the ads to display reduces your productivity. It slows down your Internet connection due to loading tons of useless data, decreases your device's performance while letting it process obsolete scripts, and, finally, distracts you from things you're meant to be doing online.
But that stress is almost over for you now. Using this guide you will know how to remove adware from Chrome without a hassle or installing expensive software. We'll start with the basics.
Rockettab is one of those pesky so-called "helper" browser extensions, which does no more than infest your device and change preferable settings across all browsers. It also redirects users to dangerous websites packed full with malware. Want to know how to get rid of Rockettab? Here's our guide.
Scan Your PC for Malware
Chrome has a built-in malware removal tool that sometimes works just as well as the most famous third-party antivirus programs. To activate it, follow these steps:
Open Chrome

and click

More

(three dots icon) in the top right corner;

Choose to go to

Settings

and scroll down to

Advanced

;

Find the last section

Reset and clean up

and press

Clean up computer

;

Hit the blue button

Find

;

If anything shady was detected, select to

Remove

it;

Reboot

your PC

and restart

Chrome.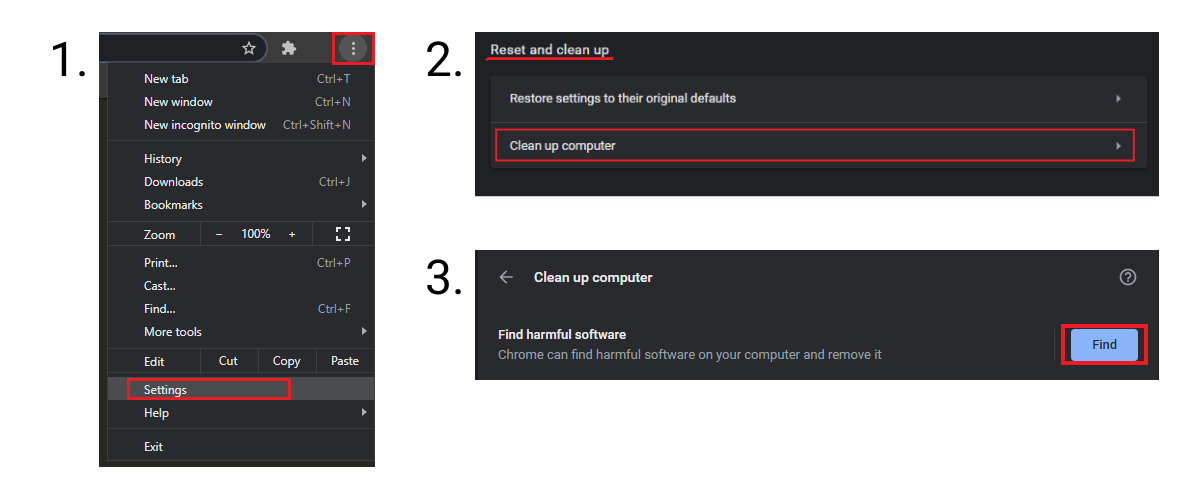 Easy like that. But if you can still encounter any strange pop-ups, automatically opening tabs, unusual search engines, or something else that indicates the malfunction, try to look for malware outside of your Chrome.
Remove Unnecessary Programs from Programs and features
Adware may be installed in the roots of your PC system as well. Placed on the drive, malware can send your machine commands to load any data it wants. In this scenario, you should try to check whether malicious software is in the list of your installed programs on Windows:
Press

Start

in the left bottom corner of your screen

or Windows key

on your keyboard;

Find the gear icon to open

Settings

;

Go to the

Programs and Features

menu;

Select a suspicious program from the list;

Click

Uninstall

. If unsure, Google the name of this app first;

Restart your PC

and see if the problem was solved.
Too bad if an adware is still there but you shouldn't give up just yet. The solution for how to get rid of adware on Chrome will require some manual action now.
Reset Browser Settings in Google Chrome Manually
Before going through all these steps it would be great to back up all your Chrome data (bookmarks, local cookies, or passwords) into your Google account using the sync feature. It is also advised to delete cookies and cache at this point.
The first thing to check is your Chrome extensions — adware likes to hide there a lot.
Open Chrome

and click

More

(three dots icon) in the top right corner;

Find the option

More tools

and head to

Extensions

;

Select a suspicious extension from the list and click

Remove

;

In the new dialog box confirm by clicking the blue button

Remove

.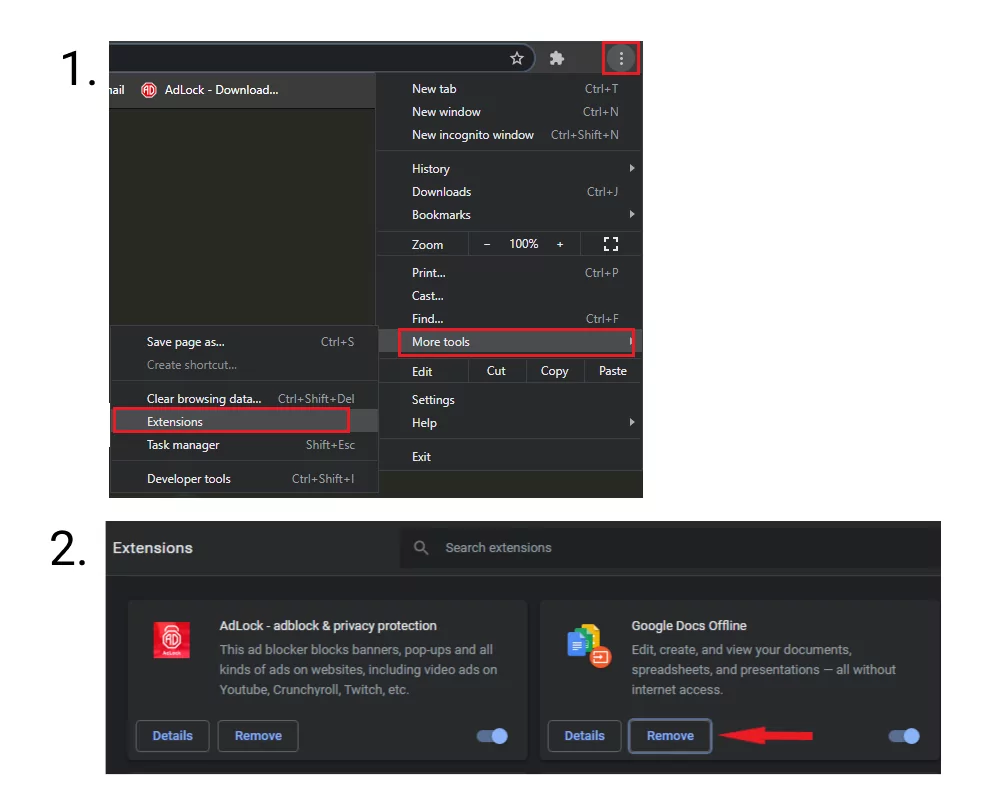 Ads pop up as notifications? That can be fixed too:
Copy this link

chrome://settings/content/notifications

and paste it into the address bar of your Chrome;

Scroll down to the

Allow

section and go through the list of all sites;

Once you found the site that sends you annoying ad notifications, click the

three vertical dots icon

next to it;

Select

Block

from the drop-down menu.
Another common way for adware to pop up is to become your Chrome's start page. Let's deal with it:
Copy this link

chrome://settings/onStartup

and paste it into the address bar of your Chrome;

Select the option

Open

a specific page or set of pages;

Click on the

three dots icon

and

Remove

for any unwanted start page you see;

Click

Add a new page

, type

https://www.google.com

, and

Add

to set Google as your startup page.
The same applies to a search engine in your Chrome:
Copy this link

chrome://settings/searchEngines

and paste it into the address bar of your Chrome;

Make sure that Google (or other search engines you trust) is

set by default

;

Remove all the other search engines in the list that you don't recognize by clicking the

three dots icon

and choosing the option

Remove from list

.
After you've done all the steps, simply restart your Chrome to see that adware disappeared. It is always advisable to keep your Chrome up to date: without the updates, that also include security patches, your browser becomes vulnerable to the newest adware and viruses.
Doing everything manually seems like a hassle? There is a tool that can provide you constant automated protection from all sorts of adware and intrusive online ads — AdLock.
How to Keep a PC Safe from Adware with AdLock?
AdLock keeps your PC safe from adware, even though it is designed for other things, particularly, blocking online ads. How does it work? It prevents ads from being downloaded by your Chrome, therefore you will have almost no chance to click a malicious link. Imagine online ads to be the doors that adware, spyware, and scammers might use to enter your browser and get access to your PC. You can keep the entrance closed but it is not even half as effective as just completely getting rid of the doors! That's what AdLock Chrome extension does, simply and effectively. And free of charge.
Okay, the ads disappeared from the web pages. But sometimes one ad can be shown the entire time you're using Chrome, regardless of which sites you visit. This is a sign of a deeper malware infection that took over not just your browser, but the PC.
AdLock has an answer to that too. The company's Windows and Mac apps provide full-inclusive anti-ad protection, that will stop dangerous ad scripts in all the programs installed on your computer. It prevents new adware from being downloaded online and set on your drive, as well as guarantee a clear ad-free view on all things that matter. It is fully compatible with antiviruses and firewalls that you might want to use to protect your device even better.
These are the tools to help you to get rid of adware. But the main advice is always the same: beware of links you click online!
Do you like this post? Share it!