How to Get Rid of Spyware from Any Device (5 Effective Ways)
Prevent spyware on your device:
As fortunate as we are to have all that modern computers and the Internet can offer us for disposal as users, nothing comes without a price. As much as the amount of information and software we can get for free or at a very reasonable price grows, the same way grows the amount of threat that comes within. According to the latest statistics, every 20th computer on the Internet is infected with spyware, which can record user actions and launch advertising pop-ups, not to mention it can actually spy on users, which makes it a real security threat for everyone.
Since you're here, we've got your attention. AdLock is here to help you out. Not only as an ultimate adblocker but as a reliable privacy and security guard. One of the most widespread ways of getting a virus is through malicious advertisements/redirects, etc. Not every adblocker can neutralize harmful strings of code. Luckily, there's AdLock.
So, let's get down to business and consider spyware and ways of fighting it.
What is
Spyware
?
Spyware, actually consisting of the words spy and ware, is software installed and unnoticeably working on the background of your device without your cognition, consent, and control. Such programs are getting shadily into your system and start to control your actions, sometimes bearing unforeseen consequences, sometimes leading to the failure of your system's internal processes. Unlike viruses, spyware does not multiply by itself and as far as we know does not infect neighboring systems. What spyware is capable of is getting to your computer through the browser and the Internet or through software you download and install. Even with the best intentions, you might have when getting a new program, you are not protected every time you do so. Spyware can change the OS configuration, monitor Internet activity and transmit information about your preferences to the interested third party, from time to time open advertising pop-ups on the screen, memorize and transcript private data (including banking credentials and passwords) and send it to the attackers, and many other things.
To make you aware of some, spyware is divided into several types:
Tracking Software

monitors the system and user's actions within;

Keyloggers

track keystrokes every time you type, this includes even what appears encrypted to you;

Screen Scrapers

take screenshots from the monitor screen with valuable data;

AdWare

shows ads and prompt popups;

Automatic Download Software

downloads software you don't need;

Remote Control Software (Backdoors, Botnets, Droneware)

provides "doors" and remote computer control;

Security Analysis Software

is all kinds of panels and small programs for the browser (and the operating system in general) that you were not going to install, cookies that track your visits to sites;

Dialing Software

dials somewhere on foreign servers or paid lines.
First of any other actions you might want to do is to know how to find spies on your device and then get rid of them.
Read also: All you should to know about the YT5s virus
How Can Spyware be Prevented?
It's always better to take action beforehand than to sort out the consequences. Investing minimal time and effort to prevent spyware from spreading and multiplying you will save from the massive headache of detecting and removing it later. So, if you don't want spyware to mess up your digital life, you should:
Use a reliable antivirus;
Never download any suspicious files (e.g. email attachments, archives from suspicious websites, etc.);
Use an adblocker application (extensions are ok, but not the best);
Never click links received from unknown/suspicious profiles or phone numbers;
Keep your software updated.
As we've already mentioned, spyware and ads are oftentimes bonded. That is why having an adblocker that would detect and disable any malicious and harmful stuff that comes with advertisements.
You may also try using a secure browser (TOR, Brave, etc.) with an inbuilt adblocker and antivirus module, but as you may know, they're not 100% effective.
How to Detect
Spyware
on your Device
Unfortunately, the user, as a rule, does not know about the presence of spyware means on his or her computer, except for those cases when the malware opens advertising windows and unsolicited sites so much that it becomes noticeable. The fact is that many of the sudden changes in the way your PC works, which may accompany the activity of spyware, can be easily explained. For example, the reduced speed of the computer can be the result of overloading the system with unused stuff, whereas the slower download speed on your side is attributed to the increased load of the provider's channels, etc. The danger from these misunderstandings only grows in geometrical progression, as we tend to not pay attention to such issues. Here are some signs that might indicate spyware had infected your computer:
You've noticed

new toolbars, links, or preferences

that you didn't add to the browser;

The

home page, mouse pointer,

or

search service

changes unexpectedly;

If you enter the

address of a specific site

in your browser, a completely

different page

opens;

Pop-up advertisements

appear even if the computer is not connected to the Internet;

If you see a

black command line screen

when loading the operating system;

If you look in the

task manager

and see that with

general inactivity of the system

, the

video card and processor are loaded by more than half

;

The computer suddenly slows down.
If you are wondering if this can happen to your mobile device as well, then you are to be warned: it surely can. Remember those ads popping up on the video you watch or in the music app you are currently using – sometimes an X is so small, that no matter how hard you try you can not close it? Eventually, you might always end up clicking one of those ads and that creates a way for spyware to get through. If you value your personal information, always be very careful with such ads, or at least try, as this may end up transmitting your privates to the hackers. For the best protection of your computer privacy, we recommend that you always run the Windows Defender program or another antivirus program you trust.
Removing
Spyware
from iPhone or iPad
Undoubtedly, the most prominent way to get rid of spyware on an iPhone or iPad Is to be assured that your OS is up to date. Apple, as an experienced company, recognizes malware threats and continually updates its software to be able to fight them. As soon as you update your Apple, all existing spyware will be detected and deleted automatically. So check that your device is always running the latest Apple software update or better have it done automatically.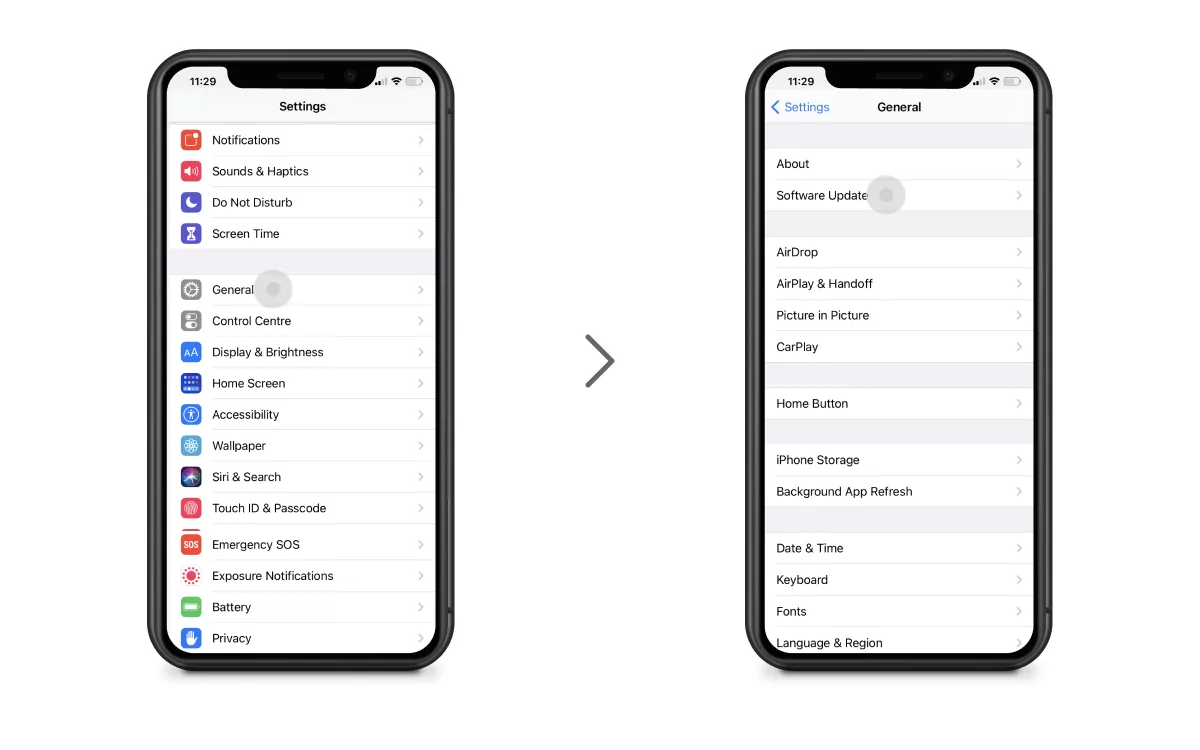 If your iPhone is showing symptoms like over-the-top unaccounted data usage, overheating, short battery life per charging, or you see apps you've never installed running, there's a chance your device has caught a virus. Don't start panicking. These actions may bring the desired result:
Find and remove suspicious applications;
Check on your PINs and biometric authentication are set up on all connected devices (you may also reset them);
Update your Apple ID password;
Enable the 2-factor authentication (if not enabled yet);
Factory reset your iPhone;
Get an antivirus application, scan your device and then clean up suspicious stuff.
Also, a good way to get rid of spyware on an iPhone or iPad is to install an anti-spyware application.
Performing a
system restore
can also be helpful, just remember you are better to save what you want to have after restoring in iCloud.
How do Get Rid of
Spyware
on Mac
Mac spyware has similar behavior to Windows spyware, but it is dominated by password-stealing software and general backdooring. The malicious activities of the second category include remote execution of malicious coding, keylogging, screen capturing, random uploads and downloads of files, phishing passwords, etc.
Most of the nastiest spyware comes just as it does on Windows, through installers packed with unwanted software, from download sites, or through shadowed ads that push you towards an unofficial, corrupted installer. To protect your Macbook, get your apps from the Mac App Store or developer site. Avoid running unsigned software — this means that only applications from the App Store and well-known official developers are fine to be downloaded for your safety.
Unlike Windows, the apps list on Mac doesn't have a window where you can see what's installed and quickly uninstall it. On Windows, most "legal" software allows you to remove it from there. On Mac, it can be difficult to know how to remove this junk but remember it can be uninstalled using Launchpad or Finder.
To keep your Macbook safe from viruses, you need to test certain functions:
If the automatic system update is turned off,

turn it on urgently

. Apple pays a lot of attention to patches, making work safer with every update;

Use an account

without full user rights

for your daily work (regular user account);

Use

Password Manager

regularly.

Keychain Access

will allow you to safely store all passwords on your computer using a single master key. Its request will alert you if malicious code is launched;

Do not switch off the firewall

and check it regularly.
The last but not the least way to get rid of spyware on your Mac is the same as it is with Windows — get an effective antivirus software and be safe.
How to Remove Spyware From Android
Usually, as an Android user, you can manually remove spyware, but we offer that you restart your Android device to Safe Mode first. This will allow you to get rid of the fraudulent apps on your device or tablet and not harm what is useful. Here are the steps you need to follow to get the job done.
Go to

Settings

;

Scroll down to "

All applications

" (it will not hurt to look into "

System applications"

as well);

Find the

"Running"

or

"Active" tab and scroll through it carefully.If you find suspicious programs, do the following:
When the Safe mode is running, go to

settings

and tap on

Apps

.

In the list that appears,

disable and uninstall spy apps

.

If you are not sure about the origin of the program,

Google search for the names of suspicious software to know for sure

.

Now r

estart your Android

and use it normally.
Just like iPhone, any Android smartphone can be cured of viruses via a factory reset. If you couldn't manage to remove all the malicious stuff from your device and it still feels like something's wrong with it, this is the way.
Head to Settings;
Tap Backup and reset;
Select Factory data reset and tap the Reset phone button;
Confirm your intentions via a PIN or biometric confirmation;
Pick a backup from when you haven't had issues with spyware or start your device fresh.
Be sure to pick the backup carefully if you don't want your device to reset to the from-the-box state. Just make sure you don't reinstall spyware back.
The surest way, still, is to
roll the device back to the factory set up.
All applications, together with spyware, will be completely removed, but an important point, just like with iPhone, is that you need to save all the necessary information (photos, music, videos, contacts). It's better to create a backup for this.
How Google and Apple Handle Spyware
After thousands and thousands of users got targeted and spied on by Pegasus, Hermit, and other state-funded spyware, Apple has filed a lawsuit against NSO Group (the Israeli firm that issued Pegasus). Apple has also detailed its approach to detecting and fighting spyware, while Google still struggles with spyware on Android.
The latest iOS updates come with security improvements and performance updates, and one of them is BlastDoor. BlastDoor is designed to detect and prevent suspicious data from being sent to iMessage. And while the newer Android devices have inbuilt protection against malicious attacks, older Androids are still vulnerable. What it means is that there's a good reason to take action to protect your device and data.
Top 3 Spyware Removal Tools
There's quite a number of anti spyware removal software on the plains of the Internet and we'd like to highlight the 3 products. We're not sponsored by any of them to endorse particular software solutions. We've tried to be objective and pick the most popular, trusted, and reliable solutions which have earned their reputation through the years.
Norton 360
A renowned name, isn't it? Norton has been providing reliable antivirus protection coping with malicious code for years. It has a vast malware database and machine-learning algorithms to detect every kind of threat. It also comes with quite a bunch of additional features and services like a smart firewall, VPN, password manager, etc.

Bitdefender
One of the best cloud-based scanner service on the market. Being extremely efficient, it doesn't affect the device's performance as all of its operations are performed in the cloud. Just like Norton, Bitdefender has a range of additional features: parental controls, system optimizer, firewall, etc.

McAfee Total Protection
This one provides excellent spyware detection and removal and a bunch of useful Internet security tools like a firewall, dark web monitoring, anti-phishing, VPN, and so on. McAfee is a great combination of anti-spyware protection and useful Internet security tools.

Honorable mention: AdLock.
Although AdLock is not antivirus software, it's developed by cybersecurity experts with a focus on online safety. Let's see what it gives in the following block of our article.
How AdLock Can Help
If you want to efficiently block adverts, online trackers, malware/adware/spyware, save on your data plan, speed up loading, and protect your privacy with just one application, then AdLock is for you. AdLock is a sophisticated standalone application designed to provide a maximum adblocking impact while being extremely resource-efficient.
This makes AdLock one of the best adblockers for Android on this list because it does a good job of providing you adless internet experience. AdLock works systemwide and is capable of blocking commercials within mobile games, messengers, and other software. AdLock is fitted with a firewall to provide additional protection through complex phishing and malware protection features. There's no acceptable advertisement for AdLock by default, yet you can adjust it to meet your needs. Get AdLock from the official website today and forget about ads and online threats forever.
Forewarned, forearmed
Spyware intrusion can be prevented by using reliable antivirus software. It traces tampering attacks and terminates them. What if we say that there's a solution that combines efficient adblocking utility, reliable personal firewall, sensitive data protection, and costs like a cup of coffee? Wondering if it's true? Go ahead and try out AdLock

To sum it up, let's look at spyware not as a source of panic and discomfort, but as an issue we have all means to fight. Though spyware can indeed be dangerous (just think of cases where hackers sell what they could scavenger by the means of plain users to government officials and interested organizations that are actually involved in political espionage), that does not mean our technology is not ready to help us get rid of it. Just stay alert at all times online, as well as take good care of your software — update in time, clean it, run diagnostics — it will pay off in no time.
Frequently Asked Questions
Are pop-up ads spyware?
If we said "Yes", we would be wrong. But if we said "No", we would also be wrong. Technically, pop-up ads and spyware are not the same, and the majority of pop-ups are safe. Yeah, they are hella annoying, but it's just an ad format. Spyware can dwell anywhere – it can be hiding in pop-ups, links, attachments, archives, etc.
How do I get rid of spyware pop ups?
The best way of removing spyware without using antivirus is to install AdLock on your device. It prevents any kind of malicious software from breaching your device. And it cleans up your Internet activities from all sorts of ads 🙂
How to clean your iPhone 14 from spyware?
To remove spyware from iPhone, you should follow these steps from our article:
Find and remove suspicious applications;
Check on your PINs and biometric authentication are set up on all connected devices (you may also reset them);
Update your Apple ID password;
Enable the 2-factor authentication (if not enabled yet);
Factory reset your iPhone;
Get an antivirus application, scan your device and then clean up suspicious stuff.
Or you can get AdLock to remove spyware and block ads.
Can spyware be contained in ads & pop-ups?
Spyware can be literally anywhere. You can fall victim to malware by clicking infected ads, visiting a website, drive-by downloading, etc. Cybercrooks launch their malvertising campaigns by buying ad space and then submitting elements containing malicious code.
How to find spy software on your computer?
Simply install an anti malware software, run a deep and slow scanning. It'll take some time but it's the best way to detect and remove any threat lurking deep in your data drive.
Can spyware change your computer configuration?
Yes, spyware is the type of malicious software that can mess with your device and data. It can install adverts, collect you personal info, and even change your PC configuration.
Prevent spyware on your device:
Do you like this post? Share it!
Do you like this post? Share it!