The 10 Worst Mobile Game Ads Ever You See
Mobile gaming ads have the potential to become a work of art. Unfortunately, marketers put "F" in art and opt for solely shock value. Wherever I go online with AdLock disabled, it feels like a shady version of Craigslist. Game ads are frequently distasteful, filled with sexism and intolerance, and often feature various bodily fluids. Why do they keep doing that to us, Mr. Anderson? We'll figure that out later in the article. But first, lo and behold, the list of ten of the most outrageous video game ads so far.
Top 10 Worst Mobile Game Ads
This list is in random order because I couldn't bring myself to analyze and actually rate these ads. I value my mental health. However, the number one on this list definitely deserves its embarrassing place.
10. State of Survival
Six oversexualized nuns berating and kicking a man in a piggy-pink suit who appears to be a game's CEO because he failed to provide gamers with bonuses. What's in the early 2000s crap is that? It doesn't even fall into a statement that sex sells. It screams that fulfilling men's fetishes through the disrespecting of women in the mobile game advertisement still somehow sells.
However, I highly doubt that a tasteless ad can sell anything because nothing in the video had anything to do with the actual game. It felt like two different tapes were clumped together: one from the gameplay video and the second from the straight-to-DVD zero-on-Rotten Tomatoes disgrace of a film.
9. Lily's Garden
Everything that's going on in Lily's Garden's weirdest game ads is worth being on our list. You can't just pick one, as every commercial is like a teenager's Wattapad fanfic.
There you can see supposedly Lily fancying a stranger's butt; a group of girlfriends arranging a group romantic date with the washing machines; a drama when Lily sitting on the toilet finds out her man is cheating on her, and the absence of toilet paper simultaneously; another Lily's man getting in a road accident when rushing to a hospital where Lily's in labor…Mind you, it's a simple three-in-a-row game with nowhere that much drama.
8. Homescapes
Homescapes ads promise fun puzzles to save the game's characters from various unfortunate situations. The characters tend to get stuck in the woods in the middle of winter, in the pipes full of water, or in the buildings with the criminal inside. And you can rescue them using logic.
Though those are not the worst mobile game ads, they are fake. Homescapes is another three-in-a-row game, and those ads represent occasional, very rare mini-games.
7. Royal Match
Royal Match is yet another three-in-a-row game with misleading advertising. Like the Homescapes, Royal Match endangers their main character, The King, and offers you to save him. What makes Royal Match ads times worse than Homescapes ones is that they are long, unskippable, and often force you to play.
By the way, here's how to block Royal Match annoying ads.
6. Merge Hotel
The Merge Hotel ad starts with a close-up of a condom being punctured with a safety pin by a hand with red-painted nails. Then, we see an elderly woman and a young man standing together, giggling at something. In the next scene, a young woman holding a positive pregnancy test enters the room, where the man from the earlier scene appears to be involved with the elderly woman, evident from the matching red nail polish on her toenails. What's going on here? And to top it off, it's yet another match-three game!
5. Erase It: Delete One Part
Those are the most terrible mobile game ads. Not only do they steal characters from other games and shows, but they also put them in compromising positions that go against those characters' nature. For example, in this dreadful piece of work, two main characters from Steven Universe are involved in something resembling sexual activity.
What infuriates even more is that YouTube rigorously controls any explicit content, but they are fine when it comes to ads. The game itself is not as raunchy as the ad showcase.
4. Evony. The King's Return
Evony ads display some of the world's worst actors accusing other mobile games ads of being misleading while praising Evony for being honest with their audience. And they are lying. The Evony's gameplay is barely like the ads with the advertised puzzles. Color me surprised.
3. Idle Heroes
The infamous Idle apology ad is the leader in lack of self-awareness. In the ad, two game mascots in a cracky voice apologize for the game's non-consumer-friendly tactics and false ads. And they don't promise they will do better and stop with the nonsense, but try to buy their way out by offering an in-game code.
2. Evertale
​​The mobile game ads promise psychological horror with ripped-apart Pikachu-resembling creatures, creepy distorted monsters, anxiety-filled dialogues, and lots of gut-wrenching static noises. Nothing of that is present in the actual game! There are 371 Evertale ads, and none of them showcase the gameplay. Evertale is a Genshin Impact wannabe fanservice game with horrible controls.
The real bummer is that if the gameplay matched the game's ads, it would be a real hit among the fans of the genre. But the ZigZaGame developers have chosen the path of shamelessly exploiting false advertising to hook up new users. And to be honest, I kinda admire their dedication to rivet almost 400 fake commercials instead of one game lore.
1. Project makeover
Project Makeover ads are the reason for all my "Ew" exclamations while scrolling my Instagram feed. Not only are they disgusting, they also put farting on a par with the hair on women's legs. Like, yeah, how revolting when a woman dares to have hair on her legs! Very much progressive. And the lore of their ads is like a fever dream. Body odor fetishes, cheating, and homelessness are just a few bright examples of ad plots. And guess what? It's another three-in-a-row!
Why are Mobile Game Ads So Bad?
There are 208 thousand games in the App Store and 490 thousand in the Play Store. All these games are competing for public awareness. People's mentality is such that we tend to pay attention to something that triggers our emotions, even if those emotions are negative. Without their weird mobile game ads, we probably wouldn't have heard about any of the names on our list.
Using poor animation, wild scenarios, and, well, overly saucy content can really grab our attention online, making us stop dead in their digital tracks. Some companies even tease our creativity or smarts with catchy titles like 'Only 3% Can Crack This.' And they're not afraid to mess up on purpose in gameplay videos to make us stop and stare at the wackiness.
But let's face it: mobile game ads are like a big headache on the internet, and they just seem to get worse by the day. The mobile gaming industry relies on loads of low-quality games that are super cheap to make. They also use sneaky tactics to get us hooked on buying stuff in their games. Even places like YouTube don't keep these sketchy ads in check. So, it's time to dive into the weird and kinda gross world of mobile game ads and give the industry a reality check.
Want to See Fewer Mobile Game Ads?
AdLock is a cutting-edge system-wide software that eliminates ads and shields your online activities from third-party tracking, fortifying your web privacy. With AdLock, you can bid farewell to ads across apps, games, and web browsers, even liberating your Words With Friends experience. All of this comes at a modest yearly cost of $12 or a monthly fee of $3.49, making AdLock your virtual invisibility cloak against advertisers.
How to run away from bad mobile game ads on your Android with AdLock:
Download and install AdLock on your mobile or tablet.
Launch AdLock and access the Settings menu by tapping the hamburger icon.
Ensure you're running the latest version by selecting "Check for Updates."
Opt for a plan that aligns with your preferences under "Buy now."
Enable HTTPS filtering by installing the AdLock certificate from the AdLock tab.
A pop-up window will surface; simply click "OK" and validate your identity using fingerprint recognition, a graphic key, or a password for future use.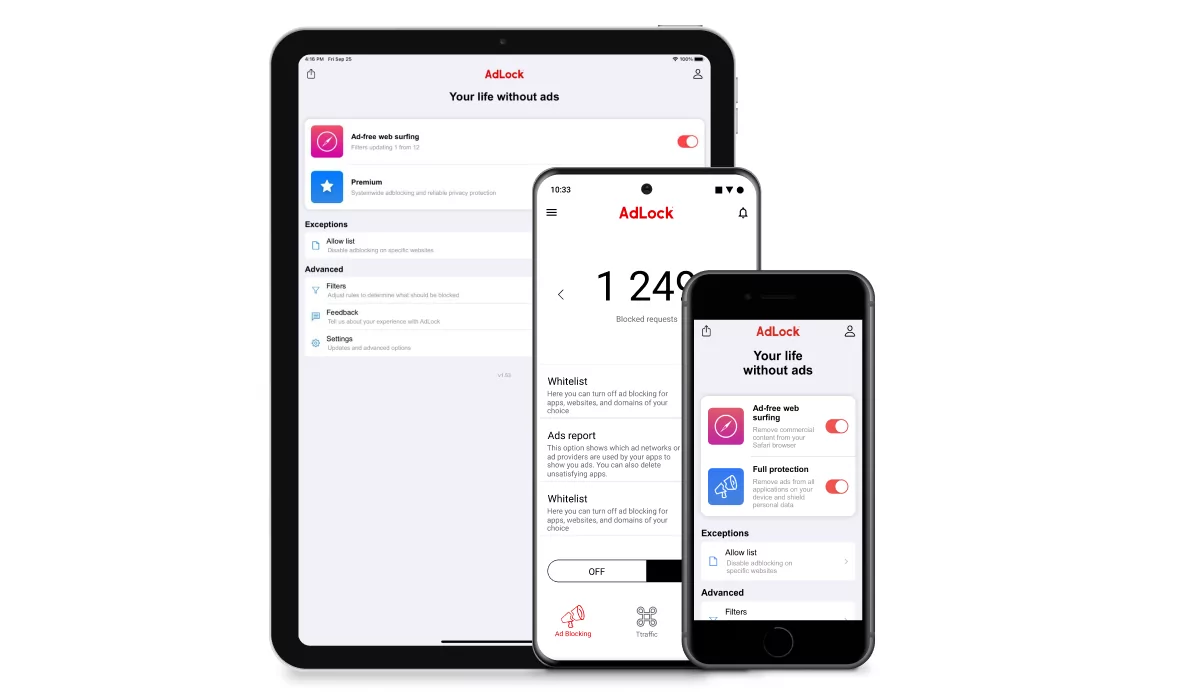 How to get rid of cringe game ads on iOS with AdLock:
Acquire AdLock on your iOS device.
Open the Settings, locate Safari, and tap on it.
Activate all AdLock toggles within the Extensions menu.
Start AdLock and enable ad-blocking by tapping the "Ad-free web surfing" toggle. Wait a second as AdLock fetches essential filters.
Toggle the Premium option and select either a yearly or monthly plan, inclusive of a 7-day trial. Rest assured, if AdLock fails to meet your expectations, you're entitled to a no-questions-asked refund.
Final Thoughts
The world of fake phone game commercials has left many users frustrated and misled. These deceptive advertisements often lure players with false promises, enticing them to download games that bear no resemblance to what was advertised. Fortunately, with tools like AdLock, users can regain control over their mobile gaming experience even if they play games with ads. AdLock empowers users to block all wrong publicity, ensuring a safer and more enjoyable internet journey.
Sick of obtrusive adverts?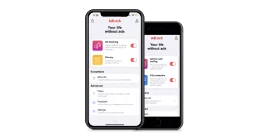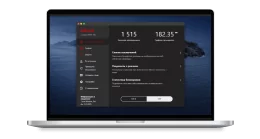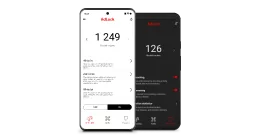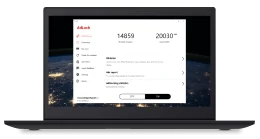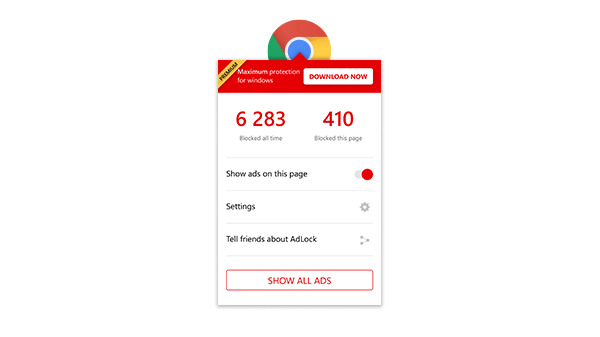 Try AdLock for free on your Windows device
Adverts and data collectors - two birds. AdLock - a stone that never misses.
Do you like this post? Share it!