AdLock v2 for Android Devices: The Long-awaited Changes and Improvements
Hello, dear readers! As you may remember from our recent articles, we were offering prospects for the AdLock product line. One step at a time, we were introducing novelties and updates including the launch of AdLock for iOS, AdLock for macOS, client dashboard, and an extension for Microsoft Edge. One great chunk of work was under way concerning the AdLock for Android devices and it's finally done. Having tested the beta thoroughly, we are confidently ready to present the new version to a wider audience. This means that AdLock 2 for Android is ready for takeoff!
From this day, all our users will receive updates with the new improved version of our mighty adblocker.
Let's dive into changes and improvements introduced in AdLock 2 Buckle up!
More powerful. More efficient. New AdLock.
Sweeping Changes in UI/UX: The Completely New Look and Feel
We conceived a visual update of the product a long time ago since it was quite obvious that the old interface was steadily getting out of date. Beyond that, our recently launched products (AdLock for macOS and iOS) were already developed through the new approach both in visual and technical aspects. So, if you have AdLock on your Apple device, you might figure out what we're talking about.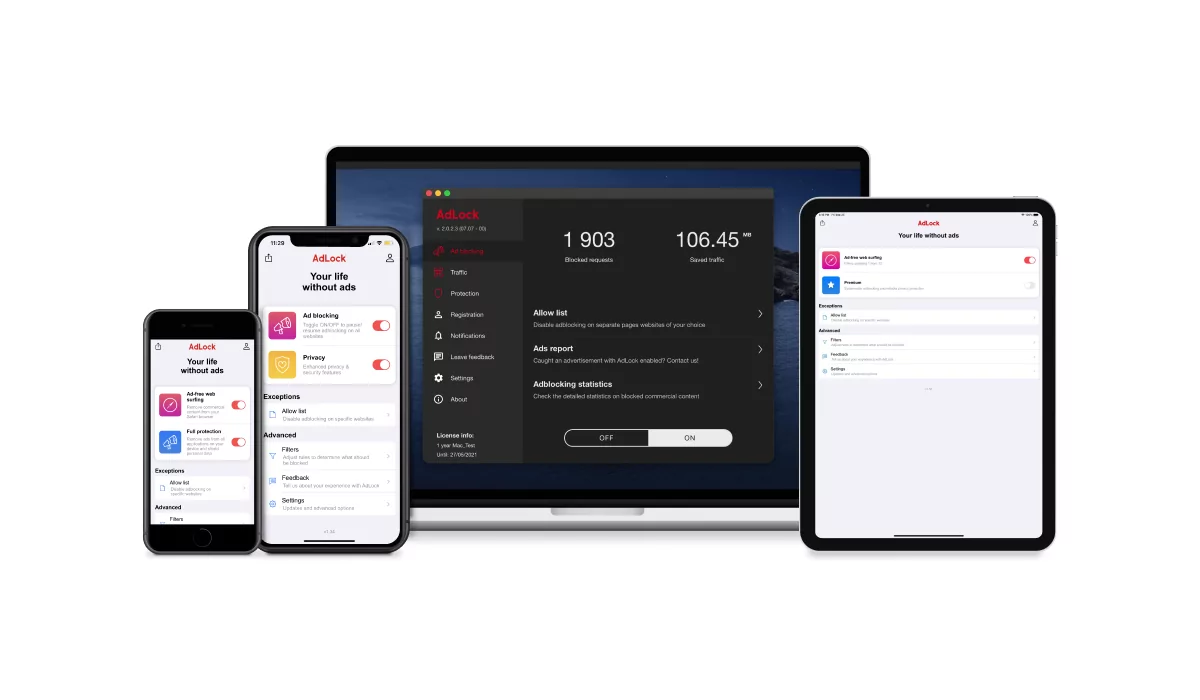 The main idea of UI/UX changes was to make our product even more intuitive and user-friendly, pleasant to the sight while saving the original minimalism. We've also worked on making the application easy to install and adjust for new users by supporting the process with informative onboarding, hints, and tips. Application controls have become more streamlined and convenient — all you need is done with a few taps. Now even a toddler with no special skills can handle AdLock 🙂
On top of the latter, we've reimagined the color palette and played around with the two-themed interface. Now you have an option of switching AdLock between the light and dark themes.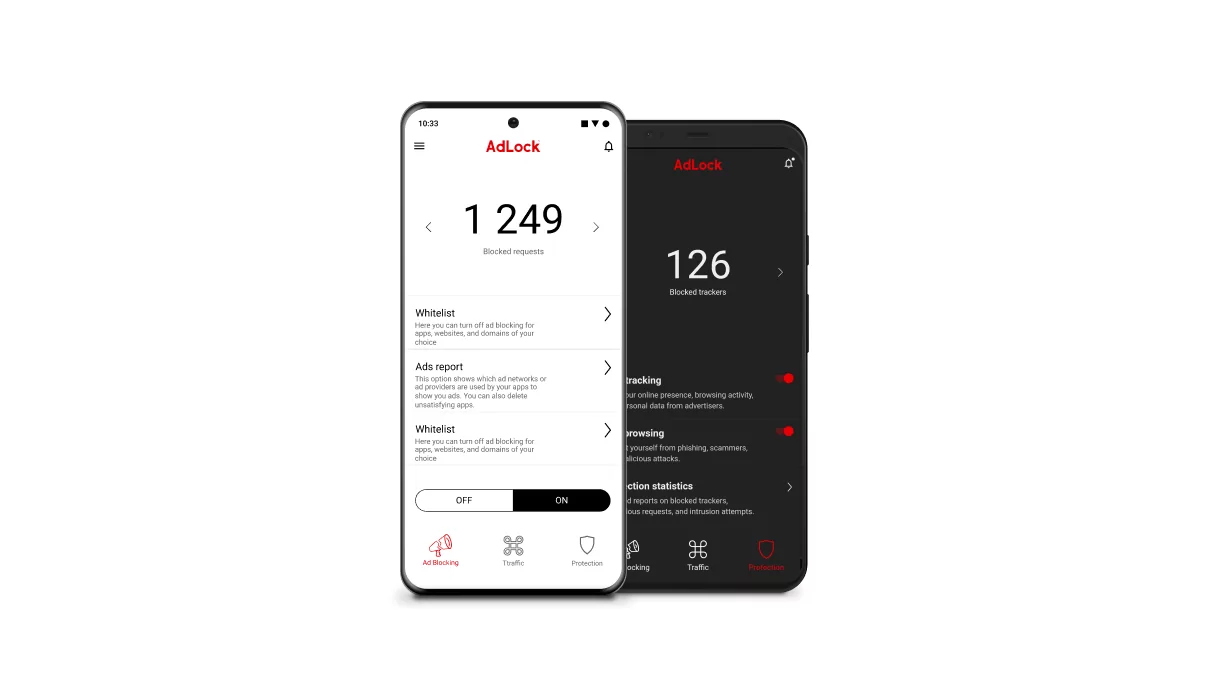 Migrating to the Native Engine: Enhancing the Adblocking Speed and Quality
Designing the brand-new AdLock 2 we optimized, refactored, and migrated the code to a native engine, which provided us with more flexibility and perspectives in development for all relevant platforms. Technically, this allowed us to boost the traffic processing, therefore tracing and capturing the commercial content online surveillance scripts, malicious and suspicious links/redirects/requests has become several times faster.
Thanks to the native engine versatility, we've addressed several technical issues and acquired leverages allowing us to polish rough spots and implement new features/improvements almost instantly.
Development of the new AdLock for Android conforming to the engine changes resulted in a product capable of faster and more efficient adblocking and a smoother overall operation.
What it means is that AdLock now is a real adblocking beast — fast and furious:
In keeping with the best traditions, AdLock 2 needs no ROOT operations and works systemwide — it covers all apps and browsers on your Android device;

Instantly traces and blocks all known types of ads, unwanted and malicious scripts, URL redirects on Android, and annoying page elements;

As before, doesn't participate in the Acceptable Ads program;

Shields sensitive data from online trackers, bugs, scammers, and other threats;

Does not collect, store, or sell any user data to third parties;

Significantly boosts website loading;

Cuts down the Internet traffic consumption;

Rewards the eye with its stylish and elegant interface in 2 themes;

Uses far less RAM and CPU of the device.
Read Also: How to remove Metrozone ads from your phone.
Final Words
And while the revamped and improved AdLock for Android is going live, we've got a bunch of novelties for it (and not only) to come soonish. We'll keep you in the loop on updates and upcoming releases as well as new "how-to guides" in our blog.
In the meantime, you have a great possibility to try and test the renewed AdLock — the most powerful, reliable, convenient, and eye-candy adblocking application on the market 🙂
We are grateful for your support and trust. Thank you for staying with AdLock!
More powerful. More efficient. New AdLock.
Do you like this post? Share it!
Do you like this post? Share it!