Duolingo Without Ads: How to Remove Annoying Ads Without "Plus"
Ad-free Season Starts Now!
Duolingo is a fantastic way to learn a new language without breaking the bank. It's completely free to use and offers a gamified approach to language learning, allowing users to earn points and progress through lessons by completing activities and exercises. You'll be able to learn at your own pace, with lessons tailored to your skill level, and the app is available on multiple devices, so you can take your learning with you wherever you go. It has over 35 languages to choose from, including endangered languages like Navaho and Hawaiian AND fictional languages like Klingon and High Valyrian.
Though the app is free, it comes with a price: Duolingo has ads. After each lesson, you have to sit through a commercial, usually for another game or show. These ads are unskippable, lengthy, and can detract from the learning experience. Previously, when users ran out of "hearts," they could get one back by watching an ad. However, in 2023, users must first earn a heart by practicing past lessons or purchasing it using gems before the option to watch an advertisement for a heart becomes available. This shifts the focus from actual learning to gaming. Our article will show you how to get rid of ads on Duolingo for free and paid and whether AdLock will come as a savior.
How Much Advertising You Will See on Duolingo
Ads after each lesson can quickly add up and become quite a time drain. For example, let's take the French course on Duolingo, which is one of the longest and consists of 1206 lessons and, therefore, 1206 ads. The length of these ads can range from 5 to 30 seconds, resulting in a total of 6,030 to 36,180 seconds, 100.5 to 603 minutes, or 1.675 to 10.05 hours of video ads. To put it into perspective, a French course takes approximately 46 hours to complete, and you could end up adding an additional 10 hours just watching ads on Duolingo. Too many ads lead many users to look for ways to avoid them, and we are here to help you do that. Read on to learn more.
Using Duolingo via a Web Browser
The generally-available way to avoid Duolingo's annoying ads is by using its web version in a browser. This has the next benefits:
No "heart" system. You can practice however you like and make numerous mistakes without losing lives.
There are only modest ad banners on a desktop browser and no advertising at all on a mobile browser. You can install free AdLock extensions for Chome or Safari to remove even those remaining banners.
Ability to use a physical keyboard if working on a laptop/PC.
What's not to like, you might ask. The major disadvantage of a web Duolingo is that you need to allow a browser to access your microphone, which can compromise your privacy and security. The website can record audio or use your microphone for audio-based tracking, such as collecting information about your background environment, listening to conversations, etc. Additionally, malicious websites could exploit vulnerabilities in your browser or the website itself to access your microphone without your consent. If you dread ads on Duolingo more than you dread audio stalking, we suggest at least disabling microphone access after each Duolingo session.
Why a Paid Subscription on Duolingo Is Not the Best Option
The paid subscription that eliminates ads in the Duolingo app is named Duolingo Super, formerly known as Duolingo Plus. According to the company's blog post, Duolingo Super provides the same features "but in a sleeker, more colorful package."
There are a few reasons why Duolingo Super may not be the best option for everyone:
Duolingo is designed to be a basic language learning tool and is not meant to replace more in-depth language classes or programs. For example, the platform lacks lessons on grammar, and you must obtain them somewhere else, which beats the very purpose of paying extra for knowledge.
While the app offers additional features such as listening and speaking with a paid subscription, they may not necessarily enhance language learning in a significant way.
Finally, Duolingo Plus still has ads. Users often report Duolingo's self-promoting motivational videos they see after completing the lesson. Those videos are annoyingly repetitive and will haunt you until you eventually watch them.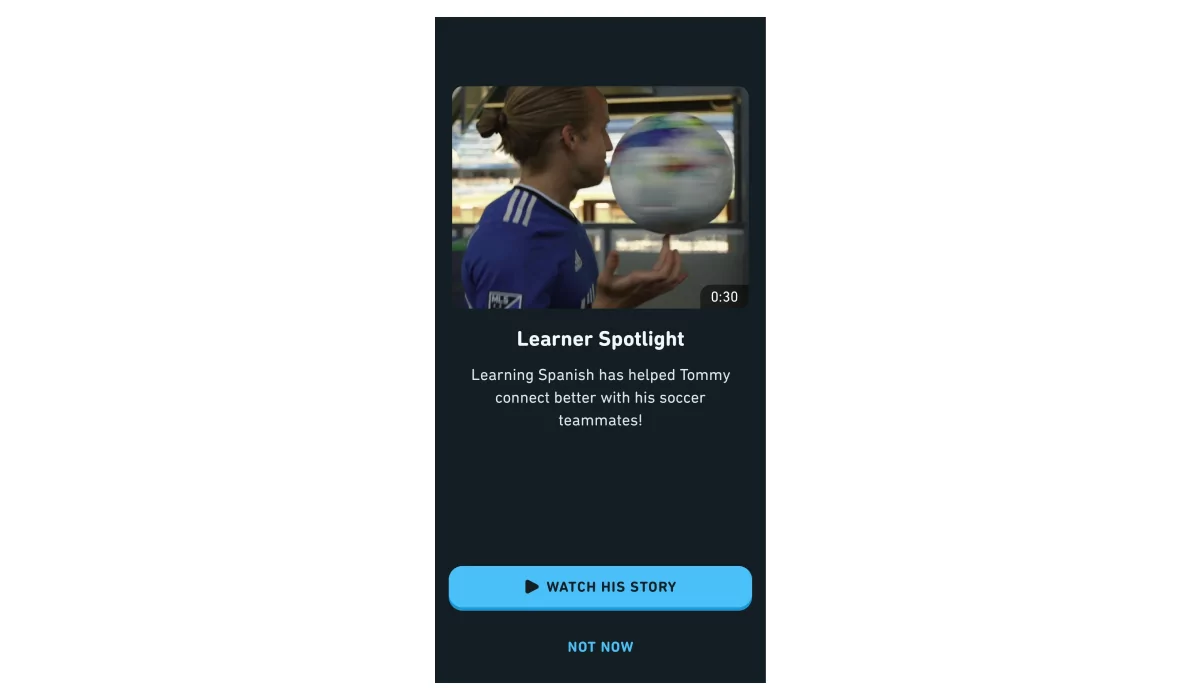 Use AdLock To Learn Languages in Duolingo Without Ads
A cost-effective and easy way to stop Duolingo ads is by using AdLock. AdLock is an ad-blocking software that works on a system-wide level and helps to keep your online experience more secure and private. Not just for Duolingo, but AdLock also removes ads from most other games and apps as well. With AdLock, you can play your favorite Solitaire without ads, scroll ad-free Reddit, read ad-less CNN news, and even watch YouTube videos without midrolls. The pricing starts at $1.05 a month for a five-year plan, $2.28 per year, and $3.50 for a monthly subscription. Each plan supports up to five devices, allowing you to say goodbye to ads in Duolingo and most of the services you use.
Final Thoughts
Duolingo would be a perfect language-learning platform if not for its advertising policy. People often think that thanks to Duolingo and ads, they can learn a new language in several months, but this is not entirely true. While both the free and paid plans offer language lessons, they do not provide a comprehensive understanding of grammar. This information is not advertised in the Super subscription plan. Considering the high cost of a subscription, it disappoints paying it for the sheer absence of ads. If an ad-free experience is all you care about, you can have AdLock for a fraction of that price.
Frequently Asked Questions
Why am I getting ads on Duolingo?
Duolingo is a free language learning platform that is supported by advertisements. The ads help the company to generate revenue and keep the platform free for users. Most Duolingo ads come from ad networks such as Google or Facebook.
Is it worth paying for Duolingo?
Whether Duolingo Plus is worth paying for depends on your goals and preferences. It might be worth it if you want Duolingo without ads and don't mind supporting the platform. If you're primarily looking to improve your language skills, Duolingo Plus alone may not be sufficient to reach an intermediate level. The benefits it offers, such as offline lessons, spelling, and pronunciation practice can still be useful, but additional resources and practice will likely be needed to achieve a higher level of proficiency.
When did Duolingo introduce ads?
Duolingo has used advertisements as a monetization strategy since around 2015. Initially, the ads were designed to be non-intrusive and blended in with the app's user interface. However, now Duolingo uses ads that hinder the experience on the platform.
How to get Duolingo premium for free?
Duolingo previously offered a referral program where users could receive a week of ad-free Duolingo for every friend they invited using their referral link. However, it seems that this program is no longer available. Currently, the only way to legally block Duolingo ads is through a two-week free trial when subscribing to Duolingo Plus/Super.

Is there an APK mod to use Duolingo without ads?
There might be third-party modded APKs for Duolingo, but we won't list any links there because it's unethical for several reasons. Those APKs may contain malware or viruses that can harm your device and steal your information. Plus, they may not receive updates, leaving you vulnerable to bugs and security threats. Really ask yourself, does Duolingo, no ads, worth the risk?
How much does it cost to remove ads from Duolingo?
Duolingo Super, former Duolingo Plus, costs $6.99 per month or $84 yearly. With AdLock, you can remove Duolingo ads for as little as $1 per month or $12 annually.
Ad-free Season Starts Now!
Do you like this post? Share it!
Do you like this post? Share it!