Remember last time you were web surfing and saw a popup warning from a website saying it used cookies? It convinced you that it would help to enhance your browsing experience so you accepted it. But did you think about potential harm it could cause? If not, this article will give you shivers but also an answer on how to block third party cookies, so read on.
Cookie Monster or cookies-monsters?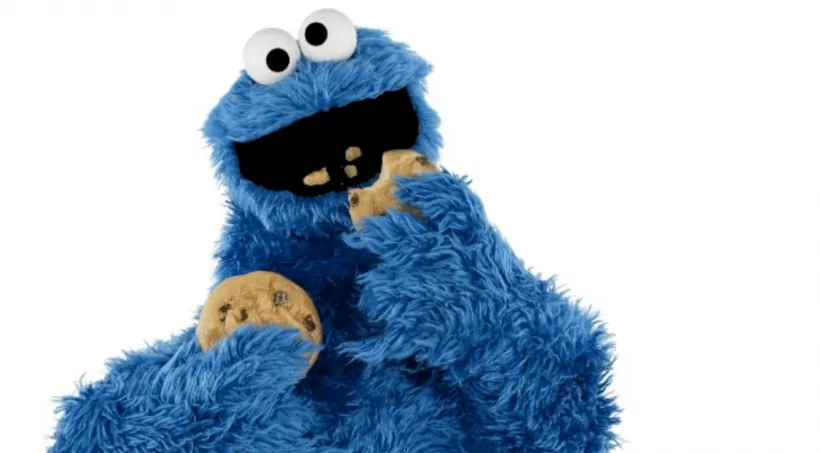 First-party cookies are really good for you. They contain information that you probably don't want to store in your own memory AKA your logins and passwords to Facebook, Twitter, etc. Those little things can save information about products added to the basket in your favorite online store and even if you are kicked from the net, you will most likely find them there when you're back. Cookies from the websites you commonly use do make your life easier. Third-party cookies do not.
As you can understand from their name third-party cookies set up by third-parties and they have nothing in common with a website you visit. Generally, those third-parties are advertisers who track you across all pages where they landed ads or web bugs. You can once visit a plumber online store just because and then you will see tap advertisements all over the internet. Not only it violates your privacy, but you also never know across how many domains tracking is done, and in whose hands your personal information ends up. It feels pretty much like being stalked by a weirdo on a street. Some weirdos like exhibitionists will just harmlessly flash you their ads while others can literally steal your ID. So, if you want to stop third-party cookies from hacking your data, it's better to disable them.
Third-party cookies are minuscule issues you can meet online. The real problems begin when you catch a virus or a mining script from an infected ad. Not only they can snatch your personal files, they can also cause damage to your computer. If you need a comprehensive defender from online threats try to install special
ad blocker for Windows
.
How to block third party cookies?
There are two the most common simple ways you can remove third-party cookies. First: you can browse the internet in private or incognito mode. Second: you can block third party cookie directly in your browser.
Disable third-party cookies by using private or incognito mode

In most browsers, you should click on the link with the right mouse button and choose 'open in private window/open in incognito mode' from the shortcut menu.
Pluses: It's the easiest way to stop tracking your browsing history across multiple sites.
Minuses: Your visits won't be saved in your browser history so it will be difficult to find something later. Your internet provider will still be able to track your visits. Private browsing/incognito mode doesn't protect you from spyware and bugs.
Another issue with the incognito mode is it switches off all your extensions by default. It does it in order to provide you maximum privacy as extensions can track you likewise. If you want to browse net without fear of tracking or malware infected ads you need the
best ad blocker
we can provide you. Not only it blocks annoying ads it makes your net experience safe and comfortable.
Disable third-party cookies directly in a browser
You simply update your browser settings. See how to do it via your browser below.
Pluses: There is no need for installing special applications.
Minuses: It doesn't protect you from scammers and phishing attempts.
How to block third party cookies in Google Chrome
Click on the three dots button 'Customize and control Google Chrome' in the right top corner of your browser window and choose 'Settings'.
In the opened window scroll down, click on 'Advanced' and in 'Privacy and Security' choose 'Content settings'.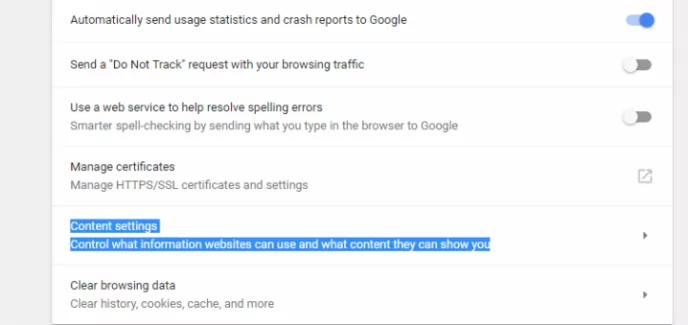 Click on 'Cookies'.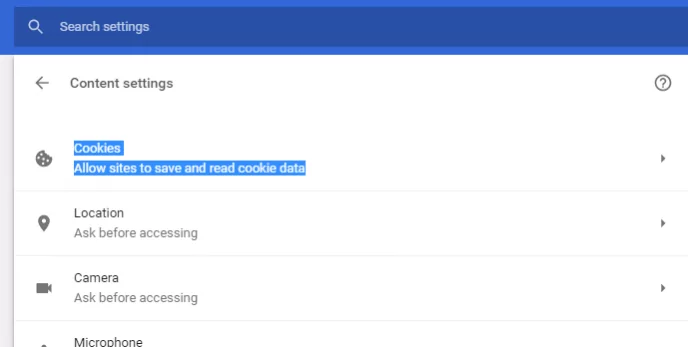 Turn 'Block third-party cookies' on.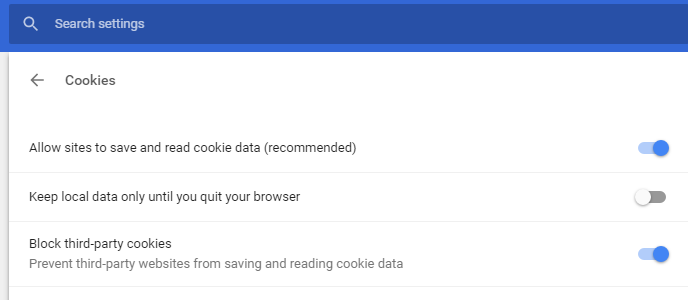 After that, all cookies from sites other than the one you visit will be blocked, even if those cookies from sites from the exception list.

How to disable third-party cookies in Mozilla Firefox
Click on the three stripes button 'Open menu' and choose 'Options'.
In the opened window click on the 'Privacy' panel.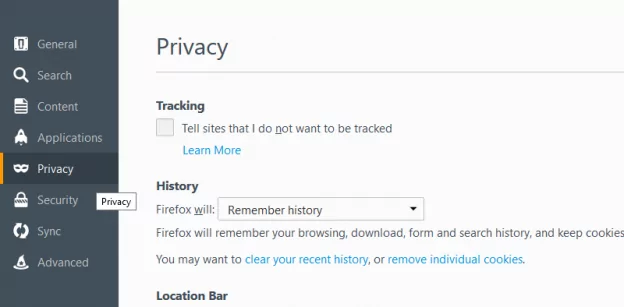 Go to 'History' section, open drop-down menu next to 'Firefox will' and choose 'Use custom settings for history'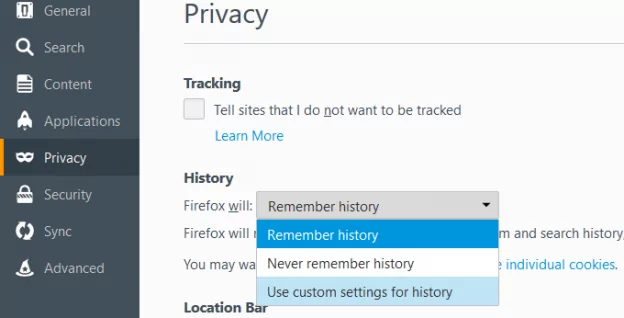 In the drop-down menu next to 'Accept third-party cookies' choose 'Never'.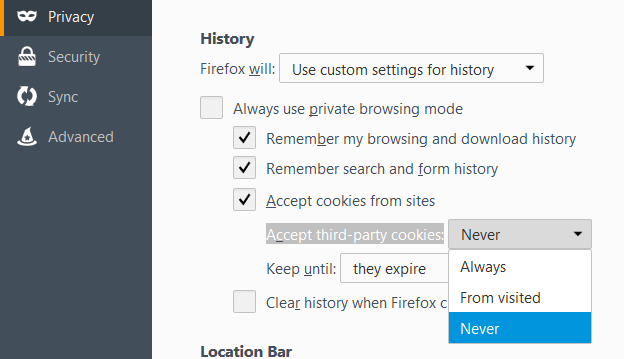 Mozilla support warns that after those changes are made a bunch of websites might be unavailable. In that case, better use option 'From visited' so you can properly view commonly used sites.
How to block third party cookies in Microsoft Edge
Click on the three dots button and choose 'Settings'.
Scroll down to 'Advanced settings' and click on the button 'View advanced settings'.
Scroll down to 'Cookies' section and in drop-down menu choose 'Block only third-party cookies'.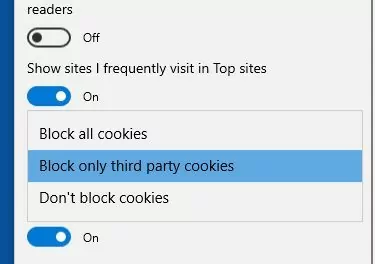 How to delete third-party cookies
It's really good for your computer to delete third-party cookies and just regular cookies once in awhile. I know earlier in the article we've figured out that first party cookies are useful little helpers but a large amount of cookies clutter your computer and eats up space on your drive. Also, using your cookies third-parties can track your visits on the web which is not good in terms of confidentiality. Using our instructions performed above you'll be able to find those cookies and then your browser will suggest you what to do next. If you want to learn more about internet security visit our blog and find answers on your questions.