How to Get Rid of Ads on Wordscapes
Unlock Ad-Free Gaming Bliss
Hey, there, fellow Wordscapes player! Tired of those unskippable ads that interrupt your gameplay and ruin your flow? Well, you're not alone. Ads are a necessary evil in free-to-play mobile games like Wordscapes, but they can still be a major annoyance. Fortunately, there are ways to remove them and get back to enjoying the game without interruptions. In this article, we'll explore some of the most effective methods to remove ads from Wordscapes, from in-game purchases to third-party tools. So, grab your coffee, and let's dive into the world of playing Wordscapes, no ads.
Displaying Ads in Wordscapes
Long-term Wordscape fans might notice the significant reduction in ads amount. Now there are two types of ads in the game:
First, we have the banner ad hanging out at the bottom of your screen while you're playing. It's slim, kid-friendly, and doesn't block any words or sneakily steal any letters. It's just there, hanging out, like a friendly little reminder that there's a whole world of other games waiting for you if you ever get bored of all those words (which, let's be honest, is unlikely).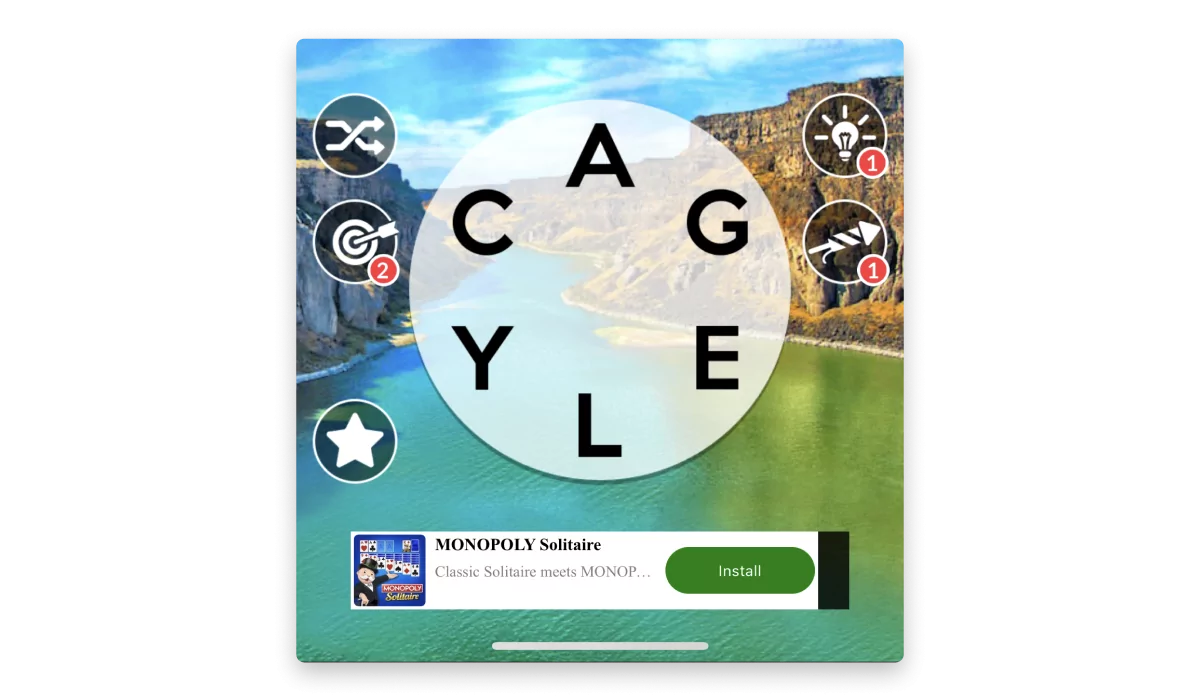 Second, there are video ads that pop up between levels or if you leave in the middle of the round for too long. Quite likely, those are the reason why you are here. You can't escape those ads and can only exit them once they let you. However, mobile game ads are also threat-free and even let you play a little to test the game without downloading it.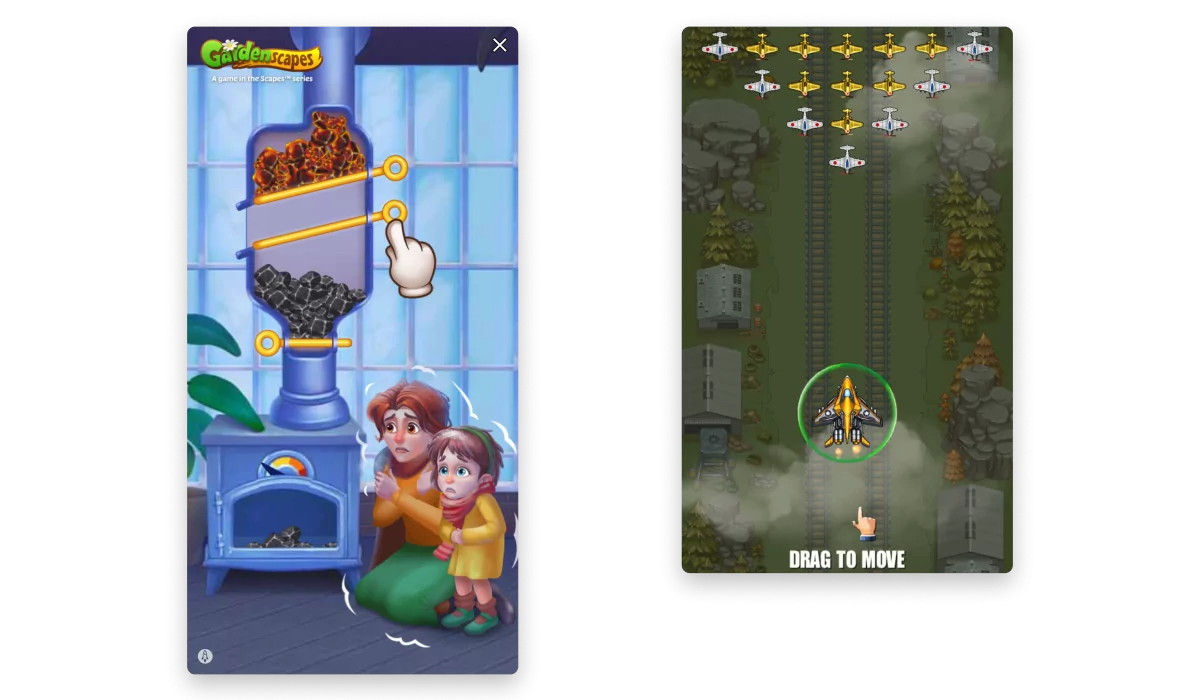 Although Wordscapes advertisements are relatively modest, they can still be irritating, especially when you encounter the same ad repeatedly. This leads us to wonder how to get rid of ads in Wordscapes.
Removing Wordscapes Ads Through The In-Game Store
If you are tired of seeing ads while playing Wordscapes, the easiest way to remove them is through the in-game store. Here's how:
Open the Wordscapes app on your device.
Tap on the coins icon in the top right corner of the screen.
Select the "Remove Ads" option.
Choose the payment method you prefer.
Follow the prompts to complete the purchase.
However, despite the simplicity of the such method, it has pitfalls. The most notable pitfall is the uncertain price for ad removal. The game's support doesn't answer the question about price, and users claim that the price fluctuates between $5.99 and $9.99. Though, some users reported a whopping $99 ad removal feature. As for myself, Wordscape on my iPhone demands $11.99, so somewhere in between.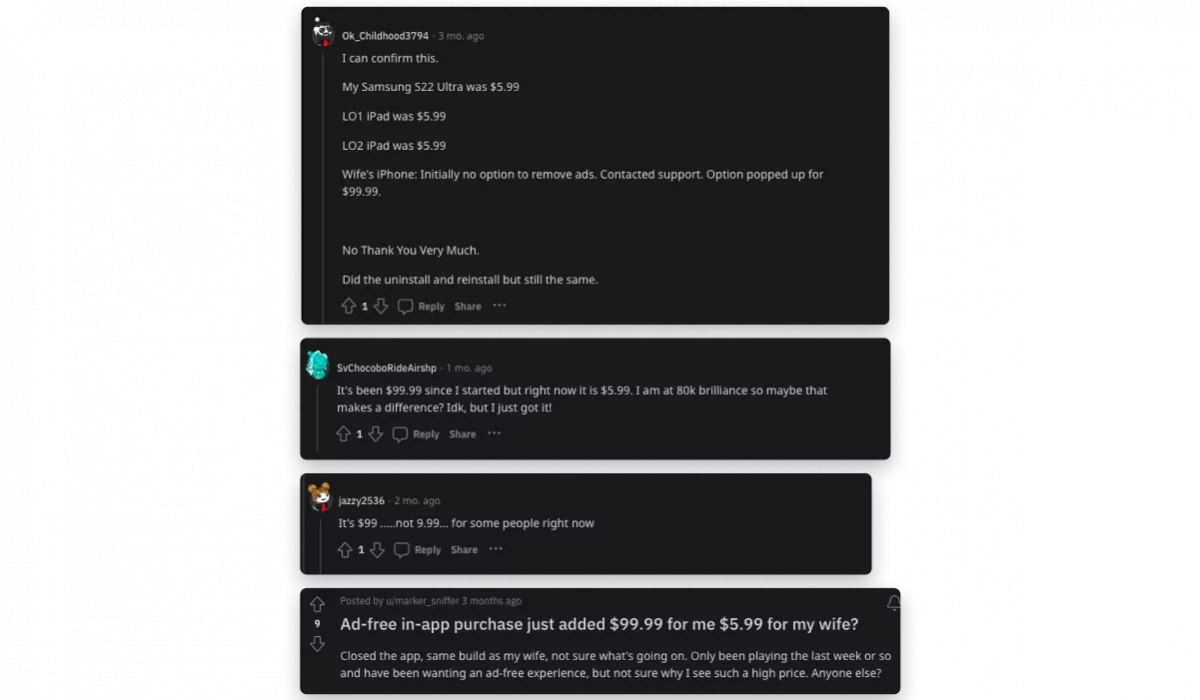 The other pitfall is that the ad removal option is not always there where it's supposed to be. Wordscapes only start showing ads after like 6th game and offers ad removal simultaneously. But occasionally, the game glitches and the ad-free option doesn't appear.

Put Your iPhone in Airplane Mode
Airplane Mode is a useful feature available on most smartphones and tablets that can be used to get rid of ads in Wordscapes. When airplane mode is on, it disables your device's ability to connect to the internet, which effectively blocks any ads that require an internet connection to play.
To get started, open the settings app on your mobile device and find the option for airplane mode. Once you've spotted it, switch the toggle to the "on" position, and you're all set. You may need to close and reopen the Wordscapes app for the changes to take effect, or you can wait out three-four pre-cached video ads. The banner ad will remain until you reload the game.
The Airplane Mode method is free but bears several inconveniences:
You won't be able to access features that require an internet connection: Wildlife features and rewards, Leaderboard, collecting coins by watching videos or completing surveys, etc.
You won't receive calls and notifications.
Sooner or later, you'll have to restore an internet connection, so this method is only viable for a short period.
Surprisingly, Airplane Mode doesn't work for Android devices, so only iOS users will benefit from it. Wordscapes manages to pre-cache adverts on Android phones and tablets even when the game is inactive and playing offline has no perks.
Read also: 12 Free Solitaire Apps Without Ads
Using Wordscapes No Ads Apk
Downloading a modded APK from the internet is a rather popular way to play word games like Wordscapes and Wordle without ads. These APKs often come with bonuses such as unlocked characters and unlimited coins. However, using cheats may not only diminish the fun and challenge of the game but also come with a risk. It is essential to exercise caution and thoroughly research the developer before downloading a modded APK. Using unofficial mods is not only illegal but also jeopardizes your privacy. There is no guarantee that the apk you choose is secure to use. Modders can manipulate game code to steal your data. While the temptation to play Wordscapes without ads may be strong, always prioritize your safety and privacy first.
Using Coins to Remove Ads in Wordscapes
The idea that you can remove Wordscapes ads with 400 coins is kind of a city legend in a Wordscapes community. Several years ago, someone saw a pop-up promoting ad removal for coins, and since then, players have kept chasing that bluebird.

The game used to offer a bundle of ad removal PLUS 400 coins for $2.99. Maybe, that was another source of misconception. Anyway, ad removal for coins is not actually the case. The coins are used solely for in-game purchases, such as hints, and not anything outside gaming. You can easily verify that by tapping the coin icon and scrolling through the in-game offers. You won't find any promos that would remove ads for 400 coins.
We're sorry to disappoint you and want to offer you a guaranteed way to stop Wordscapes ads forever.
Using Ad Blocker for Removing Wordscapes Ads
If no method this article covers works for you, then AdLock could be your perfect solution! AdLock is a top-notch system-wide software that stops third-party tracking and enhances web privacy in addition to ad removal. AdLock removes ads from apps, games, and web browsers; you can even get rid of ads on Words With Friends. Only for a yearly cost of $12 or a monthly fee of $3.49, AdLock will become an invisible cloak that hides you from advertisers wherever you go.
Here's how to play Wordscapes without ads on Android using AdLock:
Download AdLock for your phone or tablet and install it.
Open AdLock and tap on the hamburger icon to access the Settings menu.
Choose "Check for Updates" to ensure you have the latest version of AdLock installed.
Go to the "Buy now" option and select the plan that suits you best.
Head to the AdLock tab and install the AdLock certificate to enable HTTPS filtering.
A pop-up window will appear; click "OK" and verify your identity by scanning your fingerprint, creating a graphic key, or setting a password. Remember, you'll need to use this key in the future.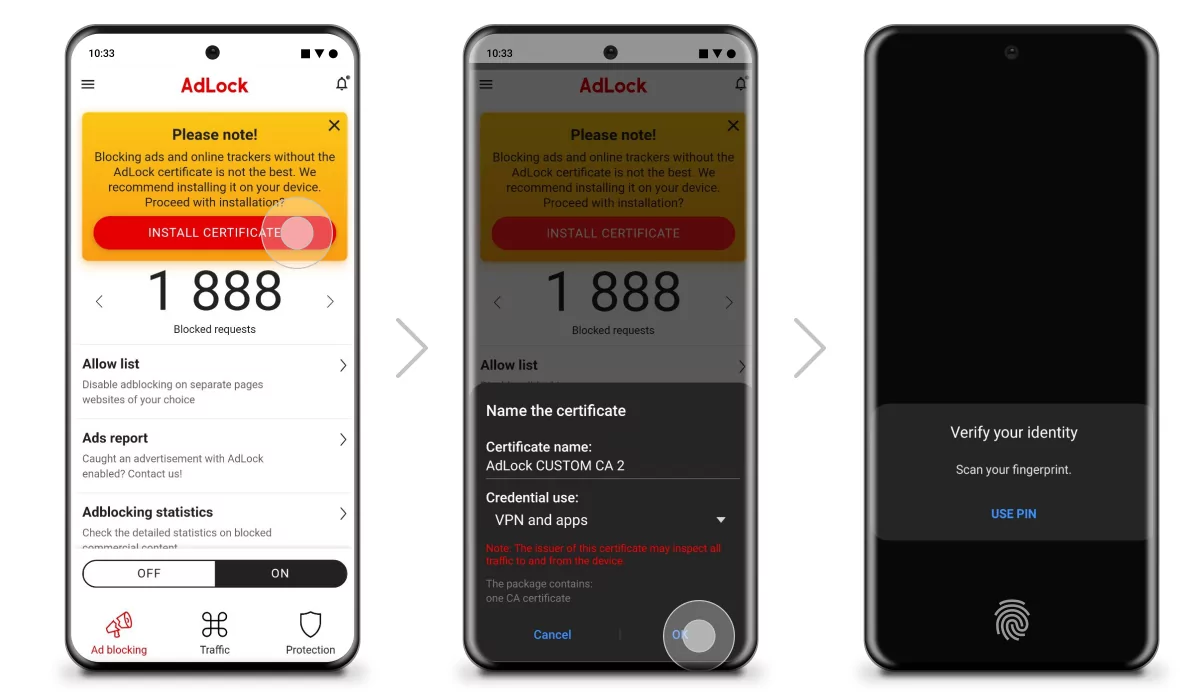 For iOS devices to pleasantly play Wordscapes, remove ads with AdLock as well:
Download AdLock for the iOS phone or tablet.
Open Settings, find and tap Safari.
Tap Extensions and switch on all AdLock toggles.
Launch AdLock, and tap the Ad-free web surfing toggle to enable ad-blocking. Wait for a couple of minutes until AdLock finishes downloading all necessary filters.
Tap the Premium toggle and choose a yearly or monthly plan. You'll get a 7-day trial, and if you don't like the work of AdLock, you'll receive your money back, no questions asked.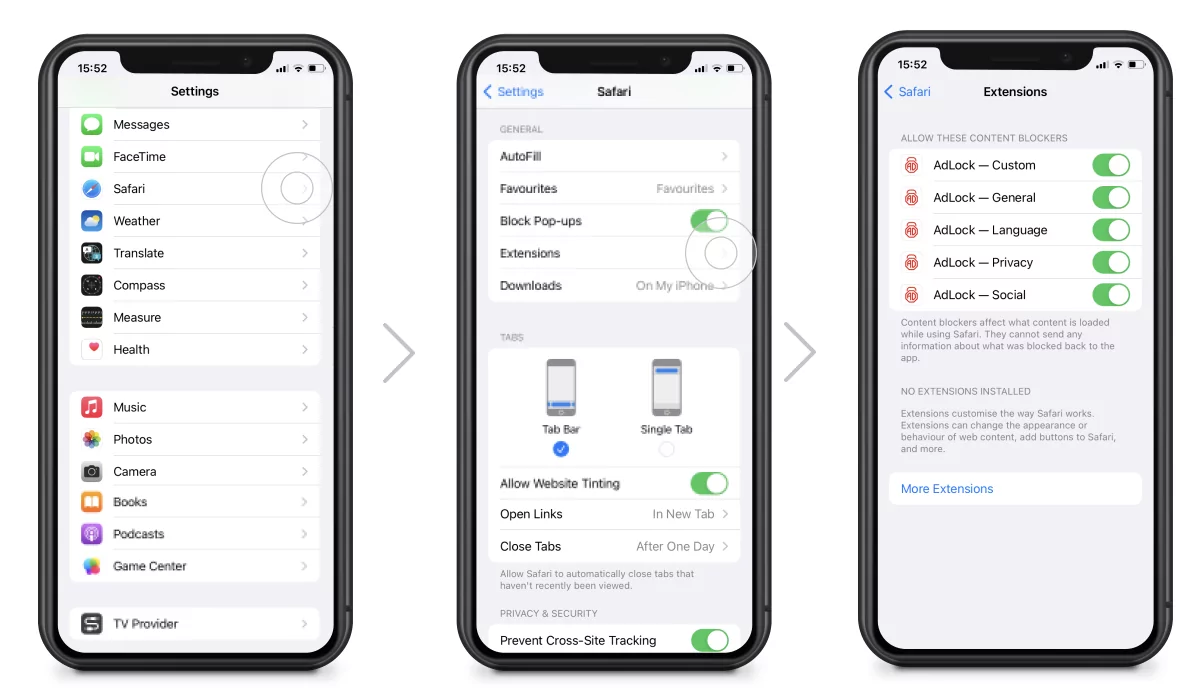 Final Thoughts
Congratulations! You've made it to the end of the article on how to remove ads in Wordscapes. We hope you found our tips helpful and that you're ready to enjoy playing the game without sponsored interruptions. Remember that AdLock is a way to have other games and applications, like the Scrabble app, without ads, making your mobile gaming experience much more enjoyable. With AdLock's system-wide ad-blocking software, you can rest assured that your privacy and data are protected while you play. Thanks for reading, and happy gaming!
Frequently Asked Questions
Worth it to remove Wordscapes ads?
It's up to you and your feelings about the game. If you're really a devoted fan and want to support developers, go ahead and make a contribution. Otherwise, consider other methods to remove ads from Wordscapes.
What games are similar to Wordscapes without ads?
There are many mobile word games similar to Wordscapes: Word Cookie, Word Search, Word Connect, SpellTower, and many so. Most games provide paid ad-free options. And you can use AdLock to block their ads.
Wordscapes ads keep popping up. What should I do?
You can do several things to try and get rid of them. One option is to purchase the ad-free version of the game. Alternatively, you could try playing the game in airplane mode or use an ad-blocker like AdLock. It's also essential to ensure that you have the latest version of the app installed, as updates can sometimes fix issues with ads. If the problem persists, contact the game's customer support for assistance.
How much does it cost to remove ads in Wordscapes?
The cost varies from user to user. Usually, it's $5.99. You can learn the exact price by tapping the coin icon to open the Shop, where you'll find the REMOVE ADS option.
If I pay to remove ads from Wordscapes, will ads be removed on other devices too?
It depends on whether you signed in to Wordscapes when purchasing the game's ad-free version. If you did, then yes, the ad-free option will be linked to your gaming account. If you did not, then the ads will be removed only from the device on which you made a purchase.
Unlock Ad-Free Gaming Bliss
Do you like this post? Share it!