How to Block Ads on Wordle: Quick Ways to Block
Ad-free Season Starts Now!
Being bored during the pandemic, Josh Wardle got into The New York Times' daily word puzzles and got the inspiration for his own game. That's how Wordle was born. At first, only Josh, his partner, and his family played the game, but in October 2021, he made it public. Wordle's popularity grew really fast, from 90 players in November 2021 to over 2 million in January 2021. Fans dearly love the game, look forward to every new daily puzzle and excitedly share their results on Twitter. That's why most gamers felt concerned when in January 2022, the New York Times Company bought Wardle, expecting the game won't be free anymore. However, NYT promised to keep the game free but with added advertising. The NYT Wordle saved its laconic design and only got banner advertising. Yet, sometimes, banners can overtake half of the page, making it complicated to play.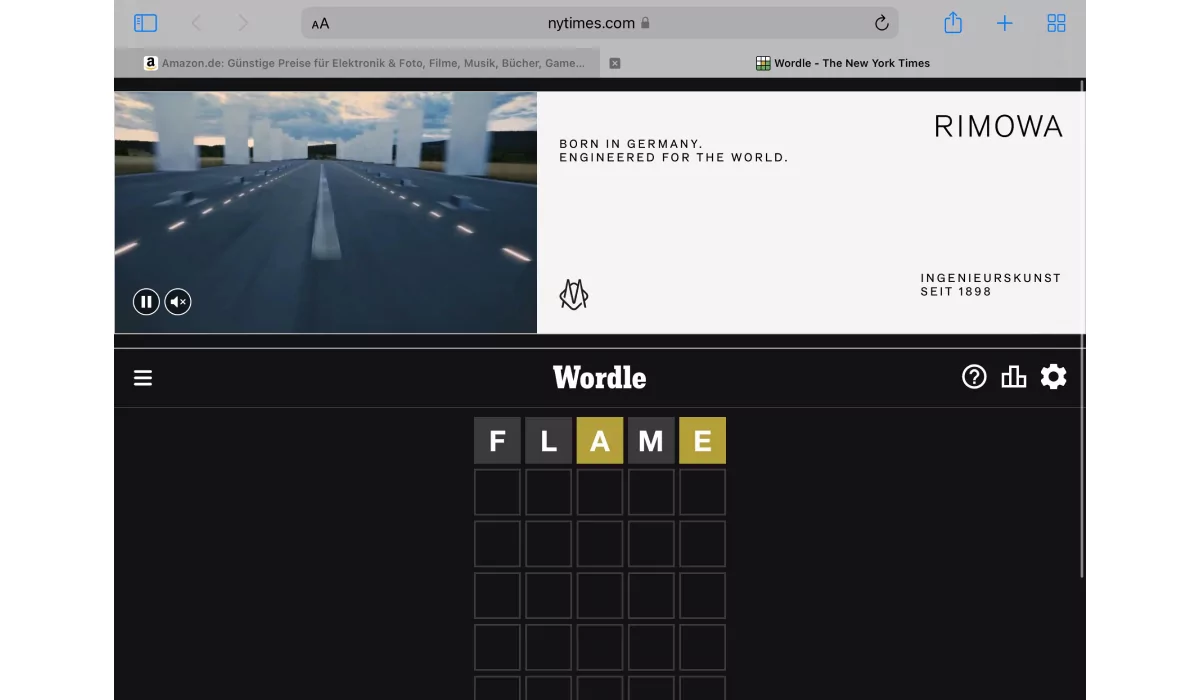 The application versions of Wordle are much bolder with advertising. The most popular Wordle game in App Store and Play Market has the worst case of interstitial video ads and banners I've ever seen. You can't skip the video ads or exit them until they're done playing, and you should figure out when it happens on your own because they rarely include a timer. And banner ads are just an eye sore against the unnecessary vivid background of the game. Luckily, this article will show you how to remove ads from Wordle in the browser and apps. And spoiler alert, AdLock will help you with both.
How to Play Wordle Without Ads
There are five ways you can play Wordle without ads:
Install an ad-blocking browser extension.
Pay for an ad-free version of the game.
Install an ad-blocking application.
Play in flight mode (there is nuance).
Download a modded .apk of the game that contains no ads.
How to Get Rid of Ads on Wordle on Android
Purchase an ad-free version. If you want to know how to get Wordle without ads legally, then your option is to pay for the Pro/Premium version of the game. Tap the icon of the crossed-out word AD, and the game will offer to pay $6,99 to disable ads permanently. You can still watch ads for bonuses if you will.
Flight mode. You can use my favorite trick and enable flight mode to block Wordle ads from downloading. HOWEVER, this method has a giant nuance: Wordle contains advertising of its developer's other games that display between rounds and doesn't require the internet. So, there is no way to play Wordle without ads for free on your mobile device.
Modded apk. Find and download a modded apk of Wordle, no ads on the internet. But be careful as the unknown apk can contain malicious code exposing you to trackers or intruders.
AdLock. The easiest way to play Wordle ad-free is with enabled AdLock. AdLock is a system-wide ad-blocking software that disables third-party tracking and makes your web experience safer and more private. Aside from Wordle, AdLock also removes ads from most games and applications. And it costs only $12 yearly or $3,49 if paying monthly. Now it's time to download AdLock for Android, install it, and complete the following adjustment:
Launch AdLock and tap a hamburger menu and choose Settings.
Tap Check for Updates and tap UPDATE in the next window.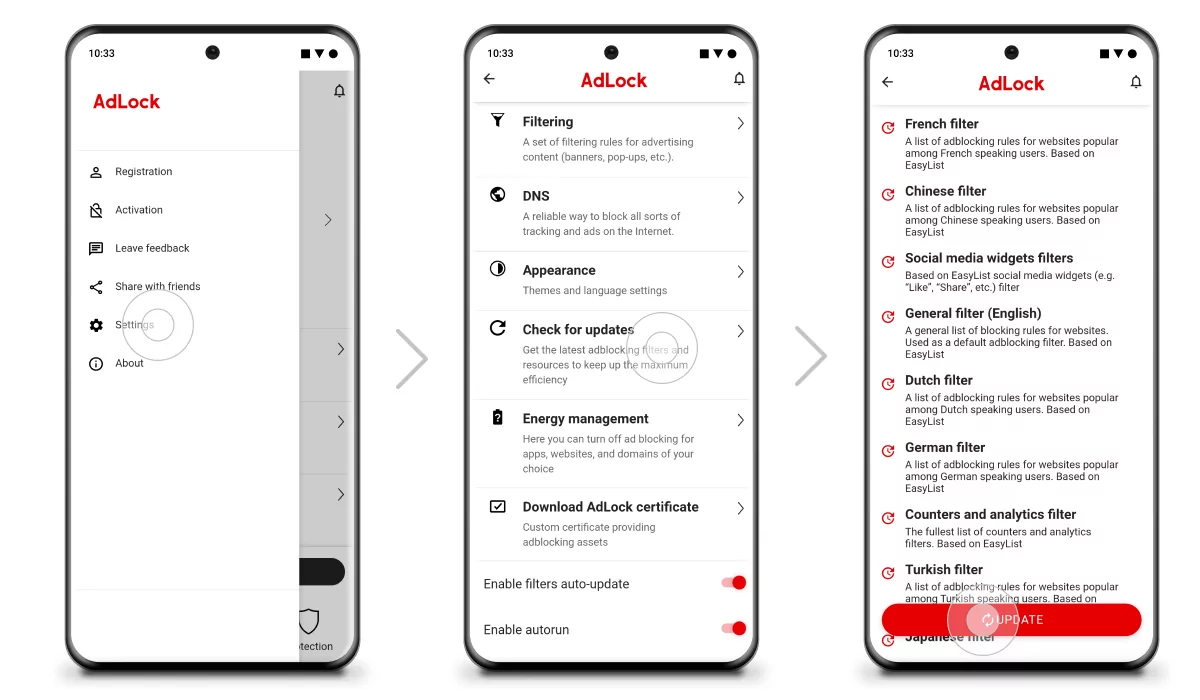 Tap a hamburger menu and choose Buy now and select your plan.
Go to the AdLock tab and install the AdLock certificate to enable HTTPS filtering. In a pop-up window, tap OK. Verify your identity in the following window by scanning your fingerprint, setting a graphic key, or creating the password. Make sure to remember that key.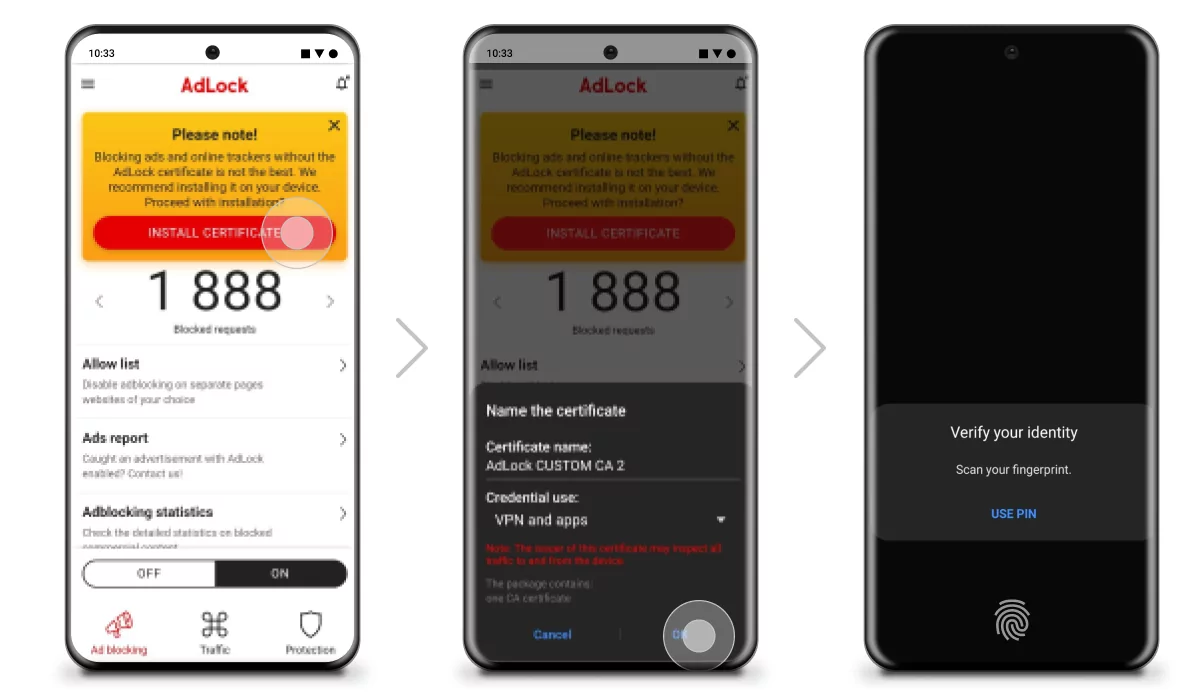 That's it! No more ads on Wordle for you!
Read Also: How to get rid of ads on Duolingo
Wordle Without Ads on iPhone
The same methods that remove ads from Wordle on Android work on iOS, except for modded apks. You can pay $6,99 for an ad-free version, try flight mode and still watch the inbuilt adverts or stick to the best method, AKA AdLock.
How to block ads on Wordle for free on iPhone/iPad:
This method works only for the NYT Wordle in the Safari browser.
Download and install AdLock for iOS.
Open Settings, find, and tap Safari.
Tap Extensions and switch on all AdLock toggles.
Launch AdLock, and tap the Ad-free web surfing toggle to enable ad-blocking.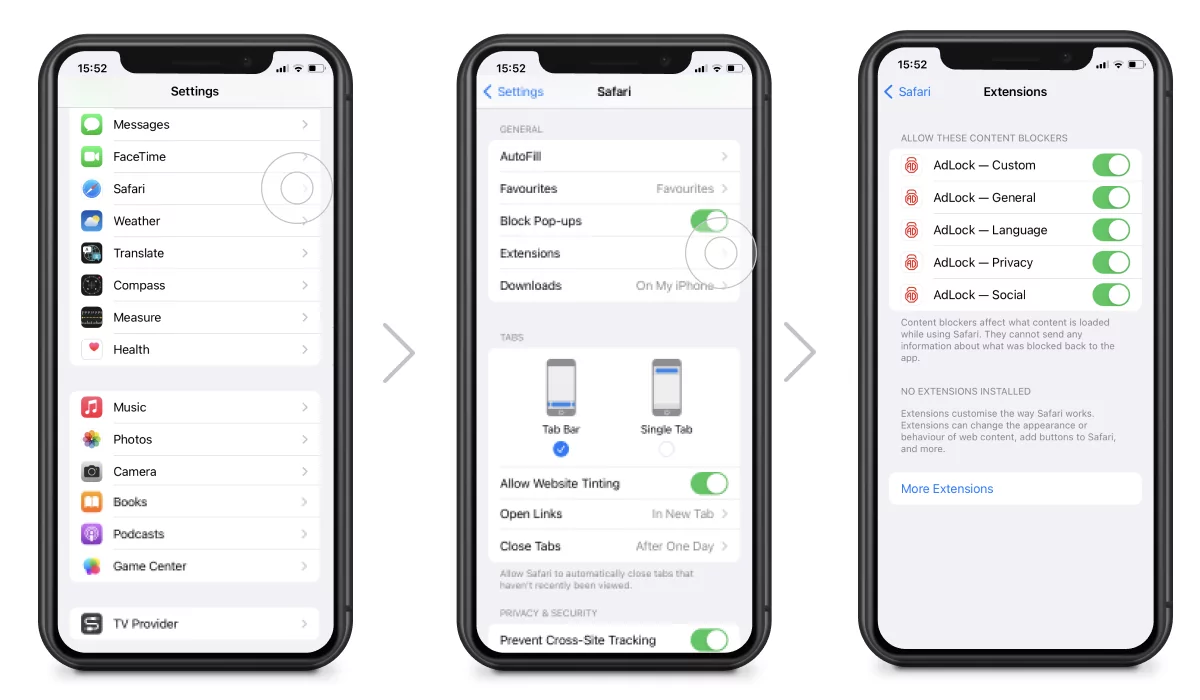 How to stop ads on the Wordle app on iPhone/iPad:
Complete the four steps from above.
Tap the Premium toggle and choose a $12 yearly or $3,49 monthly plan. You'll get a 7-day trial, and if you don't like the work of AdLock, you'll receive your money back, no questions asked.
Voila. Now your iOS devices are also free from ads.
AdLock Extension for Blocking Ads in Wordle on Web
The die-hard fans of Wordle exclusively play its official version on The New Your Times website. Seeing a banner cover your game might be frustrating when you only play one round a day. I hope the NYT will solve the issue in the future, and in the meantime, we will block banners with a free AdLock extension. We offer AdLock Chrome extensions for Windows and macOS and an AdLock Safari extension for macOS.
How to play Wordle with no ads on Chrome: download AdLock for Chrome and install it, and that's all. The extension will start working automatically.
How to play Wordle with no ads on Safari:
Press Open settings in the dialog window;
Tick boxes next to AdLock and AdLock Icon in your Safari settings;
Enjoy surfing the ad-less web.
The AdLock extensions work perfectly in the browsers, but they lack functionality, and already in January 2023, they might stop working. Why don't you take a look at AdLock applications for Windows and macOS? Our apps block ads in all your browsers, games, and apps, protect you from tracking and your device from malware, and they will work forever because AdLock doesn't depend on tech giants.
Read Also: How to stop ads on Fandom
AdLock Helps Block Ads Even in Wordle Clones
The knock-offs of Wordle come with an even greater amount of advertising and a ridiculous price for Premium. That's because app marketplaces don't tolerate copyright infringement, and developers try to squeeze as much as possible from their apps before they get banned. But ads are never a problem for AdLock. Our app will block ads in Wordle clones just as successfully and also you can use this in other games like play Scrabble without ads.
Final Thoughts
I must say that The New York Times web Wordle is rather polite with advertising. We can tolerate a few ad banners once a day. I believe the company will solve the issue with their layout and won't frustrate us anymore. On the other hand, the app Wordle needs serious talk because it's unacceptable to treat users like that. It's an unhealthy tendency among mobile games to flood the apps with ads up to the very roof. If I recall correctly, we had the same worries in the article about how to get rid of ads on Words with Friends. The best way to show game publishers your dissatisfaction with their advertising policy is to use an ad blocker. Download AdLock today and start a conversation with them from a winning position.
<h2 id="P7"<FAQ
How does Wordle work?
You need to guess a 5-letter word in six tries. First, you type any 5-letter word in the first line. If the hidden word contains letters from your word, those letters will be colored orange. If the guessed letters also appear in the right spot in the secret word, they will be colored green. And letters that are not in the word will be grey. Fun fact: MIT researchers found that the best word to start the game is SALET. I tested it and won on my fourth attempt playing first time ever! Salet works only in an NYT web version of the game, not in the apps. In the app, you can try Bill Gates' favorite starter word, AUDIO.
Why is Wordle so popular?
It's about community. Every day thousands of people worldwide open Wordle for the word of the day and try to solve it. Then they can show off their results to friends on social media. That unites people and attracts new fans, just like sports.
Does Wordle have lots of ads?
The number of ads depends on the platform. The web version from NYT has only banners that are not particularly distracting. The Wordle apps are flooded with ads, the worst of which are unskippable video commercials that can't be exited.
How much is Wordle without ads?
Wordle without ads costs $6,99.
What are the games similar to Wordle?
There are plenty of games inspired by Wordle and built on its formula: Nerdle (like Wordle, but it's math), Worldle (like Wordle, but with countries), Quordle (you guess four words at a time), Absurdle (the word changes every guess, what?!), Heardle (like Wordle, but with music), Framed (like Wordle, but for movies), Crosswordle (the word is written in the bottom line, you figure out the wrong guesses to complete the Wordle grid), Squabble (competitive Wordle with multiplayer), etc.
How do I get rid of ads on Wordle on my iPhone?
If you play the NYT version in Safari, free AdLock will save you from ads there. If you play in the app, you either pay $6,99 to game developers to get rid of ads permanently, but there is nuance, or use one of paid AdLock plans. Read the above article for detailed information.
Ad-free Season Starts Now!
Do you like this post? Share it!
Do you like this post? Share it!