AdBlock Plus Alternative for Android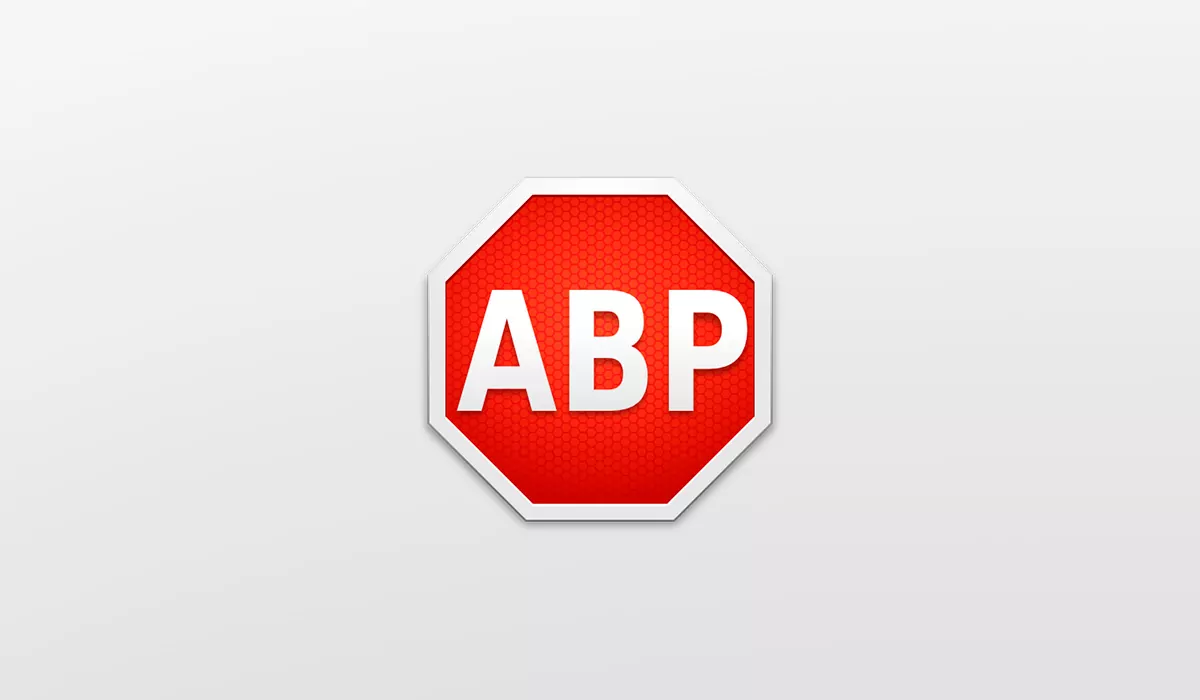 Online advertisements can be really annoying. They cover up half of your screen or pop up at the most unexpected moment. The worst part is they can be malware embedded and cause damage to your device or violate your personal data security.
The most popular way to get rid of ads is AdBlock Plus. It works almost perfect as a plugin on a desktop browser. It blocks pop-ups, banners, Youtube video ads, publicity in Skype, and dozens of other flashing advertisements. AdBlock team even designed ad blocking solution for Android mobiles called AdBlock Browser, suggesting that users will gladly use it instead of their native browsers as long as it blocks online ads.
But most users aren't ready to ditch their custom web browsers and are still looking for alternatives to AdBlock Plus.
What to use instead of AdBlock Plus?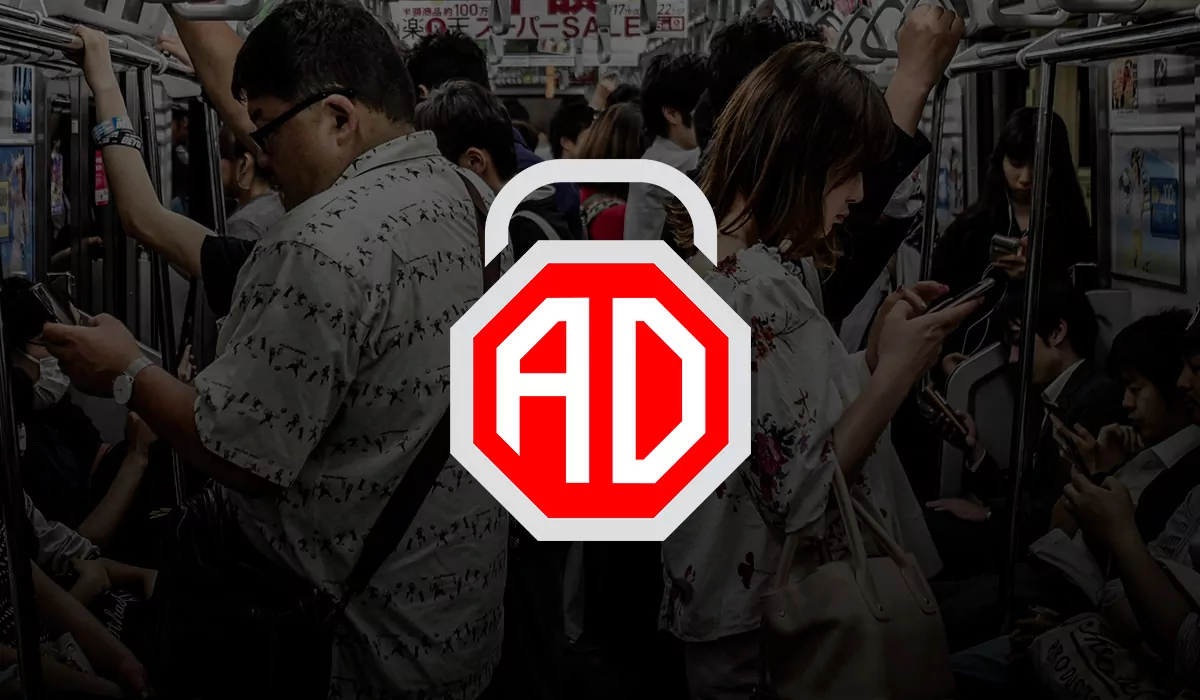 All you need is a light simple application called AdLock. This new software has already proved itself as a reliable example of ad blocking application. One software can stop ads in all apps, browsers, and games; block phishing attempts; disable spyware and bugs.
Android version of AdLock is as functional as a desktop but designed lighter to have no impact on system performance or battery life.
What's so good about AdLock?
AdLock cuts off all ads with no exceptions. We do not cooperate with third-party advertisers and won't trick you leaving allegedly acceptable commercials like other ad blockers do.
AdLock is highly strict with malware software. It blocks all phishing attempts and checks suspicious requests before you click.
AdLock provides regular reports with the number of blocked requests, deleted threats, and saved traffic.
AdLock doesn't slow downloading. You will enjoy fast connection and pages without ads at the same time.
AdLock works collectively with your system instead of overloading it.
An app like AdBlock Plus can't provide all functions AdLock can but it has own advantages. Thereby we need to analyze both of them deeper.
Why AdLock is better than AdBlock Plus?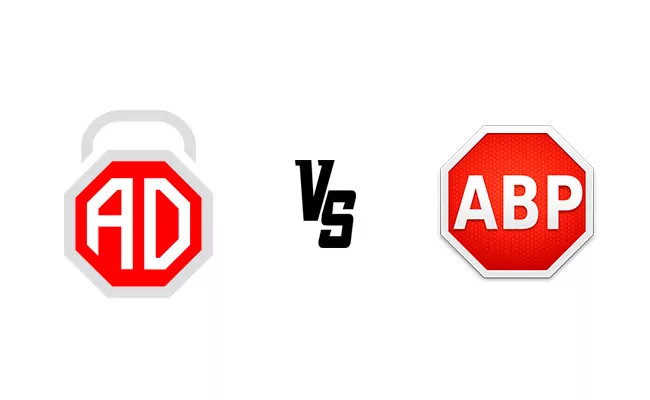 AdLock is a mobile application that works collectively with all known browsers: Google Chrome, Mozilla Firefox, Internet Explorer, Opera, Microsoft Edge whereas mobile AdBlock Plus is a browser itself you're pushed to using if you don't want to see ads. But what else AdBlock loses to AdLock? The comparison table below will show you why exactly AdLock is a great AdBlock Plus replacement:
| | AdLock | AdBlock Plus |
| --- | --- | --- |
| Availability | All devices on Android | All devices on Android |
| Price | Free*/year license/lifetime license | Free |
| Blocks ads on/in | browser, games, applications | only on own browser |
| Blocks all ads | Yes | No |
| Firewall features | Yes | No |
| Safebrowsing | Yes | No |
| Resource usage | Low | Average |
*free 14-days trial
Now let's consider items from fourth to sixth.
AdBlock Plus really doesn't remove all ads. Since 2016 our competitor has had a "whitelist" of acceptable advertisements coming mostly from Google. When you install AdBlock Plus you agree by default with showing "small reasonable ads" until you find and disable this option in settings. We think it's not fair and would never do something like that to our customers.
Firewall features: on AdLock you can regulate internet usage by different apps and control your data. AdBlock Plus doesn't have such options.
Safebrowsing: AdLock checks all suspicious website links before you click, AdBlock Plus does not.
Try the best AdBlock Plus alternative for Android now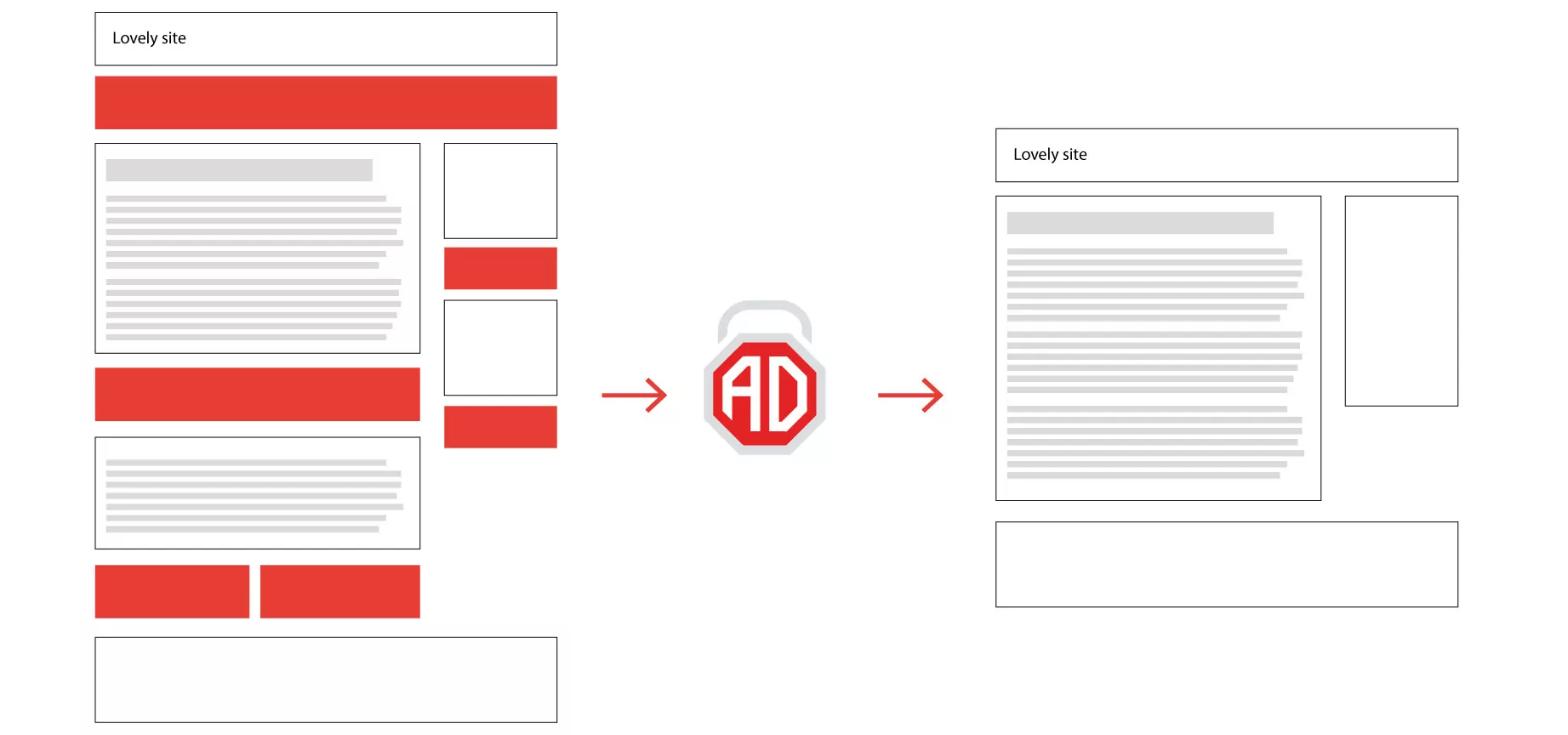 AdLock not only shield you from annoying web commercials, it protects your personal data from being leaked and your device from being damaged. It can be considered as smart antivirus which works in advance.
And yes, AdLock can replace AdBlock Plus, as it works better in every way. Download from here and enjoy ads-free internet.

Try for free today!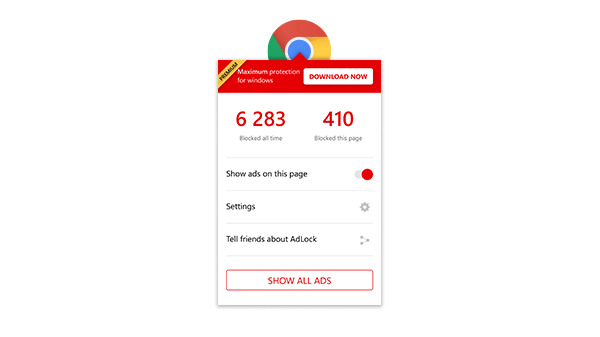 Try AdLock for free in your Chrome browser
For Browsers