Protect yourself from scam ads
If you dare, take a break from reading and open up your email's spam folder. It's almost guaranteed you'll find at least one if not dozens of emails advertising noni juice, goji berries, Herbalife's nutraceuticals, erectile dysfunction pills, manhood enlargement pumps, etc.
While it's an incredibly odd and relatively disturbing thing to be bombarded with on a daily basis, we're sure — they wouldn't keep sending those emails out if they weren't making money doing it.
Do the pills, juice, or machines they're selling actually work? Most certainly, no.
Even if they somehow do, let's be honest — any positive effect is minimal and temporary.
"This year, I'm going to lose some weight/gain some muscles/start eating healthy/etc./etc."
Many of us would find ourselves making this common New Year's decision. A new year rolls in, we even start working out and eating healthy, but the results aren't considerable. All of a sudden, while binge surfing the web BANG — weight loss pills advertisement ensuring measurable results in weeks. You'd say "Nah, yet another useless stuff…" while hundreds would buy into that stuff.
Many types of these "plug-in and chill" products are offered via serious-looking advertisements that include endorsements from "scientific" researchers, celebrities, "real doctors",  but if you look closer, you'll see that claims of safety and effectiveness haven't been anyhow proved. Vendors rely on testimonials, falsified data, and rigged before-and-after photos. 
Weight Loss
Right before we get to the point, it's reasonable to admit — dietary supplements and their dosage are not controlled by the FDA. What it means, is that thousands of scam manufacturers are not obliged to prove safety or effectiveness of their nutraceuticals.
(credit: U.S. Food and Drug Administration)
Weight loss scams are among the most common and widespread. People around the globe want to lose weight, and fake benefit goods promise the moon without the hassle of diets or physical exercises. Unfortunately, there is no magic pill or sorcerer's potion that would make you slim and fit instantly. Nevertheless, people's naivety is endless, and con artists continue to cash in on it. Weight loss scammers use a variety of methods to lure you into purchasing their worthless products. Many create websites that appear to feature articles from legitimate magazines or news organizations pressing the magic weight loss products on naive people. 
Recall once hyped Garcinia Cambogia. This tropical fruit became popular worldwide after being featured on a TV show about 5 years ago. For those who missed the hype, Garcinia Cambogia was a "breakthrough discovery" capable of burning fat in just a couple of weeks. Haha, doesn't it remind of once hyped goji berries?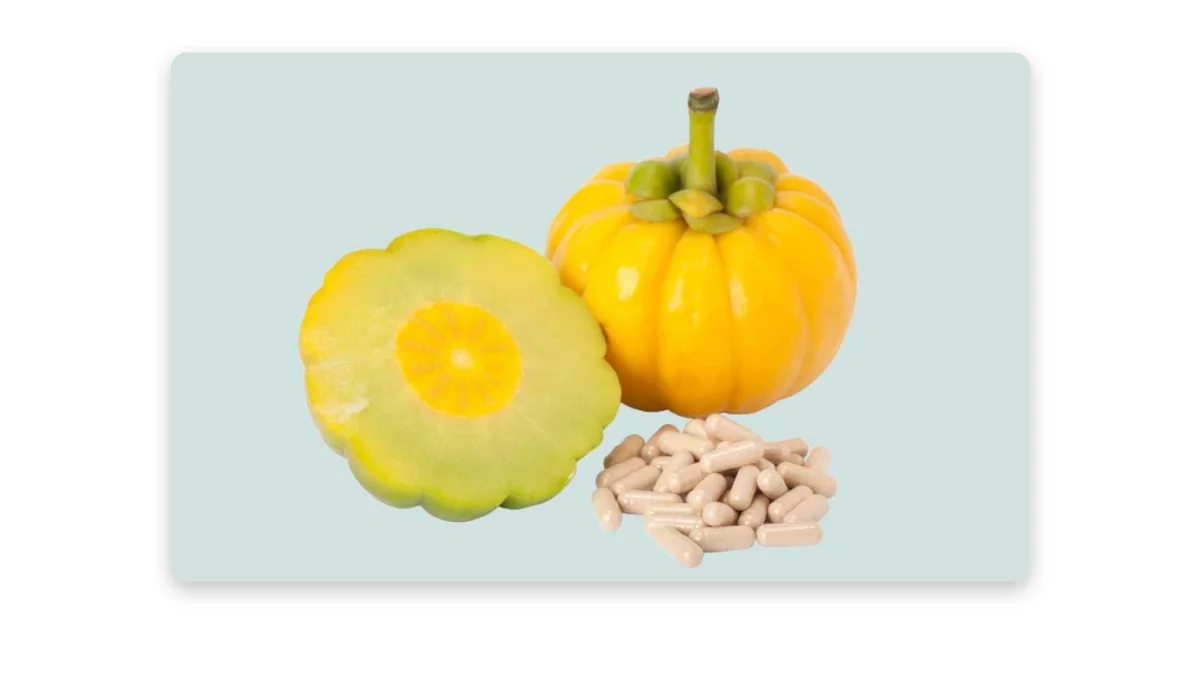 One study with 130 people (with no significant difference in weight or fat percentage) compared Garcinia against a placebo pill. On average, Garcinia-containing nutraceutical caused a loss of about 2 pounds (0.88 kg) over several weeks. What a result! With its side effects including dizziness, headache, upset stomach, and explosive diarrhea… 
Unironically, pills that contain Garcinia are still available on the market.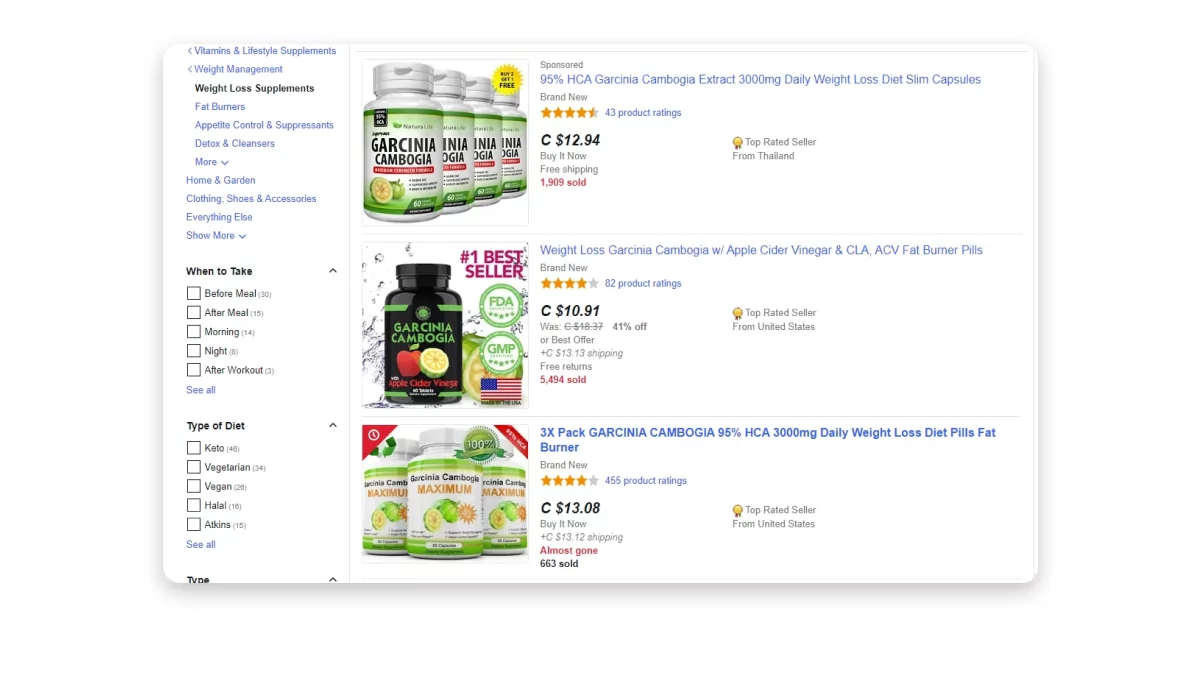 Did you know, that there's a way to block ads on ebay? Numerous commercials dressed up as regular goods/services cards can be brushed off easily. Read this article and clean up your Internet experience!
Muscle Growth
People who are into sports and bodybuilding know how challenging it is to build lean and ripped muscles. Years of training, gym workouts, and specific personal diets — just the tip of the iceberg. But what if I say, that there's an easy way of growing muscles? What if I say that you can burn fat and pump up to become almost as big as Arnie without gym hassle?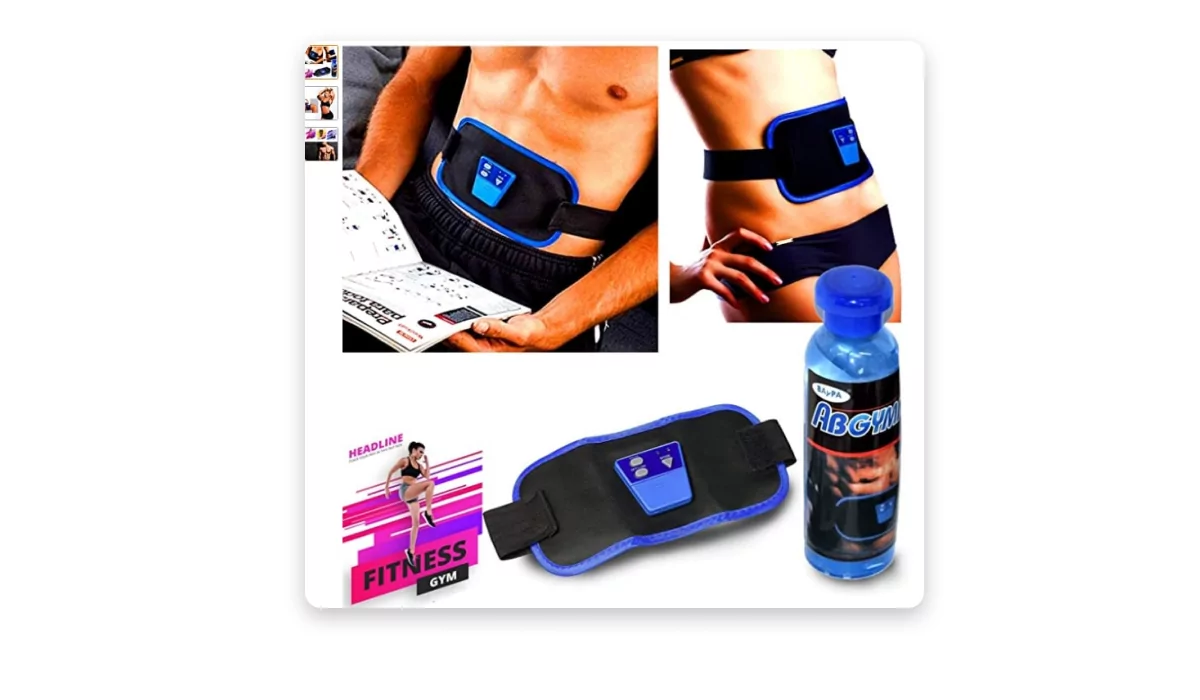 No exercises, no diet, no gym — a godsend for people busy 24/7. Just put that stuff on while relaxing and get your muscles pumped and fat burned. Excited? We bet you are. 
Jokes aside. Ask any professional bodybuilder about these belts. They would in one voice say "TRASH. USELESS TRASH."
At least, belts do less harm than other supplements like Synthol. For those not familiar with Synthol, it's a mixture of oils that offers immediate muscle mass enlargement effects. This liquid has actually been on the market legally for years. You might think Synthol is some kind of steroids, but hell no. People, seeking for instant muscles, inject Sythnol deep into the biceps, deltoids, and triceps without thinking of the consequences. The substance is considerably dangerous. Just Google for "Synthol freaks" or "Synthol bodybuilding" and see for yourself.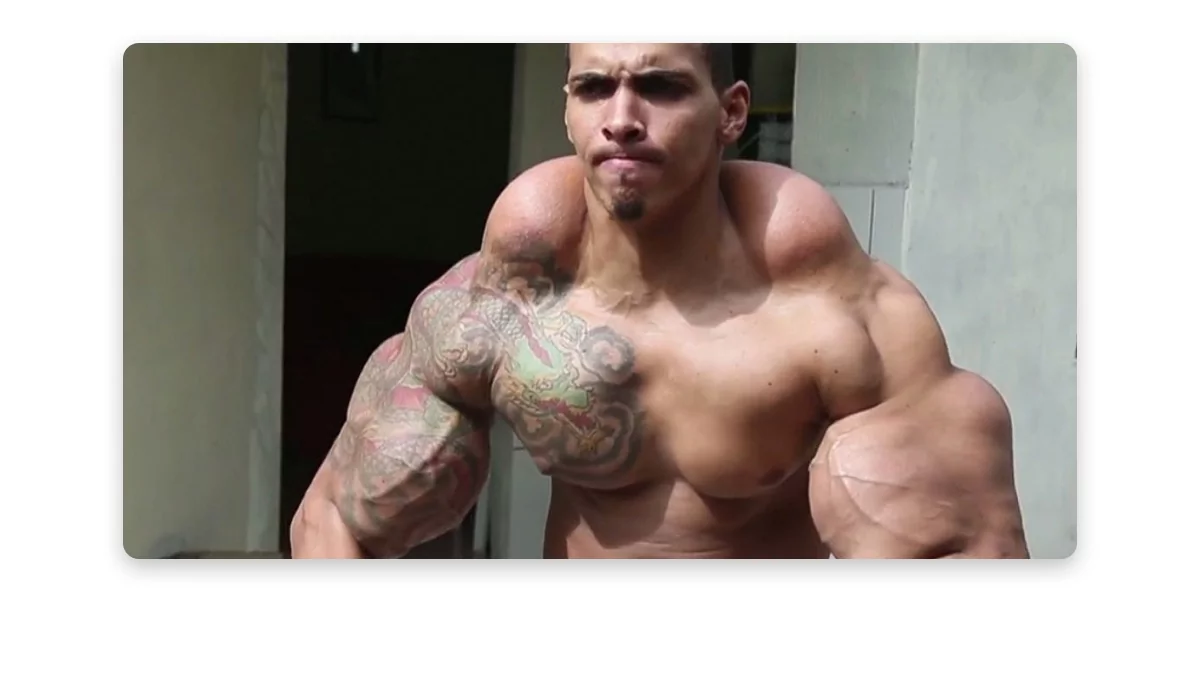 Manhood Enlargement and ED Cure
The overwhelming majority of fake benefit products sold on the market have never been examined scientifically, neither they were proven to positively affect the Erectile Dysfunction issue. Just like in the case with dietary supplements, ED "medication" use and dosage are not controlled by the US Food and Drug Administration. Since FDA has little influence on ED medication, its safety for health raises serious concerns, especially if those "medications" are used in heavy doses, and for long periods of time.
The Journal of Sexual Medicine's 2015 review explored and researched a couple of the most frequently used compounding components in non-prescription "nutraceuticals" offered for men's sexual health improvement. The purpose of the review was to search for any scientific evidence and to determine if these products are effective and safe.
Unironically, no scientific evidence was found, no medical confirmation, just fraud claims that they improve ED and other areas of men's sexual performance.
It was also noted in the research that some "natural" products in the online stores contain traces of PDE5 inhibitors (contained in worldwide known Viagra, Cialis, Levitra, Stendra). Researchers also cited a study that found 81% of tested non-prescription products purchased in the U.S. and Asia contained PDE5 inhibitors, which are potentially harmful and dangerous. Among the dangers are sudden blood tension drops in men suffering from coronary vascular diseases or in those who take nitrate medicines. (Credit: Harvard Health)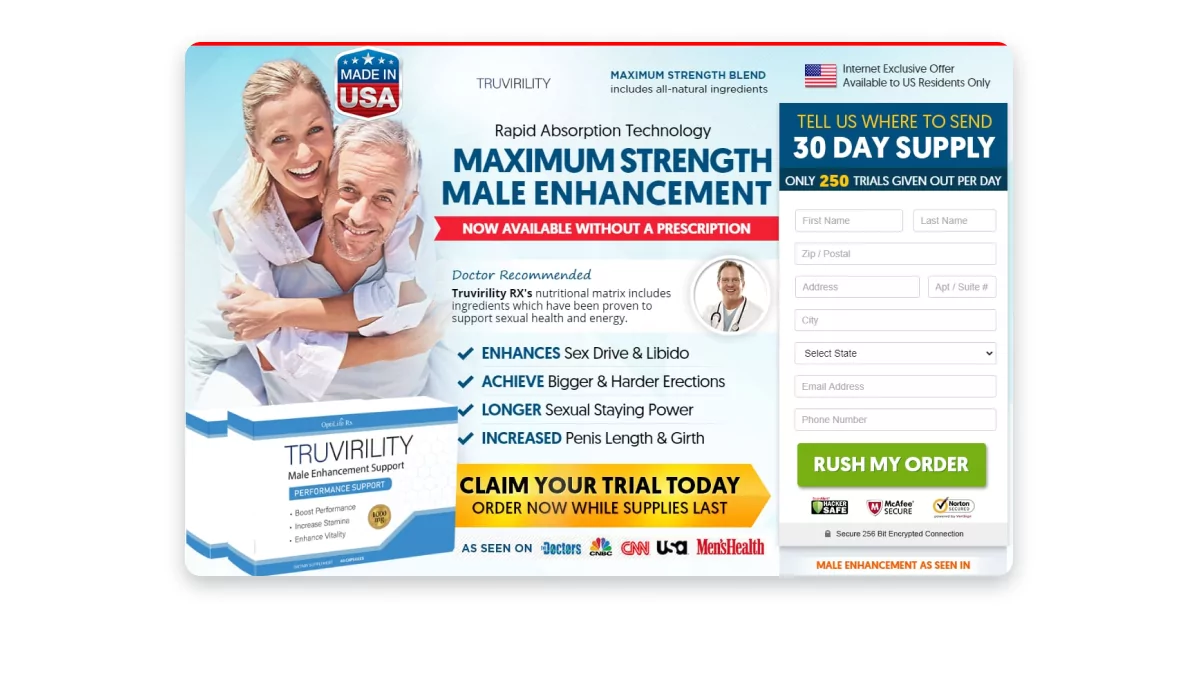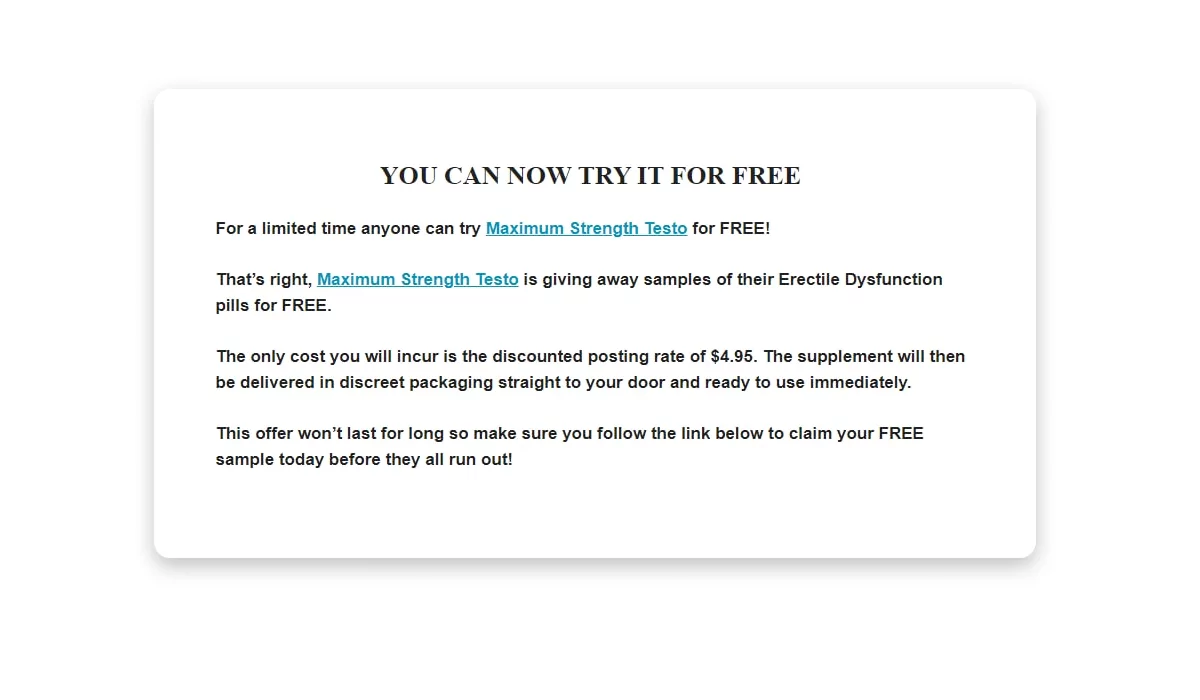 Bottom line
Scam ads randomly appear in your social media feed, news websites, email inbox. You see, these sleazy little scam ads are successful because they appeal to the vain and insecure part of every human. Worries that we're not good enough, not big enough, not strong enough provoke us to lap fake goods up. The problem is that we lack self-confidence and the will to work on ourselves.
What to look out for
Strange methods of payment. Scammers may request payment using electronic funds transfer, money order, preloaded money card, or wire service. This is a big no.
Too good to be true. Scams often advertise great benefits or items at unbelievably low prices.
Strange web address. The link from the advertisement appears genuine but when you click it, it redirects you to untrustworthy and, oftentimes, dangerous domains.

No customer reviews. Be wary of shopping pages that are very new, selling products at very low prices, and have no (or fake) customer reviews.
No contacts or store policies. Be wary of websites that provide no contacts, privacy /returns policies, or terms and conditions of use.
Protect yourself from scam ads