How to Remove Ads From Pandora
If you're looking for ways of removing ads from Pandora, you've come to the right place. Welcome to our blog!
Pandora is a music streaming platform with an automated recommendation music service for lazy music lovers. It customizes radio channels according to your preferences. By playing songs with similar musical traits, Pandora collects "thumbs up" and thumbs down" feedback from users to then customize playlists and subsequent songs to play.
Pandora is a freemium product, and like all freemiums, it's limited in features and loaded full of adverts. There are three major types of Pandora ads:
Banners — the softest adverts that just quietly stick to your screen;
Video ads — the more annoying type though sometimes can be entertaining;
Audio ads — the most obnoxious commercials interrupting your binge listening and there is no way you can shut them off.
This article will show you ways to skip ads on Pandora using several methods including one of the most efficient ad blockers on the market – AdLock.
From year to year, the number of ads on smartphones gets bigger and bigger. Some publishers show us that it's possible to stuff as much commercial content as you wish. But luckily there is a simple answer to your question about
how to block ads on Android.
Contents
Pandora Implemented Interactive Voice Ads
On top of already annoying audio commercials, Pandora Radio has added audio ads that directly involve users.
This audio advertisement format avails of Pandora's voice technology, implemented for the purpose of smart voice assistant, launched in 2019. Voice ads are streamed to involve Pandora users in interaction with commercial content by answering questions aloud. Yeah, if you were asked if you are hungry, you'd have to answer "Yes" or "Nope" and then hear some suggestions about where to go and what to eat.
By making the advertising interactive, Pandora makes its listeners pay attention to the advertiser's content, hence increasing the outreach. It's believed that this approach helps to create a more meaningful way of advertising. From the advertiser's point of view — yes, definitely, but from the listeners' point — hell no. We just want to listen to our favorite music, don't we?
How to Block Ads on Pandora Using AdLock
The easiest, the quickest, and yet the cheapest method to get no more annoying ads is to use a Pandora ad blocker. AdLock is an all-in-one app solution to delete unwanted commercial and scam content throughout your device. It takes you only a moment to install and adjust AdLock and then it starts to block ads in browsers, apps, messengers, games, and everywhere. You can try out AdLock during the 14-day trial and then decide whether you want to experience pure content or would rather prefer adverts all over the place. A year license for a fully-featured AdLock application costs $11 for Android and $27 for Windows.
AdLock for Windows
To listen to desktop Pandora with no ads install AdLock for Windows. AdLock will take over the operation and suggest the perfect installation folder. Launch the app after the installation has finished and that's all. You can freely press the close button, so the AdLock would do its blocking stuff in the background removing every ad on your way.
AdLock for Android
To block Pandora ads in the app, you need to download AdLock for Android install it, and follow the instructions in the guide below to adjust AdLock:
Enable AdLock and its adblocking utility:

Launch the AdLock application;
Check for updates;
Enable HTTPS filtering;

Since commercials and their insertion constantly change to override ad-blocking services, it's essential to have a relevant version of AdLock. To update ad-removing algorithms, filtering scripts, and rules, launch the AdLock application, tap the hamburger menu at the top right corner, and choose "Check updates". In a new menu tap "UPDATE ALL".

Switch to the AdLocker tab and enable HTTPS filtering. In a pop-up window tap "OK". Then you will be asked to set a graphic key to verify your identity for future actions. Set a pattern you surely will remember.

That's it! Enjoy Pandora without ads!
Remove Ads on Pandora by Upgrading Your Account With the Mobile App
Even though Pandora is a free app, it offers three paid types of subscription: Pandora Plus, Pandora Premium, and Pandora Premium Family. Each subscription can be purchased monthly or annually: Pandora Plus is $4.99/month or $54.89/year; Pandora Premium is $9.99/month or $109.89/year; Pandora Premium Family is $14.99 monthly or $164.89 annually. For the price, you will get, besides ad-free Pandora, unlimited personalized stations, several stations for offline listening, search and offline listening to songs (for Premium), higher quality audio, and unlimited skips and replays. And here comes the first trap unlimited skips are limited to 6 skips per hour. If you want to skip more songs you'll be offered… well…to watch an ad. I leave it to your discretion to decide whether that's fair and only guide you on upgrading your subscription to commercial-free Pandora.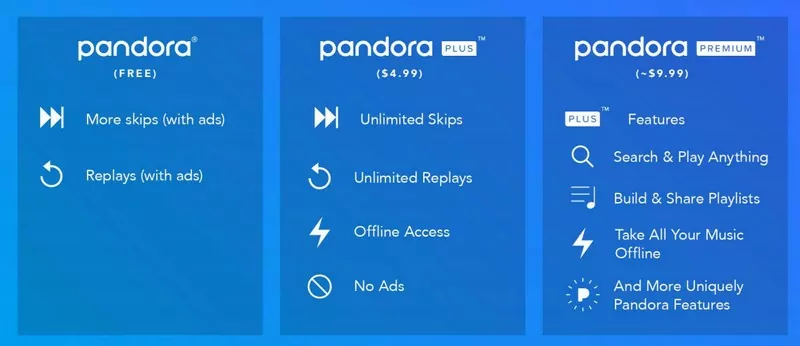 How to upgrade to a monthly subscription to Pandora Plus or Pandora Premium
Launch the Pandora app and tap the menu icon and choose Settings;
Select Upgrade and you will then be taken to the Google Play payment page;
Check the box stating that you agree to the payments for Google Play Terms of Service;
Confirm the purchase by selecting Accept & Subscribe;
Your subscription will be set to auto-renew by default, but you can deactivate this option anytime;
And here comes the second trap — you can purchase an annual subscription to Pandora Plus, Pandora Premium, or Pandora Premium Family only from the browser.
What's the difference between Pandora Plus and Pandora Premium
So, Pandora Plus is one of the three subscription options available for users to choose from. You can enjoy its features at a $5/month tag or $55/year. Now about features.
Ad-free music and podcast streaming;
Unlimited skips and replays;
Offline music (3-4 preferred playlists);
High bitrate;
On-demand songs.
Talking of Pandora Premium, which is 2 times more expensive, we're talking of $10 per month or $110 per year. For this money users get all the same features that Pandora Plus offers and a couple of bonus ones. They are:
Playlist customization;
Access to on-demand music and podcasts;
A Family Premium plan for up to 6 participants (+$5/month).
It would be also fair to note that Plus users can only create playlists while Premium users can also share them.
Get Rid of Ads on Pandora by Upgrading to Pandora Premium on Desktop
Visit www.pandora.com/upgrade.
Select the subscription plan you prefer.
Choose your method of payment:
Agree to the Pandora Subscription Terms and submit your payment. Your subscription will be set to auto-renew by default but you can disable it anytime later.
To admit, users have the option to try Pandora Premium for up to a 90-day trial period. It is redeemable only on pandora.com/redeem. Pandora Premium Trial Pass is open to US residents 18+, no purchase necessary, and can be used only once. If you do not want a subscription once your Trial expires, you must disable auto-renewal prior to the expiration of your Trial.
How Else Can Adlock Help Besides Blocking Ads in Pandora?
If Pandora is not your final choice as a music streaming service then you might also consider using Spotify as well. AdLock does a great job of removing Spotify ads as well. Taking to account that Spotify is the one and true pioneer of music streaming that still has a fairly robust free plan that offers tons of music and podcasts, you should definitely give it a try (if you haven't yet). As for ads coming in clutch in a free subscription, AdLock covers this issue. Your good time listening to music won't get disrupted by commercials if you have AdLock on your device. Just make sure the Spotify application is filtered by AdLock.
By the way, our ad blocker copes with ads across all popular streaming apps and services out there. So, if a free subscription plan to any/all of them is fine for you but adverts are pissing you off, then AdLock is a silver bullet solution. Given that it removes ads from all browsers and software by default, it's a godsend.
Hulu ads are annoying? AdLock! Peacock? AdLock! Crunchyroll maybe? You name it.
Dailymotion ads run every couple of minutes, and you can skip them once you sit through at least 30 seconds of the promo. If you are tired of them you would appreciate this guide on
how to get rid of ads on Dailymotion
.
Frequently Asked Questions
How much is Pandora without ads?
You can stop ads on Pandora app for the minimum of 5 bucks per month. Otherwise, you can get rid of ads from all the sources at once with AdLock for only $5/month. But just for one moment, you get rid of all ads across all apps and browsers at once. On up to 5 devices!
How often does Pandora play ads?
According to the official statement, Pandora users get 4 minutes of ads per hour. The average radio station on Pandora runs about 15 minutes of adverts per one hour. If you want to listen to Pnadora music without ads, you should consider using a reliable ad blocker like Adlock.
Does Pandora premium have ads?
If you're looking for Pandora without commercials, then Premium is for you. But it's only if you're using Pandora as your paid subscription only. Otherwise, you must be paying a hefty stack for all the services you're subscribed to.
Why are my Pandora ads in Spanish?
If you've never listened to a single Spanish station on your account but still have Spanish ads, then the reason for this is the large Hispanic population in the US. Why does this happen? It's because Pandora wants to capture a bigger audience. And since Spanish-language television has a larger vierwership, Pandora is trying to create commercials that will reach out to as many people as possible.
Why am I getting ads on Pandora Plus?
Taking to account that only free accounts are supported by ads primarily, it's a surprise. Please, make sure your Plus subscription is active, your Pandora session is triggered as a Premium one, and you're logged into the right account. If everything is right, be sure to contact the official Pandora support service.
How to get Pandora without ads for free?
You can get a whole 24-hour day free of ads on Pandora if you use the application at least 30 minutes a day for 3 consecutive days. Moreover, you can get a free Premium trial to listen to Pandora without ads for 90 days straight. That's it, at least for now.
Do you like this post? Share it!
Do you like this post? Share it!