Try AdLock on your devices:
Dailymotion adverts have gotten overly irritating. They run every few minutes and there is no way to skip them not until you sit through at least 30 seconds of the promo. In addition to pre-rolls, mid-rolls, and post-rolls, Dailymotion has the whole basement set aside for sponsored links hosted by Taboola adware. And it's more than enough to get you spinning a little bit as we all know how intrusive can be Taboola ads. In this article, we will consider the most relevant and reliable ways of blocking ads on Dailymotion among which, of course, is the best ad blocker on the market – AdLock.
If you love surfing Pinterest content for inspiration but can't take its intrusive avertisement? Here's how to stop Pinterest pop ups guide from AdLock.
YouTube is another live-streaming service known for its love of serving ads instead of videos. Adverts on YouTube are especially annoying while watching on a smartphone that's why many users try to find the best
YouTube ad blocker for Android
.
Why Are There Ads on Dailymotion
Being one of the largest video hosting platforms worldwide, Dailymotion has over 350 million active users watching ~4 billion videos monthly. Having that large audience, Dailymotion provides a fairly cost-efficient way for corporations to give publicity to their goods and services. This business model (monetization through ads) allows earning money for content creators and themselves of course. According to public sources, in 2021, Dailymotion has hit $19,6 million in revenue. In 2022 platform's estimated revenue reaches $27,2 million.
How to Disable Ads on Dailymotion Using Video Settings
If you are a Dailymotion partner and create your own video content, you can make it ad-free and turn off monetization. You can disable ads while uploading a video or later in the video settings. To do so, navigate to "Monetization" and choose whether you want ads to be served on your video. You can't remove ads from all your videos at a time, you have to repeat the above actions per every video.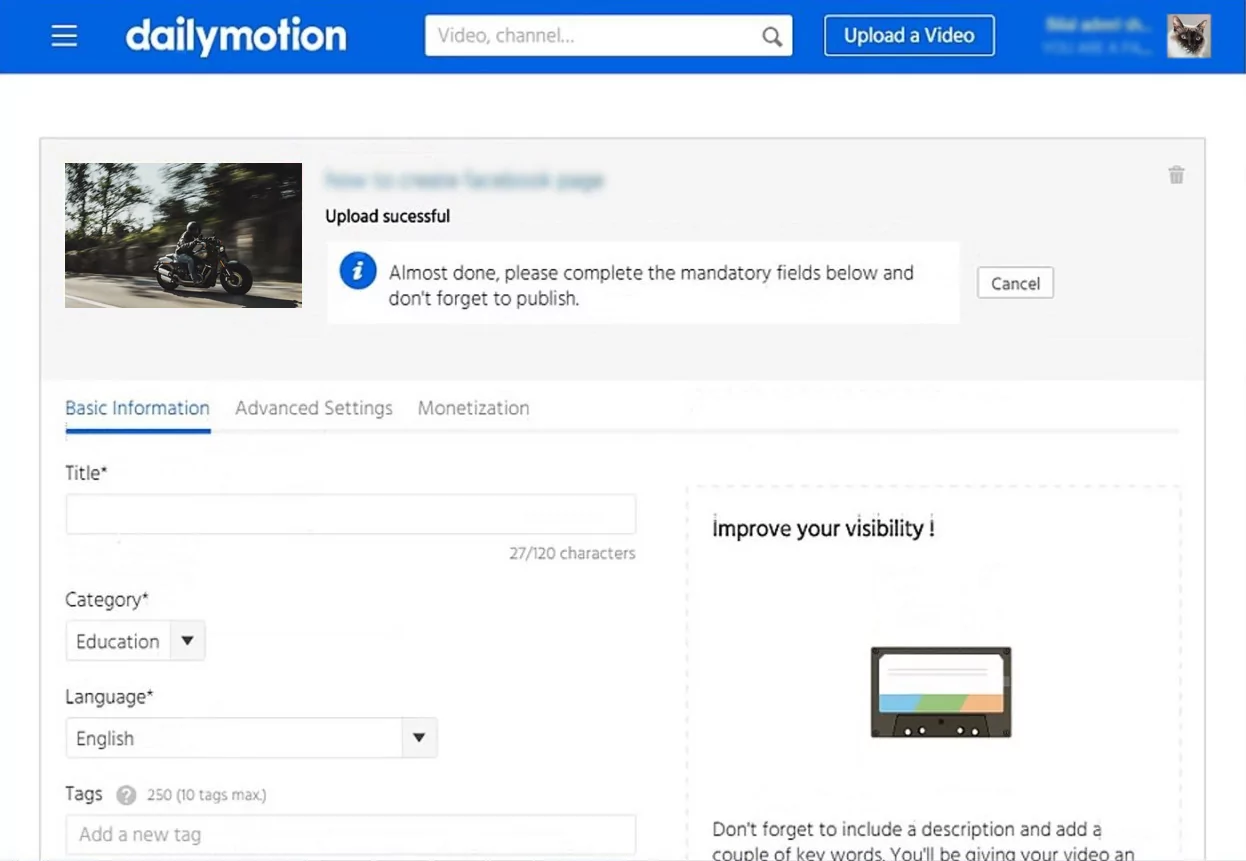 Of course, this method will hide advertising only on your own videos, so if you want to get rid of all advertising content, then the best choice is to get an ad blocker for Dailymotion. Before we get down to the best ad blocker on the market, let's show yet another way to remove adverts on Dailymotion.
Use Dailymotion Raw HTML5 Player to Disable Advertising
If you wonder how to stop ads on Dailymotion with minimum effort and expenditures, you've come to the right place. There's a solution that meets these requirements — Dailymotion Raw HTML5 Player.
This player works as a replacement for the original Dailymotion flash player. The idea behind it is quite simple. It removes all embedded commercials and promotional stuff by forcing video content to be played via an HTML5 player.
On top of adless videos on Dailymotion, Raw HTML5 Player performs way smoother and faster than the genuine one and has additional benefits for users.
To cut off commercials using this method, you need to download the script from Greasy Fork.
*Note that to run the script you need the Tampermonkey add-on for Google Chrome and Safari or Greasemonkey for Mozilla Firefox.
Searching for a free alternative to YouTube? Go ahead and check out our article! Also, learn how to stop MX player ads in our article.
Dailymotion: Ad Blocker Detected
From time to time it may happen that Dailymotion would detect adblocker and won't let you watch or do anything on the website. What's the reason for that and what should you do?

If one day visiting Dailymotion you see the "Ad blocker detected" pop-up blocking your screen, then it means your adblocker can't hide from detecting scripts. The whole thing about adblocker detection works through "bait content" invisible to the eyes. Baits are usually recognized by blockers as ads. Therefore, baits get hidden/removed which results in a change of the bait's properties. Reading the changes, anti-adblocking scripts unveil your software. What can you do on such occasions? You can whitelist Dailymotion to be able to use it while getting bombarded with adverts. You also can disable your adblocker while exploring Dailymotion and yet again get tons of ads. Is there a possibility of not getting the ad blocker detected popup, you'd ask. Of course, there is. For instance, you can get yourself AdLock – not a single detecting script can track down this phantom!
How to Block Ads on Dailymotion Using AdLock
Try AdLock on your devices:
AdLock will disable Dailymotion ads automatically from the first start of the application. Its settings are set up by default to stop all types of commercial content on browsers no matter what browser you prefer to use: Chrome, Firefox, Opera, etc. However hard you may try, you'll find a single annoying ad neither in applications nor in games. However, you can adjust AdLock to meet your specific needs. For example, if you don't mind a certain website showing you ads, then you add its URL to AdLock Allow List.
Open the "Ad Blocking" tab in the application;
Choose the "Allow List" option;
Click "Add Item". Then type a URL in this format: www.example.com. Since the moment you add an exception, AdLock applies the rule, so all websites but the excluded one will be utterly adless.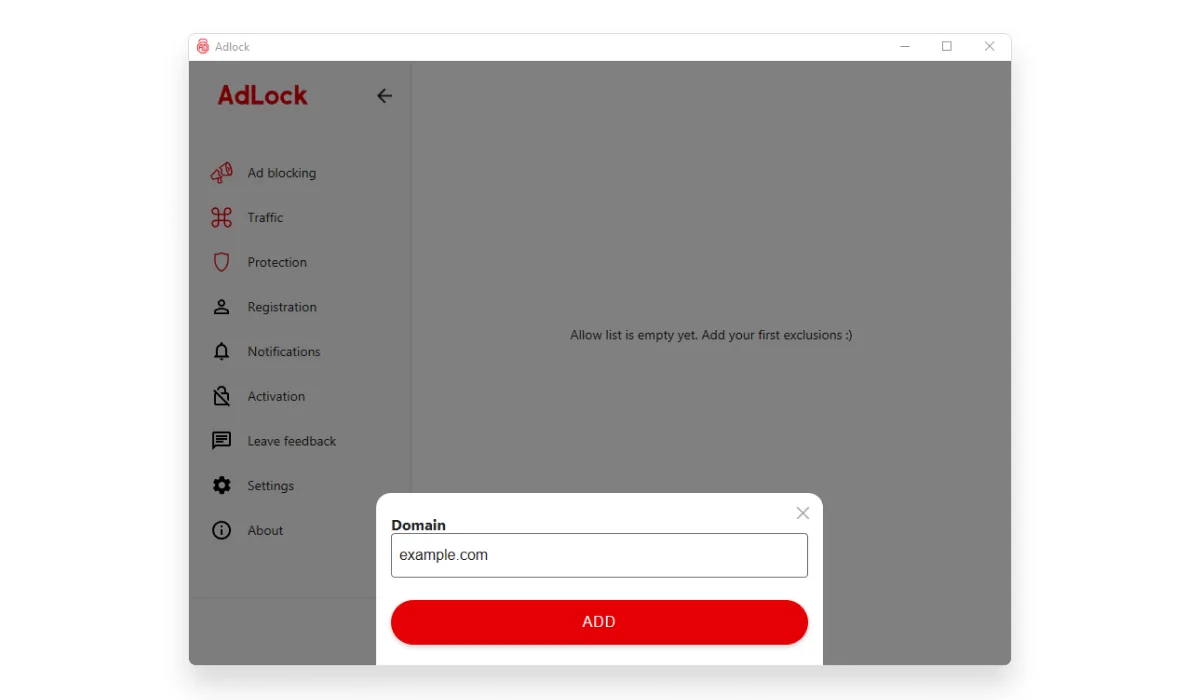 That's it. From this moment you can enjoy Dailymotion videos without ads!
Conclusion
If you want to watch Dailymotion without ads then you should get yourself a reliable and trusted ad blocker. Generally speaking, a good adblocker would help to remove not only annoying Dailymotion ads but even more. With AdLock on your device, you will forget ads even existed: it works systemwide, not just within the browser. What it means is that all your browsers and applications/software will turn clean and tidy. Moreover, if you are a security-conscious person you will definitely value AdLock's privacy and security protection capabilities! Not a single tracker out there on the Web would be able to get your data, not to mention cybercrooks or phishers. Stop hesitating and give AdLock a shot!
FAQ
Why does dailymotion have so many ads?
The reason for this is a banal itch for money. Content creators use Dailymotion as a source of income by monetizing their videos. No, there's nothing shameful in earning money for what you do, don't get us wrong. Just like on YouTube, content creators control the number of ads per video and their type – short but unskippable, long skippable, whatever. On top of that, Dailymotion also forces ads on its part and there are cases when people flame the platform for identical ads rolling in back to back. And boy are the ads loud… The volume of adverts is ear-ripping! If you somehow like this streaming website, you should know how to block Dailymotion ads. The solution is here, on the surface. Download AdLock and watch Dailymotion without ads that irritate you and kill the mood.
Dailymotion ads every 5 minutes. How to fix it?
Undoubtedly, a 20 second advert every 5 minutes can spike the viewer's hackles and make the overall experience unenjoyable. Especially if commercials pop out abruptly mid-scene and mid-dialogue. You can remove dailymotion ads by installing an adblocker. There's no other reliable workaround.
How to block ads on Dailymotion app?
If you would like to remove ads from dailymotion app on your handheld device, then the best option for you is to get an ad blocking application and add Dailymotion to those being filtered. By default, modern adblockers have all apps that force ads in the list of filtered ones, but it may happen you have to add it yourself.
Can you watch Dailymotion on TV without ads?
Yeah, you can! The best way to watch dailymotion no ads on your TV is to get AdLock on your PC/handheld device and use chromecast function. Not a single ad would sneak and dampen your spirits!