Trivia games without ads!
Everybody is going crazy about these trivia games. Especially since QuizUp and Trivia Crack became available for Android and iOS. Hundreds of millions of users are challenging each other daily trying to prove themselves the world-class smartypants. We know answers to many questions that the games contain. But one question remains: can I remove all these bloody ads and just play?
You know what ads we are talking about. They are hard to miss. Banners in the main menu and on top of the play screen are something one can deal with. But what about the unbelievably long videos between the rounds, with the super small cross that is so hard to press, and all these spam notifications… Ugh! The more you play, the more annoying this becomes. 
Lucky you, we prepared this little tutorial for removing ads from QuizUp and Crack Trivia and are happy to share it with the fellow gamers.
Block Ads in QuizUp With AdLock
Frankly speaking, there is no way better than just blocking all the ads on your smartphone. Sounds like a dream, huh? It becomes true with AdLock — the best in class adblocker. Whether you are an Android or iPhone user, there is an app for you — once installed, it's a life-changer. 
AdLock filters all the incoming traffic on your mobile device to detect the ads and stop loading them right there. That works in both web browsers and applications, and what is really important to you, gamer: yes, it does remove the ads in QuizUp too! But hold on, hold on — on top of that you will get:
Reliable protection from malware and spyware;
Enhanced security of your sensitive data;
Saving of data usage;
Extension of your battery life;
No need for ROOTing your mobile;
24/7 customer support and more.
Find your AdLock version for Android or iPhone as by far this is the best and the cheapest way to get rid of the ads in all the mobile trivia, as well as other types of games and apps.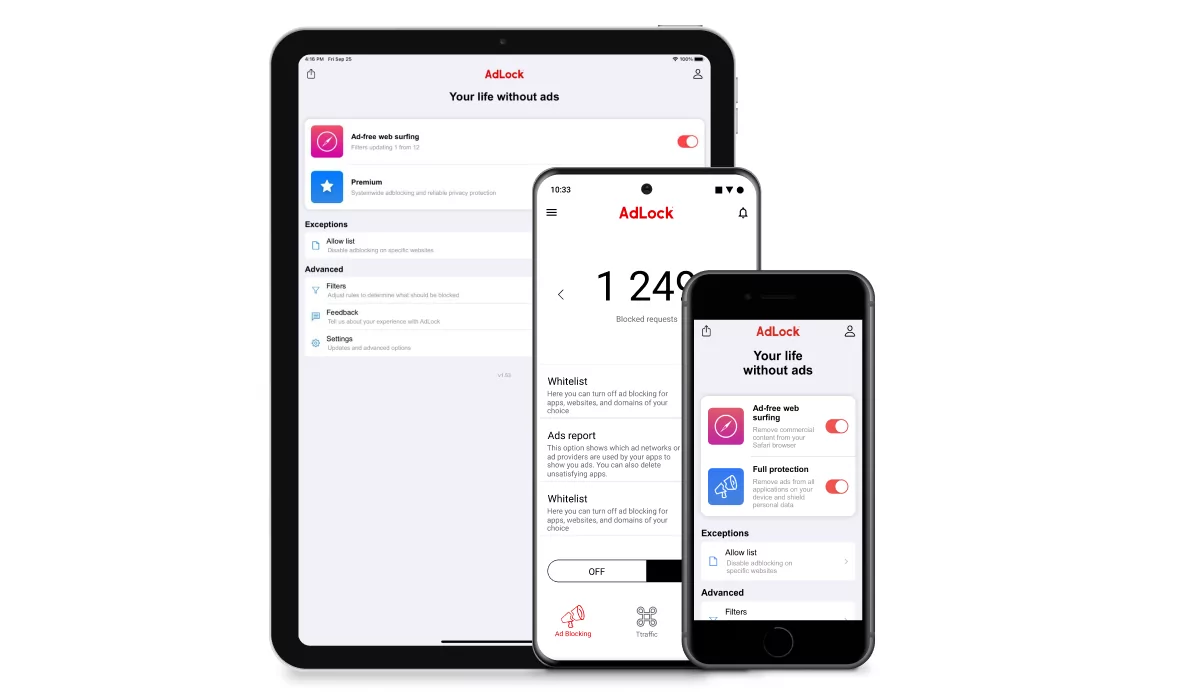 Get Rid of QuizUp Ads With QuizMart
The official way to stop ads in QuizUp can be found right inside the application. Just click the QuizMart sign in the bottom panel of your main QuizUp menu and here you go. Among other perks, you will see the Remove Ads option. Somewhat about $3 — still some money, but what an economy of your mental health! 
Beware, that there are multiple reports from the gamers who purchased the Remove Ads option, claiming that commercials did not go away. Perhaps, this is related to some other settings and software on their mobiles. We simply did not have to pay this because of using AdLock.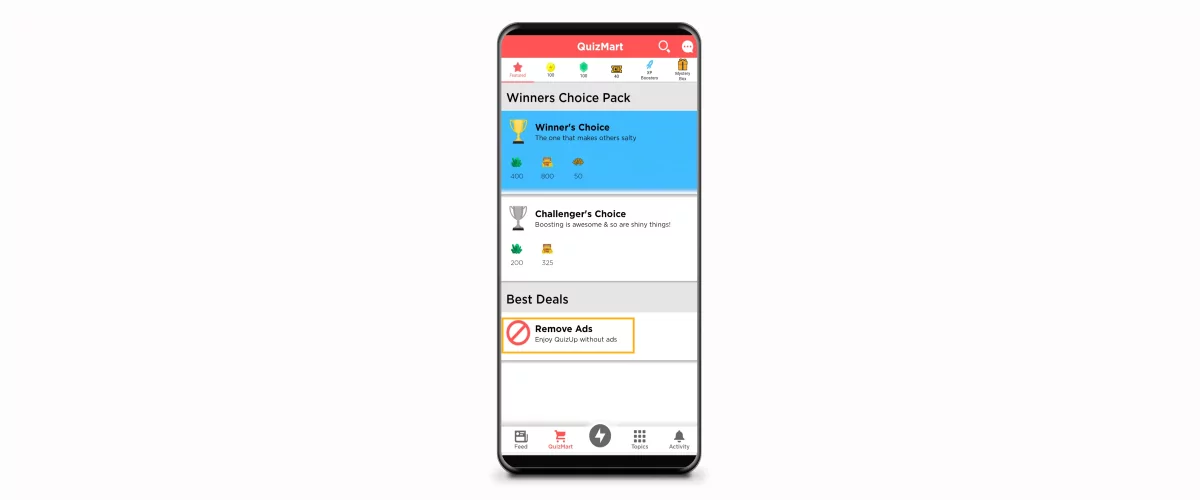 Block Every Notification in QuizUp 
What can be more annoying than QuizUp adverts? Notifications! The game is built around socializing, allowing everyone to play with friends or just random users across the world, which is great. But we don't necessarily need to know that Phil just joined some random match and Emily liked the fact that we liked Adam's post. QuizUp developers seem not to agree. The app can send a few to dozens of push notifications a day, depending on the player's profile and activity. This is bothersome, disturbing, and makes us hate an otherwise fabulous trivia game.
 You can stop this notification madness right now:
Click the gear icon in the top right corner of your QuizUp app;
Select Push Notifications under App Settings;
Choose Off for all the types of notifications you don't want to receive.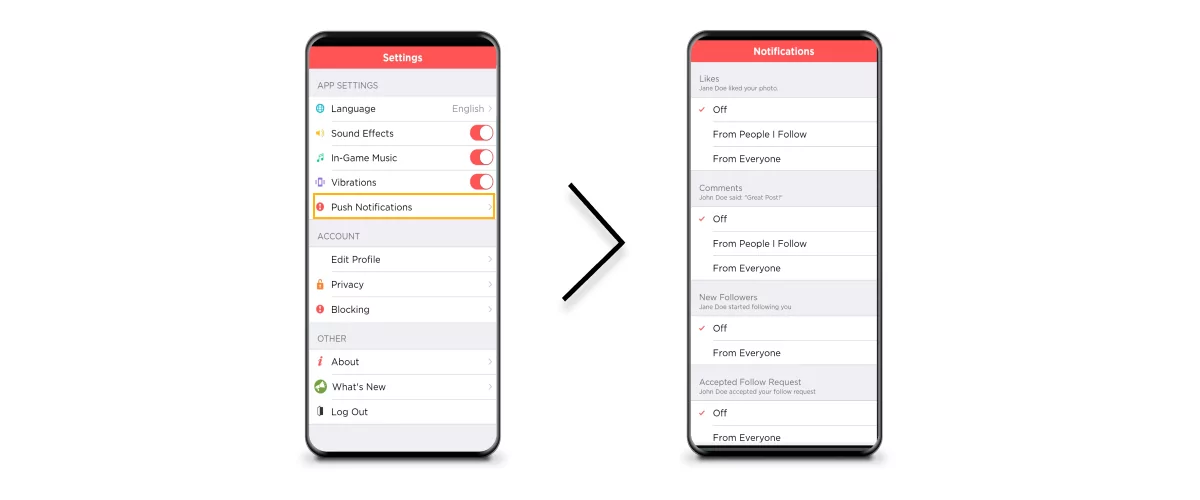 Some notifications may still go through. In that case, it is advised to disconnect your social accounts from the app (you can find the Other Accounts section in your Settings too). Sure, that will limit your opportunities for playing against your Facebook friends, so not a perfect solution if you do that often.
Another option is to block all the notifications from QuizUp on your device. Simply hold down or slide to the left any notification from the app on your Android and choose to stop all notifications. Or go to your Settings => Notification Center => QuizUp and do the same in case you are using an iPhone. For the experienced gamers with a high ranking missing the invitations for the games can become an anchor rather than a boost, but here you would have to sacrifice one thing, unfortunately.
How to Block Ads in Trivia Crack
Trivia Crack is another super fun game to play. It was downloaded over 100 million times on Play Store alone! And, sadly, it's even more occupied with online ads. Unlike QuizUp, the ads here just jump out of nowhere at any point in using the app and completely disrupt the gameplay. Even though Trivia Crack is officially free, by watching so many ads we are paying the whole fortune to its developers. 
The alternative to the game's monetization model is Trivia Crack (No Ads) — a separate application available on both Play Store and AppStore. Of course, enjoying Trivia Crack without ads and hassle is not free. But the modest price of about $1.50 (depending on the market) can be a reasonable investment for those in love with the game.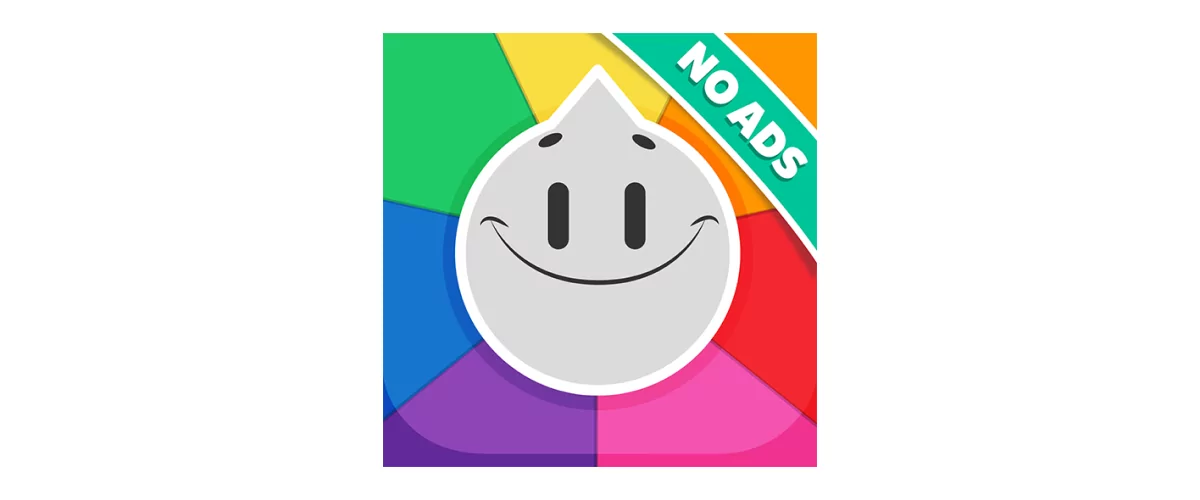 However, we understand that after days and months of watching the nasty commercials you are not willing to pay to Trivia Crack owners a single penny. Fair enough. One can always try to turn on Airplane Mode on their device to stop loading the ads from the game's servers. But then the whole magic of playing with friends and competing with strangers online just disappears, along with fun. 
Therefore, we advise you to consider getting yourself AdLock. Not only Trivia Crack and QuizUp but also all the other apps on your handheld device will get comprehensive and reliable protection from the adverts, malware, or other Internet threats.
Now you know how to fight the ads in your favorite mobile trivia games. Fancy a round or want to experience free mobile games without ads? 
Trivia games without ads!