AdLock for Android Update 1.0.7.9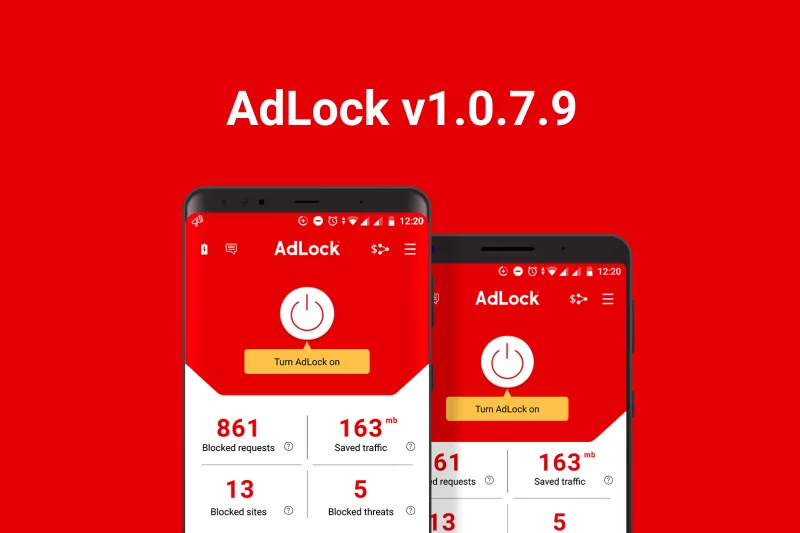 Hi there! We are ready to release our next big update of AdLock for Android. The new version is more user-friendly. We believe you want more freedom when working with AdLock and we will give you this freedom.
Want to know how to stop redirects on Android? Click the link and get insights!
What's new?
Added support for custom filters. From now on you can add your own filter rules to make AdLock work exactly as you want.
Added possibility to set up the desired DNS server. You can change DNS settings with no huss.
Added new modes of Internet access: "Only for browsers", "Only with the active screen", "Only for instant messengers" (Settings-> Traffic). It's a great option to save your mobile data. If you're a fan of traveling, you will especially appreciate this new feature which won't let you go beyond the limits.
Added Portuguese, Spanish, German, and French localization. AdLock is expanding geography borders, and we won't stop until any person can comfortably work with our app.
Added Spanish, Portuguese, French, and German filters. From now on you can block ads in four more languages which makes nine languages in total: English, French, Ukrainian, Russian, Slovak, Spanish, Portuguese, German, Polish.
Updated filters and filtering resources. New ads scripts appear every day, and our developers work hard to swoop all of them. For you, it means that ad-blocking will be just as neat and angry as usual.
Bug Fixes & Performance Improvements. Nothing's perfect, but we keep upgrading AdLock, so you have the best experience working with it.
Have fun with AdLock and don't forget to recommend it to your friends!

Do you like this post? Share it!
Do you like this post? Share it!