INCOMING! AdLock v 2.0 for Windows is Right Here
It's been quite a long time, but no worries, we just were swamped with work. And since you are reading this news, we're cruising over the swamp on a shiny new powerboat called AdLock v 2.
In case you are one of our long-time customers, you definitely met changes to AdLock for Android and without a doubt knew that the Windows version of our ad blocker would inevitably get seismic changes. It's always quite complex to plan for every eventuality popping out of the blue during the development process, but there's nothing that would stop us from delivering decent products and services right on time.
A little less conversation, a bit more action.
We've tried and tested the improved and updated ad blocker for Windows under diverse circumstances and stresses, and oh, the new AdLock is bonkers!
To start with, we ensure: the old design is gone. Yep, we know, thanks 🙂 Now our app looks neat. Bless our designer and front-end developers 🙏.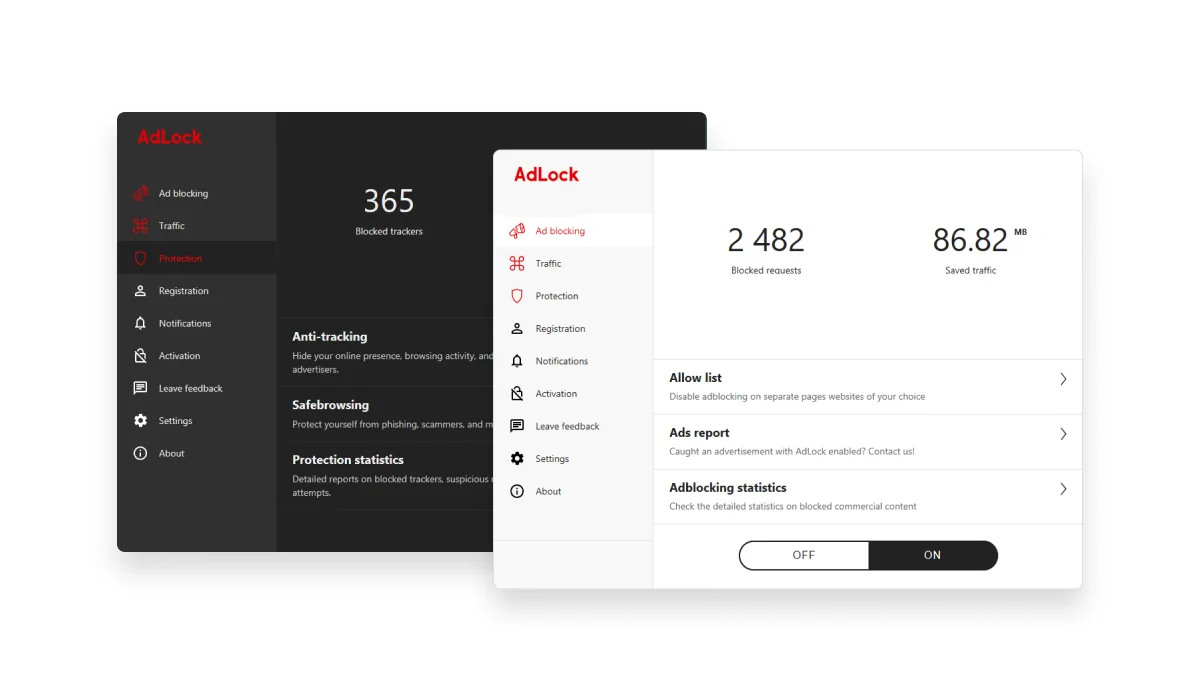 Those who use AdLock for Android or iOS might predict how it would look on Windows, because we stick to one style, but here's a sneak peek at a new GUI.
Doesn't it look good?
AdLock's been revamped to bring convenience, simplicity, and a pleasing appearance in its visual aspect. The updated interface is fitted with hints which would never mislead you or leave a thing misunderstood. On top of all visual updates, our adblocker for Windows PCs has also gotten a dark theme, so if you prefer not to scorch your eyes with white color, you will 100% love our dark layout.
On the technical and more sophisticated side of development, AdLock is now a real powerhouse. Hold up, not in terms of resource consumption but in terms of the output. Now bless our backend geeks 🙏. Elaborating new algorithms of filtering, updating traffic processing, and inventing completely different methods of tracing even the sneakiest advertisement resulted in a next-level adblocker you're going to see in the short run.
Are you buzzing yet? You better be 🙂
More powerful. More efficient. New AdLock.
Do you like this post? Share it!
Do you like this post? Share it!